Breathe life into your yarn with these 20 easy and free crochet minion patterns, perfect for the Despicable Me franchise fans. Amigurumi minions are a fun and easy project for people who are just starting to delve into the world of crochet, as well as for those more confident with their hook and yarn. They make perfect gifts for children or for the young at heart who can't get enough of these lovable and mischievous characters.
Each crochet minion pattern in our collection is free to use and comes with detailed instructions for making your own lifelike crochet Minion. Available in various sizes and styles, you will find crochet minion patterns that suit both kids and adults. We've also included a crochet tutorial to help guide you through the process, allowing you to pick up new stitches and techniques.
Moreover, we know every minion character has its own personality- Stuart, Kevin, and Bob; hence each crochet minion pattern includes specific design elements like goggles, overalls, and even their signature smiles, that align with their unique traits!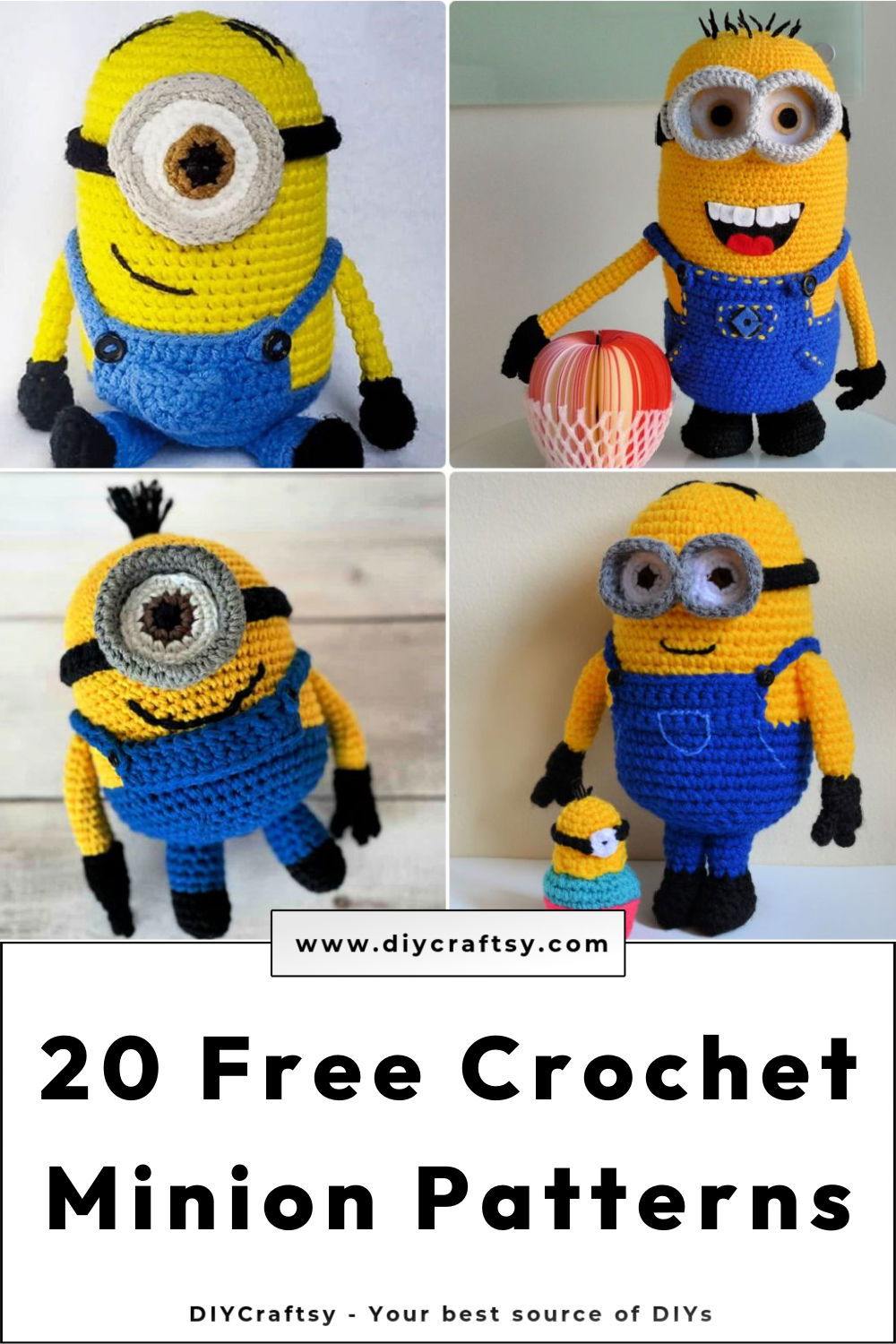 With these 20 free crochet minion patterns, you will surely find a Minion that inspires you to pick up your hook and start crafting. So invite some fun into your crochet project list with these charming and lovable Minions. They are crocheted to be durable, and love the attention! You can use them as toys, home decor, or even as a unique way to cozy up your belongings.
1. Free Minion Amigurumi Crochet Pattern
Crochet enthusiasts will love this adorable Minion crochet pattern, featuring everyone's favorite yellow, gibberish-speaking creatures. The pattern provides detailed instructions for making an 8.5-inch version of Dave, the Minion, complete with a cupcake accessory.
Crocheters can easily bring this lovable character to life using the worsted-weight yarn in various colors and hook sizes. The pattern includes step-by-step instructions for the head/body, overall flaps, shoes/legs, arms, hands, eyes, goggles, and more. With this pattern, crochet enthusiasts can indulge in creativity and make their Minion friend. popsdemilk
2. Cool Crochet Despicable Me Minion Pattern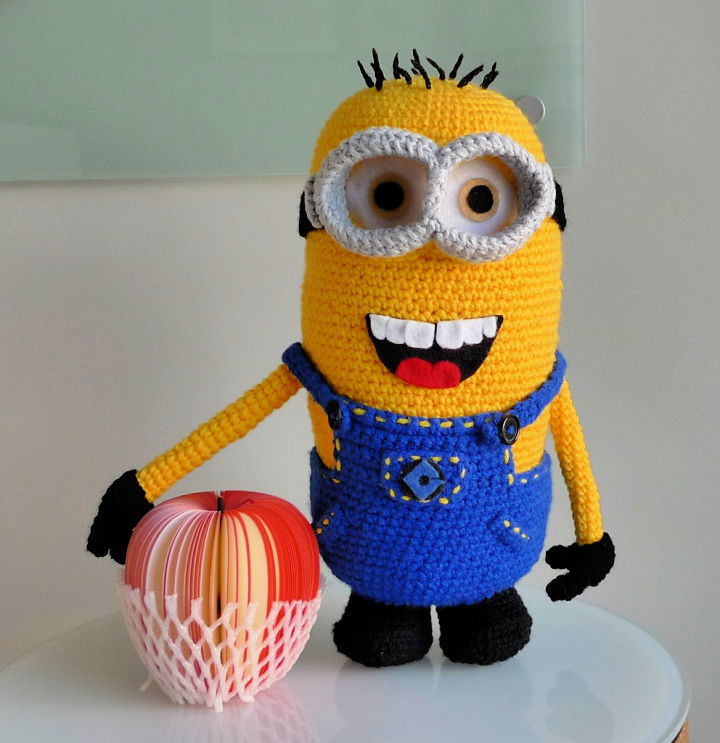 Make your adorable Minion from "Despicable Me" with this detailed and free crochet pattern. The pattern includes instructions for a Minion with removable goggles and removable overalls. For this cute crochet project, you will need yellow, blue, black, and grey yarn, a 2.00 mm crochet hook, a yarn needle, fiberfill, felt in various colors, small black buttons, and a glue gun.
The pattern is intricate and recommended for crocheters with some amigurumi experience. The finished Minion measures approximately 14 inches/36 cm in height. Follow the step-by-step instructions to bring your favorite Minion to life and let them accompany you on all your adventures. allaboutami
3. Free Crochet Sitting Minion Pattern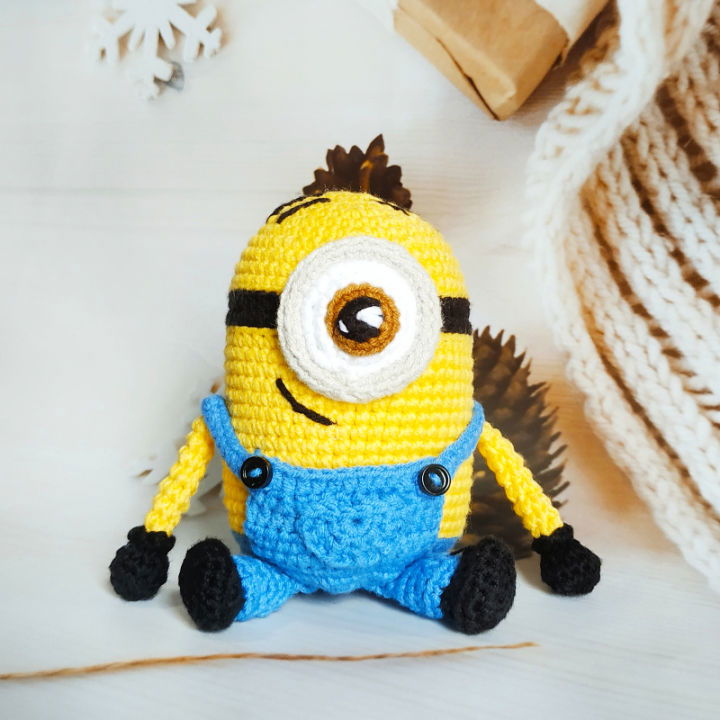 Crochet minion patterns are easy to follow and require only basic crochet skills and materials. Bring the adorable charm of the lovable Minions into your home with this delightful Sitting Minion Amigurumi crochet pattern. Stuart, the one-eyed Minion, is ready to bring joy and laughter to your life as he patiently waits for playtime.
With this pattern, you can make a cute Minion doll that stands approximately 10 cm tall using fingering yarn and a 2.0 mm crochet hook.
The pattern guides you through crocheting the head, body, overall, bibs, legs, arms, and eye separately and then attaching them to make the final piece. Download the pattern for free and enjoy crafting your little Minion friend today. ravelry
4. Adorable Crochet Minion Pattern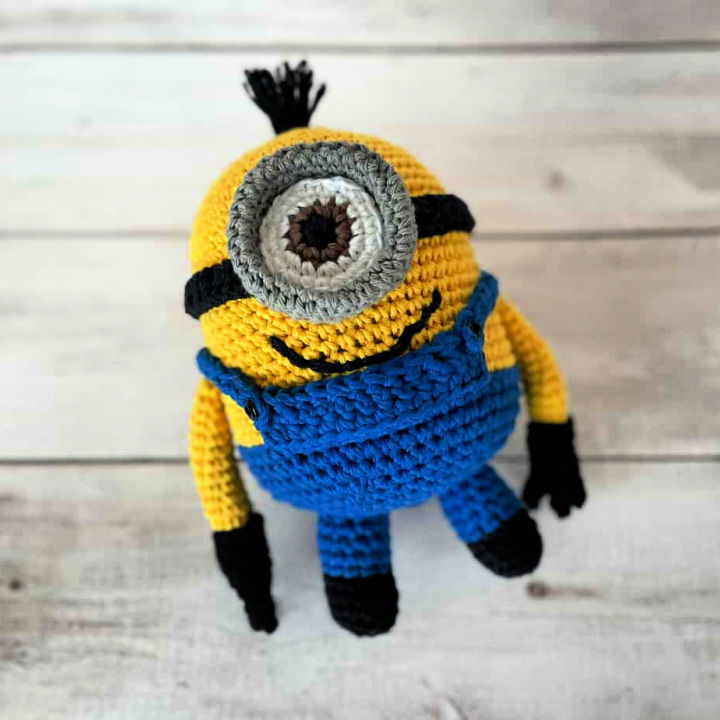 Crochet your very own adorable Minion with this free crochet pattern! Inspired by the lovable Stuart Minion, this pattern includes step-by-step instructions to make a 10-inch tall Minion toy. The pattern is written in US terms and provides helpful tips and photos throughout the process.
You can choose your yarn colors to customize your Minion and make it unique. The pattern recommends using sustainable and eco-friendly yarn, such as organic cotton, for an environmentally friendly craft.
The finished Minion will make a delightful gift or a fun addition to your crochet collection. Get ready to bring the Minions to life with your crochet skills! offthebeatenhook
5. Pretty Crochet Big Baby Minion Pattern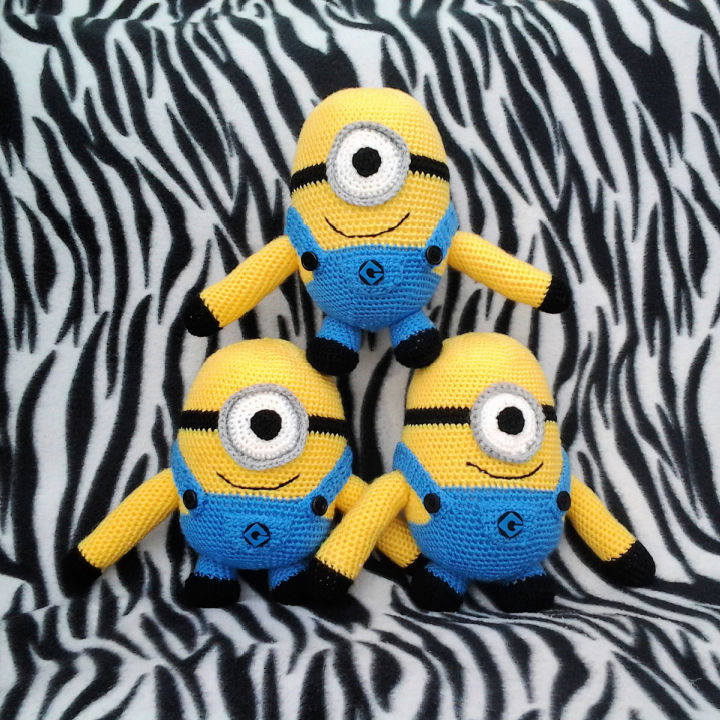 You can make crochet minion patterns in different sizes, colors, and expressions to match your personality. This precious crochet big baby Minion pattern will surely melt your heart and make you smile! You can bring this cute character to life using simple stitches and basic materials like Caron One Pound yarn in sunflower, black, and soft navy. The pattern provides detailed instructions for each part, including the body, eyes, arms, feet, and overall straps. With creativity, embroidery for the mouth, and some sewing, you'll have a finished minion that will melt hearts. Get started on this fun and engaging project today! Remember to share pictures of your creations. createcrochet
6. Easy Crochet Minion Stuart Pattern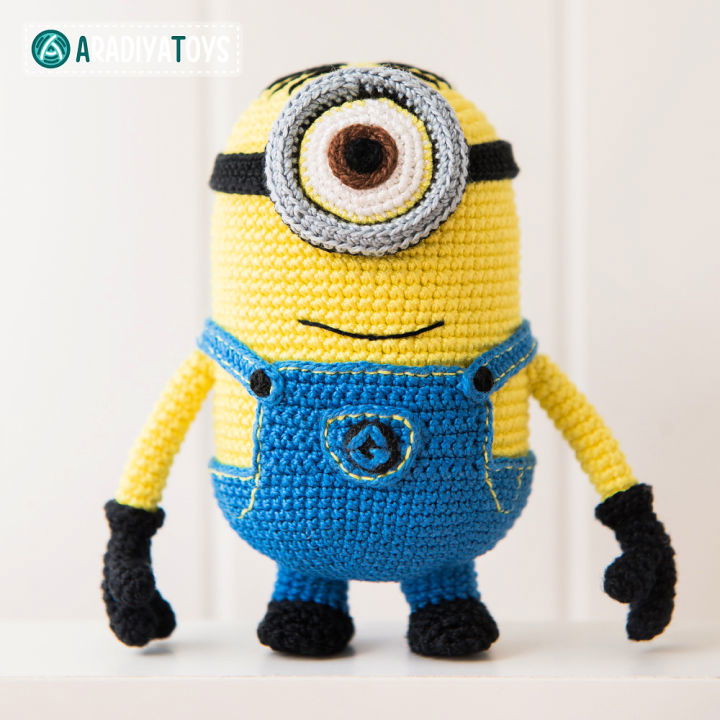 Crocheting a Minion Stuart is as easy and enjoyable as it gets! Make your own adorable Minion toy with this free crochet pattern! Standing 4.3 inches tall, this charming character from the movie "Despicable Me" can be made using a 1.25 mm hook and various yarns such as "Iris" and "Camomile" by Kirov Yarn Mills.
The pattern also requires a sewing needle and stuffing material to bring the toy to life. While the pattern is for personal use only, you can sell Minion Stuart toys made from this pattern in small quantities. Get ready to crochet your own Minion Stuart and delight fans of all ages! ravelry
7. Crochet Sitting Minion Amigurumi Pattern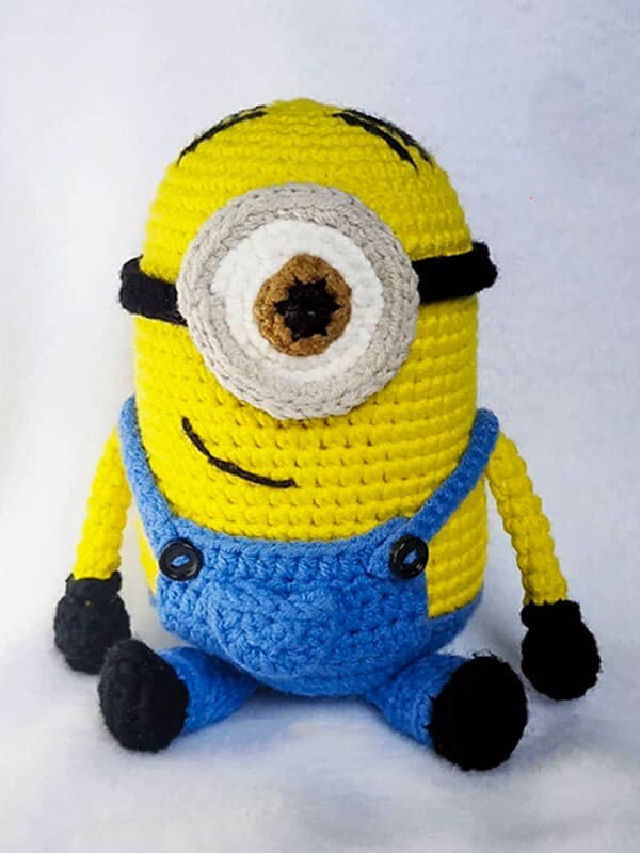 Let your imagination run wild, and crochet a cute little Minion to keep you company! This pattern is designed with step-by-step instructions and includes all the details you need to make a sitting Minion character. Start by crocheting the body, then add the arms and legs.
The pattern also includes instructions for the Minion's eye, gloves, and overalls. You can bring this lovable character to life with a recommended hook size of 2.0mm and basic crochet stitches.
Perfect as a holiday gift or a fun project for Minion fans of all ages, this amigurumi pattern will bring joy and creativity to your crochet collection. Download the PDF pattern today and prepare to craft your superhero, Minion! lovelycraft
8. Cool Crochet Minion Bob and Bear Tim Pattern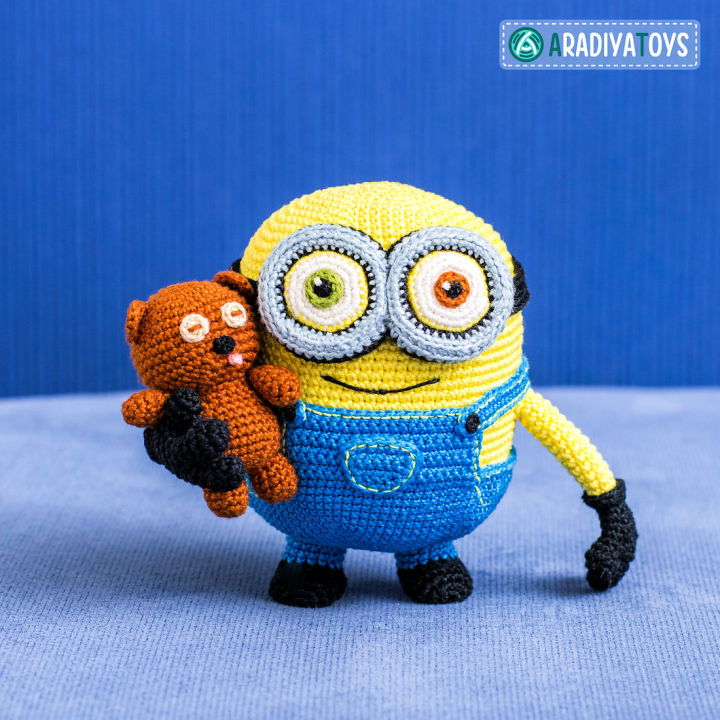 Get your very own Minion Bob with Bear Tim crochet toy with this free pattern! Standing 4 inches tall, this adorable character from the popular "Minions" cartoon can be created using hooks of various sizes and the recommended yarns.
Gather the materials, including "Iris" and "Camomile" yarns from Kirov Yarn Mills, sewing needle, and stuffing material. This pattern is for personal use, but you can sell the finished toys in small quantities. Get ready to crochet your favorite Minion and enjoy the process! ravelry
9. Simple Crochet Minion Pattern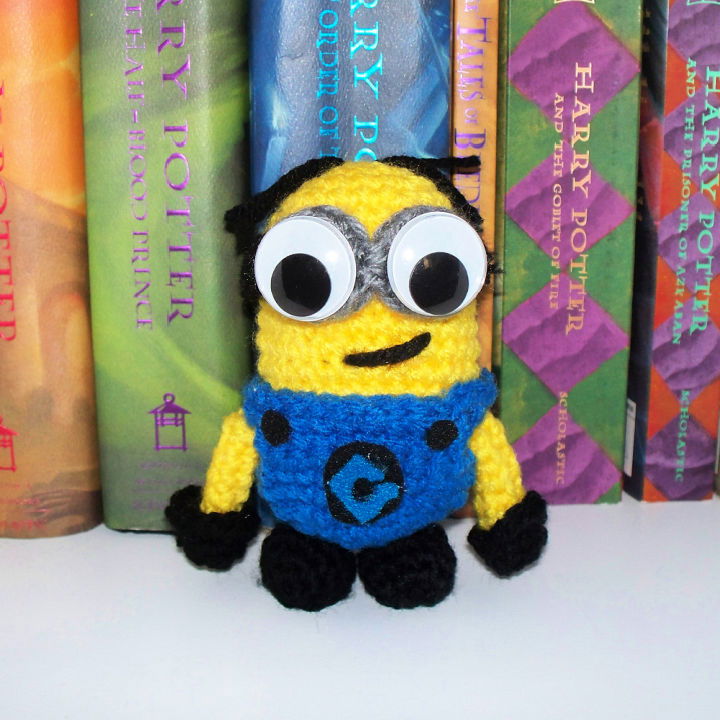 Unlock your creative side with this fun and easy crochet Minion pattern! Make your adorable crochet minion with this easy-to-follow pattern! Whether a beginner or an experienced crocheter, you'll enjoy making this lovable character using simple stitches and materials such as yarn, felt, and googly eyes.
The pattern includes step-by-step instructions for each body part, from the yellow body to the blue overalls and gray goggles. Once completed, you can assemble the pieces and add the finishing touches, like the mouth, hair, and G sign.
Let your creativity shine and bring this iconic character to life with your unique twist. Enjoy the process of crafting this delightful Minion today! lupitas423
10. How to Crochet a Minion – Free Pattern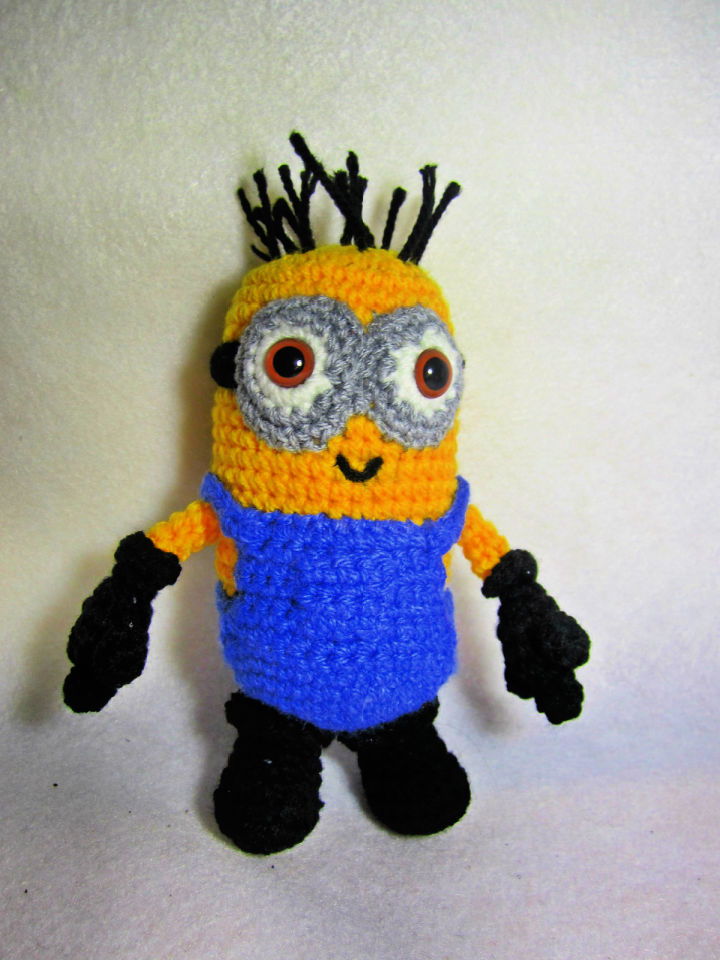 Crochet minion patterns are a fun way to bring some humor and cuteness to your home or office. Learn how to crochet an adorable Minion with this free pattern. This easy-to-follow pattern provides step-by-step instructions for making the beloved yellow creature from the popular animated movie. Although many small components are involved, the result is worth the effort. The pattern is free for download, making it accessible to all crochet enthusiasts.
Whether you're a beginner or an experienced crocheter, this Minion pattern will surely delight and add cuteness to your crochet collection. Start crafting your Minions today and bring a smile to your face! ravelry
11. Crochet Minion Inspired Baby Booties Pattern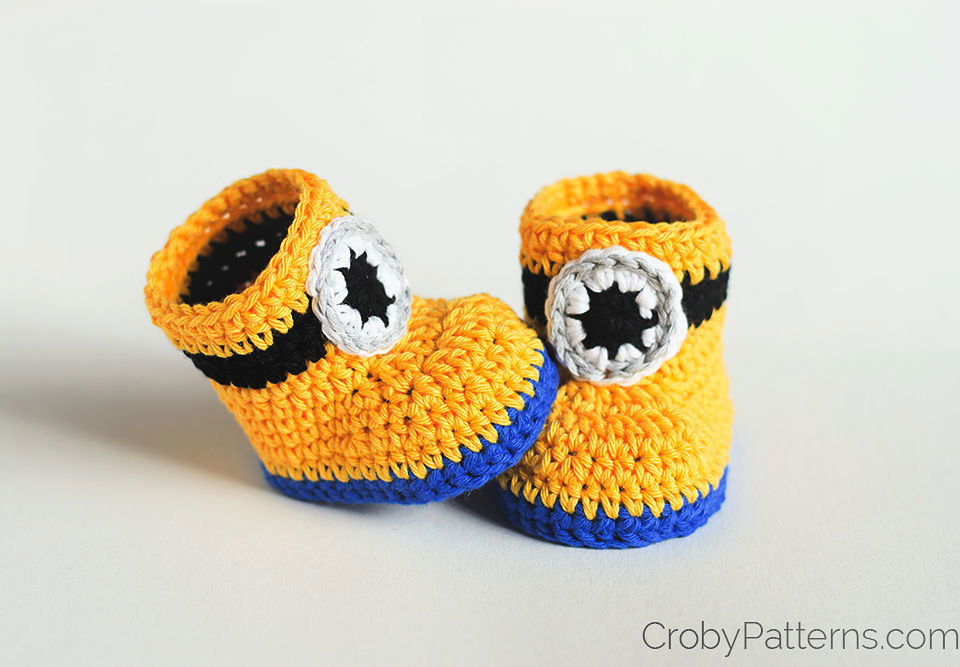 These crochet minion-inspired baby booties will surely bring a smile to any little one's face! Perfect for infants aged 0-12 months, these shoes can be customized with different colors to make friendly or crazy Minions. The pattern uses DK-weight 100% cotton yarn in various colors.
Additional materials include a 3.5mm crochet hook, scissors, stitch markers, and a yarn needle. The instructions are in two sizes, and the pattern includes helpful stitch abbreviations and tips. Complete the look with the Minion eyes using black, white, and gray yarn. These baby shoes will surely bring joy to little ones everywhere. crobypatterns
12. How Do You Crochet an Evil Minion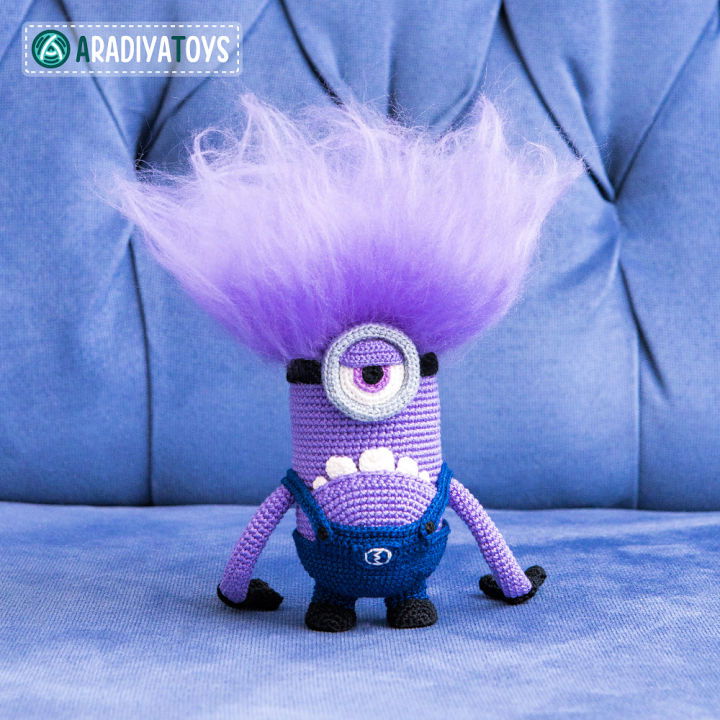 Put a hook in your hand and let the yarn do its bidding to make a devilish minion of your own! Standing 6.7 inches tall, this adorable character from the popular cartoon "Despicable Me" can be brought to life using hooks in various sizes and yarn, such as "Iris" and "Camomile" from Kirov Yarn Mills.
Along with a sewing needle, stuffing material, and a piece of purple wool, you'll have all the supplies you need to get started. This pattern is perfect for beginners and skilled crocheters, and you can even sell the finished product in small quantities if you credit the author and provide a link to the pattern's web page. Get ready to bring some mischief into your crochet collection with this fun and unique evil Minion pattern! ravelry
13. Free Crochet Minion Beanie Pattern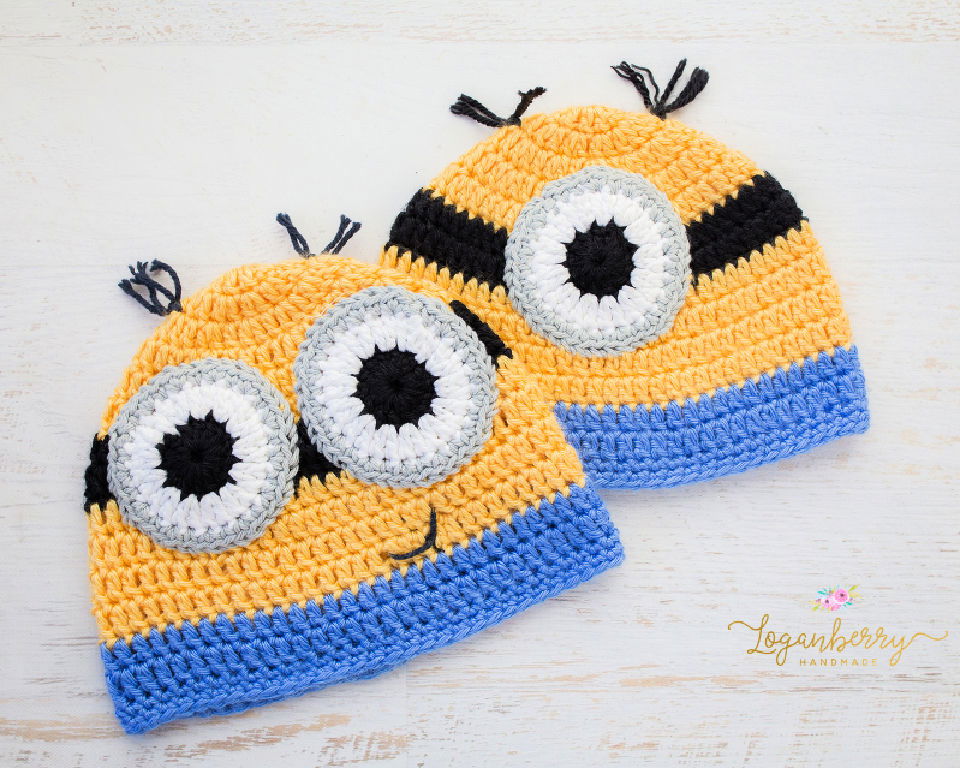 Put a smile on your face with this free crochet Minion beanie pattern – perfect for any Minions fan! Make a playful and adorable Minion-inspired crochet beanie with this easy-to-follow pattern. The beanie is worked in rounds using double and single crochet stitches at the end.
Choose from various sizes, including newborn, 3-6 months, 12 months-2T, and 2T-4T, and use vibrant yarn colors such as yellow, blue, black, gray, and white to achieve the iconic Minion look.
The pattern provides step-by-step instructions for each size, allowing you to make a customized beanie for your little one. Finish off the design with cute Minion eyes and sparse hair made from knotted strands of yarn. Crochet enthusiasts of all skill levels can enjoy crafting this whimsical beanie and delight in the outcome. loganberryhandmade
14. Gorgeous Crochet Amigurumi Minion Pattern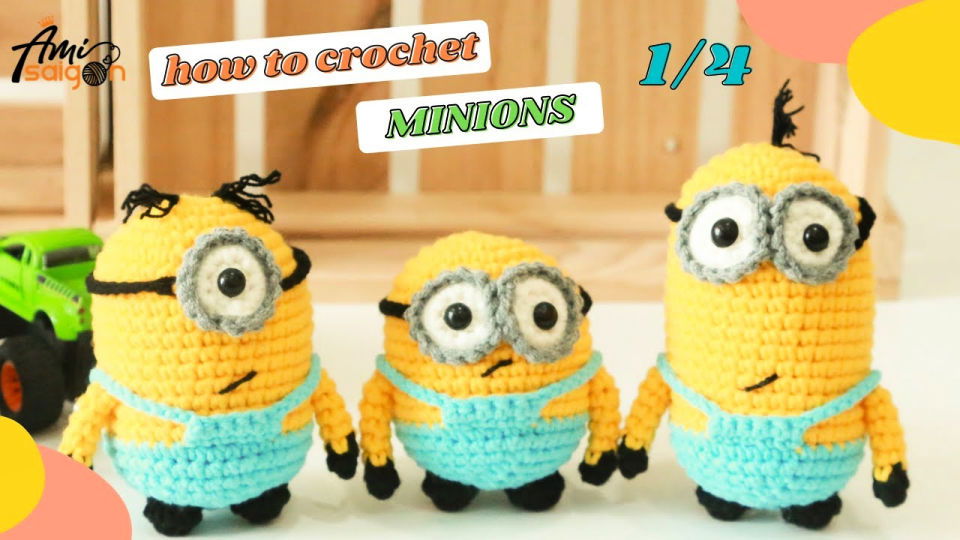 Discover the adorable world of Amigurumi with this charming crochet pattern for Minions. Whether a beginner or an experienced crocheter, you can bring these beloved characters to life using yellow, blue, grey, white, and black yarn, along with a 4-5 mm crochet hook. The pattern provides step-by-step directions for making these cute Minions, including their iconic features. Once completed, you can use them as keychains, decorations, or gifts. Start crocheting your Minions today and enjoy the delightful world of Amigurumi!
15. Free Crochet Minion Jar Pattern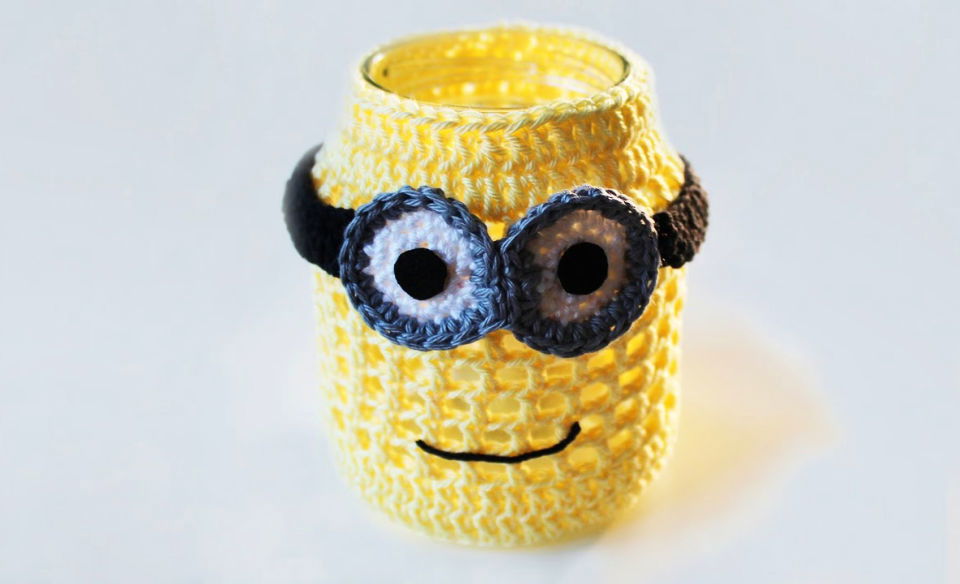 Crochet your Minion friend and take your love for them to a new level! This step-by-step tutorial provides an informative video guide that complements the written pattern. Follow along as this guide demonstrates each key moment, including chain stitching, double crochet rounds, slip stitching, and more.
The tutorial also includes instructions for adding details like straps and a mouth to complete the Minion look. Whether a beginner or an experienced crocheter, you'll enjoy crocheting this adorable Minion jar using the provided pattern and helpful video tutorial.
16. Crochet Minion Bob – Step-by-Step Instructions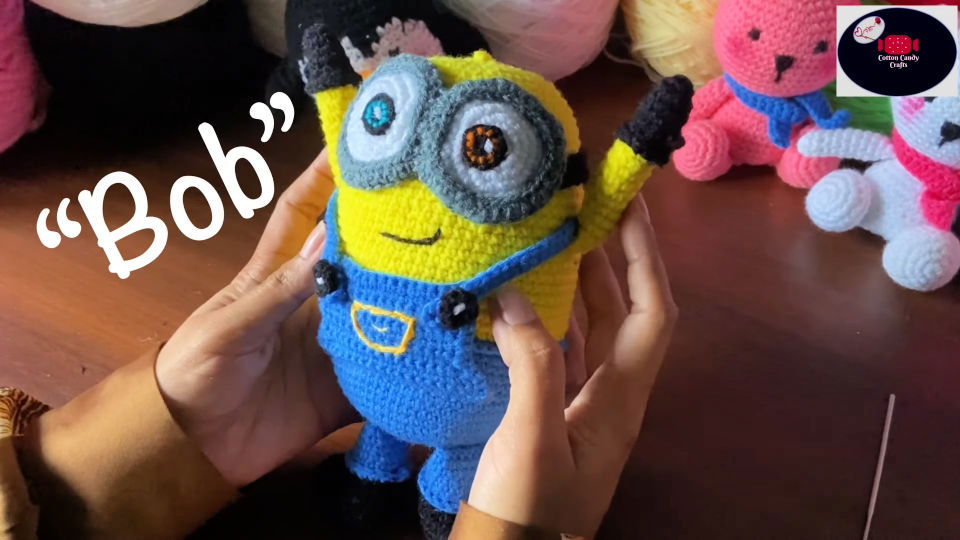 Ready to bring Bob, the Minion, to life? Get your crochet hook, and let's go! Learn how to crochet a Minion Bob with this comprehensive amigurumi tutorial. Whether you are a beginner or an experienced crocheter, this video guide will direct you through the process step-by-step. Using the provided pattern and basic crochet supplies, you can crochet your handmade Minion Bob. The tutorial is informative and easy, making it suitable for crocheters of all skill levels. So get your yarn and crochet hook and prepare to bring this lovable Minion character to life!
17. Cute Crochet Amigurumi Minion Pattern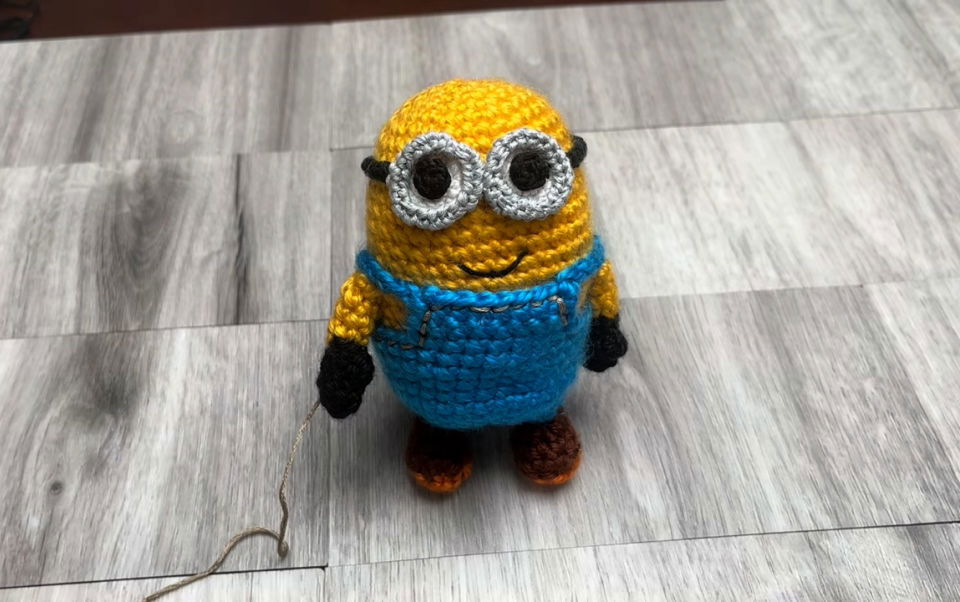 This adorable crochet amigurumi minion pattern brings love and fun to any room! Whether you're a beginner or an experienced crocheter, this project is beginner-friendly and perfect for anyone new to the craft. The video provides clear instructions and guidance, allowing you to bring out your creativity and make the Minion character you've always wanted. Join the welcoming community and let your creativity shine with the help of yarn. Check out this tutorial, start your crochet journey, and discover the joy of making unique characters today!
18. Crochet Amigurumi Minions Tutorial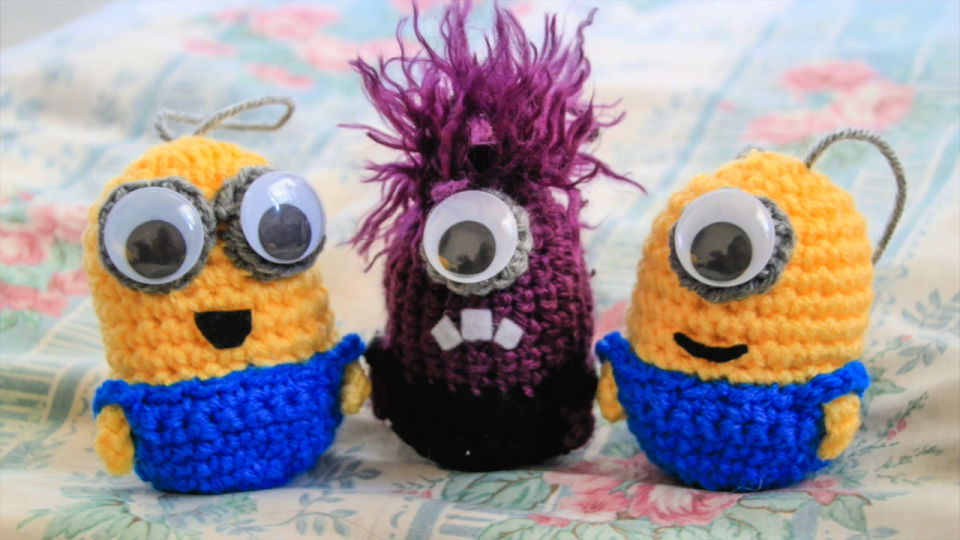 If you love the adorable minions from the movies, you'll love these crochet minion patterns. Set your inner minion master free with this crochet amigurumi minions tutorial! This detailed tutorial is designed to guide intermediate crocheters through the process. If you're a beginner, it's recommended to familiarize yourself with basic crochet techniques first.
You'll find the pattern in this tutorial, and if you prefer a different look, there's also an alternative pattern provided. Feel free to customize your Minion according to your preferences, and don't forget to share your creations! Check out this guide for further demonstration of making the evil Minion's hair. Happy crocheting! Materials needed for the pattern include
A size G hook.
Yellow, blue, and grey yarn.
Black and blue felt.
A yarn needle.
Glue.
Googly eyes.
The pattern covers the body, overalls, goggles, and arms. Once you've crocheted the different parts, the assembly is straightforward—slip the overalls onto the body, sew on the arms and goggles, glue the googly eyes, and add the mouth. Use black felt to make an oval, two small circles for the overalls, and a blue felt "G" sign. Sew or glue these elements onto the Minion to complete the look.
19. Free Minion Crochet Pattern for Beginners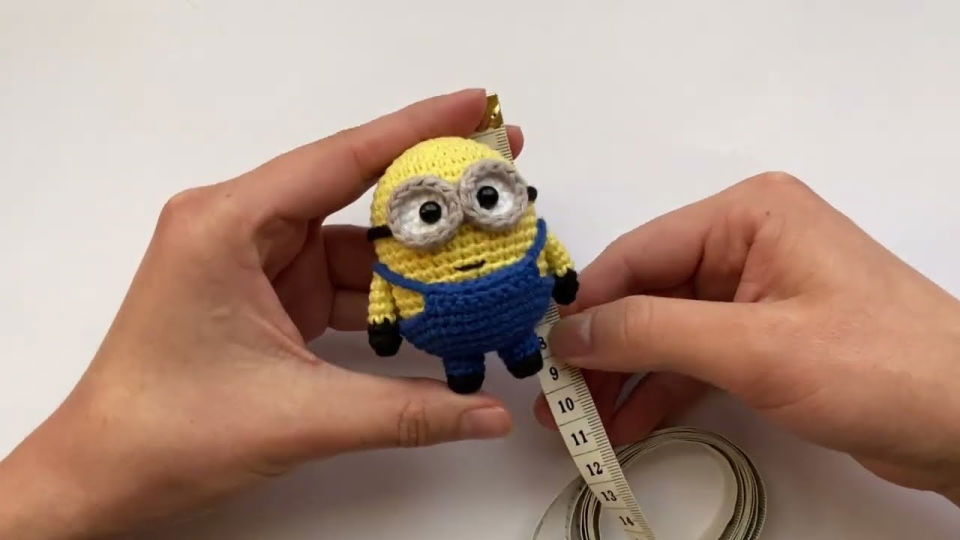 Express your creative potential with this exciting and fun free minion crochet pattern for beginners! This adorable crochet project measures approximately 8 cm, making it perfect as a souvenir, keychain, or addition to your chibi amigurumi collection.
You'll make the body using cotton yarn and a size five crochet hook, while 6 mm safety eyes and a little glue bring the glasses to life.
Whether you're making it for yourself, as a gift, or for your crafting business, this Minion amigurumi will surely delight you. Share this idea with your friends and fellow crochet enthusiasts to spread the joy of crochet.
20. Appealing Crochet Minions Idea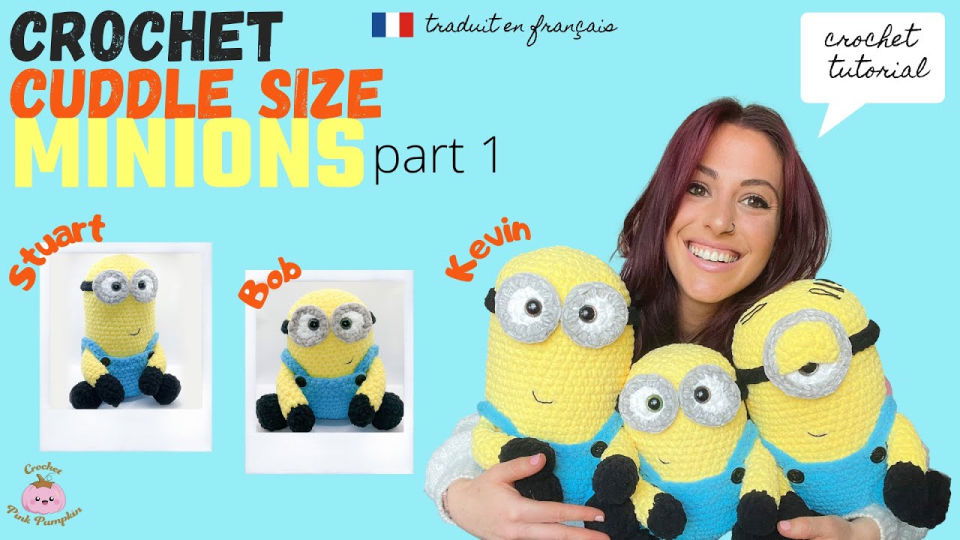 The crochet creations have never been so adorable – the perfect way to adorn your home with these appealing crochet minions! Learn how to make adorable crochet Minions with this comprehensive tutorial. In this guide, you'll discover the necessary supplies and receive step-by-step instructions for crafting the eyes and feet of the beloved characters Bob, Stuart, and Kevin.
This video tutorial provides visual support while offering printable PDF patterns and detailed supply lists for each Minion. Whether you're an experienced crocheter or a beginner, this engaging tutorial will help you bring these cuddle-sized plushies to life.
Related Free Crochet Patterns
Discover a variety of free crochet patterns for your next project. From cozy toys to cute amigurumi, find your next inspiration below.
Conclusion:
In conclusion, exploring various crochet minions can be an enjoyable and creative activity for all skill levels. With 20 unique and free crochet minion patterns, you can make versatile crocheted minions, ranging from amigurumi characters to baby booties. Whether you prefer a simple pattern or a more detailed one, these captivating designs are bound to dazzle and delight. So, grab your crochet hook and choose your favorite crochet minion pattern to bring these adorable creatures to life!