There is always room for various character-specific patterns the art of crocheting! The owl and fox crochet patterns are highly popular over the internet and here is another unique trend that will your surely inspire your hook too! Just go octopus-inspired and crochet amazing patterns also! Just check out this list of 15 free crochet octopus patterns that will surely bind you under their innovative crochet spell and are just super eye-popping! A stuffed cute head and some strange fun arms would be the most attractive features of the octopus patterns, and everybody with just love them! Whether you are willing to crochet a unique fashion accessory, a highly attractive home décor or a toy for a kid, you can simply go octopus-inspired, and the list will also amaze you by providing several different patterns in this case!
Crochet a cute octopus for preemies, and they will make a Thanksgiving gift too for a mother to be! Get inspired by the given sample that is looking damn beautiful! Moreover, also crochet mini octopus plushies that can be put on your kid's heads for scary and fun statements at the same time, this idea will also rock for Halloween fashion! Crochet bigger octopus plushies that will make the perfect cute yarn friend for a little kid or baby and also crochet some mini octopus that will make interesting kids room decors too! Moreover, also hang the little crocheted octopuses as enticing pendant decors in your kid's rooms and bedrooms!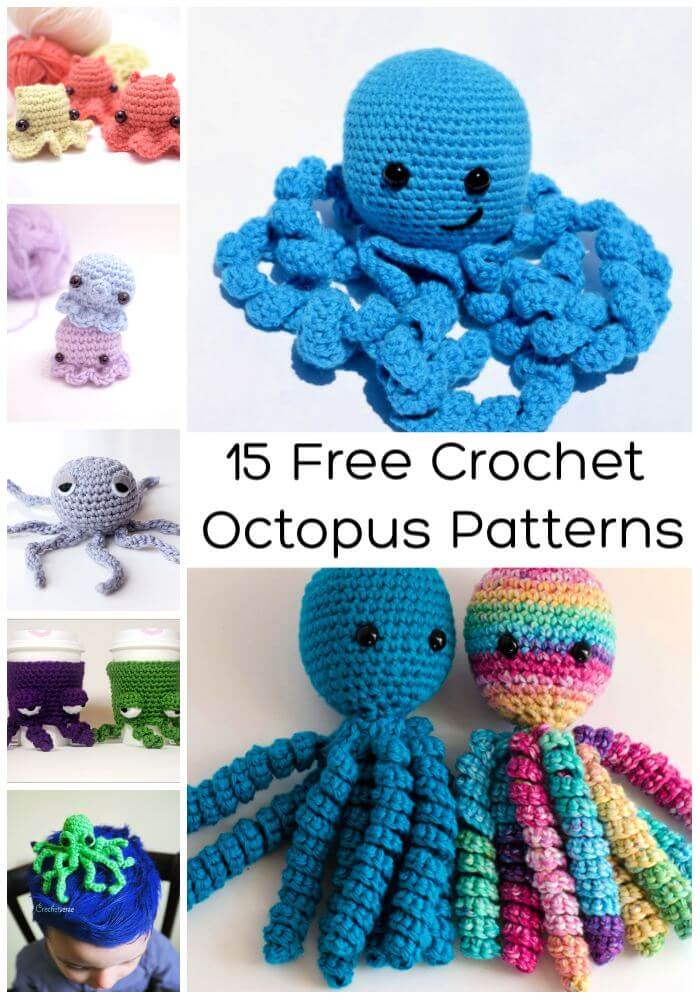 Crochet the seamless octopus in fun colors and add it to kids play nursery and little kids will have great fun by holding them in hands! Crochet also the dumb octopus amigurumi that will make great décor for any space and also a sweet little gift for a kid! Moreover, you can also please a coffee lover by crocheting an octopus coffee cup sleeve for him/her, check out the given sample that comes in dark violet yarn color!
While crocheting custom octopus amigurumi, you can also go extra genius with your hook to create an exclusive personality of your finally finished amigurumi! You can crochet a friendly personality or can crochet an octopus with grumpy eyes that will be a little scary but cute at the same time! Also, crochet the octopus plushies with cute hairstyles that will make the perfect huggable toy for all babies, and you can also use the octopus amigurumi in gift giving! These stuffed crochet octopuses will make a great birthday, and you can also give them an epic present to a mother to be! These crochet octopus plushies will also rock if you are looking forward some super cute baby shower gifts!
Just browse the entire list of these free crochet octopus patterns and select your favorite patterns to duplicate in spare time with your hook! Crochet these octopuses without hesitation as they are all beginner friendly and would not take time to be in your hands! Don't forget to click on the attached links that are having the free crochet patterns and step-by-step visual guides hidden in them!
Easy Free Crochet An Octopus For Preemies Pattern: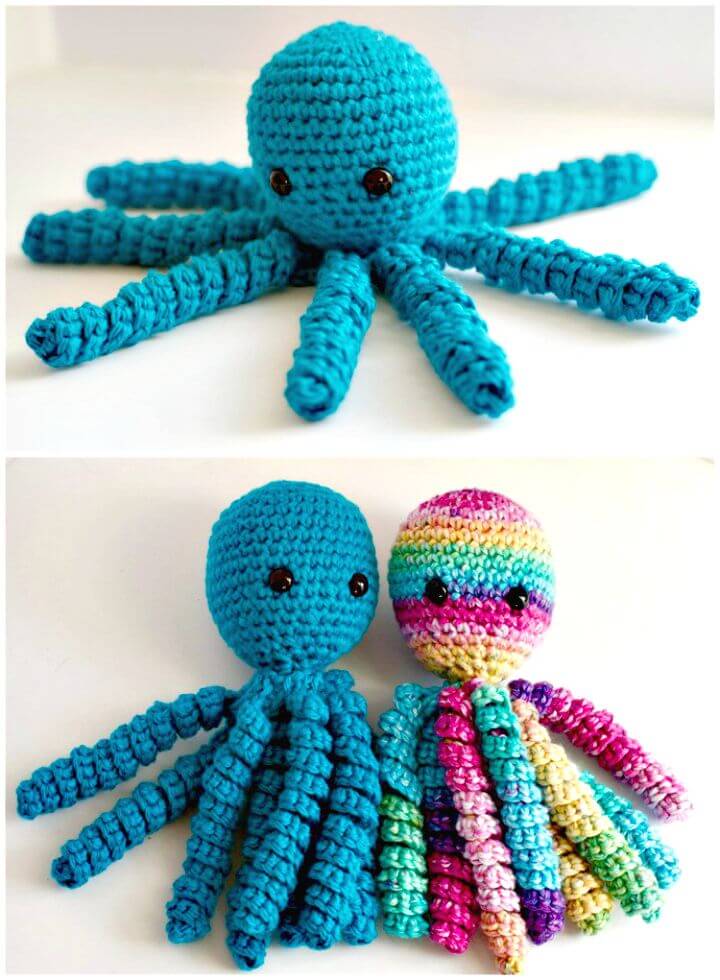 Make your premature baby busy in playing? Why not give some super soft toys in his/her hands to have fun. If you know how to crochet, then you can crochet some very good looking yarn plushie or amigurumi that will make the best soft friends of your babies. This octopus amigurumi would make a great choice, and it is the best toy a mom can have for preemies. The super cute stuffed crochet toy, the teal blue octopus with cute head and legs. Complete free pattern and tutorial here crochet365knittoo
Free Crochet Tiny Octopus Pattern: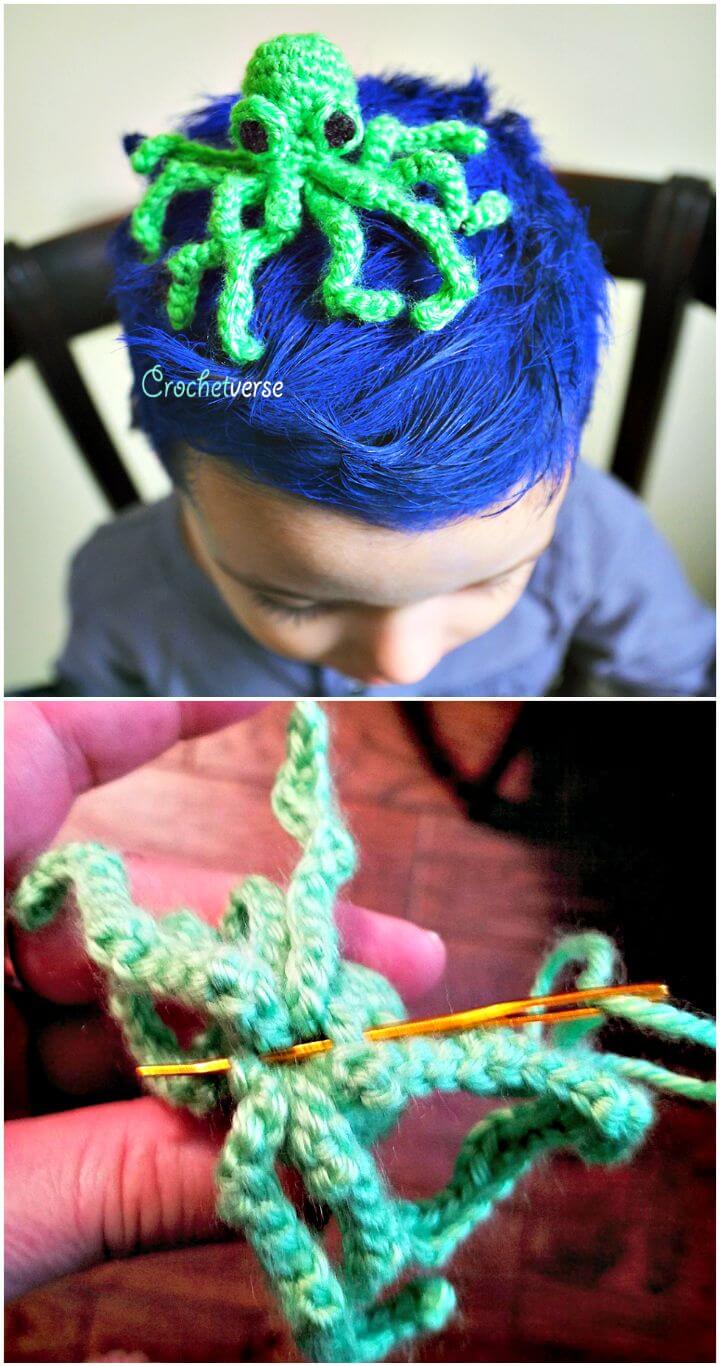 Crochet octopus can also be given a to kids as most fun-making soft toys and here is a beautiful sample, crocheted to please all the fun-loving kids. The mini yarn octopus that comes in precious light green appeal and is a crochet pattern that even a beginner can whip up quickly. Go with custom crochet stitches and duplicate this precious tiny octopus that can be used in playing in so many different ways. Complete project tutorial and free crochet pattern here crochetverse
How To Crochet Octopus – Free Pattern: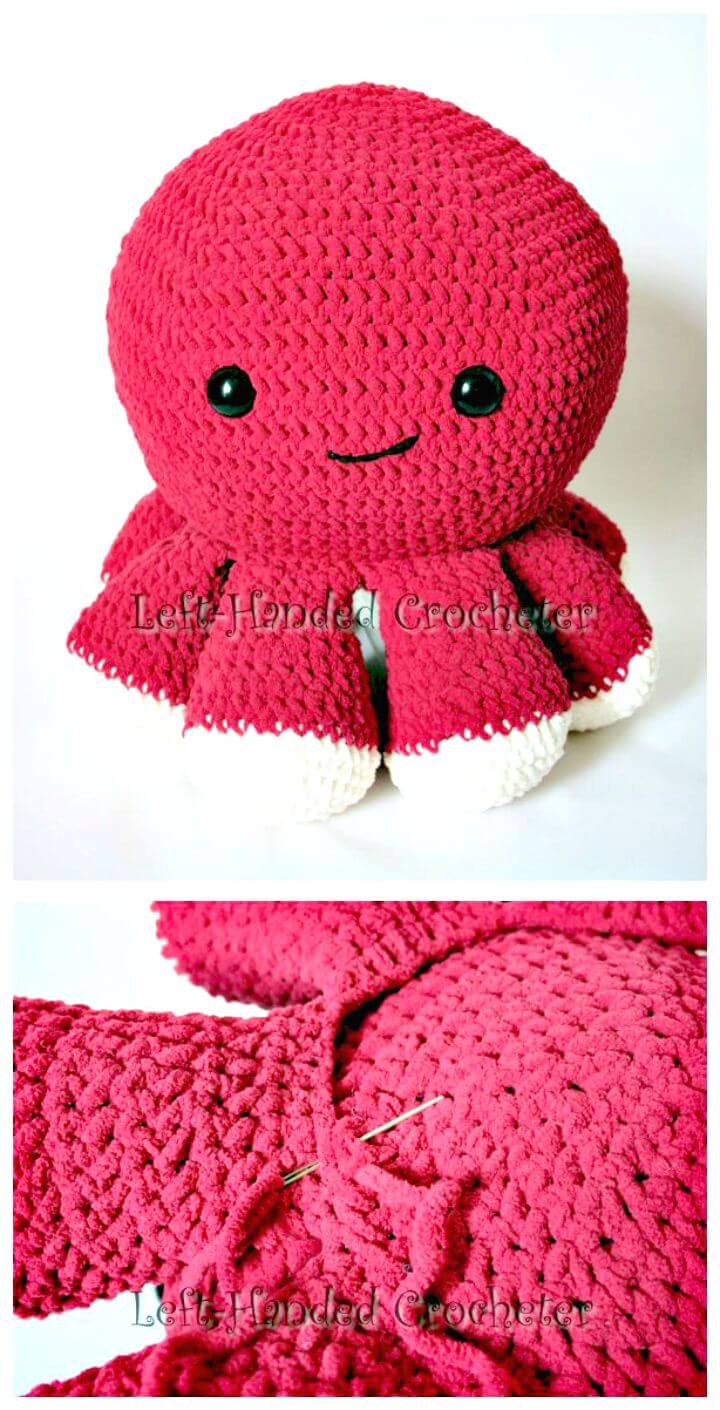 Select also this baby octopus plushie for your baby who will love to play and sleep with it. Here a smart use of crochet hook has been made to give an innocent expression to this baby octopus amigurumi that comes thick tiny legs. Here by using the basic crochet stitches first the stuffed head of the octopus has been crocheted then the several tiny legs that hold the octopus head. Experiment this precious yarn octopus with different yarn colors. Grab the full free guide and free crochet pattern from here lefthandedcrocheter
Free Crochet Mini Octopus Pattern: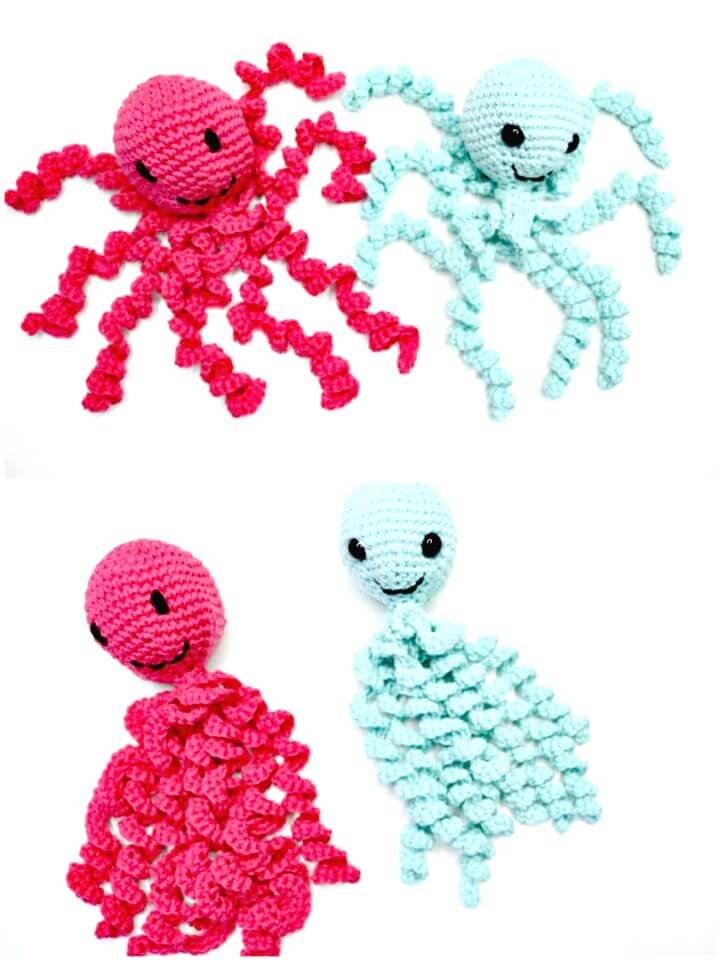 Willing to crochet some mini gifts or toys for your kids? If yes, then here is a cool suggestion and idea, just crochet this mini octopus that would be the super fun-making gifts or toys for all the babies and kids. First crochet the mini stuffed the head of the octopus and then crocheted the tentacles using the basic crochet stitches and skills. Moreover, these octopus amigurumi if hanged aloft, would also make perfect hanging ornaments for your spaces. Intending to duplicate these mini octopus plushie toys? Grab the full free guides and easy crochet pattern from here bellacoco
Easy Free Crochet Seamless Octopus Amigurumi Pattern: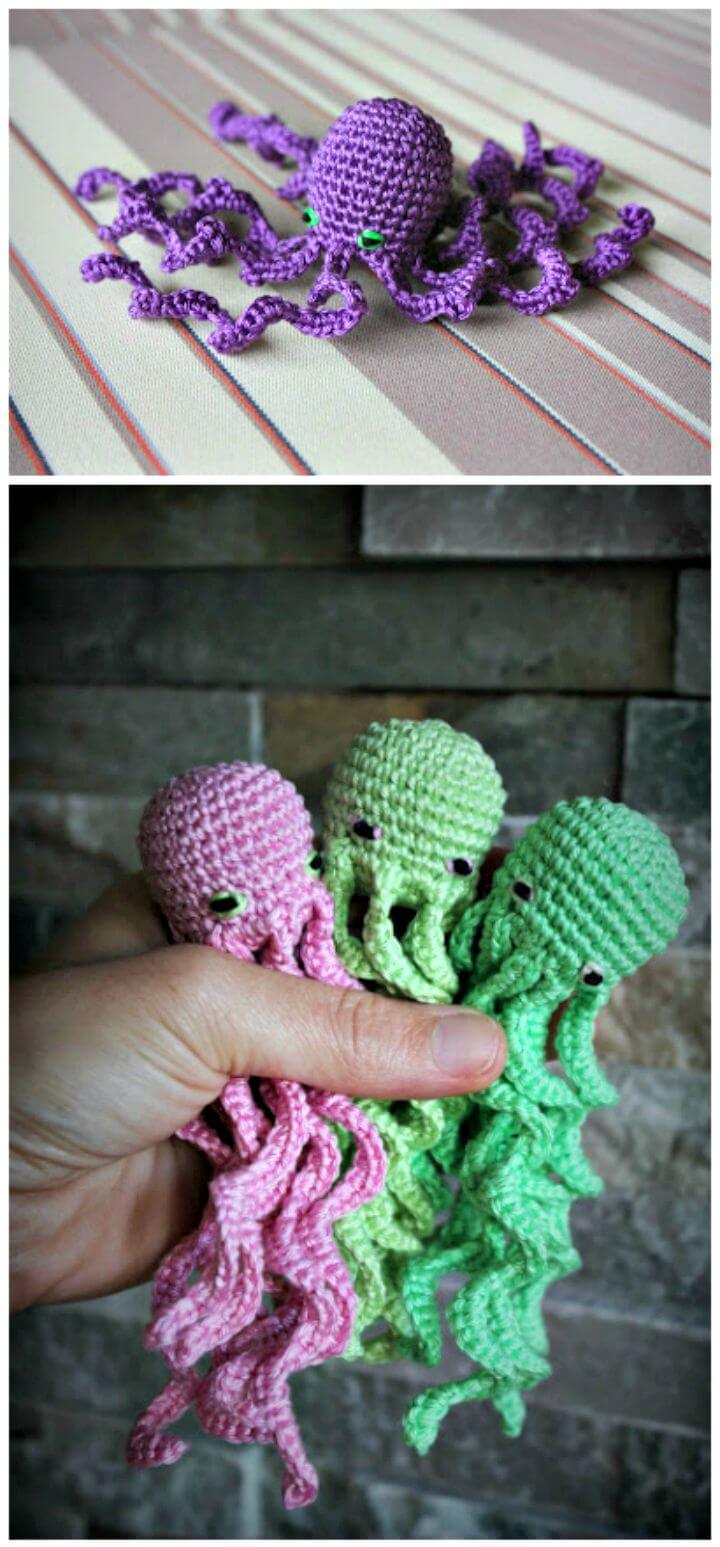 Check out here some cuter looking octopus that looks much near to real and would make outstanding kids gifts and toys. Here these octopuses are double cute due to fantastic eyes and beautiful tentacles and are looking much visually attractive. Here you also require the easy skill level to crochet these mini octopuses that are a delight to view and are super soft to hold in hands. Looking forward to duplicating these octopuses? Grab the full free guides and free crochet pattern from here happyamigurumi
Free Crochet Dumb Amigurumi Octopus Pattern: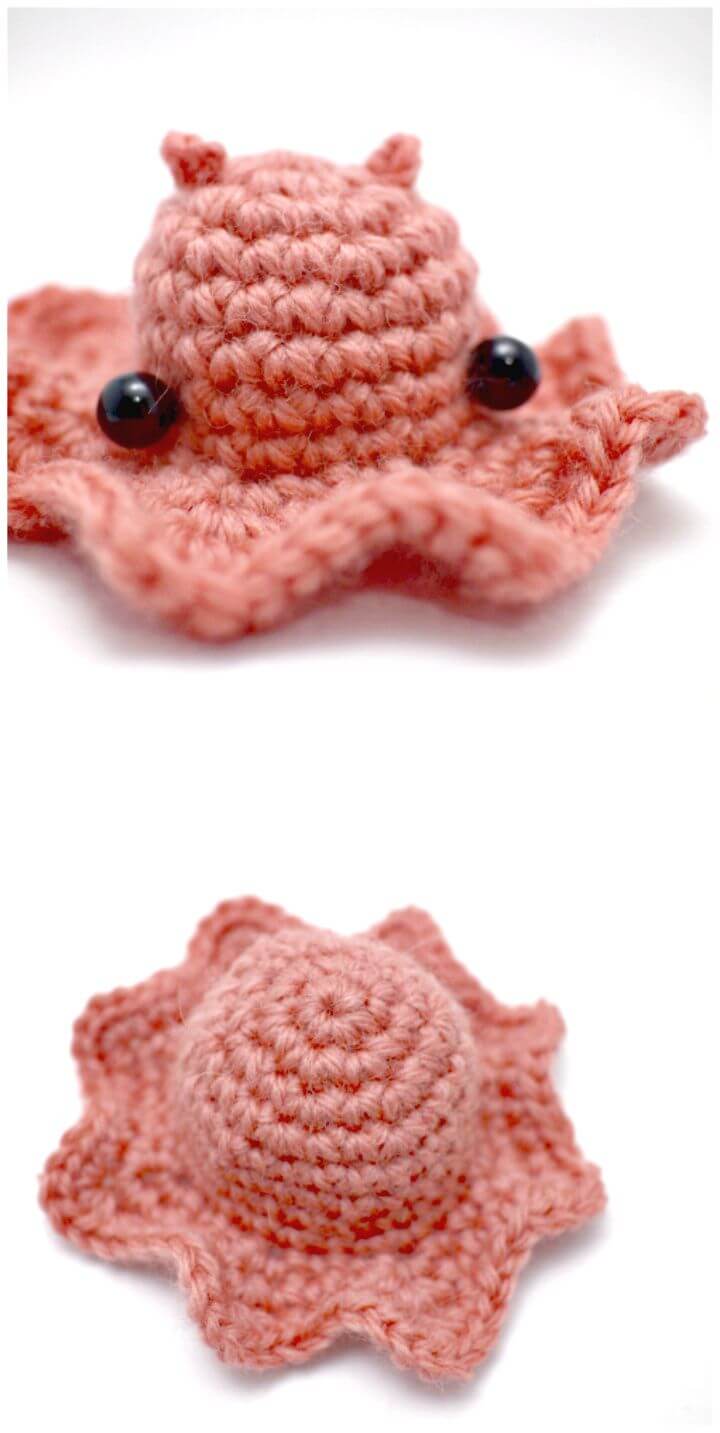 Crochet your favorite yarn weights to crochet some beautiful octopus heads and then use a little bit of stuff to get them in shape. A brilliant sample here is this dumb octopus amigurumi that has been crocheted to inspire and is looking lovely. Custom beads have been used here to make the eyes of the octopus and that create a much near to real looking appearance of the octopus. This is here another crochet octopus amigurumi that you can easily duplicate for your babies and kids. Intending to duplicate this great looking stuffed octopus? Grab the full free guides and visual instructions from here mohumohu
Easy Free Crochet Grumpy Octopus Coffee Cup Cozy Pattern: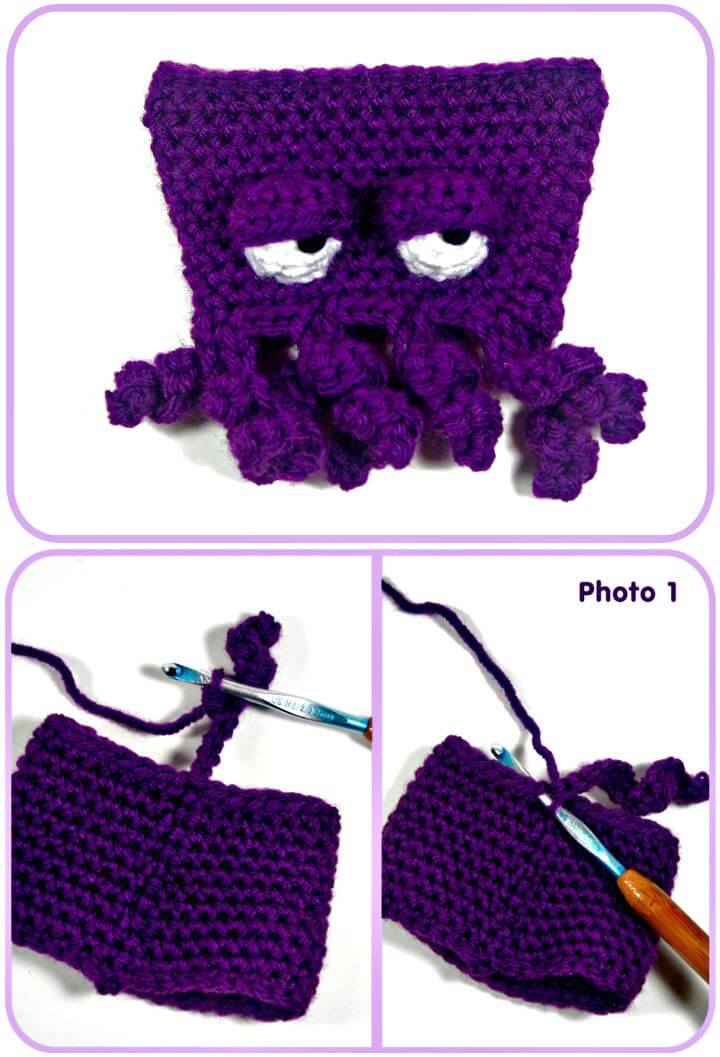 Clone also this very angry looking crochet octopus plushie for your kids that will make them busy in playing for hours. Just peek into details of this grumpy crochet octopus that would make a great gift also for a mother-to-be, and it would also be a great toy to add to a kids toy chest. Here this octopus comes in alluring violet appeal and is actually a coffee cup cozy, but you can experiment it in any yarn color you like and can gift it to a coffee lover. Willing to duplicate this handsome octopus? Grab the easy guides and free crochet pattern from here twinkiechan
Free Crochet Giant Octopus Pattern: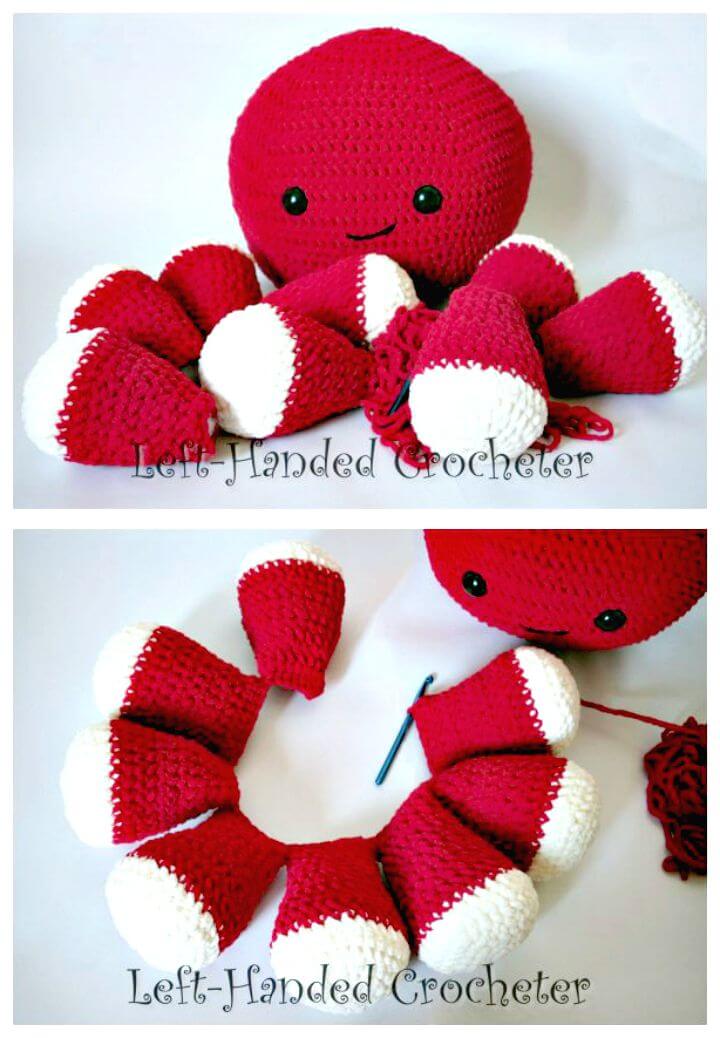 Make your little kids feel happy with this giant octopus that would make a great birthday gift. Here it comes in hot red color and with white bottoms of feet and hence gains a remarkable appeal. Give it also to your babies when they are going to sleep; this will wish them sweet dreams. This is here another great crochet octopus plushies that would be in much less time, and the advanced beginners can easily duplicate this precious looking octopus amigurumi. Want to try out this unique crochet pattern? Grab the full free guides and easy free crochet pattern from here mohumohu
Easy and Cute Free Crochet Octopus Pattern: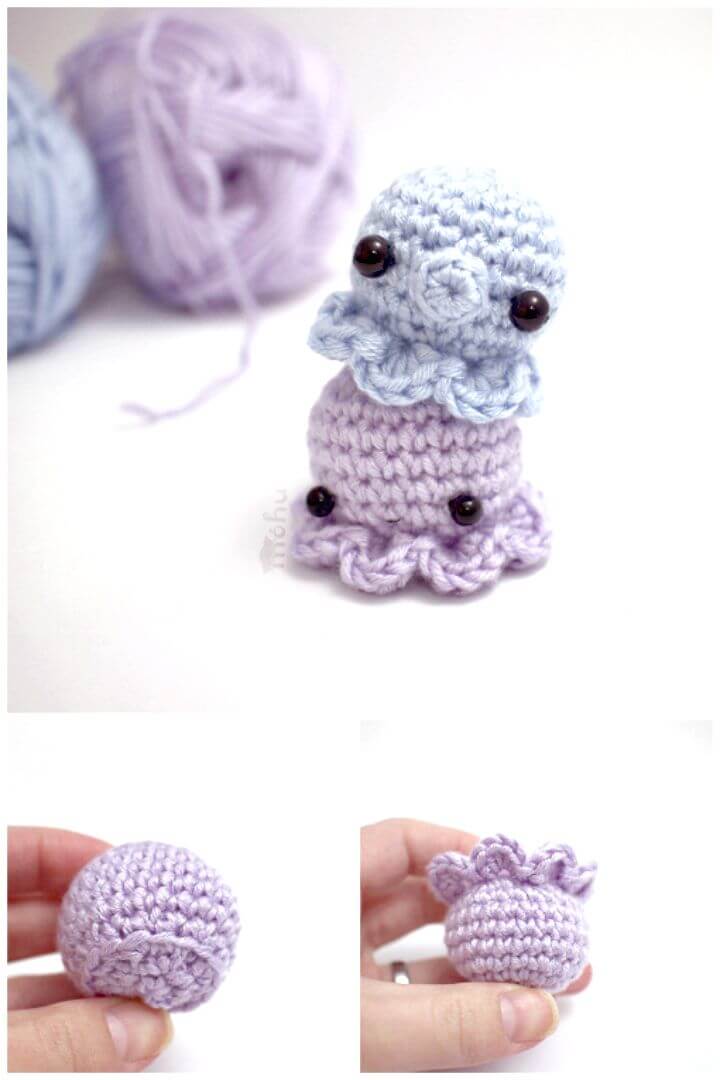 Nothing would work great as miniature baby gifts but these cute free octopus that are a delight to view and can make any baby jump with joy if given as a gift. Moreover, these tiny but cute looking octopuses don't come with long tentacles so can easily be stacked for a big vertical tower that will truly go eye-catching to kids. Here the eyes are made of black beans, and miniature sizes of these octopi would go enticing to all fun loving kids. Want to try out these mini octopuses? Grab free crochet pattern and visual instructions from here crochetthat
Easy How To Free Crochet Octopus Pattern: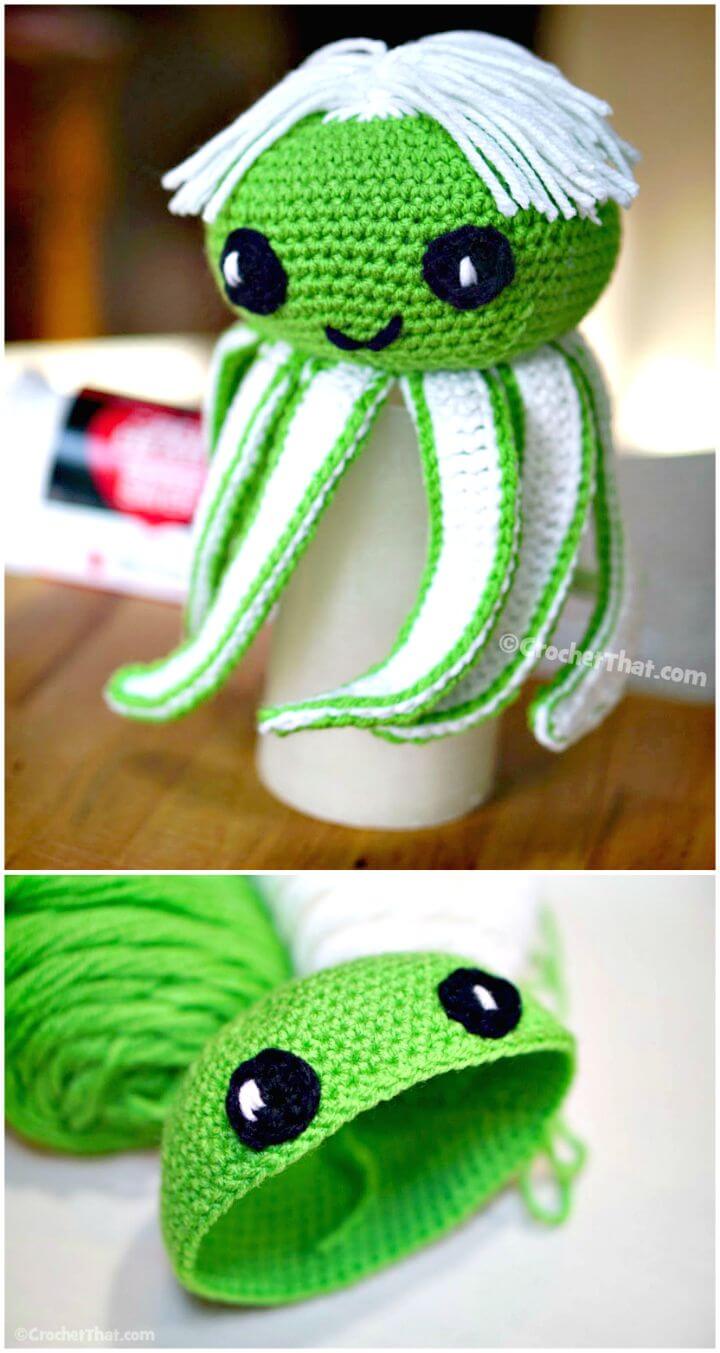 Another fabulous crochet octopus plushie is here that comes with hairs and is damn focally stimulating. All kids will just fall in love with this stuffed toy just at very first sight, and this crochet octopus is damn easy to crochet also. Here only the easy skill level is required to crochet this handsome octopus that comes with eight tentacles and with a giant well-stuffed head that is having the crocheted eyes on it. Another gift-worthy crochet octopus amigurumi that will also make a great baby birthday gift too. Complete project details and free crochet pattern here molliemakes
Easy Free Crochet Octopus Pattern: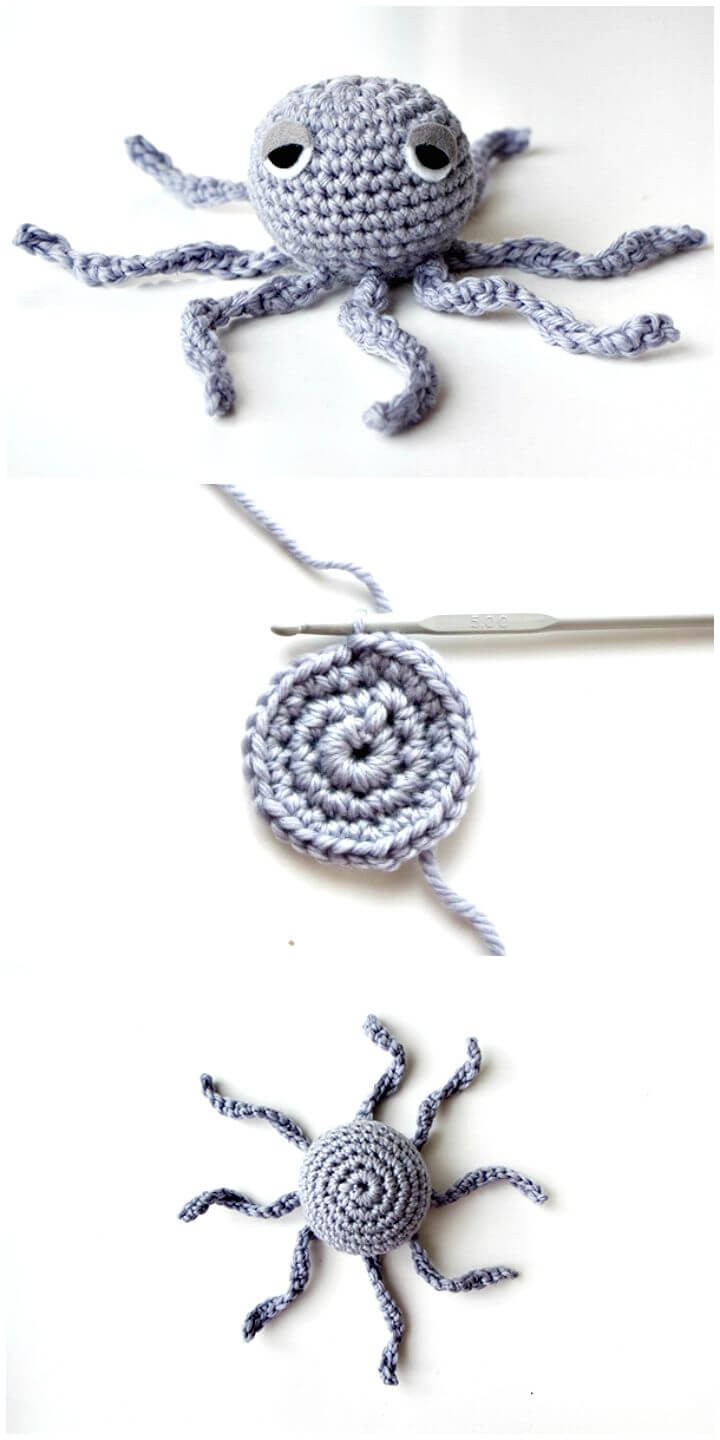 The designs and patterns for crochet octopus are just never ending and here is another beautiful one that is sure to bind you under its cute beauty spell. This is here the cute crochet octopus that comes with long tentacles and has been given a cute and innocent personality. This is here another innocent yarn friend for your baby to cuddle and hug with. Looking forward to trying out this cute looking crochet octopus? Grab the full free guides and easy crochet pattern from here robotrish
Free Crochet Octopus Amigurumi Pattern: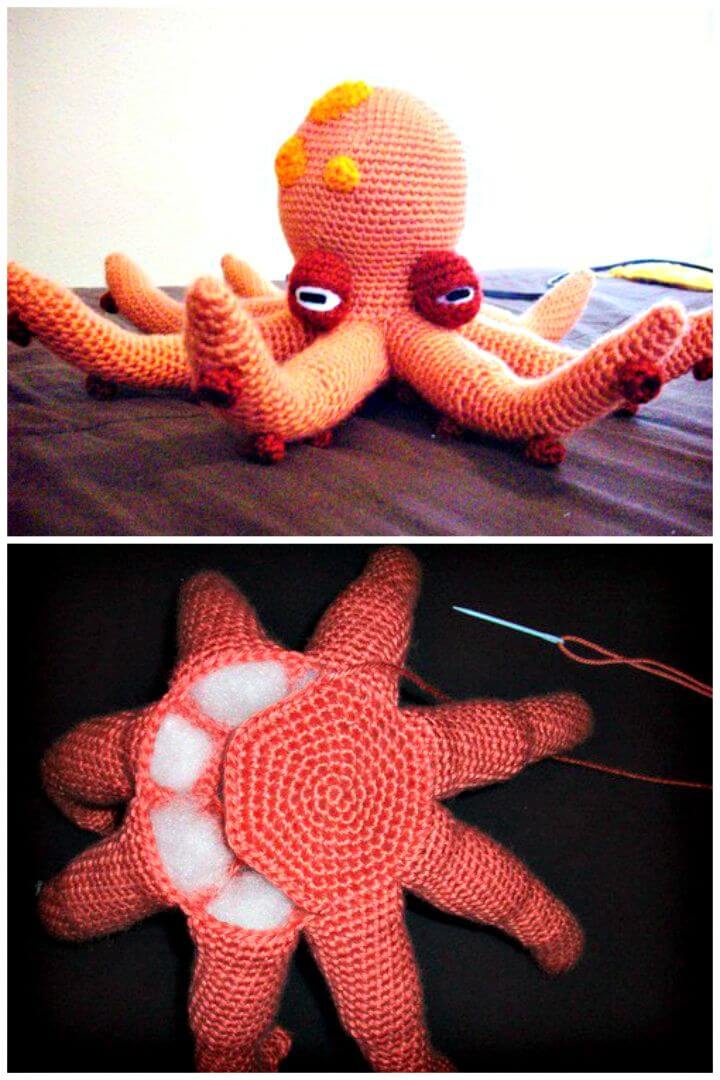 You will love to own this peachy pink octopus that will also make an interesting décor along with a fun-making baby toy. What's new in this crochet octopus amigurumi, are the big lazy maroon eyes and this exclusive octopus plushie also comes with well-stuffed tentacles that remain straight and in place. Furthermore, the tentacles have also been spruced up with maroon shells for an extra beautiful look. Furthermore, some yellow yarn spots have been crocheted over the head that doubles up the cuteness and beauty of the octopus plushie as you can see. Want to see this octopus next in your baby's hands? Then just crochet it now via free pattern provided here katestitches
How To Unique Crochet Octopus – Free Pattern: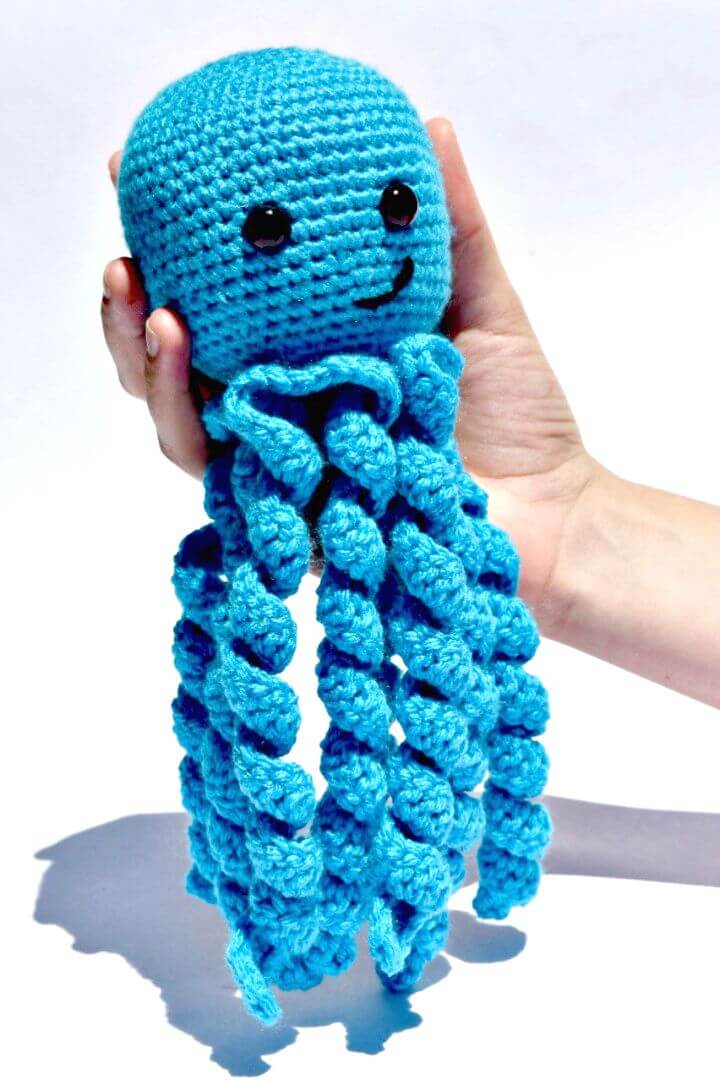 One more amazing crochet octopus amigurumi is here to hold your attention. This is here the unique crochet octopus that is looking lovely in teal blue color and comes with black bead eyes that create a stunning visual of this handsome crochet plushie. Next, it comes with mini lips that create a beautiful face expression that all kids will like. Tentacles are another amazing feature of the design that put extra grace and visual attractiveness to this crochet octopus. Want to give this crochet octopus a try? Grab the full free guides and free crochet pattern from here thesunandtheturtle
Easy Crochet Amigurumi Octopus – Free Pattern: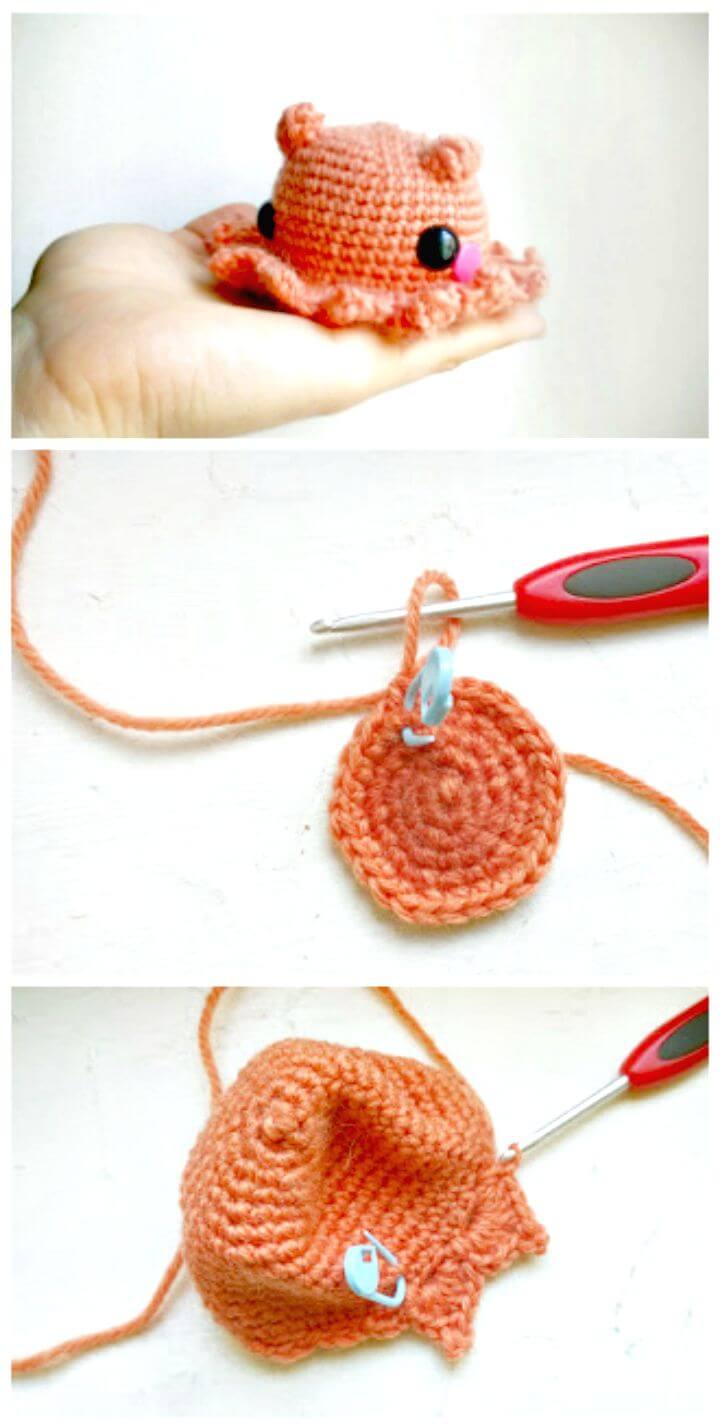 Here is a mini crochet amigurumi that will work up super quickly and is looking damn cute. Kids can hold it in hands to have while playing with a couple of friends. Moreover, you can create a set of these crochet amigurumi that can be put together for beautiful home decors too. This mini crochet octopus also comes with beautiful eyes that can win your heart and are making the design a bit more beautiful. Intending to duplicate this another interesting crochet amigurumi? Grab the full free guide and free crochet pattern from here khookcreations
Free Crochet Octopus Amigurumi Pattern: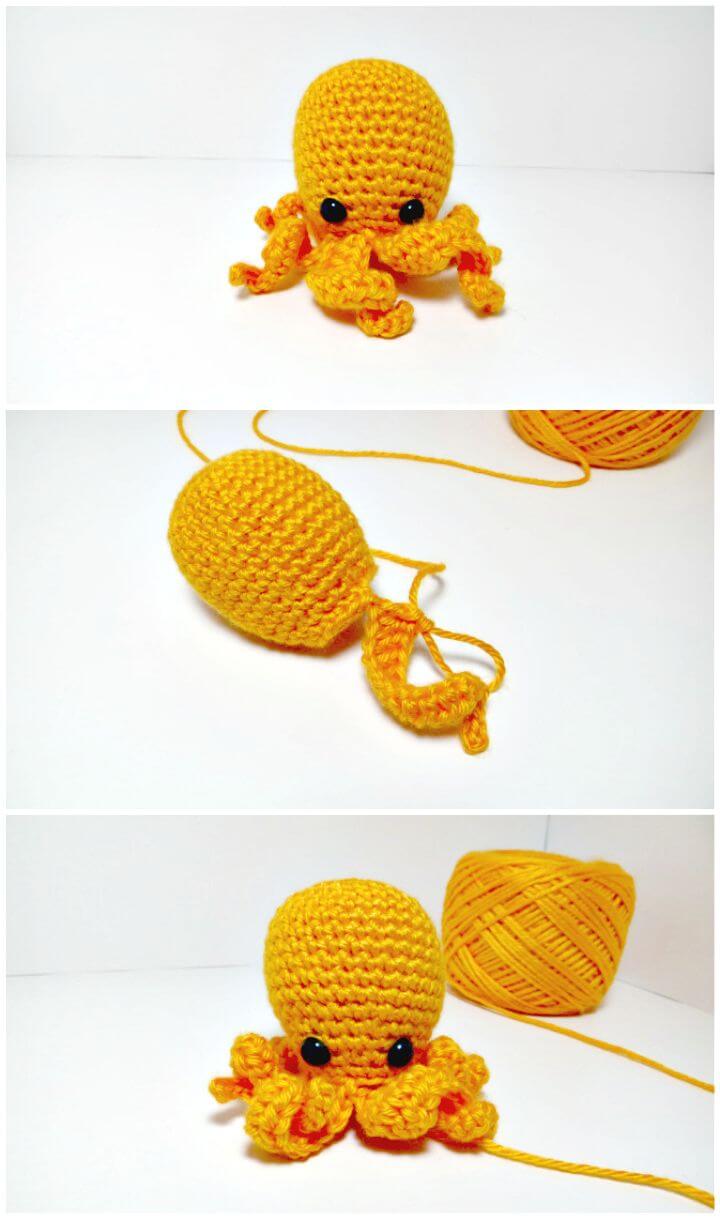 Looking for a cute and super soft cuddle me a toy for your baby? Then take a look at this wonderful crochet octopus amigurumi that is looking lovely in single yarn color appeal and is super easy to crochet also. Here this octopus also comes with stuffed head and with black bead eyes that makes it double cute and huggable too for the kids. Another cool yarn friend to give to your baby to play with. It will also make an interesting and pleasing baby's birthday gift if you like to do so. Looking forward to duplicating it? Grab the easy guides and free crochet pattern from here octopus
Simple and Easy Crochet Octopus – Free Pattern: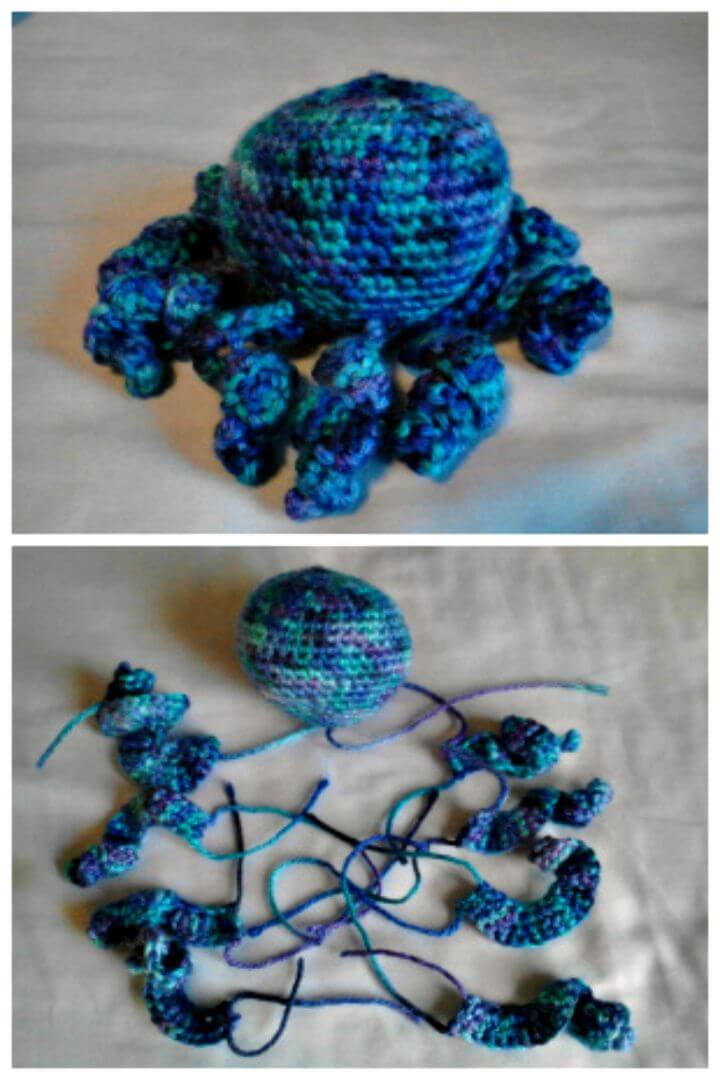 Sorting out a crochet plushie patter that will be ready in no time to go to a kids nursery? Then just take a look at this easy crochet octopus that goes enchanting to eyes due to bluish visual that also comes with a little mix of other colors as you can see. It would be great fun to crochet this handsome octopus for your or a friend's baby. Moreover, give it also as a gift on a baby shower. Looking forward to cloning this crochet octopus? Grab the full free guides and free crochet pattern from here thelarvalengineer