Crocheting is not just an art to crochet the winter warmers and other handsome winter fashion accessories! It is also an art that can boost your summer fashion as there are too much amazing and versatile crochet patterns for summer & spring that will also style you up in summers! Moreover, you can also do various crochet projects that will help to improve and decorating your home more and herewith are one of those amazing crochet projects! Here the idea is to crochet lampshades with your favorite yarn colors and stitches that will bring lots of focal stimulation to your table lamps along with being a protective cover!
If you are also willing to crochet some fab yarn covers for your side table or nightstand lamps then Check out here the 12 Free Crochet Lampshade Patterns that are truly fantastic and each pattern results into a unique and adorable looking lampshade! These crochet lampshades will definitely create a divine look of your lamps if crocheted with stunning yarn colors in a brilliant design texture!
Crochet the colorfully striped lampshades using the puff or granny stripe stitch and just create incredibly eye-catching lampshades for your table lamps! Get inspired by a lovely sample design that comes with red hanging pom-pom trim! Another praise-worthy crochet dress for your lampshade is the given dolly lampshade that looks like a prom night dress of a little girl and comes with pom-pom adornments! Bring also a great winter character to your lamp shade by crocheting some fantastic simple cozies for your lampshade that may also come in neutral hues!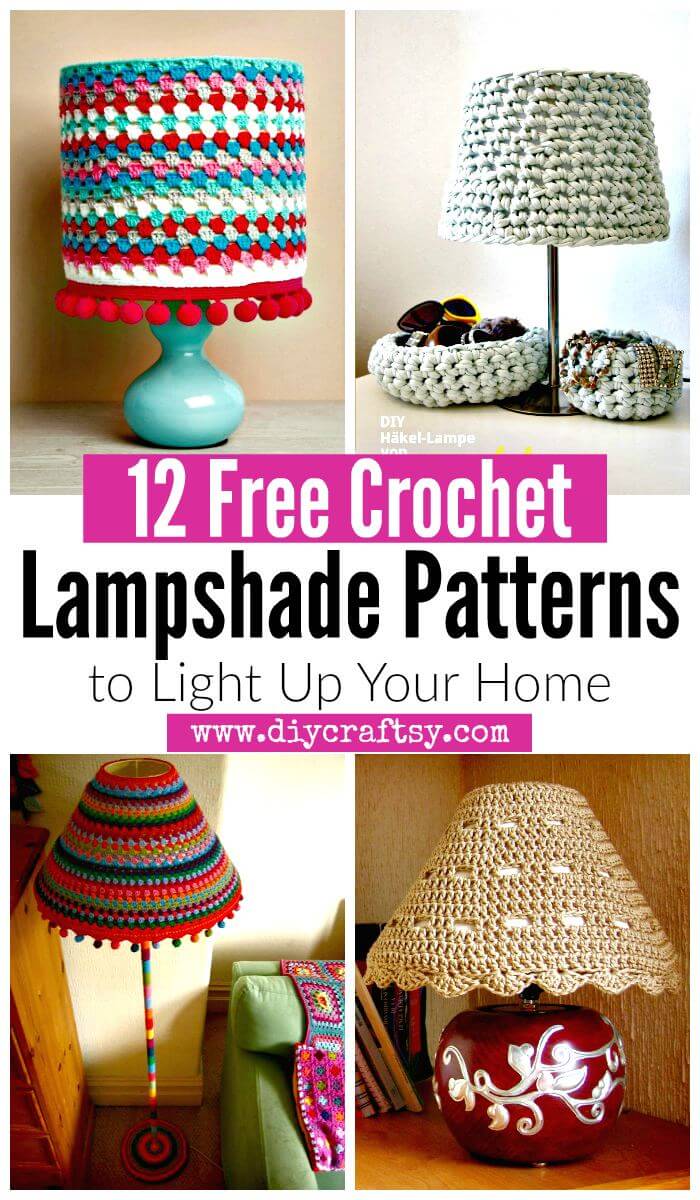 You also test your stitches by crocheting fantastic rainbow striped lampshade and full lamp covers, get inspired by the given sample crochet lampshade set that also includes the matching yarn phone cover! Crochet also the bowl-shaped pendant lampshades by working in basic crochet stitches and boost your living room decors, spice up also your table lamps by crocheting the puffed lampshade covers that would be easy to crochet using puff stitch!
Moreover, you can also create an enticing appeal of your lampshade using granny square collage lampshade and you can also jazz up your night lamp with a precious white yarn lamp cozy that would be super easy to crochet also! Here this grand list of crochet lampshades also provides patterns that are beginner-friendly so everyone can just enjoy crocheting these lampshades!
In his free time! The ideas for crochet lampshades are just endless and you can check out the entire list to grab some more unique and outstanding inspirations!
Free Crochet Patterns You'll Love:
Experiment all these crochet lampshades with different yarn colors that will match your interior decors and next you can also vary the crochet stitches to vary the design texture of the lampshades from normal to enticing to rocking! Next, you can also vary the tightness of the stitches to come up with outstanding design textures like from ribbed to breezy!
Check out the entire list of these crochet lampshade patterns and just add your favorite ones in your to-do list that you are willing to copy! Next just visit the respective pasted source links to grab the full free guides, visual tutorial and free crochet patterns for your favorite lampshade projects!
Easy Free Crochet Lampshade Pattern: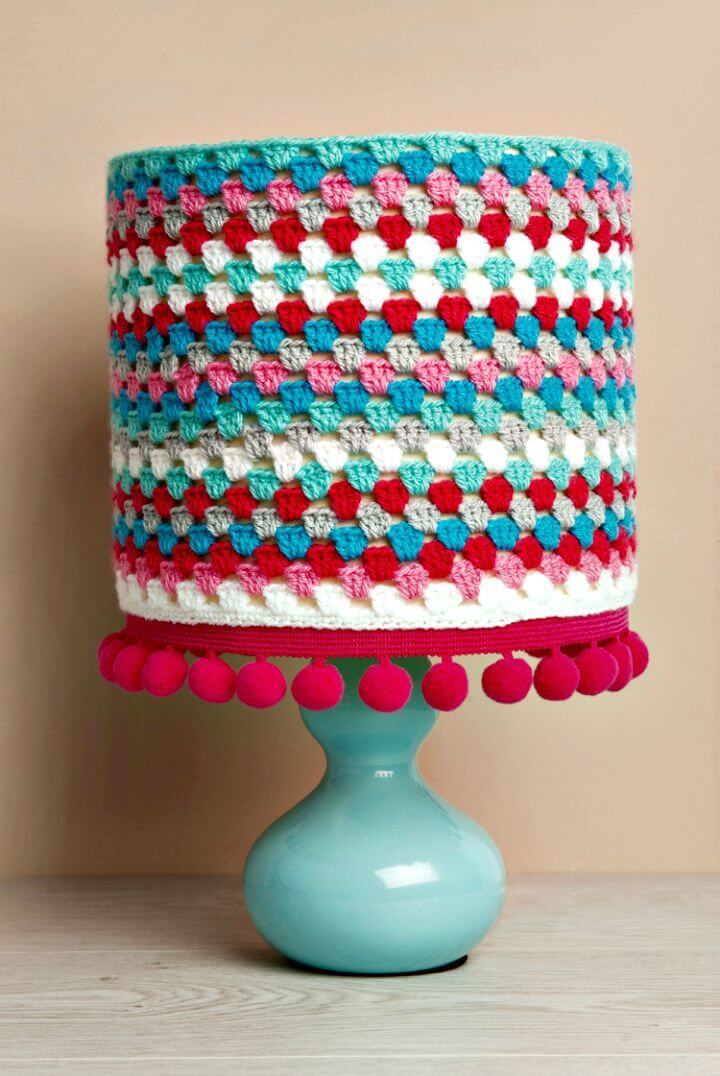 A colorful and fancy lamp standing right beside your bed table is just the perfect thing to add some cute and pretty details to your bedroom decor especially to a girl's. So here is how you can crochet this adorable and colorful lampshade cover with the multiple yarn hues by working up this chunky pattern. That pom pom lace trim at the base is adding oodles of charm to this adorable lampshade design and pattern so it really is a worth hack do have it all here sewandso
Free Crochet Dolly Lampshade Cover Pattern: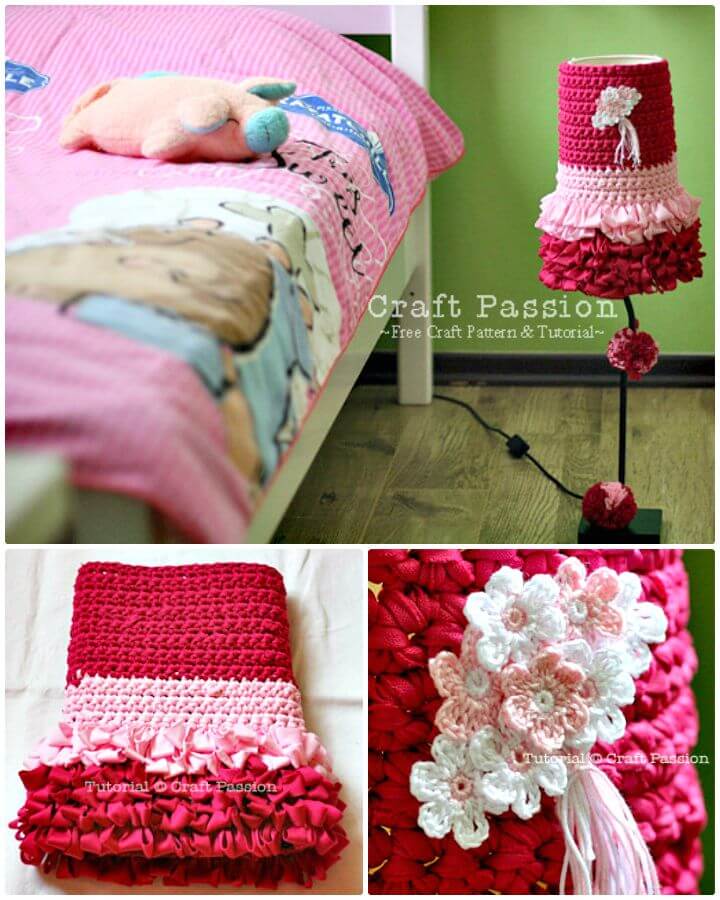 Girls want everything to be so much fancy and beautiful for their rooms and so you can make this prettiest crochet dolly lampshade for their lamps to be covered so gracefully and stylishly. The upper part of the lampshade has been nicely crocheted while the base has been laced up with the ruffles and a those cute crocheted flowers just add icing on the cake to make this lampshade look so much heartwarming and gorgeous. You can grab the complete details of the pattern right here craftpassion
Easy Free Crochet Lampshade Cozy Pattern: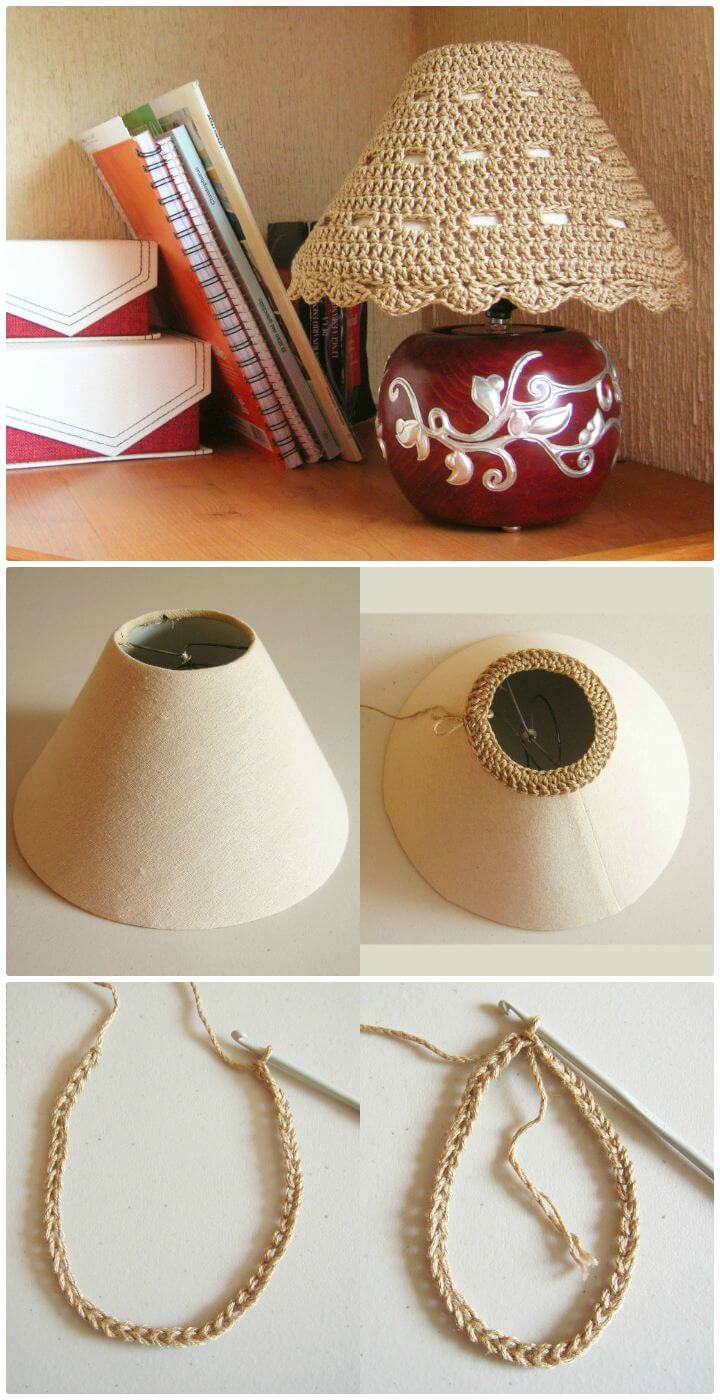 When the winters are around the whole home decor and home styling seems to be cozified and warmed up with the crochet possessions so why not your lamps should be infected with some crochet love.You can crochet this simple and appealing lampshade for your lamps and make it look so full of texture and character and thus spruce up your room decor so aptly for the cold weather. The pattern is so simple and fun to work upon and you can have it all here either the free pattern, details or the instructions chabepatterns
Free Crochet Funky Lamp Yarnbomb Pattern:
You would surely swoon over this amazing idea of crochet lampshade and the lampstand and that too in the multiple color of the yarn so that your dull and boring living room decor revives to life and freshness and again. Using the multicolored yarns the lamp base round, the stand cover and the lampshade have been nicely crocheted with the pom pom trim added to the lampshade. It is an apt idea to when you are planning to bring some makeover changes to style up your living room decor so do catch its details here attic24
How To Free Crochet Lampshade Pattern:
The floor lamps can be made to look so much fun and decorative in no minutes if you are a good crocheter as you can easily crochet this lovely lampshade to boost up the look of your lamp and thus spicing up your living room decor with it. Just crochet a circle, get it into a starch mixture, spread it over a round surface and then let it dry and you have a new and totally exquisite lampshade to top up your lamp with. You can check out the easy and fun details of the pattern right here to add this project in your next to do list karabouts
Easy Crochet Funny Little Lampshade – Free Pattern: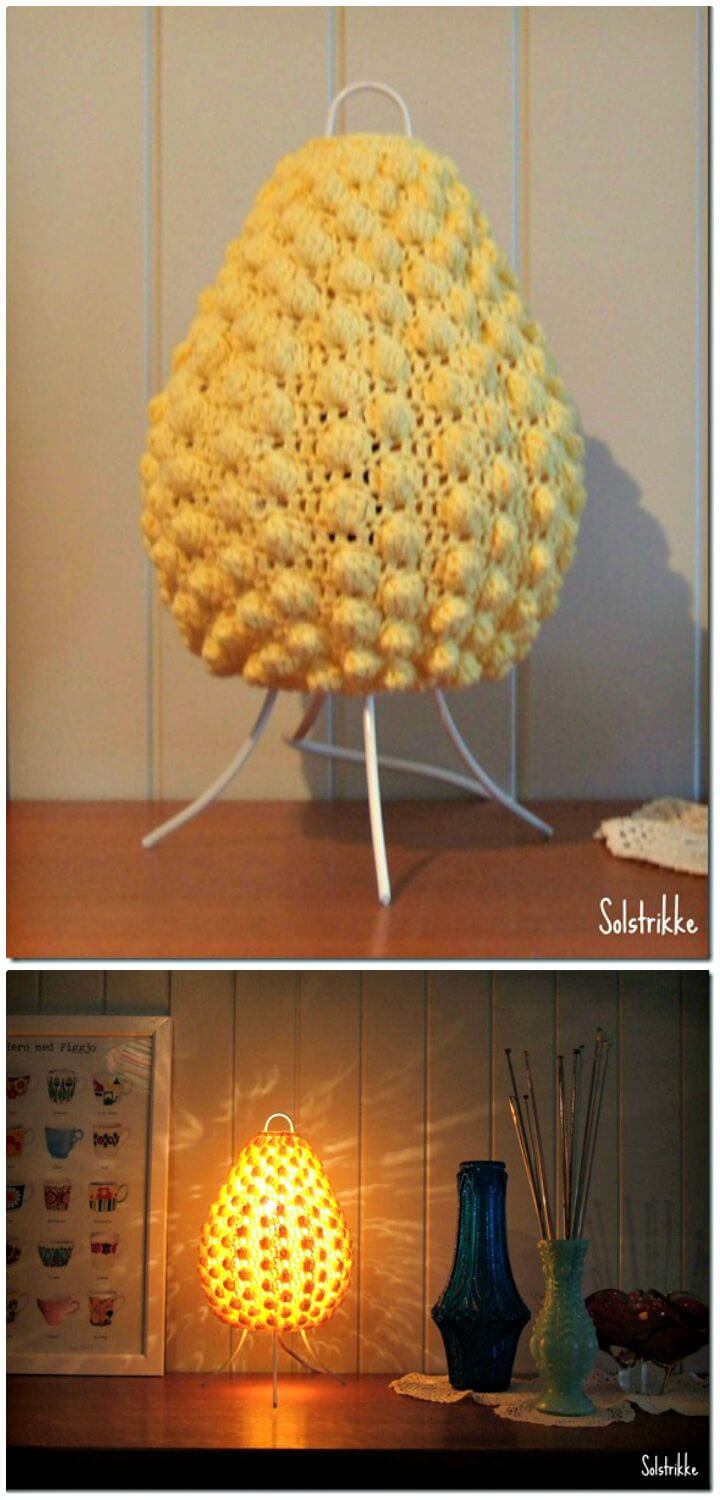 Lamps are the important part of our table decor and its the design and the style of the lampshade that really adds to the beauty and decor of your spaces. SO instead of using those market bought mundane like lampshades from the market you can crochet one for your cute mini table lamps with the adorable bobble stitch pattern. The lampshade has been done in yellow yarn shade so that when the lamp is on the beams of light come out so gorgeous and tempting. The complete tutorial for this enchanting lampshade is given here with all the needy detail and the instructions solgrim
Crochet Granny Collage Lampshade – Free Pattern: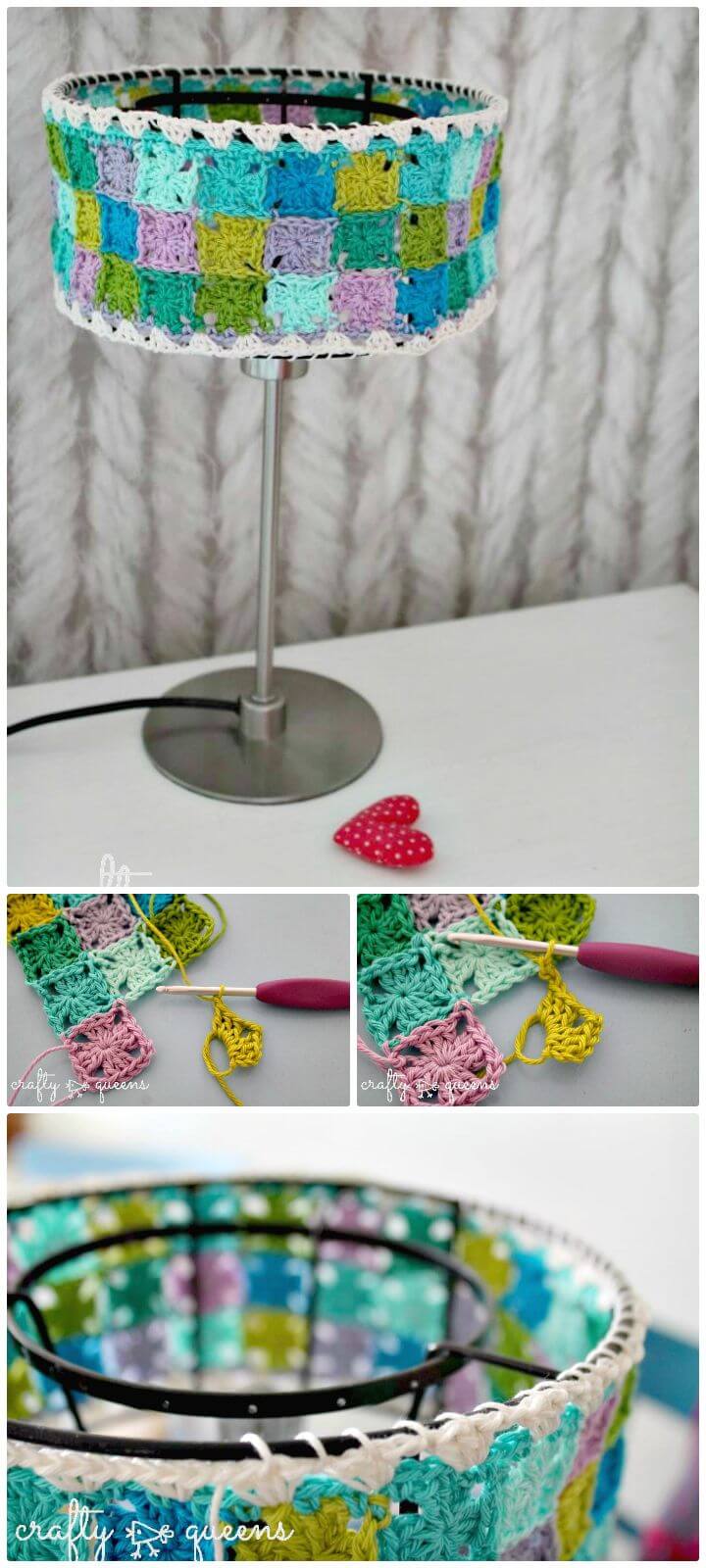 The colorful crochet possessions are so much apt to bring in the the cool summer vibes in your spaces. This time you can get your hands on this pretty and colorful lampshade to enjoy some fresh and delightful colors in your bedroom or living decor as this lampshade would look so much adorable and pretty standing on your night stands or the end tables. You can check out the details of the pattern here to make this cute lampshade right on your own newleafdesigns
How To Free Crochet Lampshade Pattern:
Sometimes the little decorative changes in your spaces really creates some big beauty impacts and changing your lampshade is surely one of them. There are so many ways to restyle your lampshade and make it look super stunning for your room decor and crocheting one is the best idea when the fall is coming over. This nude shaded yarn lampshade is just perfect to glam up your lamp in a really elegant and decent style and that too with the without burning a hole in your pocket. You can check out the details of the pattern here along with the instructions craftaholicsanonymous
Simple Free Crochet Trim Transforms A Basic Lamp Pattern: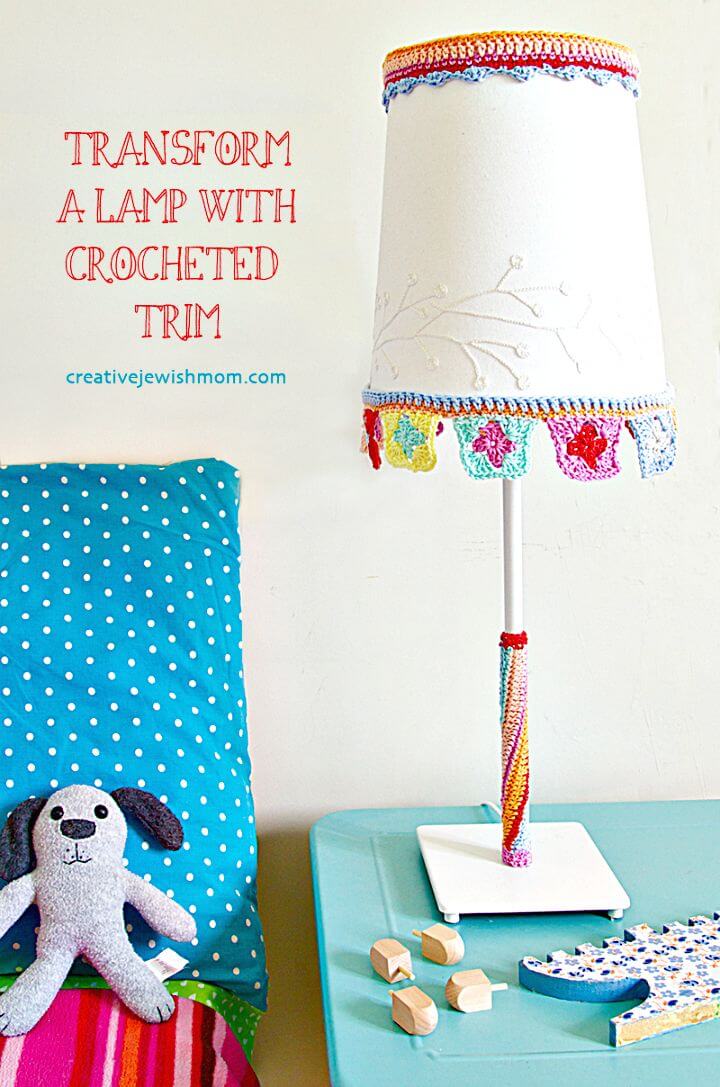 With the time we get bored with the things around and this calls for a change and so does it fit to the decor of your rooms. So when you start finding your decor to be dull and boring you need to add some pop out of the colors to make it look all fun and fresh. You can do this restyling so simply by adding this colorfully crocheted granny square trim to the lampshade and the cover to the stand which are just easy like hell to crochet on your own. The pretty idea details are lying here to follow step by step on your own creativejewishmom
Crochet Lampshade Covers – Free Pattern: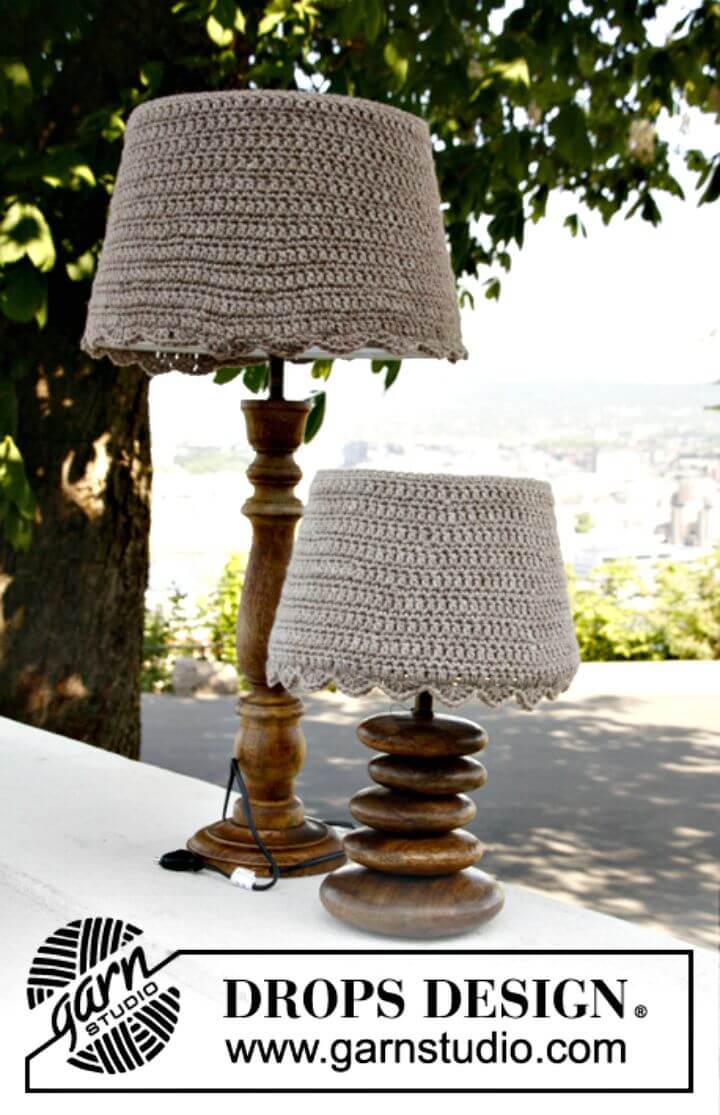 Do you have those traditional styled wooden lamps for your rustic room decor? If yes then we have this great of crocheting the pretty lampshades for the lamps and make them look so much jazzed up but without losing their distressed charm and the texture and that is due to the colors of the yarn have been used to crochet the lampshades with.The pattern is just so much simple and fun to work up your crochet hooks on and you can have it all here with the needy details and the instructions garnstudio
Easy How To Crochet Light Shade – Free Pattern: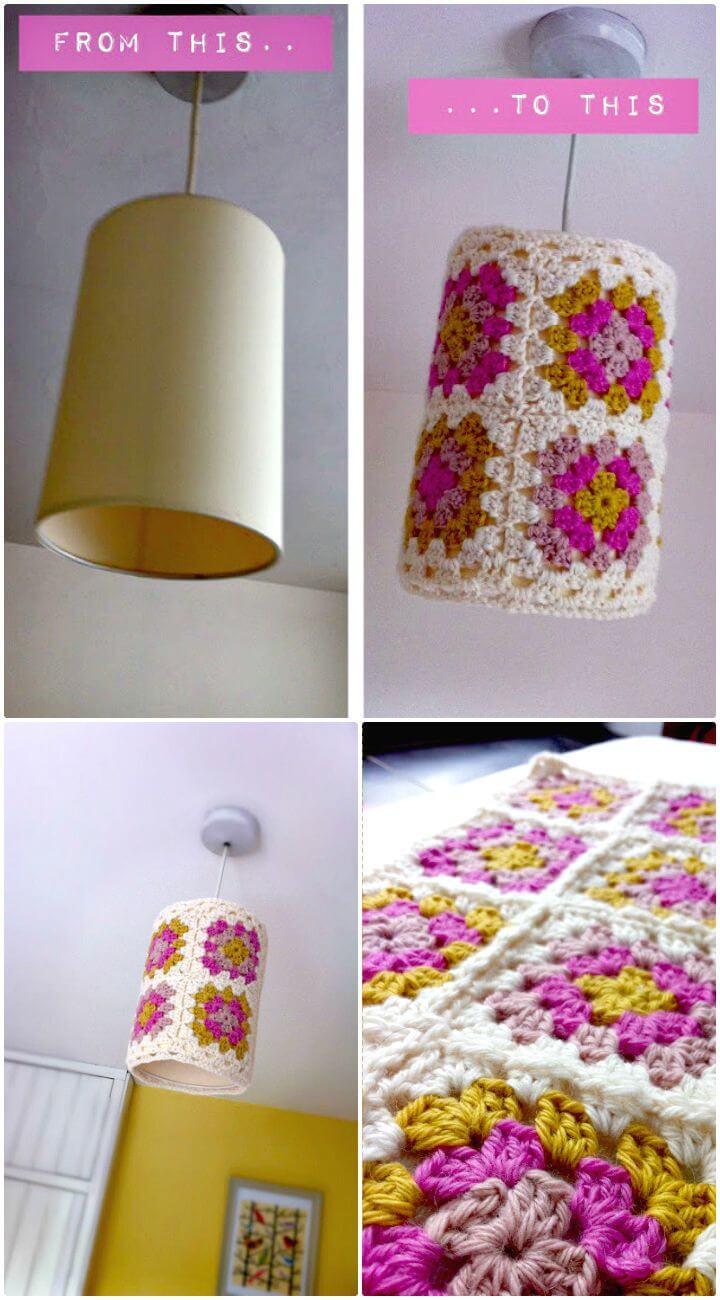 You do not need to spend a big fortune over your room renovation and remodeling when the simple additions can do that job with the least of the cost. Here is this pretty lampshade that you can crochet yourself with the pretty colorful squares in the white base. When you would cover your lampshade with this crocheted piece there would be some freshly cute decor touches added to your room spaces. You can check out the details of the pattern here with the free pattern itself and the instructions you need to know potterandbloom
How To Free Crochet Lampshade Pattern: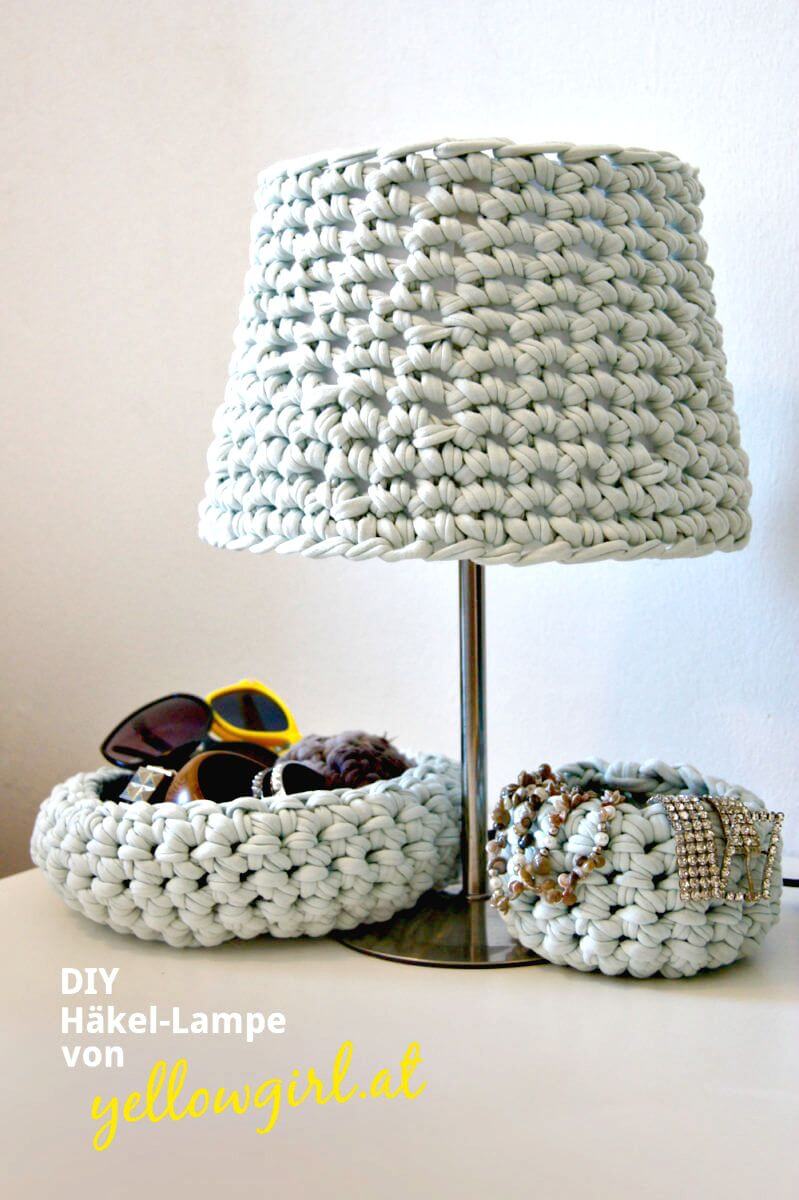 Maintain your trendy bedroom decor with this crocheted lampshade that has been made up with the soft and flexible thick zpagetti yarn and also with the use of bigger crochet hooks. In the plain white color and the knotted pattern this lampshade would turn out to be the most gorgeous and the most stunning addition to your bedroom or living room makeover ideas. You can grab the free pattern, the details of the design and the instructions of the stitch right on this link provided yellowgirl