Spring is a season of colors when the natures seem to be in its full! The greenery all around becomes greener after a disaster in autumn, and the brightly colored flower blooms enchant everyone! Along with amazing flowers and plants, the spring is also a season that brings a big range of colorful butterflies with it that are favorite to everyone and the most loved tiny creature of nature! The spring is coming so, we don't want you to miss these butterflies because there are no more butterflies to see when the spring is gone!
However, there can be a great way recall the butterflies every time, and the idea is to crochet some colorful yarn butterflies that will make a great motif and also be kept as a sweet memory of butterflies! So for all butterfly fan, here are 48 brilliant Free crochet butterfly patterns that are sweet and enchanting and would pay a great attribute to spring season!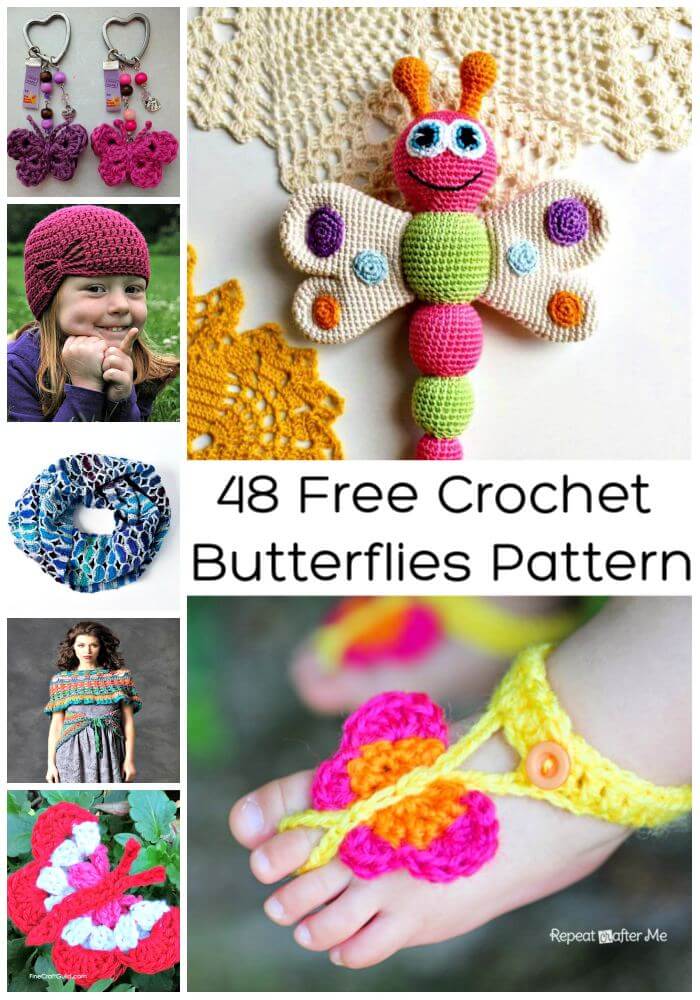 Crochet the darling butterfly appliques that can be mounted on any special accessory for a quick stimulating look! Crochet also the butterfly inspired crochet baby blankets and cocoons that would make a great winter gift and a darling winter warmer for a baby! Go with chunky yarn weights like cotton viscose and crochet thicker yarn butterflies that can also be given as cute toys to kids and would also make perfect hanging decor for kids rooms! If you want a decorative butterfly design pattern, then you must take a look at the given fancy thread crochet butterfly that is amazingly beautiful and eye-catching!
Free Crochet Patterns:
Moreover, the crocheted butterflies would also make fantastic garden decors as they can be hanged aloft on different tree branches and tree leaves as faux butterflies creating more prominent statements of garden decors!! In this case, the 3D crocheted butterfly and the swallow-tailed crochet butterfly would be great samples! Use also the crochet butterfly appliques to spice up your fashion accessories like they can be used as an enticing embellishment for your hairpins and hair clips and also come mounted on your t-shirts, sweaters or hats as a dashing sweet adornment!
Crochet also the butterfly fashion for yourself and for other style loving ladies you are in touch with! Get inspired by the given crochet butterfly cowl and sweet crochet butterfly wrap and also checkout the crochet scarf that comes with attractive crocheted butterflies on both ends! Another interesting example, in this case, would be the lovely crochet butterfly crop top and super visually beautiful crochet butterfly booties, would also make a great baby shower gift! Crochet even the beautiful butterfly pillows that will freshen up any couch or bedroom and would be great fun to hold in arms too! Moreover, crochet also amazing hats with butterfly motif that would also make excellent winter gifts for kids!
Experiment all your favorite patterns from the list with different crochet stitches and also with varying colors of yarn you like! For free crochet patterns for each butterfly project, just hit the respective source link!
Easy Free Crochet Butterfly Pattern: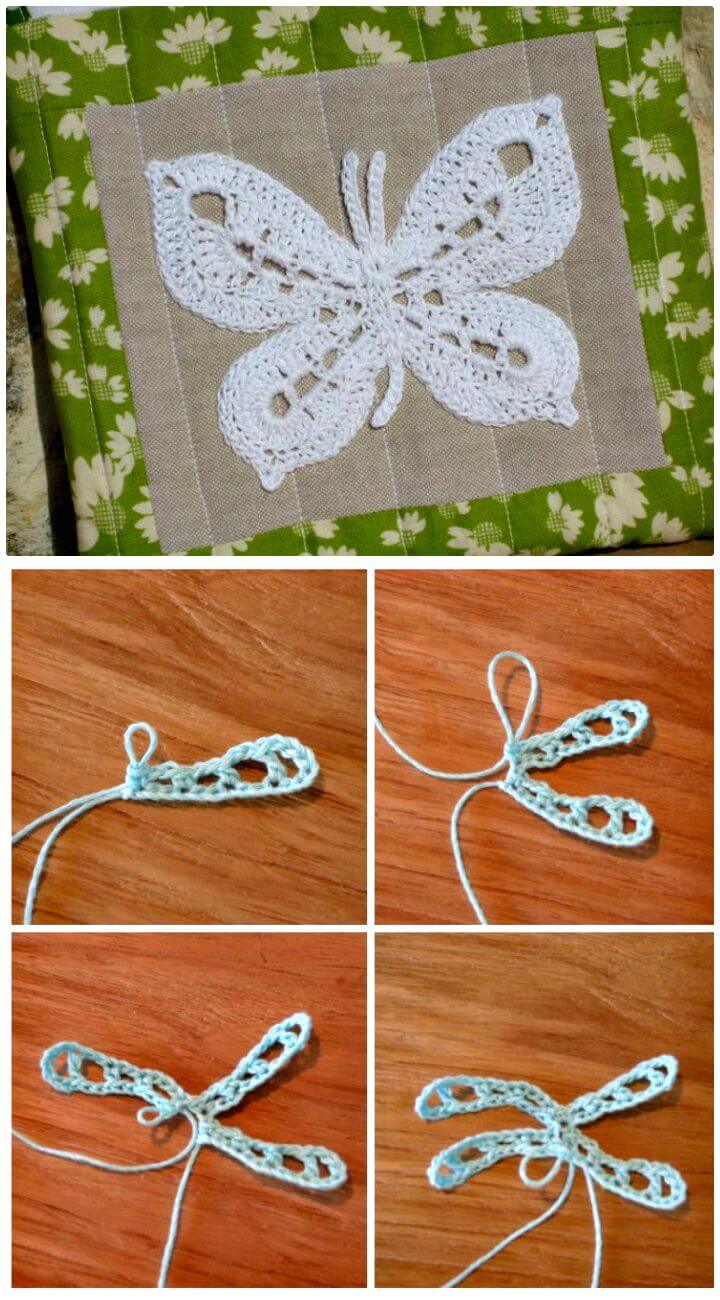 All love butterflies, and it would be a damn good idea to crochet some butterflies! So, if you are also a big fan of butterflies, then you can crochet some brilliant butterfly appliqués also that may also come like a butterfly logo on your fashion clothing and your various items of interests! Here is how to show your love for butterflies through your crochet hook! Check out the sample butterfly pattern here that is both lovely and unique! Grab the full free butterfly pattern and easy guide from here Free Crochet Pattern
Free Crochet Butterfly Baby Blanket & Cocoon Pattern: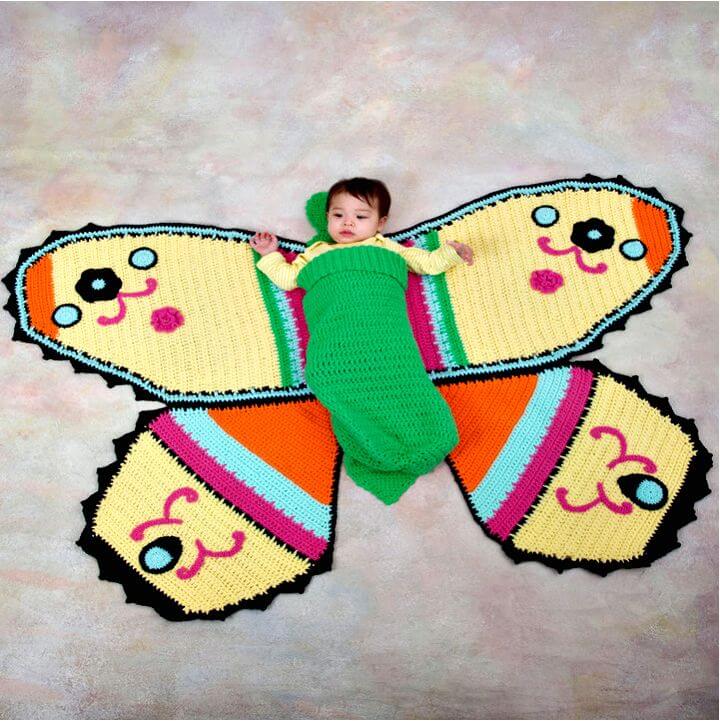 One more amazing way here to recall the butterflies, crochet some butterfly baby blankets in your favorite yarn colors that would make the perfect gift also for a mother-to-be! Check out here the sample butterfly blanket that comes with bewitching design texture, and all loving mothers can clone it for their babies! This blanket can be big but is super easy crochet pattern! Grab the full free pattern and easy to follow the tutorial from here redheart
Free Crochet Butterfly In Cotton Viscose Pattern: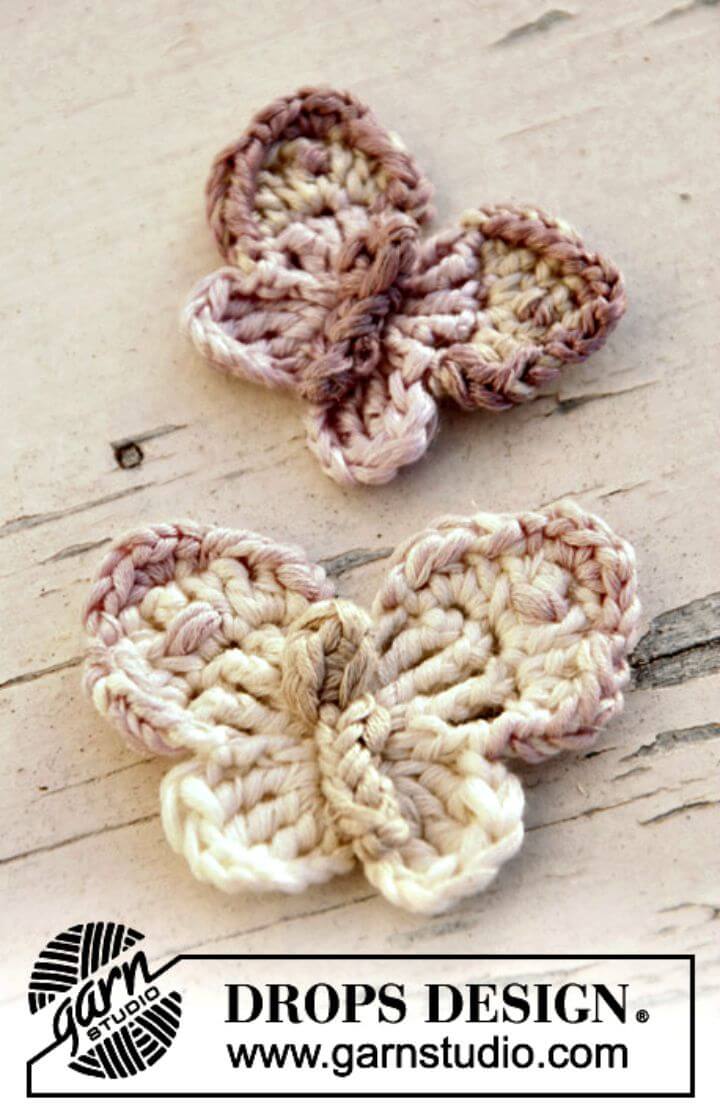 Are you on a mission to incorporate some butterflies to your home decors and daily life then a brilliantly smart way is here! Just crochet a mini butterfly like this cotton viscose butterfly and start using them as perfect hanging butterfly ornaments! Moreover, these miniature butterflies can also be used as butterfly tags on your various items of interest! Free crochet pattern and visual guide is here garnstudio
How To Free Crochet Fancy Thread Butterfly Pattern: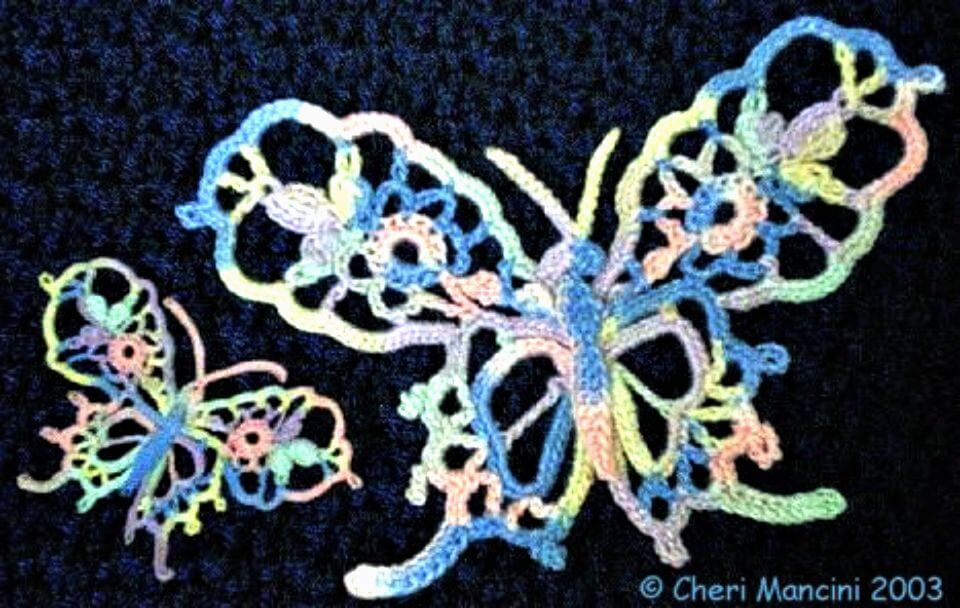 Check out here the butterfly design that is just out of ordinary and super unique, this is here a super decorative and lacey crochet butterfly pattern that can be used in multiple different ways! You can crochet it to use as a butterfly appliqué, like a butterfly logo and also as a butterfly art! This has been crocheted with fancy threads, and you can experiment it using your own yarn colors! Find the full free crochet pattern and guide from here google
Free Crochet Dainty Butterfly Pattern: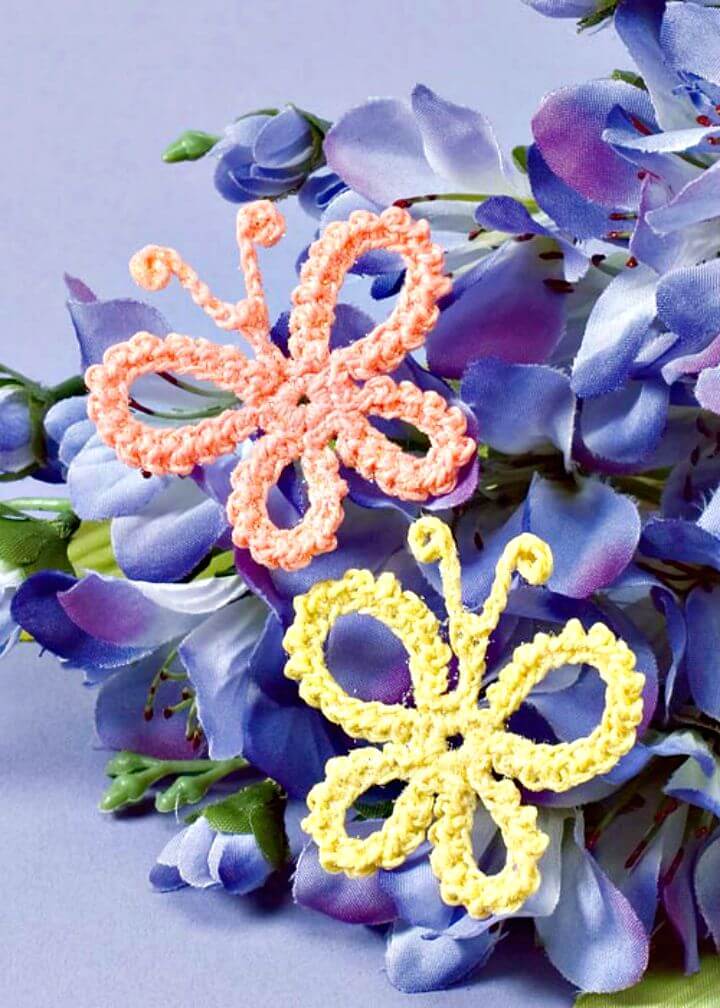 Check out here the miniature crochet butterflies that can be used for some decorative projects! They are just best to use as faux butterflies for your interior home vases, and they are just perfect to display as butterfly tags or monograms on any of your items interest and can also be hanged aloft as butterfly ornaments! Willing to duplicate these dainty butterflies? Find the complete free tutorial and visual guide from here crochetmagazine
Easy Free Crochet Swallow Tailed Butterflies Pattern: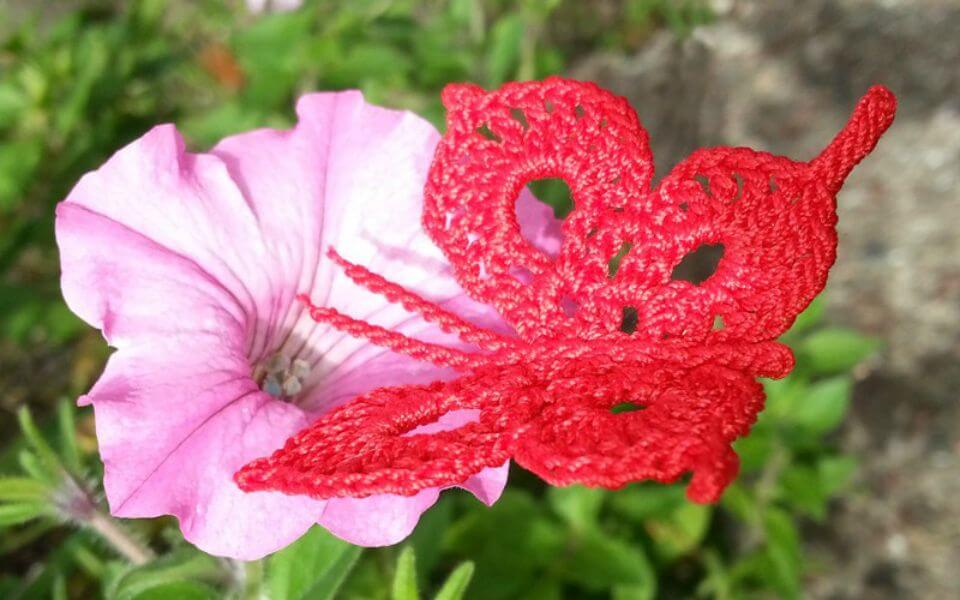 This is here the best crochet butterfly that looks much near to reality and has been crocheted with hot red yarn! Crochet these faux yarn butterflies to raise your garden decors, and this can easily be done by putting these yarn butterflies over the garden flowers! Furthermore, you can also garnish the interior home vases with these butterflies and hence can make them look super beautiful too! Another way to incorporate butterflies into your life! Willing to duplicate this swallow-tailed red yarn butterfly? Find the complete free pattern and tutorial from here megan
Easy Free Crocheted 3D Butterfly Pattern: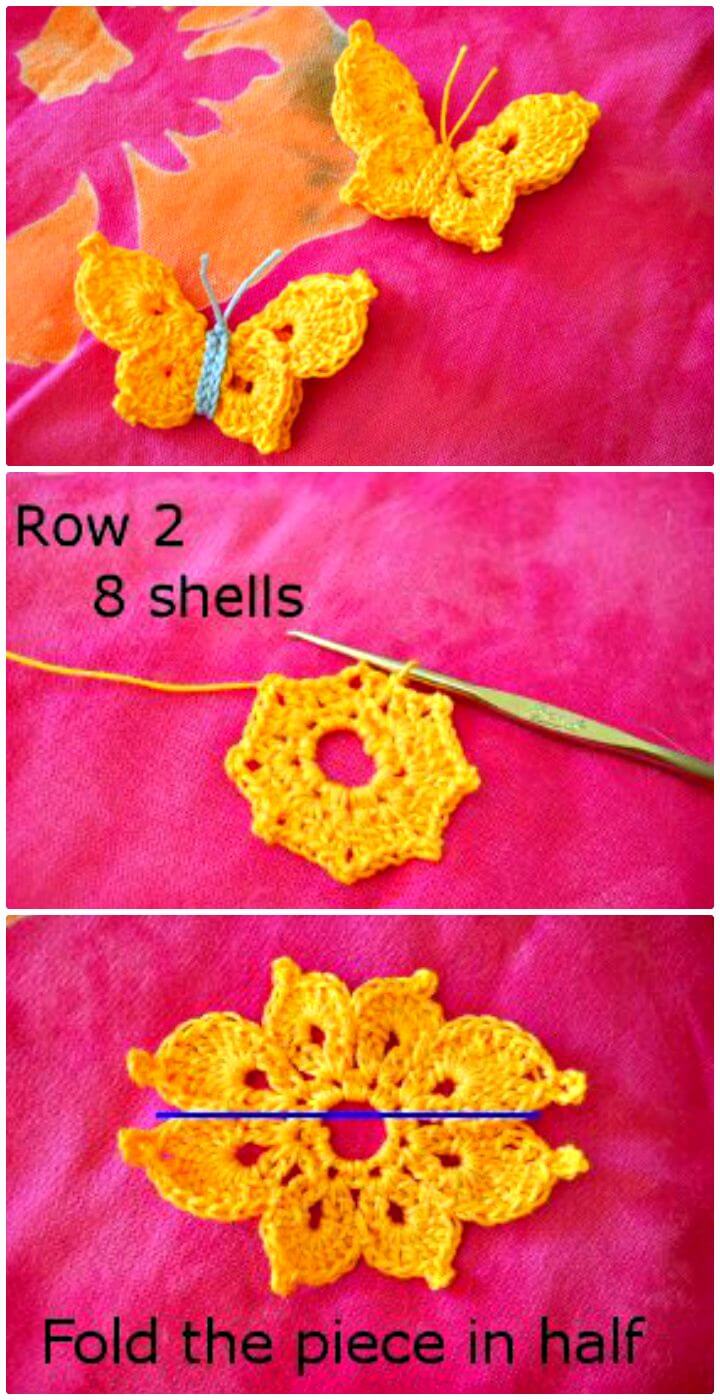 If you know how to crochet a flower, then you can also crochet a butterfly in just no time! Check out here a sample inspiration, here a big yellow flower-like the pattern has been crocheted which has then been folded in half to create a thicker 3D butterfly! You can experiment this crochet project with multiple different yarn colors and hence can make outstanding butterflies that can be used in many different home decor projects! Free crochet butterfly pattern and tutorial from here handmadelife1
How To Free Crochet Butterfly Applique Pattern: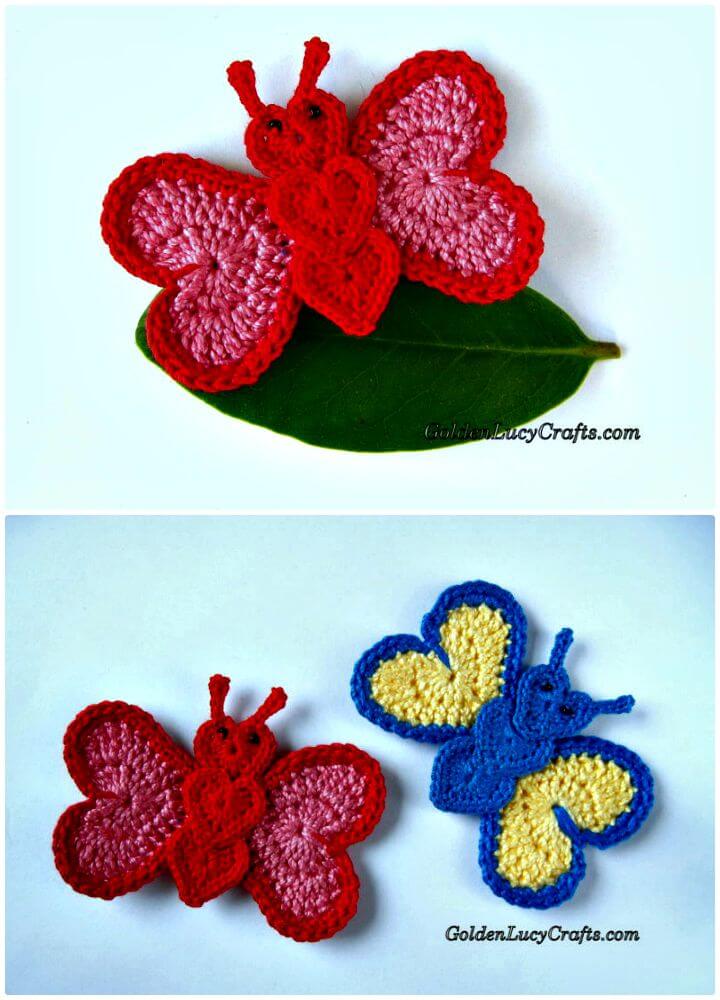 Check out here the love edition of crochet butterfly! Just crochet two precious mini hearts and just put them together that will make the four wings of the butterfly as you can see here! Furthermore, the three smaller red crochet hearts have been merged to create the body of the butterfly that looks like a caterpillar! A super easy peasy but super beautiful crochet butterfly appliqué pattern! Grab the full free crochet pattern and free visual guides from here goldenlucycrafts
Free Crochet Butterfly Applique Pattern: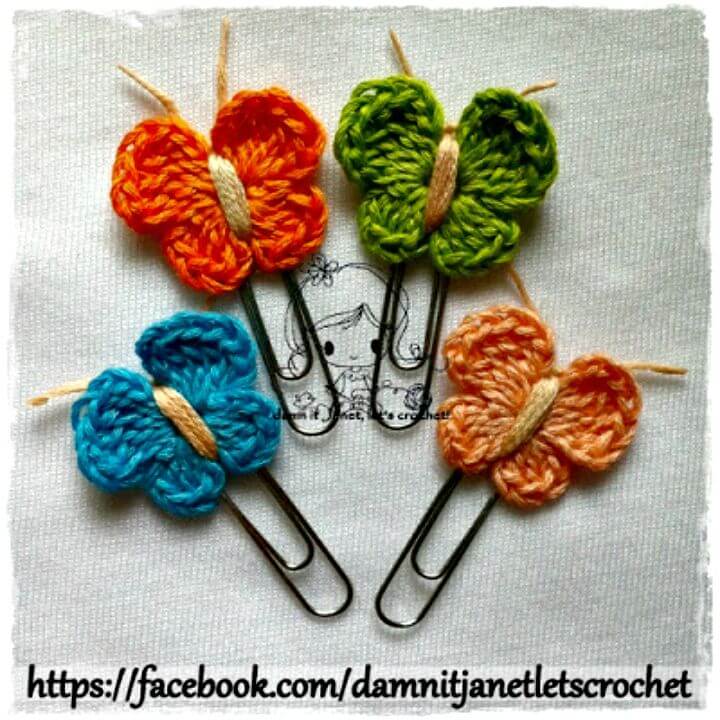 Crochet some amazingly cute miniature crochet appliqués and use them as embellishments, hanging ornaments and just decors for a number of your items! Check out some brilliantly colorful mini butterflies that have been used here as beautiful appliqués or embellishments for paper clips that are mostly to see on your desktop! A crochet way to adorn your desktop paper clips! Full free pattern and tutorial for these mini butterflies are here damnitjanetletscrochet
Free Crochet Butterfly Pattern: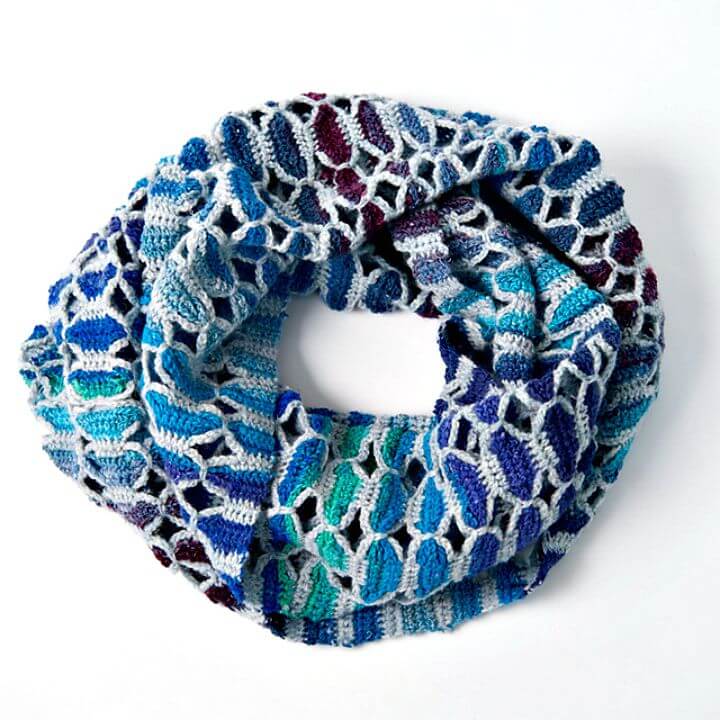 Crochet also the grand winter fashion with your hook by incorporating some beautiful and colorful butterflies! Just check out here this beautiful butterfly scarf that is a perfect neckwarmer here and is sure to boost the style of any fashion loving person! This butterfly scarf will also make a stunning gift for a friend, and you can also crochet it for your winter wardrobe! Free crochet pattern and visual guide is here ravelry
How To Free Crochet Butterfly Wrap Pattern: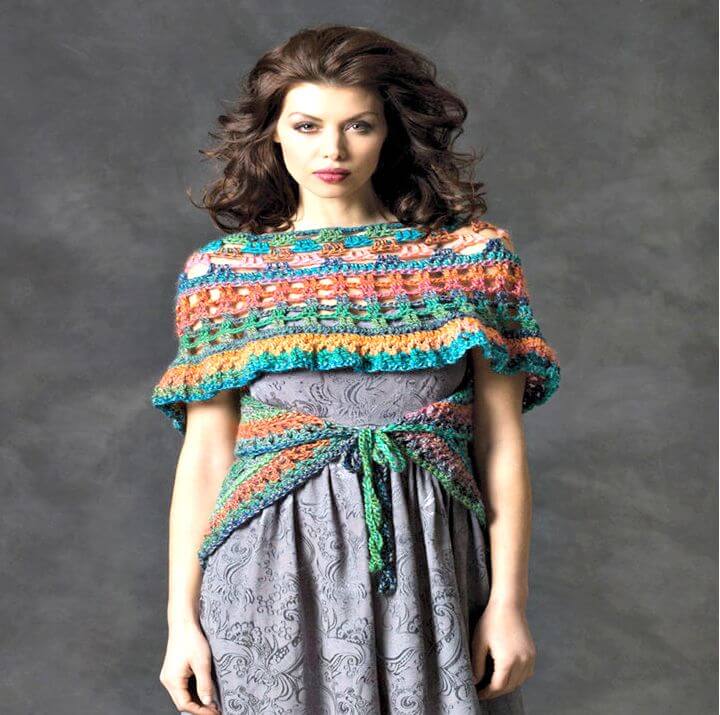 Wraps are what that is always to raise the winter fashion of women and all style loving girls! Just crochet some fab butterfly wraps that will create an amazing personality of you by being beautiful around your shoulder or back! Check out here the eye-catching sample that is super beautiful and enchanting! Do experiment this super gift-worthy butterfly wrap with your favorite yarn colors! Grab the full free pattern and tutorial from here redheart
Free Crochet Butterfly Scarf Pattern: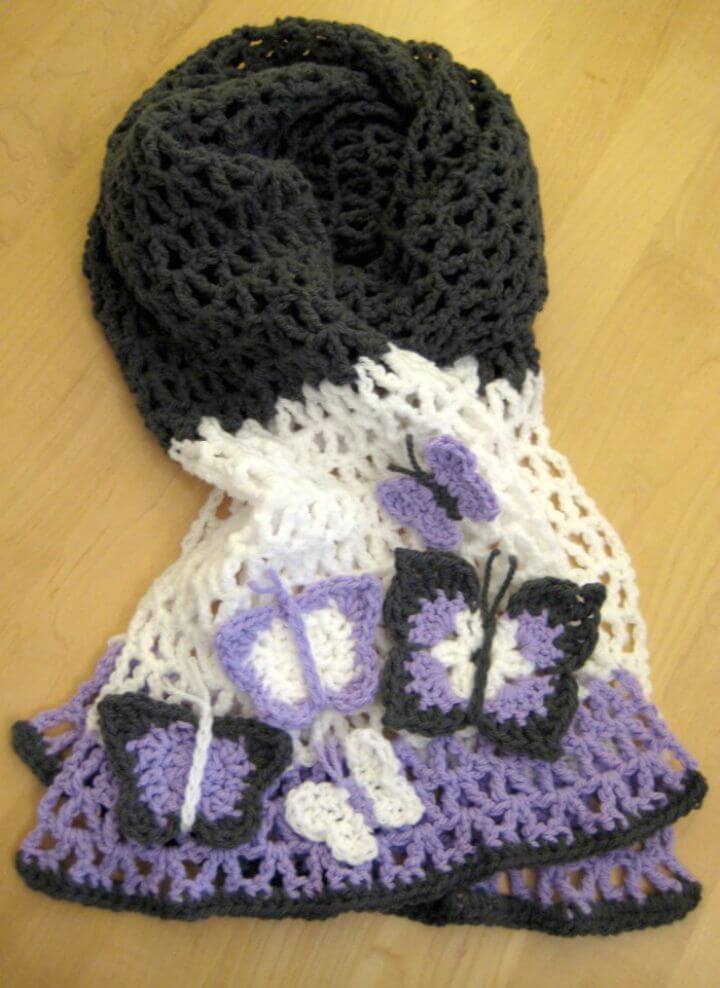 Check out here the breezy crochet scarf that would be around you as a stylish neck warmer! Here the feminine touch of the scarf has been boosted with some yarn butterflies crocheted to one end of the scarf! This is here another beautiful way to include butterflies to your causal fashion wear! This also the color block appeal of the scarf that makes it super eye-catching and fashion-worthy crochet accessory! Do duplicate this fantastic winter wardrobe must-have! Grab the full free pattern and tutorial from here makemydaycreative
Free Crochet Butterfly Grace Pattern: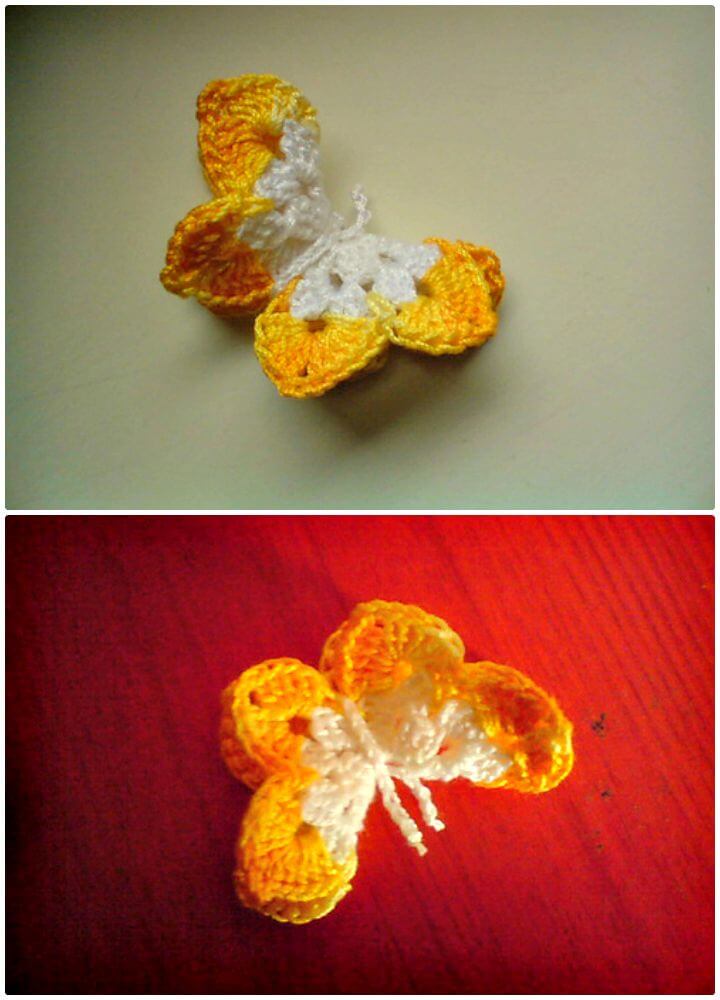 Butterflies are just so cute and fun to look at either they are in the garden wandering over the flowers, or they are in your home decor in these lovely crocheted avatars. So here is another amazing pattern for you to try and make this adorable yellow and white butterfly that you can just use for display or use as an applique on so many of your possessions.Details and the pattern lying here ravelry
Free Crochet Beaded Butterfly Crop Top Pattern: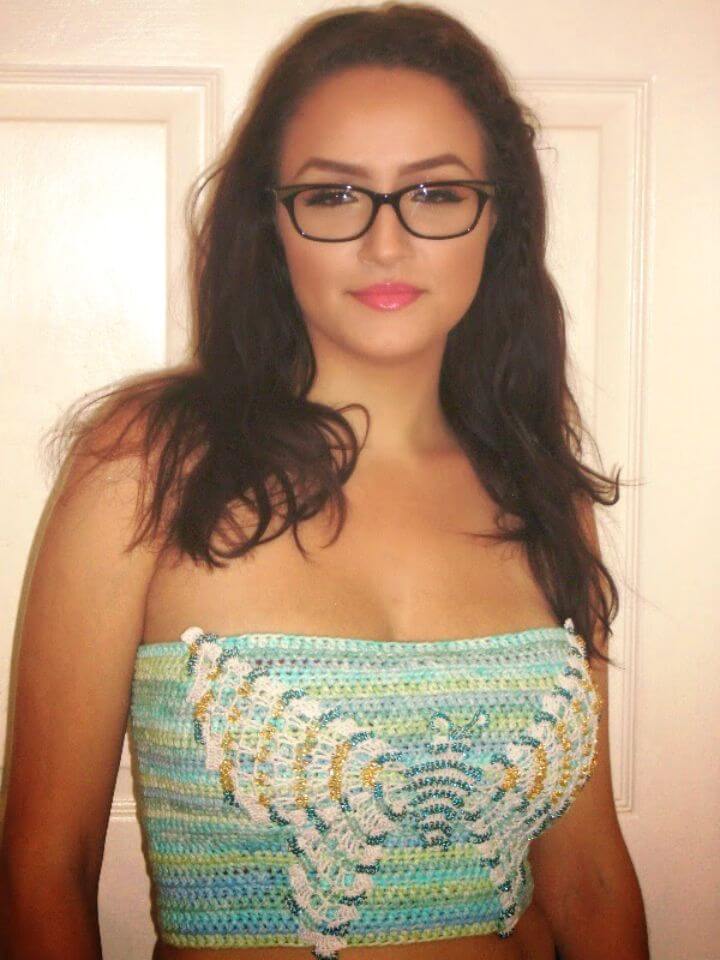 Crop tops are just so stylish, and they bring out the fashionista out of you so here we are offering you to crochet this lovely and gorgeous butterfly crop top pattern to create in your favorite hues and color combination and huge fun to your summer dress up. It would also make a pretty gift for your favorite girls too so do hack its details and the pattern right here crochetparfait
Free Crochet Bountiful Butterflies Pattern: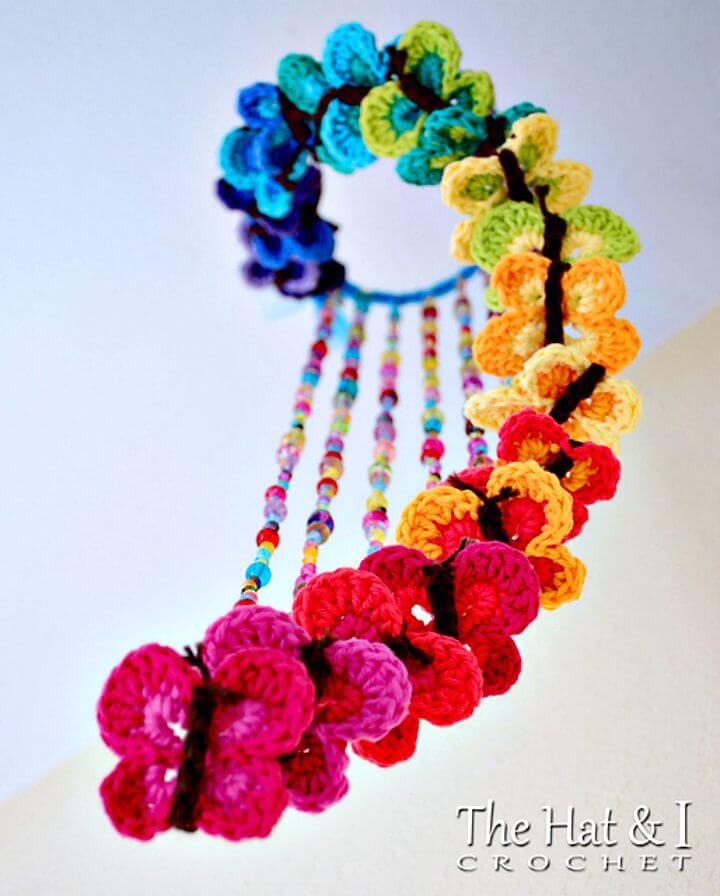 This lovely crochet butterfly hanging would just dd the pure whimsical touches to your home decor for being super gorgeous, colorful and overloaded with the cuteness of the butterflies and the colorful beads. So crochet a bunch of the butterflies in your favorite bright yarn hues and put them in a stand with some beaded strands and form this lovely hanging for any of your spaces and oodles of charm there.Complete details and the free pattern here ravelry
Free Crochet Brilliant Butterfly Pillow Pattern: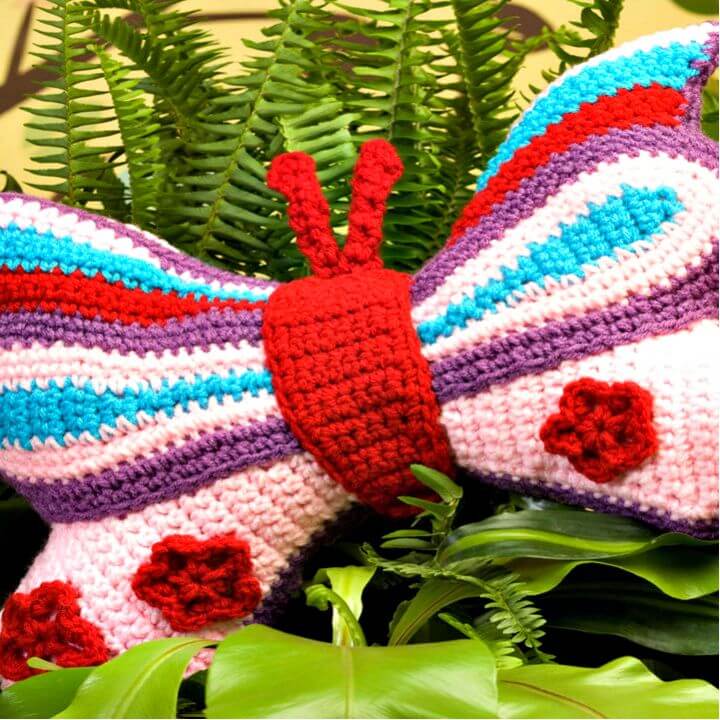 Kids love having things with the animal or bird theme or the inspiration, and now you can make some of their possessions with the butterfly animation, and the pillows would be just perfect. So here is this adorable and totally beautiful butterfly pillow with lovely colors, amazing stitch patterns, and those cute flowers adding more it its appeal and the texture.here is the link to grab the step by step details fo this lovely butterfly pillow pattern redheart
Free Crochet Itty-Bitty Worsted Butterflies Pattern: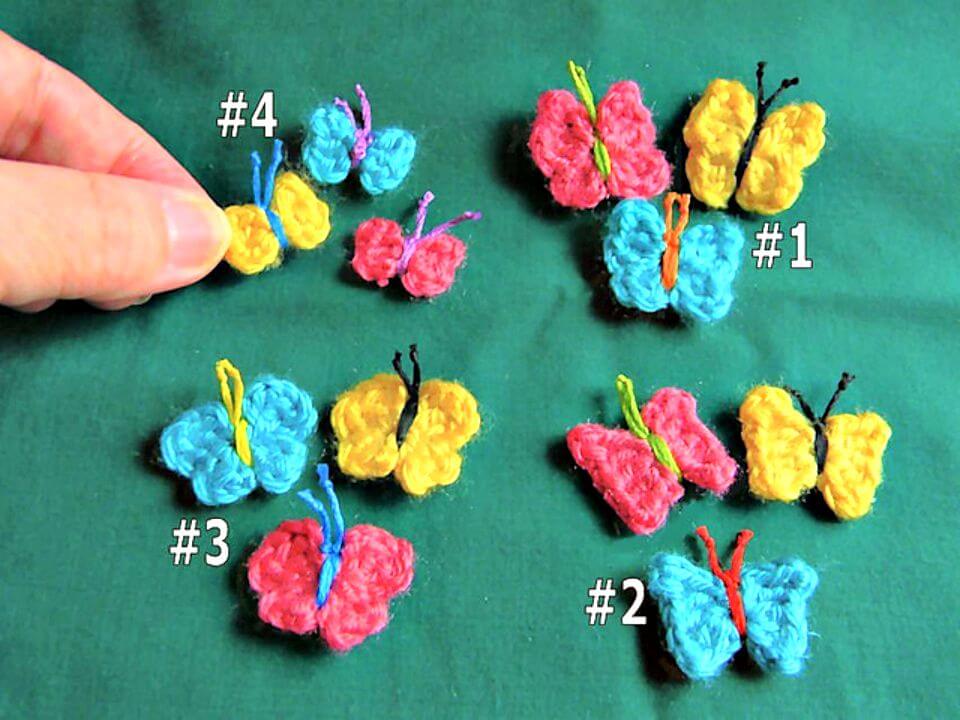 The butterflies are too cute and too easy to crochet yourself at home and that too from the leftover pieces of the yarn and thus no matter what color you are using. Here are these colorful and exquisitely tiny butterflies to win your heart with their sheer beauty and cuteness. They can easily be used for so many home decor projects or as the appliques on your other crocheted stuff. Details are given here ravelry
How To Free Crochet Butterflies Pattern: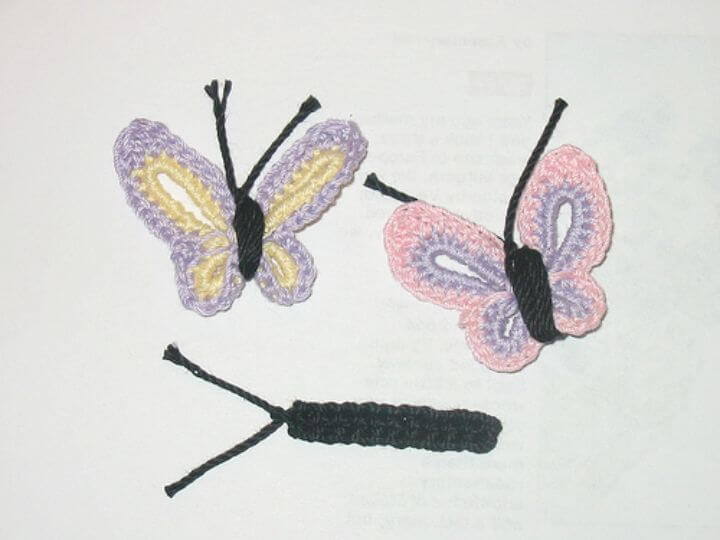 The leftover yarn from your previous crochet projects can be utilized in so many fun ways and here is this one to make the most out of your yarn stash. Yes, you can crochet these adorable and pretty butterflies from the leftover yarn and use them in so many fun ways for your home decor or more.They are easy and simple to make, and you can get the details here kimmerseyourself
Easy Free Crochet Gorgeous Butterfly Pattern: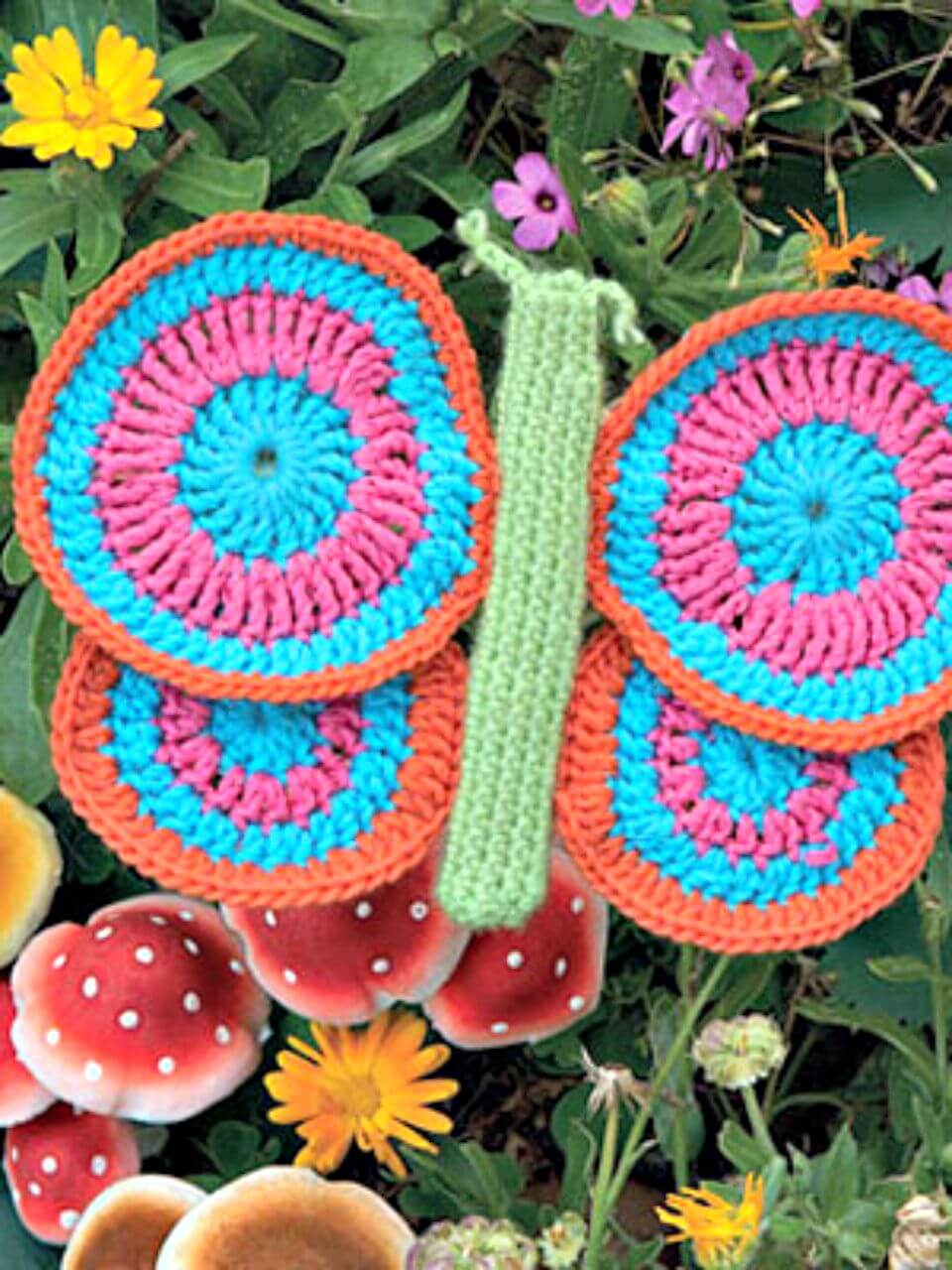 Make a simple plain body of any color of this cute butterfly and then combine some yarn shades of pretty hues to shape up the round wings of the butterfly and for that you have to make two big rounds and two small ones and then attach them to the body and the gorgeous butterfly is ready to boost up your garden decor.Catch all the details of the pattern here womansday
Easy Free Crochet 3 Butterflies Pattern: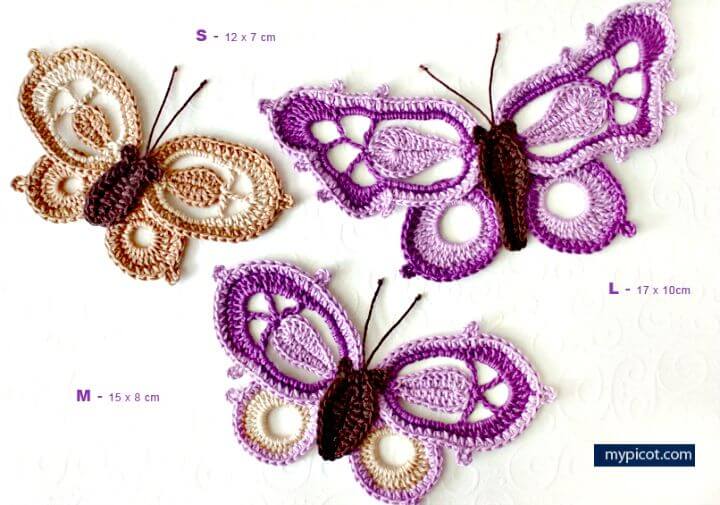 These butterflies look just extraordinary for the kind of texture and the intricate details being used in the pattern to shape them up so nicely. the body has been stitched simply it's the wings that show the lovely character and the lovely pattern details.You can use as the lovely gift wrap decor, kids room embellishing and more.Here is the link to catch the complete details of the pattern here mypicot
Easy Free Crochet Butterfly Barefoot Sandals Pattern: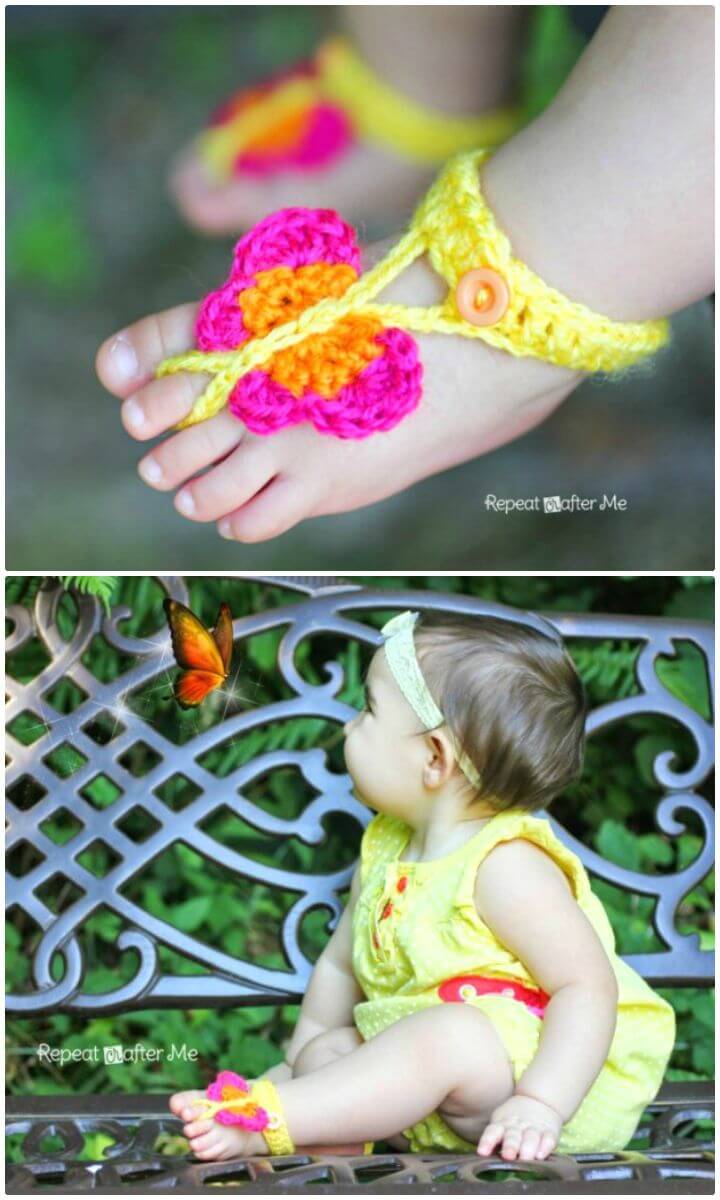 Crocheting accessories are the best to make your babies look pretty, stylish and cute and here is another beautiful item to crochet and use for their fun summer dress up. These are the whimsical looking crochet butterfly barefoot sandals to make your baby girl look just like an angel in the summer.It would be so much fun to crochet in a real quick way repeatcrafterme
Free Crochet Olivia's Butterfly Pattern: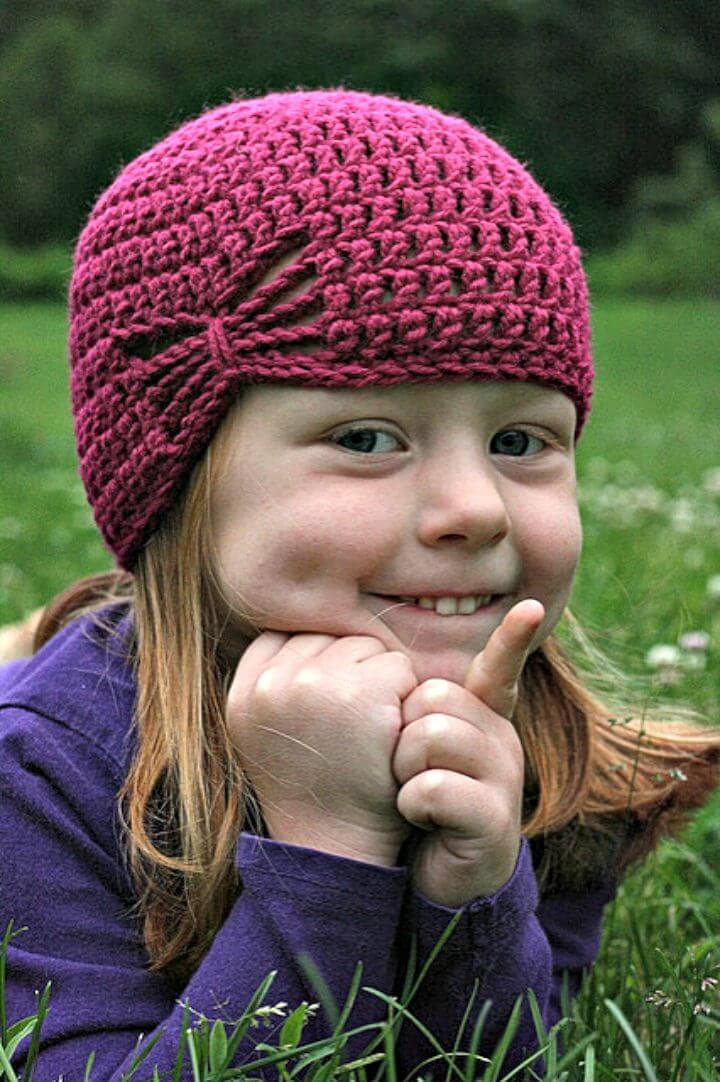 Are you planning to crochet a hat for your girl with that same simple and plain pattern? Here is how you can give it a pretty twist with that lovely butterfly pattern on one side and it looks super stunning and makes the hat looks stand out.Here is the lovely pattern with the fun details and complete instructions to hack it easily here and make one right this weekend for little girl ravelry
Free Crochet Fancy Butterfly Pattern: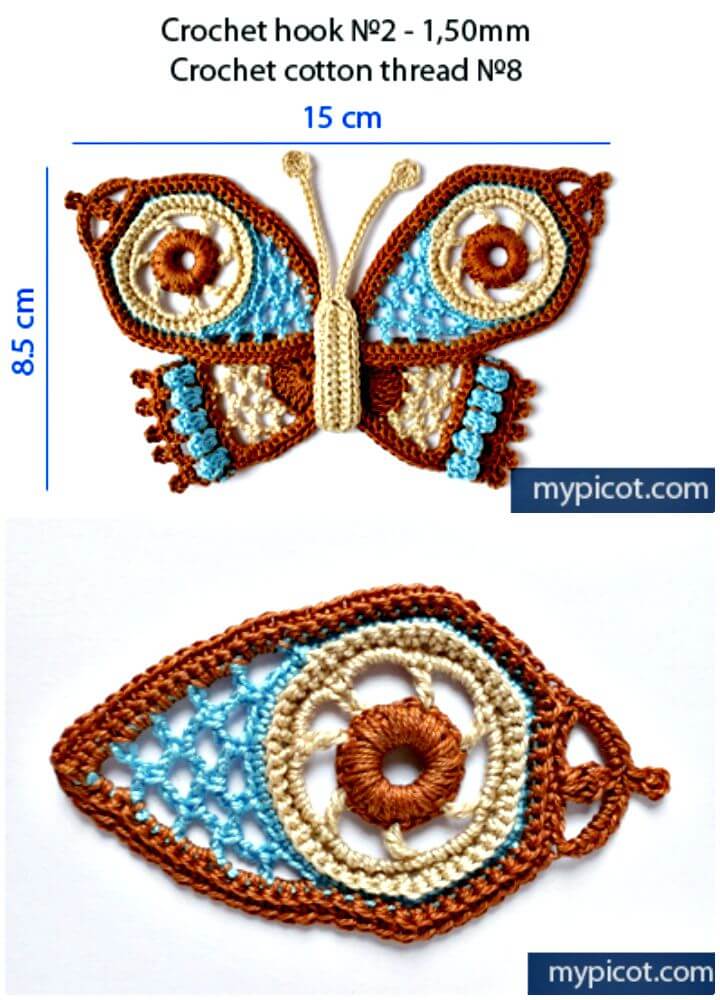 Here is this lovely and colorfully exciting pattern for you to get your hands on and bring some fun to crochet art and skill. The intermingling of the pattern and the stitches inside the wings of the butterfly really make it look an exquisite work of art and would bring the amazing results to your home decor and to your craft also. Here is the link to grab the complete details of the pattern mypicot
Easy Free Crochet Amigurumi Butterflies Pattern: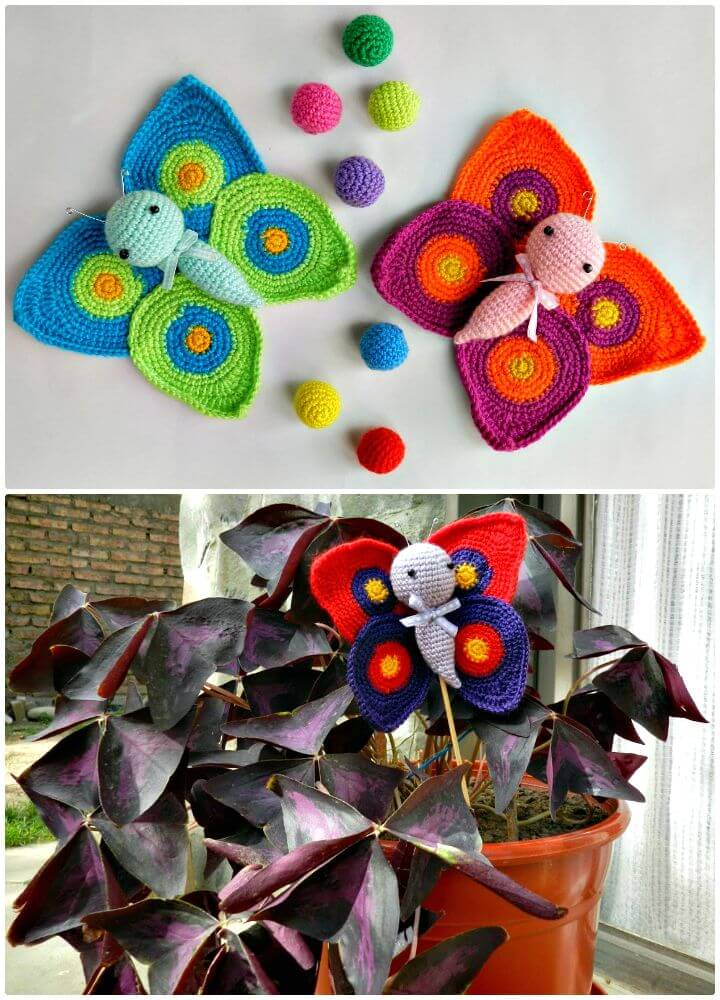 Kids are just in love with the amigurumi and they would love them to have in lots of colors, shapes, and animations so why not make this cute butterfly pattern for them to bring some fun to their amigurumi collection.The lovely butterfly body comes with the head and the facial features which really makes it look like a cute butterfly doll. Grab the pattern and the details of this adorable idea here daxarabalea
How To Easy Free Crochet Butterfly Pattern: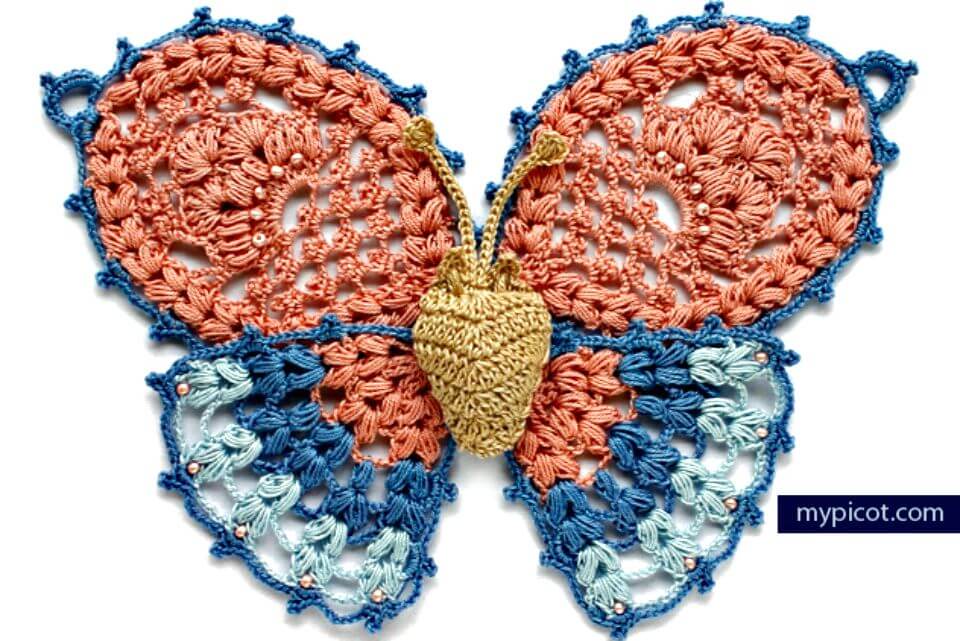 Imagine this lovely and huge butterfly to be sitting on your home walls and adding a touch of natural flair and beauty to your spaces and that too with the gorgeous color texture and the pattern. The addition of the beads to the wings really adds tot the character of the butterfly and make it look more enchanting for quick possession. So click here and get all the needy details and instructions of this lovely butterfly mypicot
Free Crochet Amigurumi Butterfly Baby Rattle Pattern: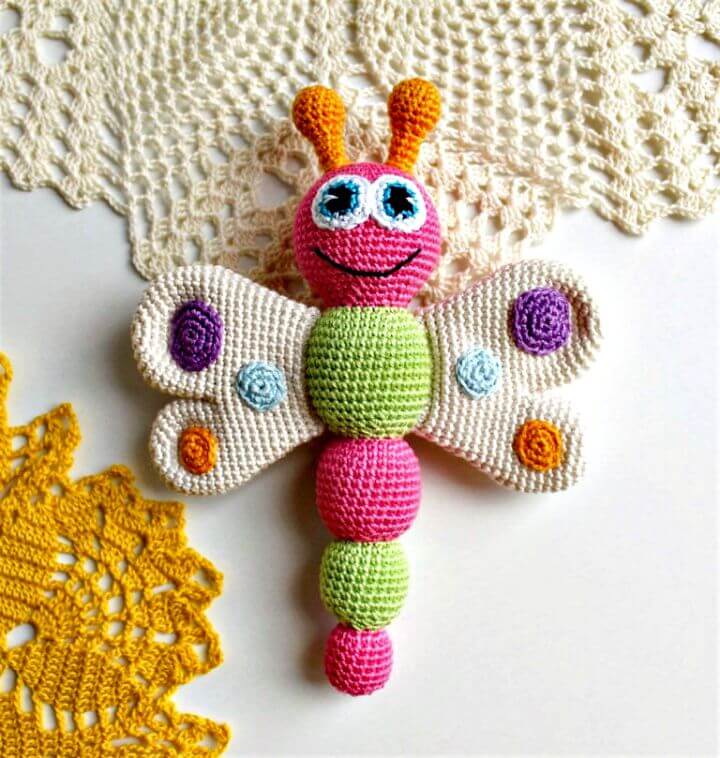 The amigurumi make the perfect gifts for the babies and there is just a huge variety of the ideas and inspiration to make the amigurumi out of and this butterfly is totally a pretty one. The kids would love to have them as the birthday gift in the adorable colors and beautiful features and they would also develop their motor skills with it too. So grab the details of this fun and functional project right here amigurumi
Free Crochet Pattern For Butterflies:
Springs are all about the gorgeous and colorful flowers blooming around and spicing up nature and they look more beautiful with the lovely and colorful butterflies hovering over them. So making these crocheted butterflies is the best idea to bring the spring vibes in your home decor and enjoy the amazing colors to delight up the decor and your senses. crochetzone
Easy Free Crochet Butterfly Pattern: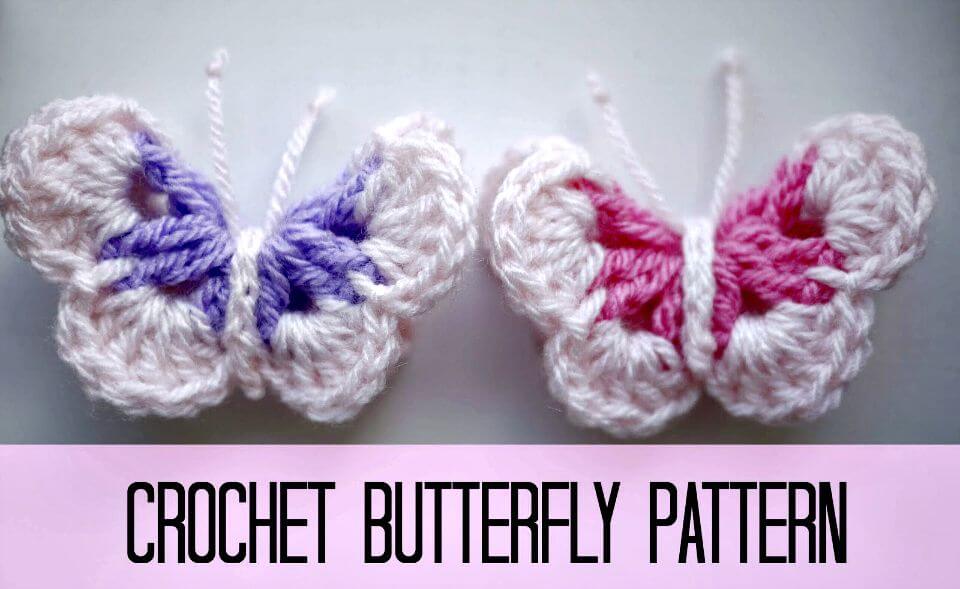 The best way to reuse those smaller pieces of the yarn that have been left out from your crocheted projects is to build some cute small crafts out of them and these crocheted butterflies are just the apt ones to get your hands on. They would so much easy and fun quick to make and thus you can create a bunch of them to enjoy in different ways in the decor and more.Details here bellacoco
A New Way To Make A Butterfly – A Free Crochet Pattern: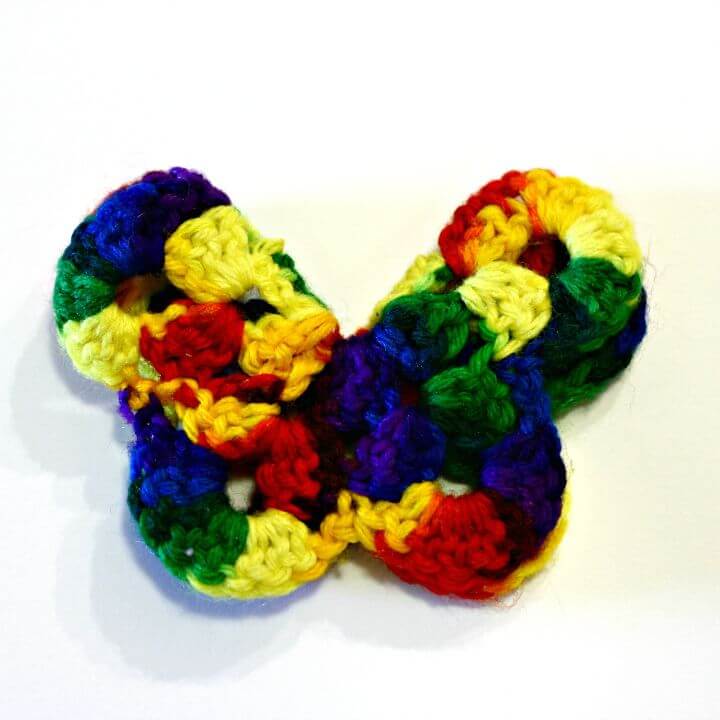 When it comes to the crochet projects or the yarn ideas the rainbow is the favorite kind of theme to make your things in and a cute butterfly would look just cuter and most gorgeous in the rainbow colors and grab everyone's attention towards it. Kids Crafts. their room decor, gift embellishing, appliques these would serve you in so many ways so grab its details and the pattern for free right from this link rovingcrafters
How To Easy Free Crochet Butterfly Pattern: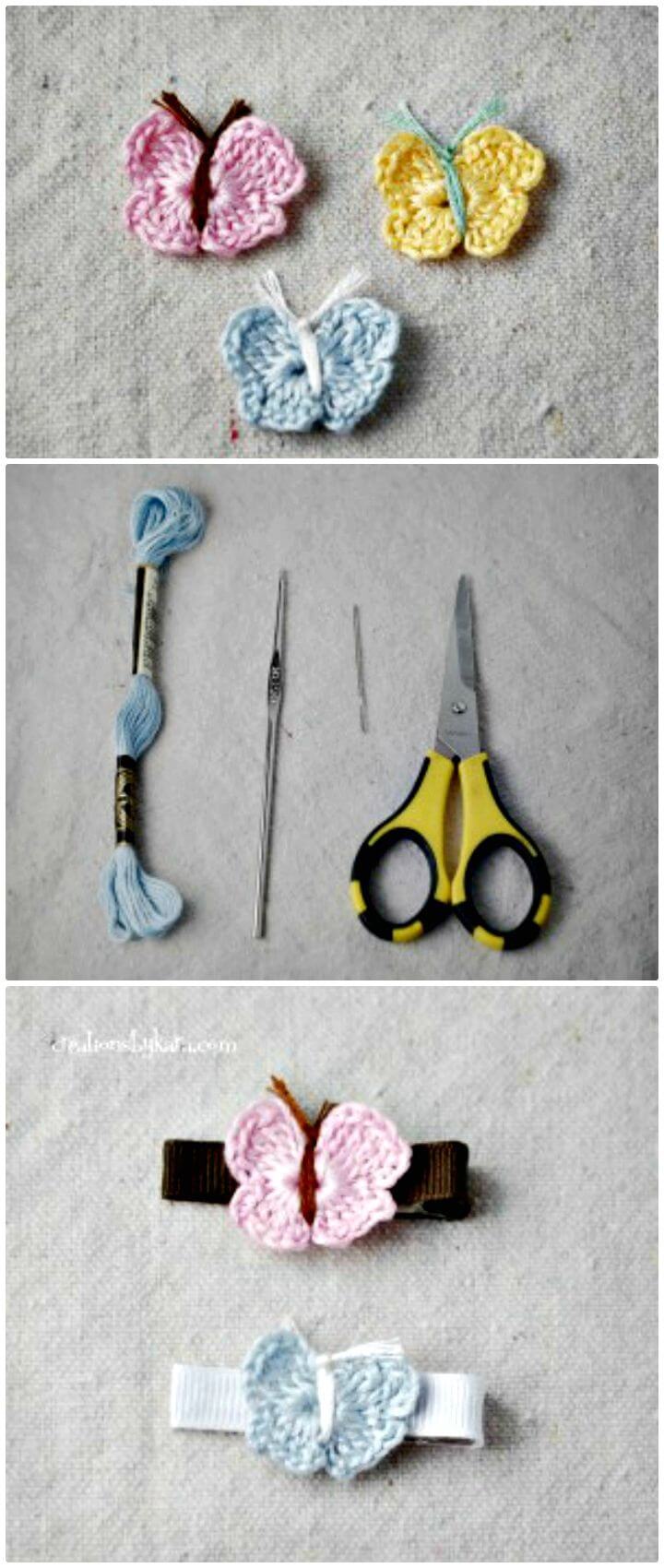 The butterfly is just the perfect idea to create some cute girlish stuff and here is this idea of creating the lovely butterfly hair clips on your own. So grab a little floss yarn and crochet these immense easy and fun butterflies in tiny size and then stitch them to the hair clips and a pretty cute gift is just ready for your little girls. Details of this lovely idea all here creatiosnsbykara
Simple Free Crochet Butterfly Pattern: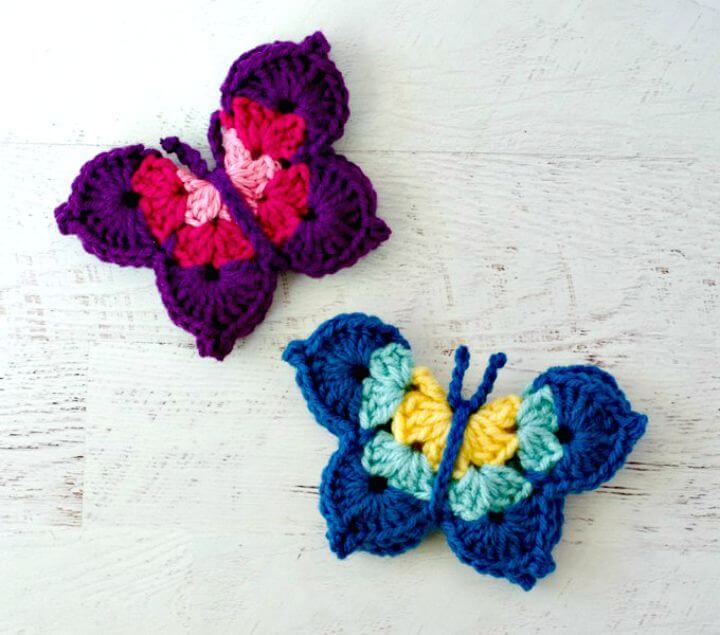 What we love about the gorgeous butterflies is the pretty colors the delicacy and the intricate details God has created in their wings and you can capture this all with the crochet hooks and yarn by creating these amazingly beautiful and colorful crochet free simple butterflies. The free pattern and the details are all given here so lick, learn and enjoy making them crochet365knittoo
Free Crochet Butterfly Crafts For Kids Pattern: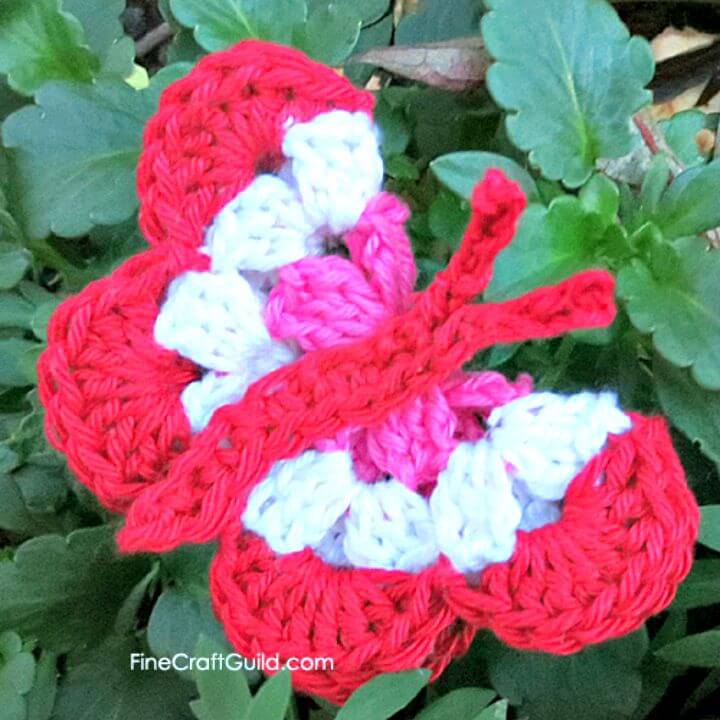 Butterflies seldom visit our places but now you can enjoy watching them all the time in your garden with the amazing colors and the gorgeous appearance using these crocheted butterflies in your garden decor. So here we got the complete details and the free pattern for you to easily learn to make this cute and big butterfly and boost up your garden decor with it finecraftguild
Free Crochet Butterfly Bookmark Pattern: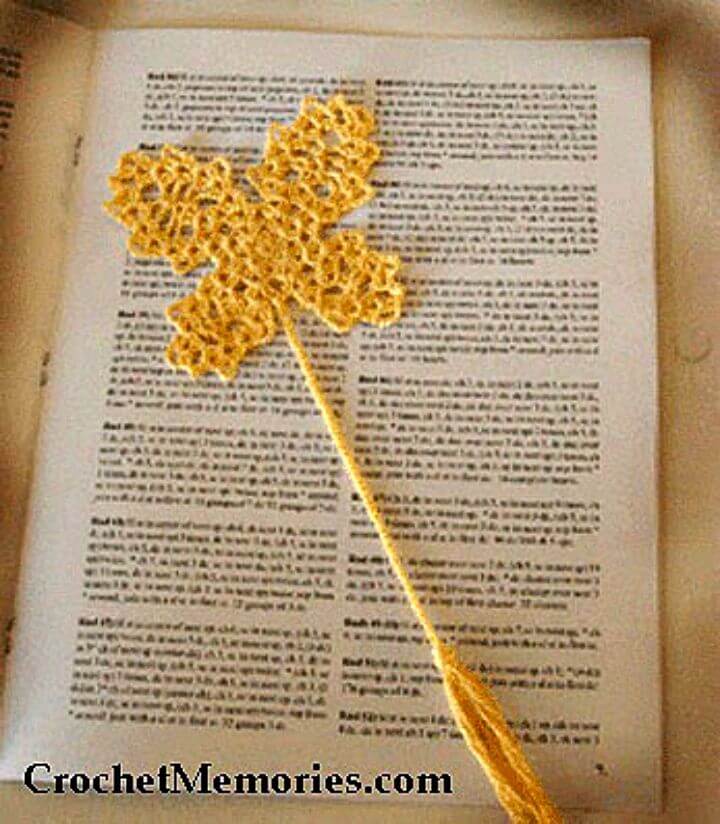 Book lovers just love everything about the books and so they love to have the lovely and unique kind of bookmarks for them so here is this pretty and cool butterfly book mark to easily make and beautiful your book look with. You can also make and gift to the book lovers and they wold be more than happy to receive them.Details and free pattern given here crochetmemories
How To Free Crochet Butterfly Motif Pattern: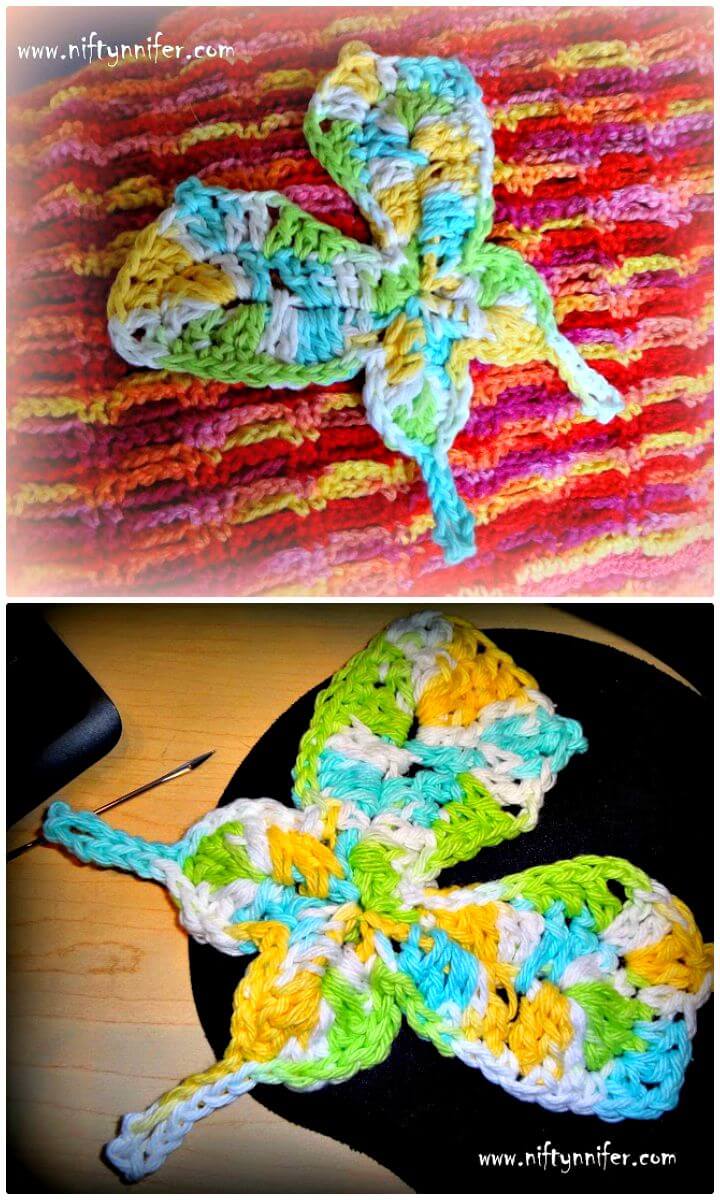 We love butterflies but hate it when then fly and never come back to amuse us but not now as you can now make some cute butterflies on your own and enjoy watching and touching them all the time. SO here is this lovely butterfly motif in pretty and exiting hues to get your hands on and use it either in your indoor or the outdoor decor.Here is the link for the free pattern and details of this butterfly motif niftynnifer
Free Crochet One Round Butterflies Pattern: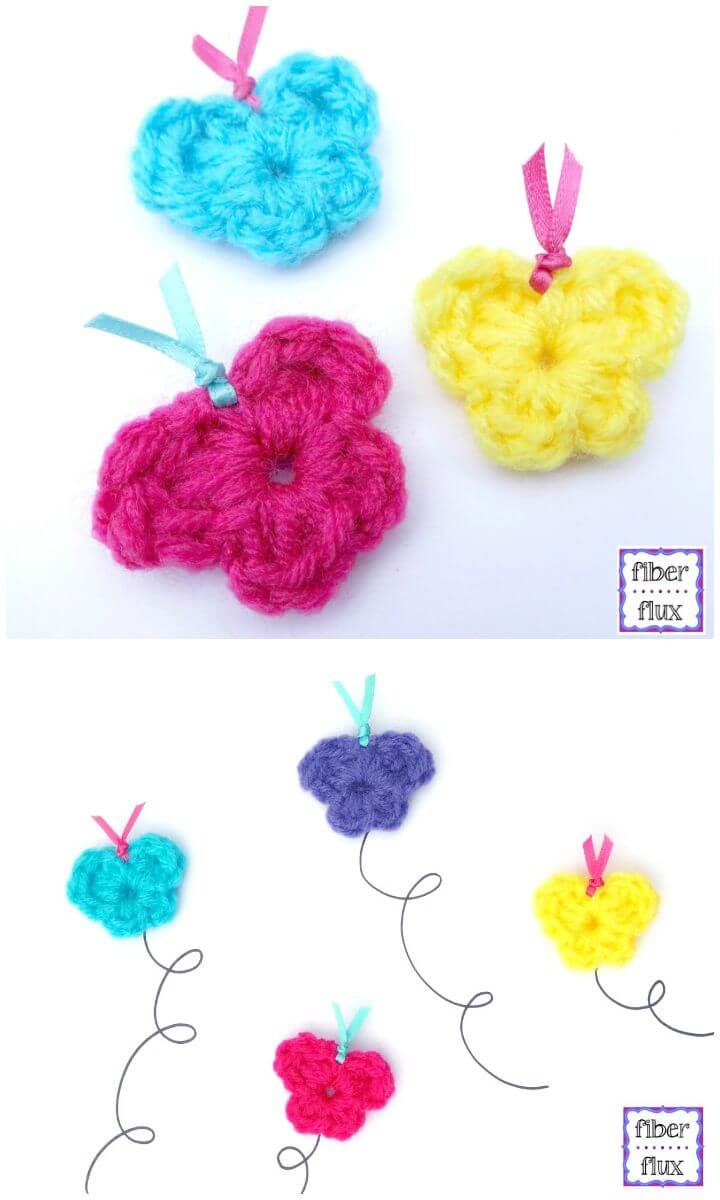 The colorful butterflies are one of the cutest reflection of natural beauty and also the fact the how amazing the colors with their mixture and contrasts can be.So here are these lovely and colorful cute round butterflies to make and enjoy in your home either displayed on the walls, tables or just hanging around. The yarn body and the ribbon antennas are making it more attractive and overloaded with the cuteness so get its all details from this given link fiberfluxblog
Easy Free Crochet Butterfly Throw Pattern: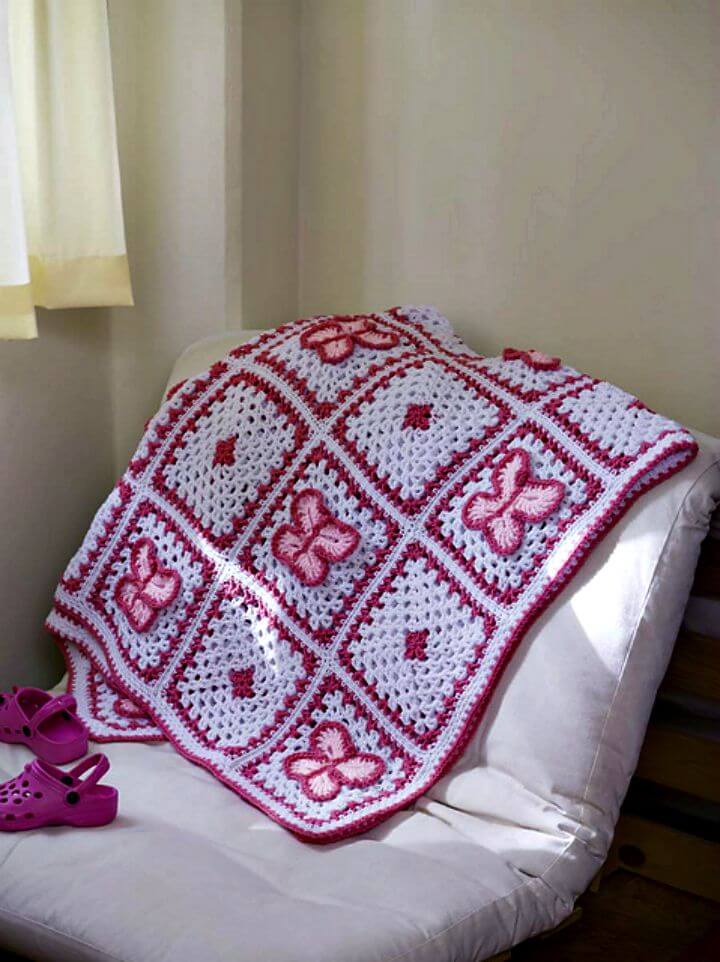 Any thing in your spaces can bring the perfect charm or it can add to the appeal of the spaces so here are these amazingly gorgeous and and totally character full butterfly throw to beautify your furniture possessions like the chairs, sofas and the day beds an add a perfect amount of the texture and softness to your home vibes.Her e is the link to grab the easy and fun detail soft this butterfly throw pattern ravelry
Free Crochet Garden Bug Blanket – Butterfly Square Pattern: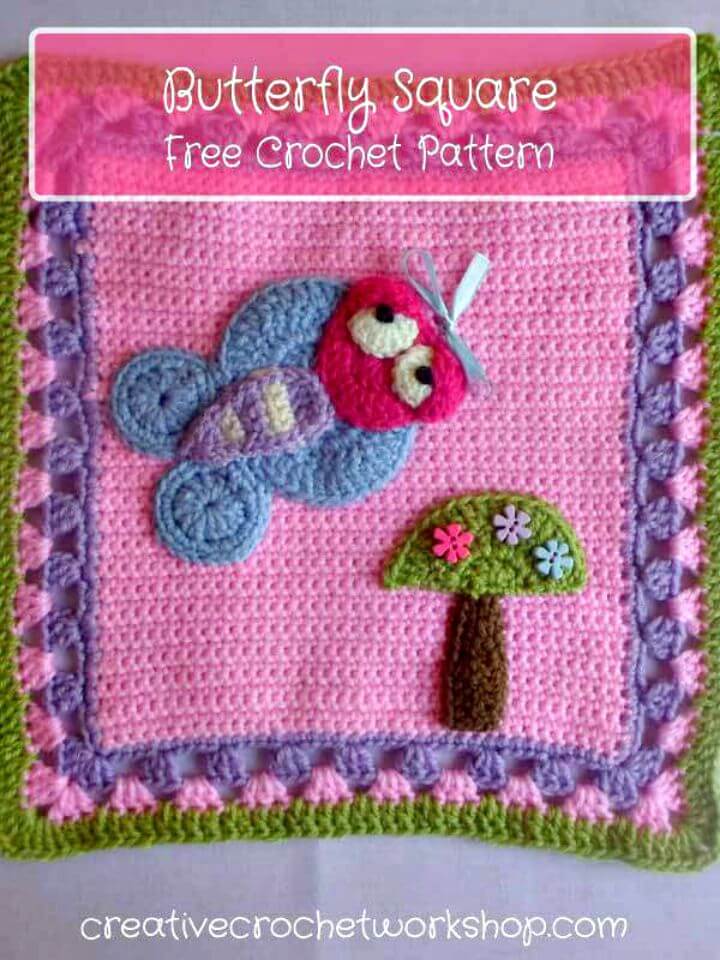 Here is this lovely and cute butterfly pattern for you to give a quick try and bring some lovely touches to the baby shawls, blankets, and the throws. The butterfly would be so much fun to crochet with easy stitch details and free pattern given here to make it and use as the perfect applique to beautify the baby things in the house creativecrochetworkshop
Easy Free Crochet Butterfly Fling Wrap Pattern: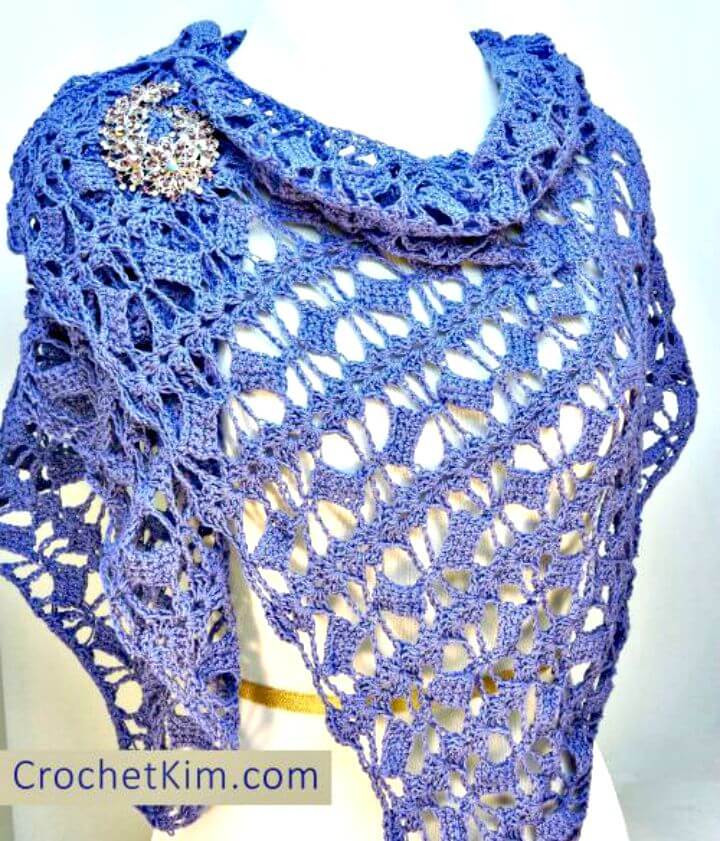 The wrap-ups for the ladies are now too stylishly made and there is like a hell of the patterns to get your hands on and make some super fashionable wraps for yourself and this butterfly wrap pattern is just the perfect one to whip of this spring season and add the pretty touches to your dress up. It would also make a cute gift for your girlfriends too so do hack it all here crochetkim
Easy Free Crochet Butterfly Wall Art Pattern: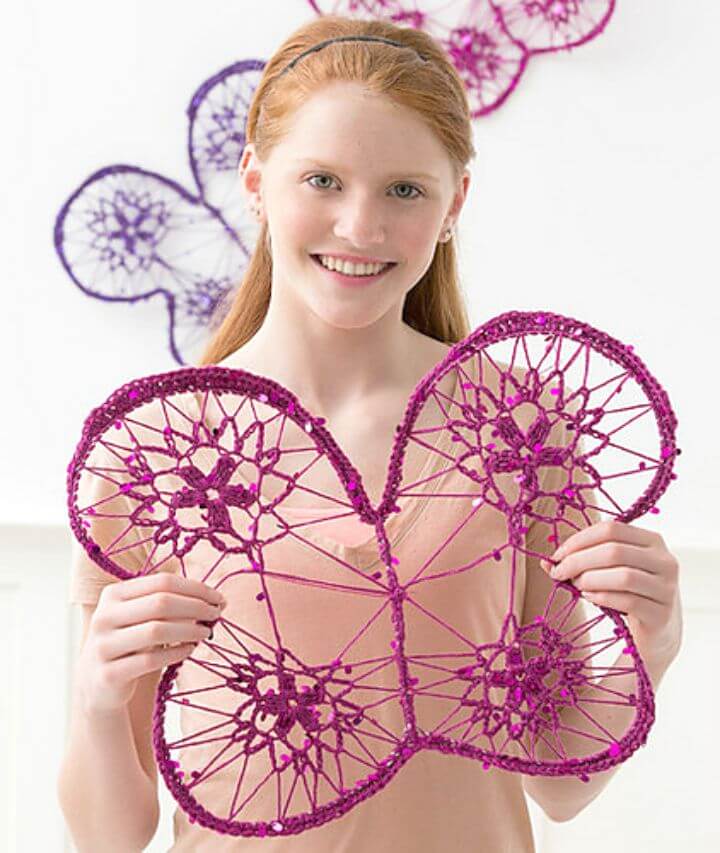 Bring some cute fun to your wall art by creating this lovely butterfly piece as the perfect wall craft for any of your spaces. You can easily make it in any of the colors and yarn hues you like and thus add to the beauty of your walls and home style at no cost. It would also make a perfect idea for your dear and near ones too. So here is the link to grab its details in easy steps ravelry
Free Crochet Butterfly Applique 2 Sizes Pattern: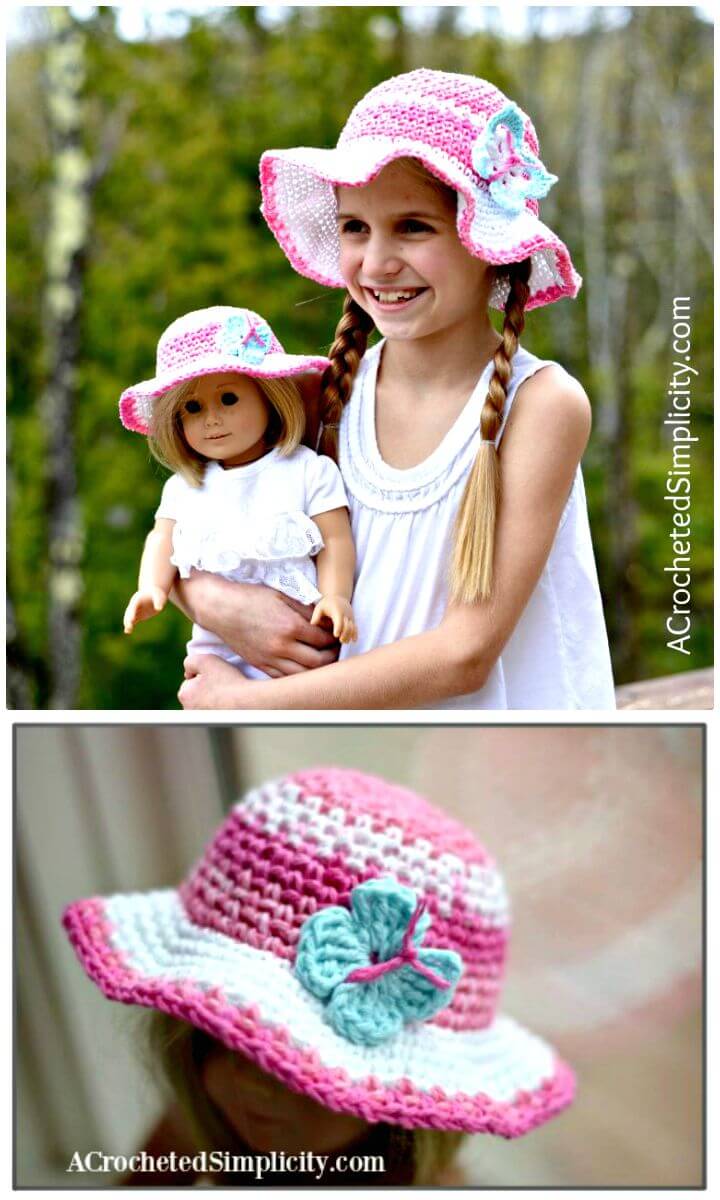 The girls love to have the pretty hats and style up their winter fashion with and now we sharing you the cute way to add more girlish touche and effects to their pretty hats and caps. So create this amazing crochet butterfly pattern and add them to the hats and thus uplift their lifts from being simple and brewing to totally cool and fun.Grab the complete details of the pattern here acrochetedsimplicity
Free Crochet Summer Butterfly Dishcloth – Home Decor Pattern: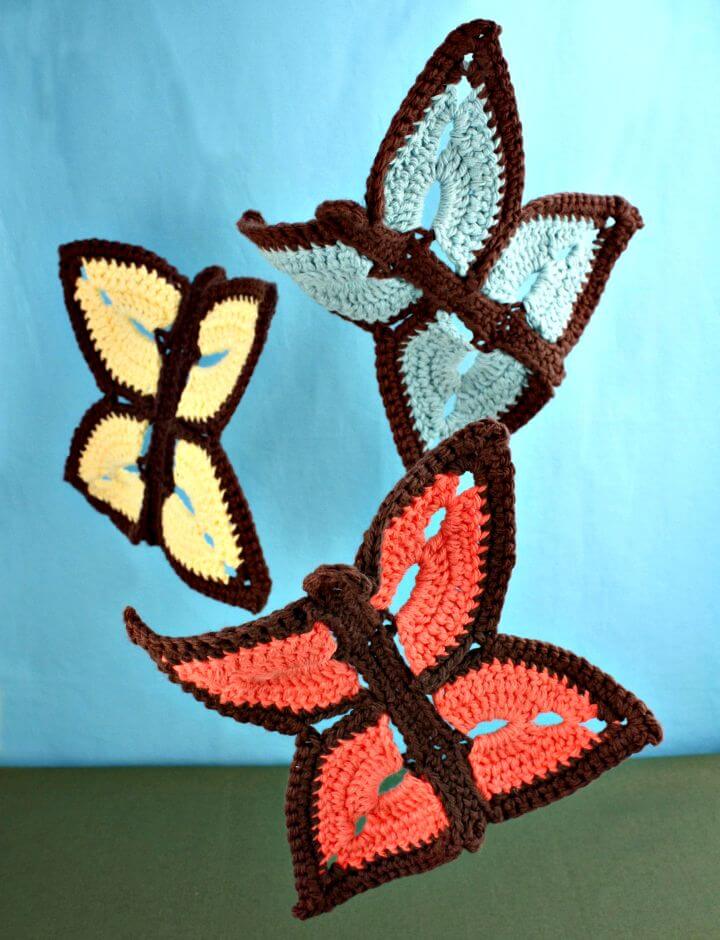 Crocheted dish clothes are the best ones as they are soft to the hands and do not get wasted for a long time period and you can make them in a variety of the patterns for a gorgeous and pretty look of them in the kitchen and these butterfly dish clothes are just the best ones to get your hand on and bring the colorful vibe in the kitchen decor.Here is the link to grab the details of the pattern yarnspirations
Free Crochet Hook Butterfly Square Pattern: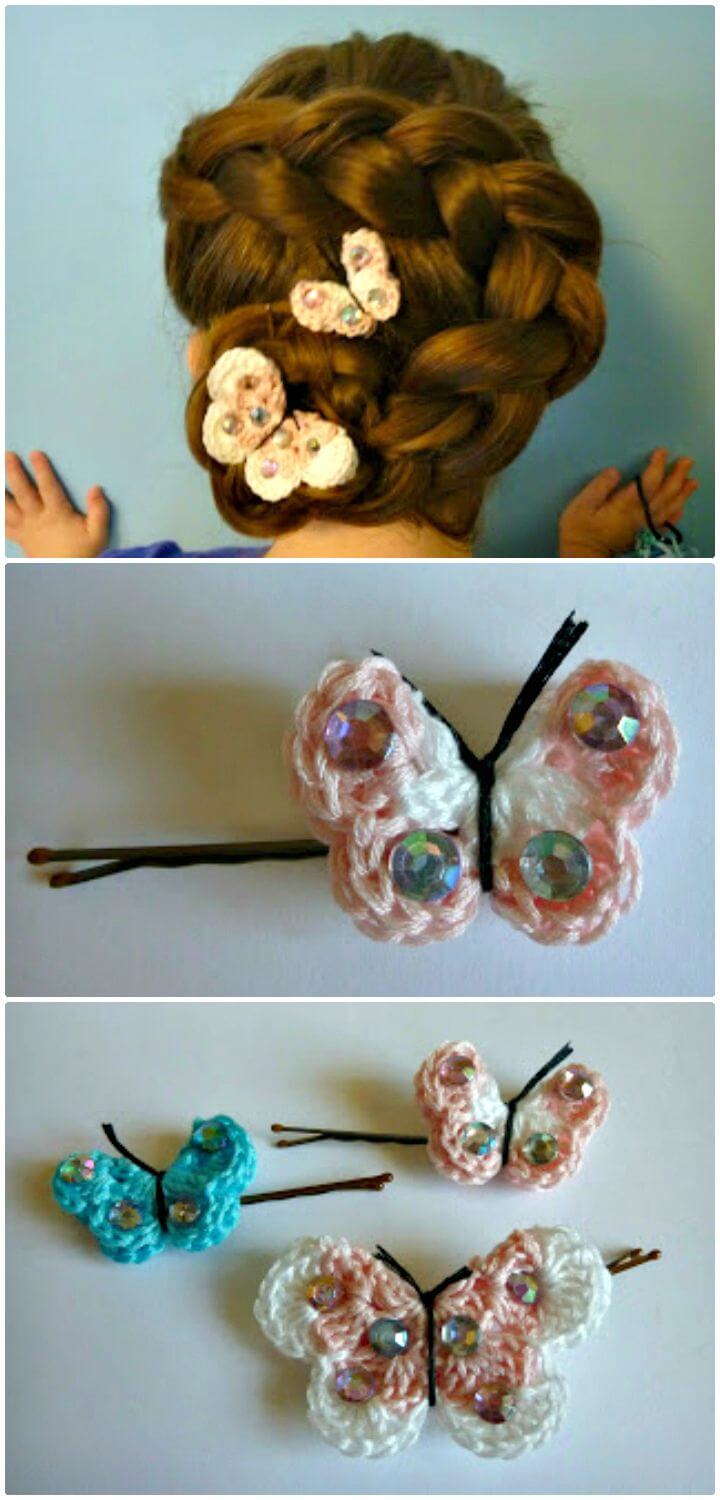 The little girls just love to adorn themselves with the lovely and cute hair clips on their heads and now you can make them these utterly cute and gorgeous crocheted butterfly hai pins. They would just love these colorful pins with the added crystals beads on them to look more stunning and fun. You can make a bunch and gift them to style up their dress up with. Details and the free pattern lying here crochetdynamite
Free Crochet Butterfly Key- Chain Pattern: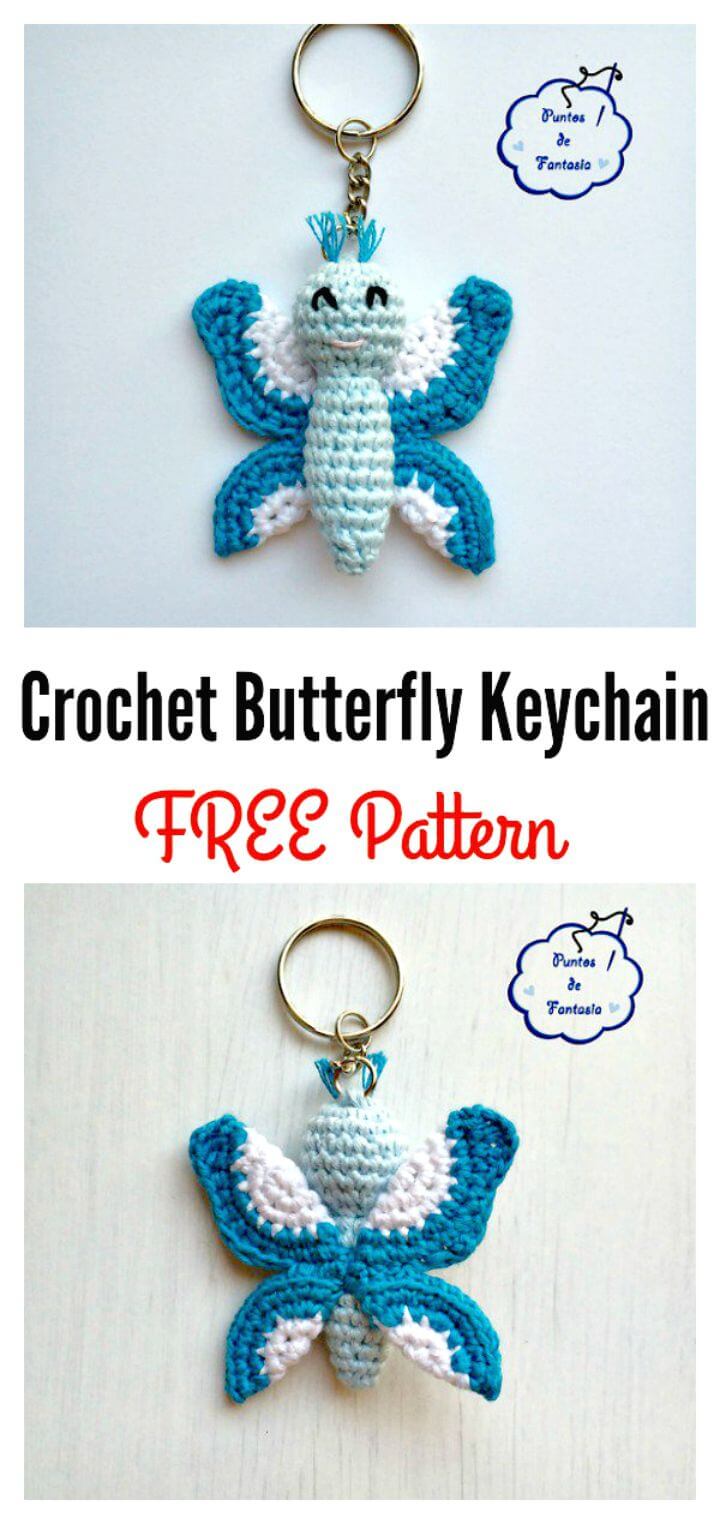 If you are looking for a cute gift idea for your husband, son or the father then key chains can be the cute pickups and crocheting them on your own would be more amazing and more heartfelt. So here is this lovely butterfly pattern to crochet and add a key ring to and thus use as the cutest and pretty kind of key chain ever to put your keys and get them protected. Catch the details of this tiny little heartwarming project here aramatamara
Free Crochet Butterfly Prayer Shawl Pattern: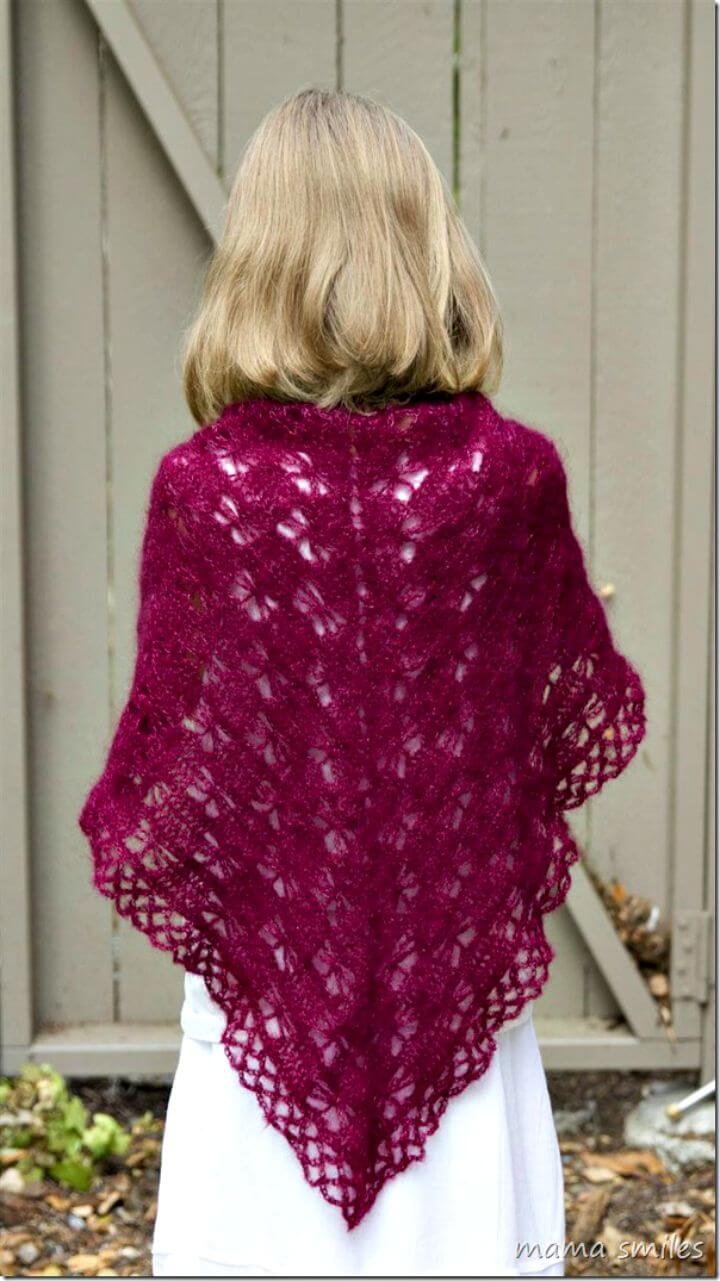 This adorable crochet butterfly shawl or the prayer wrap is just an apt gift for any of your favorite lady in your life especially the one who is in love with the garden and nature.The intricate pattern with the lovely butterflies would be so much fun to crochet yourself at home and thus get this amazing handmade gift for your mother, grandmother or the friend. Here is the link to grab the complete details of the pattern and learn about its intricacy mamasmiles
Free Crochet Violet Butterfly Baby Booties: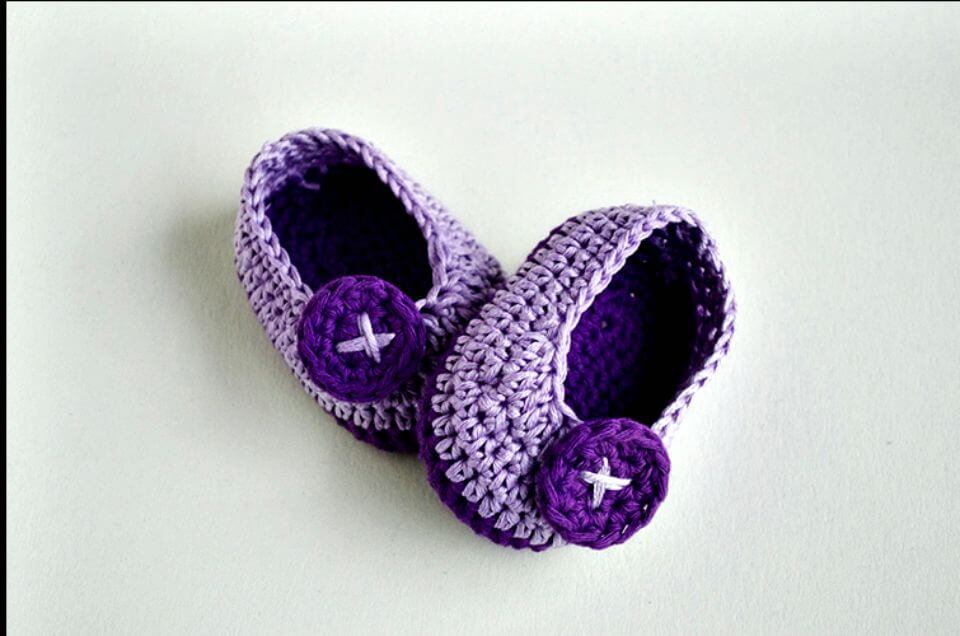 The crochet baby booties are one of the most crocheted possessions by the crochet lovers and there are so many cute details with which you can make your baby little cute crochet booties look different and more fun like this pretty butterfly stitch has been used here on these adorable purple baby feet warmers for this winters. This pattern would so much fun and quick to crochet yourself and here is the link to grab its details and more crobypatterns
Free Crochet Butterfly Hairpins – Free Pattern: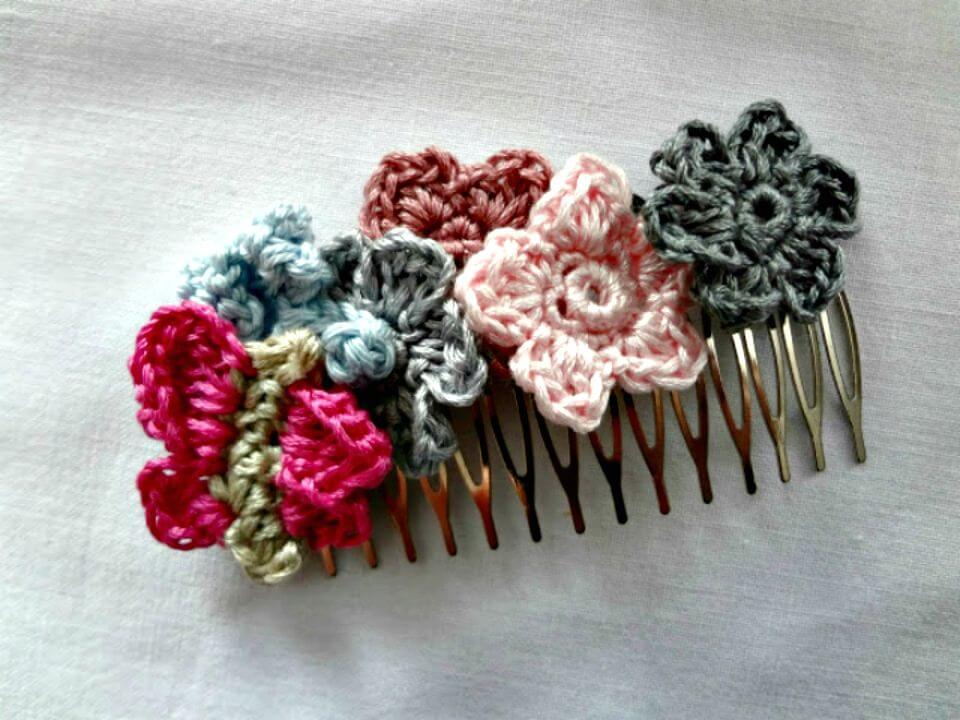 When you can crochet some cute things there are so many ways to beautify your regular used items like the hairpins and here is shown how it can be done. You can crochet some cute little flowers or the butterflies and then attach them to your pins and clips and thus easily get some cute and personalized hair accessories for your casual hair styling or some special hairdo for any function. Details of the pattern here thelittletreasures
Easy Crochet Butterfly Applique – Free Pattern: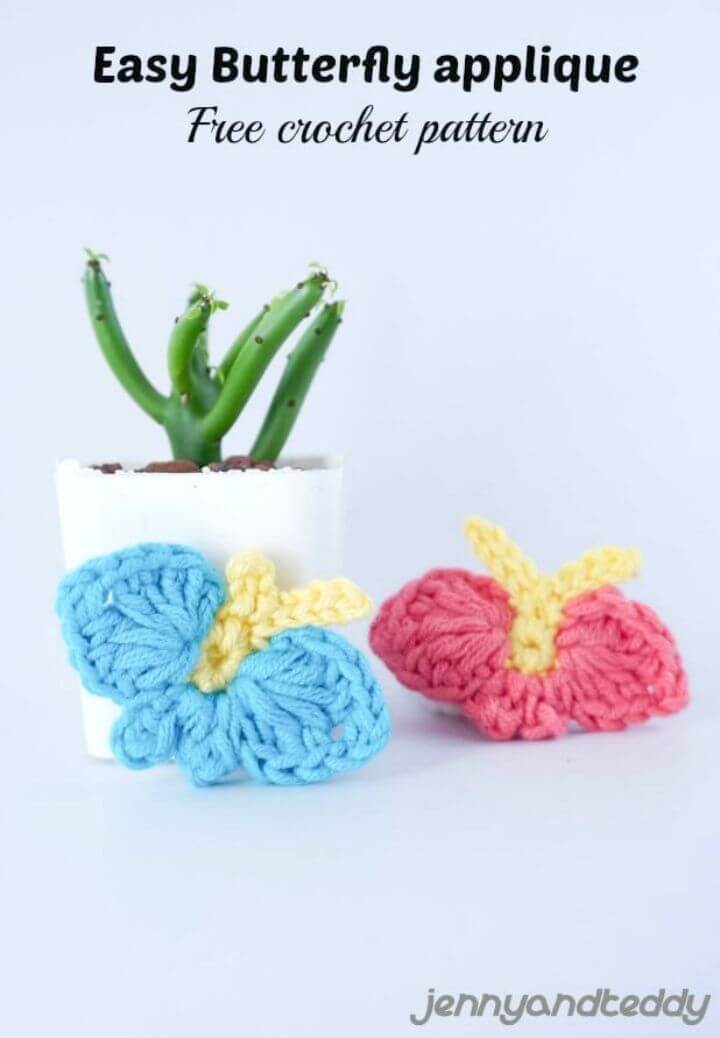 Crocheting surely leaves you with some left out yarn pieces from each of your projects and you can use that yarn stash in some more cool and fun crochet projects like these.You can crochet some cute butterflies out of those yarn pieces and then use them as the pretty appliques to spruce up the looks of your so many items like vases, shirts, hair bands, tops and more.Grab the totally easy and fun pattern details of this cute butterfly idea here jennyandteddy
Free Crochet 3D Butterfly Kisses Pattern: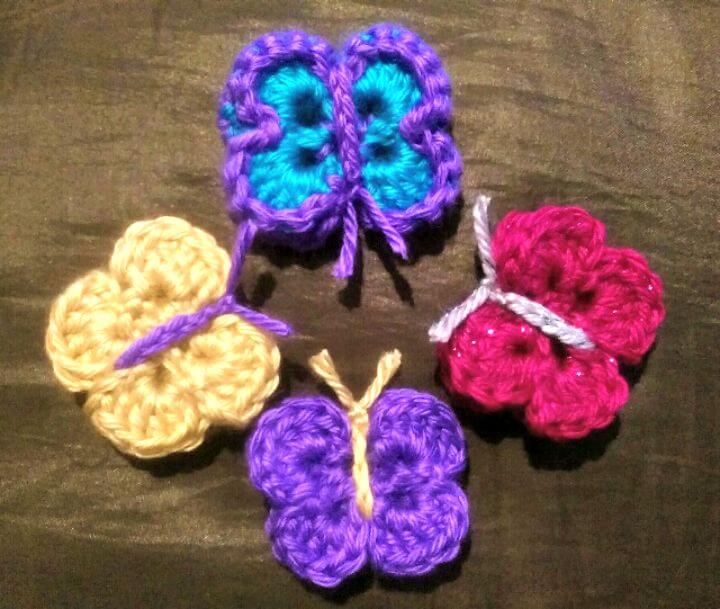 Take your crochet skills to an advanced level with these 3D butterflies for your home decor, for your homey things to be embellished with or just grace up the table or shelf decor with them by just making them sit on these spots for a cute and nice display.Here is the link to grab the details and the free pattern of these amazingly colorful and cutely attractive modern butterflies yarnwars