A bathroom is a room in your home with you enter tired and come out refreshed! It is the miniature room of a house that mostly comes attached to bigger rooms and is used daily and even multiple time in a day! Whether you are intending to shave, brushing your teeth or just willing to take a bath, you can't do any of these without going in the bathroom! However, with the passage of time, we need to do some certain modifications in our bathroom to get a new look of our bathroom again! Moreover, we also develop different needs with time to time and want our bathroom to serve for all of our needs, and this really demands to add some extra features in our bathroom, and this is mostly accompanies by adding some great storage options and functional organizers!
No matter, which type of changes you want to make to your bathroom concerning about the appeal and storage space of your bathroom, you can go with the shipping pallets to update your bathroom to serve for particular modern demands! Going with pallet projects would be good for several different reasons, they are easy to work with, easy to access, super low-cost to get and super durable also! Brainstorming that what you can do with Pallets and reclaimed wood to upgrade your bathroom? Then have a look at these DIY pallet bathroom projects and DIY Reclaimed wood projects that are too genius to hold your attention and would definitely be a big surprise for the wooden creativity and recycling lovers! So, now you can also recycle pallets to make your bathroom look beautiful, functional and woody!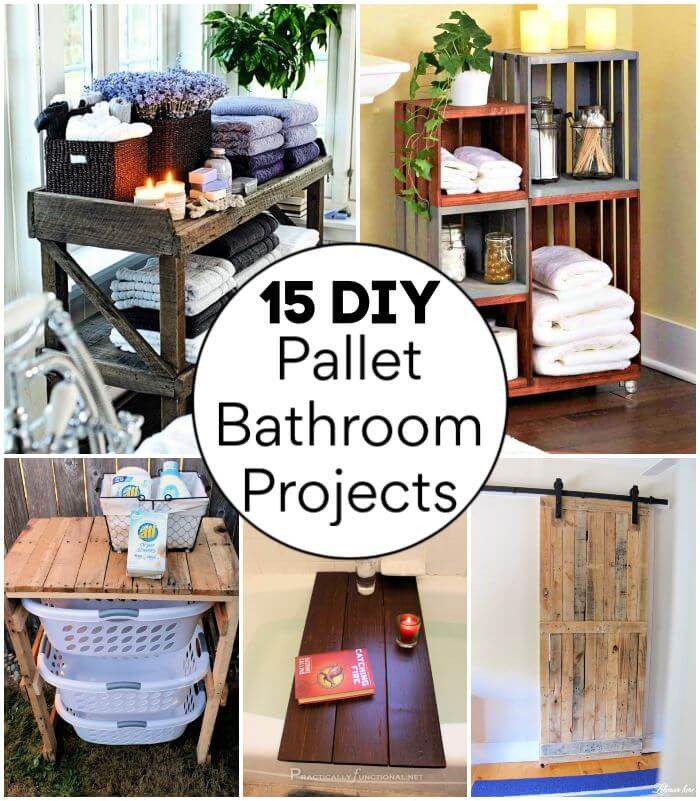 Put together the slats of the pallet boards and paint the custom bathroom signs on them to make fantastic bathroom wall art signs! Go handmade with rustic pallet skids and make enticing wooden frames for the bathroom mirrors and also go with the wooden pallet slats to do some fantastic wood wall paneling projects that will really be a smart and inexpensive way to bring a damn beautiful and rustic wooden touch to your interior room or home spaces! Go handmade with pallet wood and make brilliant pallet bathroom shelves and toilet paper roll holders and also combine a few of equally thick and long wooden pallet boards which can be stained or painted to make a lovely wooden bath shelf in no time!
Pallet Projects You May Like:
Build custom frames with the pallet wood and install the plastic baskets to make laundry room organizers out of pallet wood and excellent storage space to your bathroom by putting together some wooden pallet crates to create some storage organizer, get inspired of the given sample that is highly durable and beautiful and also comes on wheels!
Check out a numerous different more pallet bathroom improvement projects given below in the list and see what inspires you the most! Hit the attached links to get full free pallet project tutorials, easy to follow visual guides and step-by-step instructions!
Quick and Easy DIY Bathroom Pallet Art: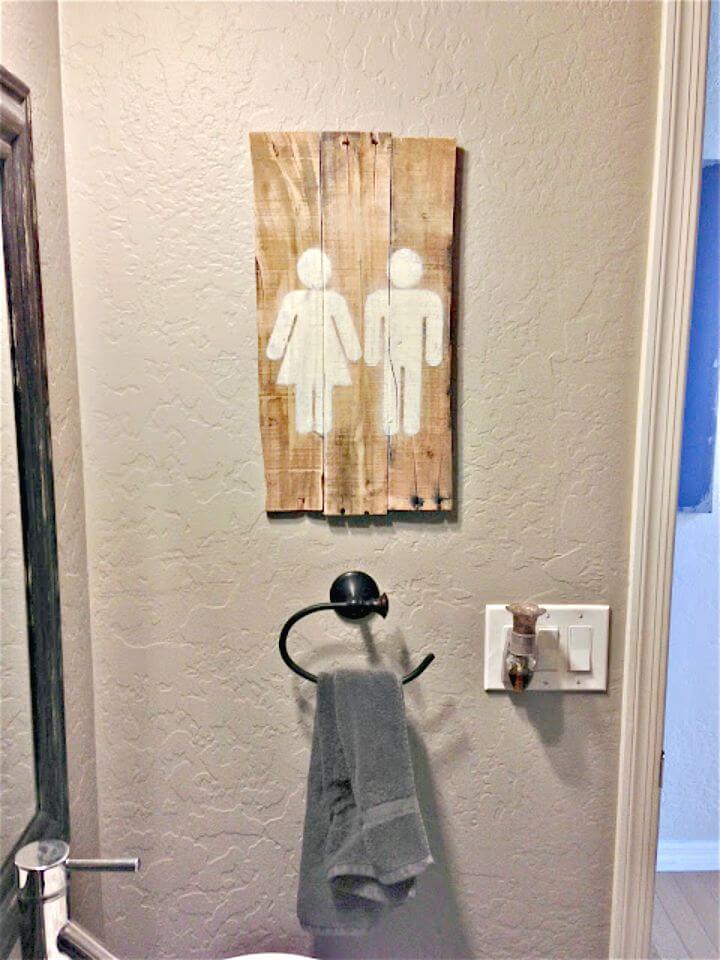 Upcycle the old pallet slats and make fabulous looking bathroom signs out of them without spending even a few pennies! Just check out there the male/female bathroom sign that is self-made using only a few of pallet slats! Make a signboard out of pallet slats, then stencil the art on them and make your stencil using the silhouette machine! Hang the sign using picture hooks, and that's it! Full tutorial here loveurspace
How To Make Frame A Bathroom Mirror: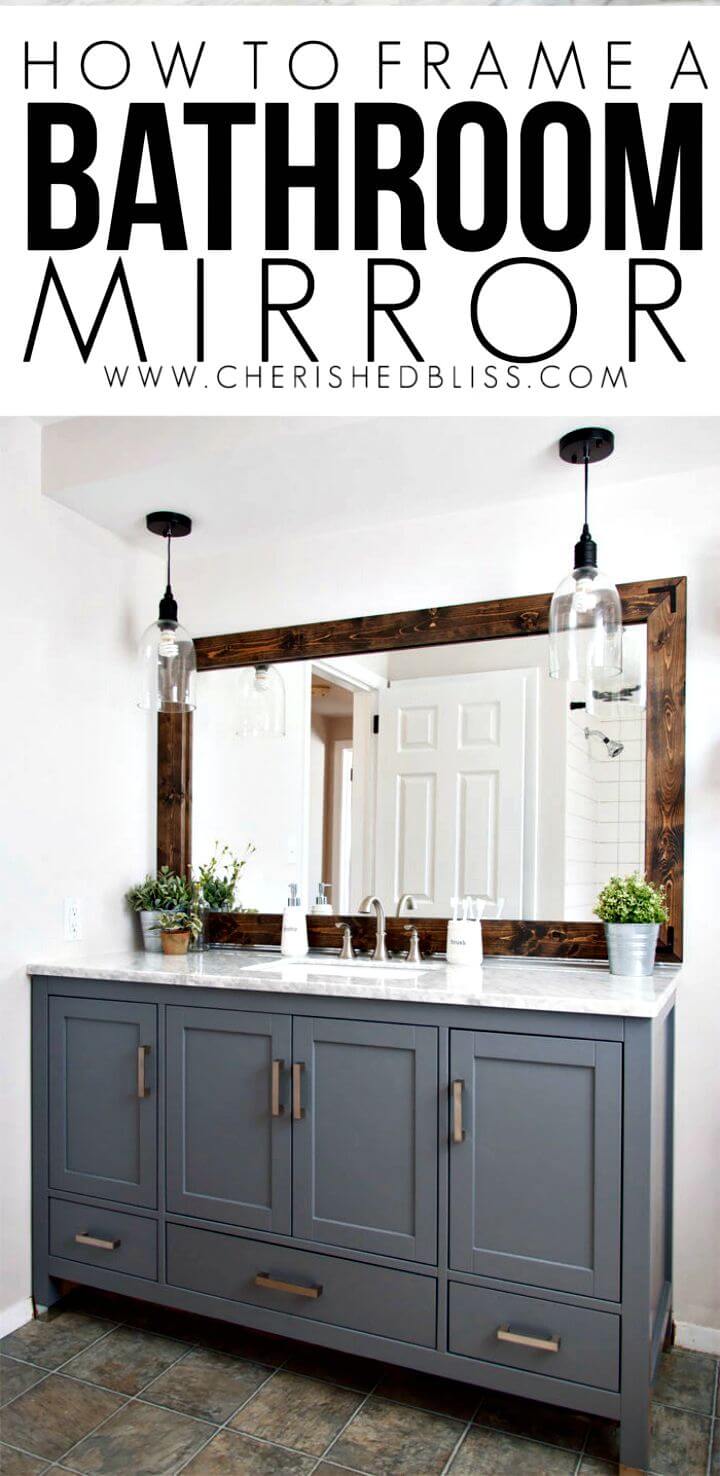 Bring also a fantastic decorative rustic touch to your bathroom by making wooden pallet rustic mirrors, just have a look at the given large scaled bathroom wall mirror that comes with enticing rustic wood frame and is great to look at! Here again, the pallet slats with signs of wear and tear have been used to make the rustic frame for the mirror! Full project instructions here cherishedbliss
DIY Pallet Wall Paneling: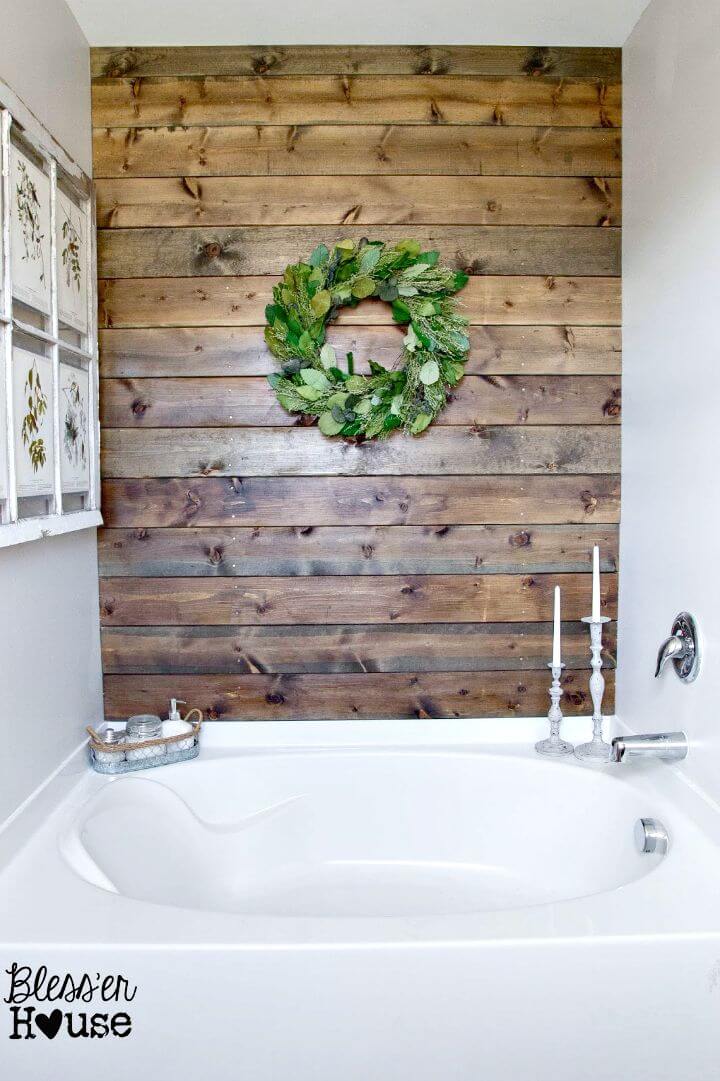 Check out here another smart way to upgrade your bathroom with the pallets! Just tear a few of rustic pallets apart and then make use of equally thick and long wooden pallet slats to install a wooden wall in your bathroom! Check out the sample wood pallet wall paneling that is graceful and would bring a big "wow" factor to your bathroom! Grab the full project tutorial from here blesserhouse
DIY Outhouse Style Pallet Toilet Paper Holder: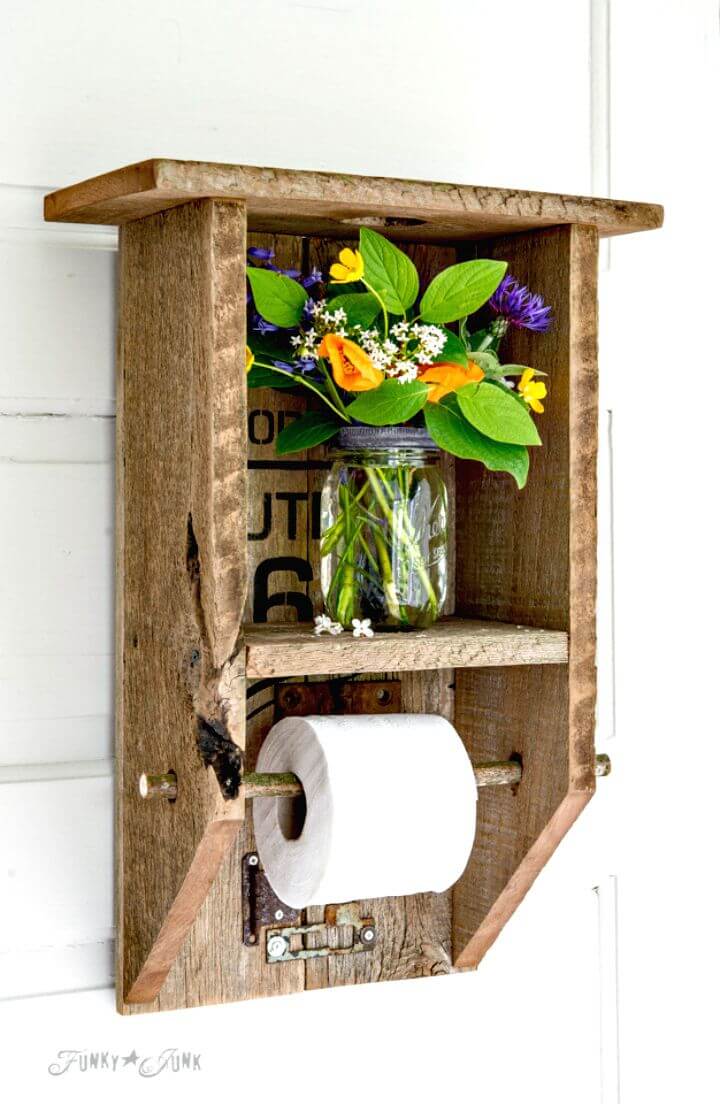 The toilet paper roll holder with a little bit of storage space is always a big bathroom must-have, and hopefully, you can also make it beautifully using some rustic pallet skids! Just check out here the brilliant handmade sample that is made of pallets and is beautiful to look at! Here a few pallet slats have been compiled and arranged to make this toilet paper roll holder! Don't forget to drill the holes in the lower legs of the wooden holding in which you can thread a wooden rod to gain a toilet paper roll holding! Full project instructions here funkyjunkinteriors
DIY Upcycle Pallet Into Bath Shelf: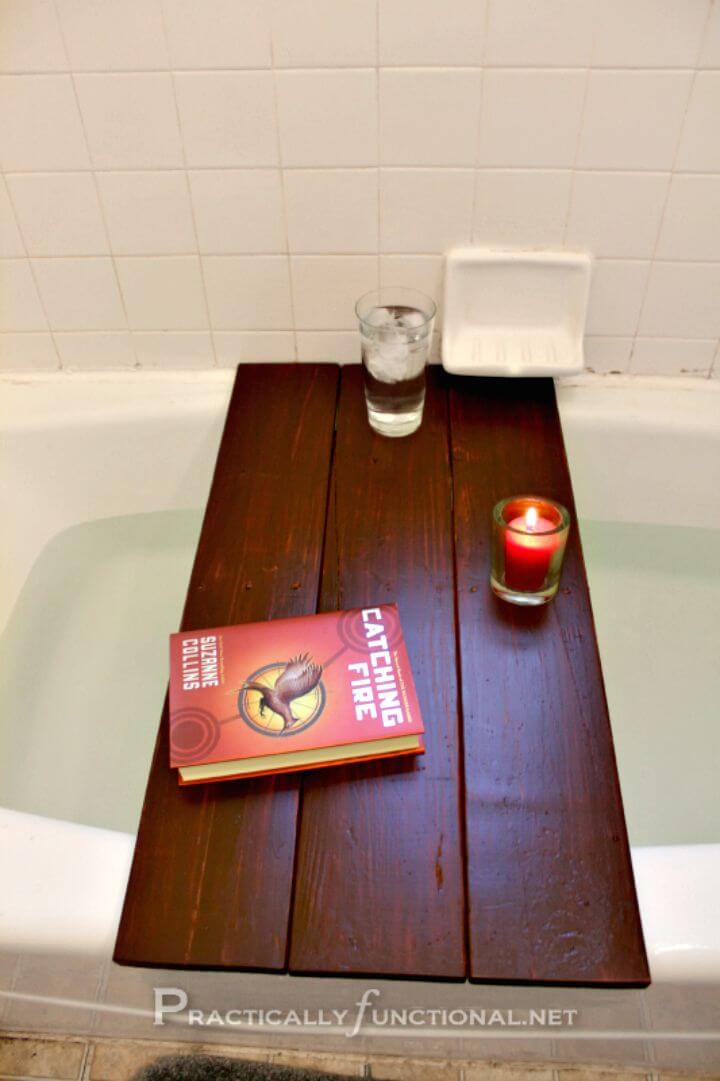 There are never-ending ways out there to upgrade your bathroom with the pallets and here is another great one! Make also the lovely bath shelves out of discarded pallet slats that will bring great grace and amazing visual details to your bathroom! Stare at the given sample design that has the perfect and accurate dimensions as it made of equally thick and long wooden pallet pieces and finally it has been stained for a precious dark choco tone! Here is how to make this wooden pallet bath shelf! Full project instructions here practicallyfunctional
Make a Pallet Laundry Shelf: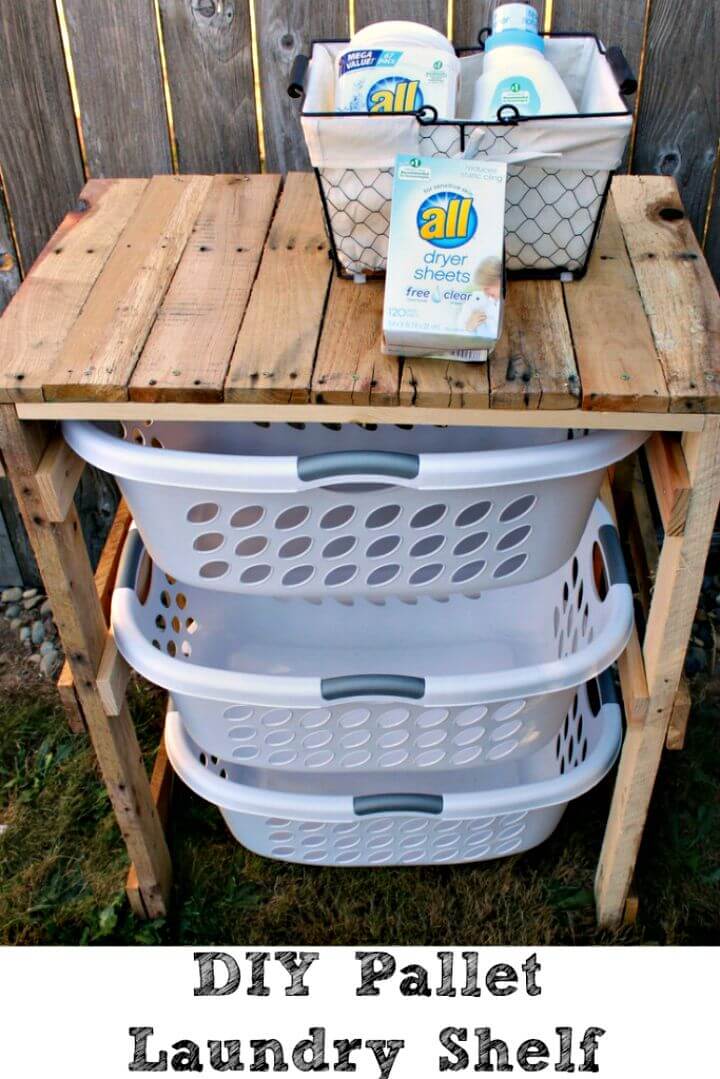 Look at this another special and mind-blowing wooden pallet project that will help to upgrade your bathroom with a fantastic wooden touch! Just make also the brilliant looking wooden pallet laundry dresser or organizer that is a big breeze to make! Just make the stand of the laundry shelf with pallets and then add the custom plastic baskets underside the top as brilliant storage shelves! Full project instructions and tutorial here cookeatgo
How To Turn Wooden Crates Into Rolling Bathroom Storage: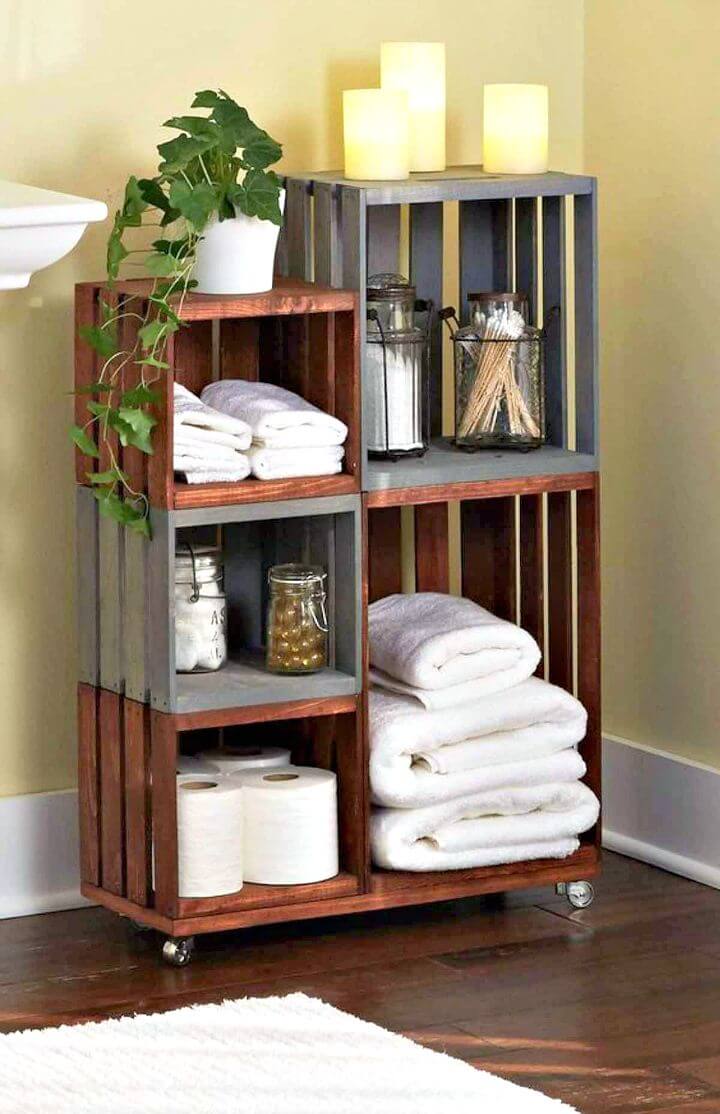 Need some storage space in your bathroom? Then also head over to pallets to make some stunning wooden bathroom storage units and organizers! Just make use of pallet crates to install some brilliant bathroom storage units, get inspired by the given sample that is made of stacked wooden crates that come in different tones of wood! Finally, the entire crate storage unit has been finished with rolling casters! Full project instructions here homedepot
Make Pallet Over The Toilet Storage: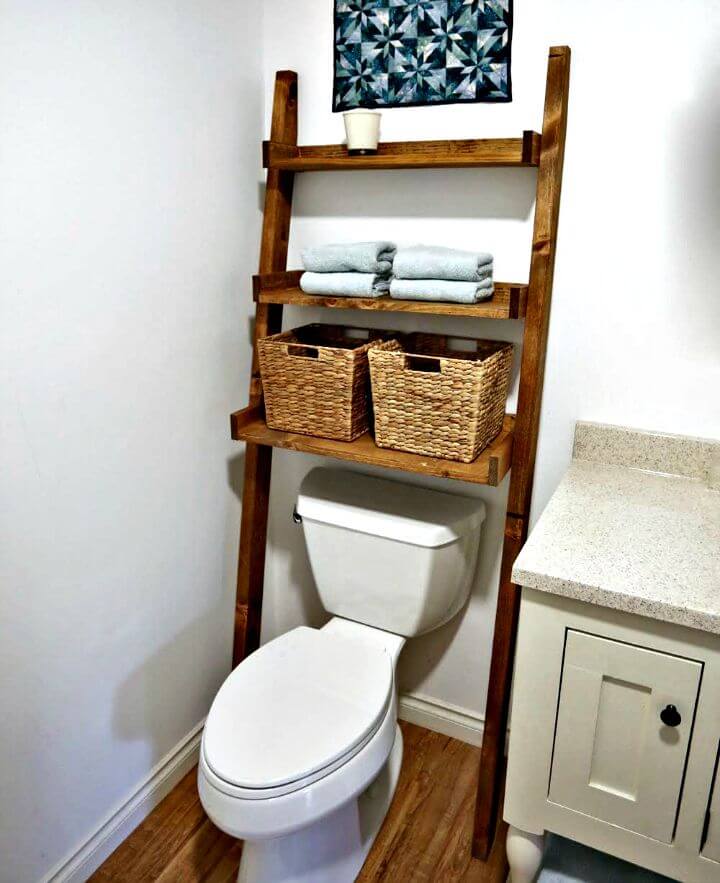 If you are going out of short storage space in your bathroom, then you can also install some brilliant storage shelves over the toilet seat where you can easily organize the toiletries! Just check out here the sample toilet storage that is beautiful and fantastic! Here all you need some separated apart pallet pieces and bigger pallet stringer board to install this stair style over the toilet storage! Full project instructions here ana-white
DIY Bathroom Mirror Storage Case: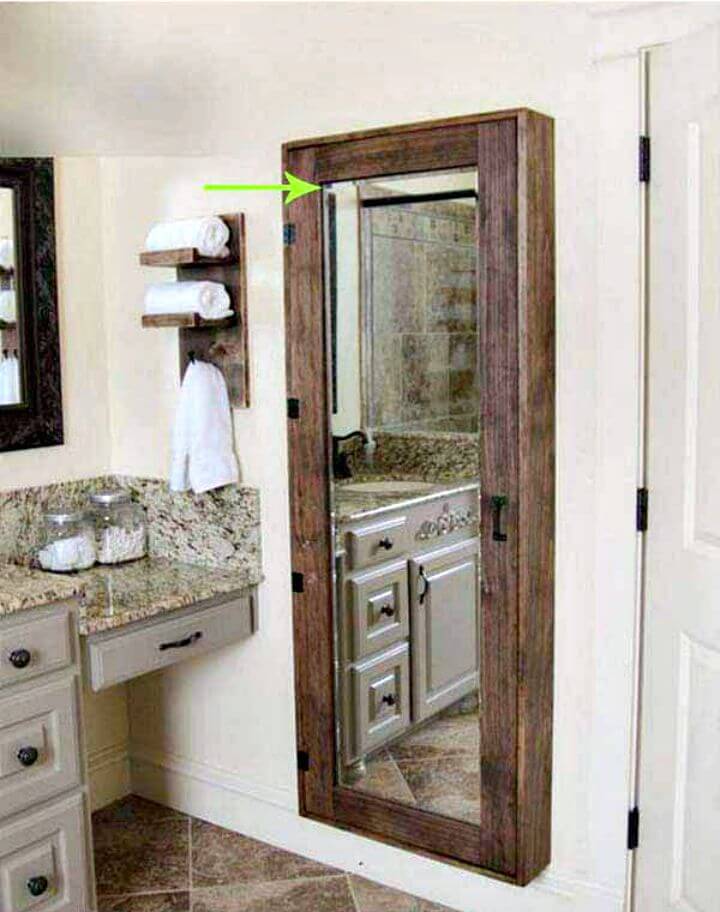 If you are willing to organize your bathroom with pallets, then this dual functional pallet wood craft would win your heart! This is here the pallet-made bathroom mirror storage case or cabinet, and it will provide to your bathroom a charming rustic mirror and lot of secured storage space! Here the mirror is installed to the front hinged door of the mirror cabinet! Full project instructions and tutorial here shanty-2-chic
DIY Knotty Pallet Industrial Pallet Towel Rack: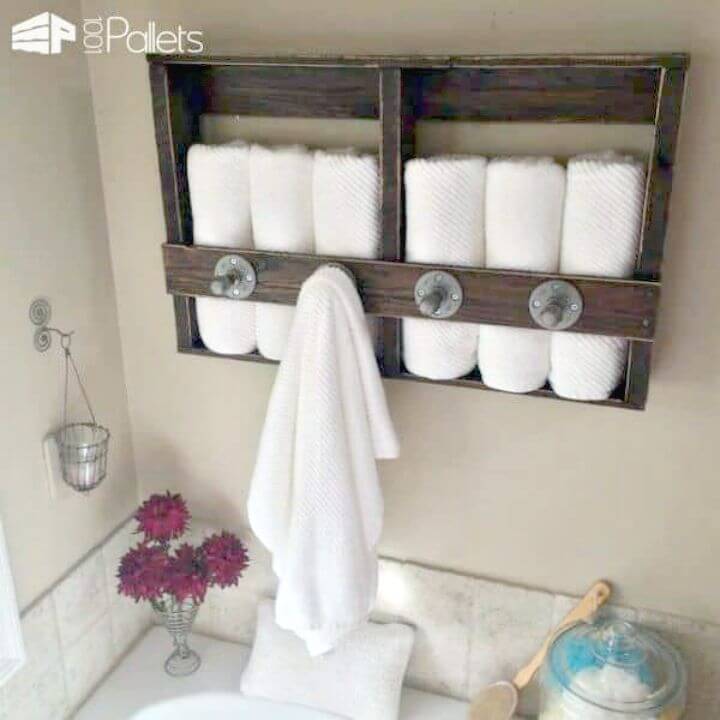 Lacking some towel storage space in your bathroom? Then just accomplish your storage space desires there with this wooden pallet industrial towel rack that is made of a few rustic pallet wood slats and is something beautiful to look at! Just put together the pallet wood slats and create a fabulous wooden holding and add the hooks in its front using the floor flanges and that's it! Full project tutorial here 1001pallets
Easy To Make Pallet and Mason Jar Bathroom Organizer: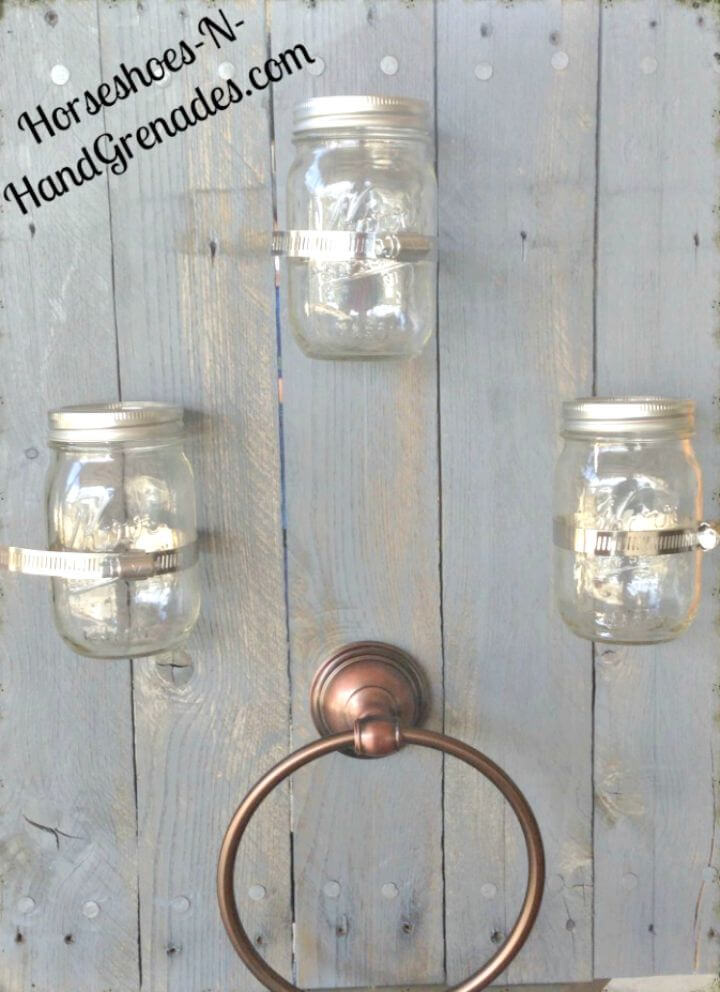 Organize also your bathroom stuff with this excellent homemade bathroom organizer that is a big delight to view! Here again, the wooden pallet slats have been used to build the thicker background wooden board, and next the Mason jars have been mounted in its front using the metallic hose clamps! Another great and stunning pallet bathroom achievement! Grab the full project details from here horseshoes-n-handgrenades
Simple DIY Pallet Sliding Barn Door: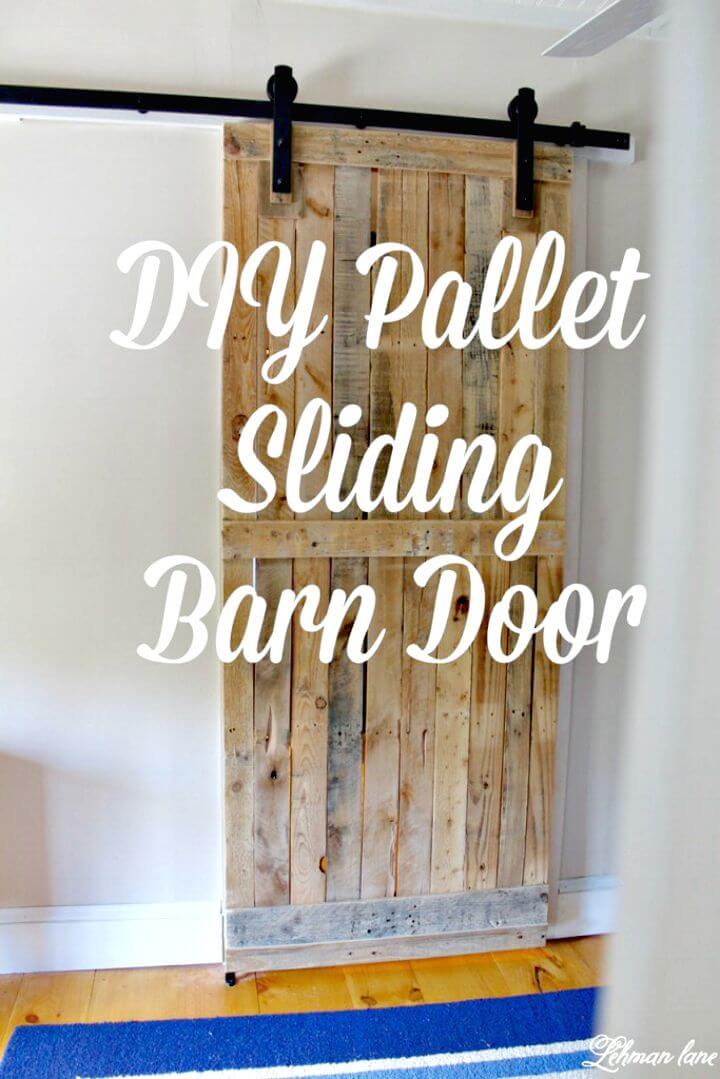 This just not ends here, you can bring a great 'wow' factor to your bathroom by installing the cool sliding door that you can easily make using the free pallets! Just have a look at the given sliding wooden door sample that is purely handcrafted and is made of free wooden pallets! Just put together the separated apart pallet slats and then build the great looking sliding door and next install your door by installing first the sliding door hardware like the sliding railings! Full project instructions here lehmanlane
Build A Small Open Shelf: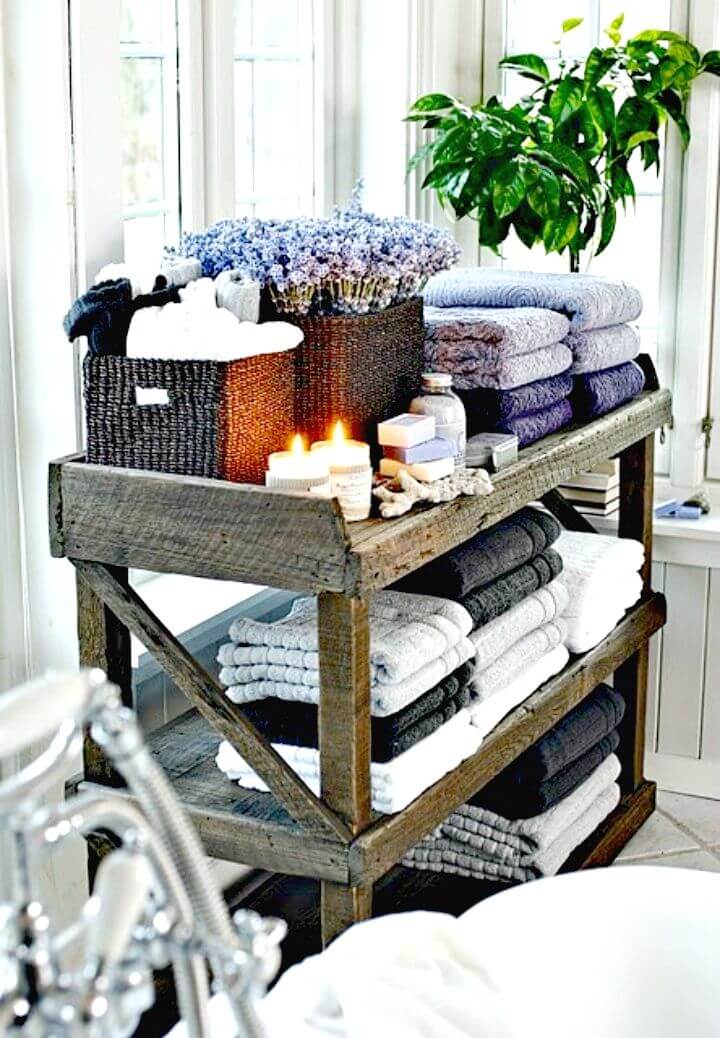 Are you on a mission to get a clutter-free bathroom interior? If yes, then make super functional storage organizers and shelving units at home using the free shipping skids! Organize your toiletries, towels and other bathroom supplies with this handmade open wooden shelf that is made of free rustic pallets! Just disassemble the pallets and then rebuild them again into this fantastic shelving unit! Full project tutorial here remodelaholic
DIY Reclaimed Wood Or Pallet Ladder Towel Rack for A Bathroom: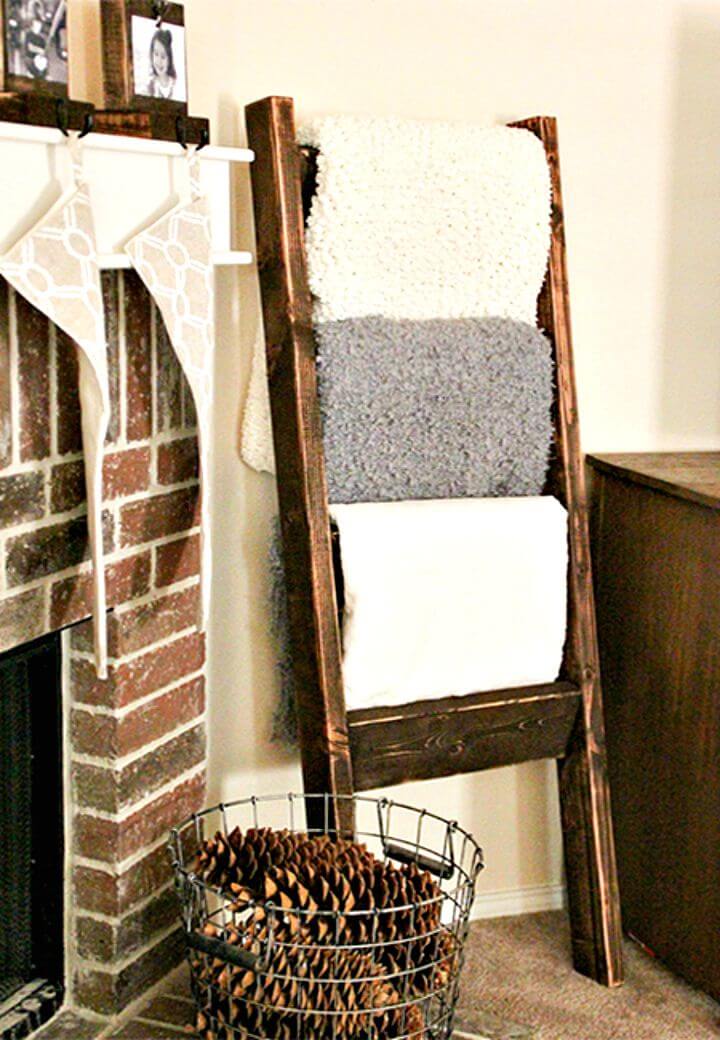 Make use of sturdy wooden pallet boards also to build some cool wooden ladders that will make outstanding towel organizers for your bathroom! Stare at the design of the given sample that will not take much time to build and to be in your bathroom! Just grab the thicker wooden beams to build the rails of the ladder and then install the steps using pallet wood slats! Here is how to make this wooden pallet ladder! A complete tutorial and visual instructions here Home-dzine
How To Make Pallet Plank Wall: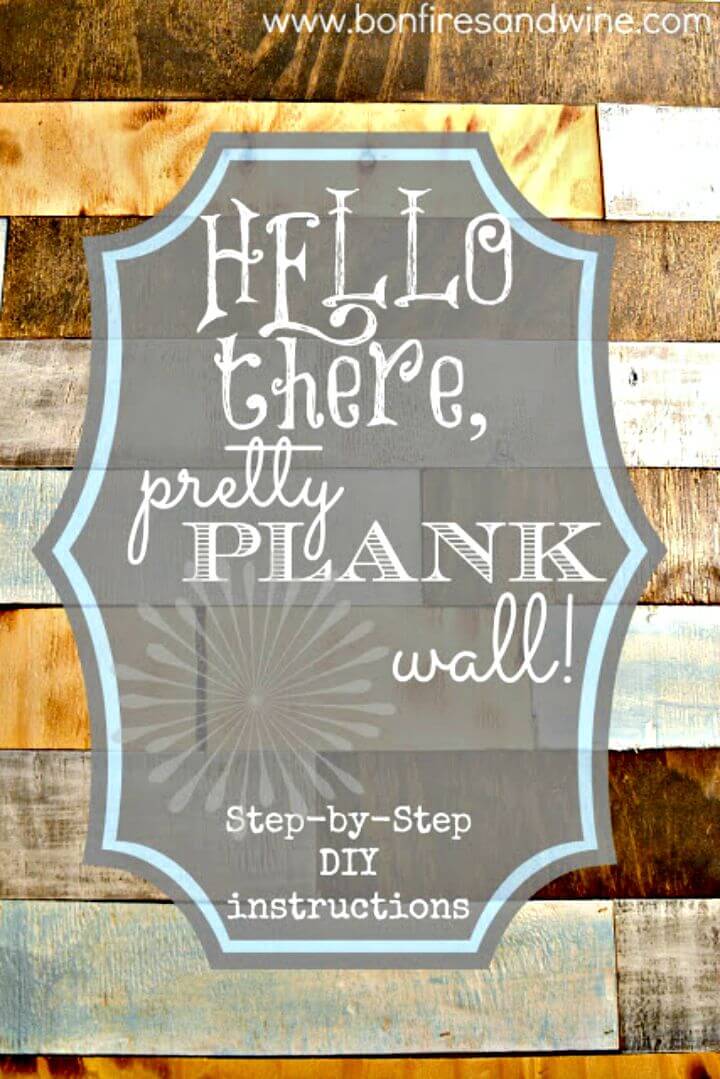 Spruce up your bathroom's decors by installing beautiful wooden walls for free! Just make smart use of wooden pallet planks that can be separated apart from them through a process of dismantling! Next, keep on adding the planks on the wall one by one to get fabulous looking planked walls right in your bathroom! Check out here the sample that is cool and fabulous to look at! Full project tutorial and instructions here hometalk