Kids just all seek out the fun in everything. If there is anything that is not visually attractive or fun-making, your kids are just going to escape from it. This is mostly the case when moms want to cover their babies or kids warm by going multilayer. However, you can add some fun in the winter warmers you decided for the kids, to let them be unique and favorite with kids. Here we would just like to explain it more through these 11 free crochet hooded blanket patterns that are adorably cute and handsome and most importantly they will just work up super quickly even by an intermediate or beginner crocheted.
We often go crochet for exclusive baby winter warmers, and the crochet hats, crochet baby booties, crochet sweaters, and baby blankets are the most popular ones. Ordinary blankets may come in handy to wrap in the newborn or infant babies, but they will not be favorable to one loving kids. So, these hooded blankets are the solution here to please all the fun-loving kids and will be the most favorite accessory too for the loving moms as it will help provide winter protection to their kids easily. Most of these blankets are inspired by favorite kids animals, birds, cartoons and other famous characters, so kids would love wearing them all the daylong mimicking their favorite characters.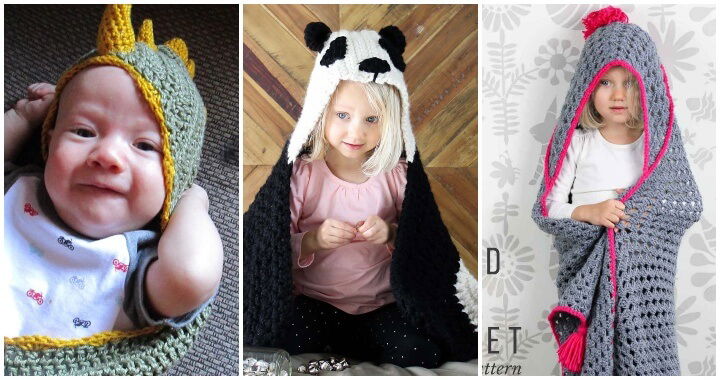 11 Crochet Hooded Blankets with Free Patterns:
Crochet the special panda hooded blanket that will surely please a panda-loving kid along with providing him/her the durable winter protection. Duplicate the given crochet dinosaur crochet blanket would make an epic present for any fun-loving kid and will make a great baby shower present too, get inspired of the given sample, the perfect dinosaur cocoon for a six-month baby. Moreover, you can also prefer the normal hooded blanket that may come with amazing color stripes and patterns that would also go lovely to kids as all kids love the colors and fetching design textures.
These hooded blankets would just be the best solution to ensure winter protection of your babies, swaddle your baby also in the special unicorn crochet blanket that comes with a pointed horn and ears crocheted on the hood. Prefer also the simple, airy hooded blanket that may come with beautiful tassels, this will create an angelic look of any little girl in your home, take a look at the given sample.
All these special and crochet hooded blanket patterns are rare and latest and are also a great inspiration for master crocheters to invent something new by getting inspired by these smartly crocheted hooded blankets. For all tricks and techniques used in these patters, simply visit the respective links that will take you to the free crochet patterns, visual guides and complete instructional tutorials for that particular project you have chosen from the list.
Free Crochet Panda Bear Hug Hooded Blanket Pattern: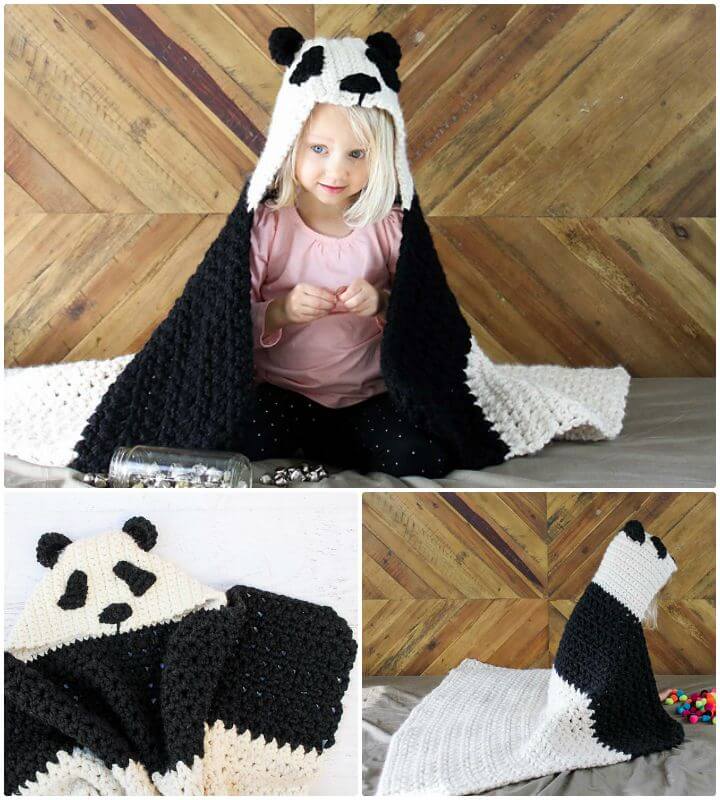 Let your baby feel warm and cozy in this very adorable design of hooded blanket, and this is here the crochet panda bear hug hooded blanket that is just perfect swaddle your baby in. Adding custom animal shapes in the form of cute hooks to blankets will spruce up the blankets and will make them a bit lovelier for the kids. Intending to duplicate this beautiful crochet hooded blanket? Grab the full free pattern and tutorial from here ravelry
Easy Free Crochet Hooded Wrap Blanket Pattern: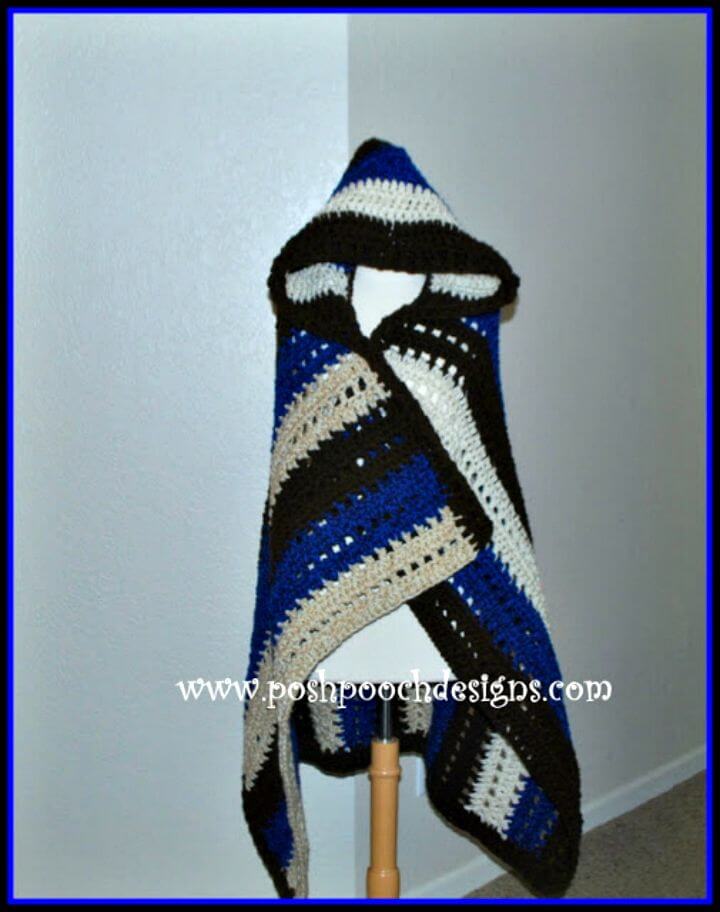 Let your kids enjoy a cute look too while being wrapped in a cozy crochet blanket. This hooded wrap is a mind-blowing solution, and this is here the striped crochet wrap blanket that comes with adorable hood, so your kids will also enjoy a cute character while being snuggled in this cute hooded blanket. Crochet this wrap blanket in your favorite yarn colors and enjoy. Free crochet hooded blanket pattern and tutorial guide is here poshpoochdesignsdogclothes
How To Free Crochet Dino Baby Hooded Blanket Pattern: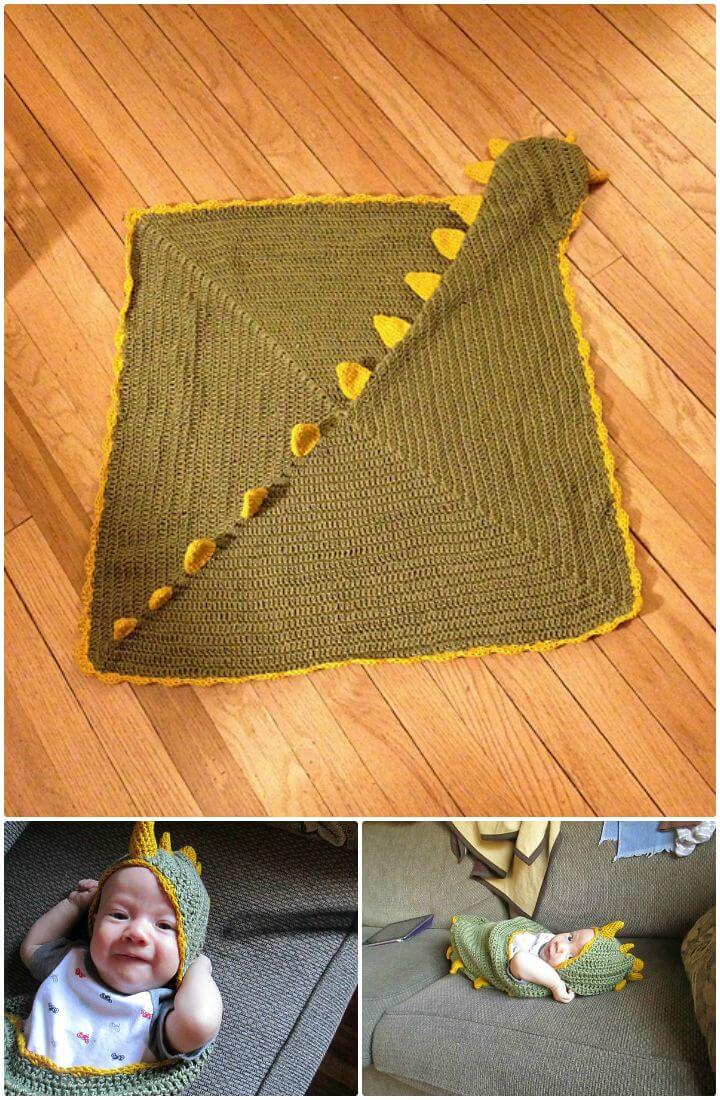 Do you have the kids who are a big fan o dinosaurs? It will be like to win their heart if you give them something special that will create a dinosaur avatar of them. If you also want to include getting the durable winter protection in this mission, then this hooded blanket is a perfect solution here. This will turn your baby into a sweet dinosaur along with making him/her winter-protected. Willing to own this gorgeous crochet hooded blanket for a beloved kid or baby? Just grab the full free tutorial and complete visual details from here ravelry
Crochet Hooded Baby Blanket – Free Pattern: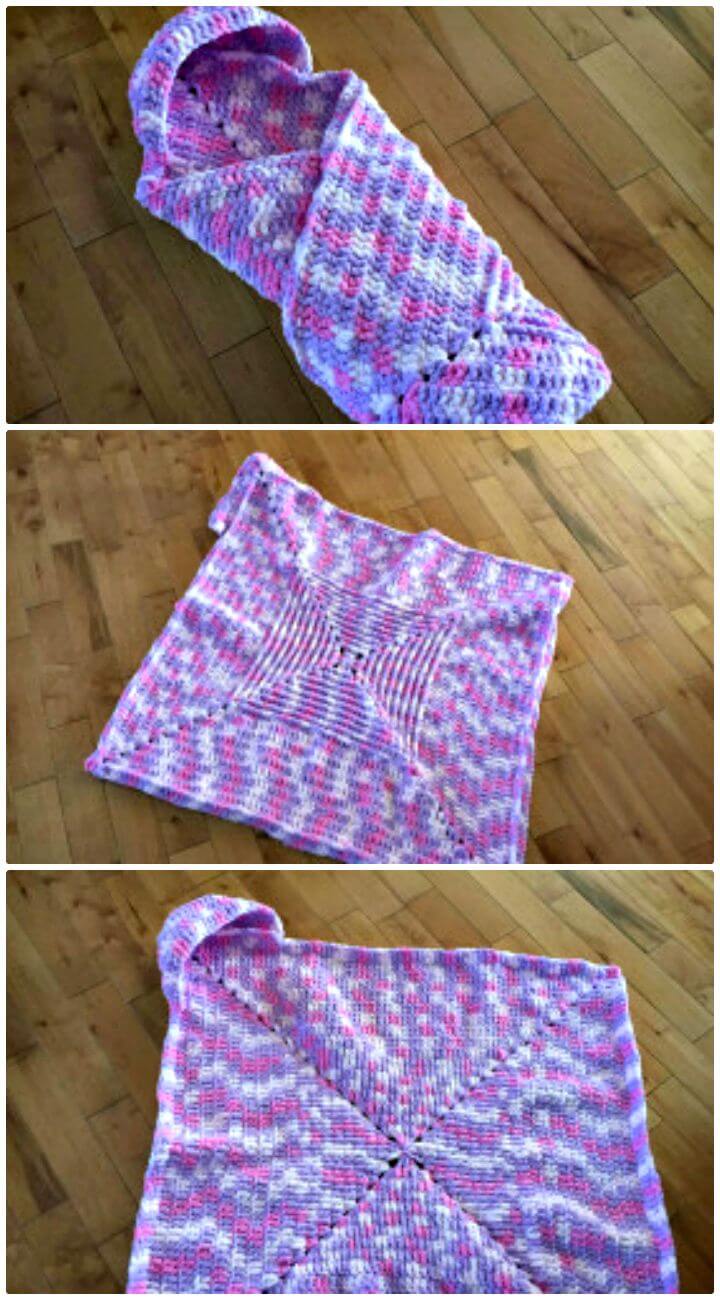 The head of your baby mostly come uncovered while you are wrapping your baby in a winter blanket. You just can't expose baby's head to freezing weather as it is always sensitive to cold, so what about adding a cool hood to your baby blanket that will also cover the baby's head warm in a cute way. Check out here the hooded baby blanket that is super eye-catching and adorable. Want to make it yours? Find the complete free pattern and tutorial from here thecrochetcrowd
Easy Crochet Hooded Baby Blanket – Free Pattern: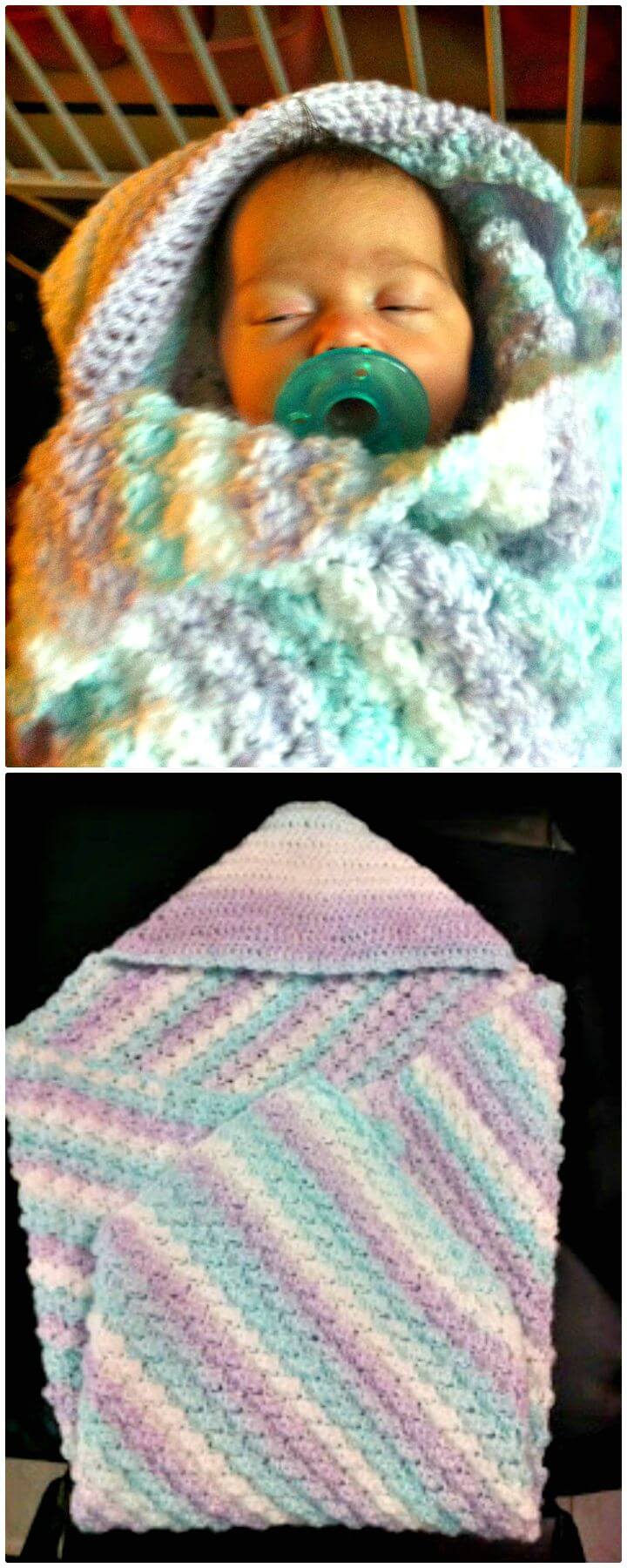 The inspirations for hooded crochet blanket are just never ending. Check out here another mind-blowing one, the lovely crochet hooded blanket that comes with precious color stripes and is a mind-blowing winter baby warmer. This is what here that will make a superb gift too for a mother-to-be. Willing to duplicate this fetching baby hooded blanket to add to a baby's winter wardrobe? Just grab the free crochet pattern and easy visual guides from here bebrightblog
Free Crochet Cuddle Up Unicorn Hooded Blanket Pattern: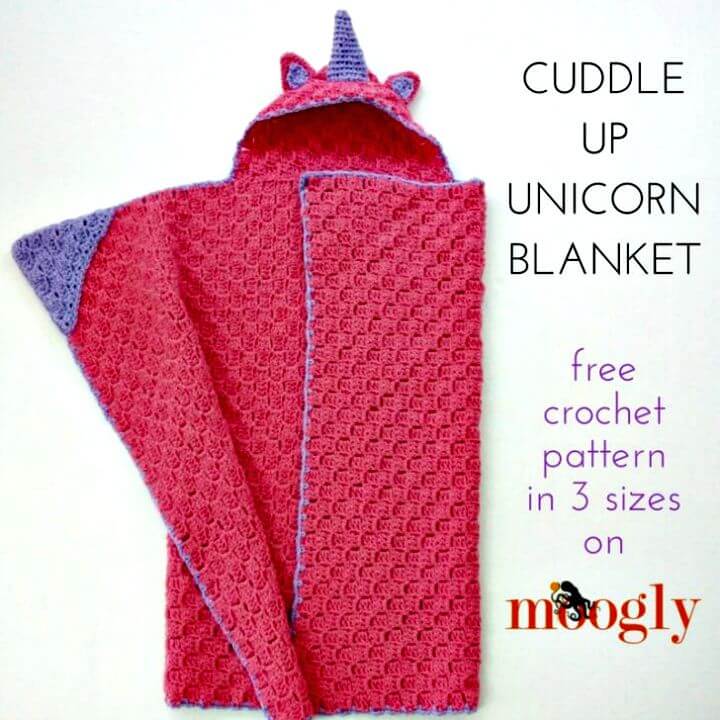 Intending to make your baby safe in the dead of cold? Just make him/her snuggled in this precious cuddle up unicorn hooded blanket that comes with beautiful red appeal. This is also the pointed horn on the hood and unicorn ears that create a smashing and knock outlook of the blanket. Willing to duplicate this very handsome design of hooded blanket? Just grab the full free tutorial and free crochet pattern from here mooglyblog
Free Baby's Blanket Hooded Crochet Pattern: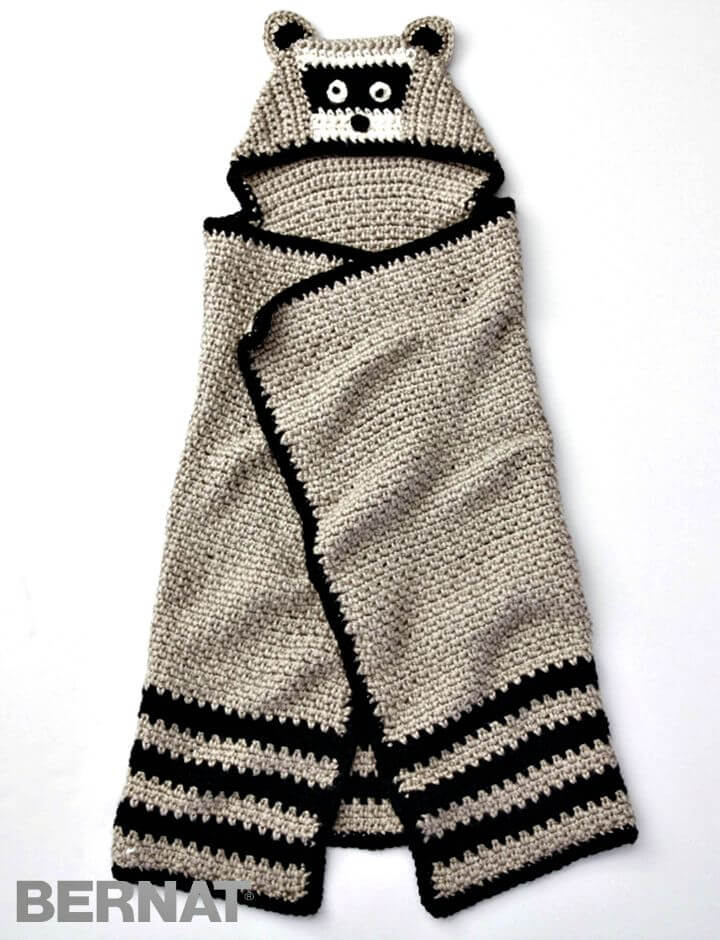 Here is something more interesting and visually captivating. Another precious baby's hooded blanket that also comes with animal-inspired hood. A perfect fun blanket to swaddle your baby in to make the winter protected. This would also make an outstanding gift for a mother-to-be or a recently became mother. Intending to duplicate this mind-blowing hooded blanket? Complete free guide and visual details are here yarnspirations
Crochet Hooded Baby Blanket – Free Charity Pattern: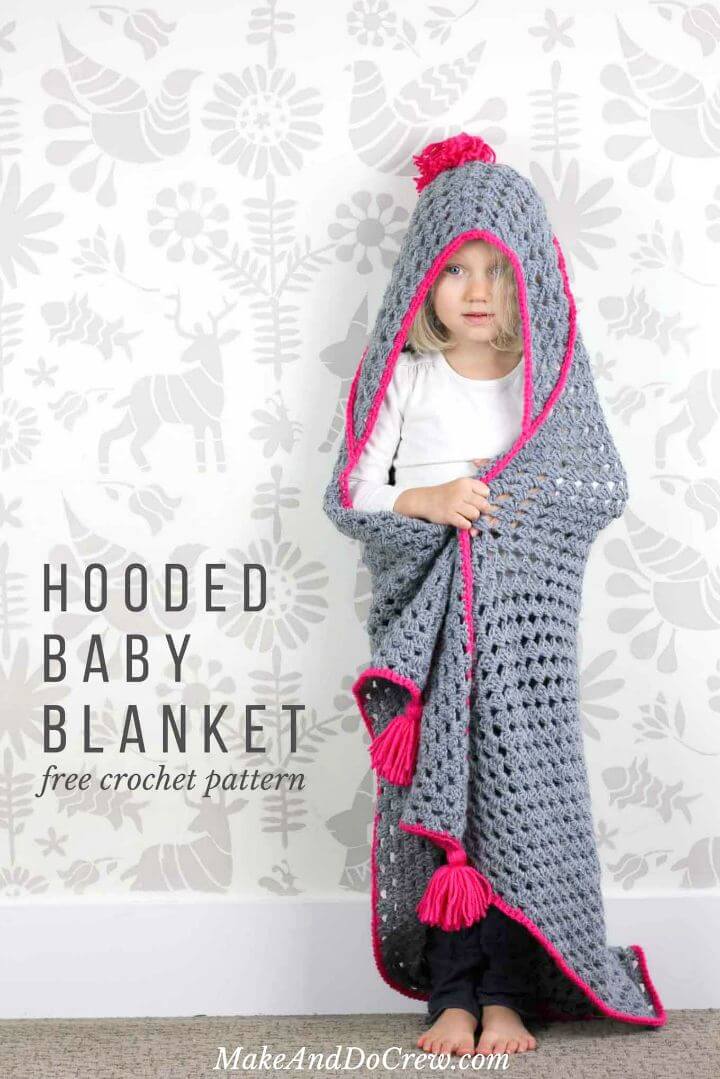 Create an angle look of your little girl by making here wrapped in this beautiful baby hooded blanket that looks extra graceful due to amazing hue. It comes with a dominant grey while having the accent edging done with dark pink yarn color. Further beautification has been done by adding the pink yarn tassels that spice up the look of the blanket more. Another great blanket pattern to inspire your hook. Free crochet blanket pattern and tutorial guide is here makeanddocrew
Cozy Free Crochet Hooded Blanket Pattern: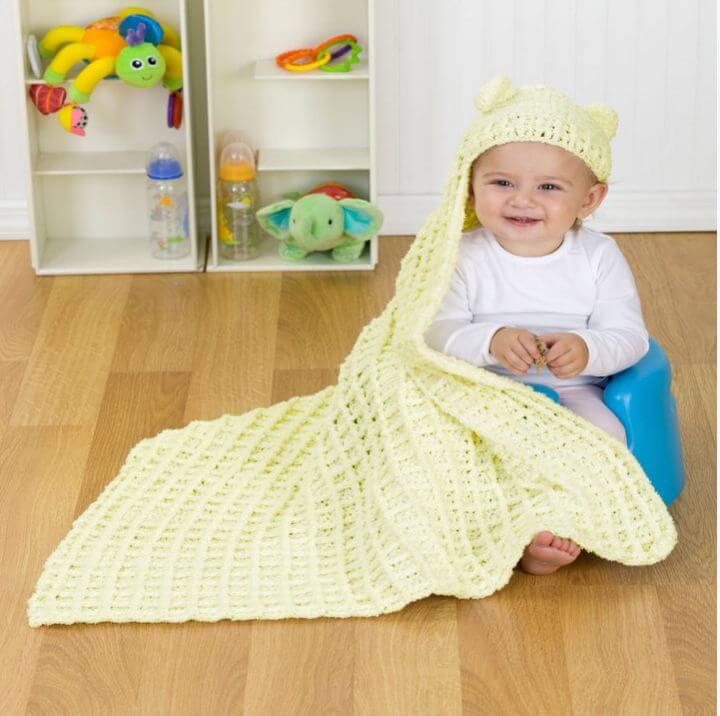 The single yarn color pattern also rocks sometimes, and you will find it so true just by looking at this hooded blanket that is cozy and comes with a very light yellow yarn color. Here the hood is inspired by an animal shape and hence comes with tiny short ears also. This is here another great looking and adorable design of hooded blanket that will just be rocking winter warmer for any baby. This is here a mind-blowing and all beginner-friendly design of crochet blanket. Want to duplicate it now? Find the complete free pattern and tutorial guide from here redheart
Free Crochet Hooded Unicorn Blanket Pattern: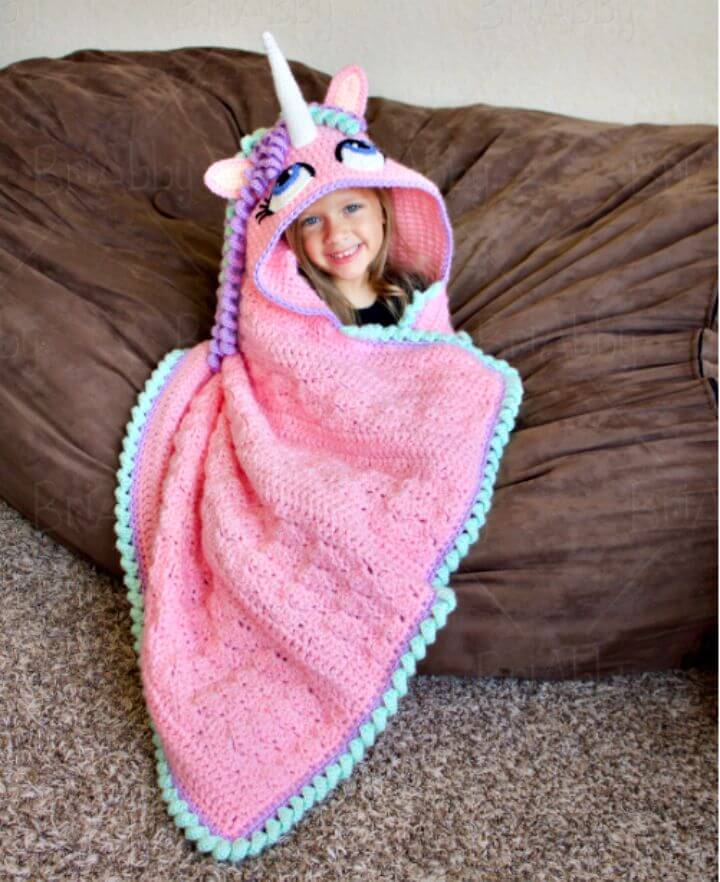 Kids just really like it to look like a character or animal they love a lot. The unicorns the mystical and magical creatures that are dearly loved by all kids. So, if your kids just love it to mimic the unicorn, then this hooded unicorn blanket would be an awesome addition to their wardrobe. This will provide winter protection but in a cute style and will make your baby look like a precious unicorn who is wrapped in it. Only the easy skill level is required to crochet this mind-blowing unicorn blanket. Free crochet pattern here briabby
Free Crochet All-Star Hooded Blankie Pattern: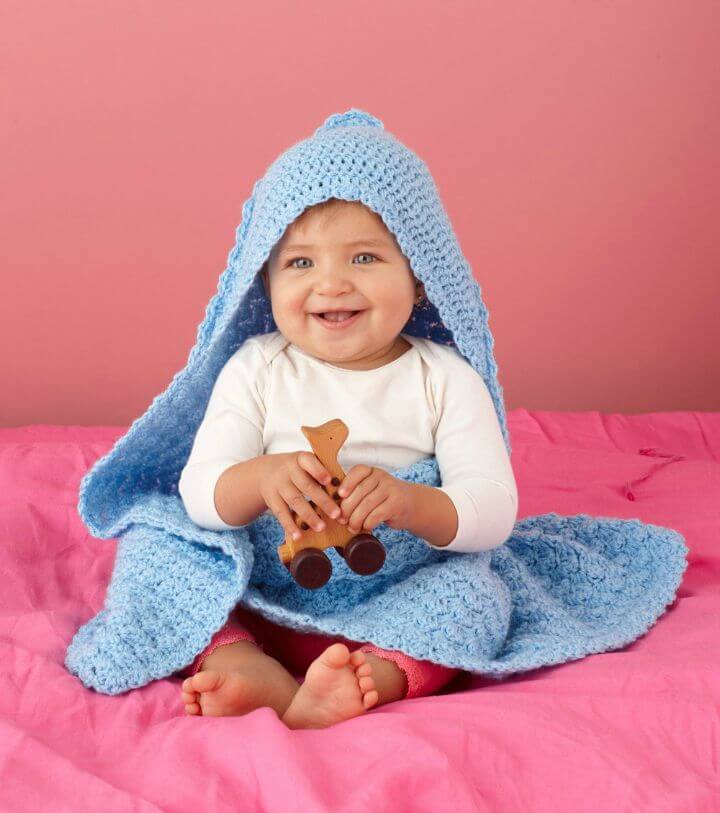 Crochet hooded blankets are on trends as they have just overcome the ordinary crochet blankets that can be used only as winter warmers and can't create so much fun for the kids. On the other hand, the crochet hooded blankets also make dashing winter warmers but the cute hoods inspired by the different animal or other shapes, just add too much fun. Get inspired by this all-star hooded blanket, another eye-catching and adorable design of crochet blanket. Duplicate it via free pattern and guide provided here lionbrand