Discover 25 easy watermelon carving ideas and decorations for your next party – impress your guests with these creative and fun designs! From simple and beginner-friendly watermelon carving ideas to more detailed ones, these watermelon carvings are great for parties, picnics, and other special occasions. Explore easy step-by-step instructions for watermelon basket carving patterns, watermelon decorations, and more, ensuring that you can make your own carved watermelon masterpiece.
Our selection of carving watermelon ideas includes unique options like watermelon carved beach buckets, watermelon sharks, whimsical rabbit carvings, and even spooky Halloween-themed creations. For a more elegant touch, try your hand at a watermelon lotus flower carving or a stars and stripes-themed carving. Furthermore, our list features fun food decor options such as emoji watermelon carving designs and mermaid tail carved watermelons.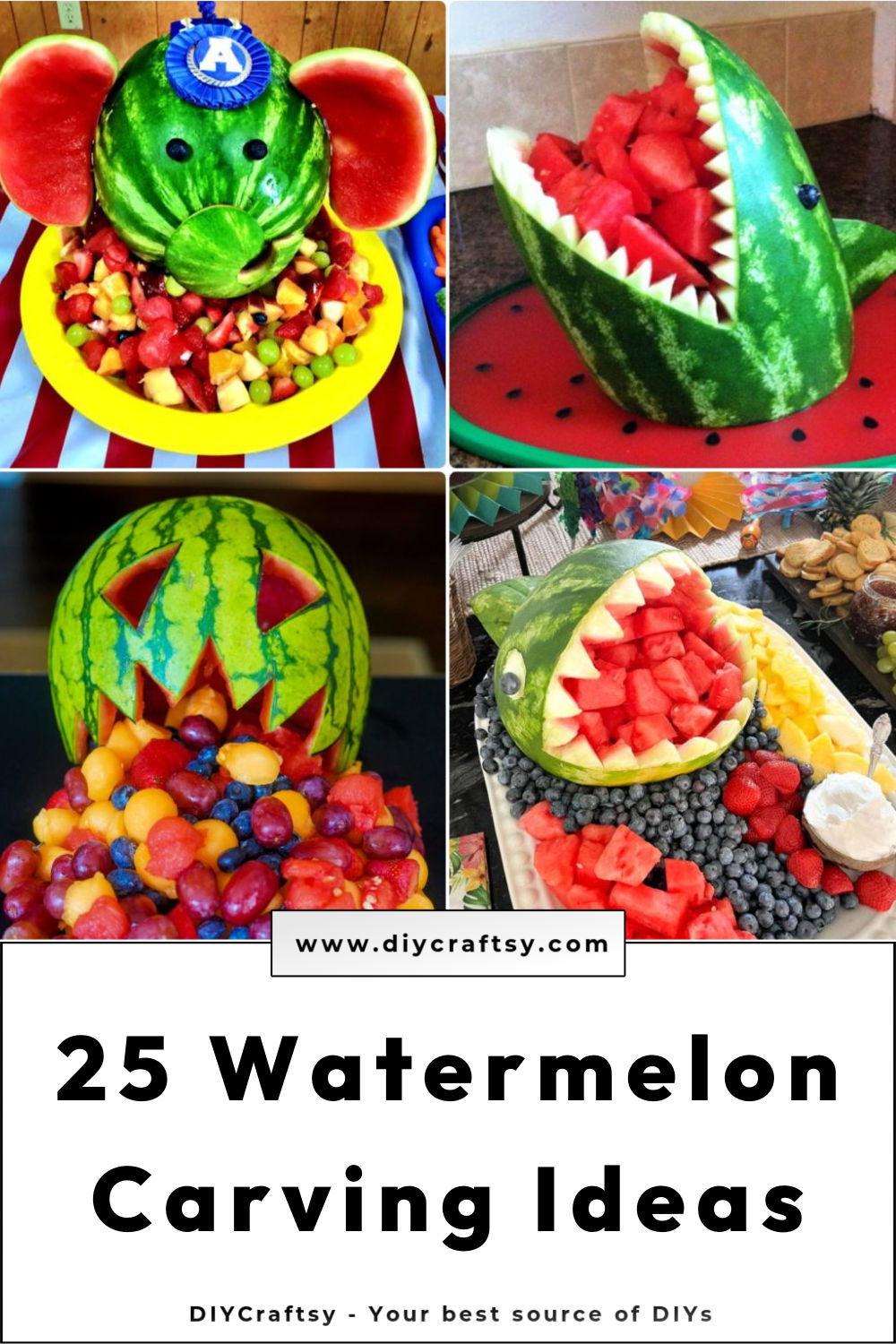 So, grab a watermelon and your carving tools and unleash your creativity with these 25 carving watermelon ideas, perfect for adding a touch of whimsy and delight to your next event. Each watermelon decorations idea comes with detailed instructions that cater to various skill levels, ensuring a fun and fruitful experience for everyone.
1. Watermelon Carved Beach Bucket
Discover clever watermelon carving ideas to impress guests, transforming ordinary fruit into exquisite party centerpieces. Turn your summer celebrations into a delightful feast with a DIY beach bucket watermelon carving. This unique creation requires a watermelon, cake mix, and a selection of beach-themed cookie cutters and toys.
You can easily transform your watermelon into a fun beach bucket using a green dry-erase marker, kitchen knives, and a melon baller. Simply scoop out the flesh, carve a charming design, fill it with delectable fruits, and top it off with cake mix for a sand-like appearance.
It's a refreshing, playful dessert that can be the centerpiece of any beach-themed party or picnic. Make this sweet sensation today and impress your guests with your imaginative culinary skills. watermelon
2. How to Carve a Watermelon Shark
Experience the thrill of beach season, complete with a splash of horror-movie-inspired fun, with a DIY watermelon shark! This unique carving project, inspired by a love for the ocean and its mysterious creatures, offers a therapeutic and enjoyable activity. You can make an edible masterpiece perfect for your summer beach gathering with just a watermelon, a dry-erase marker, knives of different sizes, a spoon, and blueberries for the eyes.
Start by thoroughly washing and drying an oblong, seedless watermelon. Then, carve the fruit into a shark shape, adding an open mouth, teeth, and eyes for realistic detail. Accentuate your creation with a dorsal fin and fill the mouth with watermelon chunks or Swedish fish candies for a whimsical touch.
This creative endeavor offers a fun and unique twist to the traditional summer fruit bowl, making it an excellent centerpiece for your next beach-themed party. So grab your knife, channel your inner artist, and start carving your watermelon shark today! aboutwatermelon
3. How to Make a Watermelon Basket
Discover the playful charm of serving fruit salads in watermelon baskets! Redeeming the idea from macabre Halloween parties to elegant teas, the watermelon basket is surprisingly simple to create. You only need an oblong watermelon, a carving knife, an ice cream scoop, and a small paring knife.
An additional yet optional step involves decorating the edges of the basket and handle for an extra artistic touch. This vibrant fruit salad combines watermelon, pineapple, and an array of berries, giving a fresh twist with lime zest and mint leaves.
As a handy tip, the basket can be prepared a day before your event, saving you precious time. Get creative and impress your guests with this charming watermelon basket at your next gathering! westoftheloop
4. Rabbit Carving From Watermelon
Create an adorable, edible centerpiece with this DIY bunny fruit carving! Using an oblong watermelon as the base, this unique project brings a touch of whimsy to any event. You can bring this delightful rabbit to life with essential supplies like a small knife, a pencil or dry-erase marker, toothpicks, and an assortment of fruits to fill the carved bunny.
The process is simple: outline your bunny design, carefully carve it out, add details using excess rind, secure berries as eyes, and fill it with your chosen fruits. This delightful creation not only offers a visual treat but also serves as a delicious fresh fruit arrangement. Start crafting this cute bunny today, and add a touch of creative charm to your next gathering. watermelon
5. How to Make a Watermelon Monster
Get inspired by unique watermelon carving ideas, perfect for adding a touch of creativity to your summer gatherings. Encourage your children's love for fruit with this fun watermelon monster recipe. This captivating culinary creation is not only an excellent source of vitamins, but it's also a fun way for kids to engage in the preparation process. You can build a delightful monster that kids will be thrilled to devour using a large watermelon, cantaloupe melons, grapes, blueberries, oranges, strawberries, and baby gem lettuce.
With a preparation time of just 40 minutes, this recipe is an exciting and healthy activity that families can enjoy together, fostering a love for fresh fruit while making mealtime memorable. Remember to chop grapes and melon balls into smaller pieces for younger kids to ensure safe consumption. Give it a try and add a bit of fruity fun to your kitchen endeavors! hellomagazine
6. DIY Watermelon Jack o' Lantern
Boost your Halloween celebrations with a delightful DIY watermelon jack-o'-lantern. It's an entertaining alternative to traditional pumpkin carving and an excellent way to showcase your crafting skills. This fruit-based lantern adds a unique touch to your spooky season decor while offering a delicious treat.
You only need a ripe watermelon, a spoon or melon baller, and a sharp knife to start creating. Simply hollow out the watermelon, carve your desired facial expression and sit back to admire your cheerful, Halloween-themed creation.
To further enhance your masterpiece, consider incorporating a battery-operated candle for an illuminating effect. This engaging project redefines creativity and invites you to explore other fruits like cantaloupe or pineapple as carving materials. So, why not start making unforgettable memories today with this watermelon lantern? funathomeclub
7. DIY Spooky Halloween Watermelon
Twist the traditional Halloween icon, the pumpkin, on its head with this innovative and delicious spooky DIY Halloween watermelon! This unique take on the classic jack-o-lantern introduces a refreshing, juicy, and customizable centerpiece that doubles as a tasty treat. The watermelon Jack-o-Lantern can be filled with a fruit salad, offering a healthier alternative to sugary Halloween candies.
Simple to create, it's a fun activity that allows family members to bond while preparing for the festive season. Plus, it's a unique decoration for your Halloween party that will surely captivate your guests.
You're ready to start this festive project with a watermelon, your favorite fruits, a sharp knife, and a spoon. Show your creativity and make your Halloween celebration unforgettable with this tantalizing watermelon jack-o-lantern! plantyou
8. Circus Elephant Watermelon Carving
Embark on a delightful culinary journey as you learn to make DIY circus-themed festive treats, specifically a vibrant and lively elephant carved out of a watermelon, acting as a centerpiece and a fruit bowl. This crafting adventure starts with a carefully sectioned and scooped-out common watermelon.
The discarded rind is creatively transformed into an elephant's trunk and ears, giving life to your centerpiece. Attach these parts to the watermelon body using wooden skewers, ensuring they fit perfectly. Blueberries serve as the elephant's eyes, adding a touch of fun and realism.
The finishing touch? A beautifully crafted headdress made from various craft materials like feathers, felt, and repurposed ribbon. So, ready to wow your guests with this unique circus elephant watermelon carving? The stage is yours! susanschrock
9. Saguaro Cactus Watermelon Bowl
Unleash your artistic side with watermelon carving ideas, creating eye-catching designs for memorable festive occasions. Enhance your dinner parties with a unique centerpiece: a DIY saguaro cactus watermelon bowl. This creative dish provides a unique serving option and will wow your guests. It's more than just an eye-catching decor; it doubles as a functional bowl for your favorite fruit, perfect for desert-themed events or casual summer gatherings. Starting with a tall, steady watermelon, the carving process is easy.
Sketch your saguaro cactus outline with a chalk marker, carve carefully with a sharp knife, and scrape out the fruit to form your bowl. This fun and innovative bowl can be made in just 10 minutes, leaving you more time to mingle and enjoy the party. Plus, it serves as a remarkable way to enjoy your harvested watermelons.
Emphasizing the beauty of simplicity, a watermelon bowl doesn't require elaborate embellishments. Its charm and appeal come naturally, standing out against the stunning Arizona desert or your backyard. So why not try making your own saguaro cactus watermelon bowl today? briebrieblooms
10. Watermelon Lotus Flower Carving
Explore the art of watermelon carving with this watermelon lotus flower carving guide. This visually stunning yet surprisingly simple DIY hobby is perfect for those who wish to add a unique and creative touch to their summer gatherings or events.
You can transform a simple fruit into an eye-catching centerpiece with a watermelon and a paring knife. This guide will teach you how to peel the watermelon, carve out leaf and petal shapes and clean up for a perfect presentation.
The technique, once mastered, can also be applied to other designs. Each step is designed with clarity in mind, making this an easy-to-follow process that results in an impressively intricate and colorful watermelon lotus flower. This watermelon carving guide encourages creativity and invites everyone to try it! instructables
11. How to Carve a Stars and Stripes Watermelon
Discover the art of carving enchanting DIY stars and striped watermelon bowls, ideal for your July 4th celebrations. This guide provides comprehensive instructions on transforming a large watermelon into a themed fruit bowl filled with strawberries, lychee, and blueberries, adding a splash of patriotism to your festivity.
Equipped with a chef's knife, a large spoon, a dry-erase marker for your design, and other handy tools, you'll be well-prepared to make this impressive masterpiece. This guide covers you from choosing a ripe watermelon to carving and serving. Make your Independence Day party, BBQ, or potluck memorable with this visually striking, edible piece of art. celebrationgeneration
12. Fun Emoji Watermelon Carving
Capture the essence of summer with a creative twist to the seasonal favorite – watermelon! This DIY tutorial illustrates how to transform a standard watermelon into a delightful emoji design, adding a whimsical touch to your pool party or summer gathering.
Armed with just a kitchen knife, a melon baller, and optional cookie cutters, you can carve out an adorable heart-eye emoji or a design of your choice on the watermelon and fill it with refreshing melon balls soaked in Minute Maid Lemonade.
Serving this unique creation alongside FUZE Tea will surely turn heads, making your summer bash unforgettable. Remember, you don't have to wait for Halloween to showcase your carving skills! Explore this new creative venture and take your summer refreshments to a new level. asthebunnyhops
13. Easy Porcupine Watermelon Carving
Embrace the fun of watermelon carving ideas, turning simple treats into extraordinary edible masterpieces. Make your next picnic or potluck event even more memorable with an adorable DIY porcupine watermelon – a delightful and allergy-friendly addition to your feast. This engaging and edible art piece is as fun to make as it is to consume! Shaped and carved using an 8″ or 9″ chef's knife and a paring knife, it transforms a regular watermelon into an enchanting creature.
The process involves hollowing out the watermelon, creating facial features using blueberries and rind cut-outs, and using toothpicks to mimic porcupine quills with watermelon cubes.
This whimsical fruit masterpiece will serve as a great conversation starter and a delicious and refreshing treat to be shared with friends and family. Add an extra touch of ingenuity to your event with this easy-to-follow guide today! cybelepascal
14. How to Carve a Watermelon Into a Pirate Ship
Introduce a splash of fun into your next summer party or pirate-themed event with an eye-catching DIY watermelon carved into the shape of a pirate ship. With an oblong watermelon, a few common tools, and creativity, you can turn this refreshing fruit into a treasure trove for serving other fruits, such as cantaloupe and grapes.
The steps involve careful shaving of the rind to provide stability, marking out and carving the ship shape, scooping out the fruit with a melon baller, and making sails from the rind. Further adornments include bamboo skewers for standing sails, other fruit as treasure, a pirate flag, and optional carved circles for cannon or port holes.
Not only does this imaginative creation make a fun centerpiece, but it also provides a refreshing and healthy snack for your guests. Transform a humble watermelon into a nautical masterpiece and set sail for an unforgettable event. leaf
15. Best Watermelon Shark Carving
Bid farewell to summer lethargy with this children-friendly culinary activity. This DIY watermelon shark recipe offers a fun way to enjoy fruits while keeping children entertained. You can make a delightful treat by using a large watermelon as the main ingredient and other fruits such as red grapes, a medium cantaloupe, fresh blueberries, and oranges.
With a few pineapples preserves to add extra flavor and optional Swedish Fish candies for fun, this playful dish is a surefire way to spark creativity. Follow the straightforward instructions to carve your watermelon into a shark shape, fill it with a mixture of fresh fruits, and serve.
Not only is this a joyful project, but it's also a healthy one – a single serving is just 129 calories, making it a perfect choice for a nutritious snack. Let your summer be filled with culinary creativity and nutritious eating with this engaging recipe. tasteofhome
16. Watermelon Carved Frog
Delight your guests with a whimsical watermelon frog fruit salad that adds a playful touch to any party. This creative and unique dish combines juicy watermelon, refreshing green grapes, and succulent blueberries.
Using simple tools like a dry-erase marker and toothpicks, you'll transform a watermelon into an adorable frog-shaped serving bowl.
Fill it with the fruit salad, and let the frog's mouth be the centerpiece of your creation. With a tongue made of red sour strip candy, this refreshing treat will make your party pop. Get ready to hop into fruity fun! watermelon
17. How to Carve Watermelon Golf Ball
Boost your next event with an eye-catching DIY golf-themed centerpiece using a seedless watermelon! A kitchen knife, paring knife, cutting board, and melon baller are all you need to start crafting your edible art piece.
Once you've safely washed and cut your watermelon, the fun begins as you sculpt divots with the melon baller to mimic a golf ball's unique texture. Remove layers of the rind to reveal the white layer underneath, creating a convincing golf ball illusion.
Hollow out the fruit and serve it with delicious watermelon balls as a refreshing treat. Remember, the key to success is forbearance and precision in the carving process, resulting in a centerpiece that's both creative and delicious! watermelon
18. Easy Watermelon Shark – Step-by-step Instructions
Delight in our curated list of easy watermelon carving ideas that will wow your friends and family at any celebration. Delight your summer party guests with a playful DIY watermelon shark fruit platter! This fun, visually interesting project is simple to construct and transforms a traditional fruit serving into a captivating spectacle.
The shark, carved from a seedless watermelon, is accented with blueberries, black olives, or grapes for eyes and a grand display of triangular teeth skillfully etched from the rind. Make this fin-tastic platter stand out by arranging blue Jello or blueberries around the shark to mimic the sea.
Handy materials like a large knife, small paring knife, and dry-erase marker aid in bringing this watermelon shark to life. Add an unexpected twist to your next party and make your fruit serving unforgettable with this easy-to-follow watermelon carving tutorial! southernhome
19. Make Your Own Watermelon Brain
Craft a chilling centerpiece for your next Halloween gathering with a DIY watermelon brain! An ordinary watermelon transforms into a spooky spectacle with just a paring knife, vegetable peeler, and a little time. Start with a brain-shaped watermelon and peel off the green skin and some white rind until a bit of red is visible, lending a realistic pink hue to your creation.
Then, carve a line down the middle to make two hemispheres, followed by a pattern resembling a brain's intricate folds. Patience is key in this carving project, but the eerie result will surely mesmerize your guests. So, why not give this unique Halloween DIY a try? instructables
20. How to Make a Watermelon Keg
Celebrate the summer season with an innovative, refreshing beverage from a DIY watermelon keg! This delightful yet easy-to-make feature will surely be a hit at your next party, adding a unique twist to your refreshments.
Utilize supplies such as a hose bibb quarter turn tap, faucet lock nuts, and a brass pipe nipple 1/2″ to prepare your watermelon keg. First, select a robust, sizable watermelon from your local grocery store and essential kitchen tools like a paring knife and blender.
The process begins with trimming the top and scooping out the melon, then drilling a hole for the tap, connecting the hardware, blending the scooped-out melon with your favorite spirits, and finally, refilling the melon. The result? A stylish, cool, and delightful drink dispensing centerpiece perfect for summer gatherings. Enjoy this creative watermelon keg and elevate your hosting game. instructables
21. Carved Watermelon Whale Centerpiece
Looking to host a party with a unique, vibrant centerpiece? This guide will teach you how to turn a simple watermelon into an eye-catching centerpiece that your guests will love! You can make a fantastic "Mr. Whale" centerpiece using a watermelon as your base. This creative idea requires no special tools; a simple knife and crayon will do.
The process involves sketching a whale design on your watermelon and then carving it out. Once done, the hollowed watermelon can be filled with fresh fruits, making it an aesthetic addition and a part of your delicious food spread. Follow this simple yet engaging guide, and you'll make a splash at your next summer gathering. betweennapson
22. Watermelon Carved Hedgehog
Elevate your carving skills and make a DIY hedgehog sculpture using a watermelon! Boasting an impressive aesthetic yet achievable in a mere 30-minute timeframe, this project transforms an ordinary round, seedless watermelon into an extraordinary art piece.
Armed with simple kitchen tools such as cutting and paring knives, a dry-erase marker, a large bowl and spoon, and toothpicks, you'll bring your hedgehog to life. Blueberries are used for the hedgehog's eyes and nose, adding a quirky, playful touch.
This project provides an engaging creative outlet and results in a visually stunning centerpiece, perfect for a summer party or a children's event. Craft your watermelon hedgehog today and enjoy the artistic, hands-on process it entails! watermelon
23. Watermelon Baby Fruit Basket for a Baby Shower
Get a charming centerpiece for your baby shower with a delightful fruit basket! This creative DIY project turns cantaloupe, watermelon, and other colorful fruits into an adorable baby sculpture, sure to amaze your guests. Materials needed include cantaloupe, watermelon, red grapes, and various fruits like blueberries, strawberries, and green grapes for the filling.
The addition of a baby pacifier brings a touch of realism to this frugal yet visually appealing design. Remember to use a sharp knife for precise cuts and a toothpick to secure the cantaloupe' ears'.
Then, fill the watermelon 'basket' with a vibrant mix of fruits, creating the illusion of a comfy baby blanket. Elevate your presentation by placing the sculpture atop a fruit platter. It's a fun, affordable way to add a sweet touch to your celebration! craftymorning
24. Mermaid Tail Carved Watermelon
Add a speck of fun to your summer with a creative mermaid-themed watermelon centerpiece! This fun project transforms a large oblong watermelon into a sea-inspired masterpiece with the help of common kitchen tools and a mermaid tail template.
Begin by carving a sturdy base and then sketch the mermaid tail outline using a dry-erase marker. Hollow out the fruit and carve the pattern to reveal a whimsical mermaid tail. To elevate the aesthetic, apply an edible turquoise shimmer powder for a magical touch.
Attach your creation to the base with dowels, add decorations as desired, and fill it with refreshing watermelon cubes for a charming presentation. A perfect addition to summer parties or themed events, this project offers a unique way to enjoy this sweet summer staple. watermelon
25. How to Carve a Whale Watermelon
Explore our collection of watermelon carving ideas, elevating your fruit display game at your next backyard barbecue. Want to make your summer gatherings unforgettable? Dive into the world of fruit carving with step-by-step instructions to craft a delightful DIY whale watermelon! An artful centerpiece that doubles as a refreshing dessert, this creation is a sight for sore eyes and a delight for the taste buds. Armed with a sharp knife, a dry-erase marker, and a watermelon, you're ready to bring this creative idea to life.
This handy guide provides tips on drawing and carving the whale's features, ensuring your marine masterpiece is party-ready in no time. Fill your carved whale with a delicious medley of fruits, including cantaloupe, grapes, strawberries, and blueberries, for a vibrant and healthful appeal.
As a bonus, the carved whale watermelon can be prepared and stowed in the refrigerator overnight. It's an efficient way to add a burst of color, fun, and flavor to your celebrations, be it a birthday party, Fourth of July picnic, or a thematic 'Under the Sea' event! myturnforus
Conclusion:
In conclusion, these 25 fun carving watermelon ideas and decorations await your creativity, from simple carvings for beginners to intricate designs for skilled individuals. Transform your watermelons into eye-catching decorations for parties, special occasions or to impress your family and friends at the dinner table. From cute animals to functional masterpieces like watermelon kegs, these carved watermelon ideas will surely elevate your culinary finesse and add a touch of artistic flair to your entertaining endeavors. Time to pick up your carving tools and unleash the watermelon artist within!