You've just decided to adorn your home with artwork and canvas prints, perhaps after seeing how beautiful other houses look with these wall decorations. You're indeed part of a robust universal trend. Facts show that the global art market in the past years were valued at a whopping USD$64 billion. It's only the COVID-19 pandemic that slightly decreased the sale of art pieces in 2020, but you can be sure the high sales volumes have resumed.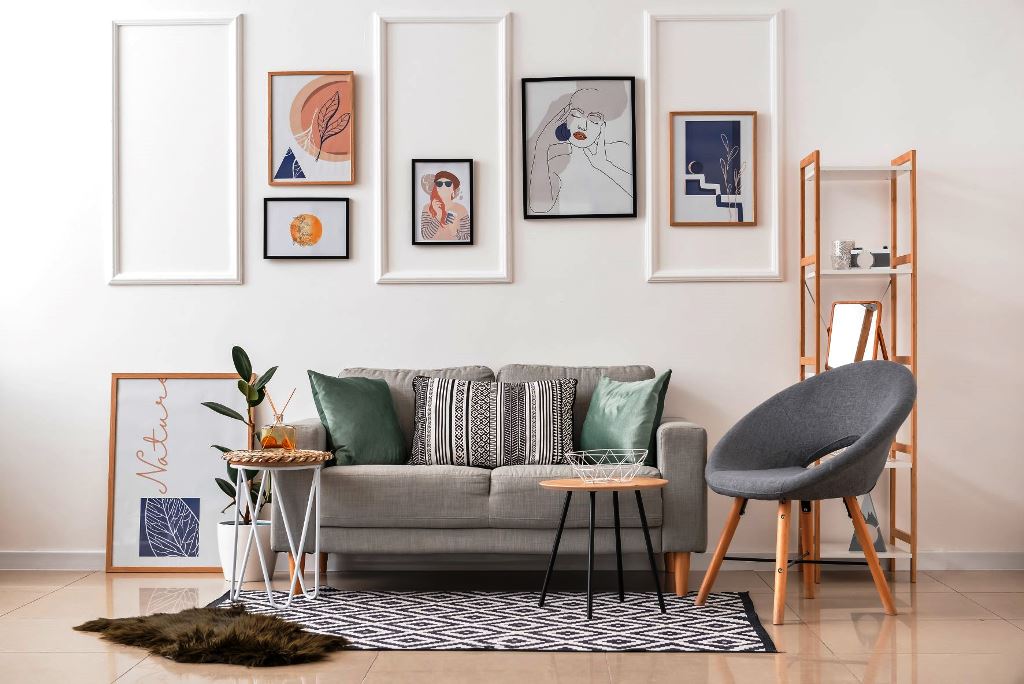 Once you purchase your favorite artwork, the next critical thing you must do is display them correctly. Doing so creates the desired visual impact from your art pieces. The following seven tips for displaying artwork in your home are worth your consideration:
1. Create a grid
If you have ample blank space, such as the wall behind your sofa, hanging just one piece of art doesn't usually suffice. A better option is to create a symmetrical grid. For this, you'll need several canvas photo prints with a specific theme. You can consider using family portraits, animal images, landscapes, plants, oceans, rivers, waterfalls, abstract art, pop art, or other exciting themes.
You'd want to have all of them in similar sizes, preferably square. Hang them in distinct rows and columns with consistent spaces of about three inches between them. Take care not to hang them too close to each other, as the resulting display will look cluttered. The breathing space you leave between the different pieces helps viewers to appreciate each as a distinct artwork and connect the individual images with the rest of the grid to form a complete picture.
2. Tell a story
You certainly have precious memories in life that you desire to relive now and then. For example, your wedding, birth, graduation, or a memorable trip abroad. But since it's humanly impossible to rewind time, you can consider immortalizing your favorite moments in art pieces and hanging them on the wall. The good news is that you can turn your photo to canvas art with the right vendor.
You only need to send them your favorite photo and specify your desired final dimensions. They'll print it on canvas using vibrant ink colors and stretch the sheet onto a wooden frame, ready for you to hang on the wall.
3. Use floating shelves
While most people hang art on the walls with invisible hooks, you can veer off from this norm by placing yours on floating shelves. These are usually quick to install and are affordable. You can even install them in rented spaces. However, check with your landlord first as some establishments forbid any types of shelves.
Once in place, you can place your canvas prints on the wooden platforms and slightly angle them toward the wall. Floating shelves also allow you to layer your art pieces. This is one style where you cover part of a given artwork with another one. Think about placing a smaller frame within another one that's four or five times bigger. This helps add depth to your art display.
Another advantage of using floating shelves is that you can rearrange the pieces as often as you want. Unlike hung pieces, art on floating doesn't require much effort from you to pull down and re-position each piece.
4. Know the ideal display height
The rule of thumb is to have the center of your artwork about 57 inches from the floor. This coincides with the average human eye level when standing upright. By doing so, you make it effortless for the viewer to look at the artwork and study it for as long as they want.
But don't feel restrained with this rule, especially if your walls are taller than usual. You can move your artwork higher to achieve proportional spaces between your furniture and the artwork and the ceiling and the artwork.
5. Map it out on the floor
Some people make the mistake of fixing artwork on the wall, only to realize shortly afterward that the position they chose isn't the most appropriate. Re-positioning wall art in this manner can cause considerable damage to your walls, especially if you're hammering nails to fix the hooks.
You can avoid that by first mapping out the layout on the floor. Take your time when doing this. It's here that you can arrange, disarrange, and rearrange the pieces as much as you want to pull off the perfect look. Also, consider asking your friends or family for their opinions. The idea is to have a well-defined plan before embarking on the actual hanging on the walls. This way, you'll retain the beauty of your walls.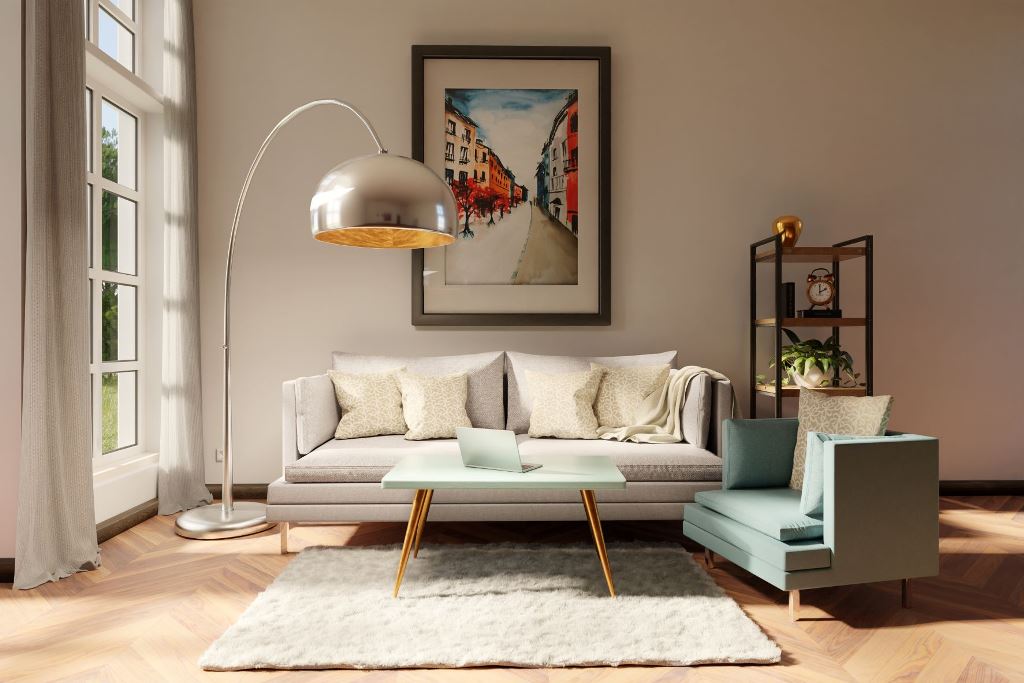 6. Light your artwork
It's critical to have your canvas prints properly lit. Otherwise, your guests will have a hard time seeing the image, and that renders your art display efforts pointless. Sunlight has the highest Color Rendering Index (CRI). CRI is the capability of a source of light to accurately reveal the true colors of an art piece. But you wouldn't want to hang art in direct sunlight because of the damaging effects of ultraviolet and infrared rays.
The next best alternative is LED lighting, which adequately mimics the properties of sunlight. It's best to mount the light on the ceiling and angle in a way the beam falls at a 65-degree angle to the vertical plane. Also, ensure that the beam falls at the center of the artwork.
7. Leverage the mixed-media effect
The mixed-media effect arises when you use two or more art mediums in your space. Instead of displaying only canvas prints, you can mix them with other types of wall art, such as the following:
Tapestries
Metal prints
Art posters
Framed art pieces
Mirrors
Sculptures
The result is usually classy and sophisticated. Viewers will forever marvel at your sense of style and touch of class. For best results, consider having all the pieces on the gallery wall revolving around a central theme. Mixing too many themes on top of the different media will be too overwhelming for the eyes.
Conclusion
Displaying artwork and canvas prints calls for creativity if you're going to pull off a stunning look in your interiors. The seven tips discussed in this post are an excellent starting point for your home decor project. But remember, they're only guidelines rather than rules set on stone. Feel free to tweak the suggestions to fit your personal taste and preferences. After all, that's what art entails—creativity.