Update your home with outdated home materials! A big list of materials can be made that have too much of recycling-potential and are always lying around! We are here with 22 DIY home decor projects & ideas that will guide you to take a maximum of these retired and useless objects for making your dwelling beautiful!
Recover beautiful trays from old photo frame by just filling them up with extra wood! Tier these trays using candlesticks, old staircase spindles or balusters for beautiful home decor displays and organizers!
Regain old Mason jars into accessory storage jars by doing little yet creative modifications like by painting them a little and by installing knobs to their lids! Mount custom silhouette letters and some clothes pegs on a reclaimed painted wooden board for instant missing socks boards! At the same time, repurpose the pallet wood for building durable trash bin holders which can also tilt-out smartly for quick and super secure trash storage!
Score missing fashion points of home decors, by installing cool ladder shelves or display station! Just put flat some shelves across their spindles to do so! Organize your accessories well and also the cutlery on dining table by using specially recycled tin can organizers! Paint the tin cans and just tie them together as one unit!
Revamp your old furniture by painting and stylish image transfer and also update your old doors by patching up with ceiling medallions! DIY projects to boost the interior visual of home! Moreover, build lovely wall signs by artfully mounting a rope on a wooden board, turn the Mason jar into the fancy gift by through a makeover with seashells or rock vase filler and also put together rustic pallet lengths for antique decorative wall shelves! See some amazing samples given below!
Get crafty with old wood to install accent walls, will raise the beauty of home to peak through their rustic touch! Give your interior a visual boost by making paper orb lights and also hold the attention of onlookers by making mobile bird wall art! Lure the number of view of your photo frames using wood logs and also make stunning centerpieces using foam boards and tacks, get inspired by given LOVE letter art with these DIY home decor projects!
Handmade Thrift Store Frame Tiered Trays: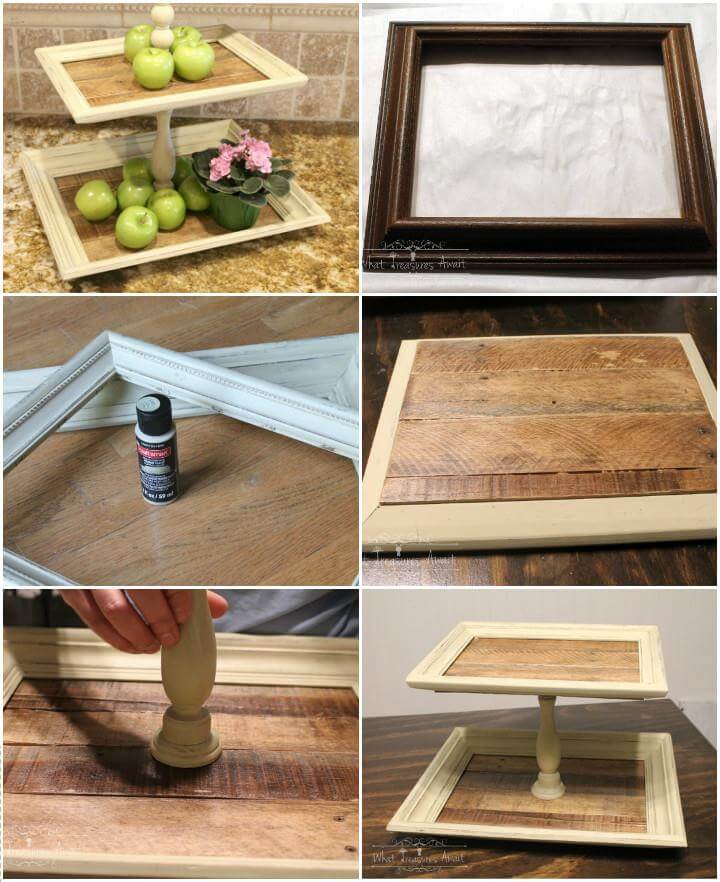 Patch up the thrift store photo frame with extra wood to turn then into trays! By putting the candlesticks or balusters vertically in-between the trays, you can easily tier them up to multiple levels! These tiered trays can hold a bunch of your decorative items for alluring display resulting in a damn increase in home decors! Full tutorial here whattreasuresawait
Upcycled Mason Jars into Cool Storage Jars: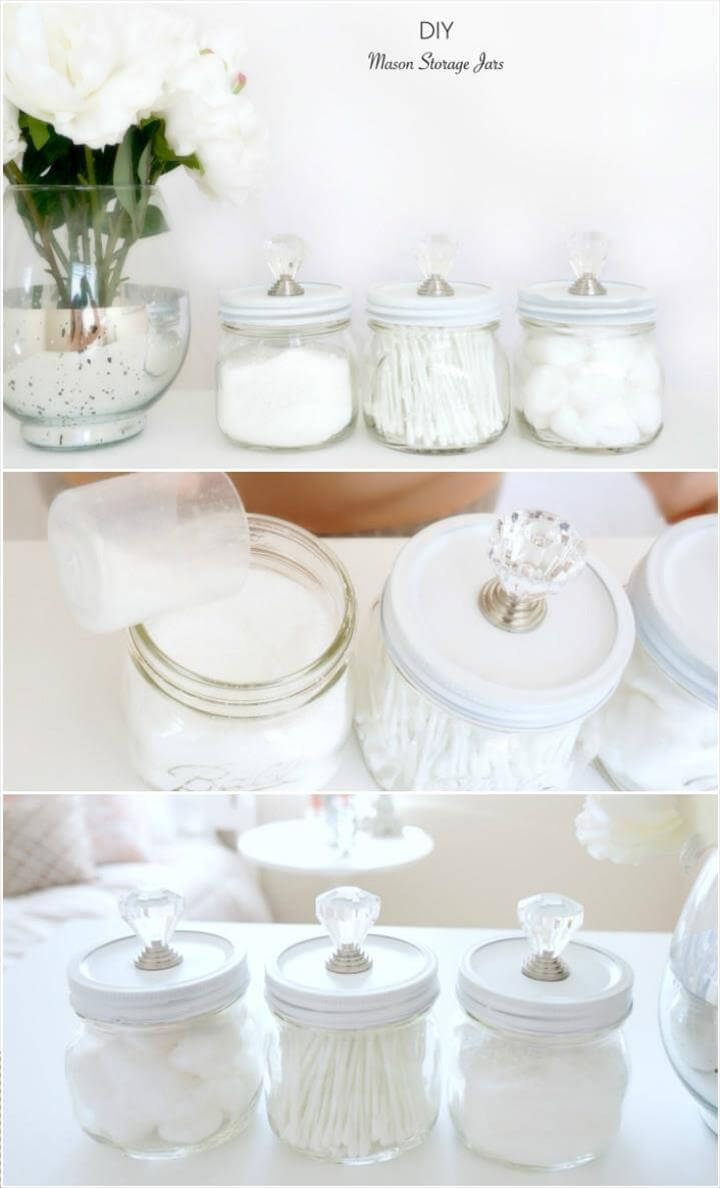 Paint the old Mason jars a little for a glam appeal and just add custom knobs to their lids to regain them as classy storage jars!! Prefer the crystal knobs if you have gained the Mason jars in white glass look! Check out the sample here! More instructions here hauteandhealthyliving
Missing Socks Board: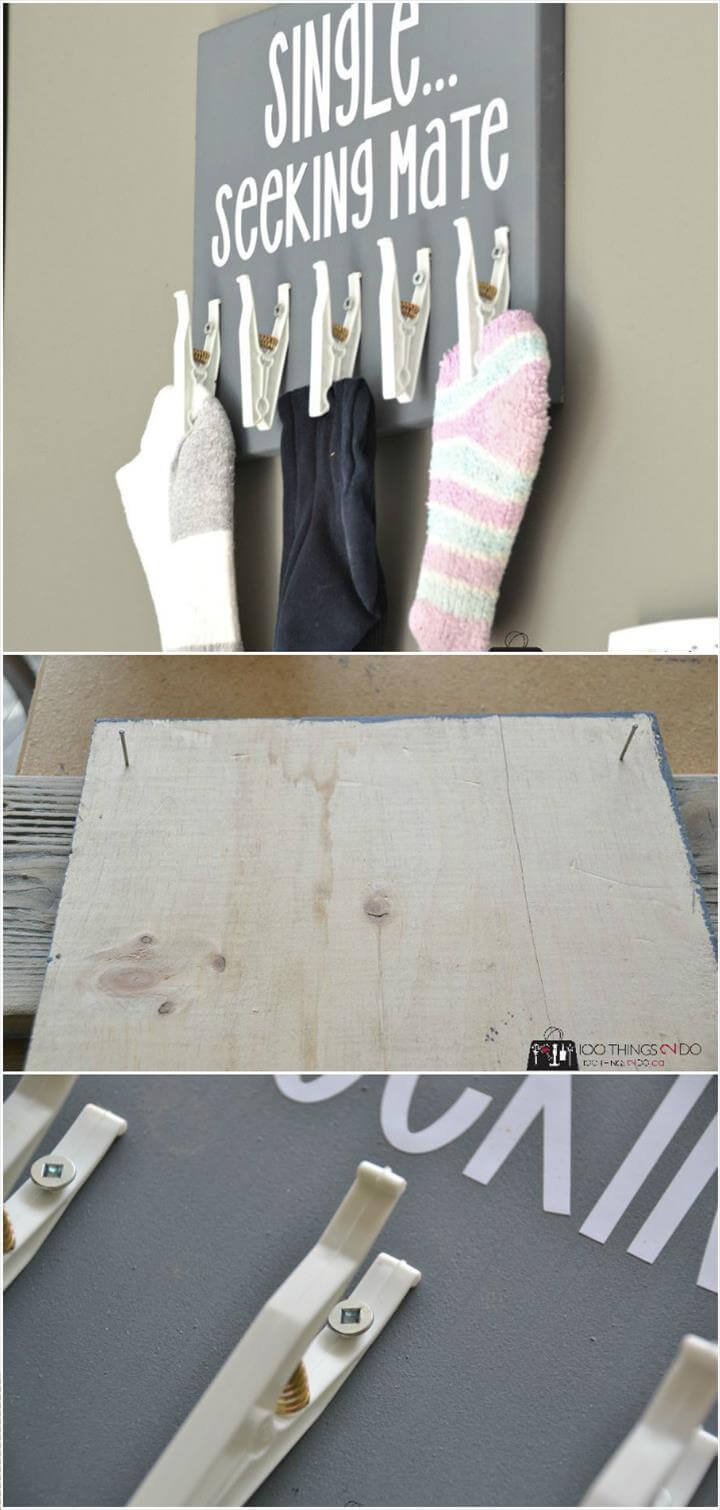 Grab a piece of wood and just paint it a little for visual stimulation! Now, add your silhouette letting onto the board using a trust-able adhesive! At the end, just screw the clothes pegs on the board! A precious missing socks board is all ready to serve or hang on a custom wall! Full guide and tutorial here 100things2do
Hand-built wooden Tilt-out Trash Can Cabinet: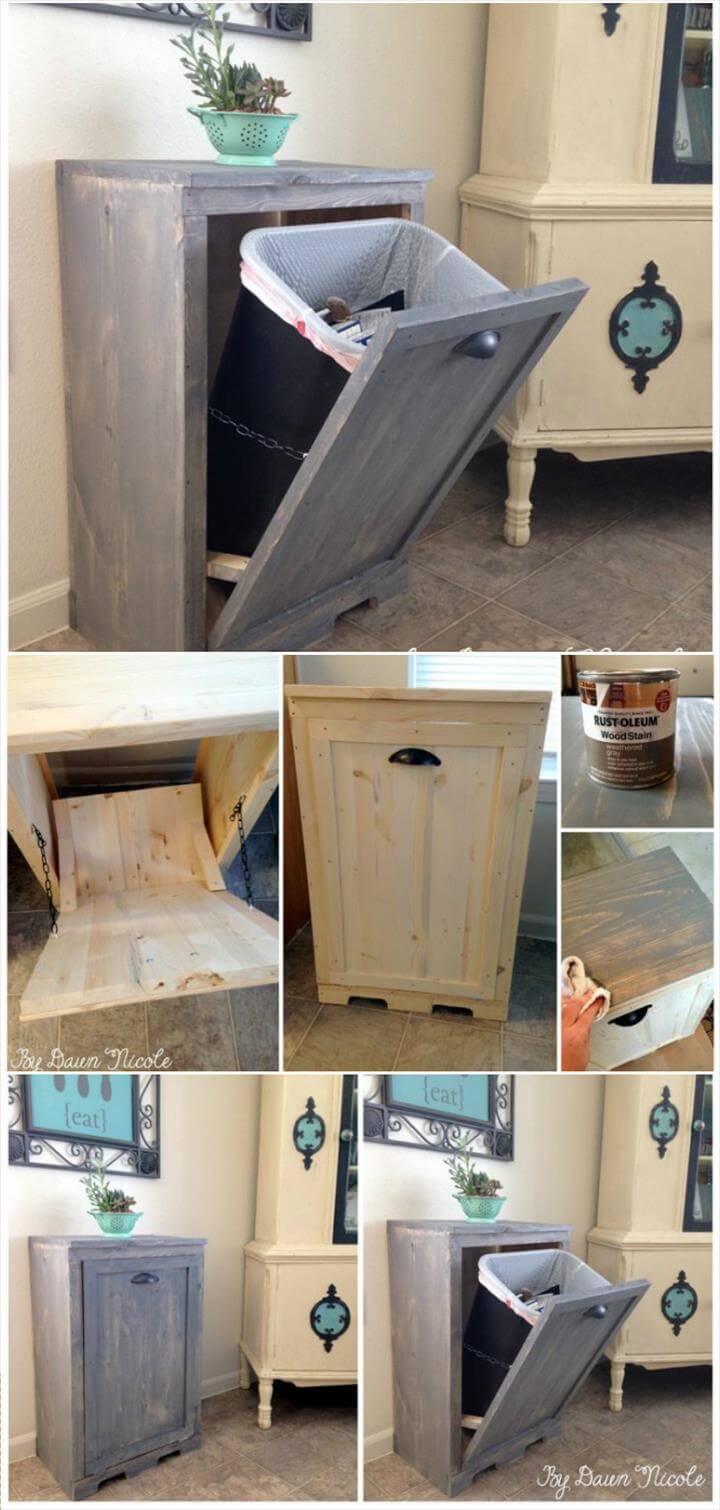 Want to make it fast to store trash? Time to put an end to your unworthy yet expensive trash storage system and to choose this tilt-out trash can holder! All easy to install with scrap wood, always reachable! Full DIY tutorial here bydawnnicole
Cool Ladder Shelves: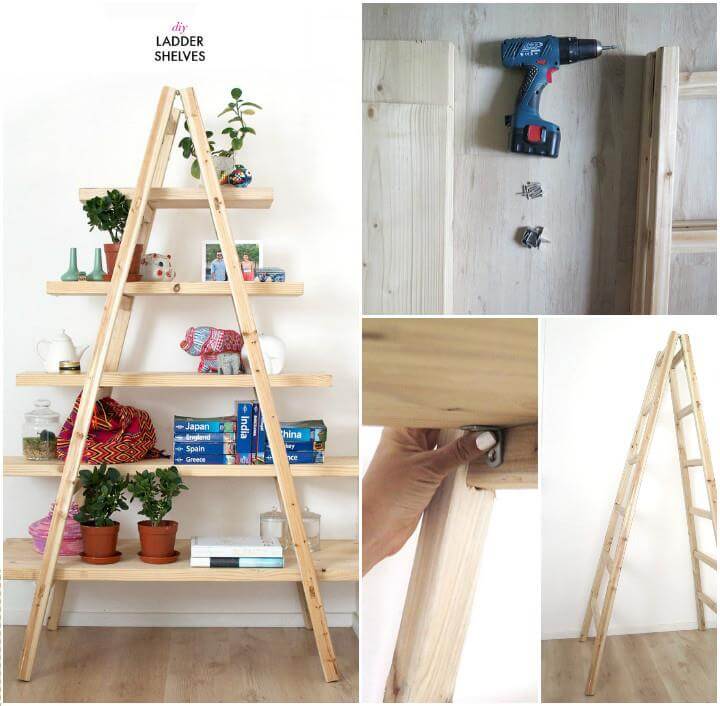 Is your home is becoming unattractive due to lack of decorative and beauty stations? Here is a quick and low-cost fix to it! Add shelves across the spindles of your home ladders and use them as decorative stations! Here you can see a lovely one display all from books to pots to picture frames! Full DIY instructions here apairandasparediy
Tin Can Cutlery Organizer: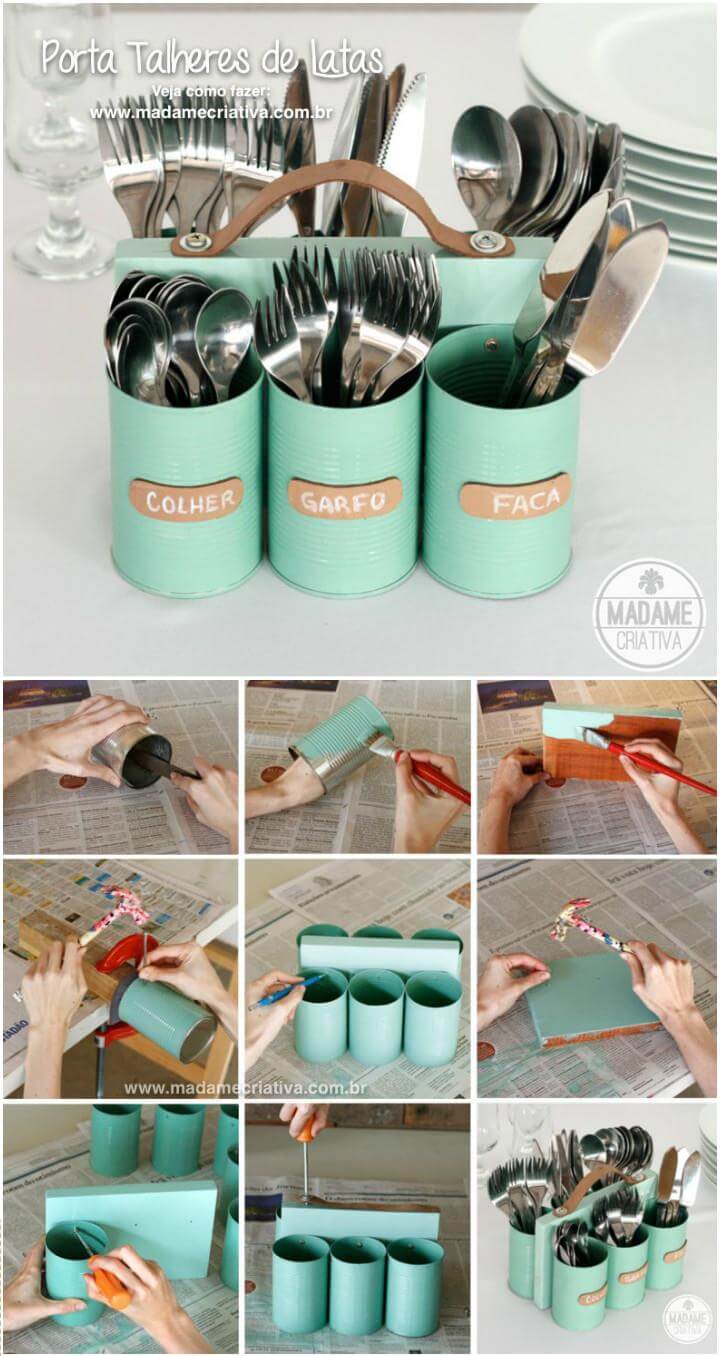 What do you thinking about the newly retired tin cans? Going to end them up in a trash bin? Think twice before you do so as they can be recycled into amazing organizers like this cutlery organizer! Repaint old tin cans and just put them together! Full guide here madamecriativa
Transfer Images onto Furniture – DIY Old Furniture Refurbishment: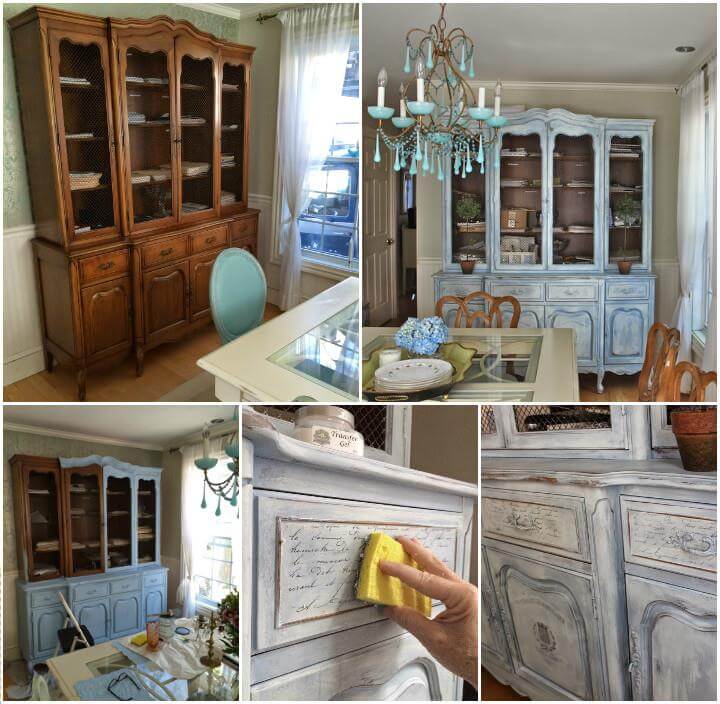 We would wish to take a look at his project if you are planning some kind of old furniture refurbishment projects! This project is all about amazing revamping of old home furniture and also about how to transfer images to your furniture for extra beauty! Here is the full guide and DIY tutorial maisondecor8
Upgraded Door Using a Ceiling Medallion: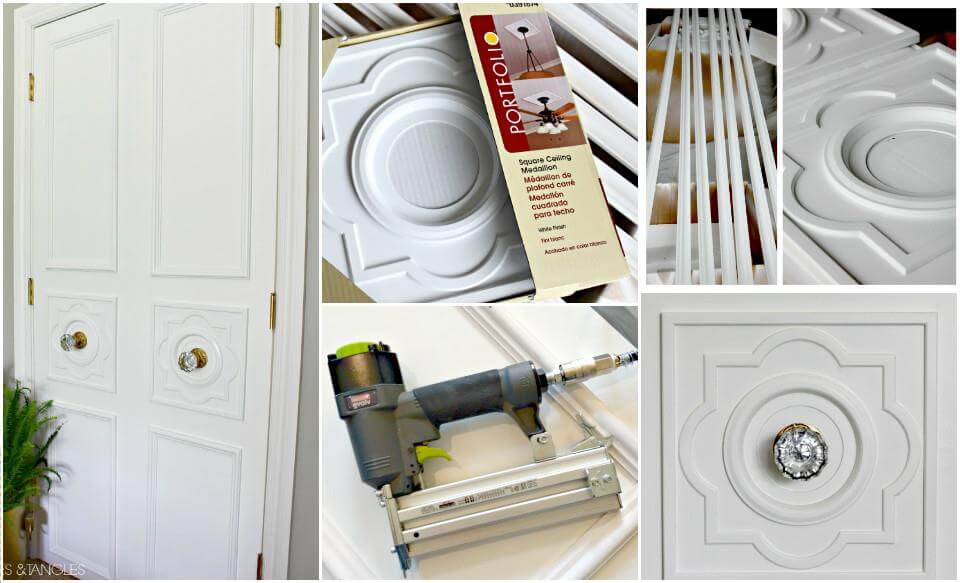 Go creative with ceiling medallions if you want to upgrade your old doors for stylishly modern appeal! Get inspired of this remodeled door, revamped with the same ceiling medallions! Full directions here dimplesandtangles
Easy Rustic Pallet Display Shelf: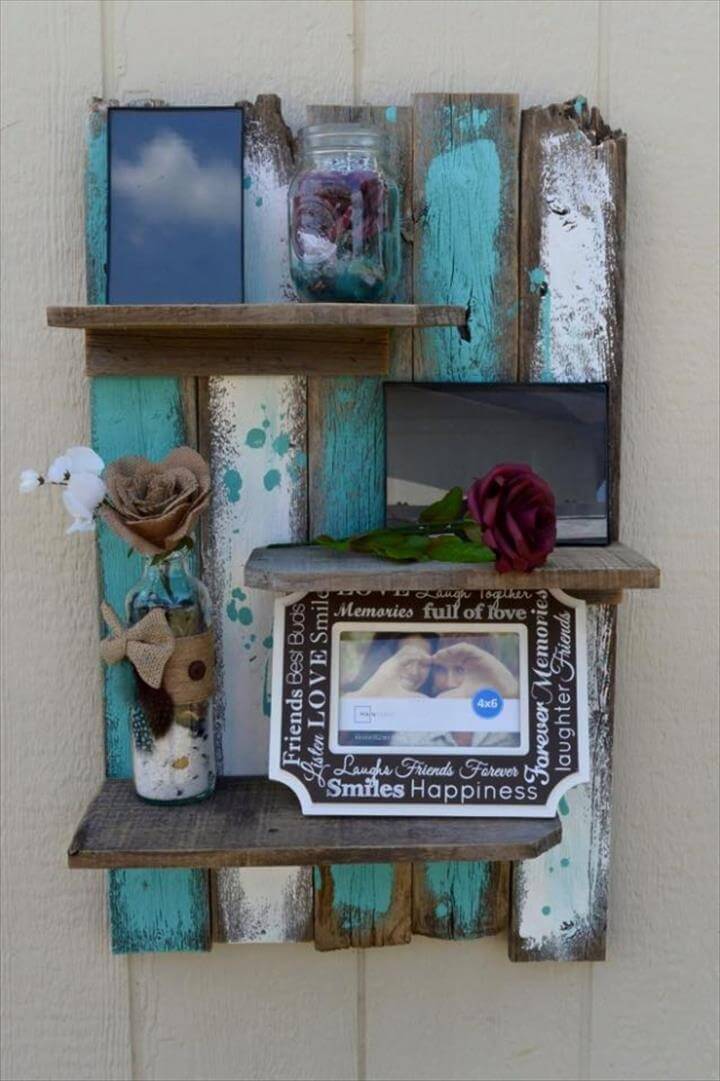 All willing to have a rustic decor station? Presenting here these fab rustic display shelves made of rustic pallet slats! Grab some pallet wood remains or scrap to clone it now! Complete instructions here pallet ideas
Love Rope Sign: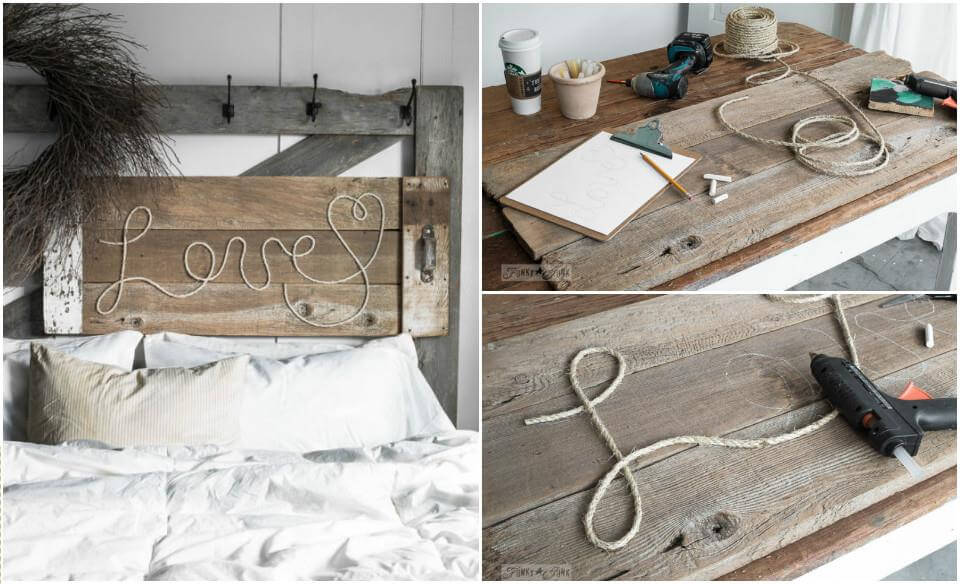 Rope is not for support, fastening or binding purposes! Explore here the new ways to get creative with simple rope of home! Checkout here this fantastic letter art gift made of rope! Rope has been placed on a wooden board, twisted and finally has been secured in place making the letter "Love"! It is just amazing! Full tutorial here ebay
Beach Inspired Mason jar Decor or Gift: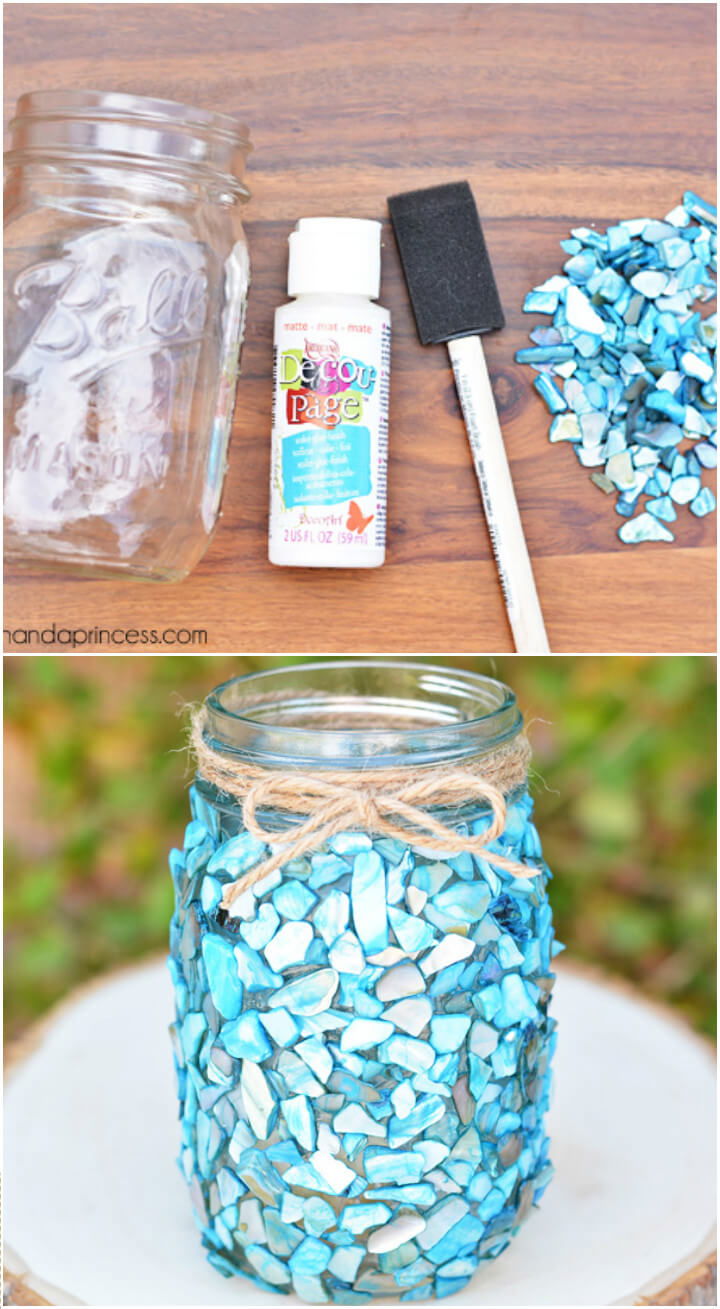 Recover amazing gifts and home centerpieces from ordinary Mason jars! Just cover a Mason jar by gluing outside the broken seashells or rock vase filler get a classy gift in your hand! See the beach inspired Mason jar sample! More instructions here apumpkinandaprincess
Cool Hanging Mason Jar Herb Garden: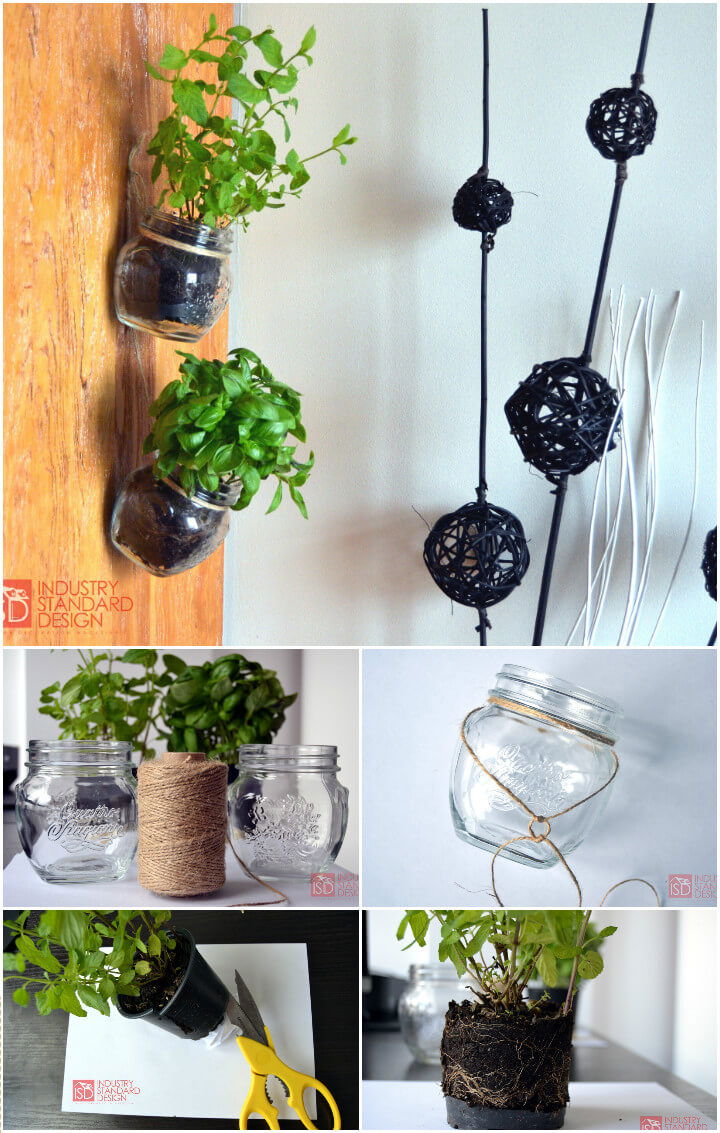 Glassy pots hold more of your attention that the ordinary plastic-made ones! Transplant your favorite herbs or flowers into mason jars for the more classy look! Hang the finally gained Mason jar pots on a wall for installing hanging herb gardens, here is a cool inspiration for it! Complete step-by-step guide here industrystandarddesign
How to Create a Weathered Wood Look:

While getting crafty with scrap wood for some antique wooden crafts, we all wish that our finally finished craft come up with weathered and rustic look! No need to worry about here! Here is a detailed tutorial and guide about how to create a weathered look of wood cherishedbliss
Wooden Boxes into Geometrical Wall Shelves: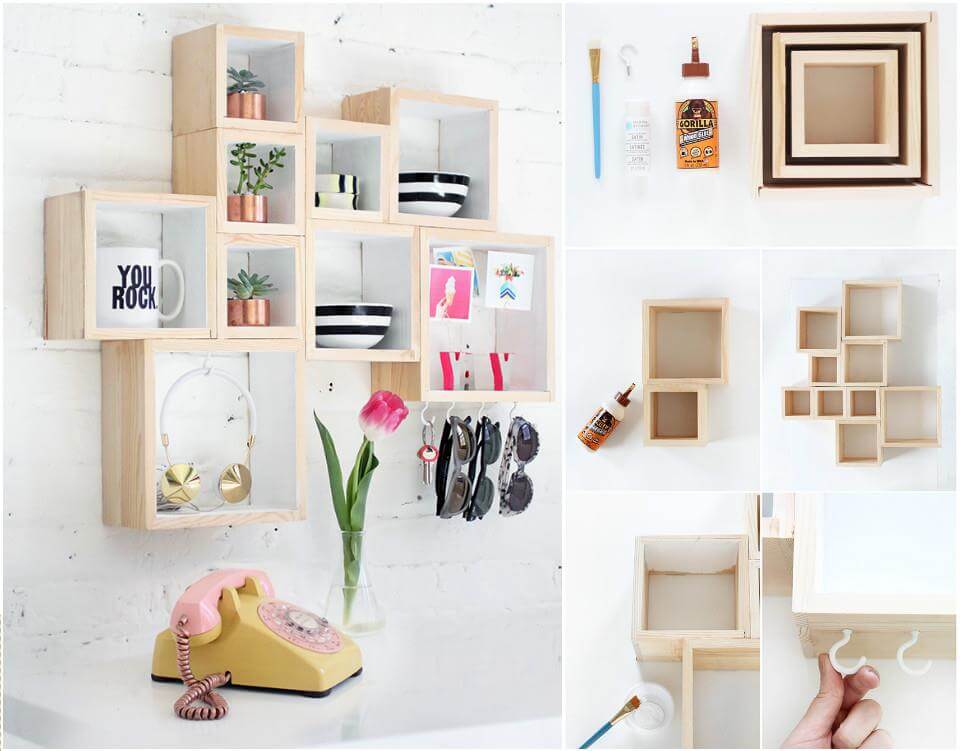 Play creatively with wooden boxes and boost home storage space and wall decors at the same time! Install them in your own favorite arrangements and pattern on a targeted wall and gain amazing storage and display compartments! This will also give the high-fashion geometrical wall decors as you can see! Step-by-step tutorial here ispydiy
Low-Cost Slim Sofa Table: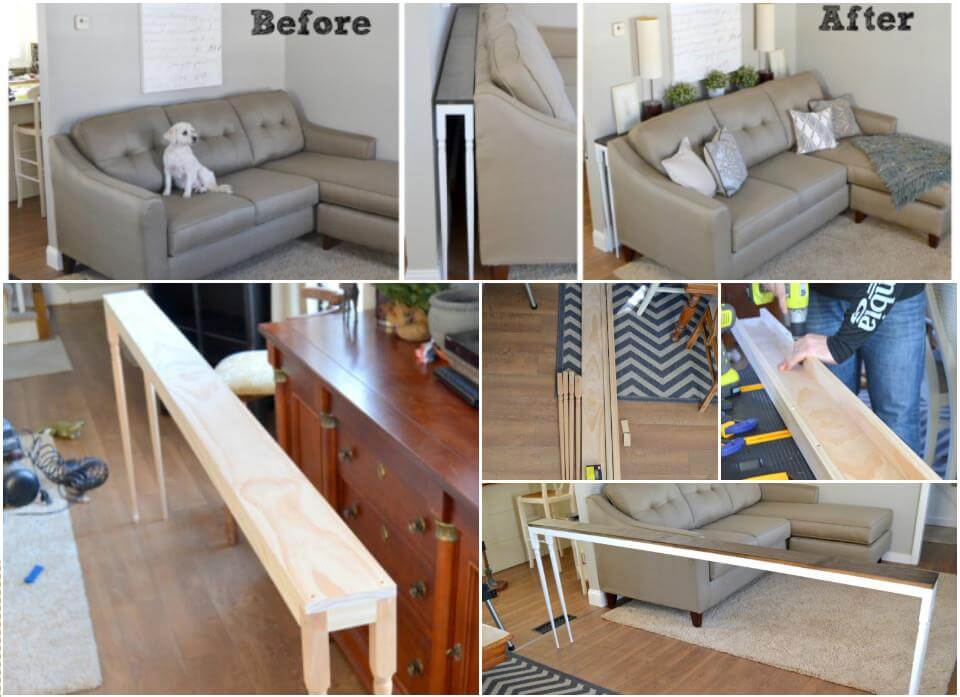 Double check your home for a little supply of scrap wood as you can do an amazing DIY project with that! Just get busy a little with those remaining wooden lengths and build a slim behind sofa table just in couple of minutes! The give one comes with reclaimed legs and can fit to even a narrower space behind the sofa! Complete instructions and detail here alwaysneverdone
Repurposed Wood Log Rustic Photo Ladder: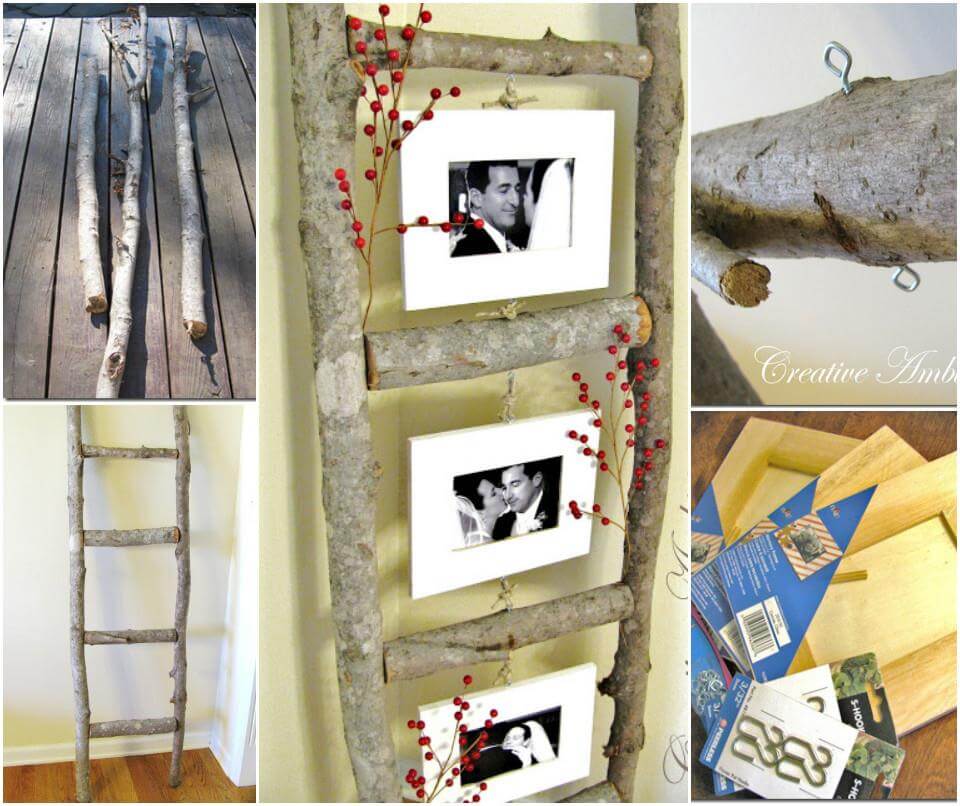 Turn old wood logs into sturdy ladders for some utility uses! Furthermore, reclaim these wood log ladders to install amazing rustic photo displays! A rustic yet modern way to display decoratively your memorable family photos! Step-by-step DIY guide here creative-ambitions.blogspot
Old Wood Slice Photo Frame: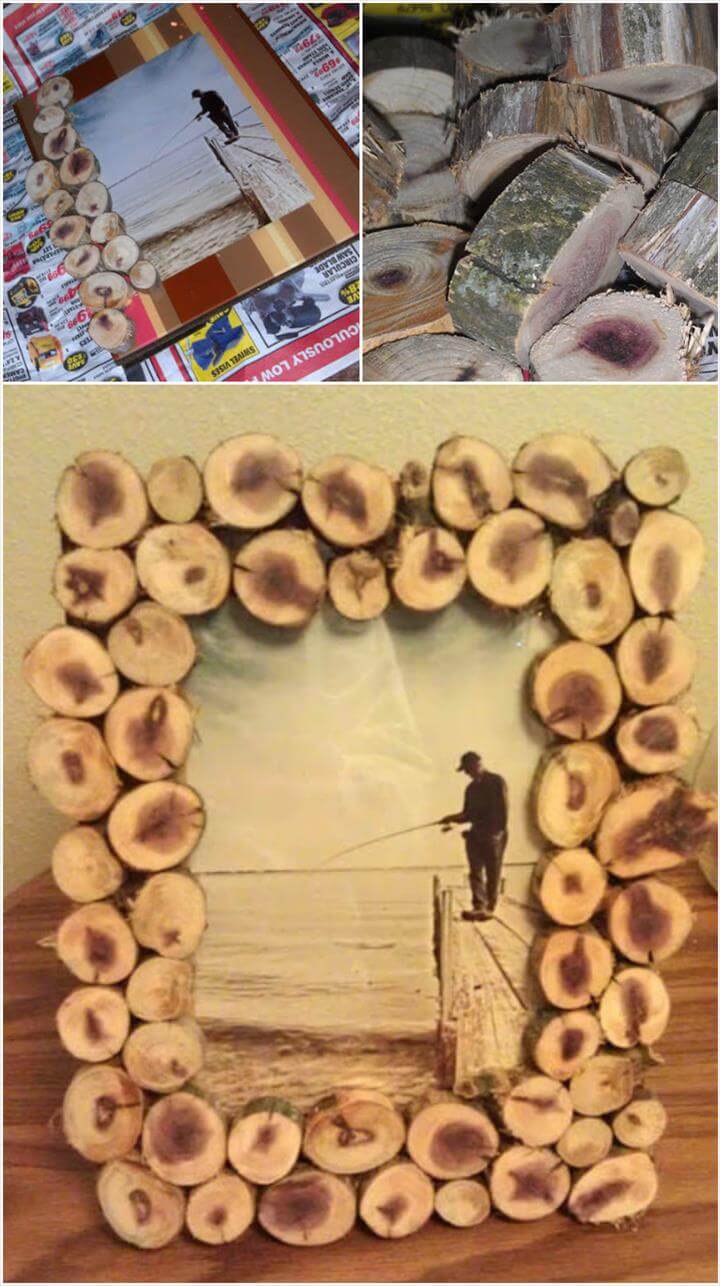 Take a wood log length into slices and just shift these slices to borders of a photo frame using an adhesive! It will bring more grace and beauty to that photo along with a glam rustic touch! A new idea to spice up your photo frames! Full guide here gingerflair.blogspot
DIY Upstairs Accent Wood Wall: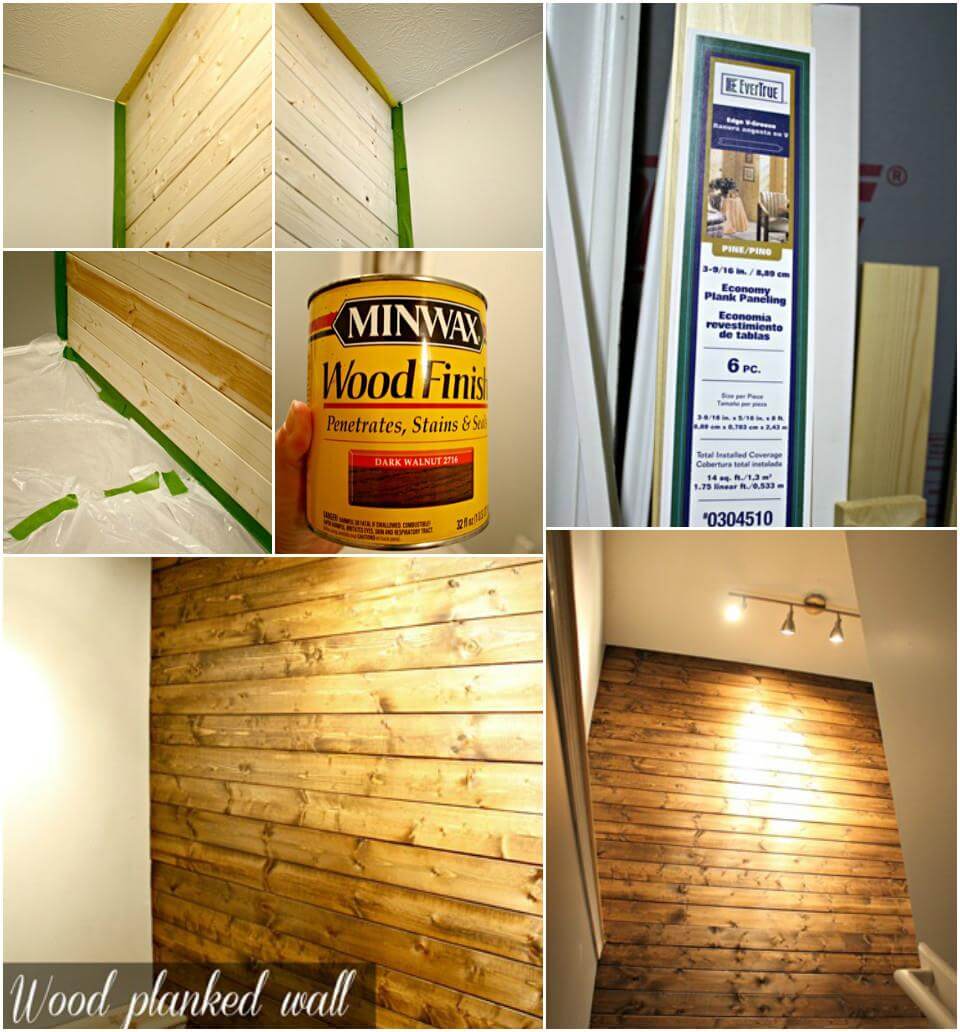 Reuse old types of wood for amazing interior wall paneling or just to install the accent wooden walls with lot of textures and patterns! By putting together some straight wooden planks on a upstairs wall, an accent wood wall has been built just for fun and for a bizarre antique touch! A wooden project to get your home extra beautiful! Full guide here thriftydecorchick
Self-Composed Wood Mail Organizer: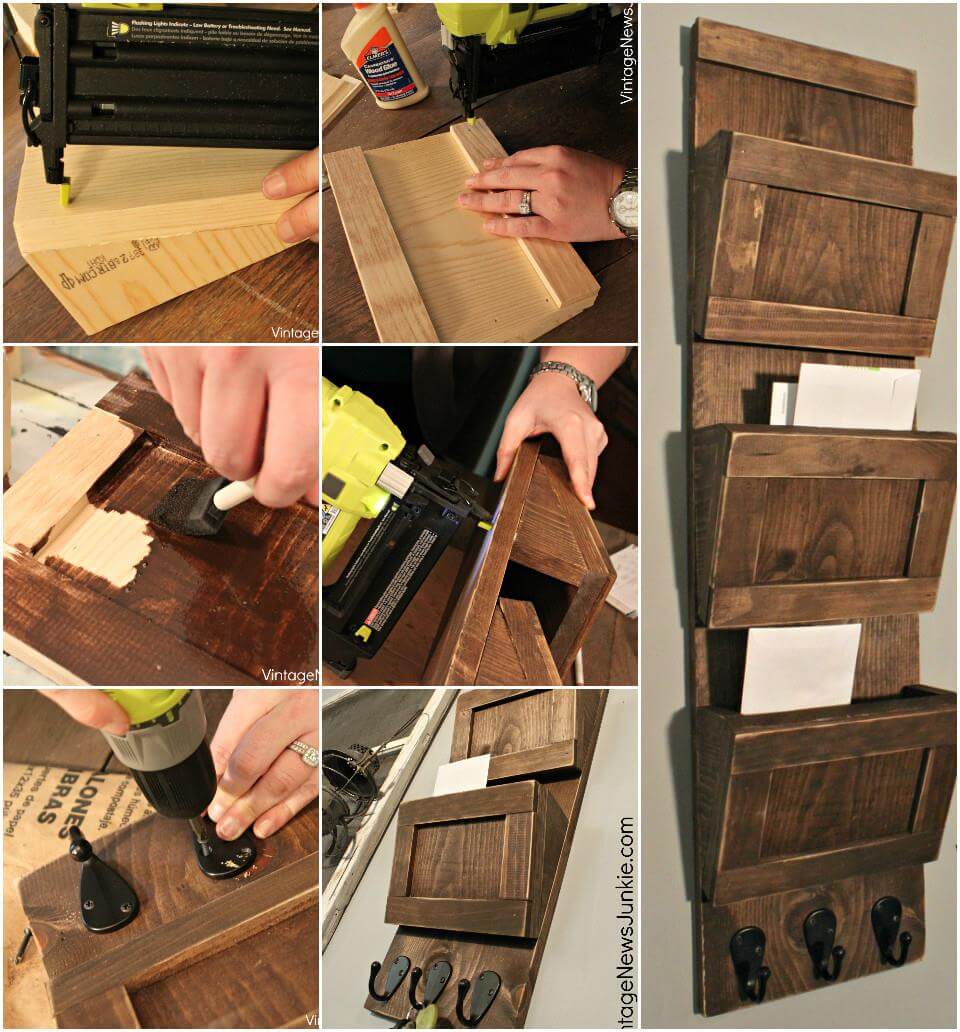 Having problems in organizing and sorting out your mails? Shoot your troubles with this self-installed wooden mail organizer, will all come easy to handle mail organizing issues! It also comes 3 compartments for quick mail organization and there are also 3 hardware hooks fixed to bottom side for safe and stylish hanging of your immediate items like keys! Full DIY tutorial and construction-guide here foxhollowcottage
LOVE Letter Art with Thumb Tacks: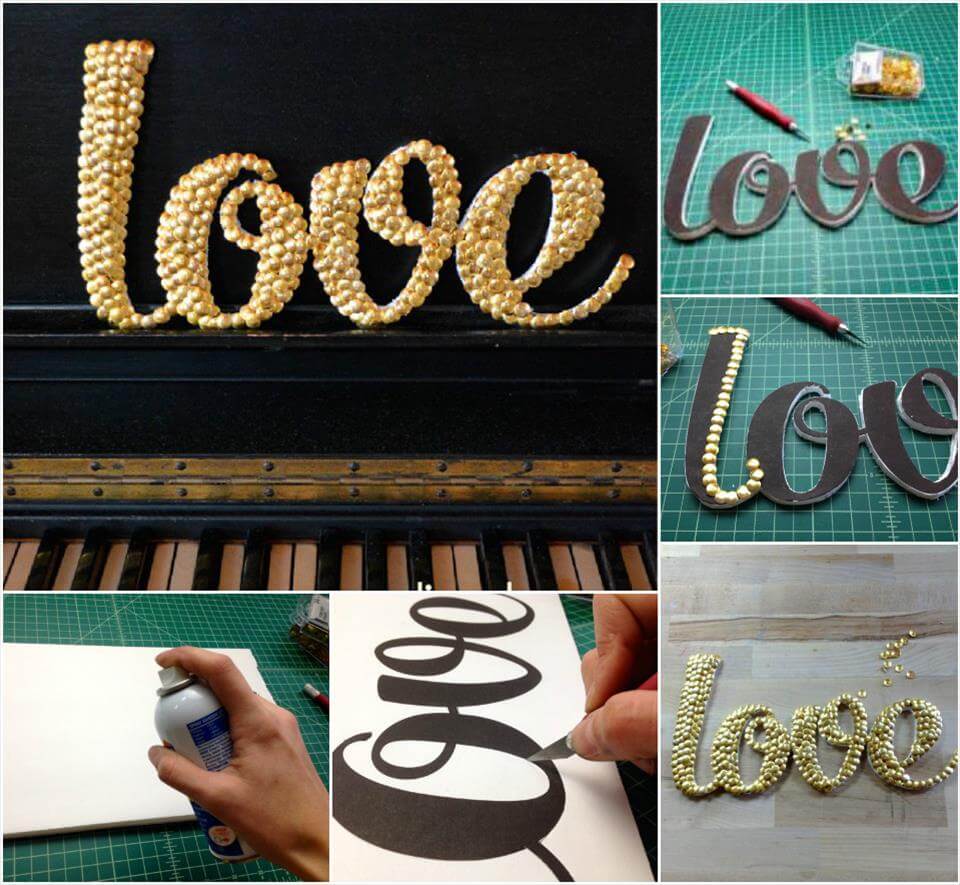 Take piece of foam board not of so much thickness! Cut it in halves and layer them together by gluing inside for double thickness! Then, adhere also your print out on the top and cut the letter out using a crafty knife! Now just stick gold shaded tacks all over the way on the cutout letters or art starting from the outlines! Here is a bizarre LOVE letter art built in the same way! diyprojects
Precious Paper Orb Light: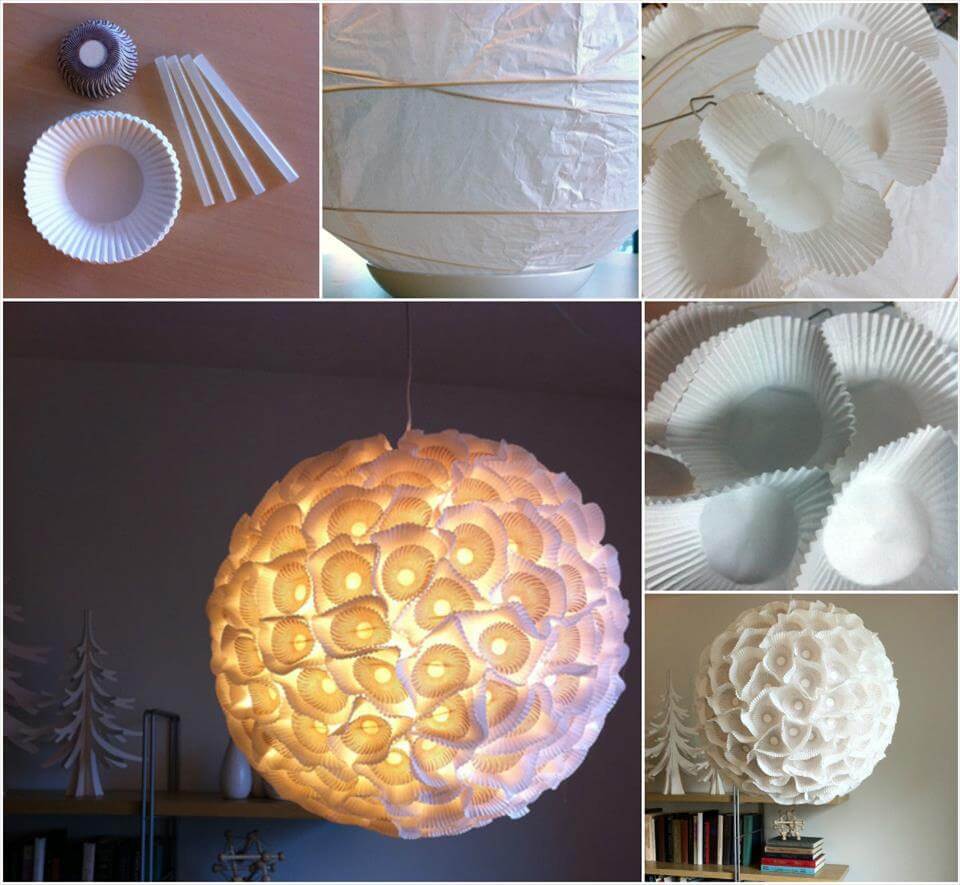 Brainstorming for an instant decorative vibe to your interior? We would all recommend you to go with these paper orb lights! All easy to craft with your own creative hands! Here is the complete tutorial designsponge
DIY Mobile Bird Wall Art: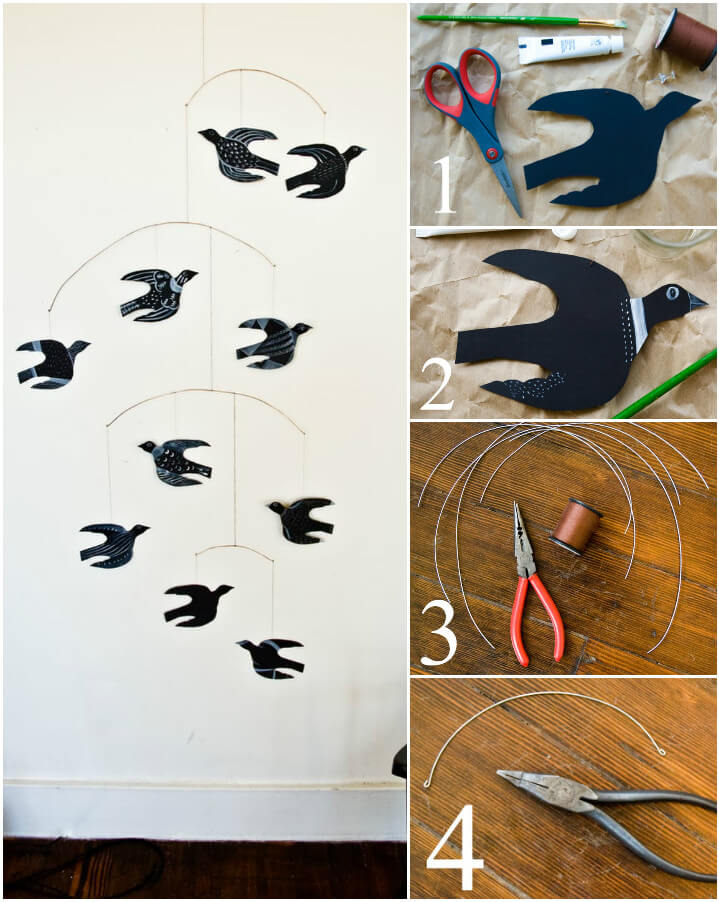 Here is something highly amazing! A mobile bird wall art, self-installed to fancy up a blank wall area! Another great hack for low-cost home decor! Here is how to make it apartmenttherapy