Backyard sheds have an endless amount of uses. They can be used as garden sheds, offices, gyms, art studios, reading nooks, and so much more! The best part about your new space is that you can style it any way you want. Gone are the days of standard sheds with little to no character. Check out these 5 styles to see which one is right for you.
Get Close to Nature with the Rustic Style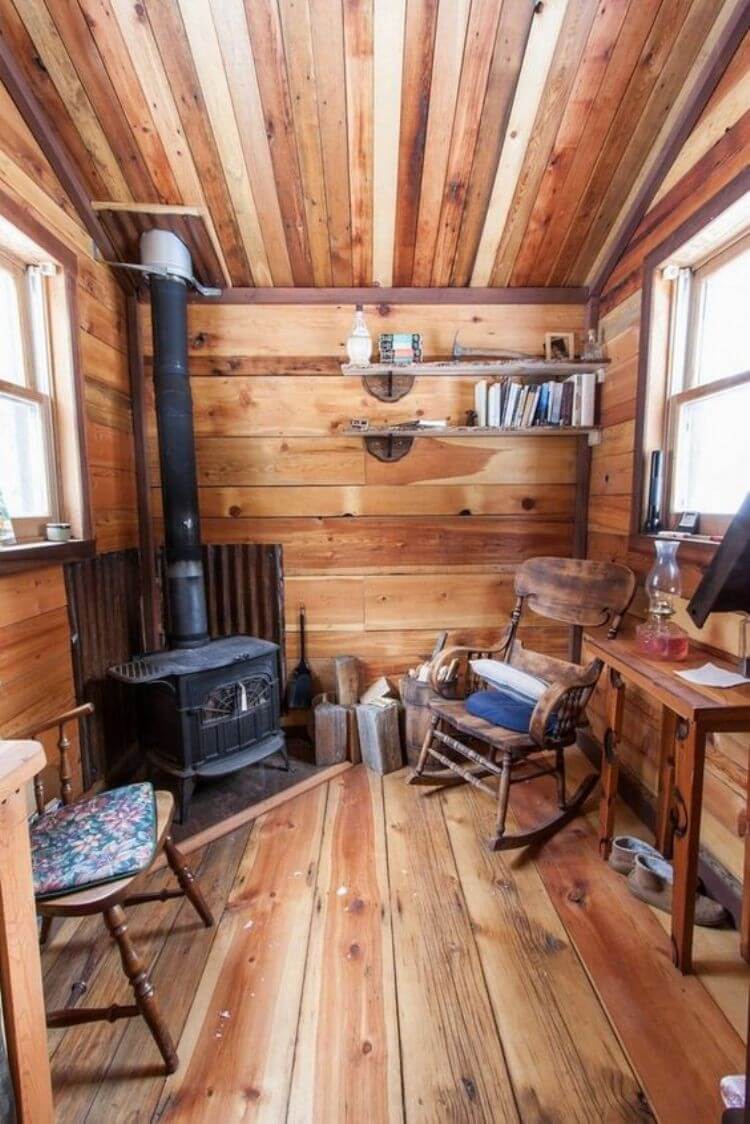 At the core of a rustic style backyard shed, is simplicity, naturalness, and ruggedness. It presents a unique atmosphere of harmony with nature and a warm feeling of cozy comfort to all who enter. The fundamental elements of the rustic style include:
The use of natural building materials in both the exterior and interior of the structure like Natural logs and boards are among the most common, but wood, stone, and brick fit in well with the rustic style.
Feature a lack of modern materials such as metals, plastics, and synthetic fabrics. Textured fabrics such as canvas and burlap are rustic cloth alternatives to modern options.
The color palette consists of the use of natural colors, including browns, greens, golds, and grays. Bright colors such as reds and yellows will take away from the rustic feel.
There is minimal decor or a lack of decoration inside the space. The decoration that is used as a natural look, whether it be authentic, artificially imitated, or made from reclaimed materials.
Furniture tends to be on the larger side inside and is either artificially aged or are truly antique pieces.
Be in the Here and Now with a Contemporary Style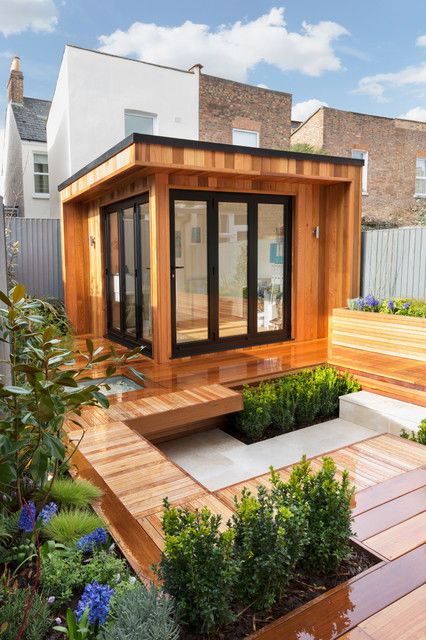 This style of backyard shed is becoming more and more popular. It is most notably known for its crisp, clean architectural lines and the use of state-of-the-art materials such as glass and certain metals. These are the basic design elements you should incorporate into a contemporary style shed:
The exterior should be free of abundant decorations or even architectural character that is influenced by historical periods.
Contemporary sheds have very distinct rooflines.
An abundance of natural light is a staple of contemporary design, so large windows are a must.
The layout of the interior is typically an open floor plan. Partitioning of space in your shed with walls should be kept to a minimum if a contemporary feel is what you're going for.
Flooring is simple, such as hardwoods or tile. You can later dress them up with area rugs if you wish.
Interior colors are primarily neutral (black, grays, and white) with splashes of color mixed throughout, particularly orange and reds.
Interior décor should follow suit with the exterior and be minimal. Polished metal decorations tend to pair well with the contemporary theme.
Any smart technologies in contemporary sheds tend to be hidden in the design.
Go Back in Time with a Vintage Style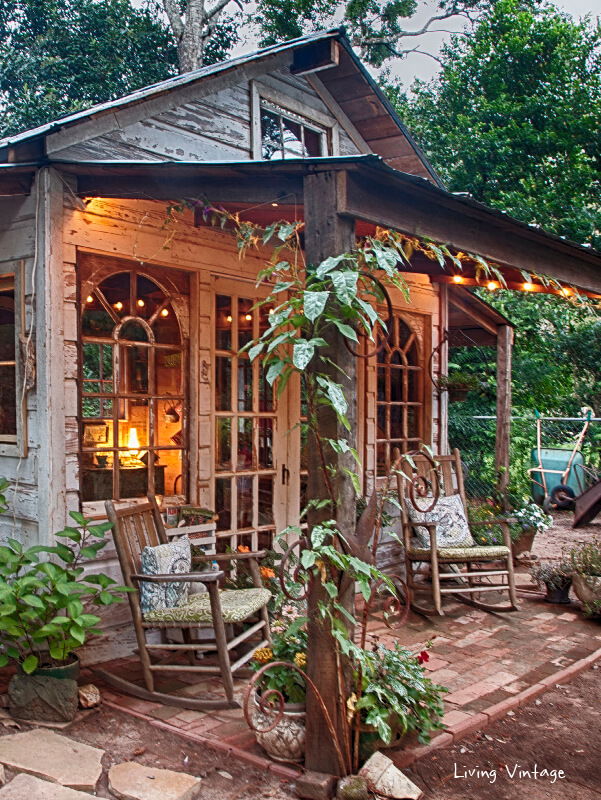 Vintage Backyard Shed Made from Reclaimed Materials
A vintage-style garden shed should have a cozy and lived-in atmosphere and convey a feeling of being back in the 1900s. The basis of the exterior of a vintage structure is wood. In the 1900s, wood was the only building material available. Modern materials had yet to be invented. When planning your vintage outdoor space, these are the primary elements you should take into consideration:
Do not be afraid to use wood on the interior elements of your shed, such as wooden workbenches, desks, built-in storage, etc.
The vintage design calls for calm colors such as dark greens, browns, and dark blues. Stay away from vibrant décor and furnishings.
The best type of flooring for a vintage shed is natural-looking wood flooring. It should not have a glossy finished as this will take away from the feel and goes against what it means to have a vintage space.
If your shed will have seating, look for replicas of pieces from the early 1900s. You can also redo pieces of furniture yourself to obtain the desired vintage look.
All décor should have the look and feel of the 1900s. Books and plants are a great way to add to the vintage charm.
Go Bold with an Industrial Style Design
An industrial style backyard shed is based on the look of warehouses or factories in the late 19th and early 20th century. This means that it also ties in vintage elements as well. Factories used to have living lofts. These lofts were reserved for those who didn't have anywhere else to go. What once was a symbol of poverty has become a trending design for businesses, homes, and outdoor storage buildings. Here's what you need to know about industrial design:
One of the signatures that looks for industrial interiors is exposed pipes and ducts. Chances are your outdoor shed has neither. However, you can simulate this feature by incorporating non-functional pipes and ducts.
The industrial style is famous for its bold yet complementary mixing and matching of wood and metal throughout the space. These polar opposite materials blend beautifully together for a unique industrial look.
Hanging light fixtures that hang down or protrude from the wall as opposed to recessed fixtures are an important element of the industrial design.
Flooring should be extremely basic such as neutral colored tile or painted concrete.
The industrial style calls for cool colors such as earthly greens, browns, grays, and black. Gray is the most common color in industrial design.
The exterior should look just as industrial as the interior and is most option achieved with the use of metal siding.
Keep it Light with a Coastal Design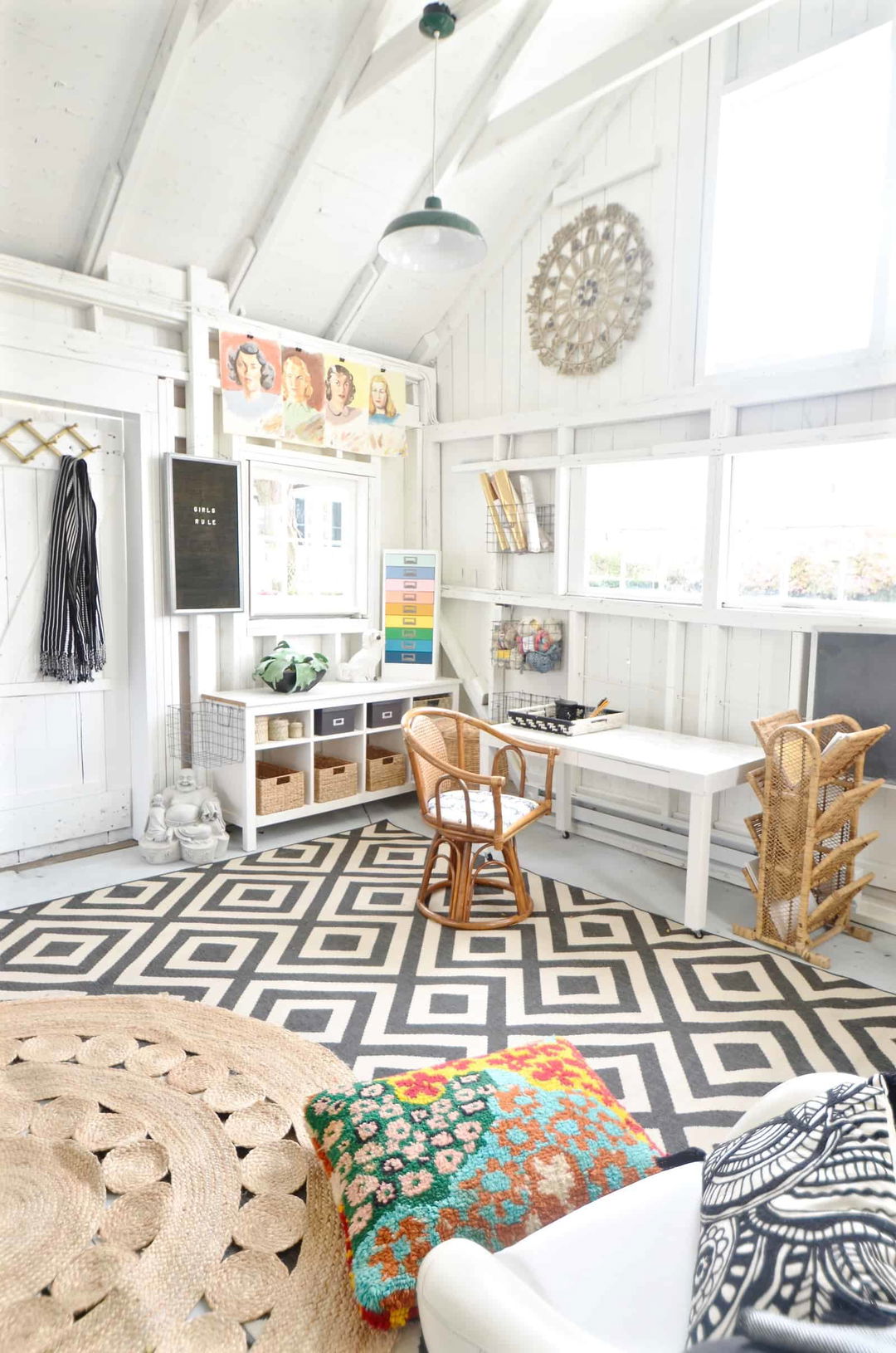 Coastal design is meant to provide a light, airy, and casual atmosphere. Its name comes from the fact that this style is popular in areas near the coast. However, anyone, no matter how far away they are from the ocean, can successfully pull off a coastal style with the right backyard shed plan. Here are the main elements:
Neutral colors are the base for this style with sharp contrasts of light and vibrant colors. Pops of yellow, coral, and turquoise are extremely common.
Patterns and colors can be extremely flexible. Feel free to use prints with bold colors. This is meant to be a fun and light-hearted style.
Décor typically consists of lush plants such as palms and succulents. Modern beach home décor, most commonly the lines the space of coastal style sheds.
Your coastal shed should provide plenty of opportunity for free airflow and natural light, whether it be oversized doors or large windows that can be opened in nice weather.
Light wood furniture and window treatments are a signature of the coastal style.
Carpet and dark floors go against the coastal theme. Floors should be either a light-colored tile, laminate, or wood flooring.
Which Style is Right for You?
There's no right or wrong answer to which style you should pick for your backyard shed. Maybe you want it to match the style of your home or take on a completely different look and feel. No matter which design you choose, your shed will be a place of enjoyment for years to come.