Are you having trouble sleeping at night? Believe it or not, different color tones of your bedroom space can have a significant impact on sleep quality. According to the research, people who are using blue tone wallpaper murals in their bedrooms have an average of 7 hours and 52 minutes of sleep per day; those who choose white, green, yellow and orange as their bedroom wallpaper colors also sleep for an average of over 7 and a half hours; while those with purple tones in their bedrooms sleep for the shortest average of 5 hours and 56 minutes.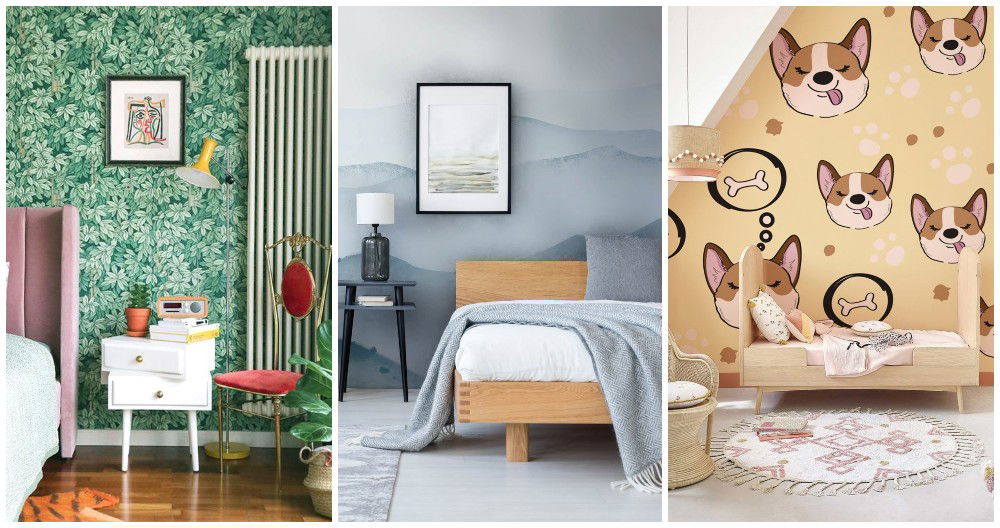 Therefore, selecting the right wallpaper mural for your bedroom is really important. Here we have some wallpaper colors and amazing wallpaper recommendations from Ever Wallpaper to help you sleep well!
Blue Wallpaper
Blue has the characteristics of peace and calm, so blue wallpaper is very conducive to improving sleep. If you are stressed and often suffer from insomnia, you may want to change your wallpaper and curtains to blue (but not too dark), with some greenery, which is great for promoting sleep.
1. Blue Mountain Wallpaper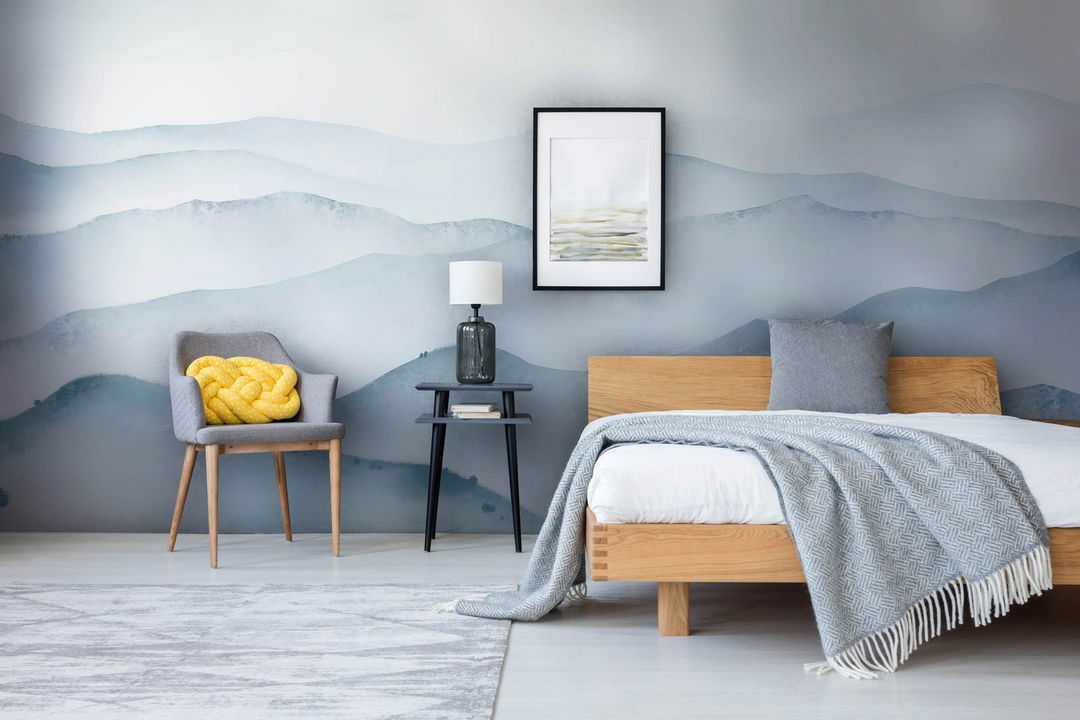 Create a soothing theme at home with this hand-painted blue watercolor peaceful mountain wallpaper mural, a versatile design that can work with a range of rooms and styles. This pastel blue watercolor design will surely level up your sleeping area.
2. Blue Art Deco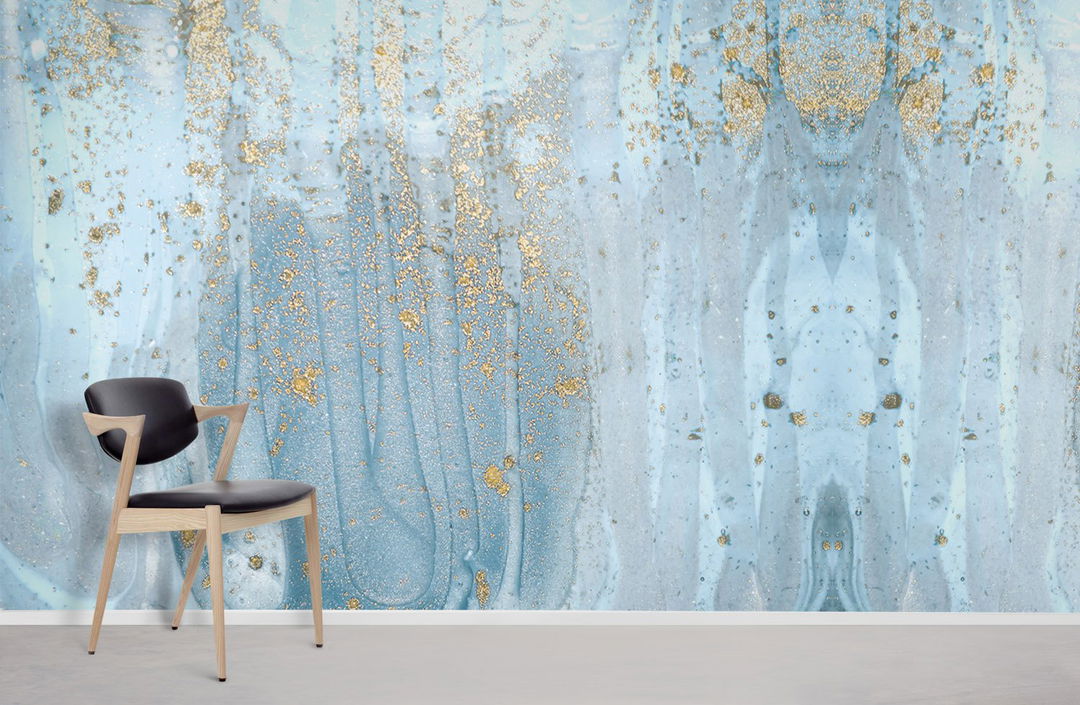 Calming and soothing, adorn your bedroom wall with this stunning soft blue mural. Match with simple decor and golden pieces to bring out the gorgeous printed gold effect that is laced throughout.
3. Blue Terrazzo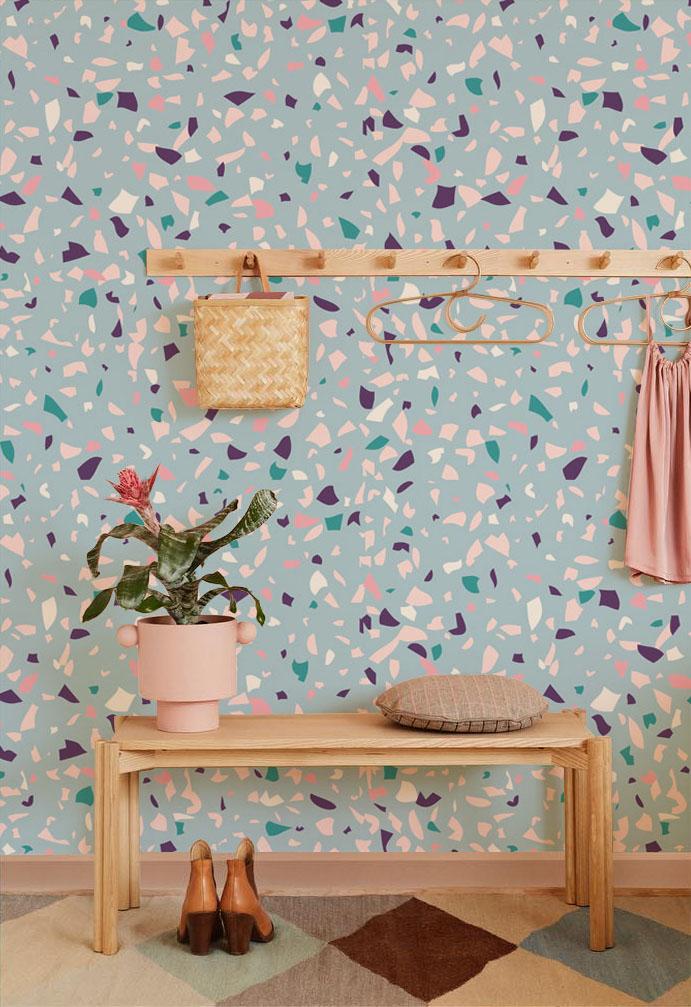 This on-trend pastel blue terrazzo tile wallpaper will create a soothing effect and add simple grace to your bedroom. Great wallpaper to ease your stress and improve your mood.
White & Beige Wallpaper
White makes people feel pure, clean and quiet. White sleeping space is calming and soothing and has a pain-relieving effect. However, pure white can be a little restrictive, so if the furniture is pure white, it should be complemented by some other soft colors.
1. White Flower Tree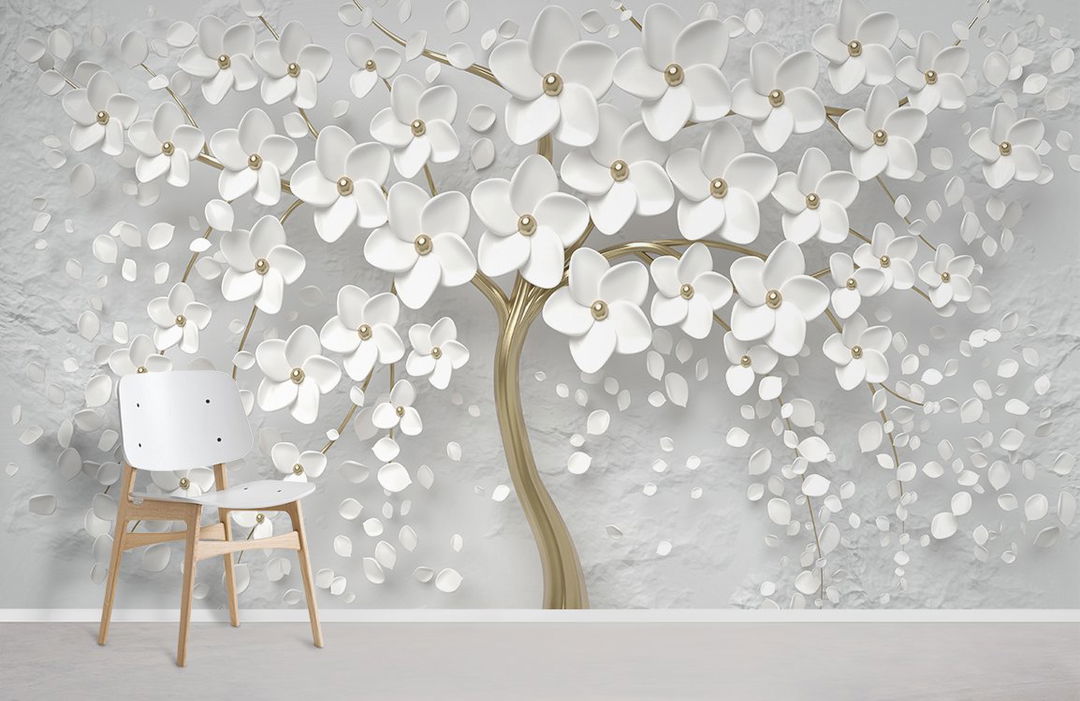 Brighten your walls with this large white flower tree wallpaper mural. Create a fresh and graceful look in your bedroom.
2. Winter Snow Landscape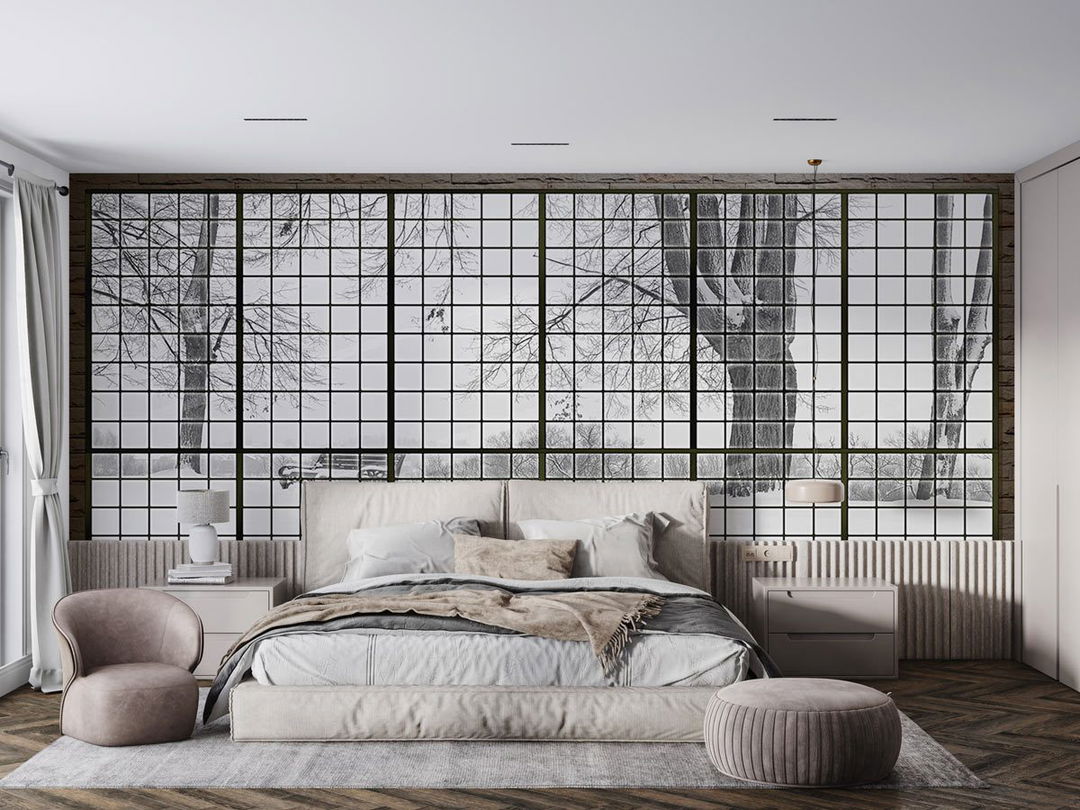 Enjoy the beautiful snow forest landscape in your bedroom with this wallpaper mural. Feel the pure and peaceful touch while sleeping. This wall mural can also give your room a 3D effect which helps visually extend your room space. Have a good night's sleep in this snow paradise.
Green Wallpaper
Green represents nature, health and comfort. Using green wallpaper in your sleeping area can relieve tension, eliminate fatigue, promote the elimination of toxins from the body and enhance metabolism.
1. Transparent Leaves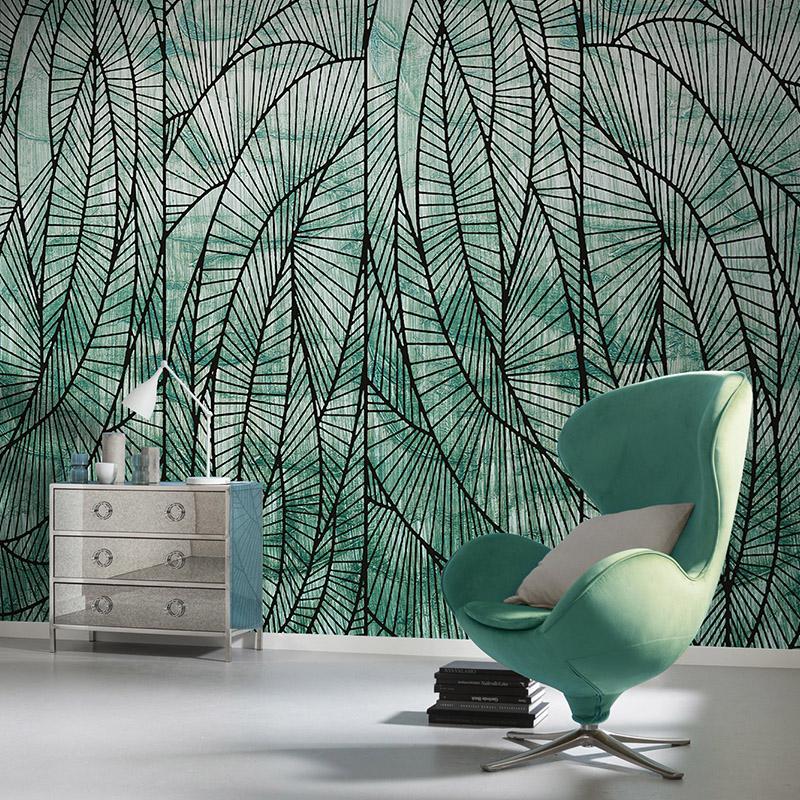 Find the magnificence of life in the lap of nature with this beautiful transparent green leaf wallpaper mural. The large leaf motifs with black veins are the perfect way to bring natural environs in your bedroom.
2. Small Leaves Pattern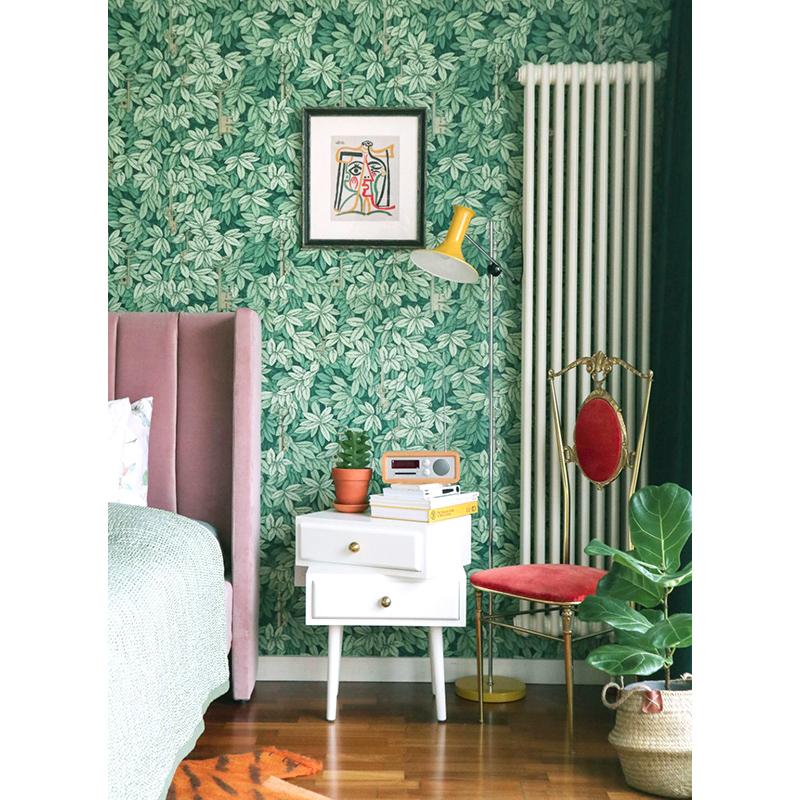 This repeat pattern of green leaves in shades of soft green symbolizes harmony and peace. Have these lovely fresh green leaves in your bedroom to relax whenever you stay in the room.
3. Tree Forest Pattern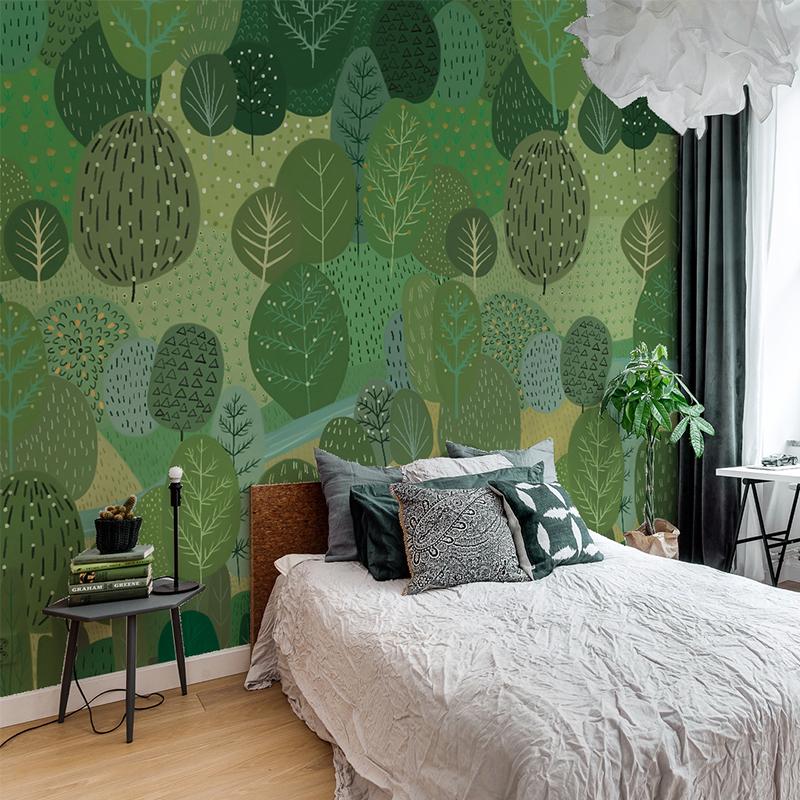 Breathe life and vitality in your bedroom with this versatile wallpaper and watch the wallpaper speaks for itself! Easily brings nature close to you and makes you feel good when you want to have some rest in your room.
Yellow/Orange Wallpaper
Yellow and orange are warm and cheerful colors that help to drive away from the depression before bedtime while adding brightness and a sense of openness to the room. If you are usually in a bad mood, change the color of your bedroom wallpaper to yellow or orange, which will immediately fill your whole room with vitality and a positive vibe.
1. Yellow Corgi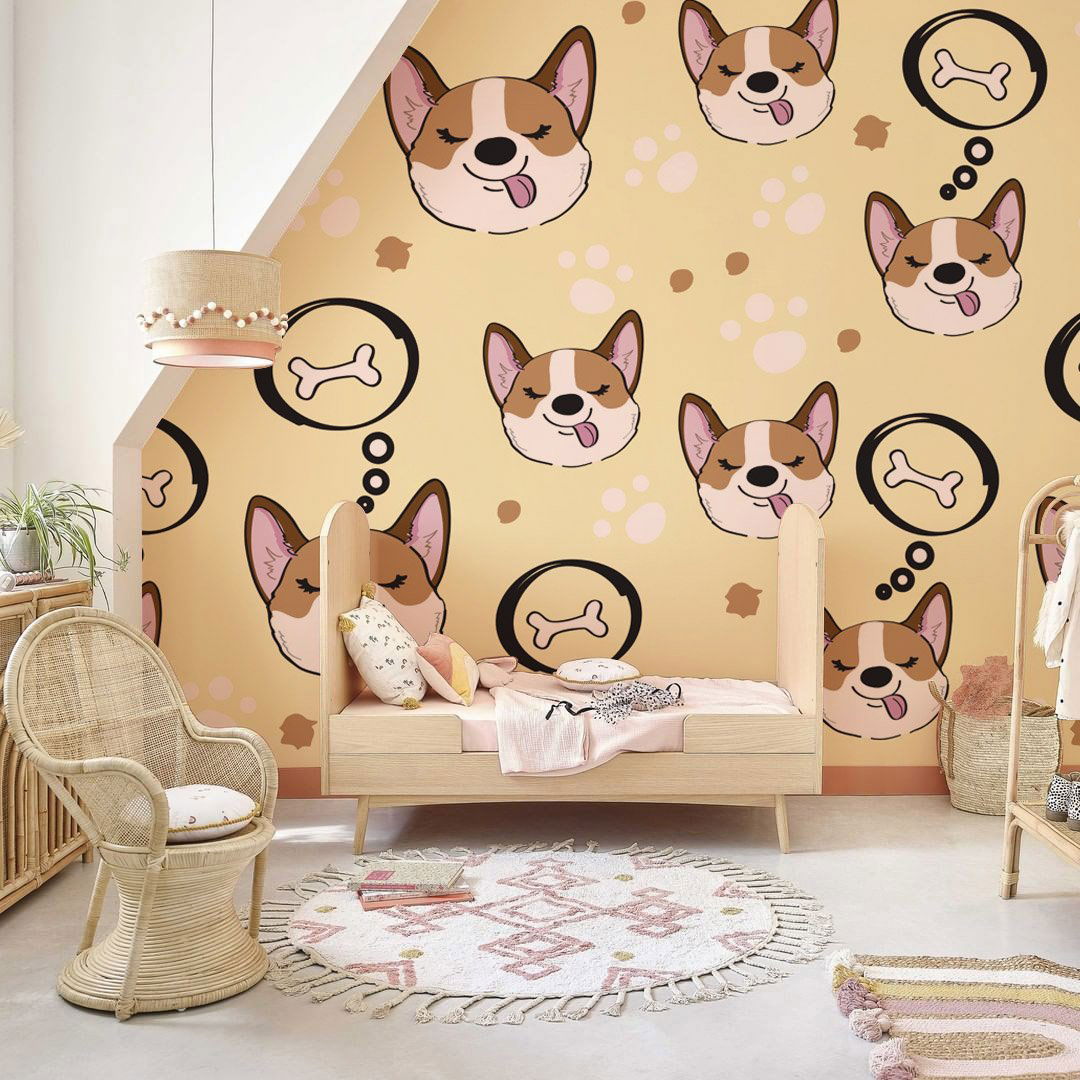 Yellow is such a lovely color that can bring joy and positive energy. This adorable corgi print wallpaper is perfect to place in your kid's bedroom. The soft yellow tone wallpaper and cute images will surely make your kids happy whenever they see it.
2. California Sunset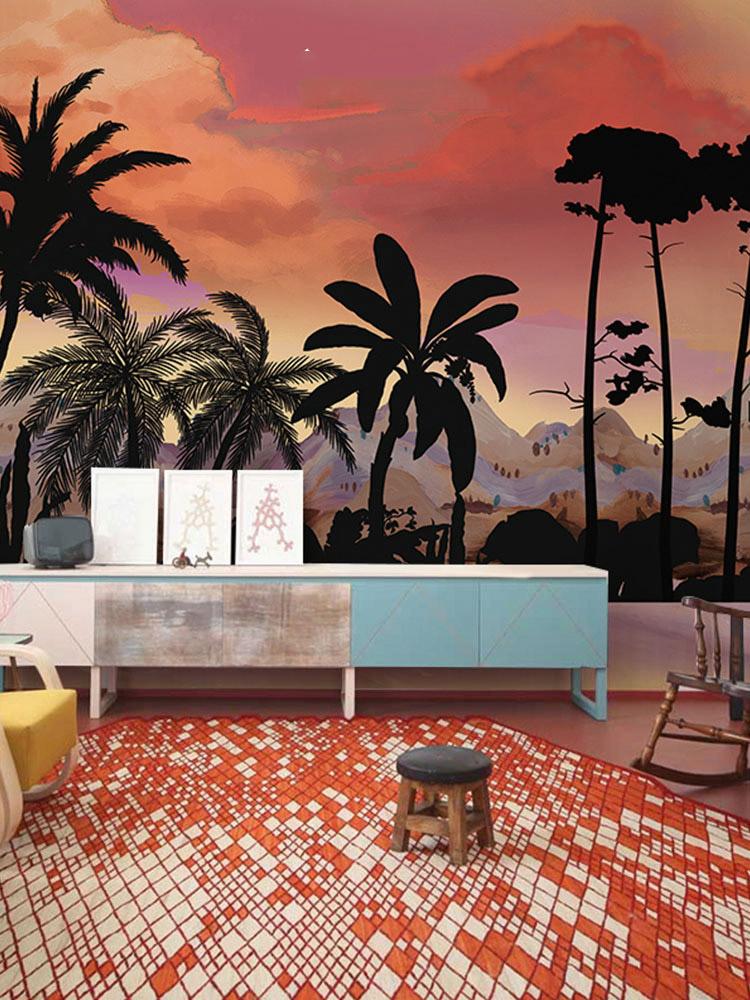 Chill in the California beach under a beautiful sunset in your bedroom with this wallpaper mural. The bright orange sunset offers you a strong yet comfortable visual effect and feeling. The overall orange tone can help bring your space alive and raise your mood.
Ever Wallpaper offers a wide range of bedroom wallpaper murals you will love. Visit their website to discover more and make your interior space even more stunning!