If you live in a smaller space, whether it be an apartment or home, you may feel somewhat challenged by the space you have. Trying to balance necessities with a decorative touch can be a daunting task, especially if you have been used to more room and currently downsized.
Storage solutions, color choices, and furniture options are all things to consider and are touched upon, briefly below. Don't let the challenge overwhelm you, instead, come up with a great plan to embrace the space you have with these creative ideas to decorate a tiny house.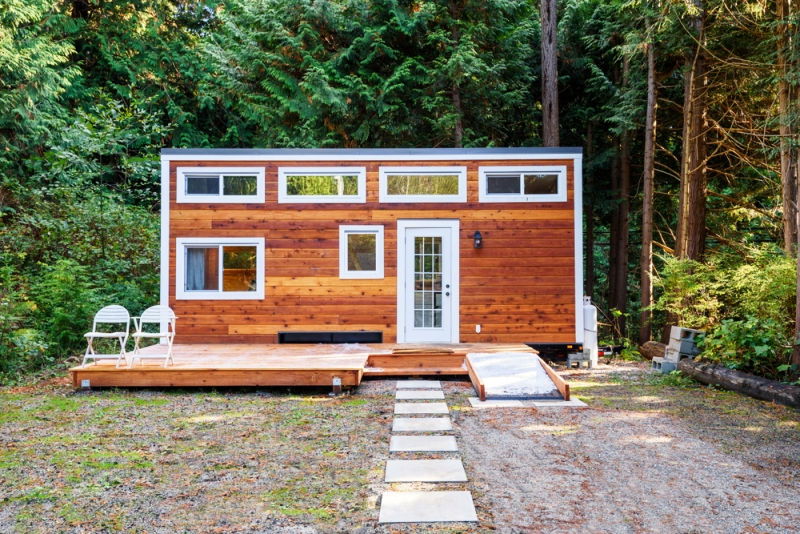 Downsize and Store
One of the first things you need to do, if you are moving into a smaller space, is downsizing. No, this does not mean you need to get rid of things you love simply because they don't fit well in this new space. Storage lockers and units are surprisingly affordable, secure, and easy to access if you need to get something. It also affords you time to go through your property to decide what can stay, and what you don't mind going.
That also means you CAN hold the 'yard' sale of the year and completely revamp your decorative choices. Sell off or donate those items you have multiples of, don't often use, or simply aren't in love with. The bit of extra cash you make from these can be handy in redecorating a new space!
Storage Solutions for Small Spaces
Small homes and apartments are notorious for not having much in the way of storage. However, they often have great wall space that can easily accommodate revamped furniture pieces or creative storage solutions. Look for cheap, yard sale furniture – such as old television cabinets, that you can paint and turn into a linen closet or food pantry.
There are also many ways to take advantage of your walls with shelving solutions, and hanging hooks. Check these many ideas out to inspire how it might look in your home.
Color and Themes Blending
Small spaces also don't always afford you many options for decorative changes from room to room. In fact, it is best if you choose only one or two themes and allow them to carry forward from one room to the next. This includes not choosing a defined theme that wouldn't look good from one space to the next. For example, you don't want to have a barnyard kitchen next to a rustic country living room- but you could have similar colors with some highlight piece that still hints at a barnyard and country without it looking overwhelming.
Stick to bright, simple colors and repeat them in variations to help break it up, but not be drastic in its change. New, unrelated themes should stick to more closed off areas, such as a bathroom, or office.
Create Focal Pieces
Create fun, whimsical focal pieces throughout your spaces to help draw the eye from one area to the next. These can be a realistic-looking floral arrangement, a decorative lamp, wall art, a unique piece of furniture or art, or even an aquarium or similar animal feature.
Hanging plants or other draping potted plants look great in dark corners, or on top of shelves and cabinets. They have filtered the area and brighten up rooms that may not get a lot of natural lighting. Plus, their placement can help make those spaces look larger overall.
Aquariums can also be a great option to help make a space look bigger due to their reflective properties, and how you decide to place them. For more ideas about the option, take a look at https://www.tankarium.com/.
Furniture Choices
Small spaces and large furniture pieces never work out well together. Overstuffed couches and large recliners can quickly clutter up a sitting area. If you love something you already own, pick and choose what you might be able to work with and put everything else into storage or sell.
Look, instead, for separate couch sectionals, rockers, and other more delicately built options. Choose cabinets and bookcases that go up, rather than out, and sideboards or formal sitting areas should have more narrow dimensions to keep from overwhelming the space in a room.
Decorating with Style
Keep in mind that cluttered spaces can make you feel anxious and overwhelmed. If you have a lot of knick-knacks and are thinking of ways to display them without creating chaos, think about built-in shelving, corner and glass front displays, and how you can utilize the space at the top of your walls. Shelving near ceilings are often overlooked areas you can place things you like to see, but not often use.
Also try to avoid large paneling curtains, heavy materials, or dark upholstery. Keep things light and airy, and take advantage of natural lighting wherever it is available.