The kitchen is arguably the heart of the home. It's the place where family members gather to chat over coffee and toast first thing in the morning, and it's the last place everyone meets for dinner before going to bed. Food is such an important part of life and integral to social gatherings that it's easy to take the place where it all happens for granted. If anything, we usually think of the kitchen as the source of pure drudgework; cleaning clogged sinks, washing dishes, peeling piles of potatoes, taking out the trash, etc.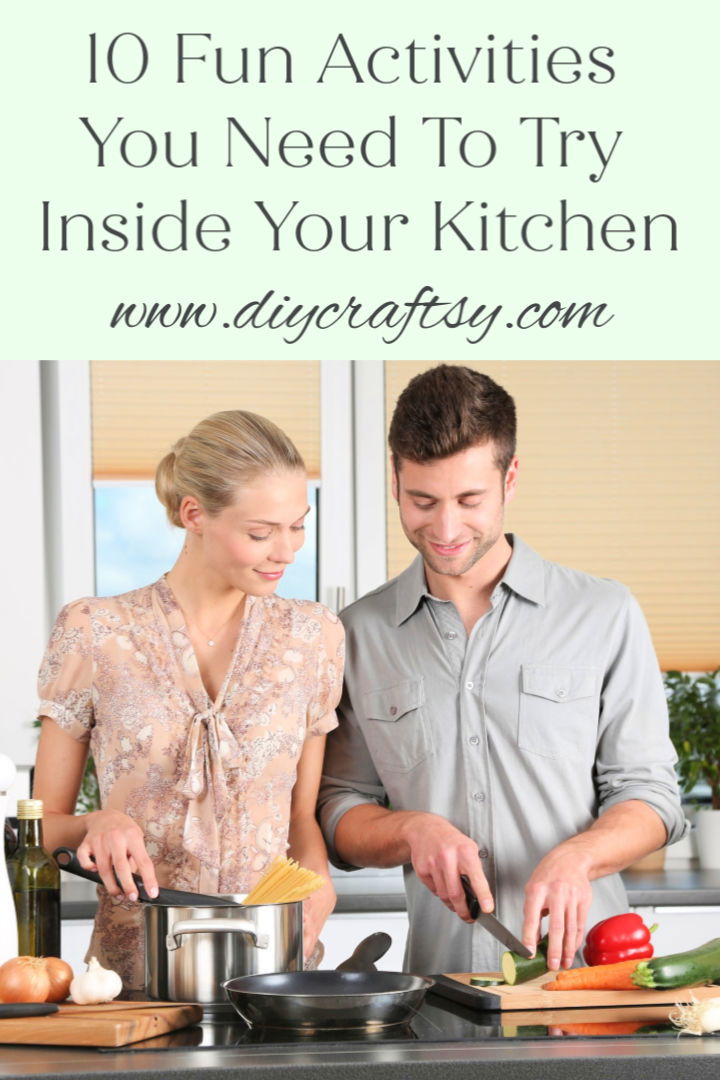 It's a sad state of affairs, but it doesn't have to be that way. You can transform your kitchen into a place of joy if you try to liven things up a bit and be more adventurous. Here are the best 10 fun activities to do in the kitchen with your family that will keep you entertained and bring you closer together.
1. Try a New Recipe
Let's start with the obvious: grab a cookbook you always wanted to crack open, and get to work on an elaborate recipe with your partner or child. Maybe something with exotic ingredients would be a fun thing to attempt, or perhaps some good, old fashioned comfort food. Regardless, just try to make the prepping an enjoyable experience by divvying up the responsibilities, and also make sure you have the cookware needed to get the job done efficiently. Our friends over at the daring kitchen can help you get set up with everything you need right away. The main way to make cooking a less troubling experience is by investing in the right tools to make life easier for you.
2. Dance Party
Well, if you hate washing the dishes and like many of us don't have a dishwasher, you can try to turn this loathsome task into something a bit more fun for you and your family. Just make sure to blast some of your favorite music while things get sudsy. Also, assign people different tasks like washing, drying, rearranging the dinnerware's place in the cabinets, etc. Assembly-line style work can make the process a lot easier to tackle.
3. Scavenger Hunt
If you have especially young kids and are at a loss as to how to entertain them, then scavenger hunts are the perfect game. Get creative and silly, it's really up to you how you want to do this and you can tailor it to your kids' interests. But basically, you can start the hunt in the kitchen and have it end in one of their rooms or a backyard if you have one. This is also a great way to tear them away from their screens.
4. Smores
Making smores is quick and easy to treat your whole family will love. Grab a stack of graham crackers, marshmallows, and plain milk chocolate bars and have everyone assemble it on their own. You can also bring some other candies or edible decorations so that your kids can customize a special sugary treat for themselves.
5. Make Jam
The best thing about the change in seasons is that you can go to the nearby farm and pick fresh apples off the stems – or, buy packs of raspberries, blueberries, or any of your favorite seasonal fruit. Buying them in batches is especially great since you can easily make jam or applesauce at home. The process might seem extra finicky, but rest assured, it's pretty easy and there are plenty of resources online to help guide you through the process. It's also a lot of fun to do with your kids and it helps them build a new skill set!
6. Bake Cookies
Another seemingly obvious idea, but hear us out: kids absolutely love learning how to bake, and who doesn't want to have some delicious dessert right at home? Warm, fresh cookies are a delight and you can share them with your neighbors, too. They will be super grateful.
7. Make Bird Food
Birdseed treats are super easy to make, most recipes do not call for more than three ingredients, which can all be bought from your local grocery store. Making a few batches with your kids is another fun way to engage them and use your kitchen space – you can then hang the birdseed treats outside and watch as sparrows begin to flock to your backyard.
8. Customizable Pizzas
This is another idea that's pretty simple to execute but is usually left by the wayside for some reason. Prepare batches of fresh veggies – even better if you happen to grow them yourself in the backyard – shredded cheese, pizza dough, and sauce. Set them out and have everyone build their own specialized mini pie. This is definitely a fun and easy way to prepare dinner for the family.
9. Popsicles
Making fruit popsicles is so much fun and a great way for kids to get creative with flavors and colors. There are plenty of resources online to help you, whether you just want to make fudge popsicles, or kiwi strawberry ones, Jello popsicles – the possibilities are endless. Also, you can invest in tons of different kinds of molds to have them set in different shapes which kids would definitely get a kick out of.
10. Washing Produce
This last one is a doozy; it's probably one of the most annoying kitchen tasks out there. But hear us out: there's a way to make this fun, especially if you have a really young child on your hand that you would like to entertain. Toddlers love playing with water, and helping you out in the kitchen makes them feel in control of something. So, get a stool so that your toddler can better reach the sink, plop some veggies in there, grab a colander, and show your child how to clean them. They will love splashing around, but will also learn something new and you don't have to work about keeping them occupied. It's a win-win situation!
The kitchen is the busiest part of any household, and it takes a beating. That being said, there's no reason for you to indulge in a phobia of that particular space forever. There are many ways to make the work done there fun and enjoyable for the whole family. Just don't be shy about involving everyone, asking for help, and getting creative.