Laser cutting technology, once a tool reserved for industrial manufacturing and professional workshops, has become increasingly accessible to the general public, particularly hobbyists and DIY enthusiasts. This marvel of modern engineering uses a high-powered laser to cut and engrave a variety of materials with impeccable precision, creating intricate designs that were once deemed impossible or too time-consuming.
The allure of laser cutting isn't just its accuracy. It's the vast array of creative possibilities it unlocks, especially in the realm of home décor. From crafting unique furniture pieces to adding personalized touches to everyday items, laser cutting offers endless opportunities to elevate the aesthetic of one's living space.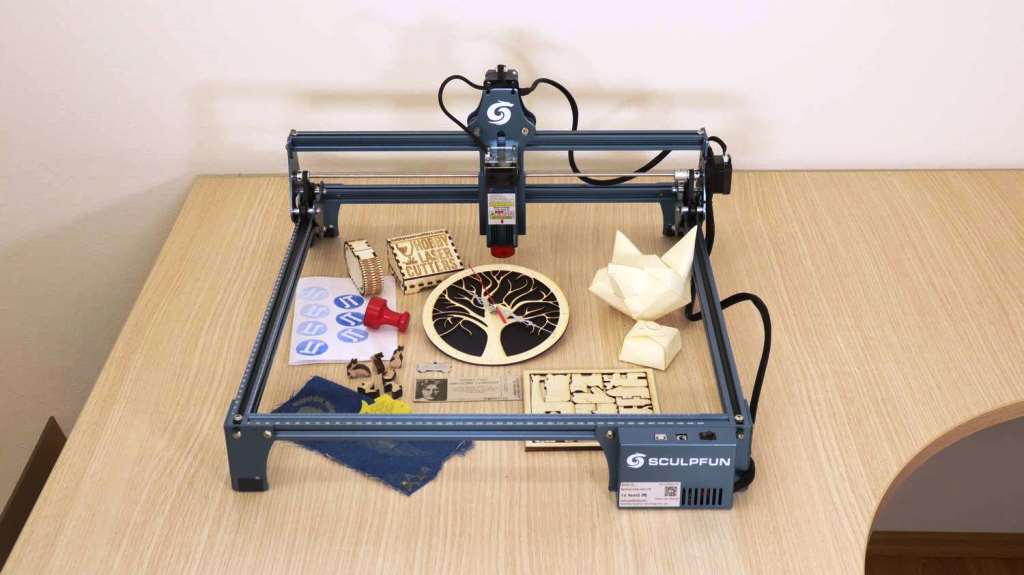 The surge in its popularity isn't just a trend; it's a testament to how technology can empower individuals to bring their visions to life. This article delves into ten DIY projects that showcase the versatility and artistic potential of laser cutting machines for home enhancement.
1. Personalized Wall Clocks
One of the most evident places where both functionality meets artistry in home decor is a wall clock. While these timeless pieces serve the practical purpose of telling time, they also offer a canvas for personal expression, especially when crafted with a laser cutting machine.
A simple wooden or acrylic base can be transformed into an exquisite wall art. Imagine a clock face adorned with intricate floral patterns, geometric designs, or even a family's last name elegantly scripted in the center. With the precision of laser cutting, one can go beyond traditional numerals and employ symbols, foreign numbers, or even minimalist line markers to denote time.
Moreover, the clock's hands and markers can be made in contrasting materials or colors for added depth and flair. A wooden clock with metallic silver or gold engravings, for example, would bring a touch of sophistication to any room. Or consider a thematic design, such as a nautical clock for a beach house, adorned with anchors and ships instead of regular hour markers.
For those looking for a more avant-garde approach, designs can escape the confines of the circular clock face. The silhouette of a city's skyline or the sprawling branches of a tree can extend outwards, with the clock mechanism seamlessly integrated. Such a piece not only serves its functional purpose but also becomes a conversation starter, blending the boundaries between utility and art.
2. Decorative Room Partitions
As modern homes embrace open floor plans, the need for delineating space without compromising the open ambiance has become paramount. Enter laser-cut decorative room partitions – a perfect blend of art and utility that allows homeowners to demarcate spaces with style.
The beauty of using a laser cutting machine for creating room dividers is the sheer intricacy it can achieve. Traditional hand-carved designs, though stunning, are time-consuming and can't always achieve the fine precision of laser cutting. Imagine partitions with lace-like patterns, geometric labyrinths, or scenes from nature such as sprawling trees or cascading waterfalls, all brought to life with the finesse of laser technology.
Choosing the right material for the partition further accentuates its design. While wood, with its natural grains and warmth, offers a classic, earthy feel, acrylic can lend a contemporary touch, especially when used in bold colors or even clear, frosted finishes. Combining materials, such as a wooden frame with acrylic inlays, can provide added depth and interest to the design.
Beyond their decorative value, these partitions also offer practical benefits. They can serve as a backdrop for your home office, shield the dining area from direct view of the kitchen, or even create a cozy reading nook in the corner of a larger room. And since they're not permanent fixtures, homeowners can experiment, move them around, or swap designs as per changing decor themes.
With the customization available through laser cutting, one can also integrate functional elements into these partitions. Think shelves, plant holders, or even integrated lighting, transforming them from mere dividers to functional pieces of home decor.
3. Customized Coasters
One of the simplest joys of DIY projects is turning everyday items into personal masterpieces, and coasters are an excellent canvas for this. Not only are they practical, helping to prevent watermarks and stains on furniture, but when laser-cut, they can also be a conversation starter during gatherings and events.
Starting with design, the possibilities are as vast as your imagination. Geometric patterns, with their sharp lines and angles, shine exceptionally well when laser-cut, showcasing the precision of the technology. Mandala designs, on the other hand, can showcase the intricacy possible with laser cutting. For those looking for a personal touch, adding text – be it a family name, a quote, or even a date of significance – can turn these coasters into keepsakes or thoughtful gifts.
Material choice plays a pivotal role in the end result. Wood, with its natural texture and warmth, offers a rustic charm. Different types of wood, from cherry to oak, can offer varying hues and grains, further adding to the uniqueness of each coaster. Cork, being absorbent, is not only functional but also provides a distinct tactile experience. Meanwhile, acrylic can be a game-changer for those aiming for a modern or minimalist aesthetic. Its ability to be tinted into a variety of colors, or even left transparent, can create stunning visual effects, especially when playing with light.
To elevate the design further, consider mixing materials or adding intricate borders. For instance, an acrylic center with a wooden frame can offer a delightful juxtaposition of modern and rustic. Or a cork base with a detailed wooden overlay can combine function with design.
Beyond their use as coasters, these creations can also double up as wall decor when not in use, making them multifunctional and a testament to the versatility of laser cutting in home DIY projects.
4. Laser-Cut Picture Frames
In an age where most of our memories are digitized and stored on screens, there's something profoundly nostalgic and heartwarming about displaying physical photos. Laser-cut picture frames take this sentimentality up a notch, transforming the ordinary frame into a piece of art in its own right, while adding an extra layer of significance to the treasured photograph it encases.
The beauty of using a laser cutting machine for this purpose is the level of detail and precision it affords. Frames can be crafted with borders that range from the elegantly simple to the dizzyingly intricate. For instance, nature enthusiasts might opt for frames adorned with delicate leaves, flowers, or even forest silhouettes. Those with a penchant for the abstract might lean towards geometric patterns or swirling, dreamy designs.
For an added touch of sentimentality, personalized messages can be engraved onto the frame. These could be quotes that resonate, names, dates of significance like anniversaries, or even short personal messages. This personalization can turn an already special photograph into a keepsake or heirloom, passing on not just the image but also the emotions and context tied to it.
Beyond the design, material choice can dramatically alter the frame's vibe. A dark mahogany wood might exude sophistication and timelessness, while a pale birch might feel modern and airy. For those looking for a bit of color, acrylics come into play, with options ranging from solid colors to translucent hues, perfect for playing with lighting and shadow effects.
One innovative idea is to create multi-layered frames, using both wood and acrylic, where the wood provides a sturdy base, and the acrylic overlays add a level of depth and dimension. Such layered designs can play with shadow and light, making the frame as much a focal point as the photo within.
In essence, with a laser-cutting machine in hand, the humble picture frame ceases to be just a boundary for photographs. Instead, it transforms into a canvas for creativity, encapsulating memories with flair and emotion.
5. DIY Floating Shelves
Floating shelves have gained massive popularity in contemporary interior design. They offer a clean, minimalist look, allowing decor items, books, or plants to appear as though they're magically hovering against the wall. With the precision of a laser cutting machine, DIY enthusiasts can add a new dimension of personalization and craftsmanship to this trendy home addition.
One of the primary advantages of using a laser cutter for floating shelves is the unparalleled precision it offers. Shelves need to be level and sturdy, especially if they are to bear weight. The laser cutter can produce exact measurements for both the shelf itself and the hidden bracket or support system that'll be fixed to the wall. This ensures that once installed, the shelf remains steady, safe, and straight.
While traditional floating shelves are generally plain, when you have a laser cutter at your disposal, you can let your imagination run wild. Consider designing shelves with intricate side patterns or cut-outs, allowing the wall color to peek through, creating interesting visual contrasts. Such designs can turn the shelf from a mere functional item to an aesthetic centerpiece. Floral motifs, geometric patterns, or even skyline cut-outs can offer a distinct appeal.
Another way to amp up the style quotient of your floating shelves is through engraved designs on the shelf's surface. A subtle floral engraving or an abstract pattern can add texture and depth to the shelf. These engravings can be painted or stained in a contrasting color for added effect, or left natural for a more subtle appearance.
While wood remains the classic choice for shelves, laser cutting allows you to experiment with a wide range of materials. Acrylic shelves, for instance, can provide a modern, sleek look, especially when paired with LED lighting. Plywood can offer a rustic vibe, while denser woods like oak or mahogany exude sophistication.
Combining different materials can give your shelves a unique, multi-dimensional look. Imagine a wooden shelf with an acrylic edge that plays with ambient lighting, creating a soft glow around your decor items.
In conclusion, floating shelves might seem like a straightforward DIY project. Still, with the capabilities of a laser cutting machine, they can be elevated into a blend of functionality and artistry, becoming conversation starters in their own right.
6. Unique Plant Holders
Indoor plants have surged in popularity, with urban dwellers especially keen on bringing a touch of nature into their homes. As the greenery trend continues, there's an increasing demand for plant holders that are not only functional but also complement the interior decor. This is where the magic of a laser cutting machine comes into play, turning ordinary plant holders into unique, bespoke pieces of art.
Wall-mounted plant holders offer a great solution for those who have limited floor space or want to create a vertical green display. With laser cutting, these wall mounts can be crafted into intricate designs, from ornate filigree patterns that cast beautiful shadows to modern, geometric shapes that give a chic, contemporary look. The precision of the machine ensures that the holder snugly fits the plant pot, while the detailed cut-outs allow adequate ventilation, crucial for plant health.
However, if wall-mounted holders aren't to your taste, free-standing geometric plant holder designs might be the perfect fit. Geometric designs are especially enticing because they juxtapose the organic, unpredictable shapes of plants with clean, defined lines. Hexagons, pyramids, or even multi-faceted designs can be brought to life with a laser cutter. Crafted in materials like wood or acrylic, these geometric stands can serve as the perfect pedestals for succulents, ferns, or any plant of your choice.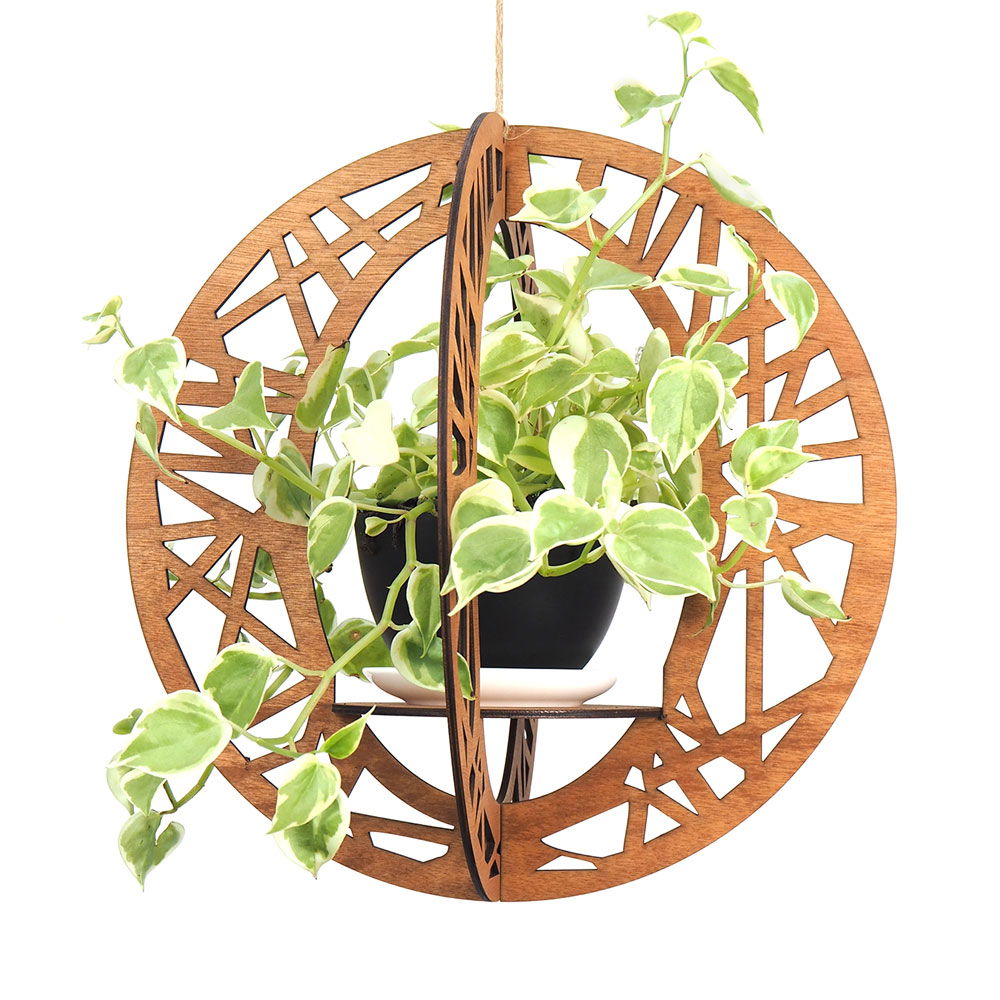 One of the notable benefits of using a laser cutter for these designs is the possibility of layering. By cutting multiple layers of a design and stacking them, you can achieve a 3D effect. This layering can add depth to wall-mounted holders and stability to free-standing designs.
An exciting trend in the world of plant decor is the combination of plant holders with other functional items. Imagine a floating shelf we discussed earlier but with cut-outs designed to hold plant pots. Or a geometric lampshade that doubles up as a hanging plant holder.
Customization is another advantage when crafting plant holders with a laser cutter. Engraving names, dates, or personalized messages onto the holders can make them cherished gifts for plant-loving friends and family.
7. Personalized Door Signs
In every home, doors serve as gateways to different spaces, each with its unique purpose and personality. Personalized door signs can amplify this uniqueness and add a touch of character to each room. Thanks to laser cutting machines, crafting these bespoke signs has become a breeze, making them a popular DIY project for many homeowners.
One of the most common uses for door signs is indicating room names. From the simplistic "Kitchen" or "Bathroom" labels to more personalized ones like "Sophie's Sanctuary" for a bedroom, there's no limit to the creativity. Laser cutters allow for precision, which means even the most intricate fonts and scripts can be achieved with ease.
Family names are another popular choice, especially for the front door or the entrance to a home office. It's a way to stamp one's identity on the space, and with the versatility of a laser cutter, these can be made into works of art. Think of a family name intertwined with motifs that represent family heritage, hobbies, or even pets.
Beyond names, door signs can also carry fun designs or quotes that resonate with the household. For a home library or reading nook, a sign engraved with "Lost in a World of Books" or for a kitchen, something playful like "Chef at Work, Tasters Welcome" can add whimsy to the space.
Materials, too, offer a range of options. From classic wooden signs that bring warmth to a room to chic acrylic ones that add a modern touch, the choice is vast. With laser cutting, the finish is always polished, ensuring the sign seamlessly blends with the decor.
In conclusion, personalized door signs, with the aid of laser cutting, are not just labels but an expression of the room or family's identity. They're a mix of functionality and art, making them an ideal DIY project for those looking to elevate their home's aesthetic.
8. Laser-Cut Jewelry Organizers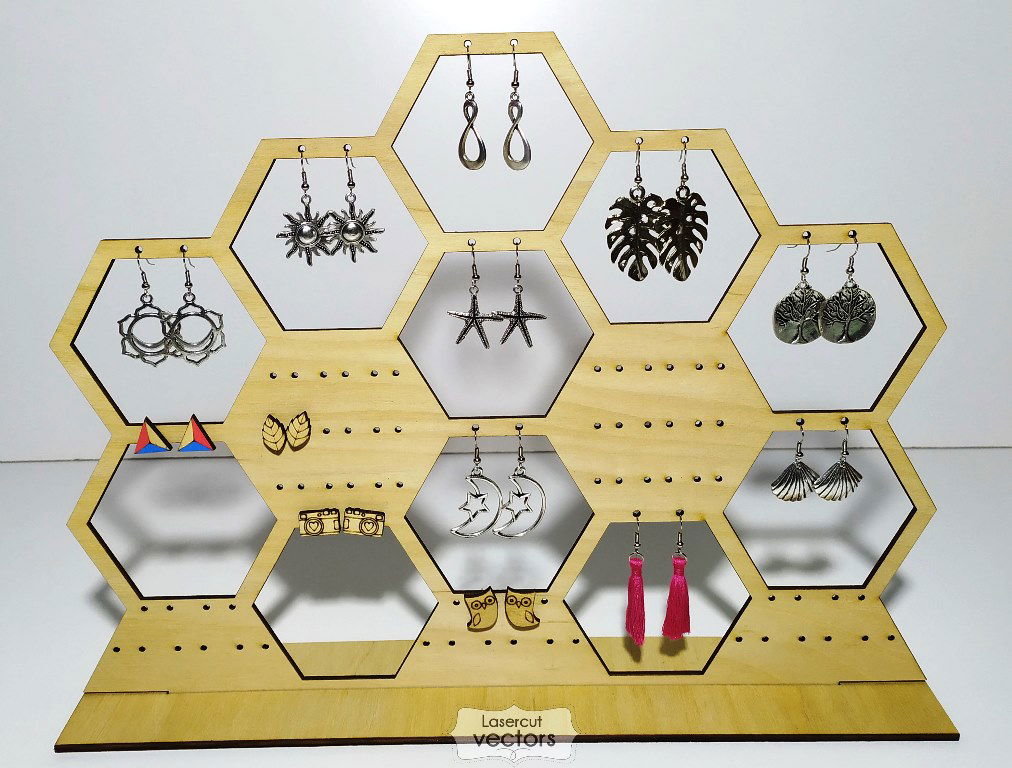 Jewelry, for many, is not just adornment but a collection of memories, milestones, and personal stories. Hence, organizing them in a way that's both functional and visually appealing becomes crucial. Enter laser-cut jewelry organizers: a fusion of design, precision, and utility.
Wall-hung jewelry organizers have become a rage in recent years, especially among those who prefer their prized possessions in plain sight. With laser cutting, one can craft intricate designs on these wall-hung variants, from botanical engravings to geometric patterns, ensuring they double up as decor pieces. A combination of hooks, slots, and hanging bars ensures that there's a designated spot for every necklace, earring, or bracelet, making them easily accessible.
For those who prefer something more discreet or with added functionality, tabletop versions are ideal. These organizers, crafted with precision using laser cutters, can boast multiple compartments, ideal for segregating jewelry types or sizes. Some might feature an engraved lid, turning the organizer into a display piece, while others might have layered drawers with laser-cut designs on the pull-out handles. Whatever the preference, with laser-cut technology, customization is key, ensuring each piece is as unique as the jewelry it holds.
9. Customized Light Switch Plates
In the quest to personalize every corner of our homes, even the most mundane fixtures deserve an upgrade. Light switch plates, usually overlooked, can be transformed into whimsical decor pieces with the touch of laser cutting. By engraving intricate designs, motifs, or even brief texts, these everyday items can echo the aesthetics of the room they're in.
For a child's room, imagine switch plates bearing the engraved designs of their favorite characters or celestial bodies that glow in the dark. Living spaces can be graced with elegant motifs that match the overall theme, from floral to abstract. Themed spaces, like a nautical bathroom or a vintage study, can feature switch plates with anchors or quills, elevating the room's ambiance with a minute yet impactful detail.
10. Engraved Mirror or Glass Decor
Mirrors and glass surfaces in our homes offer a pristine canvas, ideal for the precision of laser cutting. Engraving frosted designs on mirrors not only enhances their aesthetic appeal but also introduces an element of intrigue. These frosted patterns can range from subtle edge detailing to intricate centerpieces, adding depth and artistry to an otherwise simple mirror.
On the other hand, personalizing glass table tops or window panels takes home décor to another level. Imagine a dining table with a laser-engraved family crest in the center or window panels adorned with delicate patterns that play beautifully with incoming light. These personalized touches elevate ordinary glass pieces into bespoke artwork, seamlessly blending functionality and design.
Conclusion
Laser cutting has undeniably opened up a realm of possibilities in the DIY world, especially in the arena of home décor. Its precision and versatility allow for a fusion of functionality and artistry, turning everyday items into masterpieces of design. For those who cherish a personalized touch in their living spaces, the opportunities presented by this technology are endless.
It's not just about crafting; it's about reinventing. Every laser-engraved pattern or cut carries with it a story, a piece of the creator's heart. As we've journeyed through these innovative projects, it's evident that the transformative power of laser cutting is unparalleled. So, to every DIY enthusiast reading this, let your creativity soar and your laser cutter be the brush that paints your home's story. Experiment, explore, and let every corner of your home reflect your unique signature.