It's not such a hardship to breathe new life into your interiors when you are on a budget. Adding throw pillows to your home can add that sophisticated professional charm that updates a room in an instant.
There are thousands of patterns, fabrics, and colors available when it comes to throw pillows. Their potential is endless and choices are abundant. As a homeowner that's good news, as there is something for everyone. However, with numerous combinations, it can be a bit hard to know where to start.
We have broken it down for you to help you add charm and an impeccably decorated look to your home.
Start Anew
Most sofas and couches come with throw pillows in a similar or contrasting color. But that doesn't mean that you are stuck with them. You can easily make simple swaps to breathe new life into your boring sofa. To give your sofa a designer look, start anew.
A blank canvas will spark your creativity and allow you to reimagine your interiors with several pillows and color combinations. For a fresh start, we suggest using an odd number of pillows, which adds a more inviting look.
Basic Principles for Choosing Throw Pillows
Before we dive further into the intricacies of making a charming selection of throw pillows for your home, let's go over some guiding principles that can help make this process a little bit easier https://www.luxedecor.com/throw-pillows.html.
You can add throw pillows not just on your sofa, but also on your bed or on a window seat or a reading nook. Pillows make everything better.
Decide on a consistent color palette and don't deviate from it. It might be tempting to choose different colors that you think might look great. But a singular color palette, in complementary shades, or from the same color family always gives a polished look.
To narrow down your options, when it comes to buying prints, choose one simple print, one solid and then to top it all off, choose one busy print to bring it all together. Keep your busy prints in the center to make a statement. Busy prints are an excellent way to set a tone for your entire pillow arrangement. This is a crucial step as it can complement the whole color palette of the room.
Choose to be symmetrical in your pillow arrangement. When you are trying to layer fabrics and colors or prints on top of one another, it can overwhelm you. To keep everything clean and polished, symmetry is your best friend.
The pillows should be smaller as you move towards your sofa center. It is more visually appealing to place larger pillows like the 22 or 23 inches to the far corners, and then proceed to place smaller pillows like the 12×20" one to the center. Pillows of the same size would make it seem like they are dominating the room and its color palette.
Lastly, decorative throw pillows should look good, but at the end of the day, their main purpose is to add comfort to your furniture. We suggest limiting the number of throw pillows on our sofa or bed to not go overboard. There should be enough space to sit in your upholstered furniture. If you think you might have too many pillows, you probably have.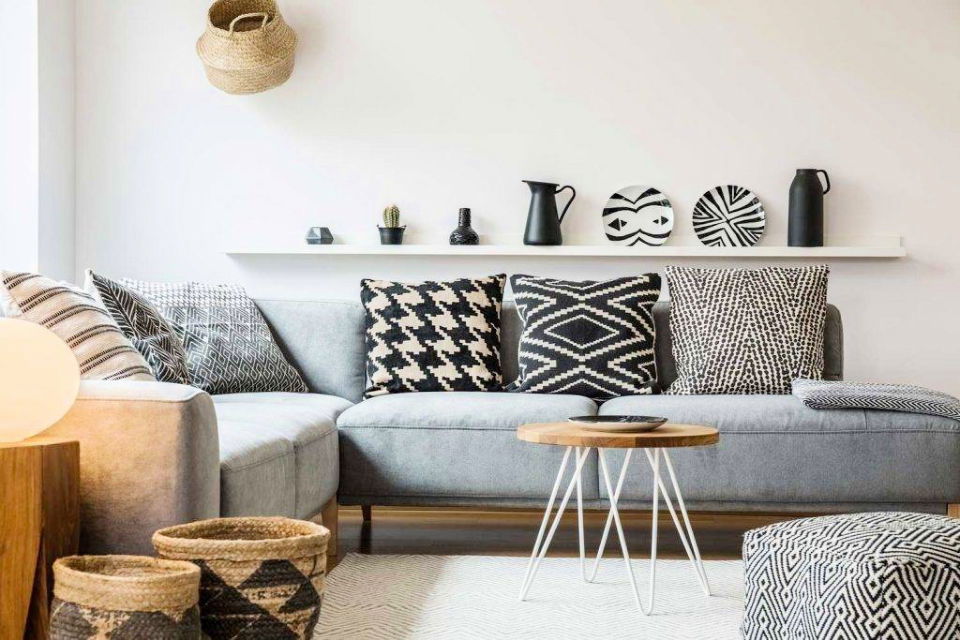 Let's Consider the Fabric
Now that you have some basic principles as a guideline, let's dive deeper into the world of fabric, which is vast and confusing for some people. Here, we have simplified it for you.
1. Striking Solid Colors
If your room is already filled to the brim with patterns, go for bold and striking solid colors. It can add a nice contrast to a dramatic rug or vibrant, busy curtains.
On the other hand, if your basic furniture pieces and décor are in neutral colors, choose vibrant hues for your throw pillows to breathe some life into an otherwise boring room.
We suggest using complementary colors from the opposite sides of a basic color wheel. Colors look gorgeous and rich when they are paired with dramatic, complimentary colors. If you are starting anew, choose a statement rug, accessory, artwork or a piece of fabric and start from there. Once you know which décor piece you want to center your whole interiors on, it will get easier when you are out shopping for throw pillows.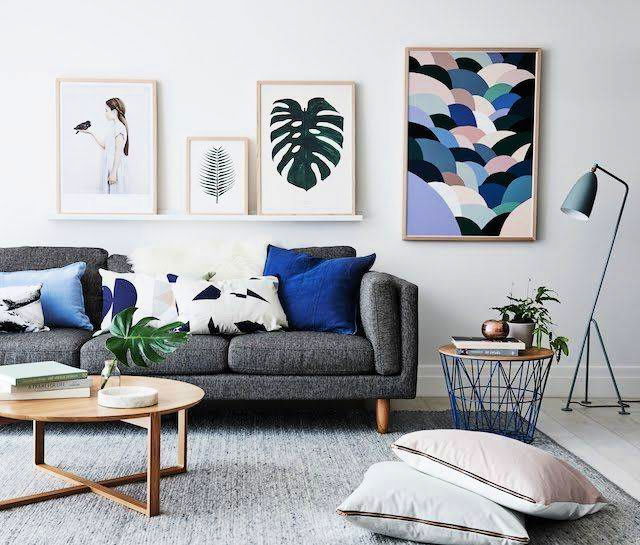 2. More Than One Pattern
It is also a splendid idea to choose one color and add different patterns that work together exquisitely. Two or more fabrics or patterns in a similar shade can provide an organic designer look to your home. Such as a bold statement floral piece in the center and plaid pillows on its sides. To balance it all, add velvet cushions in vibrant but similar hues for a polished look.
3. Go For a Neutral and Warm Color Palette
Keeping your color palette neutral is an amazing choice but you will still need to create a complimentary flange with contrasting textures and colors. For example, if you choose a statement pillow featuring zebra print, compliment it with a smaller pillow in striped taupe and white and tie it all together with a dark chocolate brown throw pillow.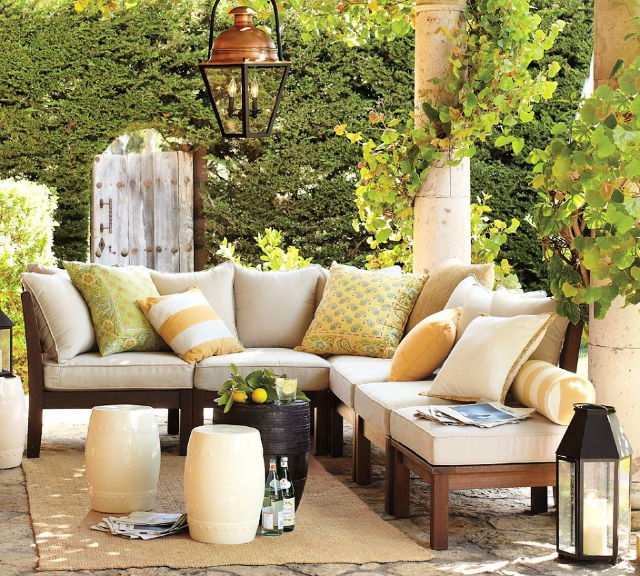 4. Try Your Hand at Analogous Colors
If you don't want to accent garish colors, try to choose colors from the color wheel that are right next to one another. These are basically called analogous colors. They have a similar vibe with a distinct personality, which can give your interiors an amazing designer look, like below.
5. Employ the Use of Solid Colors or Stripes as a Statement
Bold colors can act as an exclamation point or for bringing your throw pillows altogether. Well-placed throw pillows in a solid color, in the center, can speak volumes and add a nice calming touch to the busy patterns.
On the other hand, stripes are also a lovely way to add more than one color in a singular throw pillow. It is quite a classic way, which can give off beach house vibes. It can create an asymmetry of bold colors with a simple subdued color to lend a perfect balance to your interiors.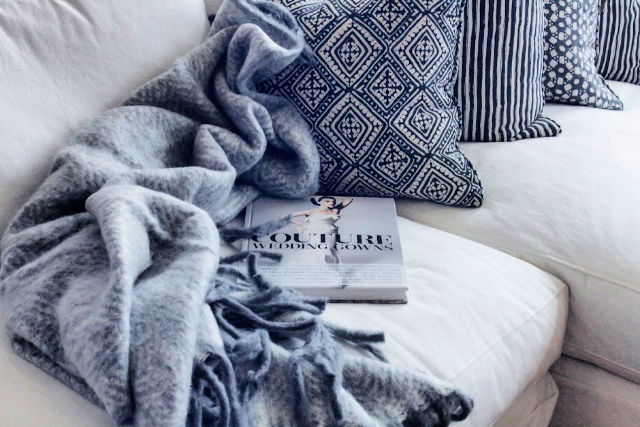 Goodness Inside
Pillow inserts will determine how comfortable your throw pillows are. Feather and memory foam are some of the most common ones and for good reason, as they are the most comfortable and long-lasting. We suggest using inserts that are 5% down and at least 95% feather for comfort and support.
These are just some basic guidelines that can help you choose throw pillows that can breathe new life into your interiors with a designer flourish.