Many people underestimate the importance of garage doors, whereas, in reality, they significantly impact a home's appearance and functionality. That's why if you're in the market for a new garage door, it's crucial you learn how to pick the right one.
What's more, considering that you're probably going to replace your door only once in your lifetime, finding the perfect set is absolutely critical. To help you with that, we've prepared a short garage door buying guide.
Below, you'll find all the information you need when buying a garage door, including things you have to consider before purchasing and comparing different garage door styles and materials.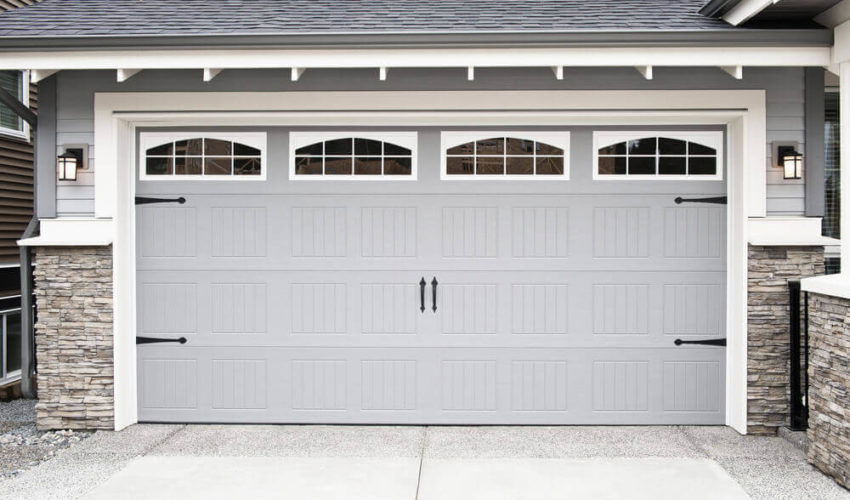 Size
First things first, you need to make sure you get the right size of your garage door. Keep in mind that any additional adjustments will generate more costs, and it's probably something you'd wish to avoid.
Measure your current door's height, width, and thickness to determine the right size, style, and material for your new garage door.
What's more, if you have set your eyes on a brand of garage door which is different from the one you have at the moment, you might also want to check the measurements of other parts, not only the door itself – the perfect example are torsion springs, as their size might differ depending on the door's brand. Check out this garage door torsion spring chart to get it right.
Type
Once you get your measurements, it's time to decide on the type of garage door. It's the step you should carry out with caution, as it will significantly impact your home's functionality and design. When it comes to that, you have five main garage doors types:
Up and over
Sectional
Side-hinged
Roller
Round the corner
Each one has it's pros and cons, which we'll discuss further below.
Up and Over
As the name suggests, this garage door opens in one piece, going up and over into the garage. It's considered to be the easiest type of door to install and operate. What's more, since it's probably the most popular door type, it comes with a wide variety of sizes, colors, mechanisms, and designs.
Sectional
The sectional garage door uses a slightly more complex mechanism than up and over. These doors are built from panel sections that open and slide up to curve back into the garage. It offers better insulation and security, as well as more garage space.
Side Hinged
The most traditional option on the list, the side-hinged door, is nothing else than old-time double swing doors. They're the perfect choice if you regularly walk in and out of your garage and if you wish to add that old school look to your home.
Roller
Similar to up and over garage doors, roller ones also open vertically. But instead of going back into space, they roll over and curl above the opening. That makes them a fantastic choice if you don't have too much headroom in your garage.
Round the Corner
The round the corner door slides off to one side and along the inside wall, providing you with easy pedestrian access and more headroom. The only con is that they're more complicated to install than other types of garage doors. Aside from that, it comes with similar traits.
Materials
Okay, you know the size and the garage door type you want. Now it's time to choose the material, and when it comes to that, you need to decide carefully once again.
Depending on what your door is made of, it will impact your home's look and, more importantly, the door's performance, lifespan, and price.
Steel
Steel doors are the strongest and the most secure type of garage doors. That, of course, makes them the most expensive. They're worth the money, though.
They're weather-resistant, and maintenance is incredibly easy. What's more, thanks to the wide variety of coatings, you can make your garage door look ravishing.
Fiberglass and Aluminium
If you don't want to spend too much but still ensure your garage door won't cause you any trouble, fiberglass and aluminum type is your best choice. Doors made of these materials are lightweight and weather resistant. However, they're not as reliable as steel ones in terms of insulation.
Wood
The most significant advantage of a wooden garage door is its natural look. What's more, you can buy such doors for a relatively low price. However, the only problem is that wood has a much shorter lifespan, especially when you compare it with steel. Because of that, it has higher costs of maintenance.
Bottom Line
As you can see, picking the right garage door is much more complicated than you may think. There are many things you need to consider, including the right size, type, and material.
But that's not all. You also have to determine your budget and think about any additional features, like garage door openers or improved security solutions.
It does sound like a lot of trouble, but you must go through the whole process. Doing that will ensure you invest your money the right way and improve your house's style and functionality.