Do you love building things for your home with the traditional woodworking touch included? If you have a tight budget and you can still run a pretty cool traditional woodworkers workshop, perhaps at the back of your home or upfront the garage. I have gathered and shared the ultimate guide for you about 7 essential tools for the traditional woodworker to DIY your own woodworking projects! By simple definition, woodworking tools in the traditional sense are the ones that can be used without any electrical power source required. These are basically just going to work with your hand power.
If you are anything like me and share a similar affiliation with the old school way of building things without any power or electricity added, these 7 essential tools have been pretty helpful for me to get away with pretty much anything! From cutting the base structure to keeping things secure in the place! Let me walk you through each one of these. But, don't forget the quality of wooden furniture depends not only just the type of wood used but also the tools used to make it!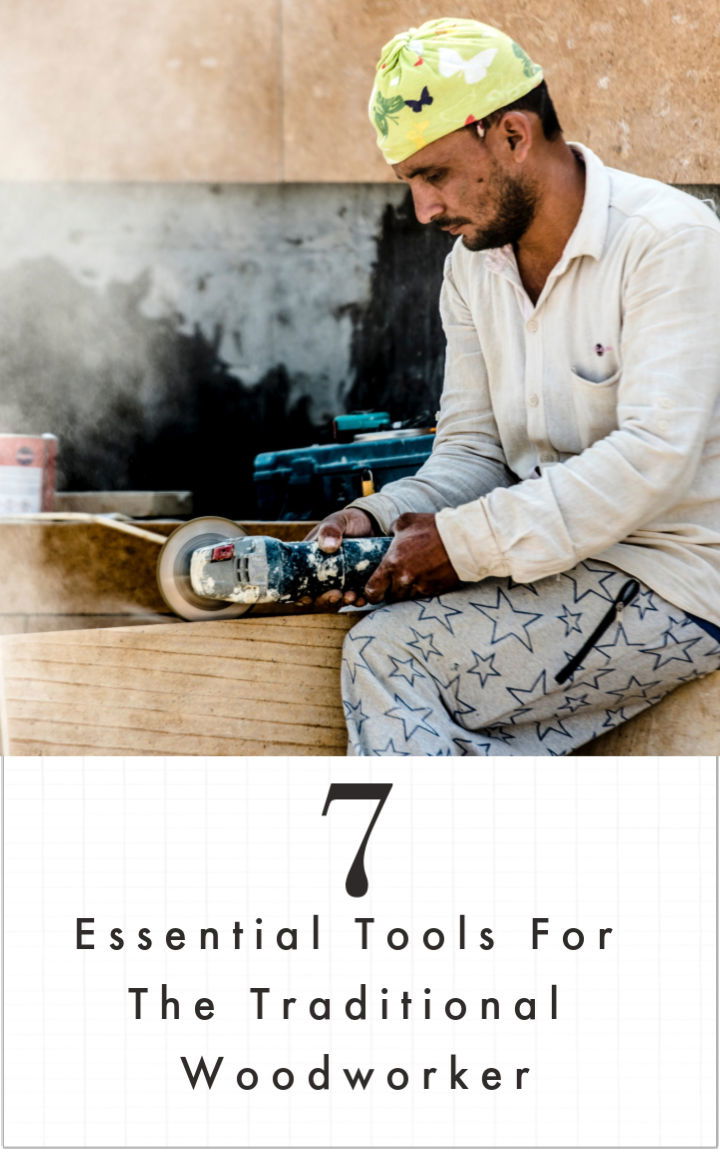 1. A Wooden Workbench
You might feel that the corner shelf in your garage is perfect for some woodworking to do! But believe it or not, it's NOT! You need a super sturdy and solid, at least 3 feet heightened wooden workbench to start working on! Without a wooden workbench, a traditional woodworker is incomplete. A wooden workbench comes in really handy when you need to secure things in the right place tightly for sawing or cutting them in the desired sizes!
You can choose the size of the woodworking bench, but I would recommend that no matter whatever size you choose, make sure it has a very sturdy top and strong legs to support your projects. Your solid top should also be at least 3", if you feel you are not yet there to buy one all by yourself, you can also buy from the market. It's really how you want to do it!
2. Jack Plane and Block Plane
A jack plane is basically the middle-sized and a general-purpose bench plane that can be your first option to get the work started. Until you buy the dedicated smoothing plane! The jack plane can meanwhile remove the rough stock off your wood piece. It is mostly used for dressing down the timber! It also helps for jointing the edges of the board, and it especially works for smoothing the boards! A low angle jack plane is pretty handy and darn ideal for beginners, especially!
Now, it won't be a lie to say that block planes are kind of the most favorite tools of a woodworker. So much so, if you love the traditional woodworking experience, you will find yourself keeping the block plane in your apron most of the time. It can solve your quick problems like trimming the joints, graining, etc.. The low angle block plane will help you ingraining much easily!
3. 6-inch Combination Square
The combination square can also be known as the most basic tool for any traditional woodworker! It is one of its kind an all in one kind of product that can be used as a miter gauge, depth gauge, height and marking gauge. It can be used for multiple purposes, including the fact that it is a full-fledge substitute for the common solid triangles. It can be used as the 45-degree miter, a height gauge, the depth gauge, and the precision rule. It might be a little tool when you look at it, but it can give you pretty significant results.
It can literally be the key tool for a woodworker, and you can make the most précised measurements and error-free details about your woodworking project if you use it!
4. Panel Saws or Handsaws
A panel saw, or handsaw can be the tricky point in any traditional woodworkers workshop! One cut gone wrong, and your whole idea might have to be revamped again. However, if you are not using the miter saw or other power tools, the panel saw is what's going to do the cutting for you!
Hand saws are thin and long saws, and they have a pretty comfortable handle at the end. They are used for the rough dimensions of your material. However, the panel saw has two broad categories, or you can say features. They come in the two-tooth configurations;
Rips (this cuts like a chisel, along the grain)
And cross-cut (this cuts like a knife across the grain)
You should also keep in mind that panel saws cannot be broadly categorized with hand saws. As panel saw is actually pretty handy and small and can be easily fitted within your tool chest!
5. Coping Saw
A coping saw is usually darn affordable, like if you buy from the market, you can get it under $20. It is mainly used for roughly cutting the shapes across the wooden board, or it can also be used to remove waste from dovetail joints. You can make small external shapes or intricate internal cut-outs in the woodworking with these. You can find an affordable coping saw pretty easily, and it can be used with many replaceable blades on hand which come within the packaging.
6. Wood Chisel Set
Chisels are the most used tools in the workshop, perhaps more used than any other tool. If you can locate and buy a good quality of wood chisel sets, they can be sued for over many years. And also used in as many projects as you would want them to! Simple wood chisels can be pretty sufficing at the start, and you can easily use them to shave off the rough surfaces, scrape off glue or chop out the corners. You can easily find a high quality of any vintage chisel set in like under $10! So, if you want to purchase the best wood chisel set and don't know which one is best In the market, then you must read reviews of the best wood chisels that can help you to choose the best components to meet your needs and ensure you do your best work. I would highly prefer using a good quality wood chisel to maximize the work output in your traditional woodworking workshop by staying in the budget!
7. Woodworking Clamps
Woodworking clamps are going to be the "holders" in your workshop! They keep the joints together, which you might have glued, stick together until the glue dries, and you can safely say that these are never getting part now unless forced to! A quality hand screw woodworking clamps, at least 10 to 12 inches, can be really helpful! You can also see this strategically, how many woodworking clamps do you really need. Try building your first project without using any glue figure out all the joints and points where you need to put pressure, or you should have, and then you can have an idea about how much clamps you need! This could help you actually determine your woodworking clamps requirement and then buying them, instead of just doing so with closed eyes and stocking your workshop with them.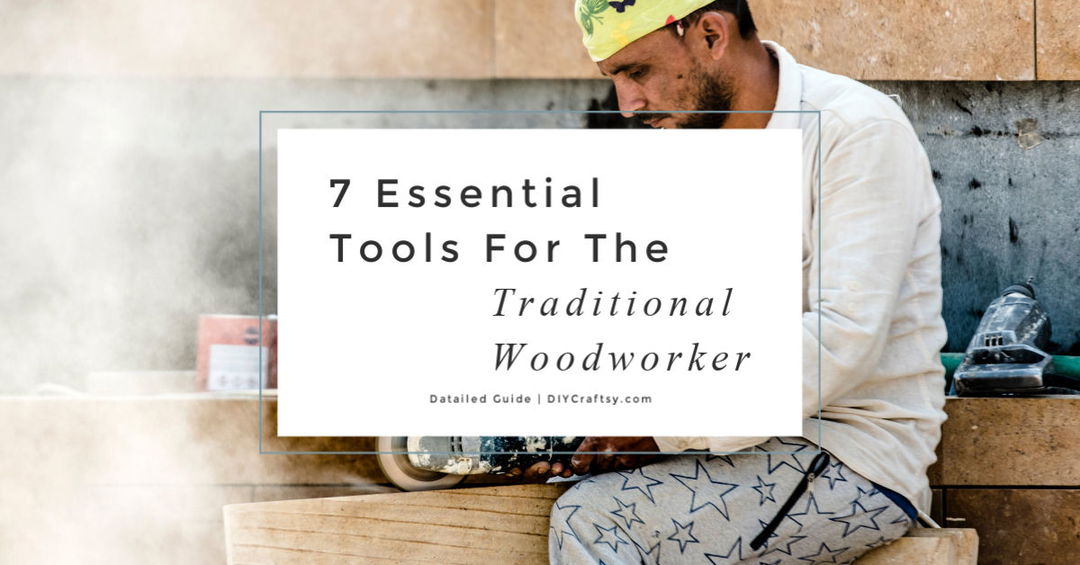 There you go, folks! With my list of these 7 essential woodworking tools in your workshop, you can easily nail your woodworking projects! For beginners, I am sure this tool guide and the list is going to come in pretty handy! And for the experts, even if you love power-tools, I bet once you add these (if you haven't already) to your workshop, you can see how these hand tools can be of so much quick help! Either run a hobby in your garage or run a woodworking workshop, these 7 tools are going to spruce your efficiency and the entire experience to a whole new level!