Photos are intrinsic to our memory. There is something unlocked when we look at them that we might find a lot harder to access without them. Because of that, they become a valuable thing to all of us. They are material, but more sentimental offering value that doesn't equate money. They record and evoke. They record and yet they are dreamlike, evoking emotions with what they capture.
There are loads of DIY projects you can use photographs for. If you have an artsy side and some glue, and maybe some scissors nearby, you will find something to do with all your physical photos. With a physical copy of your photos, you can treasure them even more. If that interests you, take a look at all the ways you can use your photos in crafts.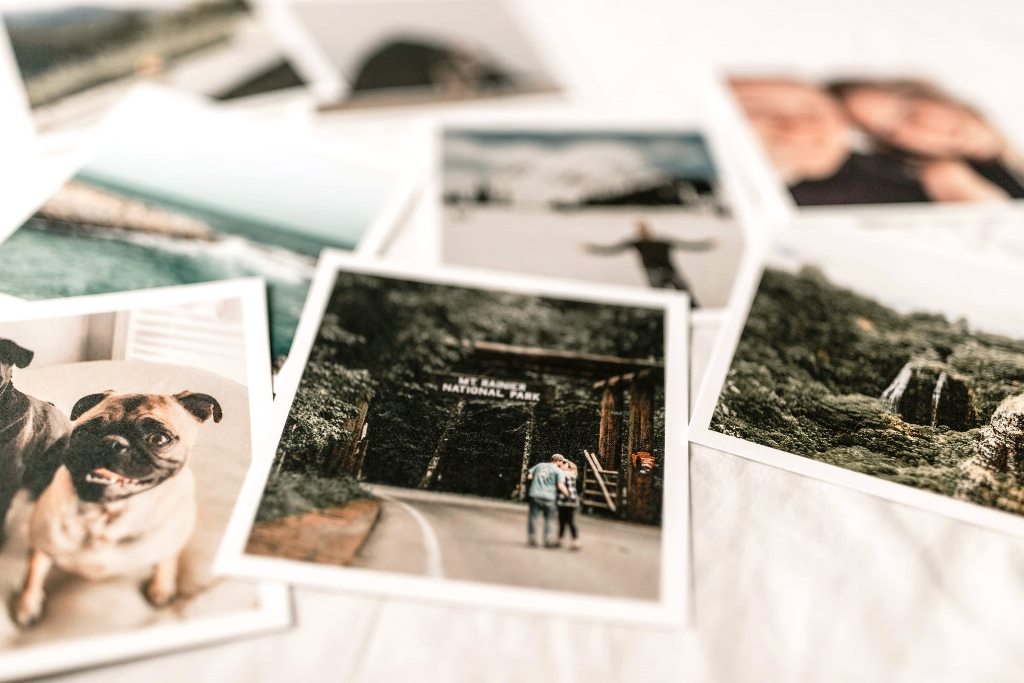 Why print your photos?
Photos capture a moment in time that, before the invention of the camera, was fleeting and temporary. With the creation of the internet, photos have become slowly fleeting and temporary again. We are swiping through memories with a glance paid to them.
Which is one of the reasons photobooks are becoming more popular again. We are taking more photos than ever, with a camera in every person's hand, so there should be enough to fill anyone's photo book. It makes real memories feel inconsequential because there will be a new photo to replace the last in a few days.
And it could be said that they are even more temporary than material photos. They can be deleted due to a simple error in the software, or a phone becoming bricked, and be lost forever. Having a physical copy of all your favorite photos allows you to be more selective on who you want to remember forever, and in the same move, do just that.
With a photo book, people can take the time to remember their memories, and even share them with the people around them.
What can you do with photos?
Printing physical photos can mean a lot of crafty pastimes open up. They make for great collage fodder, with you tearing apart different scenes to create your own beautiful image. Collage has taken off as a form of somewhat absurdist and interpretive art genre. The great thing about printing photos from social media for the sake of collage is that you can incorporate details of your loved ones into the art.
You can even print your own online photo books here. Collect together all your favorite photos from various social media platforms with the use of the site to create your own photo album full of digital memories – filters and all!
If you have more of a focus on using photos to record time and history, you can print all your favorite photos and put them in a time frame. You can collect them in a photo album, and document a child, a grandchild, an ancestor, or any other loved one's life from crib to present. It's a great idea for anyone with a new addition to the family as you can keep adding to it as time goes on – and perhaps even give it as a gift.
If you're more interested in piecing together the past, maybe you're interested in the culture you came from, or a family member's interesting life, you can piece it together with printed photos. Whether these are taken from social media or scanned into your computer, you can print them all off as copies and create a narrative around these lives.
If you're more for living in the moment, you can print off physical photos of your loved ones and display them in your home. A photo book is a great way to do this, as you can add it to your décor as a coffee table book for people to flip through and add spaces in the pages for funny comments, so it also acts as a guest book.
Another idea, if you want to display your physical photos, is to add them all to one massive frame. For a thrifty alternative, you can grab a gorgeous frame for pennies at charity shops, previously housing some forgotten art. Fill the back of it with a wallpaper sample or wrapping paper samples and add your photos. For an extra touch, add some string lights to the frame so all your loved ones glow.
A fun idea that has been floating around is the idea of making your own deck of cards out of your photos. This has lots of applications. You can take photos of yourself as the Queen of Hearts, your hubby the King, your son the Jack, etc. and make your own card deck. Or create your own brand of baseball cards for you and your gang, with all your friends' best qualities detailed on the cards. A photo of Angie from college can have her strengths detailed as her ability to take charge, but her weakness be that she's a sore loser.
Or make yourself a jigsaw with a massive blown-up photo. If you glue it to some cardboard and cut out some funny shapes, you can make a game out of the next time you're looking to reminisce on that memory.
If you like the idea of casting spells, you might need some photos. Photos are a big way of manifesting the things you want, and it won't have the same effect if you're looking at a phone screen, unfortunately. The idea is a very traditional and practical one, with as little tech as possible involved. Use them to wish for confidence, a promotion, a world away, or all of that in a friend and loved one.
There are loads of options you can pursue for your physical photos. Your Instagram account might be full, but there isn't much you can do with them beyond giving your account a glance now and then. Physical photos bring your memories into the world, making everything just a little closer and a little more real.