When leaves start changing color, it's time for warm and cozy sweaters, apple picking, and unexpected journeys to nearby forests. You can capture these beautiful moments in pictures, as autumn is one of the most majestic seasons for personal and family photoshoots.
Seasoned and beginner photographers alike might need inspirational ideas for their artwork. What location to choose, how to build a striking composition, what props to use—these are the questions that excite all creators. In this article, you can discover six fall photography ideas. Keep reading!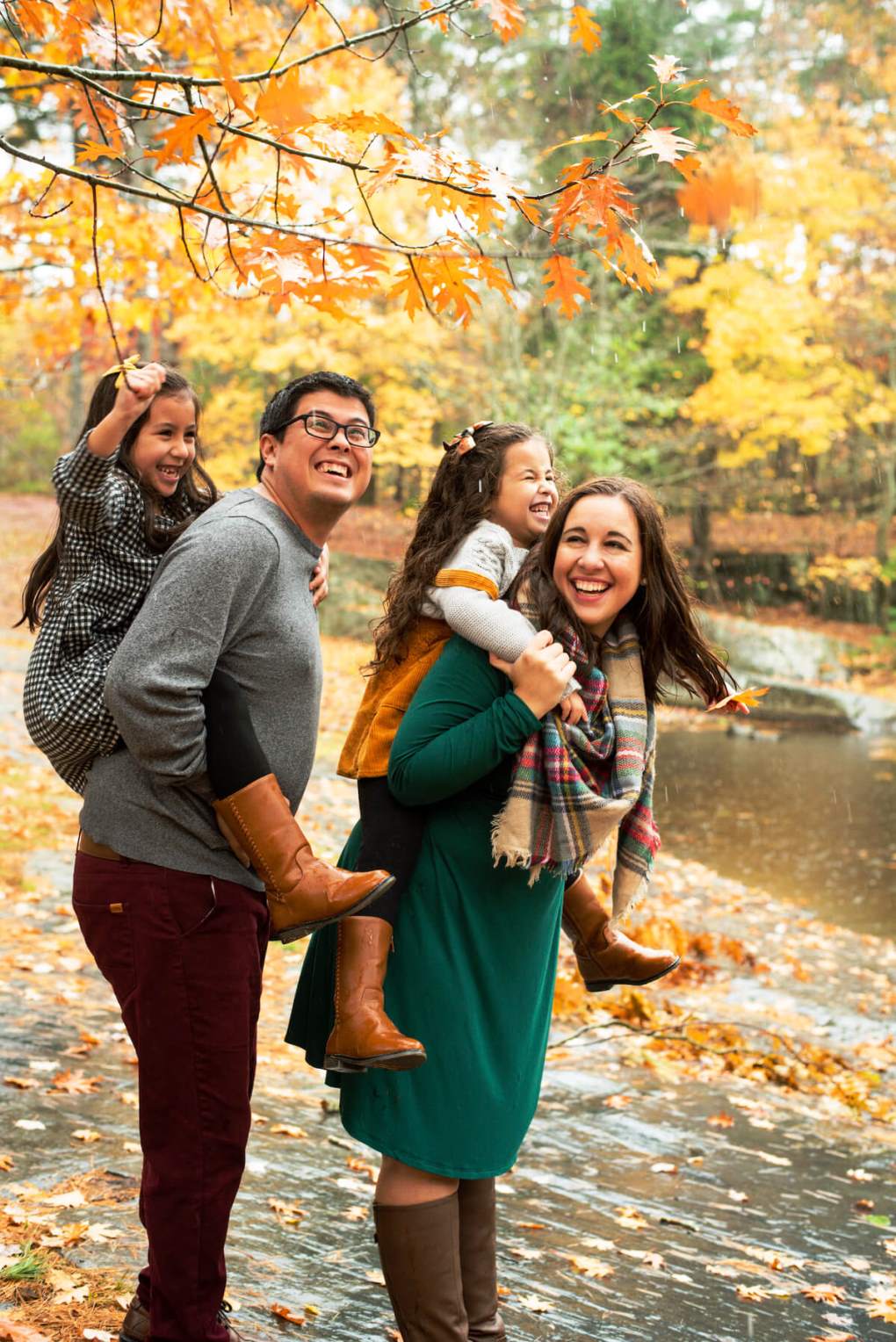 Inspirational autumn photoshoot concepts
The fall season is full of authentic props like apples, flowers, pumpkins, and wicker baskets. You can use these items to convey the autumn spirit in your photos, where the brightest colors prevail.
Fall-blooming wildflower bouquets
A lot of beautiful wildflowers bloom in autumn, from daisies to hydrangeas. They are full of color combinations, from vivid yellow to a mysterious purple. To take an eye-catching fall portrait, you can venture into endless fields and gather different flowers for a bouquet. A thematic photoshoot becomes more memorable if your models wear well-styled clothing. For example, you can capture pictures in an ethnic style, where wild fall-blooming flowers complete the overall composition.
In the quiet woods
Forests change their appearance in autumn. They're full of orange, yellow, and brown hues; all of which create an unforgettable charm. You can portray the magic of the woods in your pictures. Just choose a location and come up with an interesting storyline, e.g., a family on a mushroom hunt. You can also add orange-colored smoke to create artificial fog. This prop can help you add a mysterious atmosphere to your images.
Pumpkin rush
Pumpkins have been associated with autumn for ages. This large orange plant is a symbol of prosperity and abundance. Moreover, a pumpkin can be turned into a Jack-o'-Lantern, the main attribute of Halloween. Are you lacking bright colors in your pictures? Add more pumpkins to transform your scene. Pumpkins can also become good props for indoor autumn photoshoots.
The warmth of beloved drinks
The first cool comes with autumn, leading people to be physically closer, wear cozy sweaters, and drink warm beverages. You can convey this peaceful, heartfelt atmosphere in your pictures using the right props. Make a pumpkin spice latte, and surround it with favorite books and cozy blankets. You can also arrange home photoshoots for your beloved people. These emotion-filled scenes will take a proud place in family archives and can become excellent visuals for custom fall posters and greeting cards.
Cozy traveling
A fall road trip is the perfect activity for taking pictures. So, don't forget to bring a camera. You can capture different autumn portraits and eye-catching still life. Pictures can convey a unique warmness when taken from your passenger car.
Autumn gifts
Fall is the harvest season that presents people with delicious vegetables and fruits. You can gather rich props, from apples to carrots. Autumn gifts are frequently orange-colored, which brings a needed atmosphere to your visuals. You can use your fruit and vegetable findings to capture bright still life. Play with object placement to create a complete composition. This fall photo idea can be good practice for aspiring creators.
Where to display and sell your fall portraits
After creating atmospheric images, you can benefit from selling them online. Stock content marketplaces are perfect outlets for such purposes. You can upload your best artwork and find inspiration for future photo shoots on these platforms.
Depositphotos is a popular international stock content marketplace. Their library features 230+ million royalty-free images, videos, and music. Over 100,000 creators sell their files on the platform, replenishing trendy collections and thematic categories with new, striking content. After becoming a Depositphotos contributor, you will receive a royalty payment for every sold file. The more images you sell, the higher your royalty percentage will get. To help creators attract more users, the marketplace promotes top files in mail marketing and features new and well-known photographers in the Popular Authors category.
To sell your fall portrait photographs on Depositphotos, do the following:
Create a contributor account.
Upload five of your best works for a brief examination.
Browse https://depositphotos.com to see the available content and what photos are in demand.
After a successful examination, add more of your files to create a diverse portfolio.
Add keywords and descriptions to the visuals, so users can easily find them.
Start profiting from selling your licensed content on the platform.
Conclusion
Autumn is a good time for capturing outstanding pictures. It's full of charm, which makes every shot unique. The secret of having a successful and atmospheric photo shoot is simple—browse inspirational concepts, gather props, and find an eye-catching location. Explore the fall photo ideas presented in this article, create eye-catching images, and profit from selling them on popular stock content marketplaces.