With summer now in full gear, it's time to get outside and enjoy your backyard landscape. No matter the size of your yard, landscaping features, such as a fountain, grill, or patio furniture can make your outdoor space more enjoyable and more versatile. However, if you're really looking to transform your yard this summer, there's nothing quite like a modern fire pit.
Installing a fire pit is a great and relatively simple way to change the look and feel of your landscape design. Useful for both cooking and entertainment, a modern fire pit is a perfect addition to open up your yard and give you an excuse to spend more time outdoors. With a modern fire pit in your yard, you may not have much of a reason to go back inside this summer. We think there's nothing wrong with that.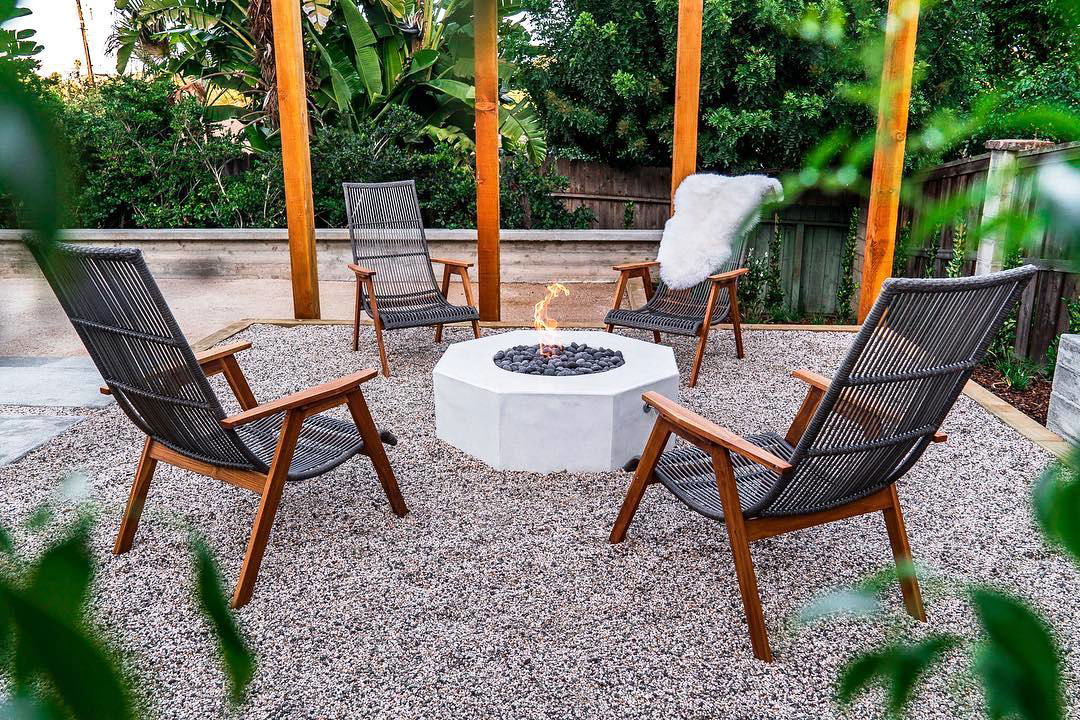 Here, we're taking a closer look at fire pits and how this versatile landscaping feature can totally transform your summer this year. Once you have your very own fire pit, you'll wonder how you ever spent time outside without one.
What Is A Modern Fire Pit?
A fire pit is a small enclosure or device designed to provide a controlled environment for a small fire. Everyone already knows why it's important to keep your flames under control and a fire pit does exactly that. With a fire pit, you can enjoy the warmth and allure of an open flame without worrying about the safety risks. Perfect for those cool summer evenings, fire pits come in a variety of shapes, sizes, and materials to match your taste and style.
Modern fire pits refer to upgraded models that do more than control a flame—they also look amazing as part of your overall landscape design. Commonly made with metal or concrete, these modern fire pits balance both versatility and style to make your yard look and feel better than ever before. Some fire pits are traditional wood-burning models while others are lit up by propane.
Benefits Of A Modern Fire Pit For Your Backyard Landscape
There are several reasons why you should consider adding a fire pit to your backyard landscape. Not only do they look great and offer a unique allure, but they're also functional as a cooking tool and can open up your yard so you truly maximize your available space. Whatever your reason for adding a fire pit to your yard, you'll be happy to spend more time outside with those you care about while relaxing around an open flame.
Here are some of the most popular benefits of having a fire pit:
Outdoor cooking and dining: you don't need to install an entire outdoor kitchen to do some cooking in your outdoor space. A fire pit is a great way to bring some of the kitchens to your yard by allowing you to grill over an open flame. Simply throw a grill rack over your fire pit and layout your favorite meats and veggies. Even without a grill rack, you can go for the classic tradition of roasting hot dogs over the fire. And definitely don't forget about s'mores this summer.
Expand your yard: even with a smaller yard, you may not be fully utilizing your complete space. Many homeowners tend to cluster around their patios and decks, and therefore, you're not getting the most out of your yard. Setting up a fire pit in a different part of your outdoor space can expand your yard with a new place to spend time and relax.
Increase your property value: a modern fire pit can increase the overall value of your home and property. Whether opting for a metal or concrete fire pit for your space, this is an easy and quick way to improve your property value. Since they're also easy to uninstall, having one won't hurt your property value either since potential buyers can simply remove it.
Endless entertainment: as long as you've got wood to burn or propane in your tank, your fire pit is good to go. Modern fire pits offer endless entertainment—no matter the weather or the size of your party. Gather around your fire pit with friends and neighbors to spend a summer evening or simply curl up beside the open flame with a good book and your favorite beverage. Either way, you're sure to have a good time.
Enjoyable from January to December: few landscaping features offer the same type of year-round enjoyment as a fire pit. We're talking all about how a fire pit can transform your summer, but they may be even more useful in the colder months. Providing a warm place to cozy up, fire pits allow you to enjoy your backyard space even when the weather isn't ideal.
Create the perfect atmosphere: no matter the mood or atmosphere you're looking to craft, a modern fire pit can deliver. Entertain your friends and family with a fire pit as your centerpiece. If you're looking for a romantic night out, look no further than your own backyard with a fire pit. Curling up beside the fire with a blanket and a loved one is the perfect way to spend a warm summer night.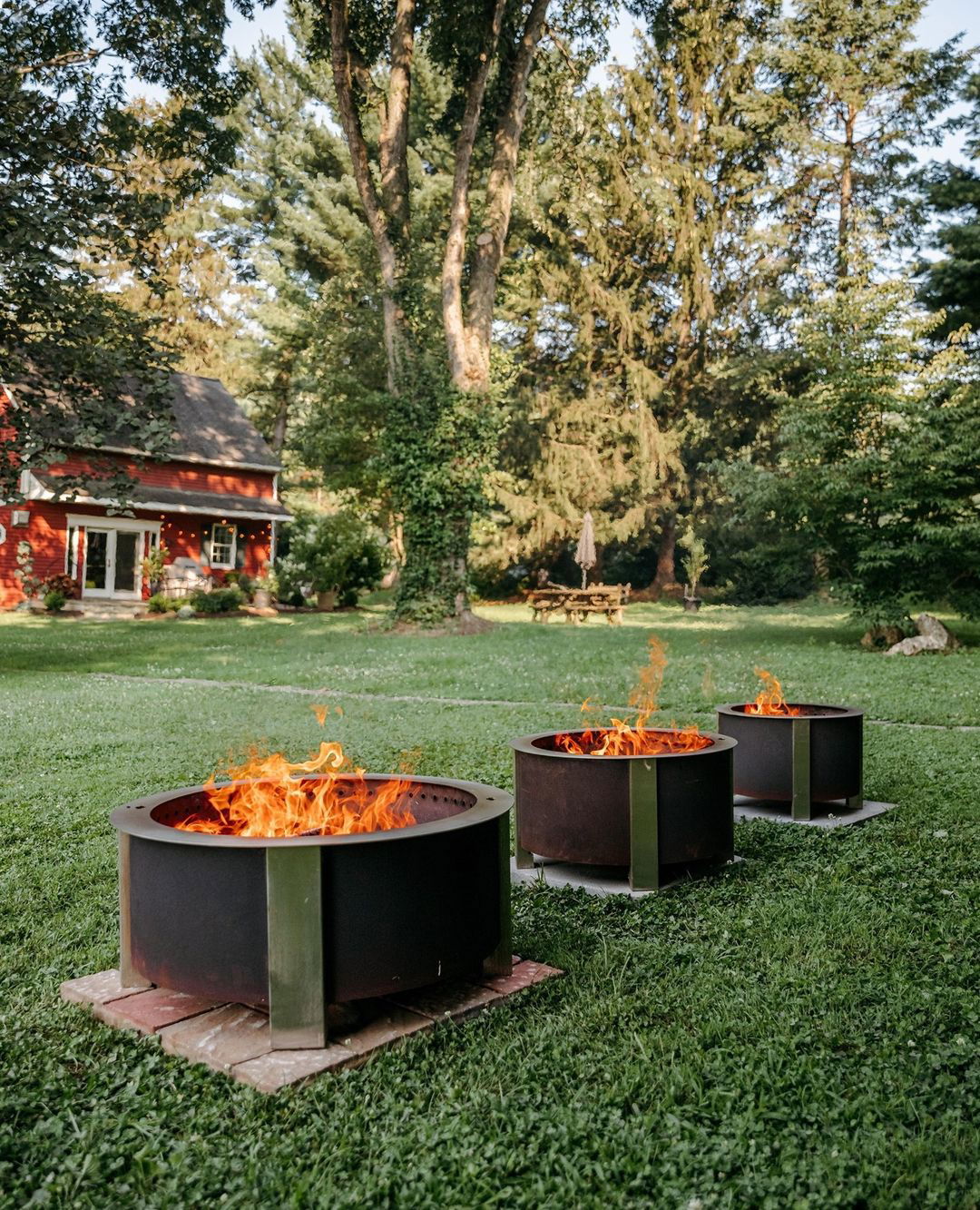 Conclusion – Transform Your Summer With A Modern Fire Pit
No matter the size or style of your backyard landscape, a fire pit can be an amazing way to light up your summer and completely transform your outdoor space. Fire pits may not be as large as a modern outdoor fountain or as flashy as some new outdoor art, but the versatility and the unmatched allure of an open flame simply can't be beat. Modern fire pits are perfect for outdoor cooking, entertainment, spending time with friends, family, and neighbors, or simply relaxing by yourself in your own quiet oasis. Whether opting for a concrete fire pit or a metal fire pit, you'll love what this feature can do for your landscape design.