Do you love enamel pins as much as I do? DIY enamel pins, also known as DIY lapel pins, are a fun and creative way to express yourself. They are relatively inexpensive and easy to make. These DIY pins add a touch of personality and fun to any outfit. They're a great way to add a fun flair to your everyday style. But the price tags on some of the more popular pin brands can be a bit daunting. So, I've decided to show you how to make your own enamel pins at home! It's simpler than you might think and a great way to show off your crafty skills. Let me show you how it's done.
Creating enamel pins is a fun and easy way to show your personality, promote your brand, or support a cause you're passionate about. In just a few simple steps, you can create your own custom pins that will be the envy of all your friends!
Materials You'll Need:
All you need is a pin backing, some enamel paint, a small round object like a coin or button, and something to use as the backing for your pin (a piece of felt or fabric). Keep reading for instructions on how to create your own custom enamel pins!
If you don't have enough time and energy to do this, you might consider ordering Custom Enamel Pins directly online, which is also a quick and inexpensive way to get personalized enamel pins.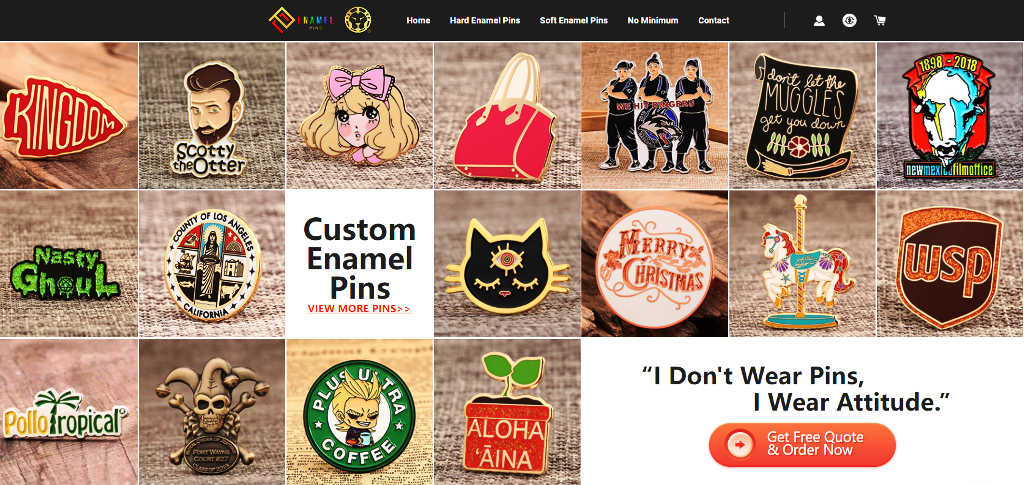 Here's what you'll need to get started:
1. Creating the Design: The first step is to come up with a design for your pin. This can be anything from a simple logo to an intricate illustration. If you're unsure where to start, plenty of resources online can help you get started with your design.
2. Getting the Materials: Once your design is ready, it's time to gather the materials you'll need to create your pins. You'll need enamel pin blanks, enamel paint, a fine-tipped paintbrush, and a stencil (if you're using one).
3. Making the Stencil: If you're using a stencil for your design, now is the time to create it. You can either buy pre-made stencils or make your own out of thin cardboard or mylar.
4. Applying the Enamel: Once your materials and stencil are ready, it's time to start painting! Using your fine-tipped brush, apply a thin layer of enamel paint to your pin blank. Make sure to follow the instructions on your paint can for the best results.
5. Finishing Touches: Once your enamel is dry, it's time to add the finishing touches to your pin. You can do this by adding a protective clear coat of lacquer or attaching a pin back. And that's it! Your custom enamel pins are now ready to wear and show off.
Uses of Enamel Pins
Enamel pins have a variety of uses. They can be used to add a personal touch to clothing, bags, and other accessories. They can also be used to show support for a cause or organization. Additionally, enamel pins can be used to create custom jewelry and other one-of-a-kind items. People often enjoy collecting enamel pins and making great gifts for friends and family members. Whether you are looking for a unique way to express yourself or a thoughtful gift for someone special, enamel pins are a great option.
Enamel Pins Commercial Uses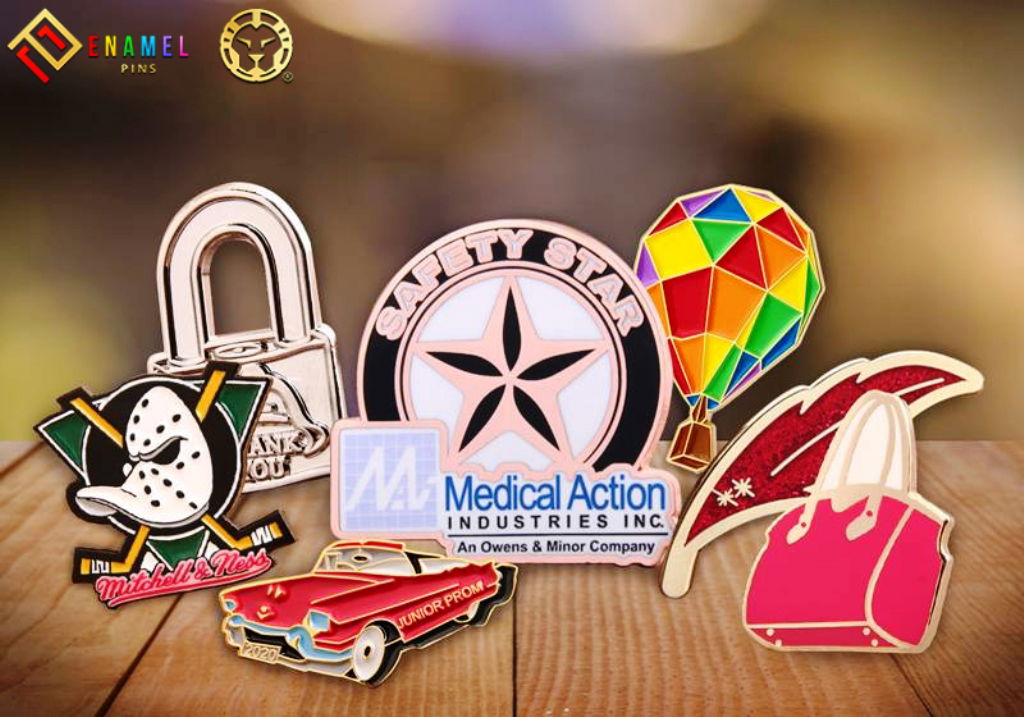 Enamel pins are a great way to get your brand or message across. They are inexpensive and easy to produce, making them increasingly popular in recent years. You can use them for promotions, giveaways, or just as a gift for your customers.
The most popular form of enamel pins is the custom enamel pin. These pins are usually made by hand and come in a variety of shapes and sizes, including:
Standard round shape, Oval shape, Rectangular shape, Heart-shaped and Fashionable shapes like stars, circles, your company logo etc.
There are many ways of making custom enamel pins: order them online, create them yourself with supplies at home, or get a professional designer to make them for you.
Frequently Asked Questions
What Are Enamel Pins?
Enamel pins are small metal pins with a colored design that is coated in enamel. They are often used to show support for a cause or as a fashion accessory. Enamel pins can be created with a variety of designs and colors, making them versatile and unique.
How Enamel Pins Are Made?
Enamel pins are made by first creating a design, which is then transferred onto a metal plate. The plate is then coated with a thin layer of enamel, which is baked on to the metal. Once the enamel has cooled, it is polished to create a smooth finish. Finally, a small pin is attached to the back of the enamel pin to complete the design.
How to Wear Enamel Pins?
Enamel pins are a great way to add personality to your style. They can be worn on jackets, bags, hats, and just about any other article of clothing. When wearing enamel pins, it's important to keep them clean and free from dirt and debris. Here are a few tips on how to wear enamel pins:
Choose a spot on your clothing where the pin will be visible, but not in the way. For example, avoid putting pins on the collar or lapel of a jacket.
If you're wearing multiple pins, stagger them so that they don't line up perfectly. This will create a more interesting and unique look.
Be careful not to overdo it. A few well-chosen pins can make a big impact, but too many can look cluttered and busy.
With these tips in mind, experiment with different ways of wearing enamel pins and find what looks best for you.
Where to Buy Enamel Pins?
There are many places to buy enamel pins, but the best place to find a large selection and great prices is online. There are many websites that sell enamel pins, and you can often find discounts and sales if you shop around. You can also find custom made enamel pins, which can be a great way to support your favorite artist or show your support for a cause.
Where to Buy Enamel Pinshow Much Does It Cost to Make Enamel Pins?
Here are some factors to consider:
– The size of your pin
– The number of colors in your design
– If you need any special features like glitter or glow-in-the-dark ink
The cost of making enamel pins will vary depending on the size, a number of colors, and any special features of your design. Generally, the larger the pin and the more colors in your design, the higher the cost will be. Special features like glitter or glow-in-the-dark ink may also add to the cost.
Conclusion
There you have it! You now know how to make your own enamel pins in just five easy steps. Whether you're looking to create unique pins for a special event or simply want to show off your creative side, making your own enamel pins is a great way to do it. With a little time and effort, you can create pins that are truly one-of-a-kind. So get creative and start making your own enamel pins today!