Looking for some new and exciting DIY cat toys to keep your kitty entertained? Look no further! We've gathered up 40 of the best homemade DIY cat toys that are both easy and fun to make. From simple things like a cardboard box filled with crinkly paper, to more complicated diy cat toy ideas like a fishing rod toy, something here for everyone. So get creative and have some fun making up new homemade cat toys for your furry friend!
Our cats are one of the best things about life! These furry fellows can be quite moody, not just some, but actually all the time, still, your furry friend needs toys, right? We have rounded up these perfect DIY cat toys for your furry friends. To keep them happy and well settled in! We all know that cats can pretty much play with anything! Given that it rolls around the floor or has a string attached to it, or God knows the internet has been flooded with cats, even playing and chasing their own tails! All these fun tales are linked with our tail fellows, but they can be made happier with these simple to make DIY cat toys! After all, a happy pet means a happy home.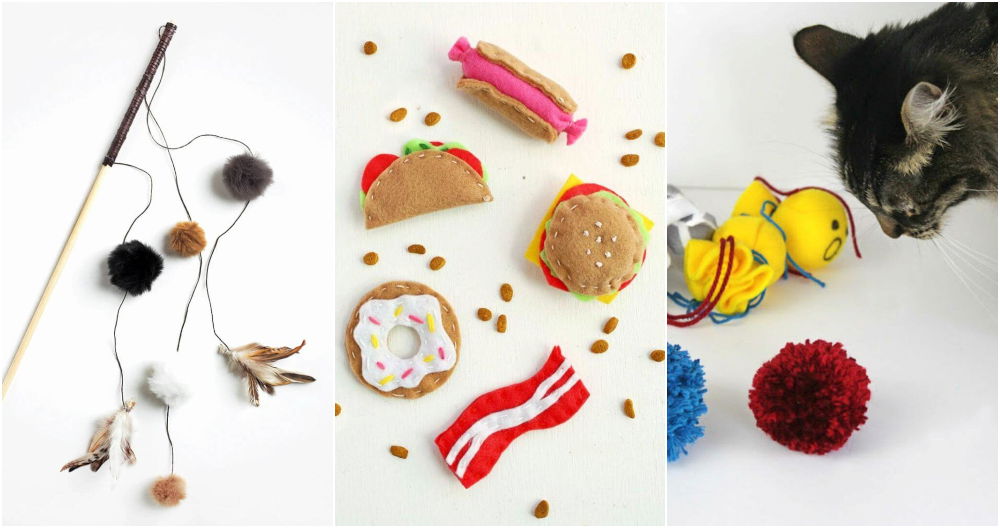 Easy DIY Cat Toys To Make for Your Kitten
Who wouldn't want to keep their forever furry friends perfectly happy and happily occupied? Instead of throwing all the things off the table and wherever. Though you can never really not let that happen, with these DIY cat toys, you can at least add some more strings or felt pieces for your cats to enjoy rather than always throwing something off the floor! You can make some really fun and pretty paper Mache toys, and felt mice or turn old and empty tissue paper rolls into these feathers or strings to play with. Use pom-poms or even make cute tiny cat sushis! There are so many rooms and fun ideas you can have with catnip toys!
1. DIY Macaron Cat Toys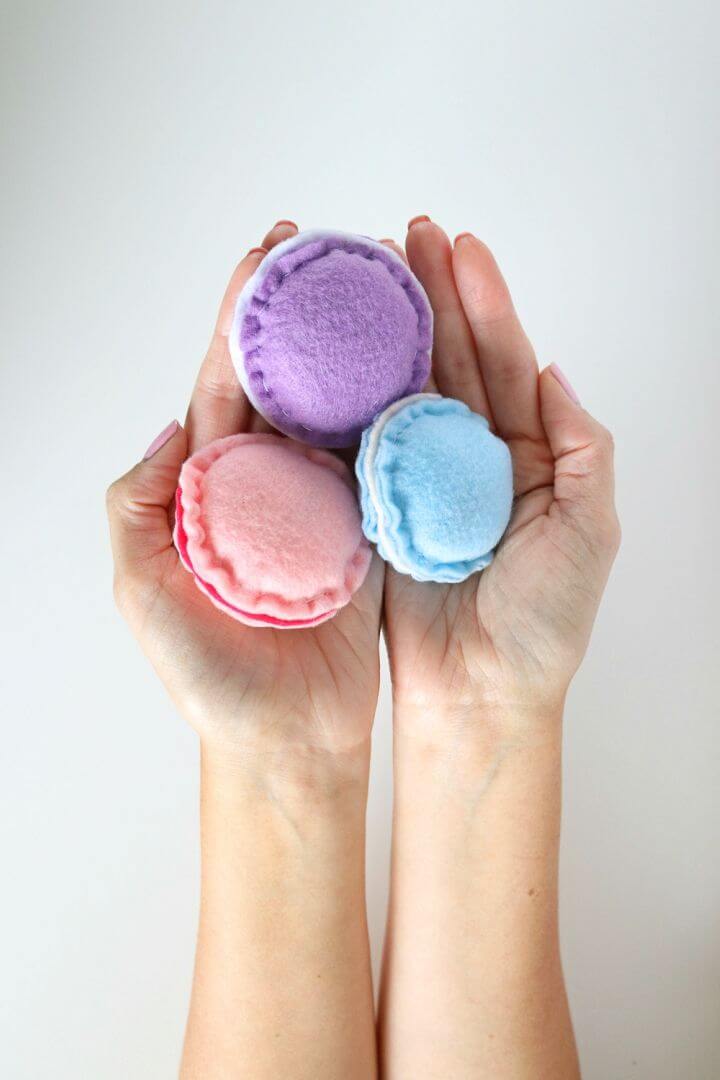 Cats are these lovable creatures, soft and fuzzy. If you are someone who has cats in their house, you must have an idea of how much they love to play around. This DIY Macaron stuff toy is something that you can make for your cats so they can have their own fun. clubcrafted
2. How to Make Cactus Catnip Toys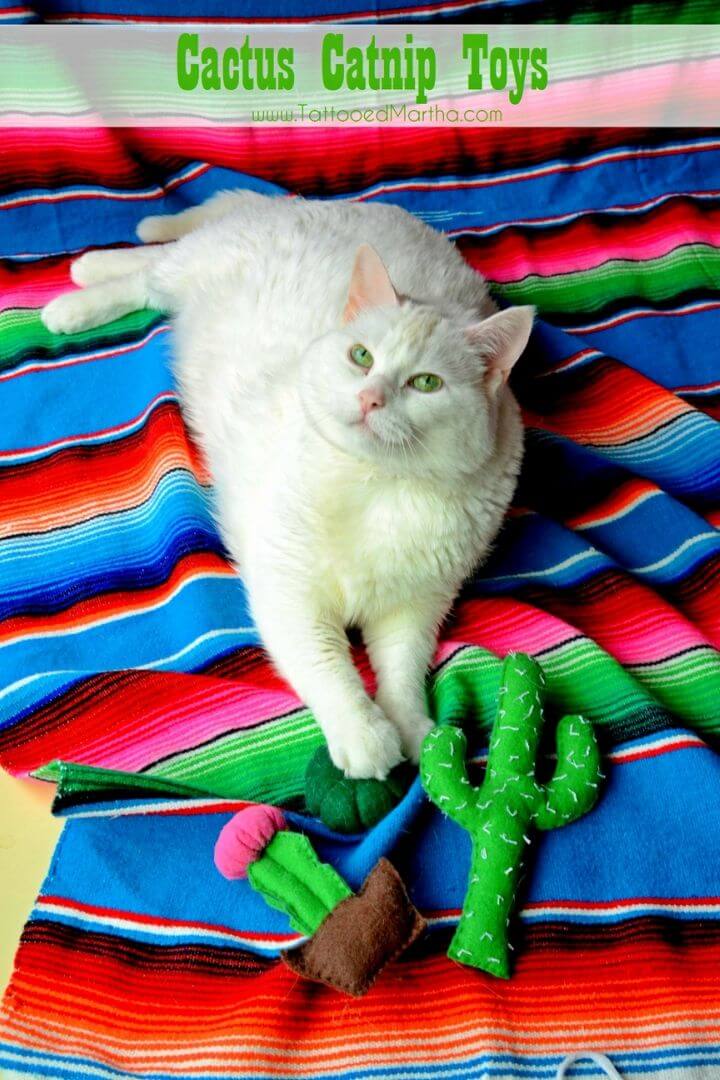 Cats love to play with stuff toys; if you have few in your house, you should know. These Cactus shaped DIY cat toys are something that your cat will get addicted to. These stuff toys will act like catnip for them, they won't be able to get away from them. tattooedmartha
3. DIY Conversation Heart Pet Toy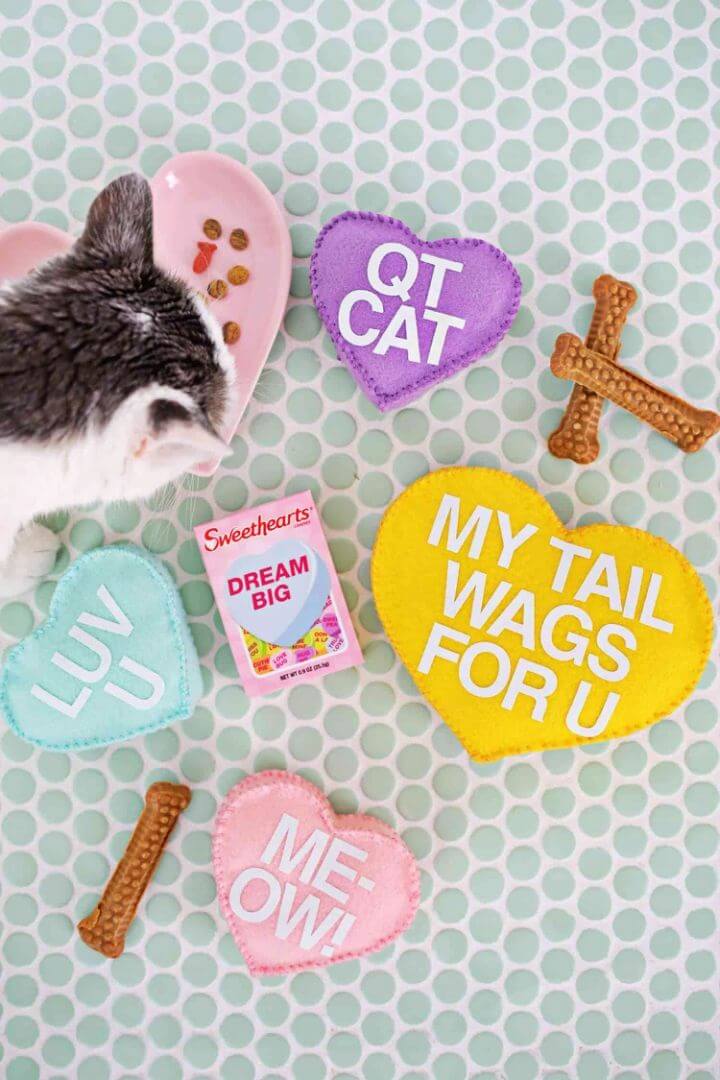 Action speaks louder than words. We have heard about it so many times. This can be your way of telling your furry baby how much you love them. Create your own Conversation heart toy to show your love to your cats. They will love it. abeautifulmess
4. Felt Mouse Friend Craft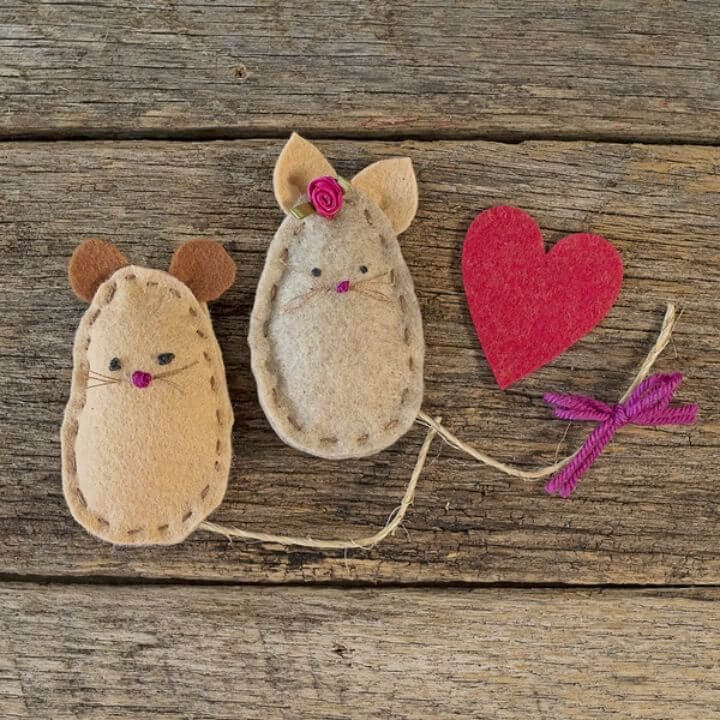 Cats are enemies of mice and rats. If they see one, they make sure to grab it. This DIY Felt Mouse craft is one stuff toy that your cat won't let go easily. This Toy is very easy to make, all it needs are a few supplies. pattymacknits
5. Pretty Catnip Stuffed Cat Toy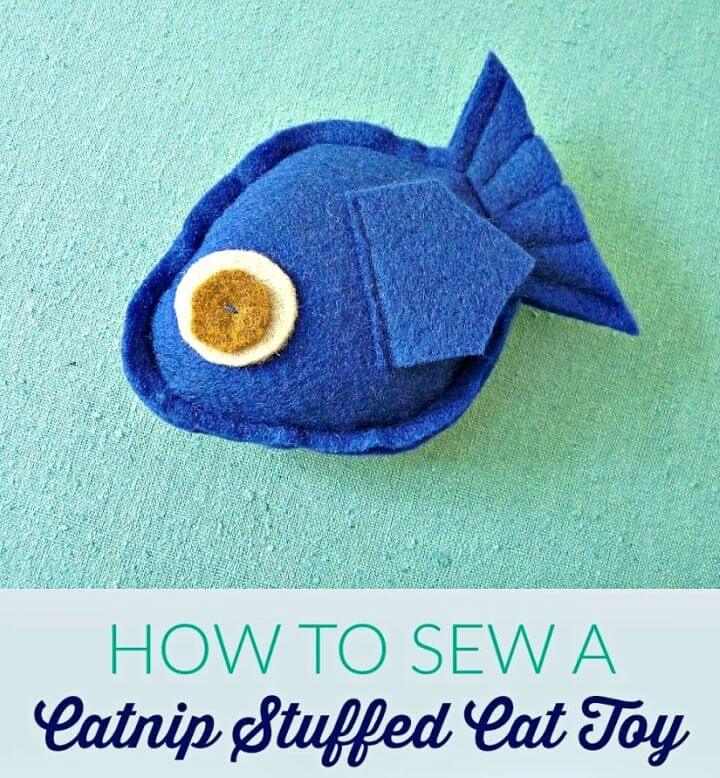 Pets love to play, either a dog or a cat or any other pet they love to spend their time playing. You can set up separate playhouses in which they have different toys in it to play with. This fish-shaped DIY Catnip stuff toy is something your Cat will love to play with. danslelakehouse
6. Homemade Cat Play Gym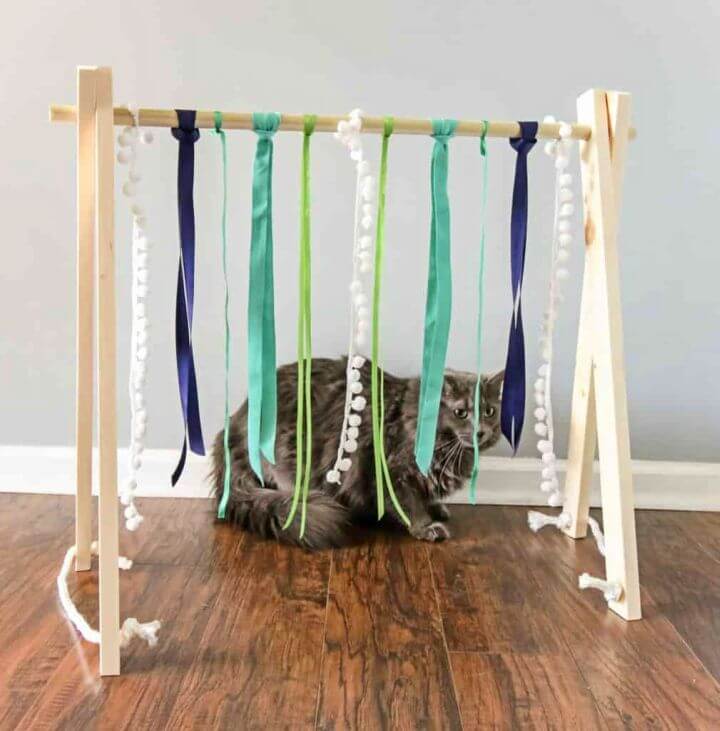 For cats, chasing the stringy things is absolutely irresistible! If you try to take it from them, you might get a scratch on your hands or so. But with this DIY Cat toy, play gym is something that can keep them busy for quite some time. charlestoncrafted
7. Make Thanksgiving Inspired Cat Toys
Since Thanksgiving is around the corner, you must be inviting some guests over, or you might be invited somewhere as well. Why not make something for your furry friends that are inspired from thanksgiving like this stuffed toy. onmyhonoriwil
8. Quick DIY Catnip Mousies Cat Toy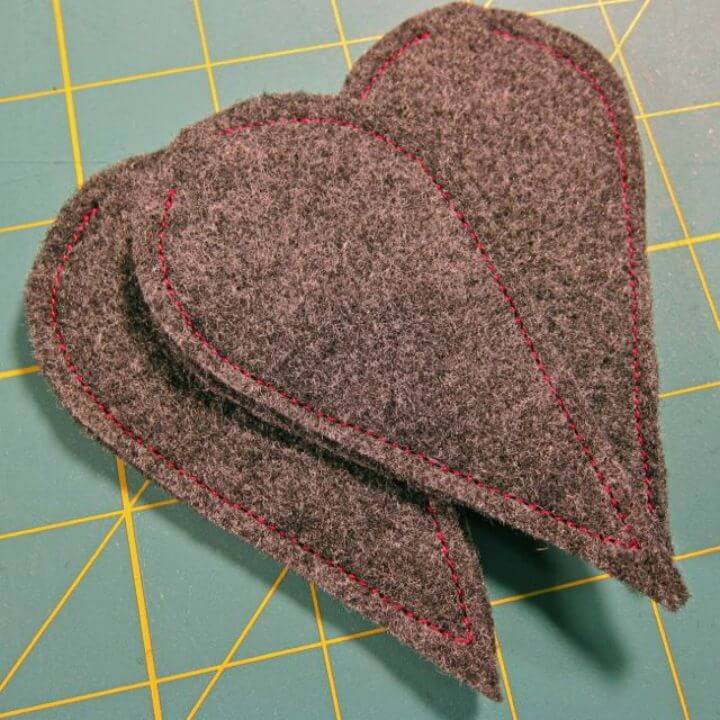 Cats are these soft fluffy things that you can't stop cuddling them once you grab them. So do they love to play with things like stuff toys and all? This tutorial on Mousies stuff toys is for you to create their new favorite toy in just a few minutes. redhandledsci
9. Make Cat Toys from Wine Corks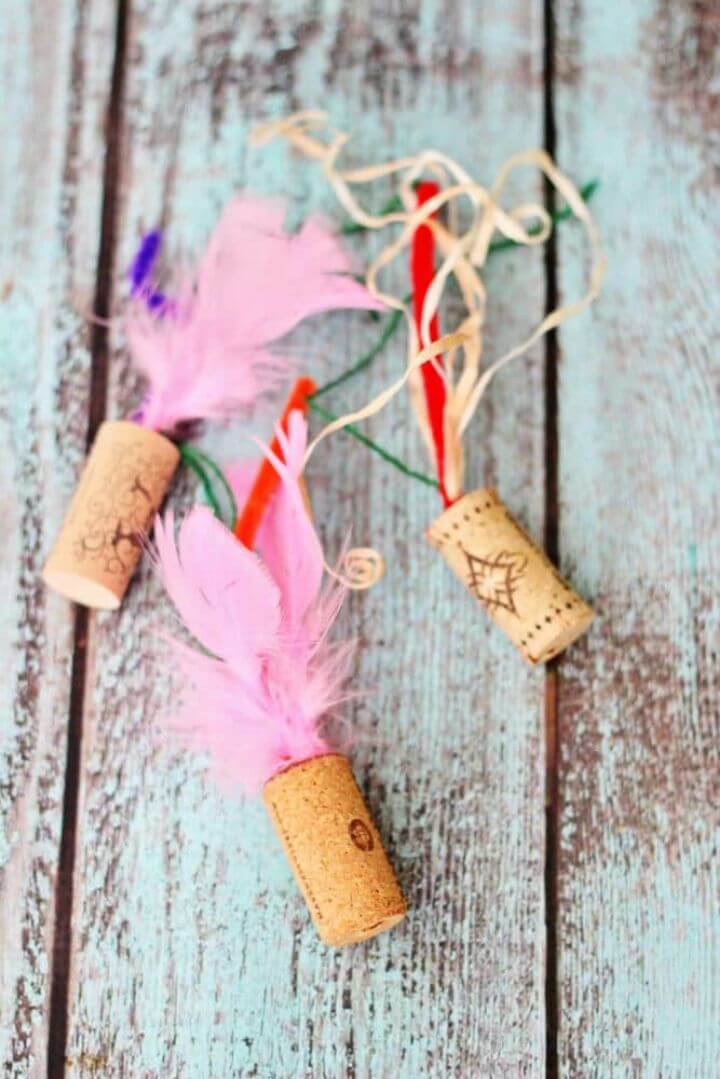 Wine corks are something that goes into waste once the wine is used. Likewise, no one thinks they can be of some use. But with DIY Tutorial on how you can make a toy for your cat by using these corks, you will be astonished. sweettmakes
10. Empty Paper Towel Rolls Cat Toys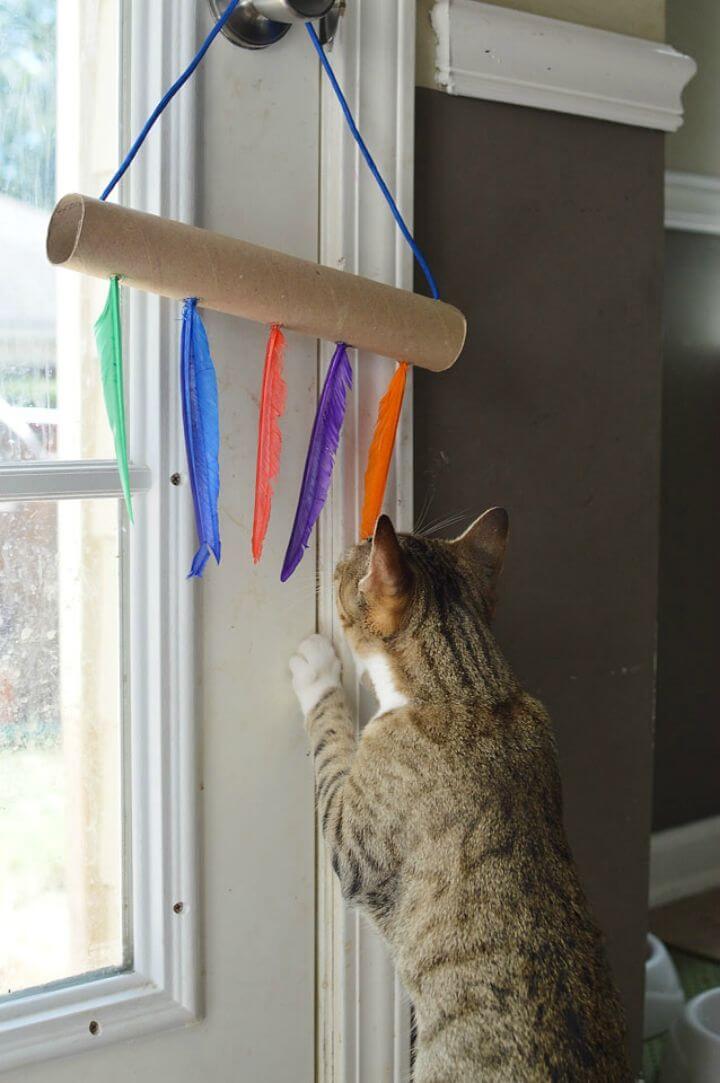 There must be lots of stuff lying in your house that you think is of no use. Like empty paper towel rolls. These rolls normally find their way to the dustbin once they are used, but with these DIY steps on how you can make a play toy for your cat, you will be needing them. thesamanthashow
11. Easy to Make T-shirt Cat Toy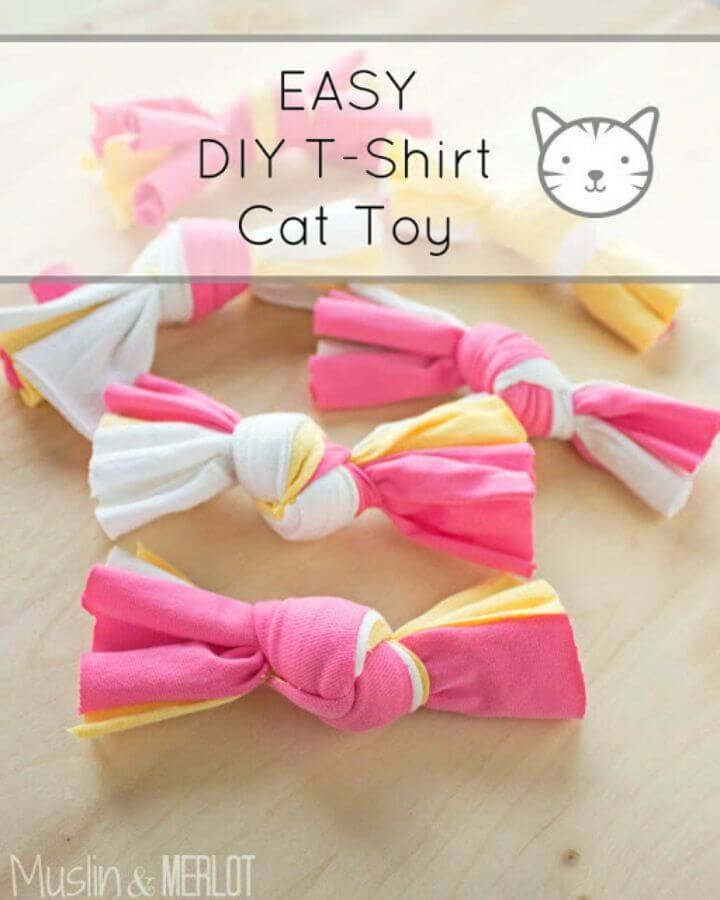 If you have some old t-shirts lying in your house that you don't wear now, instead of throwing them away, there is one thing that you can use them for! DIY Cat toys! Cats will love to play with them once they have them. They require very little time and are pretty easy to make. muslinandmerlot
12. How to Make Felt Mouse Cat Toy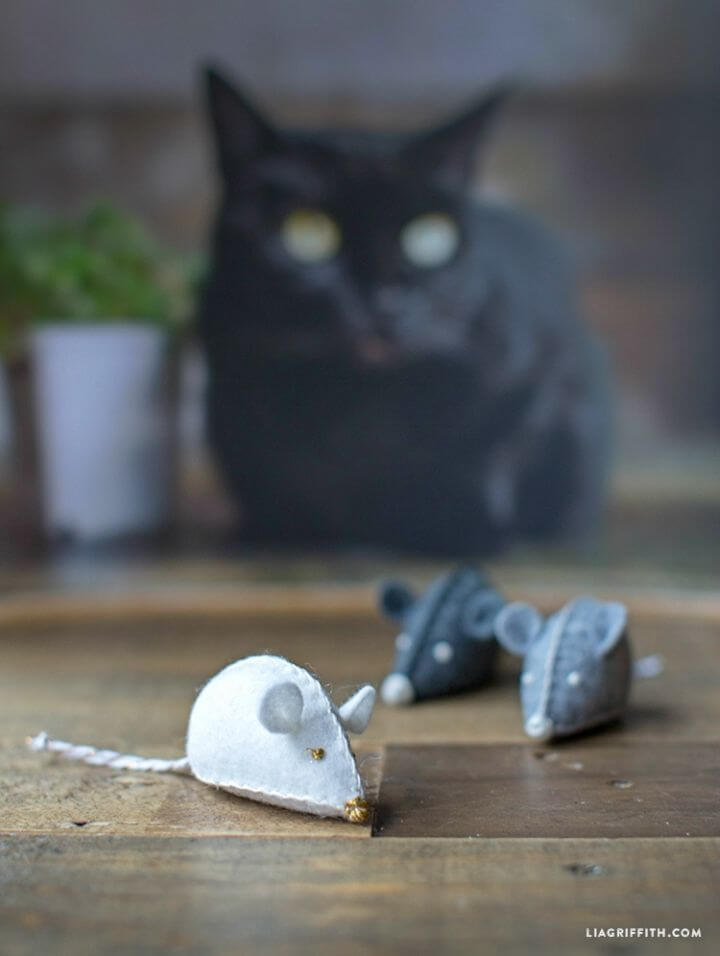 Cats and mice have an association for God knows how long. If you have a cat in your house, you must know how they react when they see a mouse. To let your cat have the fun of their own, create this Felt mouse cat toy for yourself like the one.liagriffith
13. DIY Papier Mache Cat Toys
With the lots of harmful and toxic materials out there that are not safe for us, owe should also take care of our furry fellows! They are super friendly, loved to purr, and played with. Get them their own paper Mache cat toys by following the tutorial. prodigalpieces
14. DIY No-sew Goldfish Toys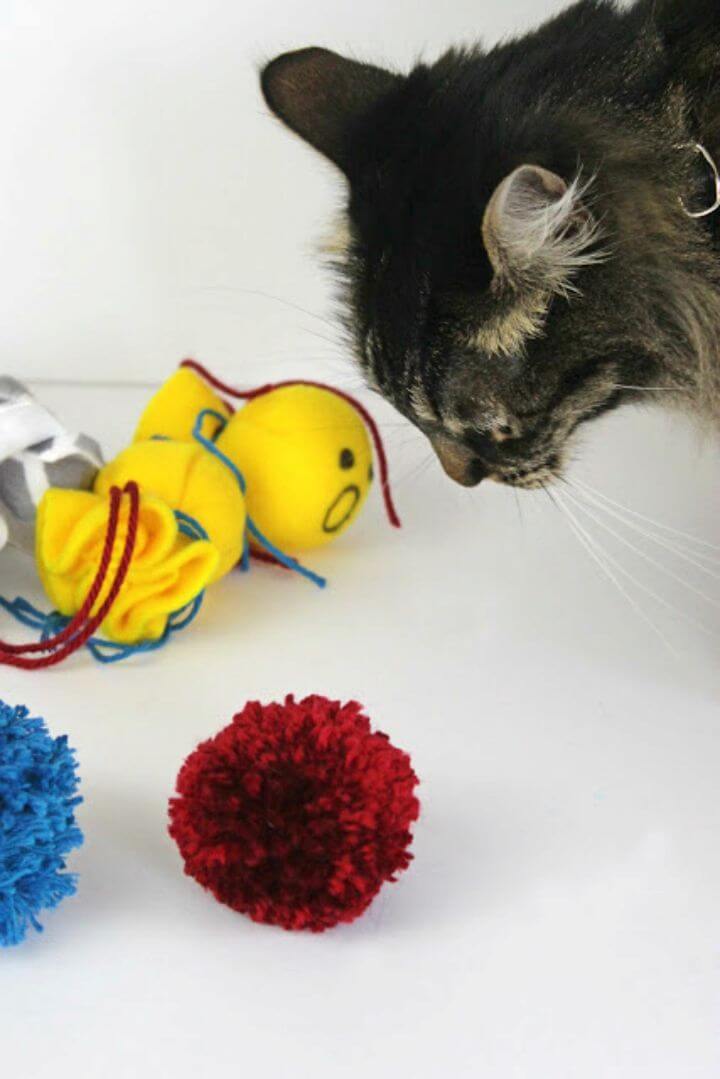 For one to stay healthy and happy, exercise is a must, the same is for pets. They love to play with their toys and favorite people around the house! By making these easy DIY cat toys, you can get them their own stuff toys, and this requires no sewing and gluing too. southernmom
15. Make Pom Pom Wand Cat Toys
Cats love to chase things around whenever they see, laser lights, or some thread or string-y things. This tutorial on a wand stick made with pom pom is one of those toys that your cat would love to play with, and so will you running it around the house. thinkmakeshare
16. Feather Cat Toy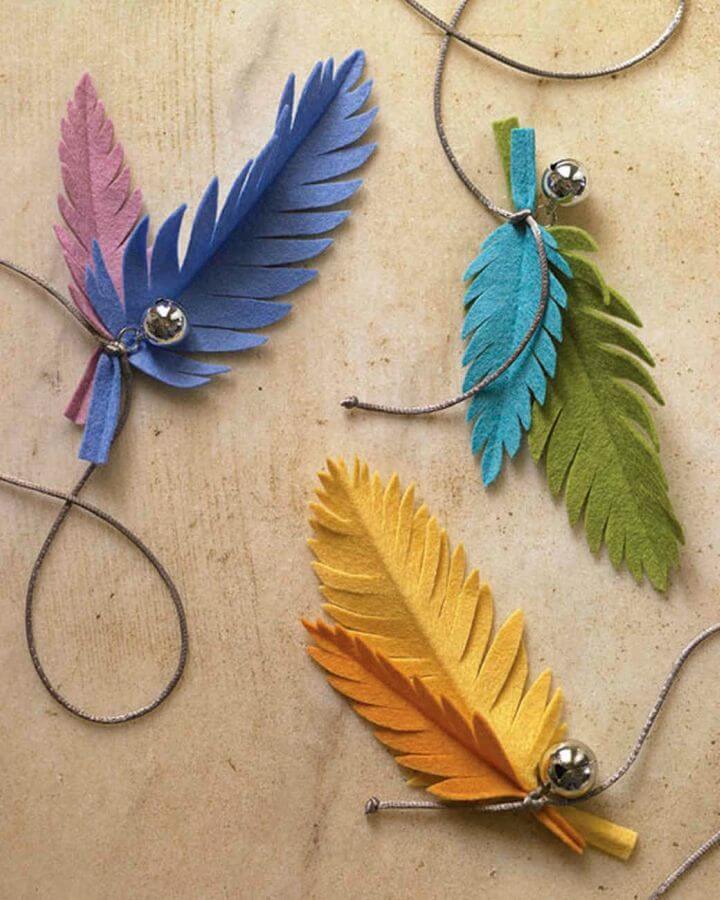 Who doesn't love a little playtime? Especially cats! Just leave them in any play area, they would feel overjoyed. With this tutorial on a feather-shaped cat toy, your cat is going to fall in love with it. Attach a bell with it, so when you ring it, they know its playtime. marthastewart
17. Fortune Cookie Cat Toy
We all as kids loved fortune cookies, they were crispy, they were sweet and had a message inside them. Well obviously cats can't read, but they can still dig the fun out of these fortune cookies shaped toys! dandelionsandlace
18. Hanging Sat Scratcher
Home is where your loved ones are! For cats, home is where they can be loved and fed properly and also played with too. With this DIY Cat Toy, now you can make your cat have some fun of her own. It can be made in some easy steps like. designsponge
19. How to Make Felt Sushi Cat Toy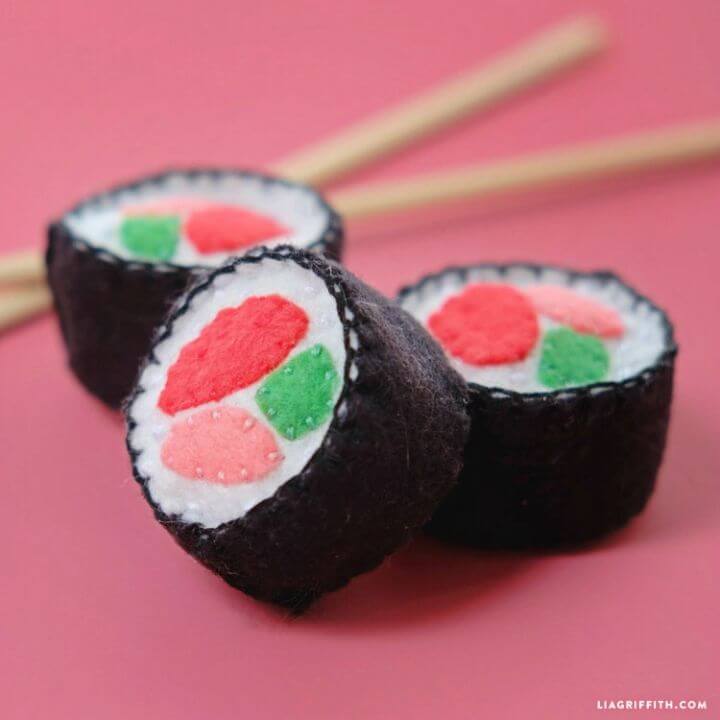 Remember back in all the TV shows, where cats were shown to love chasing after fish? There is one thing that the cat loves to do on the side as well, that is playing. How about you surprise your cat with some stuffed toy that she can't let go off like a DIY Felt sushi cat toy. liagriffith
20. Make Vase Scratching Post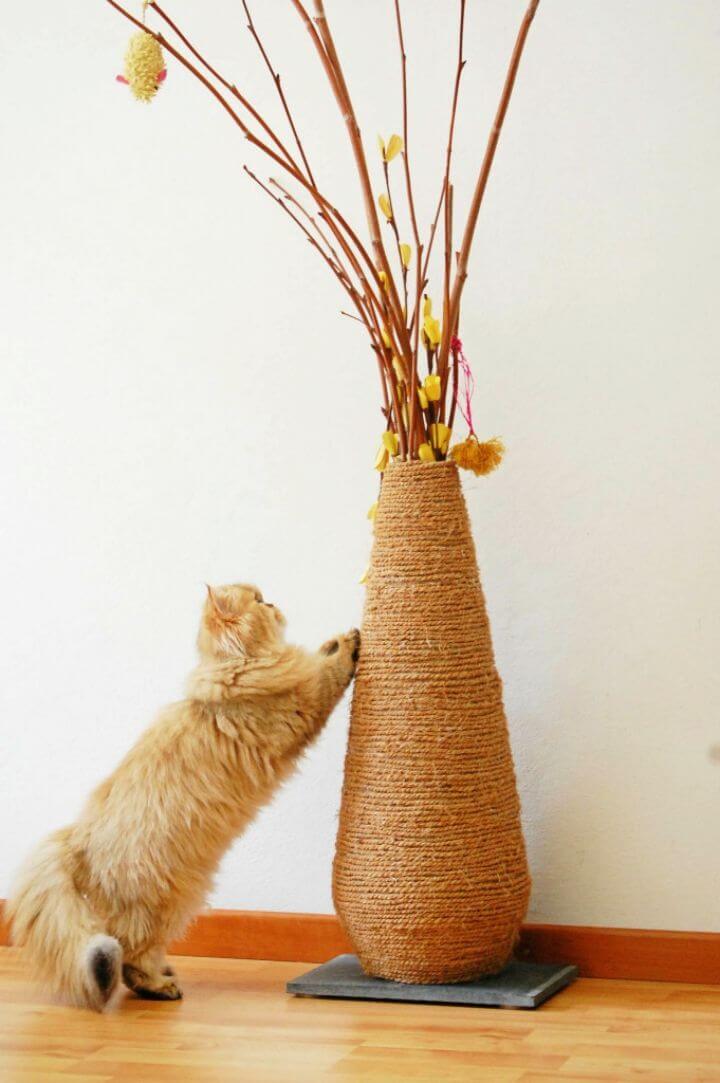 For cats, it's innate in them to scratch, they can't live without it. For them, you need to create a place where they can scratch, like one post made. Unless you want them to scratch anywhere, they like and ruin your furniture! meowlifestyle
21. Homemade Cat Toys
If you are someone who has a cat in their home, you must know the struggle on how to keep a cat happy! Since they are pretty moody! To keep them happily busy, you can make some cute homemade toys for them, just like.lovetoknow
22. How to Make Fishing Pole Cat Toy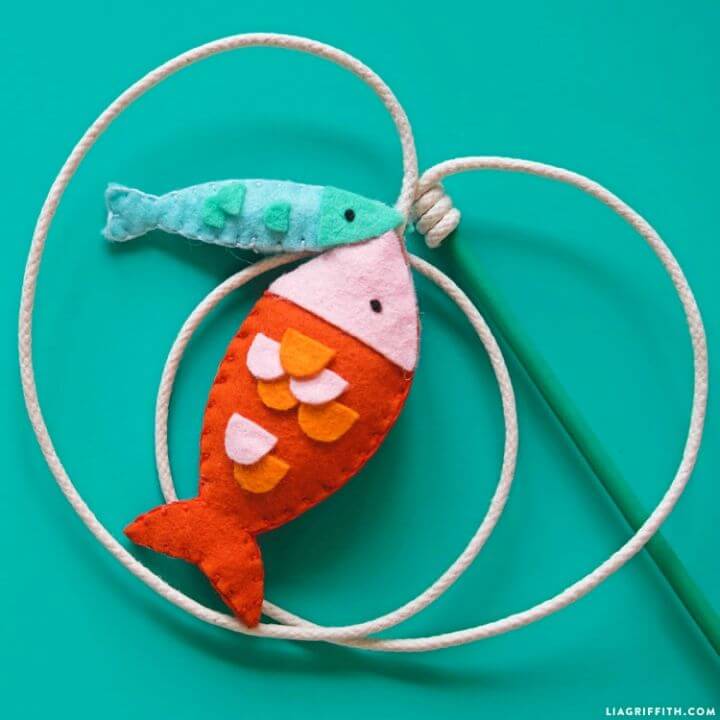 For cats, anything to play with is a toy, they won't argue, or they won't resist. Just give them a toy, and it will keep them busy for quite some time. This DIY Fishing pole inspired cat toy is something that you need to try for your cat. She will love it. liagriffith
23. Make Your Own Catnip Cat Toys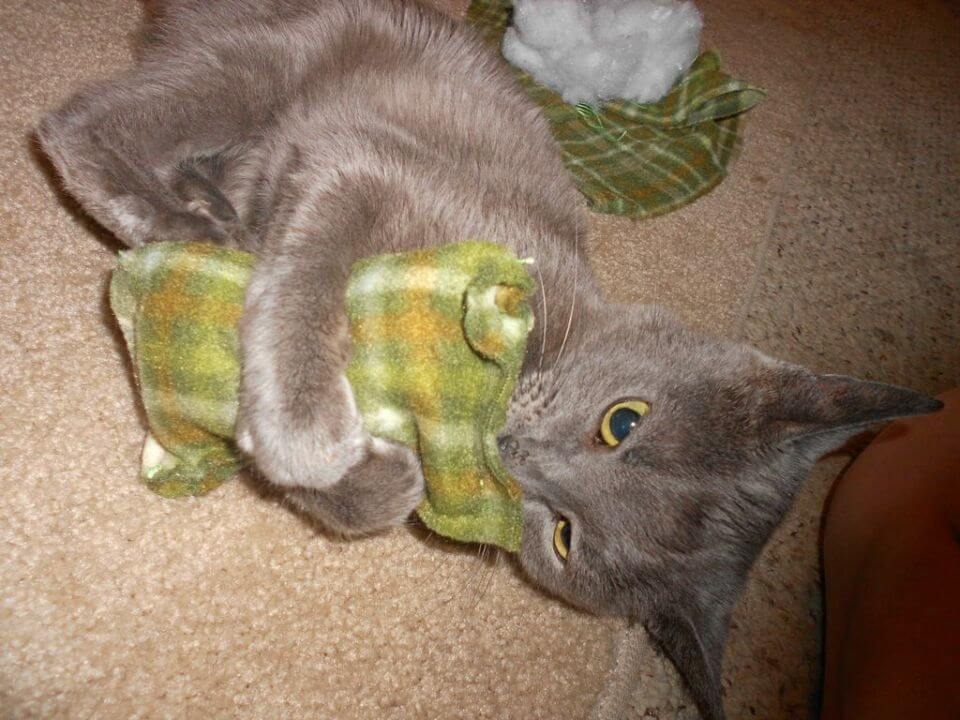 Cats are known to be affectionate towards catnip. It takes them to the happy land! Make your furry friend this catnip cat toy using fleece fabric, polyester fiber, a sewing needle, embroidery floss, catnip and scissors! Hit the tutorial for more details! instructables
24. DIY Pom Poms Cat Toy
Pom pom is these soft fuzzy things that have a lovely soft, warm feeling to them. As we humans love to play with them, animals do too. So if you have some free time, you can create a cat toy with this pom pom in some easy steps, like. popsugar
25. Ribbon Cat Toy
Don't fret yourself over buying expensive cat toys from the market or ordering online! This brilliant idea of using some used, old ribbons on a ruler is something that you must try and make a cat toy all by yourself! It's easy, and it doesn't require lots of stuff too. bowdabra
26. DIY Menswear Mouse Toy
For all our folks out there, if you have a cat in your house and you want your furry friend to have some fun. This DIY tutorial on how you can use your menswear leftover cloth pieces to create the cat toys are something that you should look for sure. marthastewart
27. DIY Cat Toys from Cotton Precuts
Check out this very cool tutorial on how you can use a pre-cut fabric to make a cat toy in just some simple steps. By following this tutorial now, you don't need to worry about all those scratches your cat used to ruin over the furniture or pretty much anywhere. joybileefarm
28. Cat Feather Wand
Cats love to play with toys, be it stuff toys or some toy on wands or a stuffed mouse. We have brought you a tutorial on this cute DIY feather toy that your cat would love to play with undoubtedly. It can be made in some easy steps. scatteredthough
29. DIY Cat Nip Toy
If you have a cat in your house, and she is no longer enticed with all those toys lying in her playroom. This tutorial on a new catnip-filled toy is going to be her new favorite. All it would take is some 40 minutes of your time, and you can quite easily make it! designlovefest
30. How to Make Junk Food Cat Toy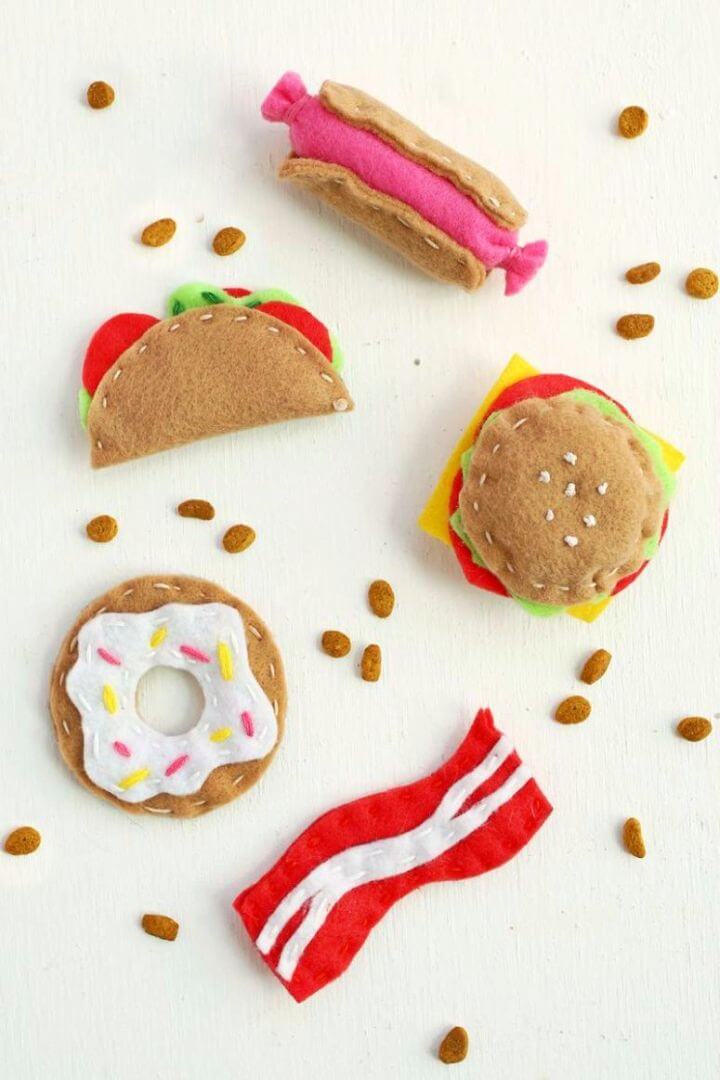 Every one of us loves to eat junk food, from burgers to fries to hot dogs, and we can't live without them. Is your cat always looking at you while you are trying to enjoy a cheeseburger? If yes, enter these junk food cat toys to eat your food in peace! At least a little bit of peace with no furry fellow staring at you. abeautifulmess
31. Fish Cat Toy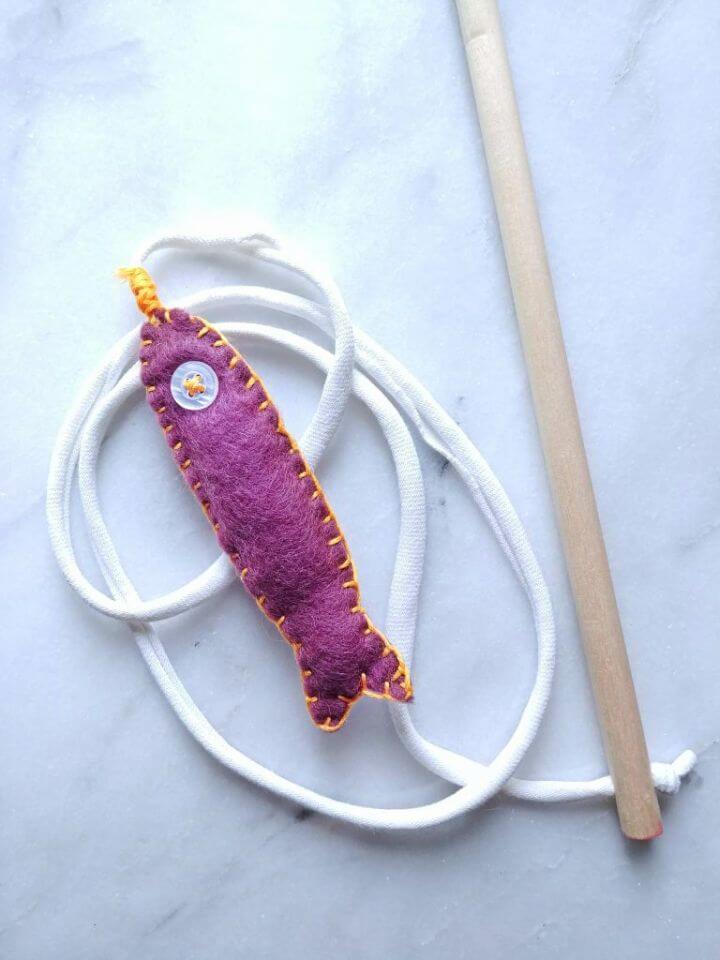 For cats, it's always a good idea to give them the kind of stuffed toy that doesn't leave fabric and clusters all over the floor! An old t-shirt that you don't use anymore, can be something that you can use to create a stuffed toy out of. saltwaterdaughters
32. How to Make Wand Cat Toy
Wand cat toys are like the magical realm for cats! So many stringy things falling on the floor! Show them some suspended toys on a wand, and they will go crazy. Learn how to make one with Purina and get ready to please your cat! purina
33. DIY Kit Tea Catnip Cat Toys
One of the greatest pleasures of any cat owner is to see their kitties happily rolling on the floor! Marti has got just the perfect catnip idea for you to stuff these teeny cushions up and let your cats stay happy over hours! Hit the tutorial for details. sewliciousho
34. Make Wand Cat Toy
One thing when cats get happy is that they get scratchy too! Like their super excitement brings super scratchy playtime. But, worry not! With this wand toy, you can pretty much get walk your way around the scratchy part and at the same time, play with your cat! Win-win. amylattacreations
35. Traffic Cone Cat Scratching Posts
Your kitties love to scratch and meanwhile ruin the furniture? Scratch apart the sofas? The pain is real! If you have to keep screaming "No" from every room! So, remedy that with this traffic cone cat scratcher! Going to be such a decor savior! sofancyblog
36. DIY Color Blocked Cat Scratcher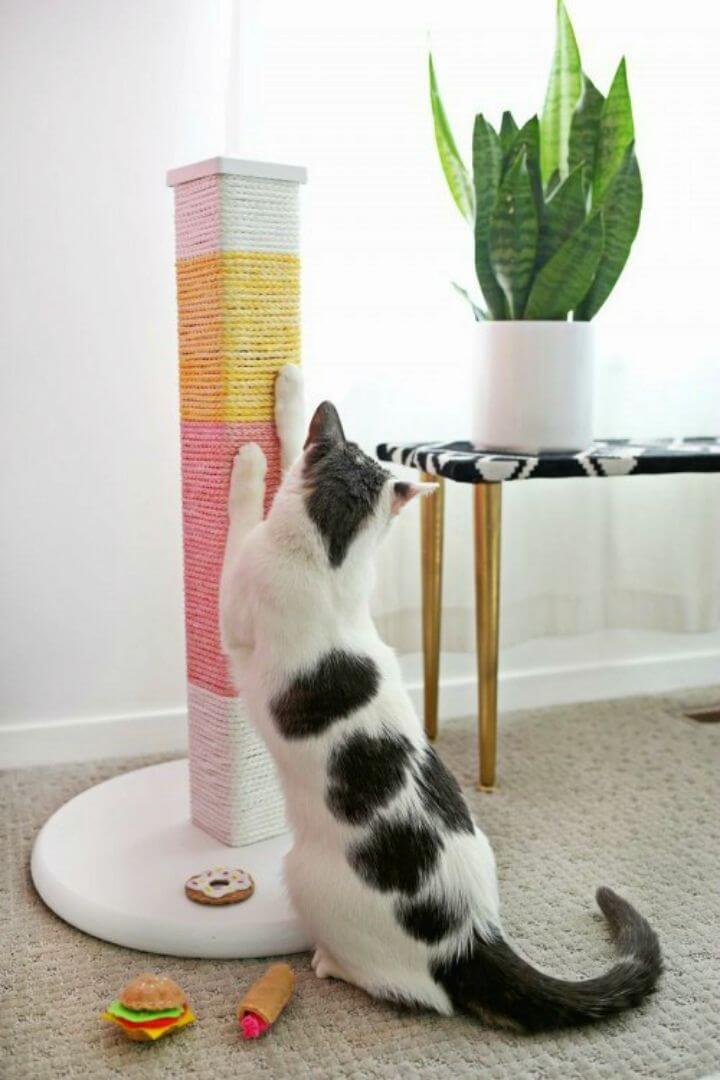 If you own a cat, you must know how it feels to see your favorite couch being scratched by your cat. Though it hurts for a while, you can't do anything about it really. But with this DIY color-blocked cat scratch post, you can make sure this doesn't happen again. shelterness
37. Simple DIY TP Roll Cat Toy
Everything that rolls or can roll is going to be your furry fellows favorite thing in the house! Given how cats have a shorter liking span for any toy that you might get them, these DIY TP roll cat toys can really be the saviors! Takes a little time to make and no money! redtedart
38. How to Create Yarn Cat Toys
Give a cat a yarn ball to play with and find out how there actually lies a cat person inside you! No kidding! These yarn balls are uber easy to make and you can let your cats play happily by trying to tear apart the whole ball. And well that's what this species loves the most! thedomesticge
39. Simple DIY Wand Cat Toys
Why buy or spend mony on cat toys in the market when you can actually make these super easy DY cat toys! Like this uber simple wand toy. For one thing, it's really just something stringy attach at the end of a wand and the other it ensures scratch free and safe playtime! messforless
40. DIY Kitten Toys
Keeping a cat is pretty expensive in itself! With the cat food, and the expensive vaccinations and everything. Why make it more heavy on your pocket? Check out these super easy, insanely cheap in fact no-money-used DIY cat toys! smartsavvyliving
41. DIY Cat Toys That Kids can Make
Beacuse the kids also wnat to play their part in taking care of the kitty! Why not let them be a part by exploring through these easy cat toys shared by Theres Just One. We bet your kids are going to love working around these simple supplies! theresjustone
Related DIY Cat Projects:
Crochet Cat Patterns: Check out these crochet cat patterns for cat toys, cat hats, and more!! These are all free patterns perfect for anyone who loves cats.
Crochet Cat Bed Patterns: If you're looking for a crochet cat bed pattern, you'll love these free crochet cat bed patterns including instructions and pictures. Plus, we've included PDF pattern downloads.
Conclusion:
By using just a few supplies and lots of love and thoughtfulness, you can be the best cat person ever. Trust us, with these DIY cat toys ideas, it would be so much easier and fun to keep your furry fellows happy and healthy!