A home aquarium teeming with shimmering schools of brightly colored fish makes a beautiful focal point in any room. But fish tanks can be expensive to buy, so why not make your own?
Building a glass DIY glass aquarium is not as difficult as you might think and gives you the scope to create your own cool, unique fish tank. If you're into home DIY, this could make a great project for you!
Here's a step-by-step guide on how to construct your own 55-gallon glass aquarium.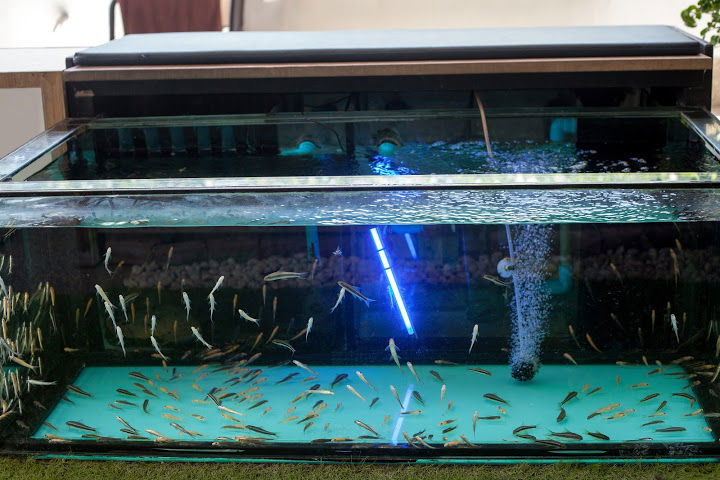 Aquarium Dimensions
Capacity: 55 gallons
Height: 14 inches
Width: 4 feet
Depth: 14 inches
These measurements take into account the safety factor for the glass.
Choosing Glass Thickness and Quality
The quality of glass depends on the manufacturer's production processes and techniques. Tensile strength of glass typically runs from 19.3 to 28.4 megapascals.
The strength of glass can vary, so you need to factor in a suitable safety factor when calculating the thickness of the glass. The glass safety factor that's generally applied is 3.8, and although that's not an absolute guarantee, it does remove the risk of glass failure.
That said, chips and cracks will ultimately cause the glass to fail, regardless of its thickness. So, check your glass panels carefully before you use them to create your tank.
Before You Start …
Before you start working on your construction, take note of these tips for working with glass:
Draw an accurate schematic. If you don't feel confident with cutting glass yourself, have your local DIY store or professional glazier to prepare the panels for you.
Make sure that the measurements you use are precise so that the panels fit properly to prevent leaks.
You will need a cover slide or a lid with a lighting unit for your fish tank, so take that into account when you're designing the aquarium. That said, a solid glass top is not appropriate for fish tanks, as that prevents the gaseous exchange of CO2 and oxygen, which is crucial for the fish's health. A solid lid also makes access for essential aquarium maintenance virtually impossible.
Strengthening Brace
If you're building an aquarium that's over 30 gallons capacity, we recommend that you install a support brace across the center of the tank. That will add extra strength and rigidity to the aquarium, reducing the risk of leaks by preventing bowing of the panels and strain on the sealant.
To create a support brace, cut a six-inch-wide piece of glass that fits the outside edges of the back and front panels. Fix the brace into position with silicon. For additional strength, sandwich two braces together with silicon, or if you're making a very long tank, use two braces placed equidistant from each end of the aquarium.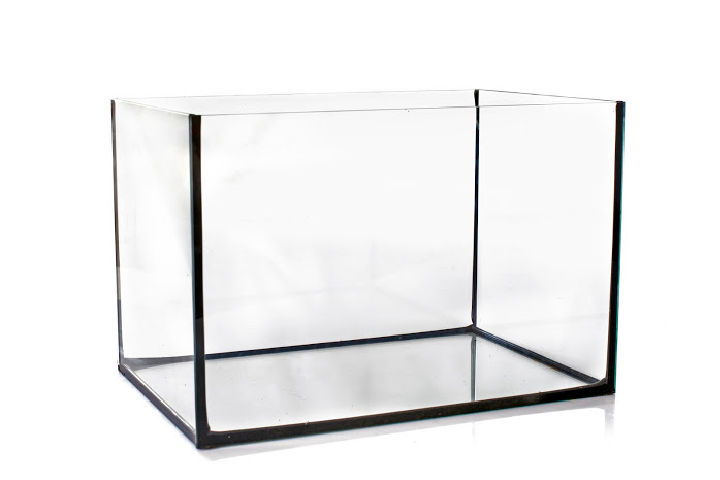 Materials
¼ inch glass panels cut to fit as per your schematic
Acetone
Single-edged razor blades
100 percent silicone sealant (non-toxic)
Paper towel roll
Emery cloth or silicon-carbide sandpaper
Permeable felt-tip marker pen
Duct tape
How to Make a Glass Aquarium
Start by preparing the glass panes:
Take the glass panes that are cut to size, and use silicon carbide sandpaper or emery cloth to buff the sharp edges until they are smooth.
Use acetone on a paper towel to clean the joint areas of the glass panes, paying particular attention to the areas where you will apply the silicon.
Now, cut 16 pieces of duct tape, roughly 5 inches long. Stick the strips of tape to a clean surface, allowing half the tape to hang down so that you can grab it easily.
Set out the glass panes on a clean, flat surface, and use your marker pen to mark them up so that you know where each piece fits.
Now, take the bottom pane, lay it on a flat, smooth surface, and stick eight lengths of duct tape (two strips on each side of the glass) with the sticky sides uppermost.
Constructing the aquarium:
Run a continuous ¼-inch bead of silicone on the bottom pane for the front viewing pane.
Take the front glass panel and place it onto the silicon band, slowly tilting the glass upright. Press the glass down lightly but firmly so that the pane fits into place.
Now do the same with the side pane, fixing it to the rear and bottom panels.
Take care not to leave any gaps or bubbles. Apply only as much silicon as you can within three to five minutes, as after that, the silicon will start to skin over and won't bond properly to the glass.
Secure the joined section with duct tape.
Smooth out the silicon, starting at one end of the joint. Press the tip of your finger onto the silicon, and run your finger right along the joint at a slight angle, without lifting your finger.
Don't worry if any excess silicon squeezes onto the outside edges of the glass. You can clean that up and trim it later when the silicone has cured.
When you have the front pane of glass in place, install a side glass pane, using the same technique described above. Fold up the two bottom strips of duct tape and stick them to the front of the glass pane. Wrap two additional pieces of tape around the corner that you've made from one side to the other.
Following the same method as above, fix the other side panel and, finally, the rear pane.
Finally, run a bead of silicon into the eight joint areas on the inside of the tank. Run your thumb from one end to the other of each silicon seam. Make sure that you push the silicon well into the joints.
Completing the aquarium:
Leave the silicone to cure for 24 hours.
Fill the tank with water and leave it to sit for a further 24 hours to be sure that there are no leaks.
Decorate Aquarium with Driftwood
Driftwood for aquariums is the best way to add hiding spots and a naturalistic, lifelike environment for your fish. See this aquarium driftwood is an excellent alternative to plastic plants and other artificial decorations.
Final thoughts
If you're a keen DIYer, you might want to have a go at building your own glass aquarium.
Household items are generally not strong enough to safely take a fish tank's weight and all its contents. So, when your new fish tank is complete, we recommend that you place it on a purpose-built aquarium stand rather than on a piece of household furniture.
You can buy fish tank cabinets and stands in good fish stores, or why not go the whole hog and build your own?