Our heart just misses a beat when we see the super stylish, gorgeously designed and tastefully decorated houses in the movies or dramas uttering the word 'WOW'. There comes a thought of having such a lovely house of your own with those captivating embellishing items, style statements and of course the furniture. This desire ends up in disappointment when you see your limited budget as cherishing such a dreamy house can be so damn costly. But if you have good crafting on your hands then you can realize your desire or dream and that too without burning any hole in your pocket.
The internet is heavily loaded with the ideas and plans that you can opt for to make your home sweet home look a piece of land that you have always fantasized. With some cheap crafting material and your different crafting tools, you can explore unlimited ways of remodeling your house and that too in super functional and beautiful ways. To ease this task more for you're, we have rounded up the best of the DIY home decor projects for you right here with the title 20 smart DIY projects to make your house extra beautiful. The icing on the cake is that all these incredible diy projects involve the common things that you easily find in your home or surroundings and thus getting feasibly handy with them all.
Walls being an integral part of home decor and embellishing have been focused a little more and treated with lovely paint techniques, faux table shapes, glitter, lace cover-up and the transparent mirror for the different homey sections. You can paint the old vases and jars, make lacy bowls, wooden marquee display pieces to award your DIY home decor gorgeous small details. Adding functional shelf boxes to living, trimming up the old door edges, making macramé swing chairs and hanging it gorgeously in the porch or simply painting the old furniture with vibrant shades are the tips and tricks to enhance the decor level of your house.

You would get to know more about DIY projects when you would have a comprehensive look at them all, and seeking full guidance from the given tutorials you can easily hack them at home. So do browse these awesome ideas and lend an enchanting touch to your home decor and style that would never go unnoticed for sure.
Ballard Design Classy Garden District Mirrors: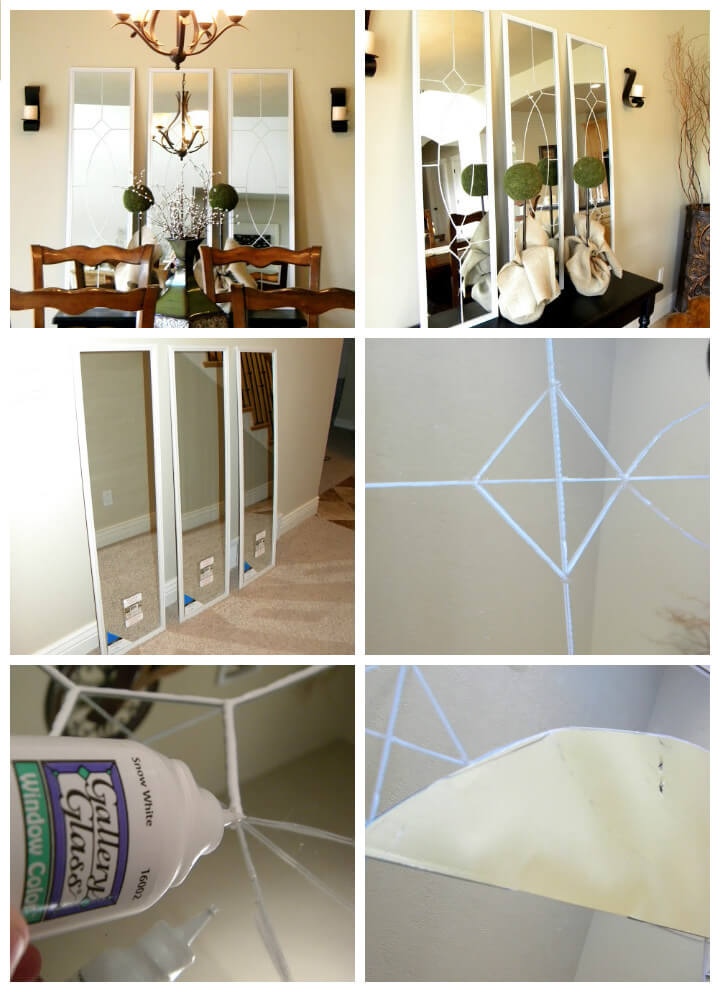 Turn the ordinary mirrors into fetching ones like those of designer styled! Mark beautiful patterns on the mirrors and just follow marked pattern lines using a popular stain glass window color! Erase the lines and get a designer style mirror for interior wall accent! Full tutorial here thriftyandchic
Accent Lace Wall: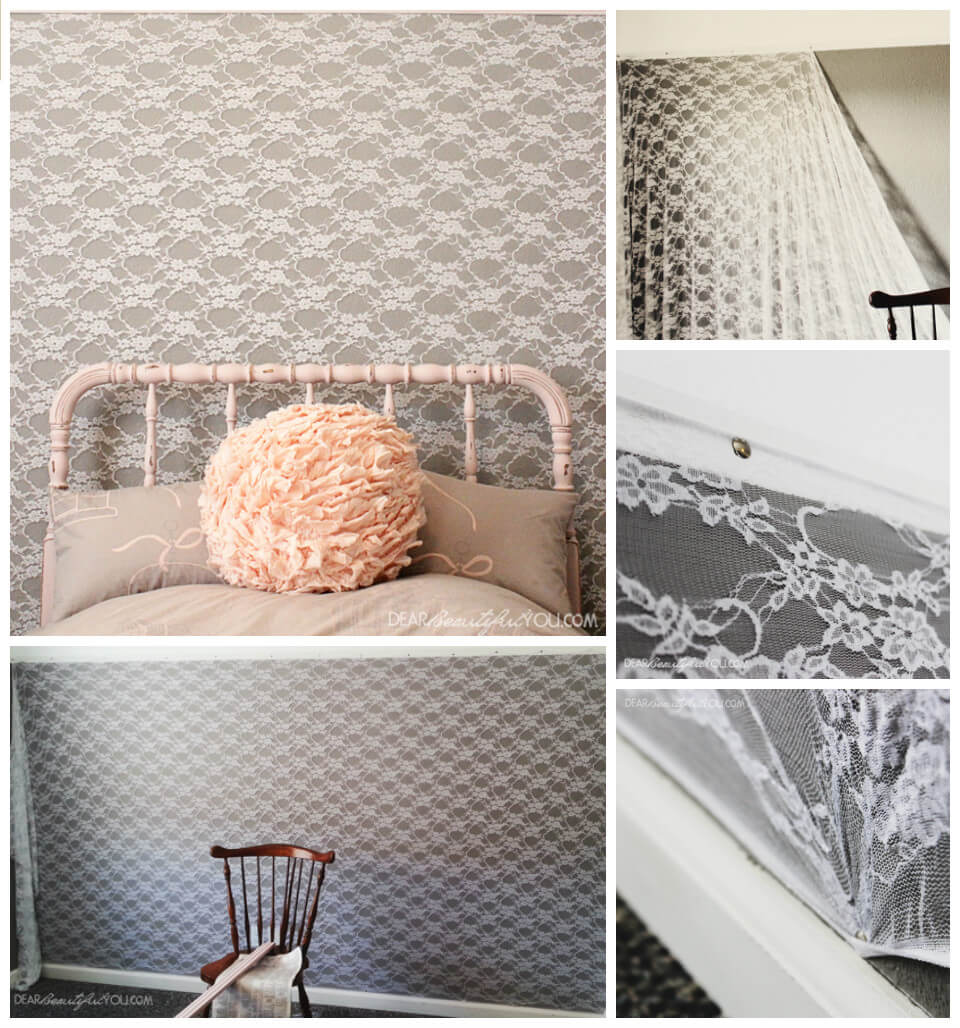 Just paint your decided wall and cover it all with the lace by starting from a corner! Secure the lace in place using flat tacks and a give a the final wall trim after your cover the whole wall with lace! Splashy walls are all ready to boost the grace and elegance of your home! Full guide and tutorial here dearbeautifulyou
Floating Shelf into Faux Vintage Table: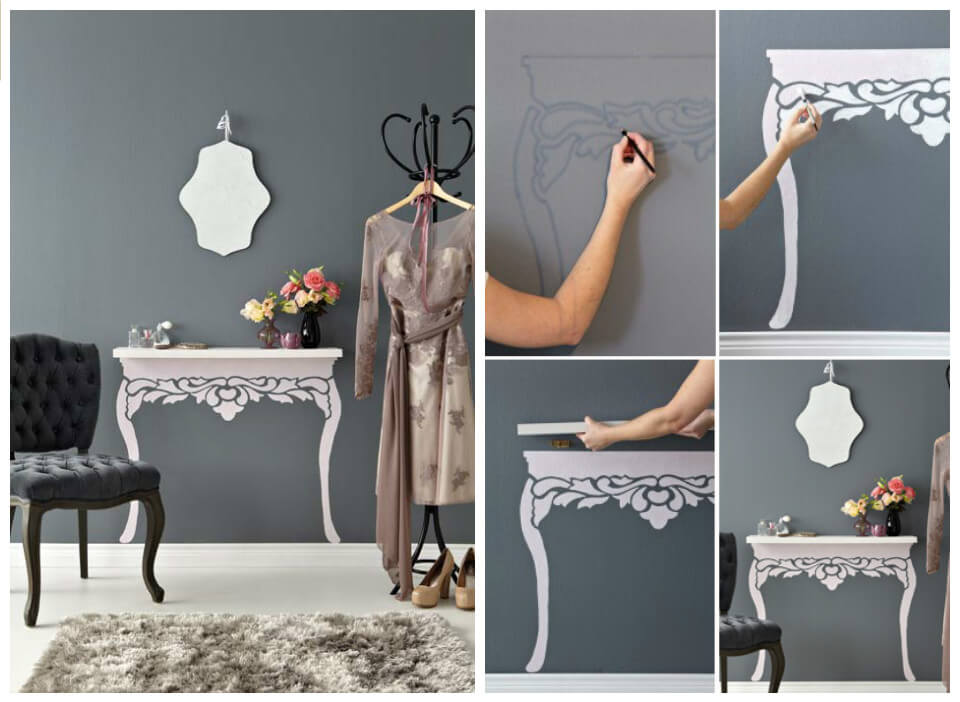 All you need to have a little painter like hands to do this amazing home decor project! Consider a wall mounting shelf as a tabletop and draw the rest of table using pencil under it! Now fill paint in drawn table shape and enjoy a faux table out of a floating shelf! Complete directions here decoholic
Self-Made No-Sew Pedestal Sink Skirt: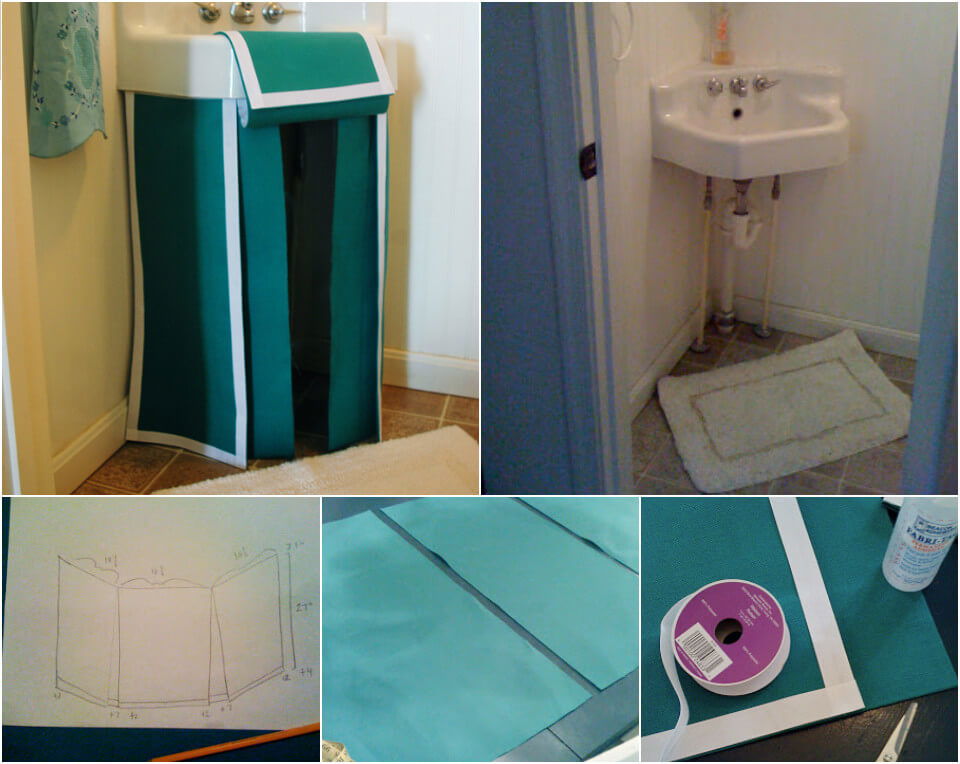 Choose your fabric and then do some measurements and cuttings according to your plan! Give it a nicer border and use the Velcro to mount it to sink boundaries nicely! Better sinks would depict a better image of your home! Full guide and tutorial here littlegreennotebook
Faux Built-in Living Room Bookshelves: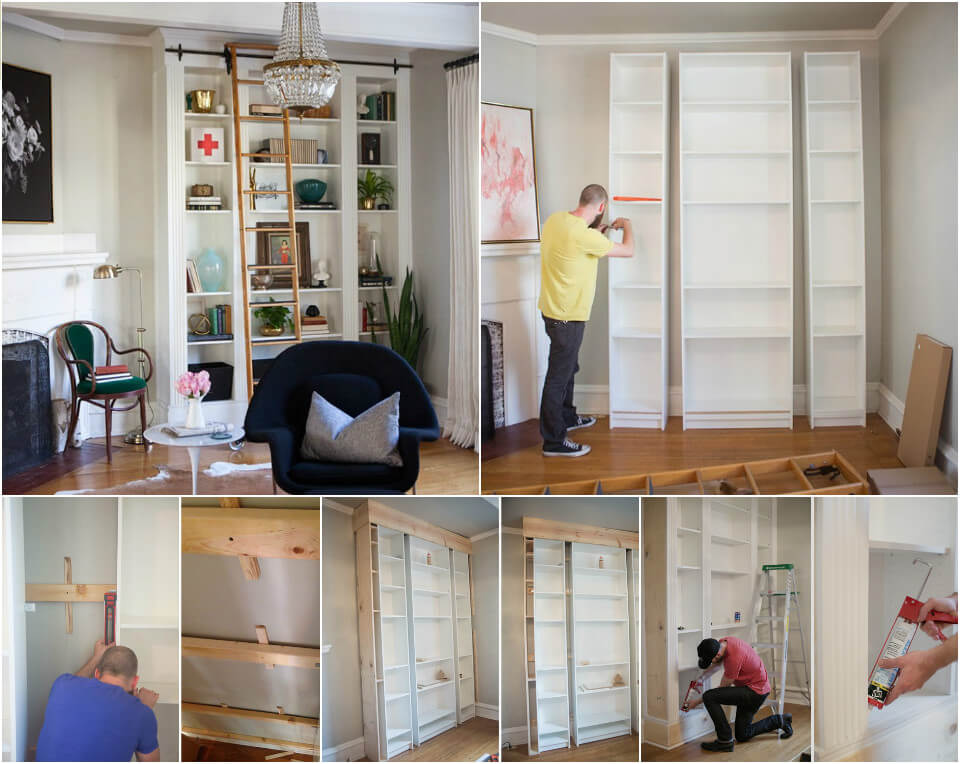 Built in living room shelves are all the rage now! Help to showcase nicely the books and also living room centerpieces! It may be a expensive plan to have built in shelves in your living room but would be super affordable if your go with DIY alternative solutions! Checkout here these faux built in bookshelves, highly near to real ones! Full installation guide here themakerista
Beautiful Faux Marble Table: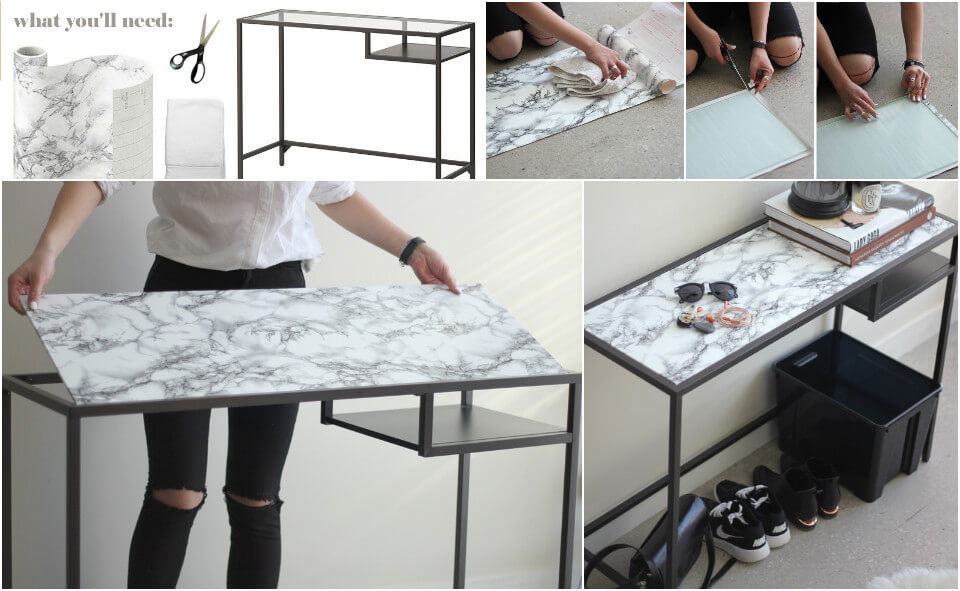 If you strive for the style and a considering a marble table important to put more grace to your interiors then this faux marble table would work great! Wrap a glass slab in a marble printed paper and use it as a faux marble tabletop, so simple and easy to do! Full guide and tutorial here sylandsam
Wall Hanging Wire Mail Baskets: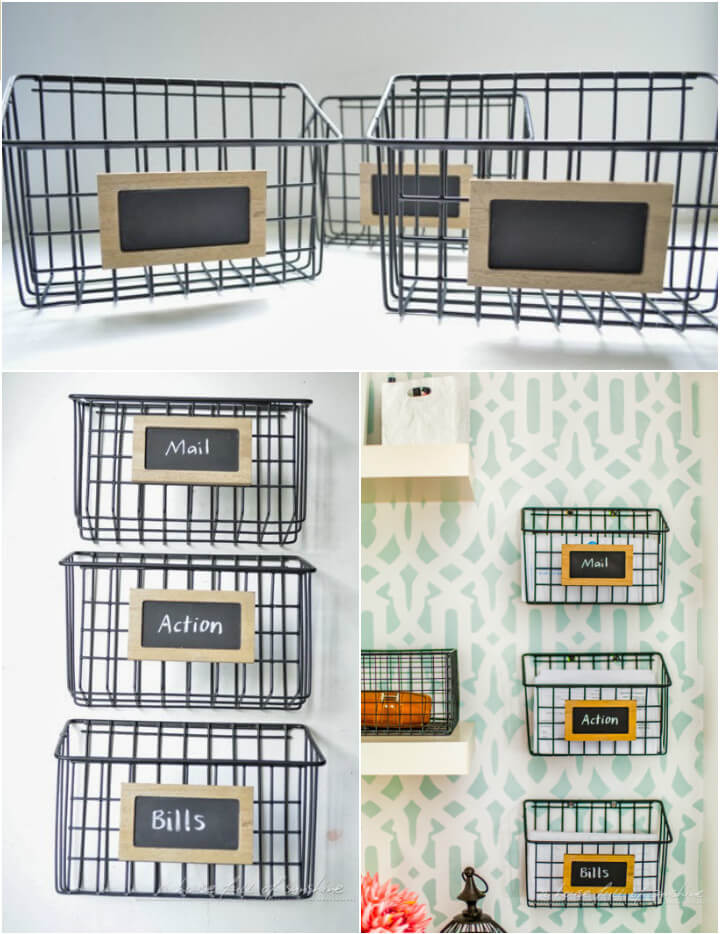 Hang the metal baskets over a decided wall after painting them a little! Hanging wall organizers are all ready to serve to your specific purposes! Mount little chalkboards on front of the baskets and write over the names of the items you are going to organized in each single basket! Better storage plans always lead to uncluttered interior environments and hence raises the beauty of home! Full guide ant tutorial here ahousefullofsunshine
Ampersand Marquee Letter: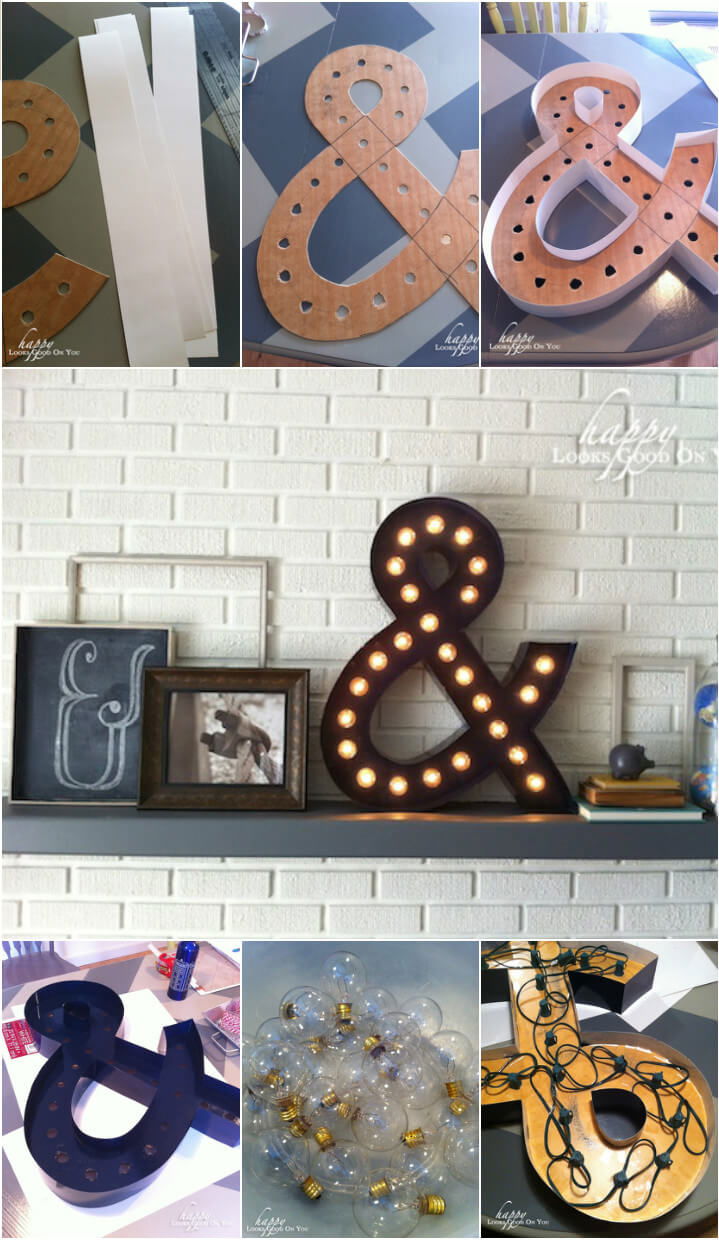 Lighted Marquee signs or letters are always a brilliant way to make a personal statement in a specific interior! Grab a cardboard and cut out any custom letter out of it like this ampersand, don't forget to drill some holes for adding lights! Then put the post board stripes around the cardboard ampersand cutout! Paint it a little and finally insert the lights in! Place it on a entryway or hallway table and also on a living room shelf as a centerpiece! Full guide and DIY instructions here happylooksgoodonyou
Cool Lace Doily Bowls – Creative DIY Project: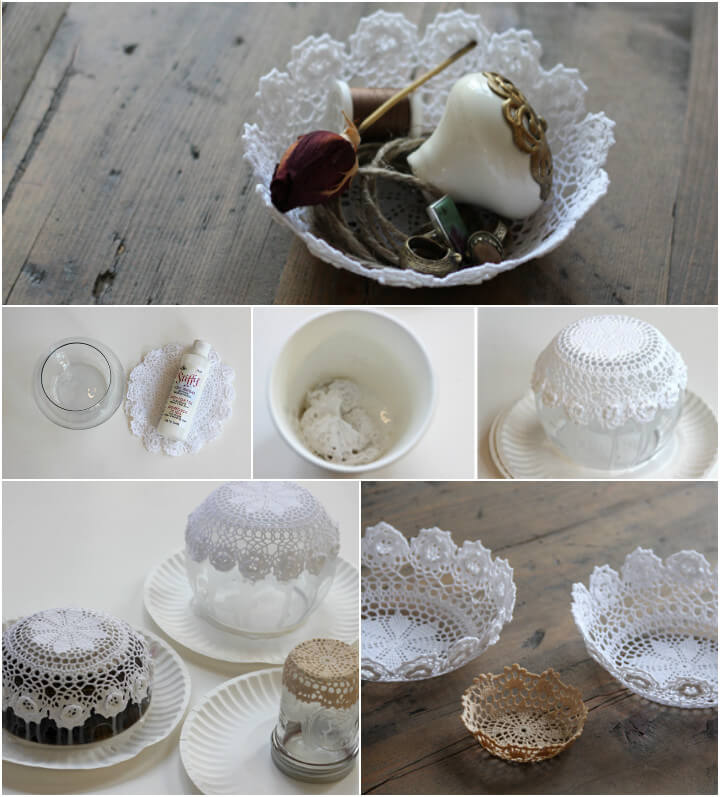 Soak your selected doilies in fabric stiffener and simply drape them on a bowl placed with upside down! Remove the creases and let your doilies dry well! Full guide here blog.freepeople
Sequins Classy Wall Art: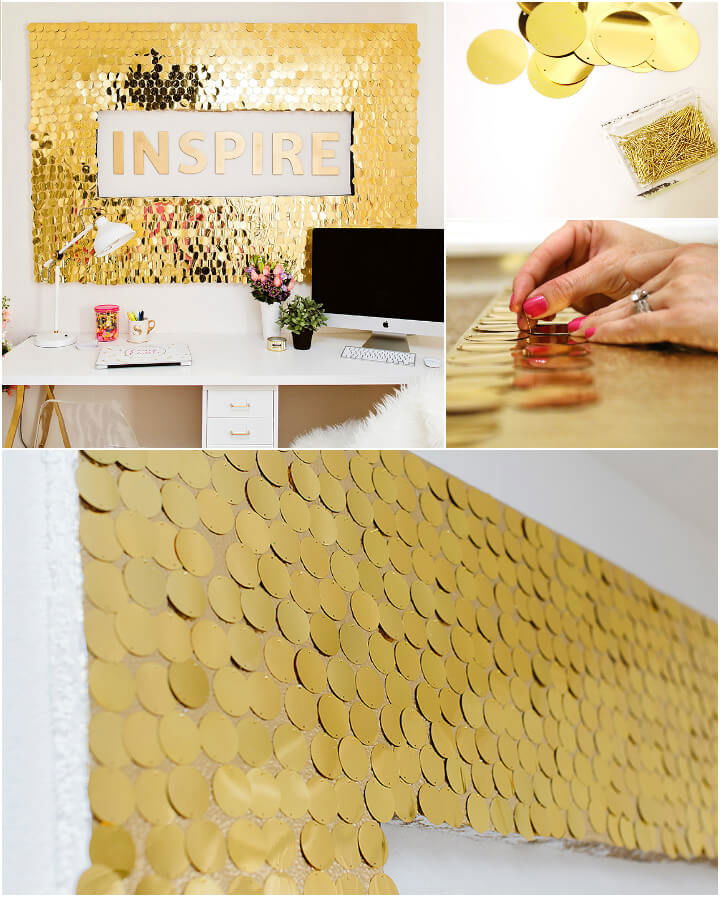 Keep on adding the large gold sequins over your targeted wall using the common pins! After the whole wall covered, you will get a fantastic and classy wall that will bring all a modern air in that particular room interior! Full directions here classyclutter
Praise-Worthy Faux Brick Wall World Map: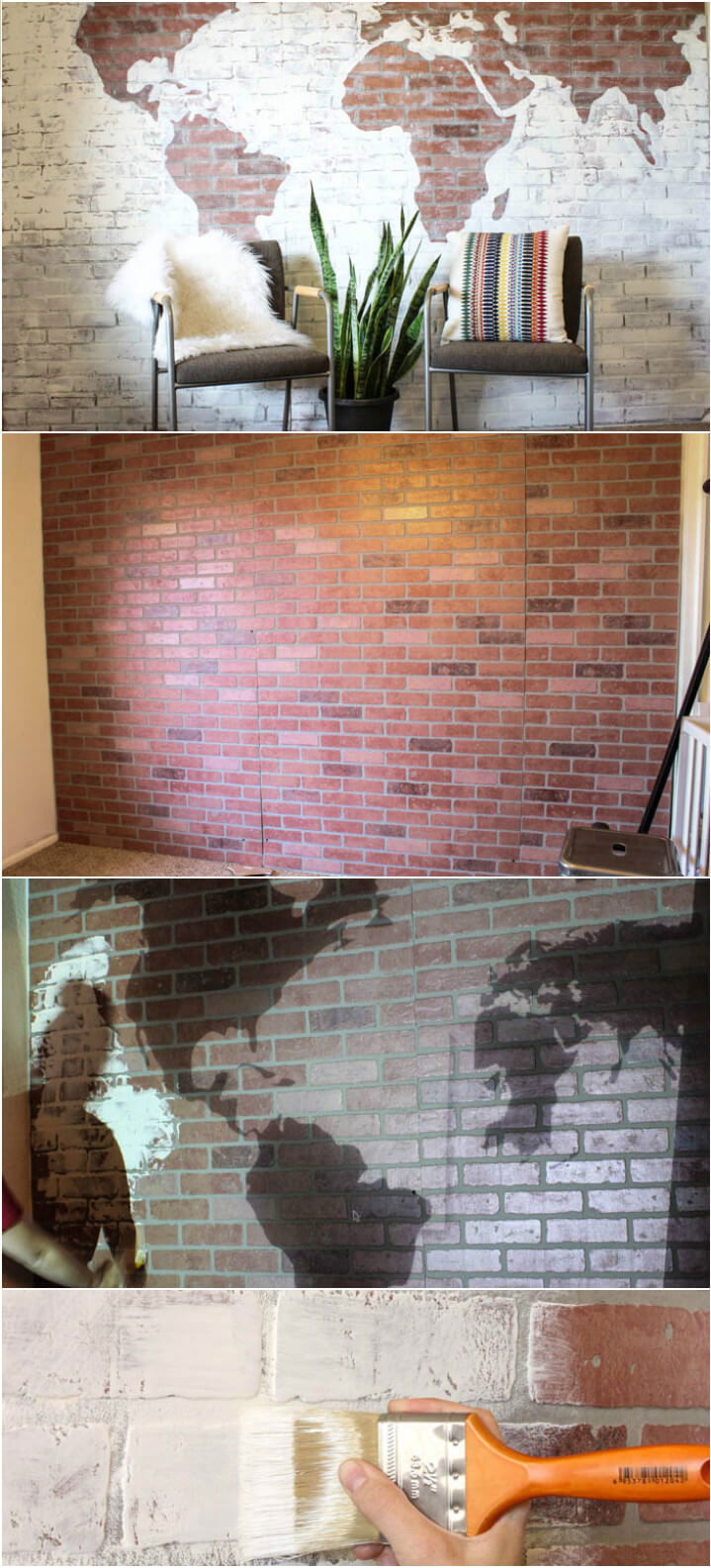 Cover the wall with faux brick panels, now turn on your projector and trace out the classy map lines! Painted the traced out patterns and shapes and enjoy a high-quality world map wall on a low-cost price! Full guide here classyclutter
Decorative Accent Door Trim:

Another cool way to raise the beauty of your interiors! Buy the inexpensive door trims and install them to upgrade your doors for more coziness! It is all simple and quick DIY project to bring distinction to your interior spaces! Full guide here gluedots
Vases Modernized with Enamel Paint: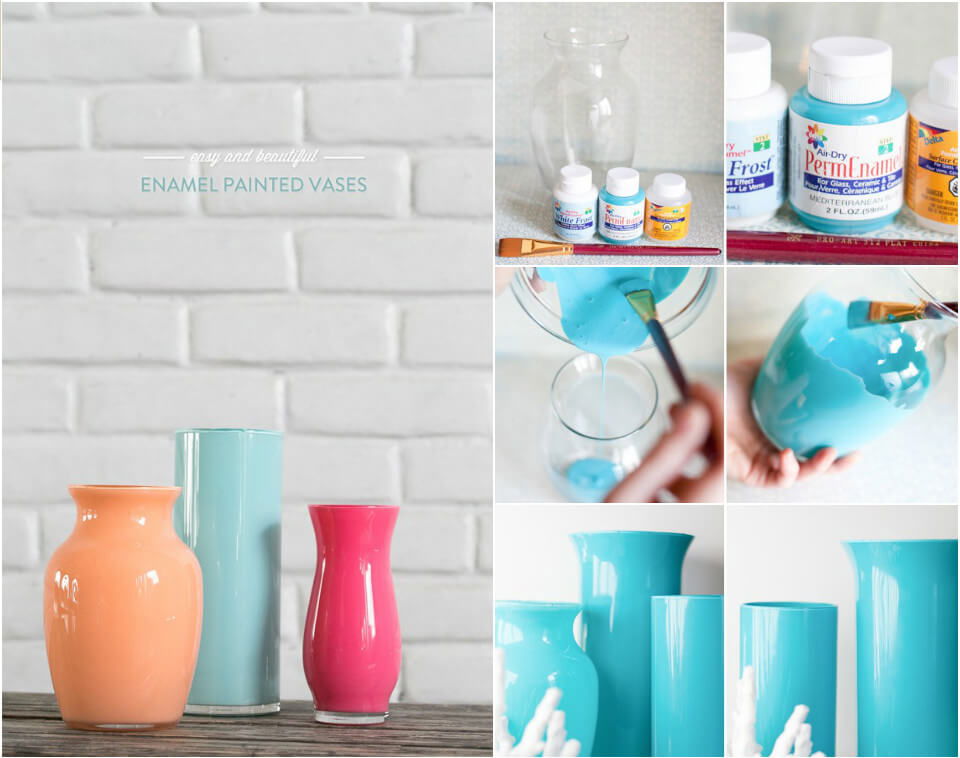 Faux and real flower vases placed over the tabletops and shelves are the real centerpieces for home interiors! Why not upgrade your vases using enamel paint, a cool way to enhance the decorative character of your home! Complete DIY instructions here sugarandcharm
Macrame Chair Swing – Gift for Book Lovers: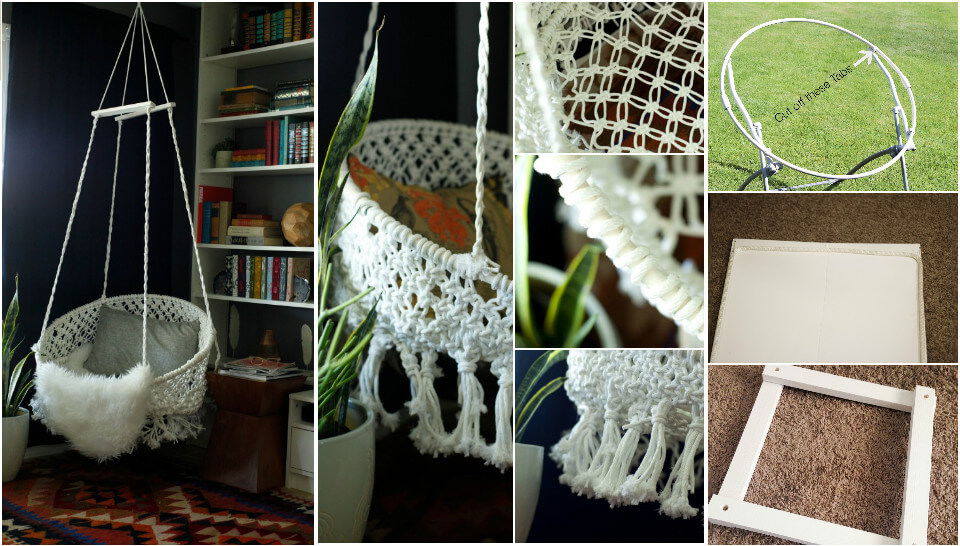 Sort out an old chair from home trash store and check for a metallic hoop out of it! Remove the hoop and simply turn it into a string chair using your macrame art! Now hang it to any stable aloft support and enjoy a beautiful string chair! Would be a mind-blowing gift for those who love reading books in their spare time! Full guide here classyclutter
Faux Floral Bathroom Glittery Gold Wall: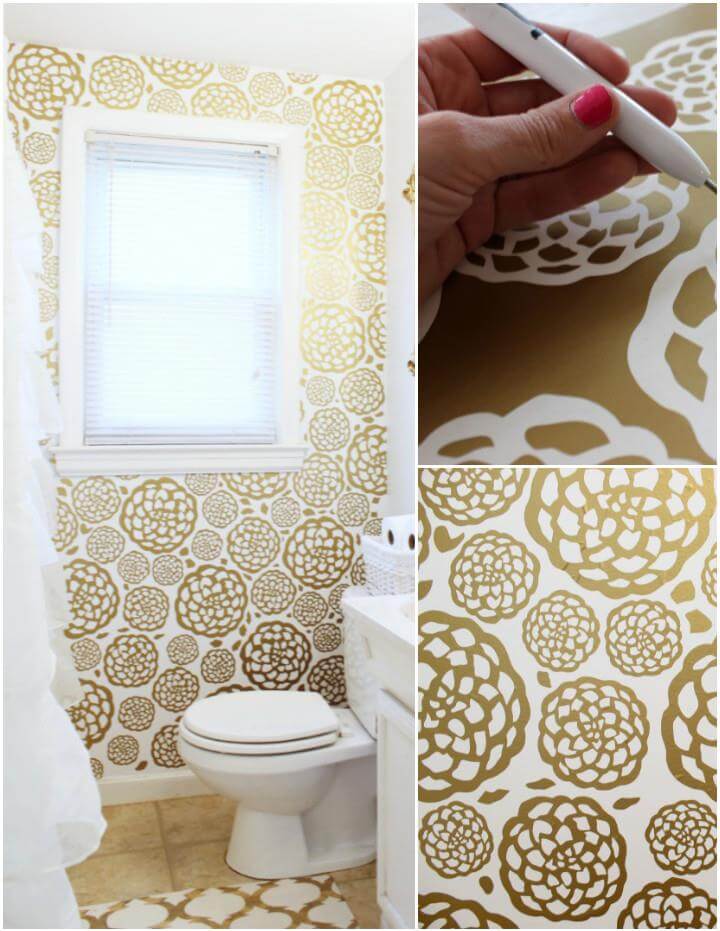 Print out the dahlia flowers from your vinyl sticker machine and just start a bathroom wall makeover with the prints! Simply peel off the back papers and use the stickers for making the wall look great! This faux floral wallpaper ideas would give any wall a luxurious touch and too much of grace! Full guide here classyclutter
Precious DIY Glitter Love Canvas: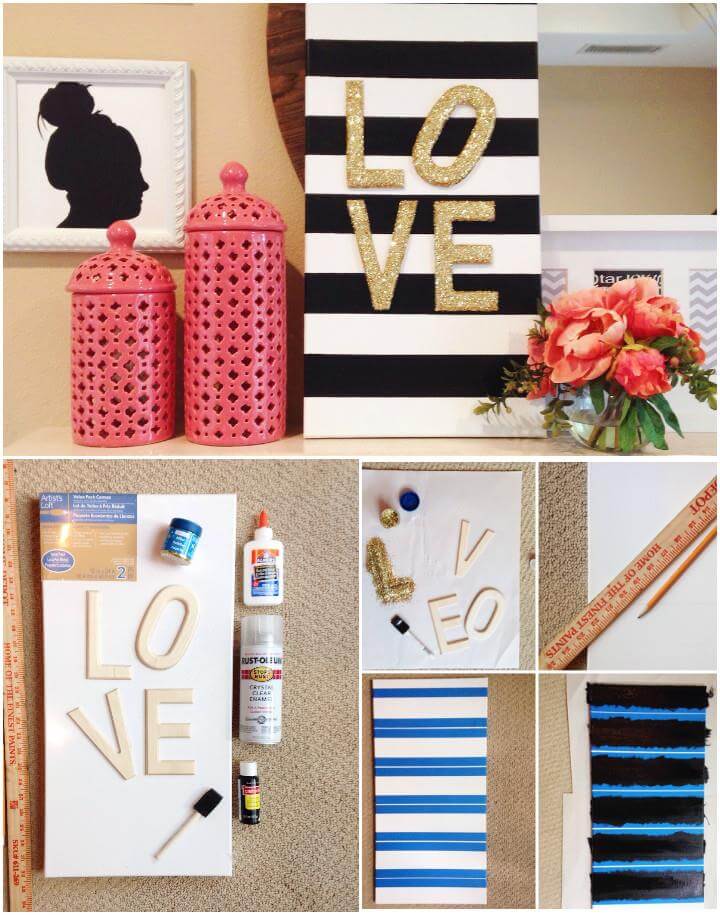 Grab a canvas and just mask off the lines using painter's tape you don't want to paint! Then apply paint and remove the painter's tape stripes when the paint is dried well! After the canvas is ready, paint your wooden letters and spread the gold glitter over them! Now use glue as adhesive to mount the letters tight on the canvas frame! An all precious wall art or centerpiece is ready to fancy up your room wall or a visually attractive mantel/shelf! Full guide and instructions here heylaurenrene
Instagram Photo Wall Organizer: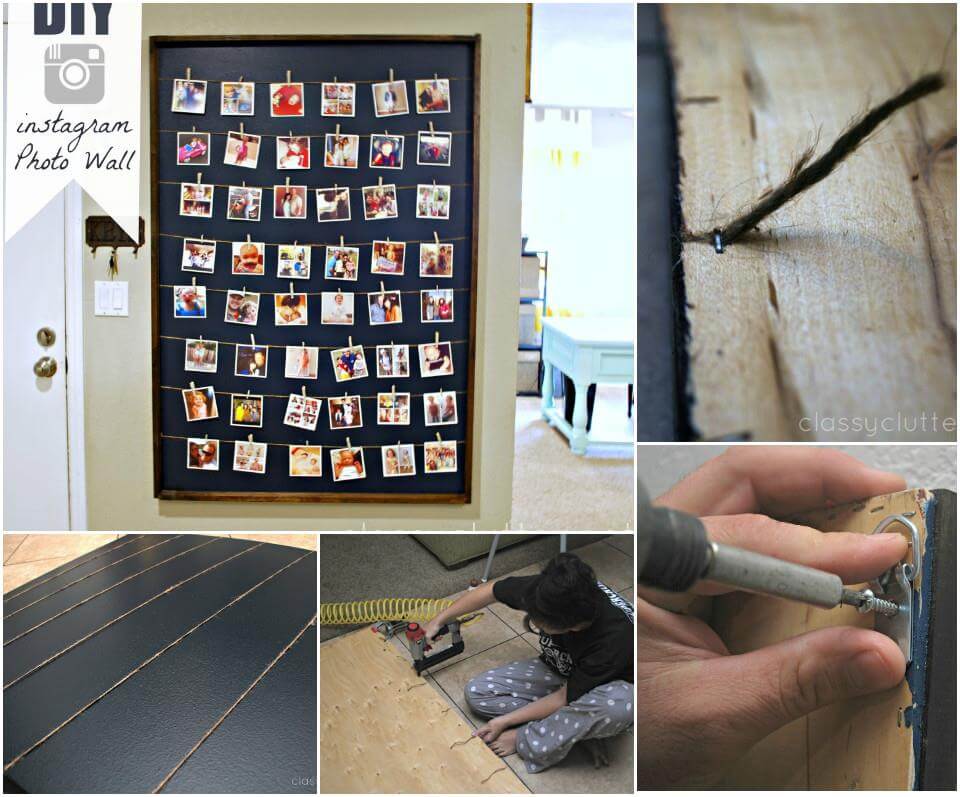 Get a required size of sheathing, use wooden boards for its side trimming! Now divide it in several rows using jute or rustic rope! At the end, hang several of your photos using clothes clips over the jute rows! A precious way to get your walls distinguished and extra beautiful! Step-by-step guide here classyclutter
DIY Laminate Furniture Painting: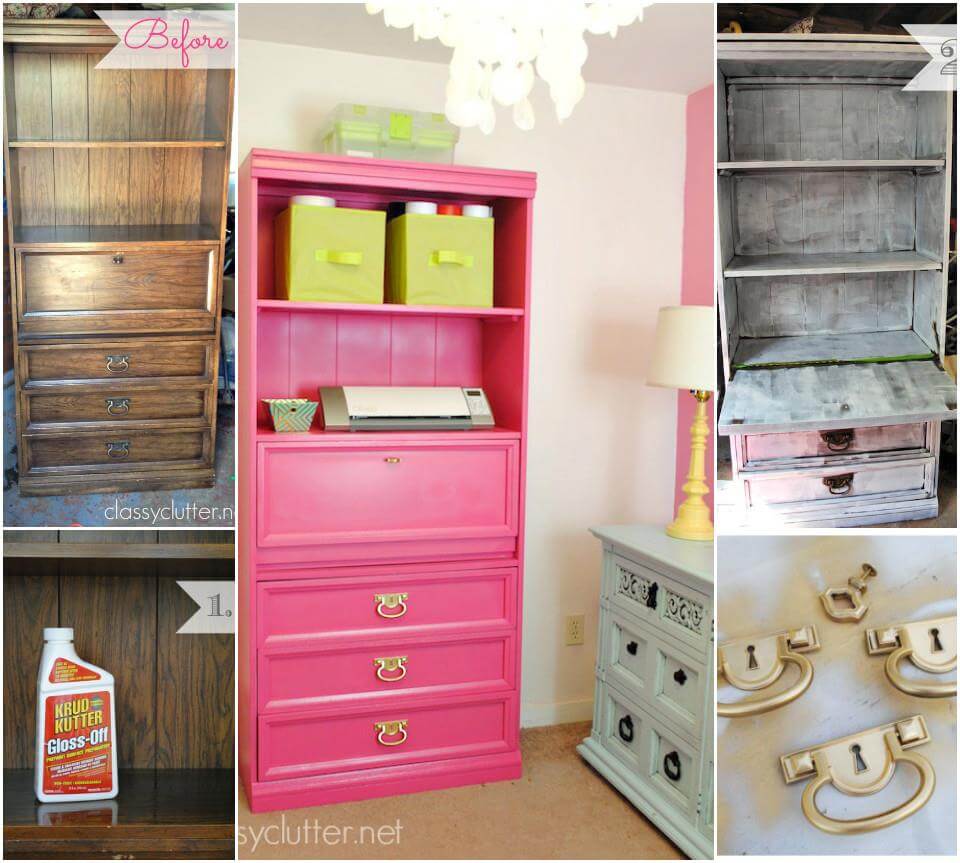 Painting furniture is another indirect but great way to boost the visual of your interiors! If you are all finding the laminate furniture a a big paint to paint then here is how to do it safely and easily classyclutter
Self-Installed Wooden Mantel on a Stone Wall: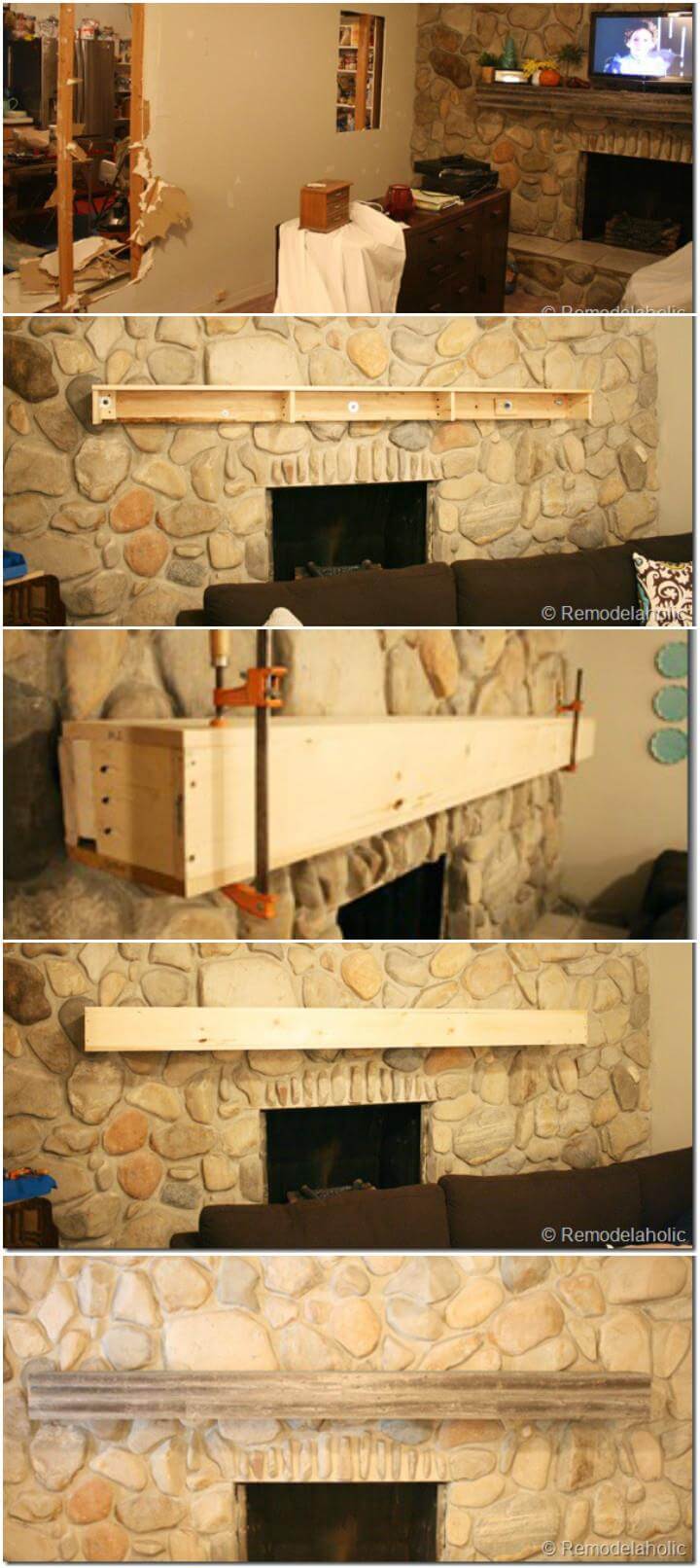 Installing custom mantels over the fireplace gives you so many options to boost decorative rank of your dwelling! It is always great to have fireplace mantels as they can also work great as hanging TV stands! Raise the aesthetics of your living room by copy this DIY mantel project, would be a big fun to do! Full details and DIY tutorial here remodelaholic