Experience the artistry and craftsmanship of a DIY epoxy table and enjoy handcrafted furniture made by you. Our valuable guide lets you easily make your own elegant and unique epoxy table. We provide everything you need to know about crafting an epoxy table; from 25 incredible DIY epoxy resin table ideas, to detailed, easy-to-follow instructions. This array of DIY resin table ideas ranges from epoxy river tables to glow-in-the-dark epoxy tables, all offering something unique to suit your style.
Building a DIY epoxy table is an interesting project for novice and seasoned woodworker. You can enjoy crafting your own resin table, from selecting the perfect wood slab to finishing the table with a gleaming layer of epoxy resin. With a variety of epoxy resin tables you can make, including river tables, coffee tables, or even a glow-in-the-dark table, your handmade epoxy table will surely be a conversation starter.
The DIY epoxy table project gives you access to creativity and the joy of handcrafts. The step-by-step instructions, complete with video tutorials and visual illustrations, will guide you through the entire process from start to finish.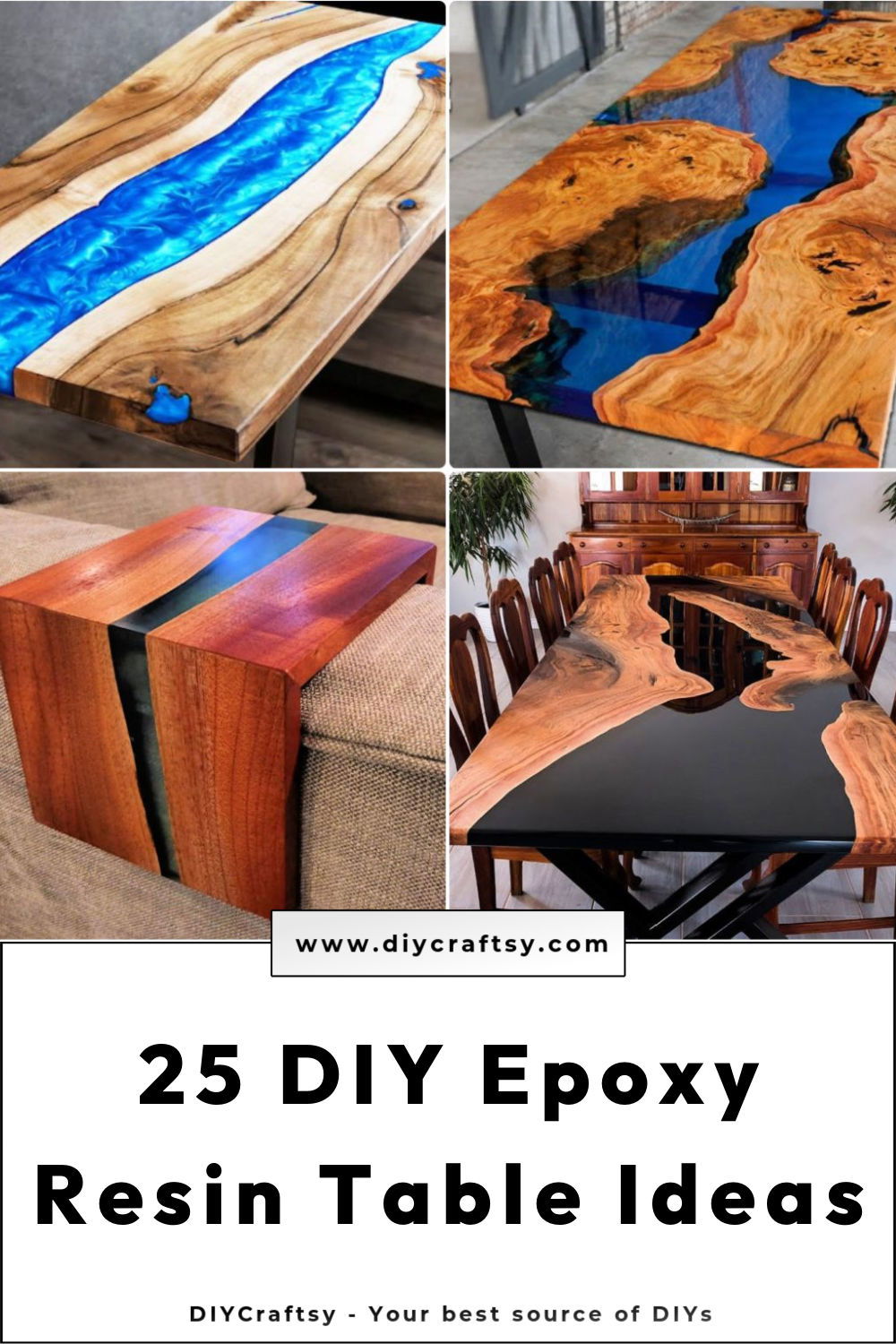 The joy of creating your own epoxy table is incomparable. An epoxy table is not only a functional piece of furniture but also a work of art. So, uncover your creativity and start your DIY epoxy table project. With the step-by-step guide, creating your own epoxy table couldn't be easier! Enjoy the captivating process and unrivaled satisfaction of making your own DIY epoxy table!
1. DIY Epoxy Resin River Table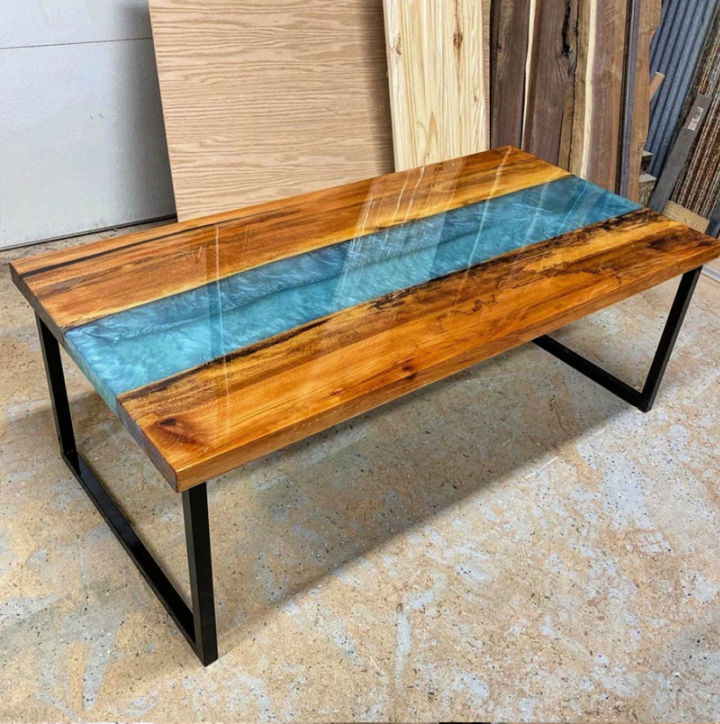 Immerse yourself in the enchanting world of DIY crafting with this comprehensive guide to making an epoxy river table. Made from recycled wooden planks and epoxy resin, this exquisite piece is a captivating blend of art and functionality. Remaking the flow of a river with its vibrant, shiny surface, you'll be able to add natural beauty to your space.
Detailed instructions are provided, covering the selection of materials, the making process, safety precautions, and even adding a splash of color.
Enjoy the satisfaction of crafting your one-of-a-kind table, imbued with your personal touch and creative flair. Build not just a piece of furniture but a conversation starter that will surely pique the interest of every visitor. creativejewishmom
2. How Do You Make an Epoxy Resin River Table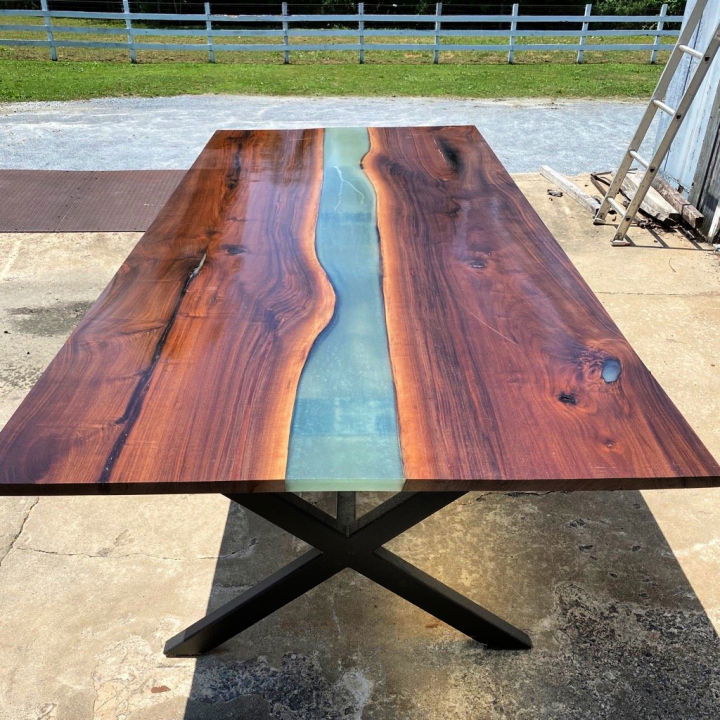 Craft a beautiful, trendy dining room table with a DIY epoxy resin river table project. This unique piece of furniture blends natural elements with a distinct, glossy finish, making a stunning visual centerpiece for any room. Using two pieces of live edge slab and epoxy resin, this guide takes you through the intricate process of making your river table.
You'll select your slab, cut and flatten it, make a mold, mix and pour epoxy, and ultimately mount your finished table top onto a base.
Using epoxy resin gives a dramatic 'river' effect, adding character and charm to your creation. With careful preparation and patience, you'll have a bespoke piece that stands out in any setting. Your river table is not just a piece of furniture but a conversation piece that showcases your creativity and craftsmanship. lancasterliveedge
3. Handmade Epoxy Poured Resin River Table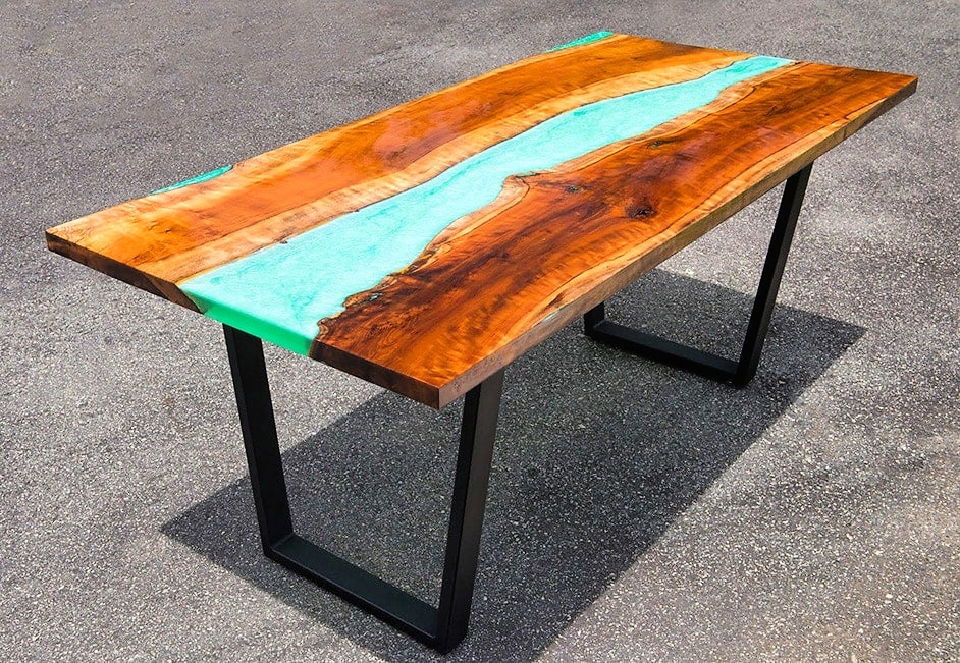 Dive into the art of crafting your own DIY epoxy resin table, a truly stunning masterpiece to grace your living space. This detailed guide will empower you to make an exclusive river table from wood, meticulously demonstrating each step with valuable professional tips.
A variety of tools and materials are required, including casting and laminating resin, liquid color pigments, large mixing cups, silicone caulking, a caulking gun, silicone spray, duck tape, an MDF board, screws, F-Clamps, a soft mallet, wood chisel.
With the right techniques, crafting a well-done table is within reach. Quality is paramount in this process; the chosen resin, a sensitive material during curing, should be of premium quality for a flawless finish. Discover the joy of constructing your epoxy river table today! acrylgiessen
4. DIY Dark Epoxy Resin River Table – Step-by-Step Instructions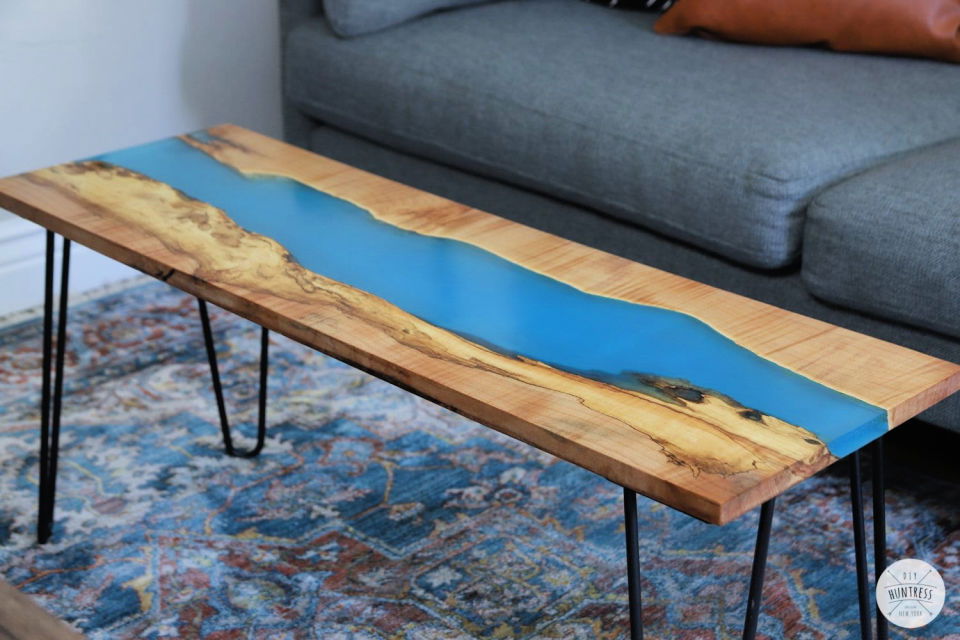 Light up your living room with this mesmerizing, glow-in-the-dark DIY resin table. Perfect for modern home decor, this table isn't your ordinary centerpiece. Utilizing a live-edge slab, deep-pour epoxy, and a luminous pigment powder, you can craft a table that illuminates the room even after the sun has set.
The trick lies in mixing your resin with a glow-in-the-dark pigment powder, making a luminous 'river' that courses through the table, providing a stunning visual effect once the lights are dimmed. A bit of silicone secures the slab within the reusable resin mold, ensuring a perfect pour.
Once the resin has cured, finishing touches like sanding, filling any remaining voids, and applying a wood finish brings the table to its glowing glory. So why wait? Step into the dark with this glow-in-the-dark resin table project and bring a new light to your home! diyhuntress
5. How to Make an Epoxy River Table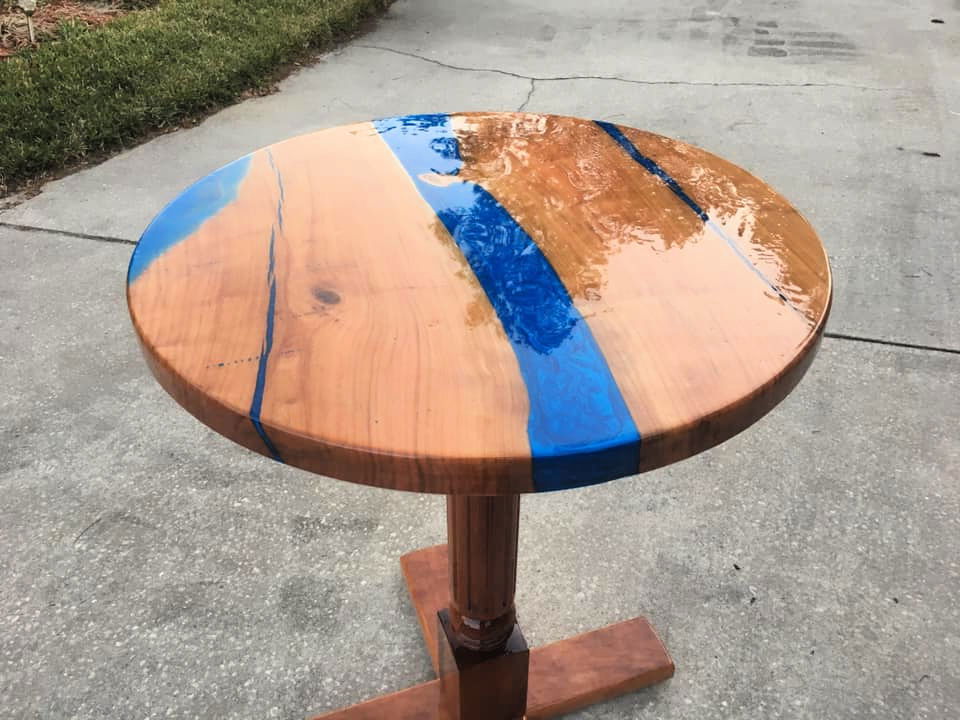 Unleash your creative side with this stunning DIY epoxy river table. Using a 70-inch-long, 2-inch-thick cherry live edge slab from Eco Relics, employ a rockler circle router jig, miter saw, and table saw to shape the slab, crafting a piece that speaks to the natural beauty of the wood.
Your craftsmanship will shine through as you fill in the cracks, level the pieces, and carefully pours the epoxy in layers, ultimately producing a mesmerizing, blue-hued river design. This guide emphasizes the importance of understanding your materials, particularly the chemical reactions involved in working with epoxy.
The finished table features a turned-leg base coated with epoxy for a seamless blend with the tabletop. Woodworking not only creates functional pieces but also uncovers and highlights the inherent aesthetics of the material itself. If you're captivated by the interplay of wood and epoxy, this cherry wood epoxy river table will surely inspire your next project. ecorelics
6. DIY Epoxy Resin River Wooden Table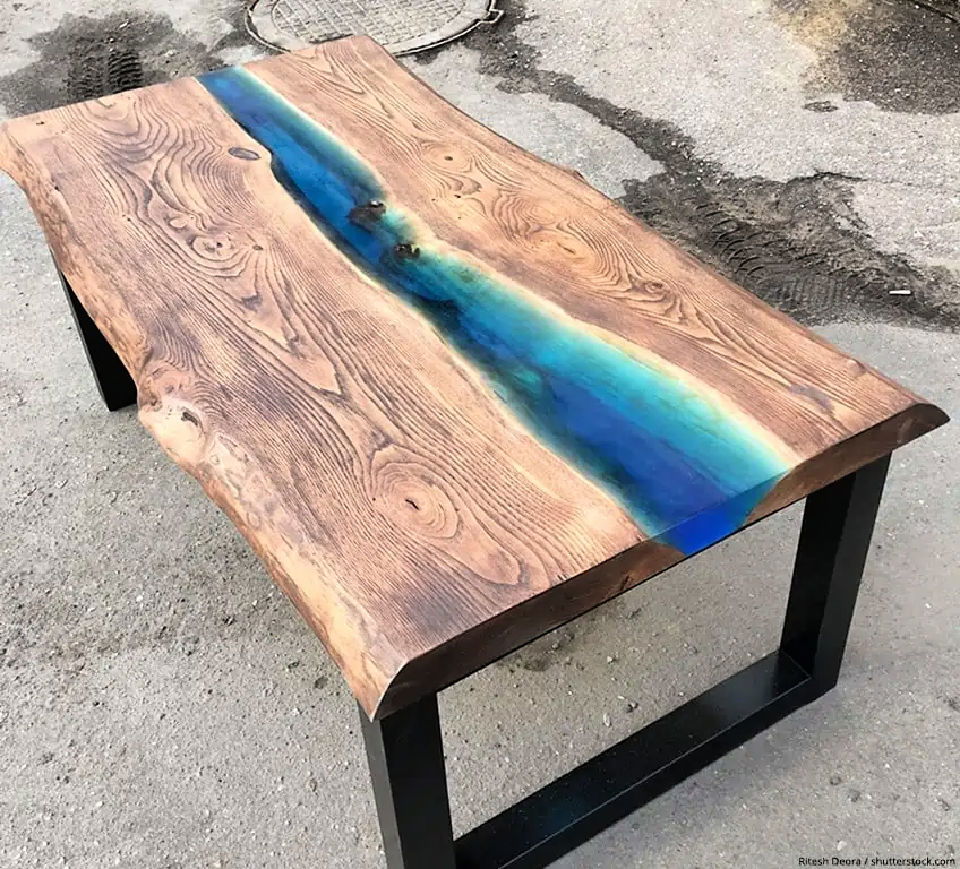 Embark on crafting your DIY epoxy resin river table with this comprehensive guide. Shattering the myth that you require professional assistance, this tutorial equips you with the necessary tricks and pointers, transforming you into a seasoned artisan in no time.
Harnessing the global trend of these artistic tables, learn how to build a piece that resonates with your unique aesthetic sense and complements your living space. The tutorial emphasizes the importance of selecting high-quality, natural wood for longevity and appearance.
This comprehensive guide includes a material selection to finishing touches, ensuring your epoxy resin river table is a shining beacon of your creativity and finesse. Enjoy crafting your own customized conversation piece! resin expert
7. DIY Live Edge Epoxy Resin Reverse River Table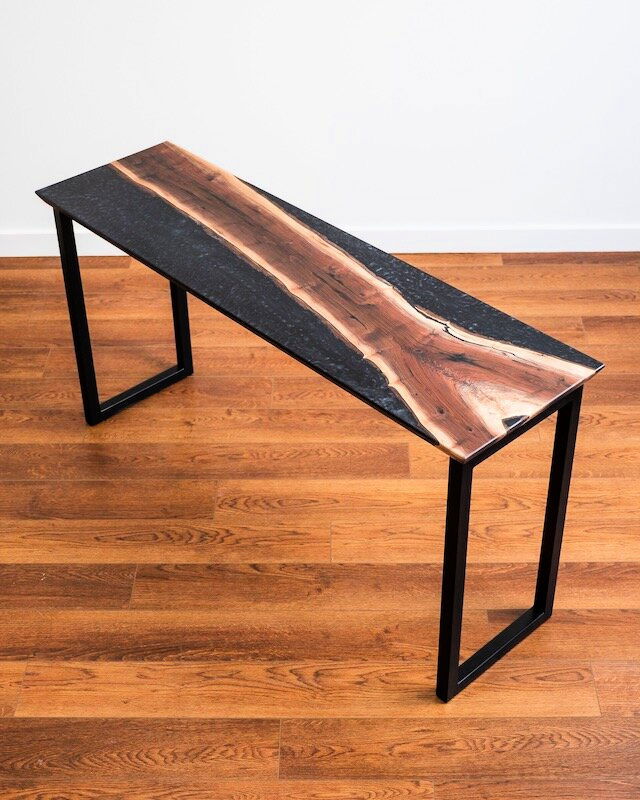 Explore crafting a unique, DIY live-edge epoxy resin " reverse river " table, exquisitely cast in black metallic epoxy resin with a walnut slab and a Maple base. This project employs many materials, including Totalboat thickset casting epoxy resin, rockler zip driver screws, black epoxy pigment, walnut slab, and enduro black poly.
Starting with flattening the slab on a jointer, the process evolves through preparing the slab for the epoxy pour, making a casting form to hold epoxy, and casting the walnut slab in epoxy. The steps continue with constructing the wooden table base, comprehensive sanding, finish preparation, and assembly. The final steps include:
Spraying a black polyurethane finish.
Cleaning the epoxy resin.
Beveling the edge of epoxy casting.
Concluding with assembling the epoxy cast table top and the wooden table base.
This masterpiece adds aesthetic value to any space and presents an opportunity for making handcrafted furniture with a unique twist! craftedworkshop
8. DIY Live Edge Epoxy Resin River Coffee Table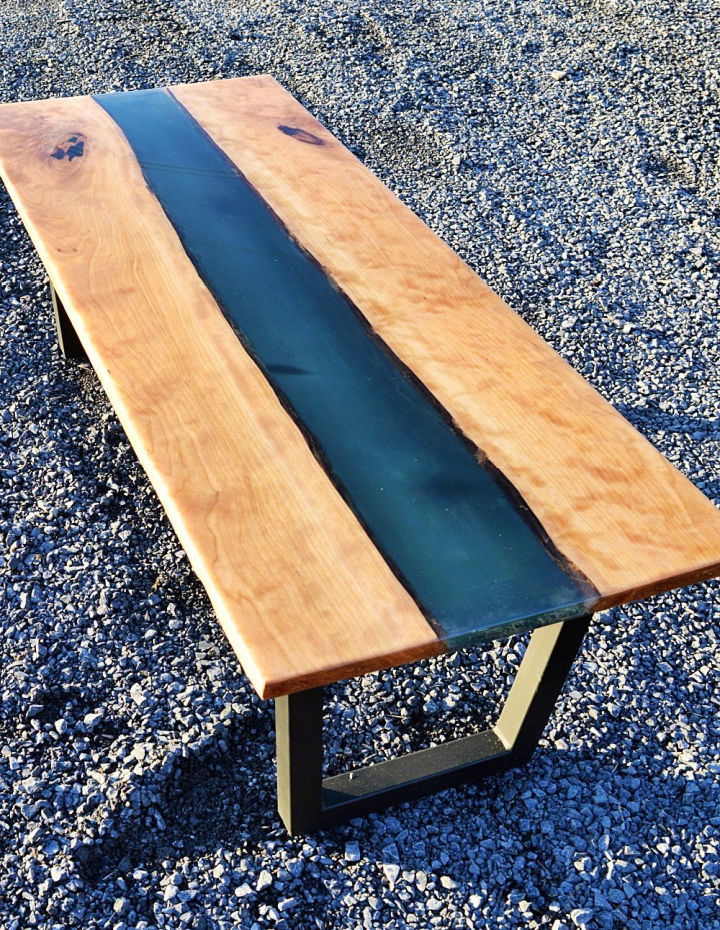 Conquer the art of building a live edge epoxy river coffee table with our informative and engaging guide. Despite initial assumptions, crafting this exquisite piece of furniture may present challenges. Don't worry; this tutorial has got you covered!
By sharing lessons learned from our trials and errors, we aim to help you avoid potential pitfalls. From selecting the right wood to choosing the appropriate resin, your journey toward making a stunning coffee table is meticulously outlined.
Don't rush; always ensure a proper cure time for the resin for an impeccable, glossy finish. Installing the table legs, the final step is as crucial as the rest. With attention to detail and a bit of patience, you're set to craft a masterpiece that effortlessly blends natural charm and elegant design. vanderveenhouse
9. Make Your Own Epoxy River Glow Table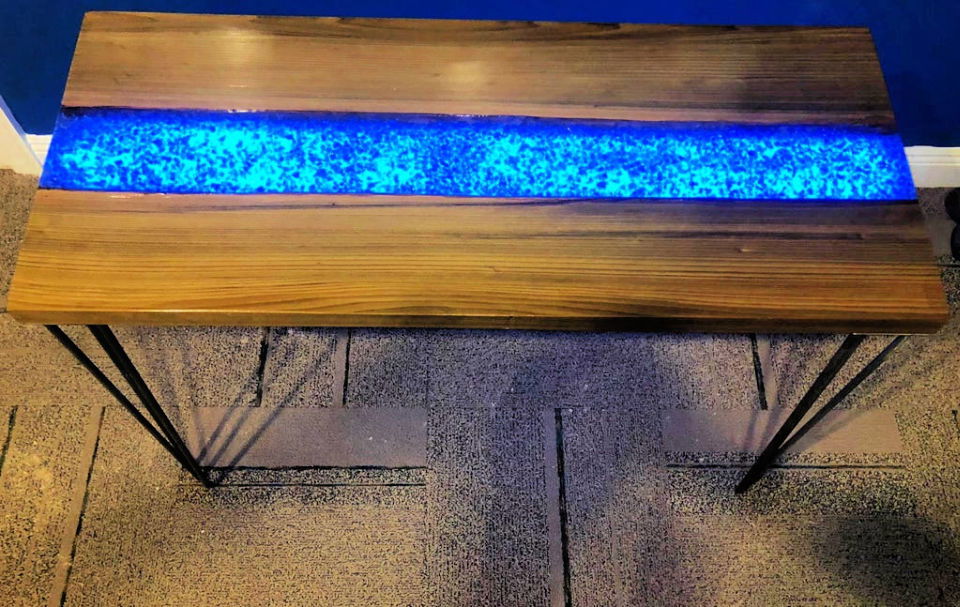 Swoop into the world of DIY craftsmanship with this unique epoxy resin river table that glows in the dark without any need for lights. A fascinating blend of woodworking and chemical artistry, this table uses live edge sinker cypress wood embedded with blue fire glass and glow-in-the-dark powder. Start by preparing the wood, removing bark, and ensuring a flat surface.
Next, make an epoxy mold and pour in the epoxy resin mixed with glow powder, taking care to remove bubbles. Layer in fire glass or acrylic rocks then finishes with a final clear epoxy pour. Once the table is out of the mold and the ends are trimmed, you can enhance the glowing effect with a UV LED light strip if desired.
After sanding and finishing, attach hairpin legs to complete your glowing masterpiece. This guide will take you through each step, turning a seemingly complex process into an achievable task. This table doesn't only serve a practical function but also adds an element of captivating, ethereal beauty to your space. instructables
10. Easy DIY Epoxy River Pub Table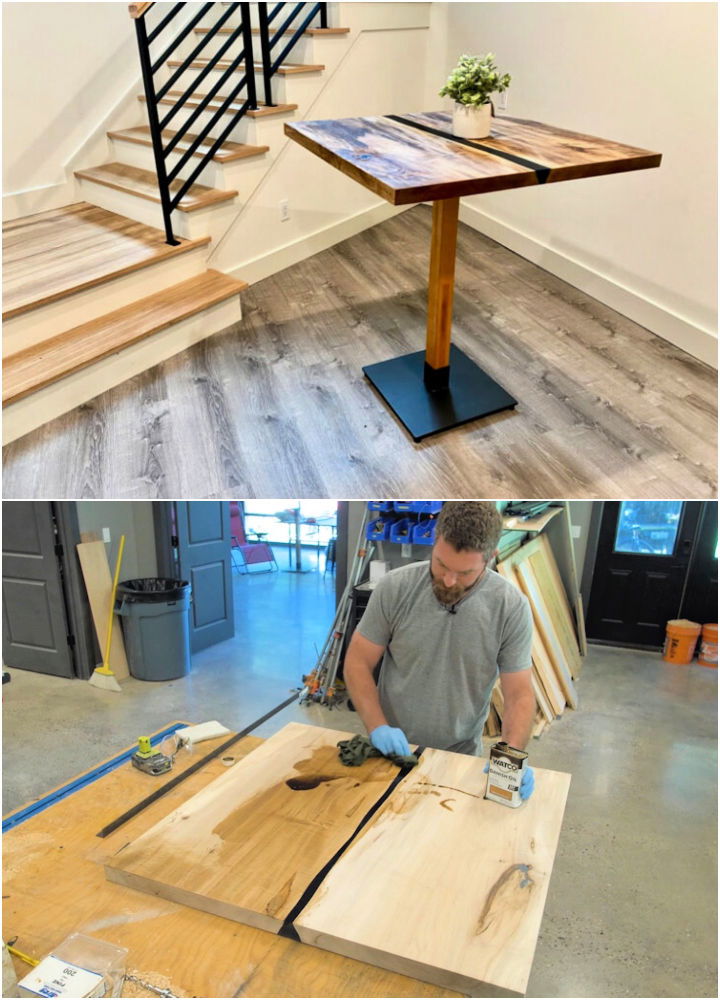 Release your creative potential with a unique DIY project: a square pub table featuring a stunning blue metallic epoxy river. This hands-on guide uses Rustoleum's new Watco Super Glaze Pre-Tinted Epoxy to breathe life into an ordinary slab, making it a striking centerpiece for any space.
The project involves crafting the epoxy river and entails detailed table assembly, sanding, and finishing steps. This allows for a comprehensive learning experience in woodworking, blending practical skills with artistry. With meticulous preparation and care, this project will lead to a gorgeous final product, setting your crafting journey apart. rogueengineer
11. Faux Live Edge Epoxy River Table for Under $100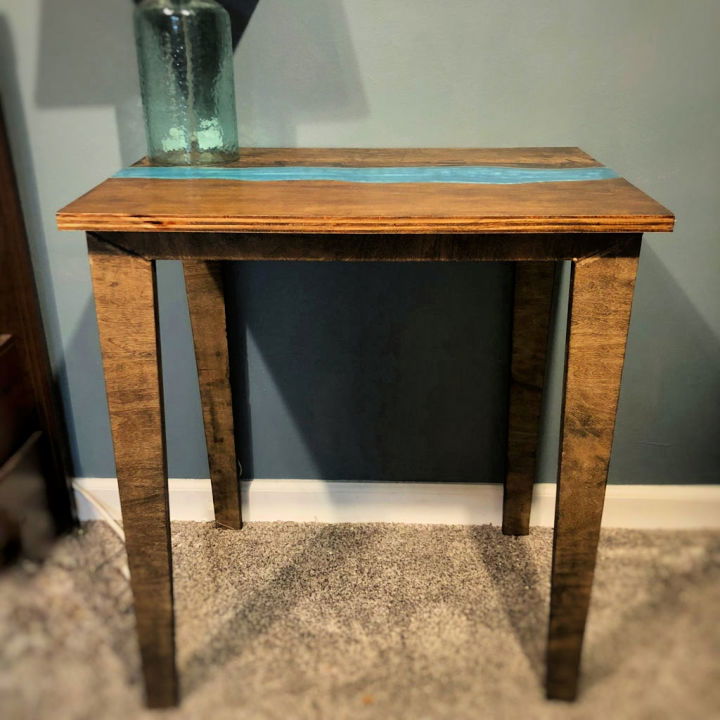 Explore the artistry of making your own DIY faux live edge epoxy river table for under $100! Crafted using maple plywood and rustoleum epoxy super glaze, this project delivers an authentic look of a "live edge" table without the high cost.
Perfect as a bedside table, its distinctive river table design adds a touch of nature to your space. Equipped with basic tools like a table saw, jigsaw, drill, epoxy resin, Tyvek tape, and color pigment, you can bring this project to life. The process involves:
Cutting and staining the wood.
Creating a faux live edge effect.
Making a mold.
Pouring the epoxy.
There's also room for error correction, ensuring a perfect finish. Get ready to immerse yourself in this project and enjoy the satisfaction of building your unique furniture piece! instructables
12. Free Epoxy Resin River Coffee Table Plans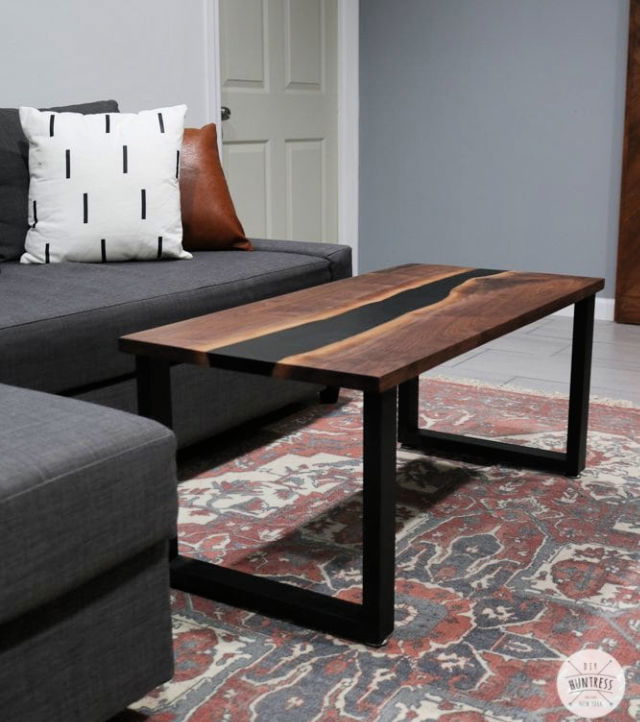 Express your creativity by handcrafting a unique DIY river resin coffee table. With simple handheld power tools and accessible accessories from your local home improvement store, this project challenges you to bring a beautiful piece of nature into your living room. The process involves:
Cutting slabs.
Constructing a form for the pour.
Working with tabletop resin for a smooth, bubble-free surface.
To finish off, pigment is added to the resin to give a stunning 'river' effect, adding charm to your coffee table. Finally, sanding the table and adding legs gives it a complete, polished look.
This project is not just about making a table; it's about making a piece of art that brings beauty, function, and a talking point into your home. Use your imagination and make this coffee table your next endeavor! bernzomatic
13. How to Build River Table Using Epoxy
Embrace the challenge of building your own DIY epoxy river table, even when things don't go as planned! This innovative yet unconventional approach to building a river table focuses on using Australian Red Cedar and epoxy resin to deliver stunning results.
Each step is a testament to resilience and creativity, from milling the wood and finalizing the river banks to fixing issues with the epoxy river. The tutorial also delves into making a waterfall effect with miters and the importance of meticulous surface prep and finish.
Unforeseen problems can lead to an even more spectacular outcome, and this guide helps you navigate through the process, transforming initial failures into ultimate success. Boost your DIY spirit today with this non-traditional river table project! instructables
14. Luxurious DIY Epoxy River Table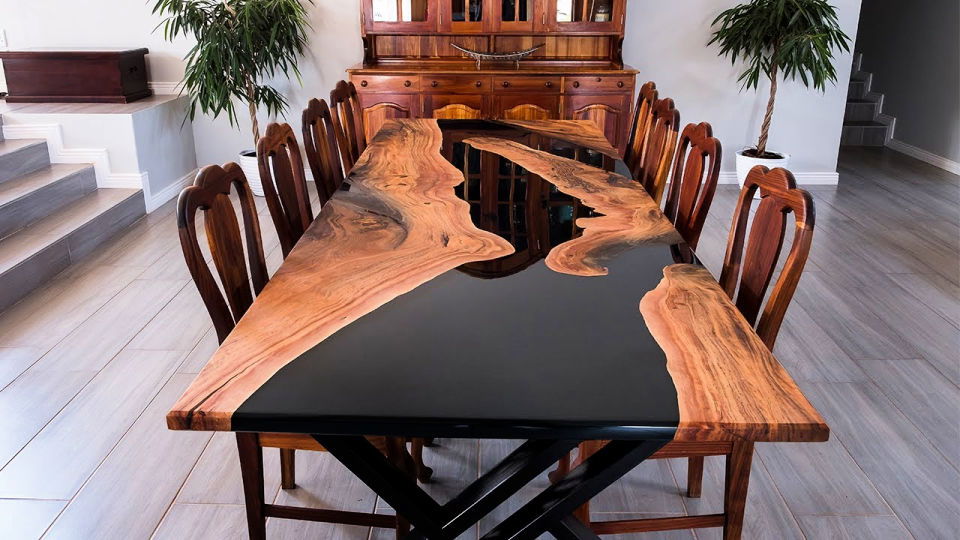 Get inspired to transform your living space with this innovative DIY luxurious epoxy river table! Learn how to apply fresh, creative designs to your home or office with easy-to-follow instructions. Be it a simple decor item or a major home overhaul, you'll find it all here. Using common household tools and materials, you'll save bucks and add a personal flair to your environment. The beauty lies in the uniqueness of each project; there's no limit to what you can create. Join the journey of turning your house into a home with DIY tips and renovation techniques!
15. Epoxy Resin River Table Design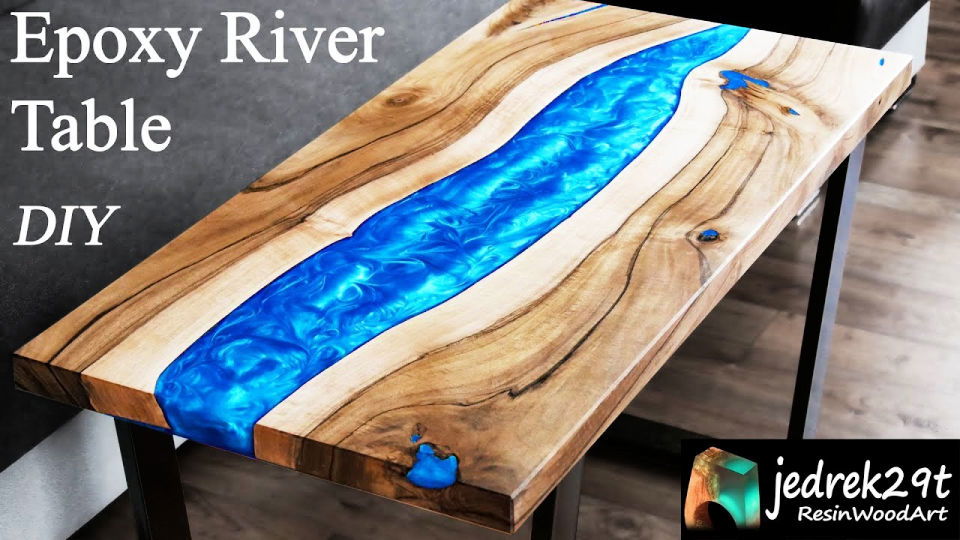 Step into the world of woodworking and resin artistry with this inspiring step-by-step DIY video tutorial that will guide you on making a breathtaking epoxy river table. Master incorporating natural wood elements with luminous resin, making a unique table resembling a flowing river. You can bring this project to life in your workspace with the proper tools, equipment, and high-quality resin.
This guide ensures you understand the process, from the preparation to the final steps of securing the legs. Besides its aesthetic appeal, the table's practicality is a major benefit, serving as a conversation-starter piece of furniture in your home or office.
Fusing natural elements with man-made materials creates a unique balance that captures the eye and sparks creativity. Embrace the opportunity to make an epoxy river table, a testament to the blend of nature and creativity.
16. Build an Epoxy Resin River Table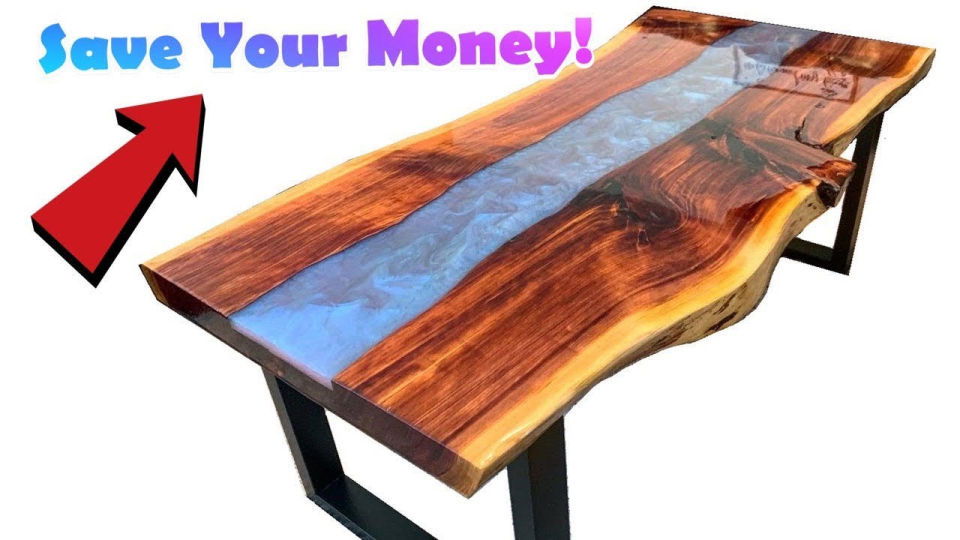 Encounter the transformative power of building a DIY epoxy resin river table with this cost-effective method that can save significant money! Learn how to craft this stunning piece of furniture without a melamine mold, saving $30, no caulk for an extra $10 off, and just one epoxy kit and slab instead of multiple, to save an additional $400.
This budget-friendly process lets you have the beauty of a river table at a fraction of the cost for those keen to own such a table or to source deep-pour epoxy for personal projects. Enjoy the process, save costs, and build a stunning epoxy resin river table today!
17. Creative Epoxy Resin River Table With Mold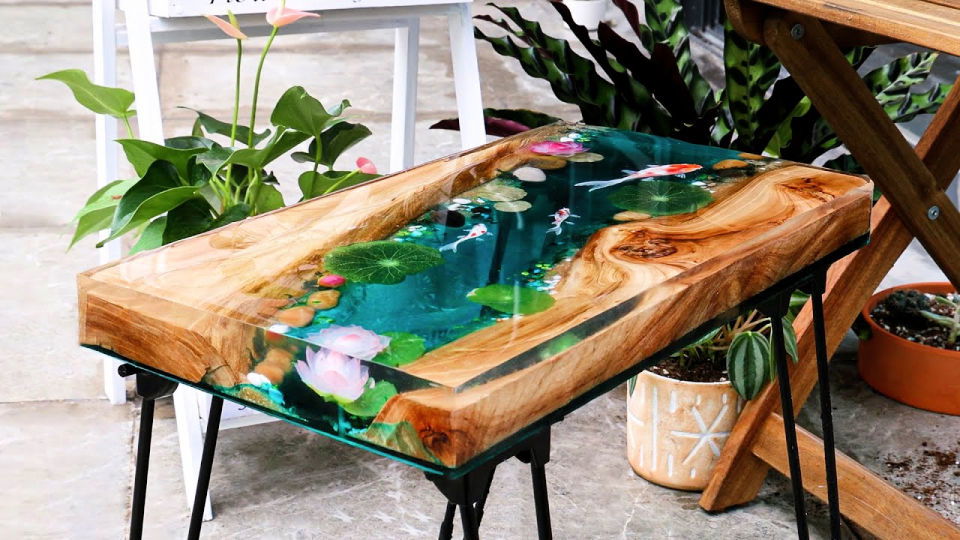 Infuse an artistic touch to your indoor décor with a DIY epoxy resin river table featuring charming koi fish details. This project blends wood's natural appeal with epoxy resin's versatile beauty. In addition to a uniquely designed resin table mold, you'll need wood, epoxy resin, and a sense of creativity.
Embarking on this project means you'll experience the joy of making a stunningly unique centerpiece for your home. The eye-catching koi fish detail also contributes to the overall aesthetic and symbolizes prosperity and good fortune in many cultures. Gear up to make your mesmerizing river table and transform your living space with a captivating fusion of artistry and functionality!
18. How to Make an Epoxy River Table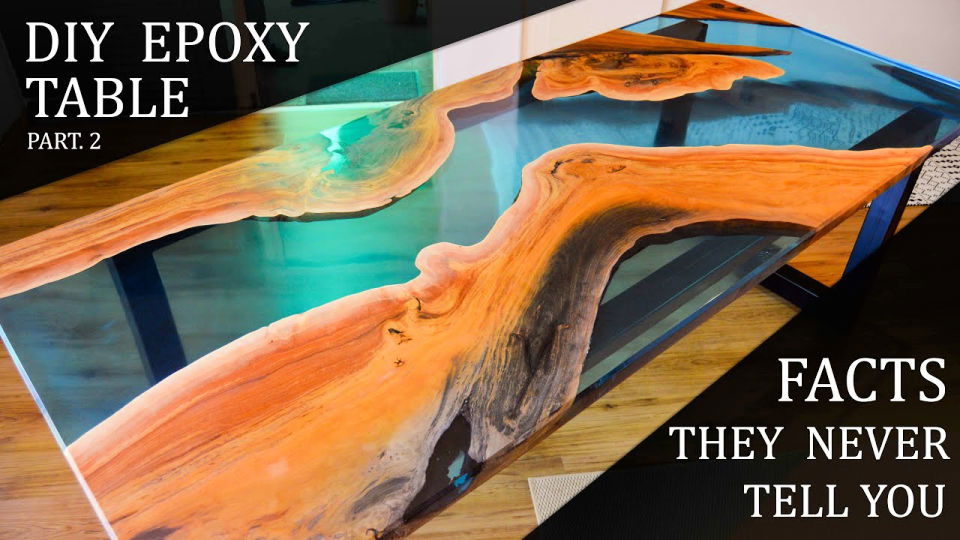 Venture into DIY craftsmanship with this step-by-step guide to building an epoxy table. Learn the art of fusing functionality and aesthetics as you follow the simple instructions. This journey involves assembling necessary equipment such as epoxy, a table frame, and hand tools, along with adopting safety measures for a secure building experience.
This guide caters to your creative flair and serves practicality by fashioning a unique piece of furniture. This guide's prime ingredient is epoxy, allowing you to generate a stunning masterpiece from a common material. Embark on your DIY journey today, and delight in the satisfaction of crafting an exclusive epoxy table from scratch. Let's bring your vision to life!
19. Building a Huge Epoxy River Dining Table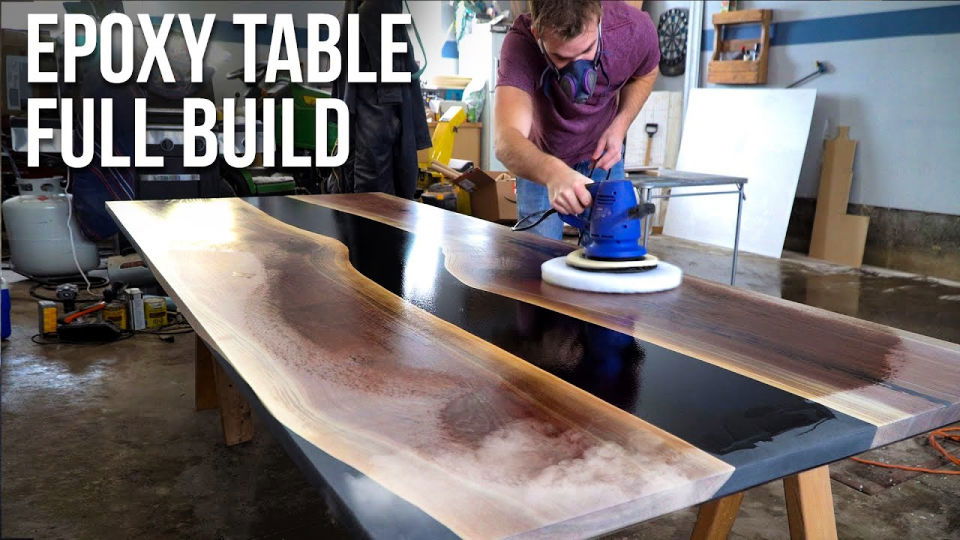 Looking to add a tinge of luxury to your dining room? With careful guidance, learn how to handcraft a stunning black walnut and black DIY epoxy dining table. This project is ideal for those seeking a sense of accomplishment while making a one-of-a-kind piece of furniture.
Starting with black walnut slabs and using slow-q casting epoxy, you'll learn the entire process, including every detailed step of this river table creation. This project will enhance your woodworking skills, and the finished result, a beautiful epoxy river table, will undoubtedly impress your guests.
Materials needed include a 5″ Makita Sander, casting epoxy, buffing pads, Osmo PolyX 3043, and steel legs from Fractal Designs. Build your elegant dining table today and take pride in your craftsmanship.
20. How to Build an Epoxy River Table for Beginners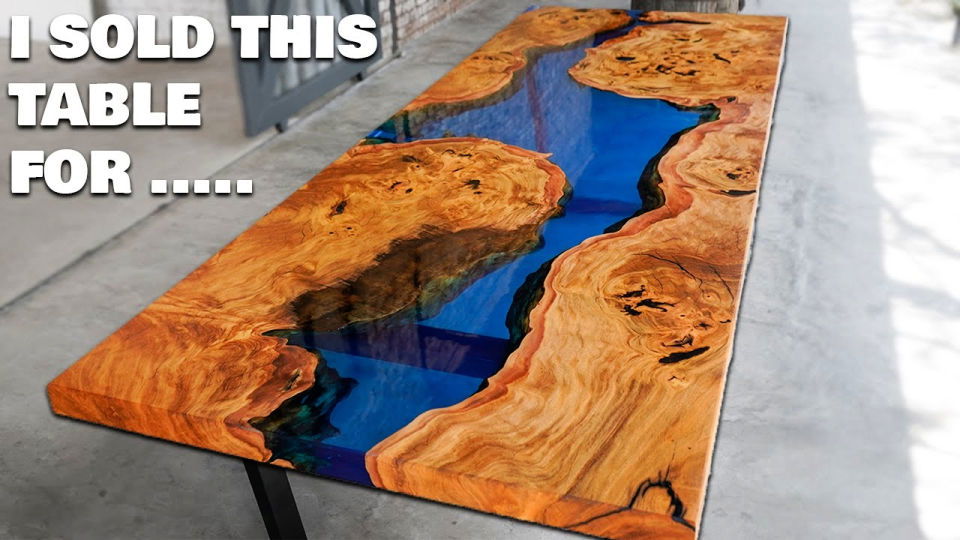 Uncover the secret of building the luxurious epoxy table from the comfort of your home with this easy-to-follow guide, perfect for all DIY enthusiasts. This guide will instruct you throughout the process, from gathering essential tools and materials to polishing and sealing your finished product.
Key supplies include hardwood planks, epoxy resin, pigments for coloring, and standard woodworking equipment. These are combined meticulously, following clear step-by-step instructions to ensure an outstanding result.
Building an epoxy table provides a valuable, aesthetically pleasing addition to your space and offers immense personal satisfaction from making something unique. With the aid of this guide, making your own luxurious epoxy table has never been simpler.
21. How to Make Your Own Island Epoxy River Table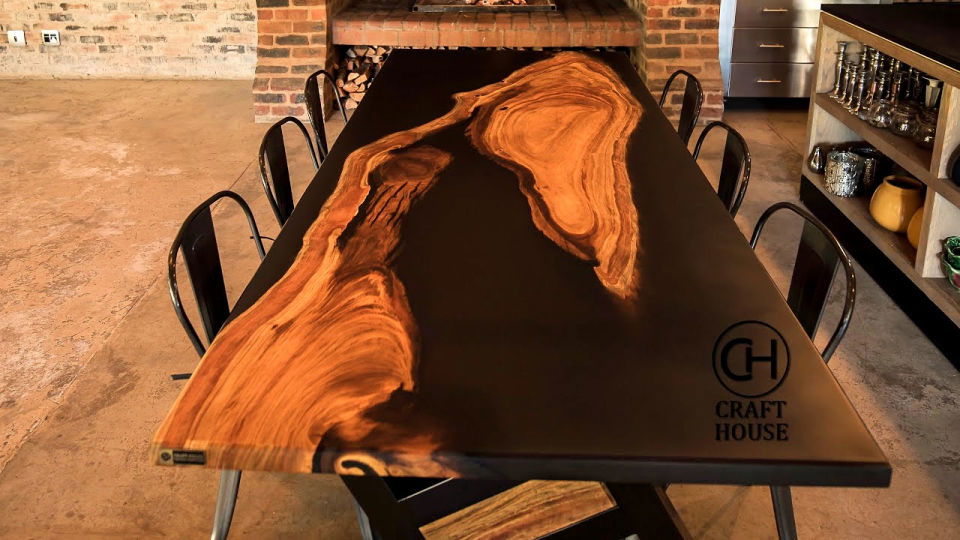 Take on a captivating DIY adventure with the construction of a magnificent Island epoxy table. This project embodies artistic creativity and offers functional utility for your living or workspace. Materials needed include a substantial slab of wood, epoxy resin, and essential woodworking tools.
Guided by clear-cut instructions, you can embark on this journey, transforming raw supplies into a spectacular epoxy table. The project's uniqueness lies in the main ingredient – epoxy resin, which results in an intriguing and unique design when combined with the wood slab.
Apart from its aesthetic appeal, this project serves multiple purposes, making it an ideal addition to any space. Get ready to craft your masterpiece today with this engaging and informative guide!
22. Cool DIY Epoxy River Table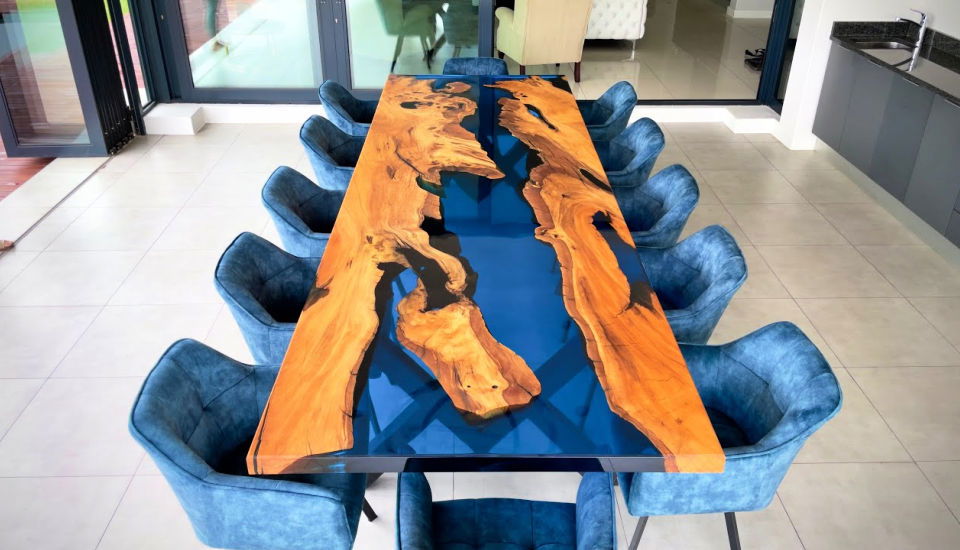 A feast for the eyes, this cool DIY epoxy river table will mesmerize you! Build your stunning table and bring a touch of nature to your living space. This project, worth around $40,000, offers a fun and engaging task for your creative pursuits. Harnessing tools such as the geared eccentric sander, router, and circular saw, you can shape and perfect your table to your liking.
The polishing agents ensure a high-gloss finish for a sophisticated look. The masterpiece you'll make with the amalgamation of epoxy resin and wooden slab will become a conversation piece in your home.
This project allows you to add a custom, artistic piece to your space and serves as a testament to your crafting abilities. Delve into this mesmerizing process and construct a beautiful river table today!
23. Homemade Colored Epoxy Resin River Table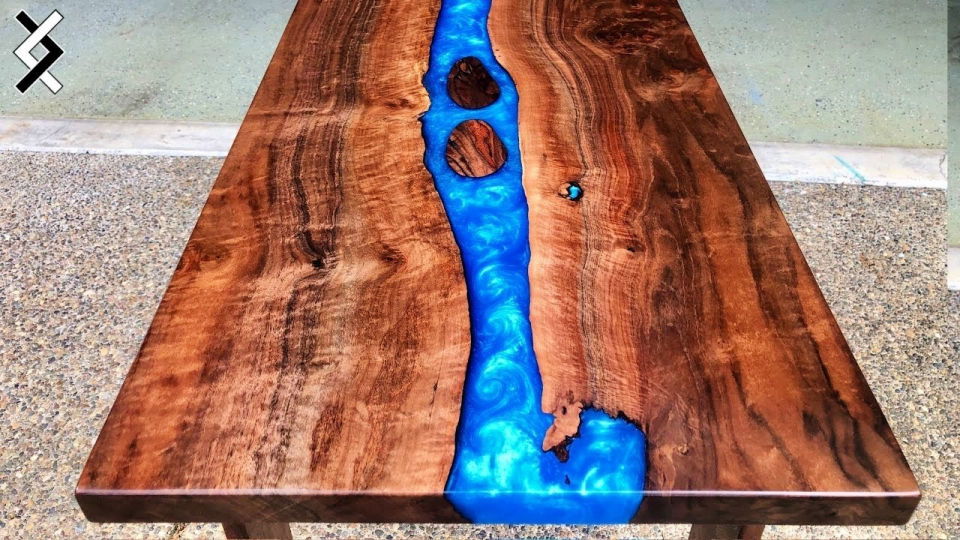 The curves of the river meander through this handmade table, shimmering and glimmering with every hue imaginable. Craft a stunning centerpiece for your home with this guide on building a DIY colored epoxy resin table.
Using rich walnut and vibrant blue epoxy resin, this project can add a unique touch to your decor. The process involves crafting a tabletop with an aesthetically appealing blend of walnut and blue epoxy and coupling it with sturdy walnut legs featuring dovetail joints.
This project cultivates your woodworking skills and helps express your artistic side. The final product is a functional yet artistic piece, perfect for elevating your living space. Discover the joy of crafting your epoxy resin table today!
24. Making Your Own Floating Epoxy Waterfall River Table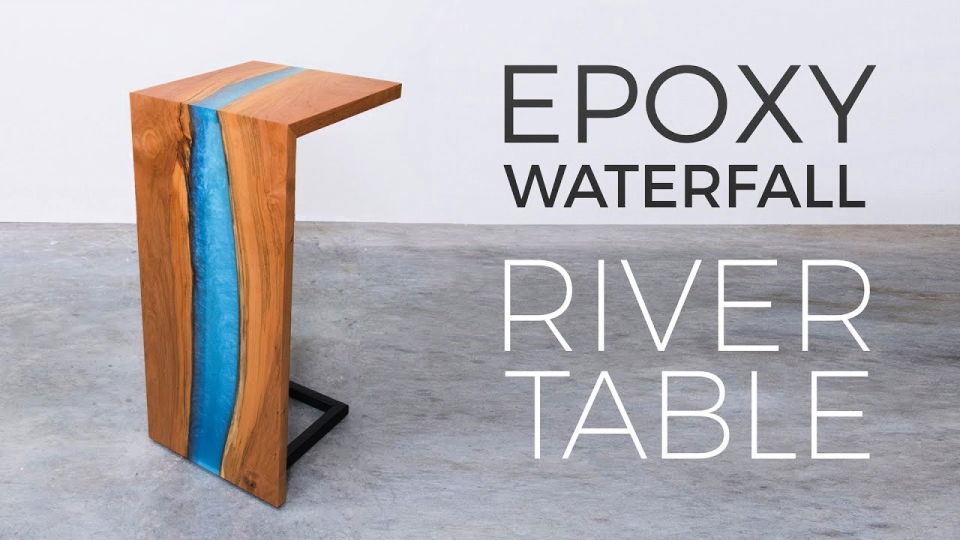 Plunge yourself in the world of woodworking and craft a stunning centerpiece for your home with a DIY floating epoxy waterfall river table. This unique project lets you experience the thrill of working with live edge cherry slabs and Ecopoxy resin. With this venture, you'll get your first taste of making a waterfall table, welding, and pouring epoxy resin – all exciting crafts that can expand your DIY skill set.
Enjoy the satisfaction of constructing a piece that marries natural elements with a contemporary aesthetic. With the right tools, equipment, and a willingness to learn, you're well on your way to making this appealing and functional piece of furniture.
The process might be challenging, but the final result is worth the effort, offering a unique piece that will surely catch anyone's eye. So, roll up your sleeves, put on your safety goggles, and prepare to embark on an unforgettable woodworking adventure with this live-edge epoxy river table.
25. Simple DIY Epoxy River Table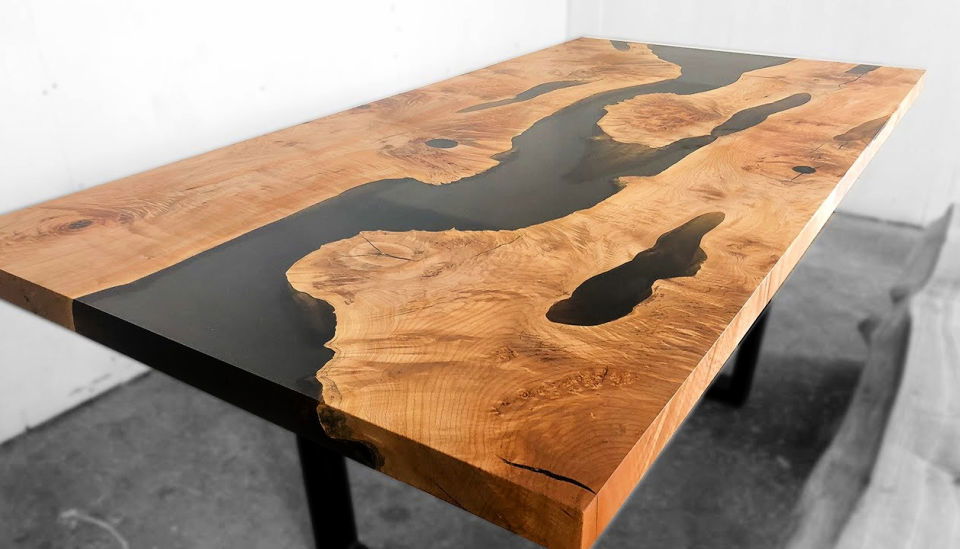 Traverse the art of crafting with this comprehensive guide to building a beautiful DIY live edge wood and epoxy dining table. Embrace your inner artisan and delve into the mesmerizing world of epoxy tables.
This guide provides clear instructions on melding the rustic charm of live edge wood with the sleek modernity of epoxy to make a unique dining centerpiece. Using materials such as epoxy resin, wood, and essential crafting tools, this guide ensures an engaging and productive crafting experience.
Revel in the distinctiveness and creativity that comes with a personalized touch, perfecting your dining space with a blend of nature and modern artistry. Harness your creativity and transform simple supplies into stunning, handcrafted dining tables.
Conclusion: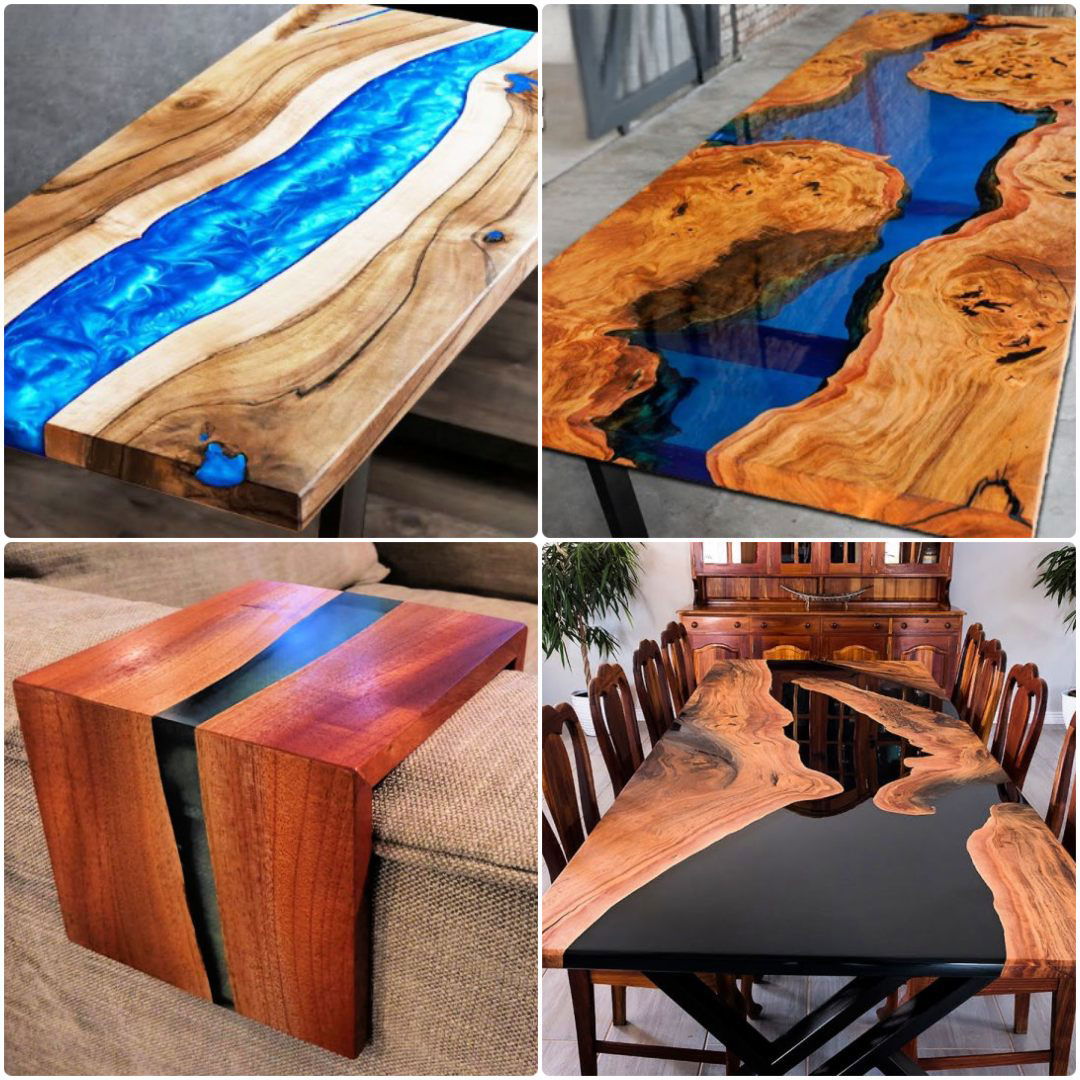 In conclusion, making a DIY epoxy resin table can be an exciting and rewarding project for crafters of all skill levels. By exploring different epoxy resin table ideas, such as river tables, live edge designs, and glow-in-the-dark creations, you can personalize your home decor to reflect your unique style. Don't be afraid to experiment with colorful resins, distinct wood types, and innovative techniques to make your own resin masterpiece.