Looking for some patriotic crochet patterns? Check out these great American flag crochet patterns! This American flag crochet pattern is perfect for beginners. The pattern uses only single crochet stitches, so it's a quick and easy project.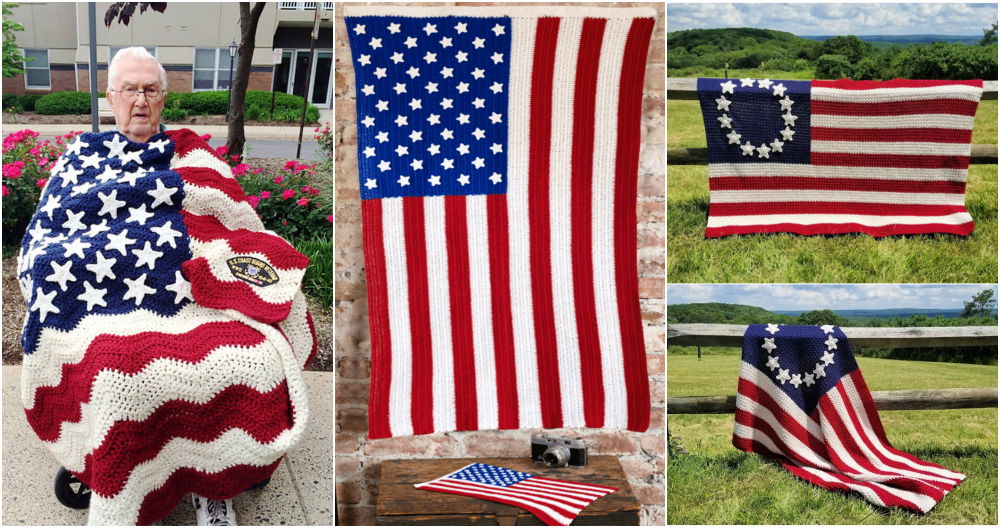 Whether you want to make a small flag to wave at parades and sporting events, or a larger one to hang on your front porch, these American flag crochet patterns will have you covered. And what could be more patriotic than crocheting your very own American flag? So get out your red, white, and blue yarn and get started on one of these great crochet American flag patterns today!
1. Crochet Old Glory American Flag Afghan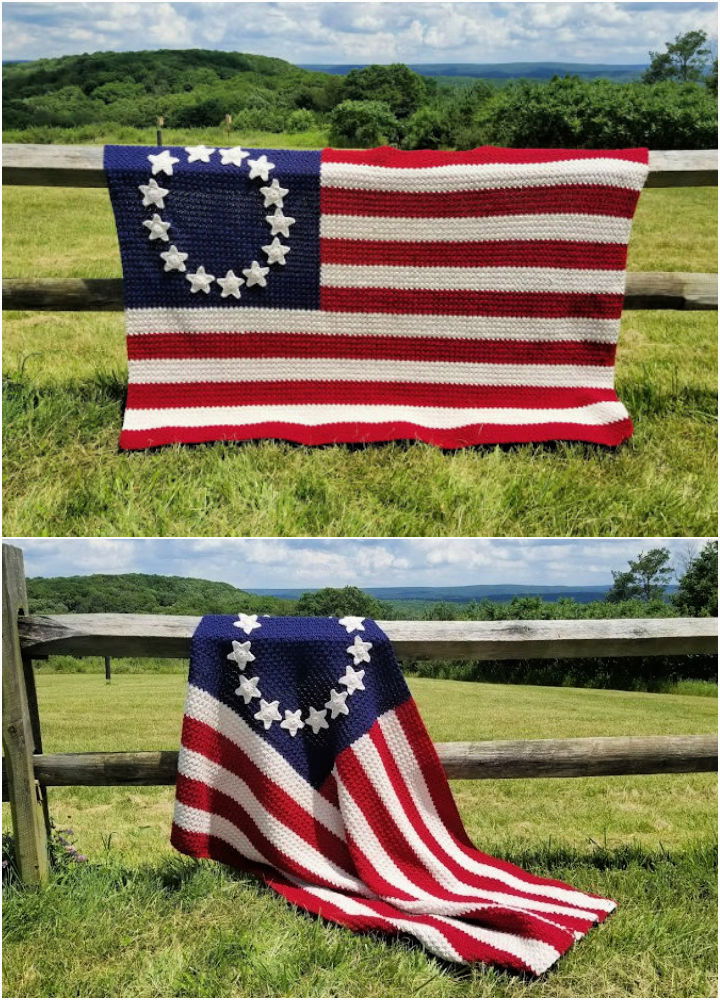 Feel proud to crochet up this super elegant and crochet old glory American flag Afghan pattern. You can use it as the perfect Independence Day decor and use it as the perfect afghan. So grab the white, blue, and red yarn to crochet up this old glory American Flag. Grab the free pattern here! highlandhick
2. Aunt Lydia's Crochet American Pride Flag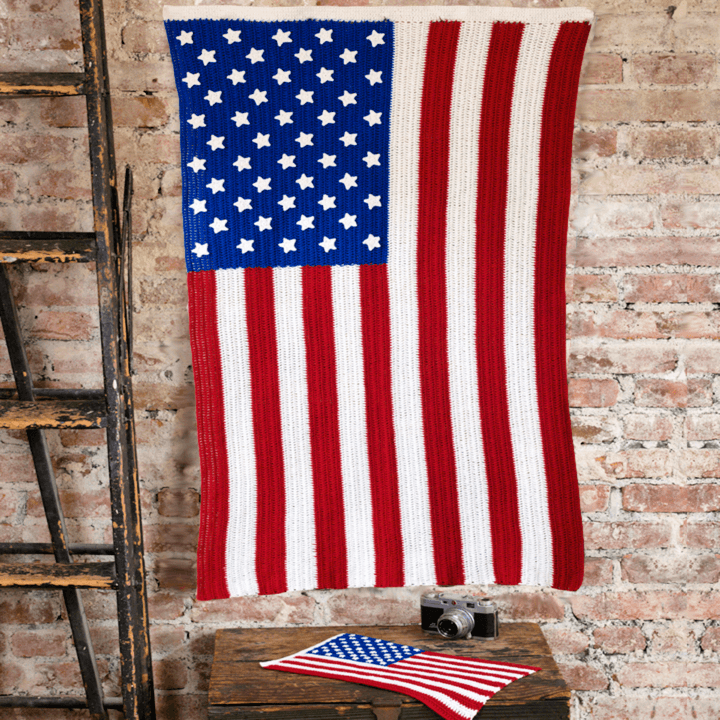 This gorgeous crochet American flag is the pure pride to come out of your crochet hooks, and you would feel more than a pleasure to crochet it up. The Flag would contribute to your 4th July celebrations and decor and can be saved to use each year as a simple wash would make it new. Details of the pattern here! yarnspirations
3. Free Crochet American Flag Blanket Pattern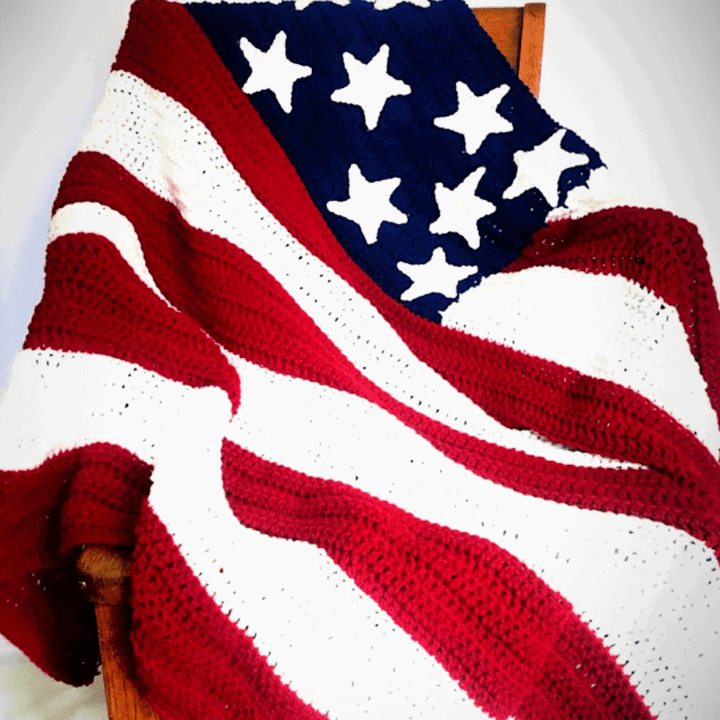 If you are looking for a really nice and quirky kind of crochet American flag blanket pattern to create a fun blanket, then this American flag blanket pattern is the right thing to get your hands on. This gorgeous flag blanket is sure to bring patriotic warmth to you and your decor as well. The easy and free pattern is lying right here! yarnhook
4. American Flag Wreath Crochet Pattern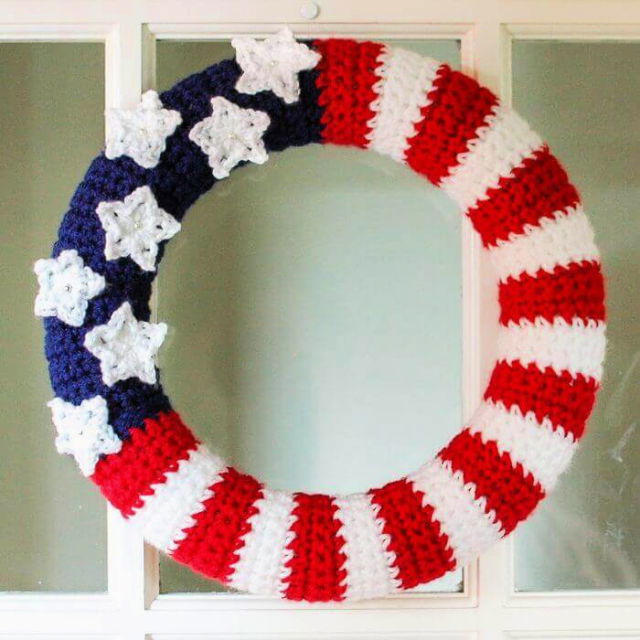 Crochet up this beautiful flag wreath and make your summer home ready for Independence Day. The wreath ring has been covered with the crocheted flag and adorned more with the stars to look just absolutely stunning and patriotic at the same time. Follow the easy and fun details of the idea here and also get the free pattern. petalstopicots
5. How to Crochet Wavy American Flag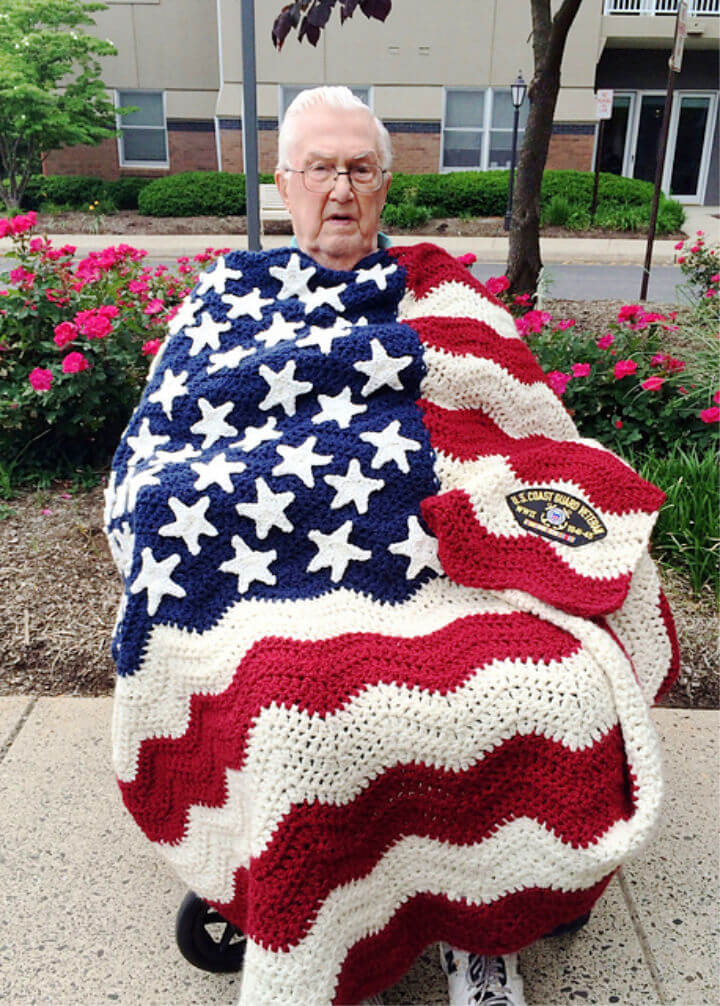 The American flag is one of the most gorgeous and cutest flags with white and red stripes, a blue section with white stars. Now you can crochet up your lovely American flag but with a twist. Yes, you can create those strips in a wavy manner and thus let your crochet flag look so stunning and fun. Free pattern with details here! ravelry
6. 10″ American Flag Square Crochet Pattern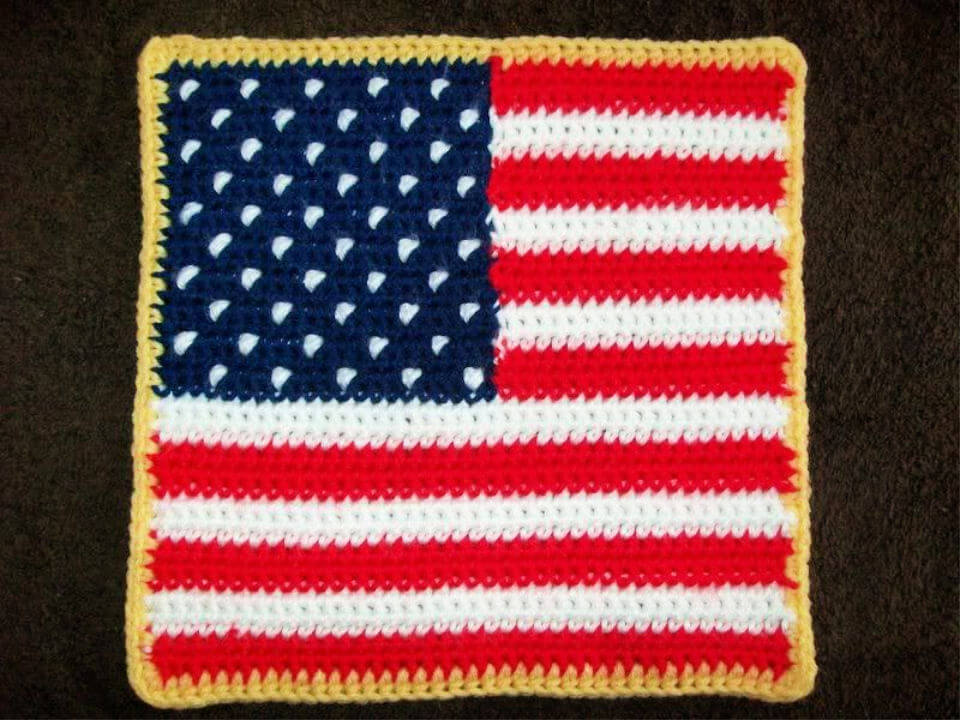 The crocheted flags are really becoming the favorite of the people around and if you are also interested in creating some, then get your hands on this idea. Yes, instead of crocheting up a single giant flag, you can crochet up this cute and small American square, and that too many in numbers to use around for the decor. crochetville
7. American Flag 12 Inch Granny Square Crochet Pattern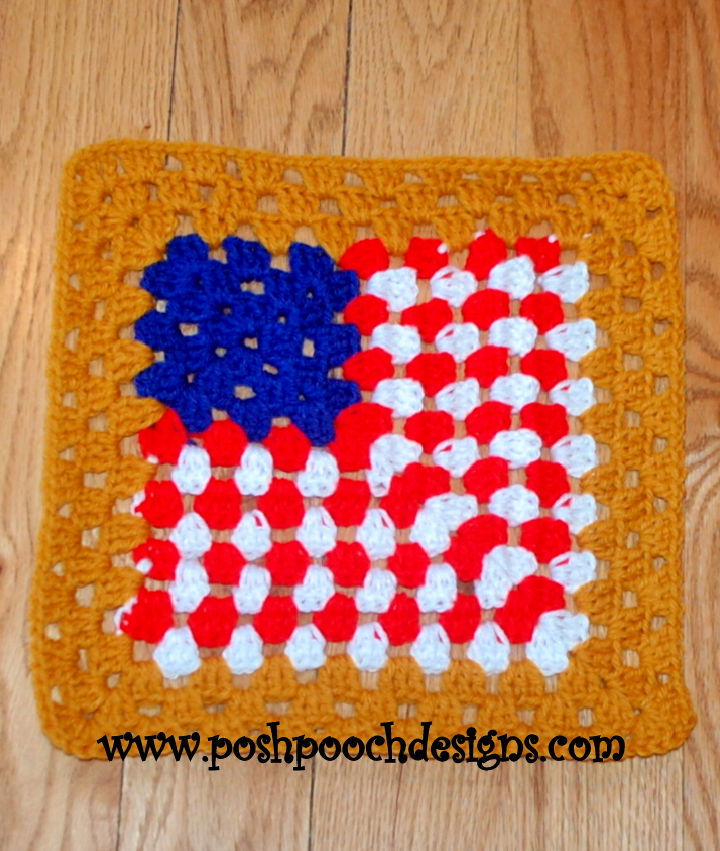 Granny squares are never so beautiful than these adorable and cutely patriotic crochet American flag 12-inch granny squares. The flag granny squares have the exact flag-like structure and design being done in the same yarn hues and a lovely yellow edging. You can crochet up many of these flag squares and then create a lovely flag blanket out of them. The free and easy pattern here with details! poshpooch
8. Waving American Flag – Free Crochet Pattern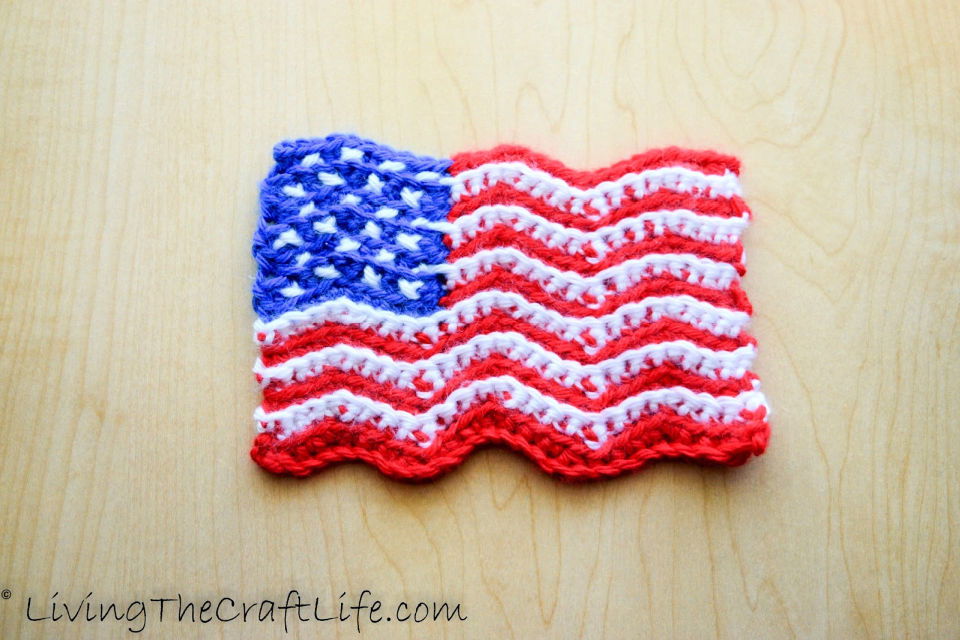 This is the month of Independence, so everything you make should seek inspiration from patriotism, and this quick crochet American flag dishcloth is the proof. The dishcloth is super easy and fun to make and makes a perfect idea for crocheting in July. Free pattern here! livingthecraft
9. 12″ Americana Pillow Crochet Pattern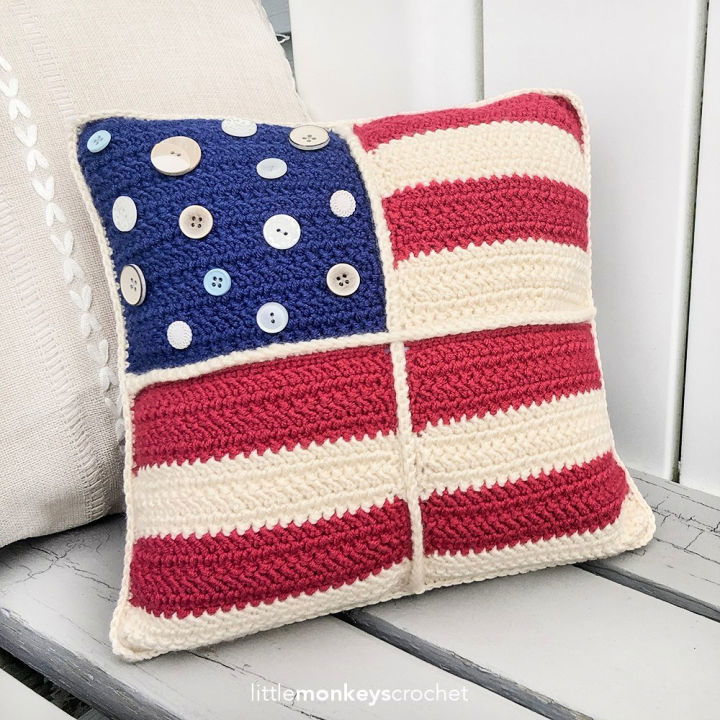 Make your home ready for Independence day with this adorable and cute project of the Americana pillow. Yes, this adorable American pillow has been made out of a complete flag inspiration using the same yarn hues, and buttons have replaced the star for a quirky crisp in the pattern. Free pattern with details here! littlemonkeys
10. Free Crochet Flag Afghan Pattern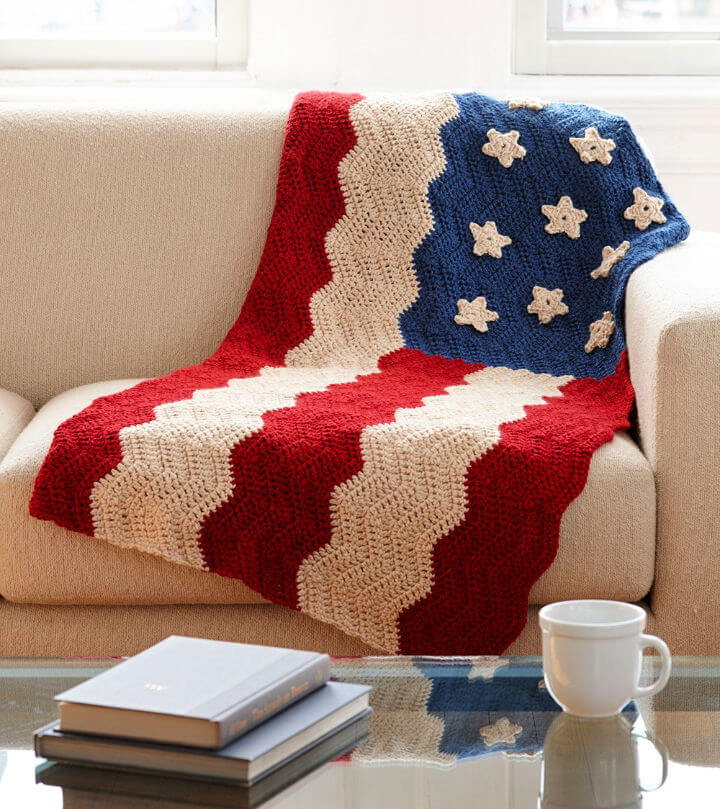 This gorgeous crochet flag afghan is surely going to bring patriotic comfort to your spaces. The whole flag afghan has been done in a wavy pattern that really adds more charm and beauty to the afghan pattern. You can check out the details and free pattern here to make one for yourself! lionbrand
Conclusion:
If you are looking for some free American flag crochet patterns, then look no further! These free crochet patterns will help you show your patriotic side while also being fashionable. So whether you are looking for a new 4th of July outfit or just wanting to show your support for our country, these crochet patterns are perfect for you!