Being a peaceful and cozy haven for your bundle of joy, a nursery should feel like a safe, inviting space where your baby becomes accustomed to the world around them. From picking out color palettes and deciding on themes to choosing soft toys and a centerpiece crib, there's little doubt that designing a nursery will be one of the most memorable and heart-warming times in your life.
Creating a nursery room where your child feels at home in, is one of the most rewarding and important things you can do to welcome them into your family. When designing your nursery, it pays to give this project the consideration it deserves, ensuring the room incorporates comfort and practicality as well as safety and style. In this article, we have come up with some top tips to help you create the nursery of your dreams.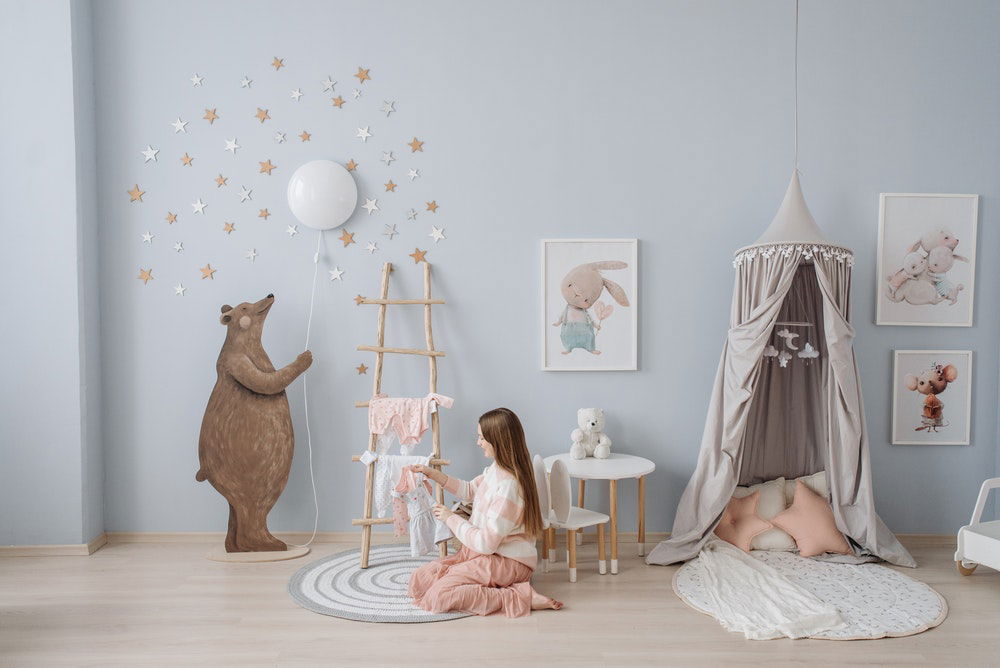 Location
When deciding on which room to convert into a nursery for your newborn, it's advisable to pick one that is close to your bedroom making it easy for you to reach. Other considerations include the temperature of the room. Is it naturally cold or warm? Will you need to add heating or a fan to the room to make it comfortable for your child? Will your baby's room be disturbed by noise? A nursery should be a quiet sanctuary for your child to rest and a noisy room may need soundproofing around its door and windows.
Lighting is another factor to consider. It is recommended that nurseries have sufficient natural light and ventilation. Studies show that exposure to bright light during the daytime, as well as darkness at night can help a baby regulate its circadian rhythms and is essential for their development and healthy sleep. Curtains and blinds can help to adjust the amount of light that comes in through the windows, ensuring your baby receives the right amount to sleep undisturbed.
Create a Floorplan
As well as being adorable and fun, a nursery also needs to be practical. Before you begin assigning furniture and painting the walls, give thought to the layout of the room keeping practicality foremost in your mind. Begin by considering the various zones the room should have, such as the following:
Sleeping Zone: Your baby's crib should be placed away from a radiator or window to avoid excessive heat, sunlight or a draught. Ideally, you should be able to view your child from the doorway allowing you to easily check on them without causing disturbance.
Changing Zone: Place your changing table near the crib making it easier to change diapers in the middle of the night. Also ensure other items such as diapers, accessories and a diaper pail are within reach so you never have to leave your child unattended.
Feeding Zone: This is where you will place your nursing chair such as a glider. Consider putting a small table next to it allowing you to keep items such as burping cloths, a book or your phone.
Play Zone: Your baby doesn't need much space. A small area, perhaps in the middle of the room, can act as a place for them to play. Pull out a play mat or baby blanket, and your little one can have fun with some soft toys, rattles and other baby play items.
Don't forget to plan for storage. A baby may be tiny but comes with a lot of stuff. Whether it's bumper packs of diapers, bassinets, baby clothes or gifts from friends and family you will need space to store these items. Consider multi-purpose items such as combo cribs and convertible changers, which will make the most of the space in your nursery.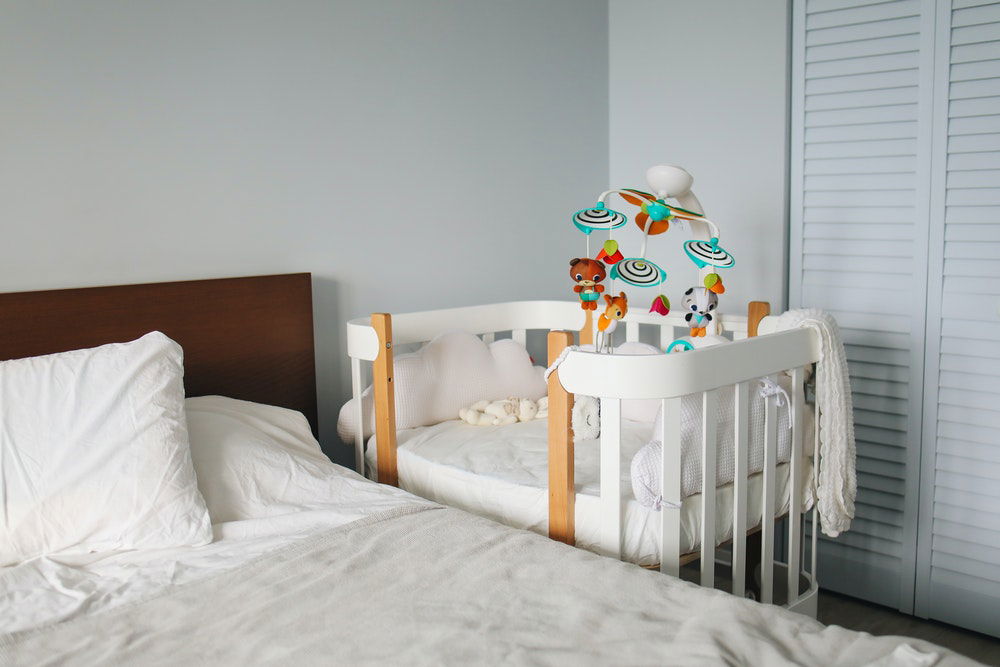 Decor
When decorating a baby's nursery, one of the first considerations is the color palette. Think soft, tranquil colors such as mint greens, dandelion yellows, soft whites or pastel pinks. Use complementary colors when selecting your drapes and furniture and consider creating a feature wall painted in brighter colors or eye-catching artwork to bring energy and focus to the room, helping to stimulate your baby's senses.
Low or zero-VOC paints are best for helping parents keep babies safe as they contain little to no volatile compounds and, therefore, give off less harmful gas than traditional paints. This is also advisable if you are painting a nursery while pregnant.
Your baby will spend much of its time looking at the ceiling so why not give them something inspiring to look at. Decorating this fifth wall can be a great way to stimulate your child's young mind and help with their development. Whether it's butterfly stenciling, soft fluffy clouds or a dreamy, starry night, allow your creativity free reign in order to capture your child's imagination.
Removable wall stickers are another great way to add a touch of magic and wonderment to your child's room and can easily be removed as your baby grows. When it comes to furnishings, think of textured fabrics such as shag rugs, tasseled wall hangings, cozy pillows and soft toys helping to make the room feel calm and inviting for baby and mother, when feeding.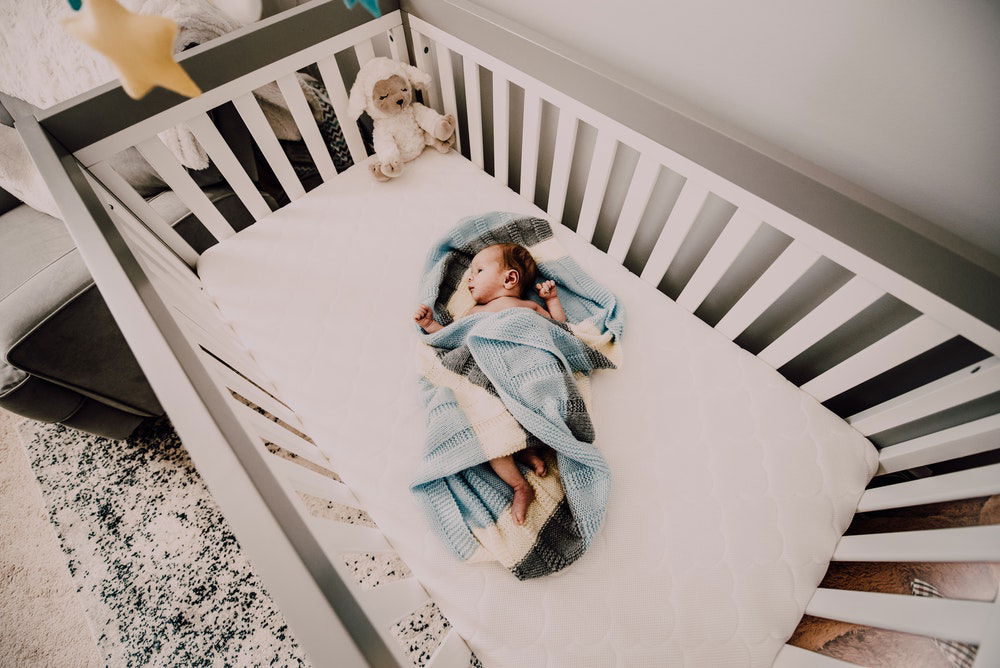 Lighting
There is no better way to create a warm, soft glow in your baby's nursery than through your choice of lighting. The right lighting can soothe your child, helping them to fall asleep and is also beneficial for nighttime feeds.
Avoid harsh lighting such as halogens or bright, uncovered light bulbs, instead, use soft-white or warm bulbs and consider installing a dimmer switch. This will enable you to adjust the lighting in the room to let your baby's body know it is time to sleep and will also allow you to check in on them during the night as well as feed or change their diaper without disturbing them from their slumber.
A night light can also be another great feature to have in a nursery as it produces a subtle light in the nursery creating a calming ambience that can gently lull your baby to sleep while making it easier for you to enter the room for multiple feedings and diaper changes. Make sure to purchase one that is low-wattage and emits a warm, red or yellow light, avoiding blue or green wavelengths of light as they can disrupt an infant's sleep.
Now that you have all of your nursery essentials in mind, you can begin preparing this room in time for your newborn's arrival.