The world is going to be more populated, and for the sake of residence, furniture, and wood, people are going for forest cutting on a big scale that is a huge reason behind such high values of global warming. We should always save wood and recycling is the only way to keep using the wood again and again, and this also reduces the danger of more tree or forest cutting. A big amount of wood is being used as shipping pallet, and billions of wood pallets are used every day. The owners of the shipping companies consider the pallets a big waster after their role and duty in the ships and throw them away mostly to that of landfill areas, dumping grounds, scrap material piles and sometimes randomly on roads. Are you looking for pallet ideas?
We think that somehow this bigger free source of wood pallets should be availed and this may results less cutting of trees and a great wood waste reduction and the upcycle or recycle pallets can get sturdy furniture out of them of all kinds and can also do various kinds of home improvement projects. Here we have shared 72 unique DIY pallet ideas to recycle, upcycle or reuse free pallets that can bring a great style, beauty, and functionality to your home. You will get all on such a cost-effective plan that will make you amazed.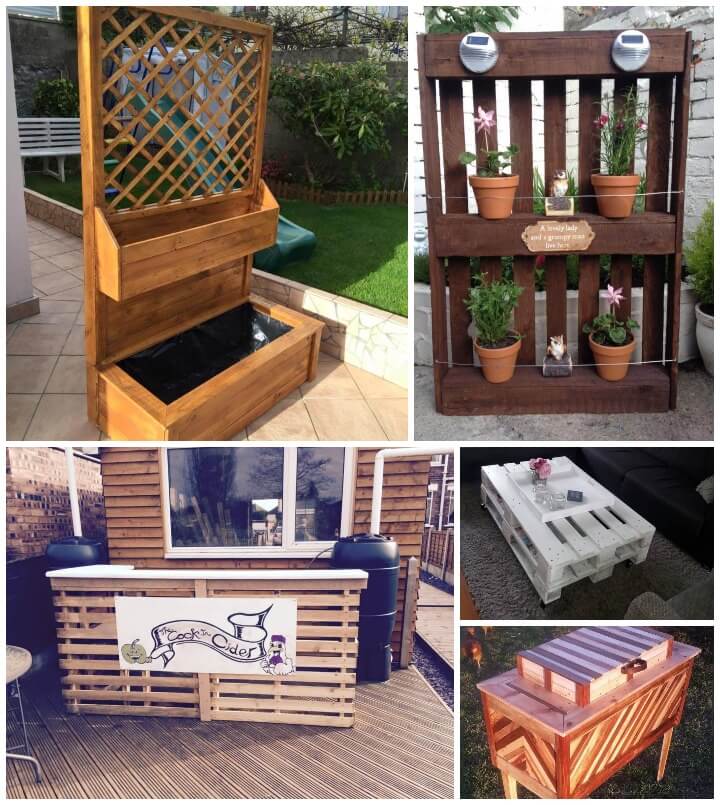 We have set up this blog to lay more stress on pallet wood recycling, and it can cause some great things to happen to you. One major achievement you can do through pallet wood recycling is to lower down your furniture expenditures by building your own all-time functional and sturdy furniture with them. Build amazing accent tables using pallets that set the things and decors up for you. Along with dining, coffee and other utility table types, also build the accent tables an example is here, the coffee table with flower planter.
Pallet Projects:
Treat the pallets with other useless kinds of wood like cable spools and get bewitching rocking benches for you and your kids as to and free rocking chair sitting experience held pleasurable to all of us. Also, go for amazing pallet deck for daytime sitting and guest entertainments, and you can create a wooden floor using pallets while going for it.
Build vintage inspired decors, decorative units, and even the antique mirrors accent. Also, rebuild the pallets into amazing pallet bed frame made more arresting with lights and recycle the pallet for amazing wall organizers to get your things instantly at the time of need.
Pallet + Spool Wheels Toddler Bench:

Rocking sitting experience is always awesome for daydreaming and book reading in very of your free time, and this rocking bench can help you in such cases, two cable spools wheels and some wooden pallets are wholly responsible for this grand rocking bench design!
Scale the size up to get a mature version of it.
Accent Pallet Table with Planter: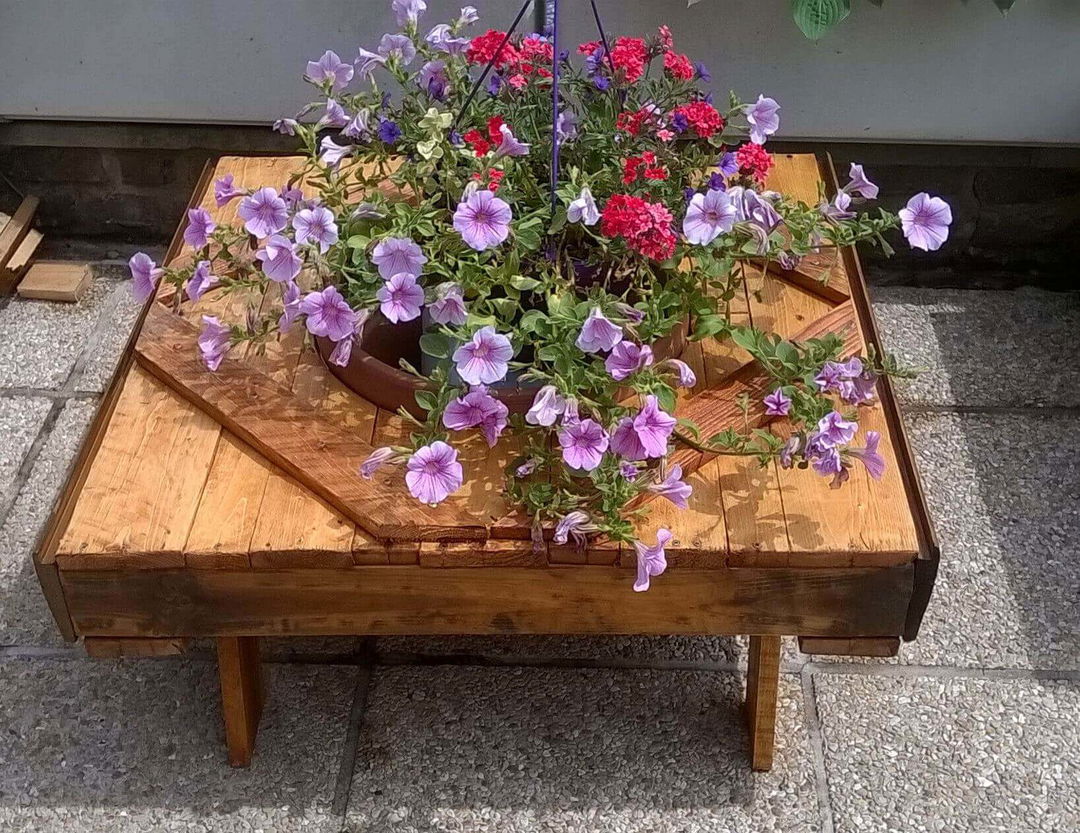 The wooden table is always to hold more of your attention, have this pallet-made table to boggle the mind of onlookers, comes with a precious planter at top and would be an accented gift to any of your seating arrangements and plans.
Pallet Accent Garden Planter – Wall Organizer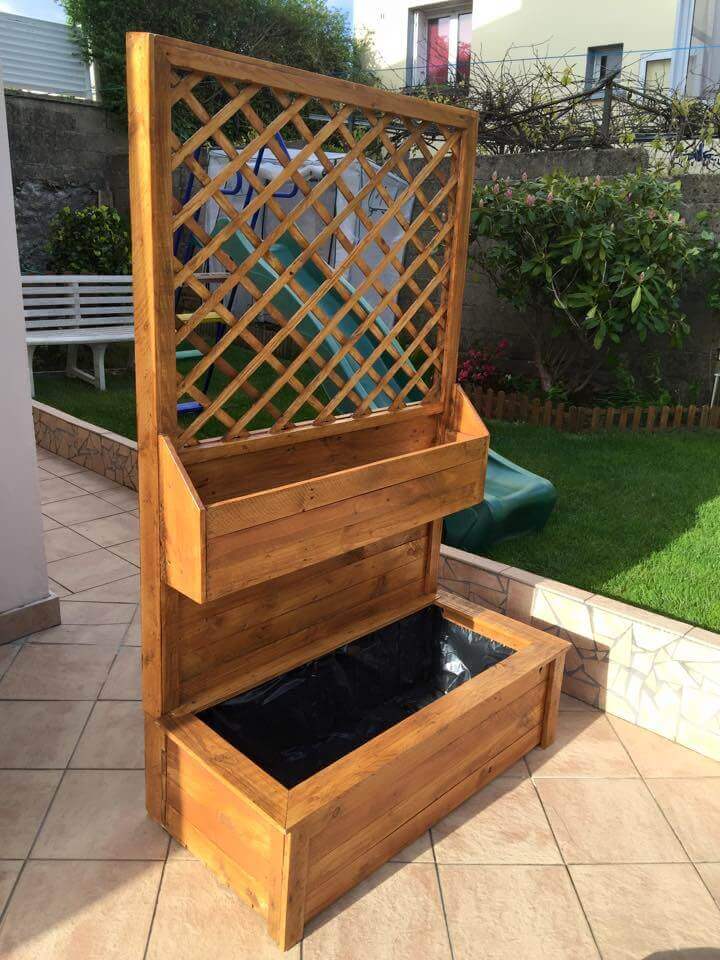 Check out this multi-functional pallet shelving unit, another creative achievement done with rustic pallets.
Amazing to use as a planter in your garden space or use as an accessory organizer. It would also stay very well as toiletries holder on a bathroom interior wall.
Vintage Inspired Accent Pallet Mirror: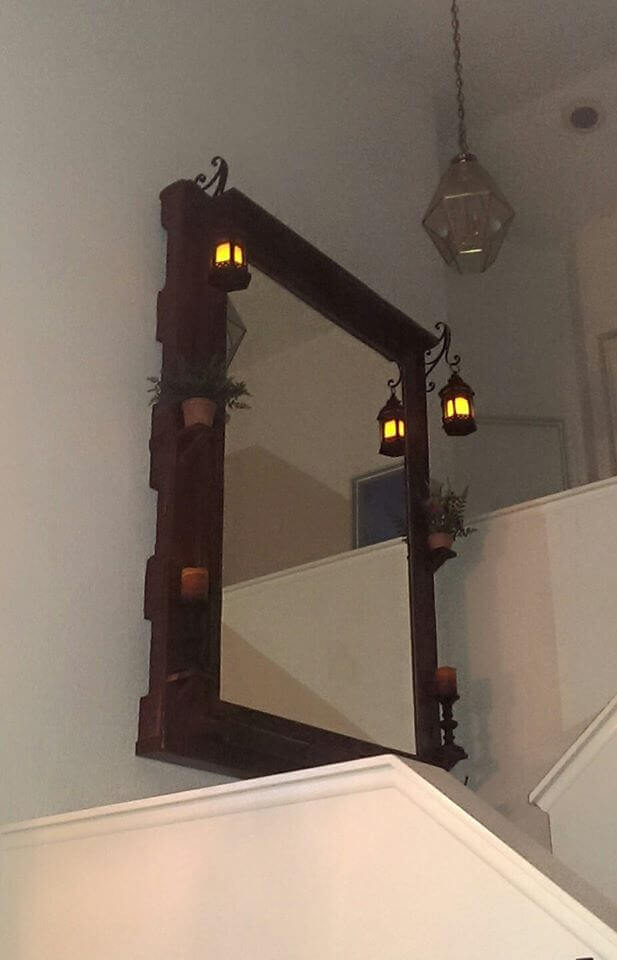 Use the rusticity of pallet to give some antique and vintage inspired effects to your modern interiors, for perfect elaboration; you can build this wooden accent mirror with rustic wood boundary all around.
For more mid-century inspired touches, antique light fixtures, and tiny faux flower vases have also been added. The amazing project was done with extra rustic pallets!
Pallet Platform Bed with Red Led Lights: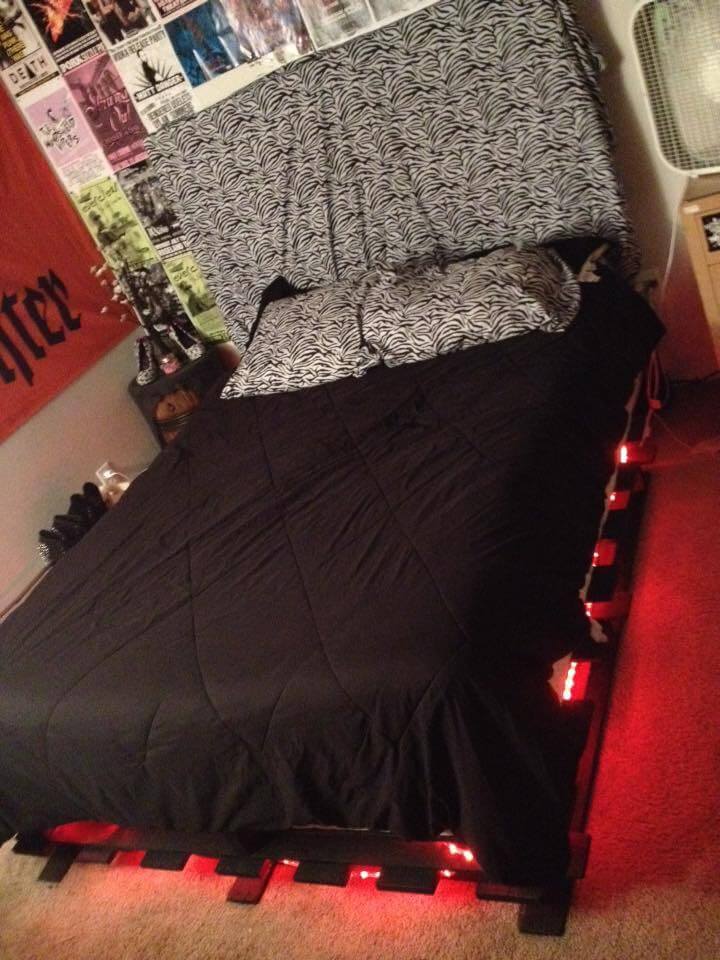 Will you believe that this cozy demonstration of bed is the only result of some whole stained pallets and some LED lights fitted underside?
A wonderful pallet recovery in the shape of this decorative lighted bed statement. Get inspired and do make it cloned.
Amazing Pallet Deck: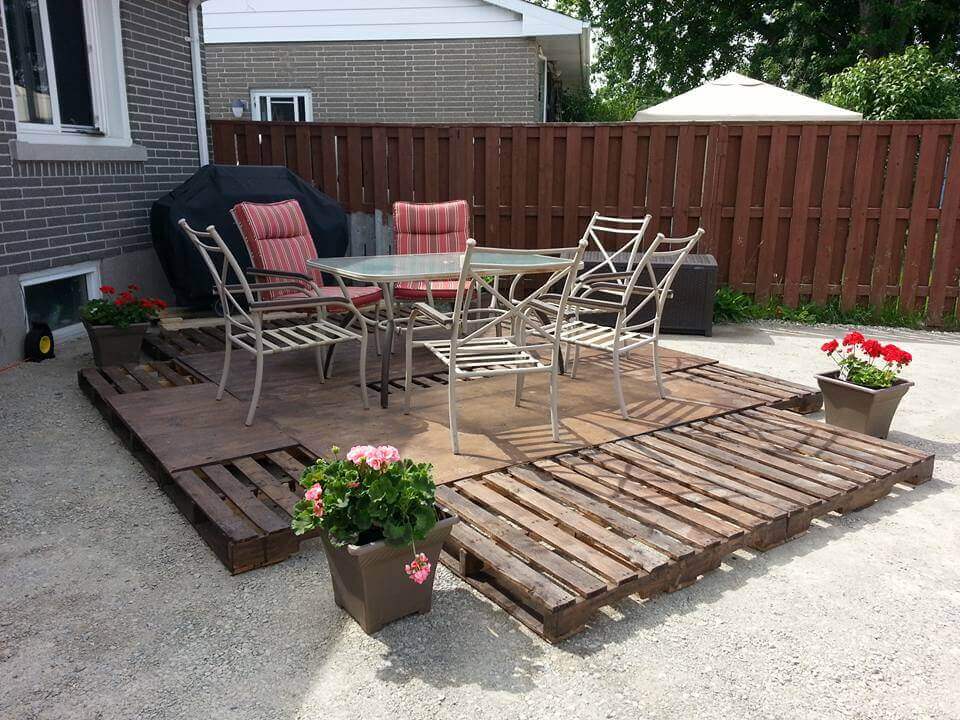 Floor up the pallets and get raised home deck flooring to get ideal outdoor sitting.
Also install the outdoor pallet gazebos, shelters and pergolas using pallet boards to get protection against dead of summers!
Pallet Furniture Ideas:
There are damn creative pallet recoveries and achievements here to share with you done by some genius people around the globe. One is here this wooden pallet headboard, a valued component of any bed frame for its accent and beauty issues. Settle the pallet down into more amazing and creative dimensions and get super sturdy stands for dog bowls, ice coolers and also for outdoor vanities and basins.
Reset and join some of the pallet boards to get spectacular potting benches for your garden potting, grooming and tool storage purposes, here is an example of it to get you inspired.
Also, build the amazing media stands and entertainment centers out of pallets even for a sectional fit, these media stands are the real worth of any media or living room and cause great fun. We have provided here pictures and practical demonstration about every pallet-made product and craft we are discussing.
Wooden Pallet Headboard with Decorative Mantle: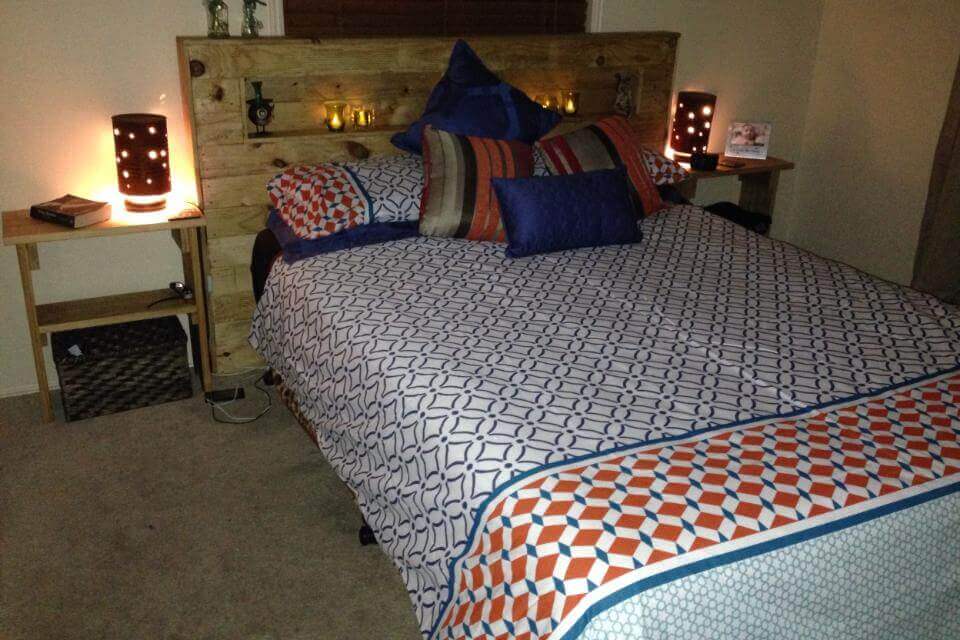 Nice selection of headboard accentuates the whole bed design.
To make the bedroom pretty vintage, built your rustic headboards with optional features and storage options.
Here is an ingenious headboard inspiration to get yourself more creative.
Pallet Outdoor Vanity: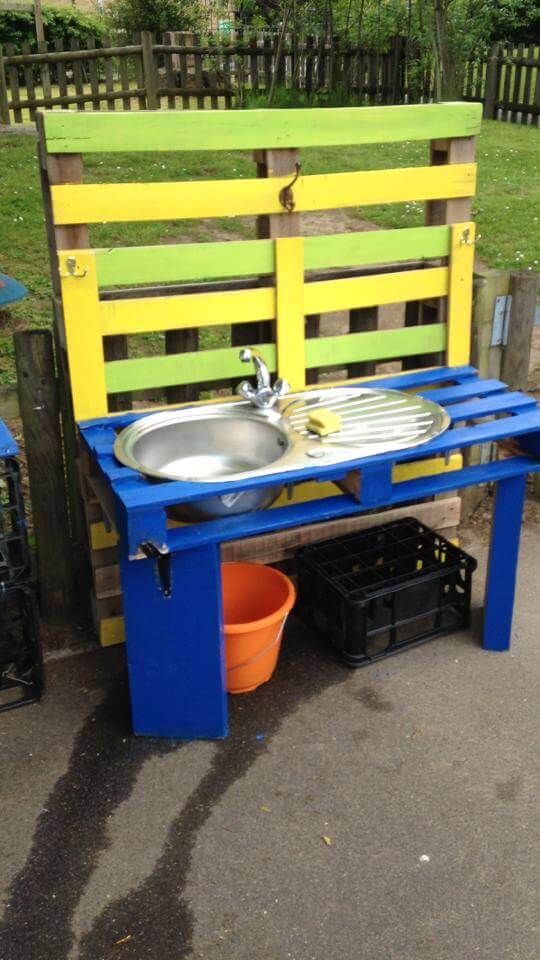 Build outdoor vanities and basins to facilitate your outdoor parties and picnic.
Wash your hands and picnic utensils here when home basins are not in access.
Theme color may vary according to your own choice!
Pallet Outdoor Cooler and Ice Chest: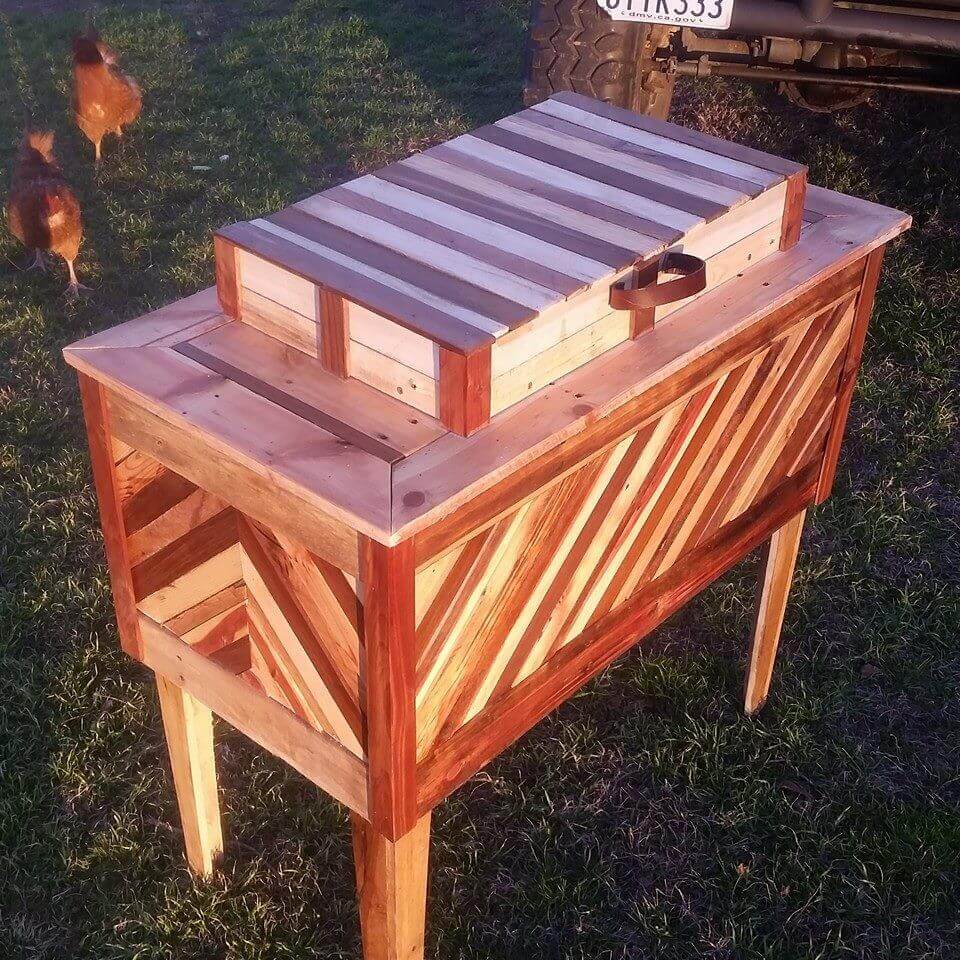 Keep a fresh ice supply ready while having fun in outdoor parties, this ice chest with igloo cooler inside will take good care of your beverage and would keep it cold during the whole party time.
The design comes with chevron, diagonal strip and fringe wood patterns and wood with different wood tones make the design much enticing.
Pallet Cooler with Wooden Star Tag: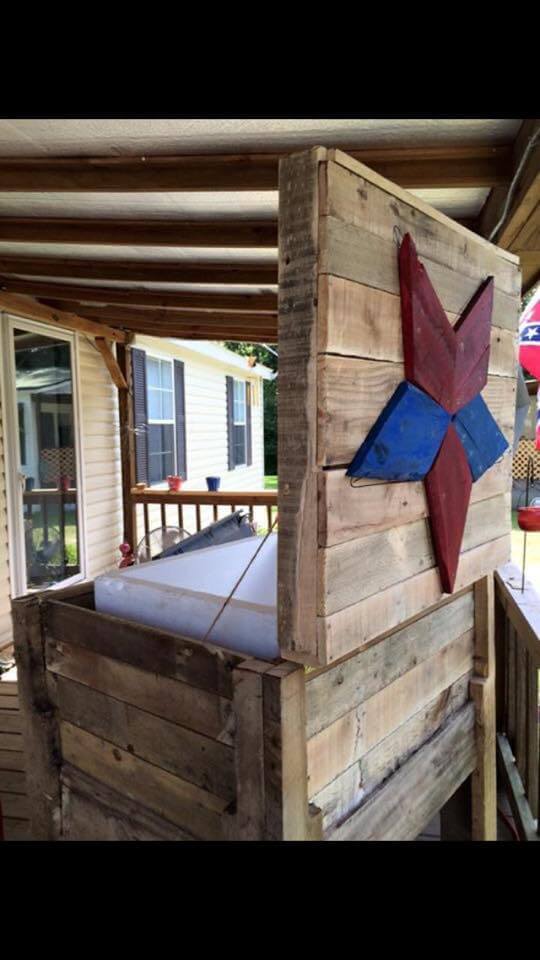 Another inspiration is here to go for an outdoor cooler with pallets.
Build the stand in according dimensions to fit the igloo cooler perfectly inside.
Add top lid, and that's it! Low thermal conductivity of wood would retain the coldness longer.
A wood-start with blue and brown color has been tagged on cooler lid for a more charming and personal look.
Storage-Friendly Pallet Garden Potting Table: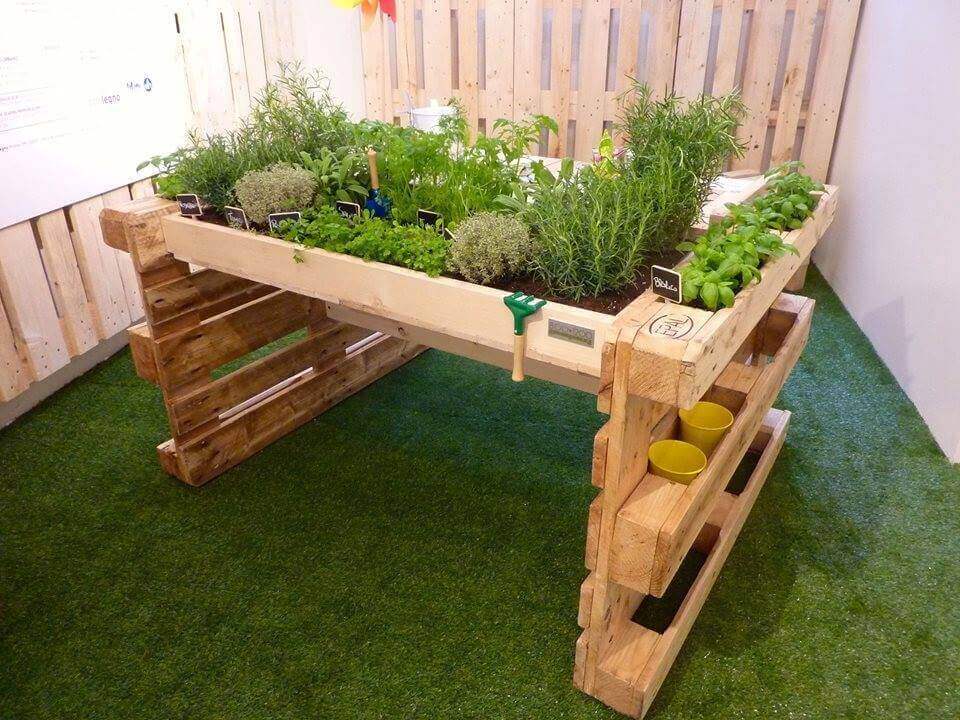 Another creative use of Euro pallets is to see here, Adjust 2 pallet boards as legs and one bigger one as the top of the table, add some potting soil on the top and get a potting table for your garden accent.
Pockets and opening in pallet boards can hold the mini pots, garden tools, and other relevant stuff. Amazing
Pallet Sectional Media Stand – Entertainment Center: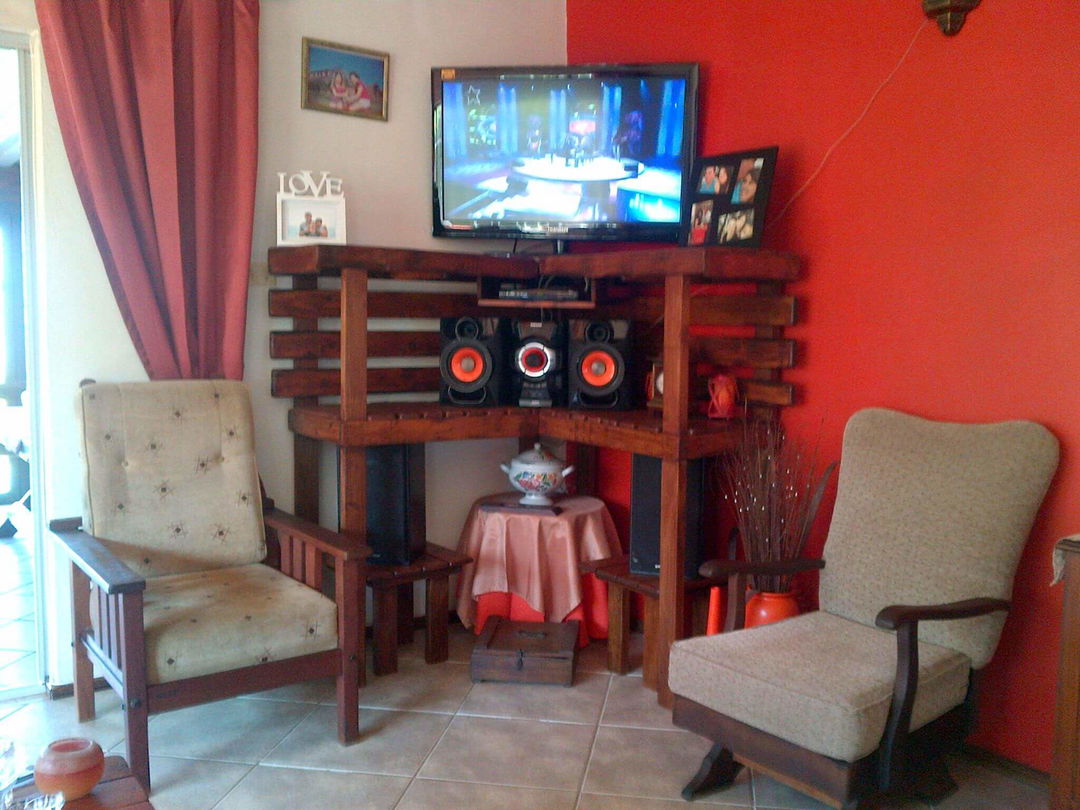 Media rooms are just nothing without a media table or entertainment center inside.
Mostly the higher market rates responsible that people do not have it.
Rebuild the pallets into amazing media units and TV stand with just little effort and creativity.
This one comes with a sectional raised and high top and has a shelf underside to store some extra media items.
DIY Pallet Ideas:
Get your kitchen uncluttered by building amazing spice racks, mug organizers, and hanging cooking pan and tools racks with pallets. Make every of your sitting plan completed by making amazing coffee tables with pallets, and you can even treat the old windows with pallets for this purpose. Build outstanding nightstands and other mini types tables for couch sides to support the night supporting material and living room accents respectively.
Also build the kids stuff like furniture, mud kitchens, and workbenches to boost up the kids fun and recreation with pallets. Just give the solid rectangular shapes of removed pallet slats to get amazingly sturdy accent heads for your bed frames and also reclaim the pallets for eye-catching garden sets, patio sets, sofa sets, and dining sets.
There is pallet-made stuff for every of your unique furniture need and demand. A little effort and planning can turn the pallets into extra brilliant furniture crafts that can make a person live the luxury who is on a budget.
Pallet Nightstand + Side Tables: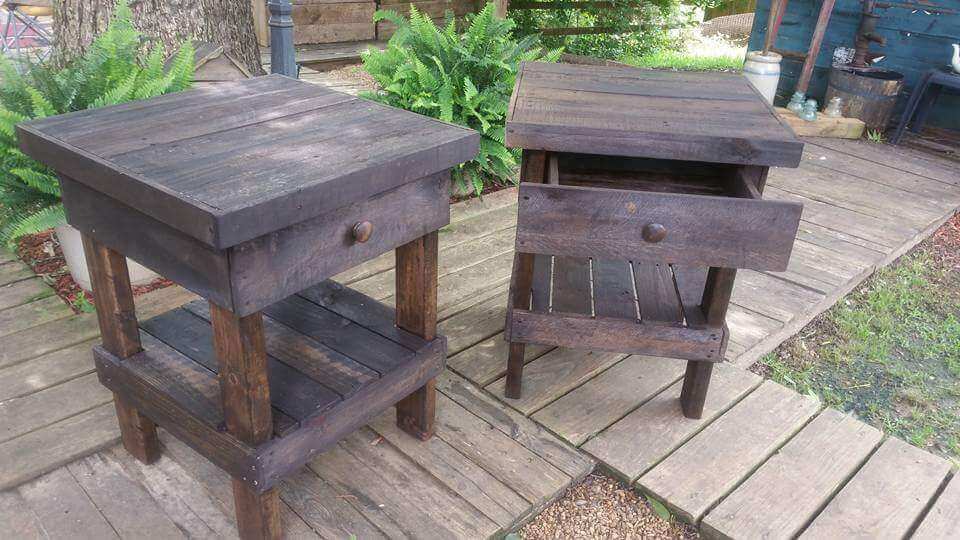 Need a nightstand, side table, or a min floor cabinet? Here is the plane to get all these with pallets!
Tables have been built in shelves and also contains a drawer for a more secure type of storage. These are just best for couch side and bedsides.
Pallet Workbench for Kids: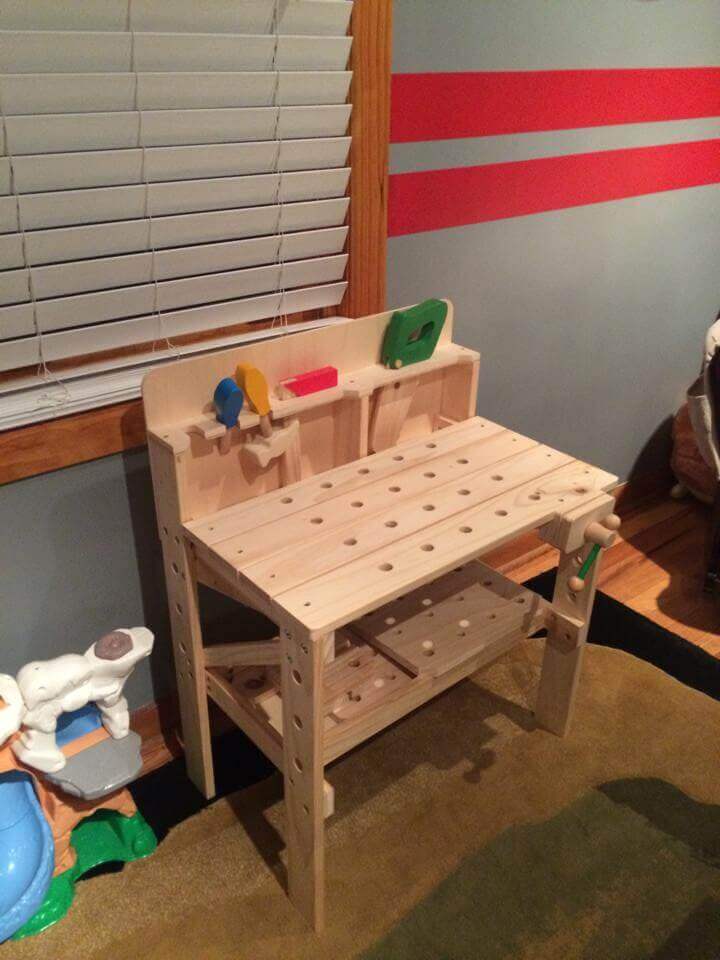 To learn anything thoroughly we have to go practically for it, this kids practice bench or working bench will induce the master craftsmen in your kids.
Another amazing way to go handmade with pallets.
Super Functional Pallet Kitchen Rack: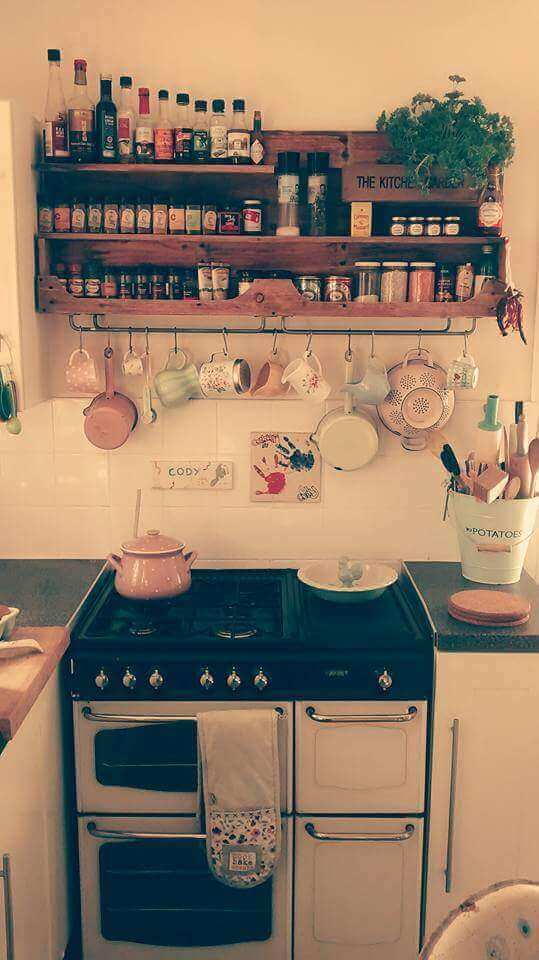 Also create functional looks of your kitchen or bathroom interiors by installing amazingly function towel rack, organizer and shelving units which are pretty simple to make even for a person who is new to woodworks and carpentry.
Pallet + Old Window Coffee Table: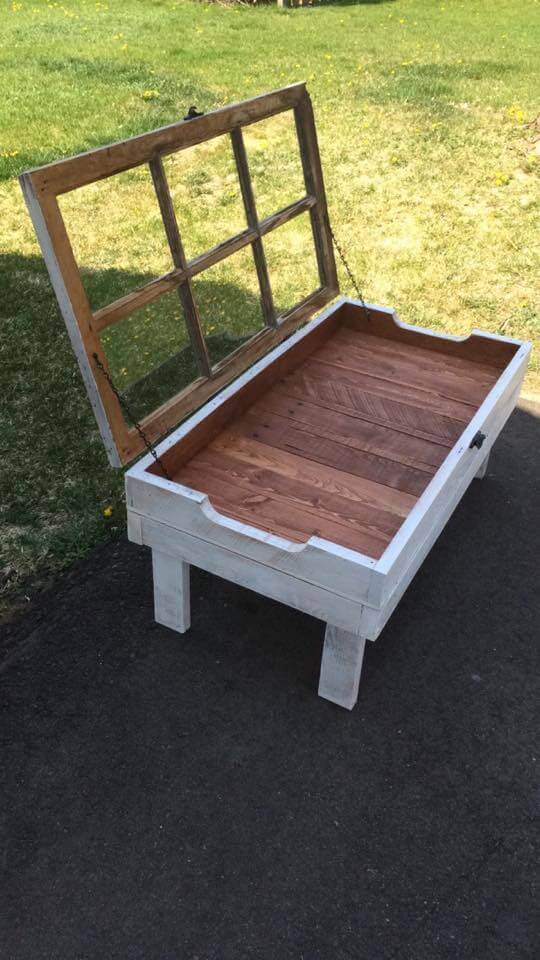 Look at this storage-friendly table made of pallets and a reclaimed window paneled with glass.
Exterior has been painted in white while the interior has the dark rustic wooden tone.
Glass window top comes on hinges for safe handling and has been supported with heavy-duty metal chains.
Vintage Inspired Pallet Dining Set: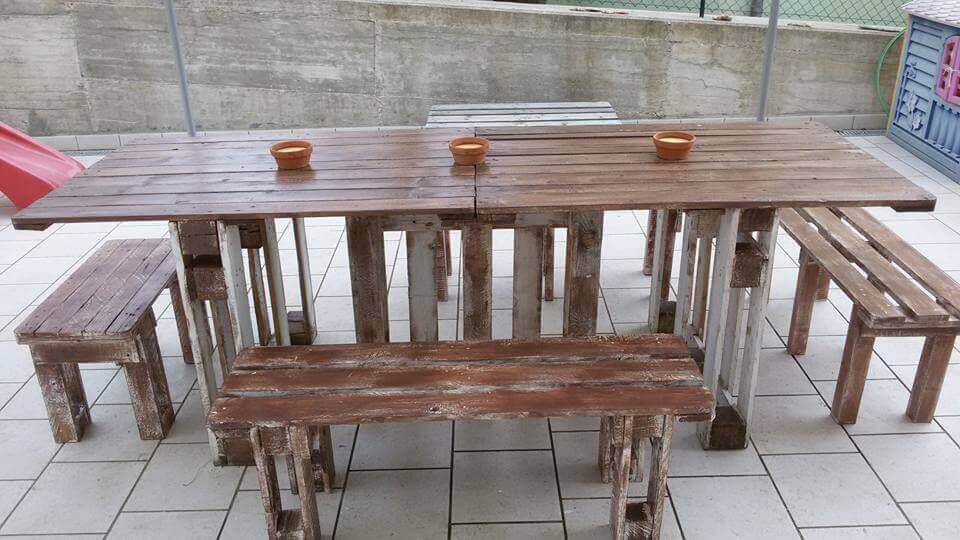 Pallets can be reclaimed for any furniture, here is the perfect dining arrangement, installed with pallets.
Pallet wood has been cut down to sizes and then refinished to build the legs of benches and dining table while table top and berths have been build with removed pallet slats.
Rectangular Pallet Antique Headboard: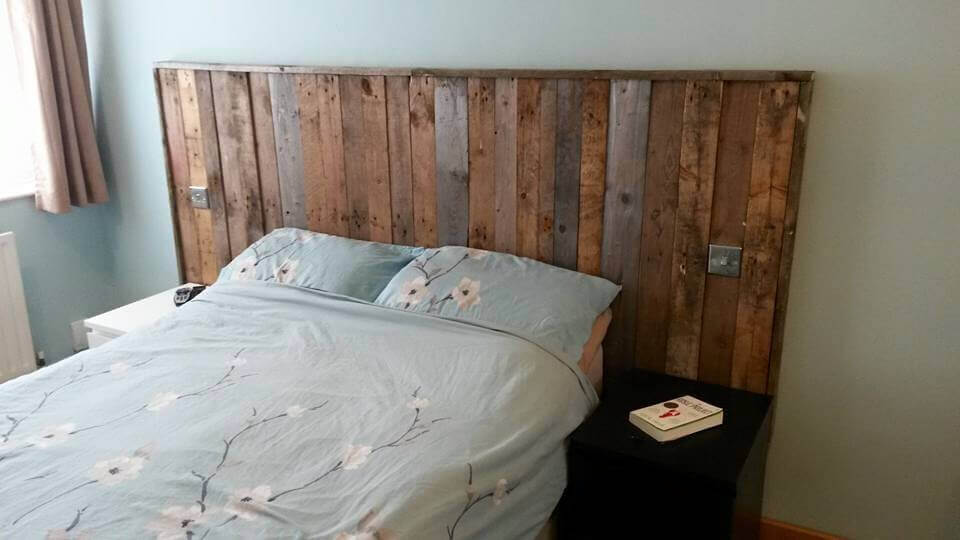 Separate apart the pallets and use the pallet slats to build a rectangular wooden board again, this would serve you as an accent rustic pallet headboard for your bed frame.
How simple it is!
Wood Pallet Ideas:
One can edit both indoor and outdoor portions of his home to get it visually attractive and more functional that it has never been before. For garden decors, one can build the vertical pallet garden, wall hanging planters, and even the wooden showcases to display the pots and other garden embellishments. Coffee tables that mostly serve us as conversation starter can be designed with countless possibilities using pallets, and we have shared few ones here to induce the creative recycler in you.
Is it trying to make your home ready for guest entertainments? Make coffee tables and sofas with pallets, intending to go for outdoor dining? Build amazing vintage inspired dining sets with pallets and also looking for some amazingly comfortable outdoor chairs? Build charming Adirondack chairs with pallets that are just super comfortable with sloped berth sections and are always exclusive to enjoy the natural greenery and outdoor scenes. Thinks out of the box because everything is possible here!
Pallet Garden and Patio Pot Holder: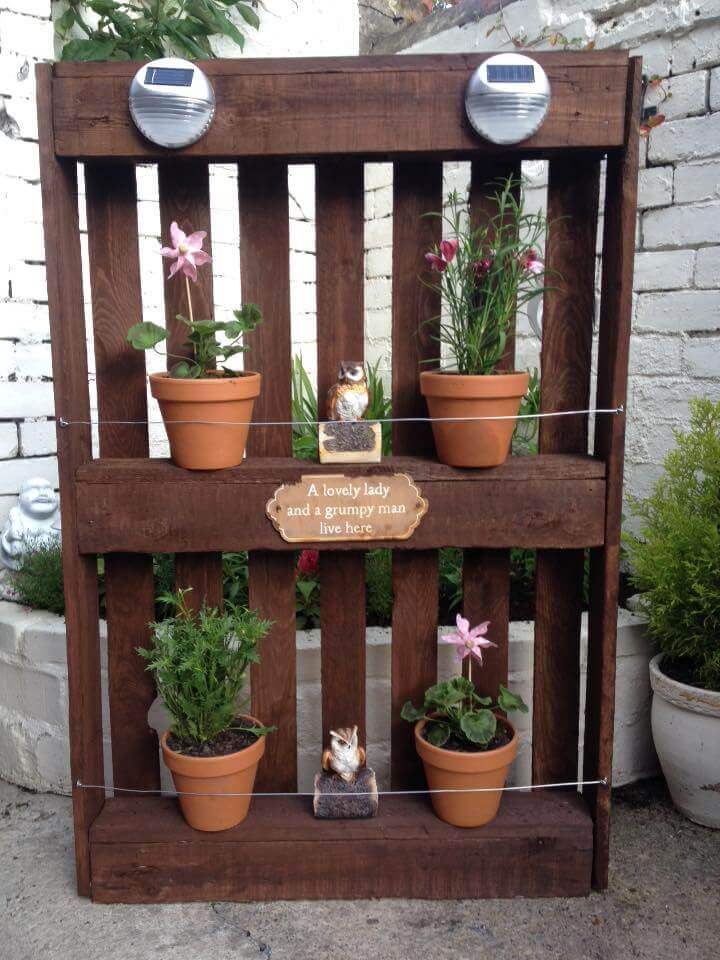 Make a whole pallet board stand vertically and fence the shelving levels with two metal wires, get an amazing displaying unit to create showy looks of your garden pots and decors!
By going with the same idea also build amazing decorative units for your living rooms.
Focally Stimulating Pallet Adirondack Chair: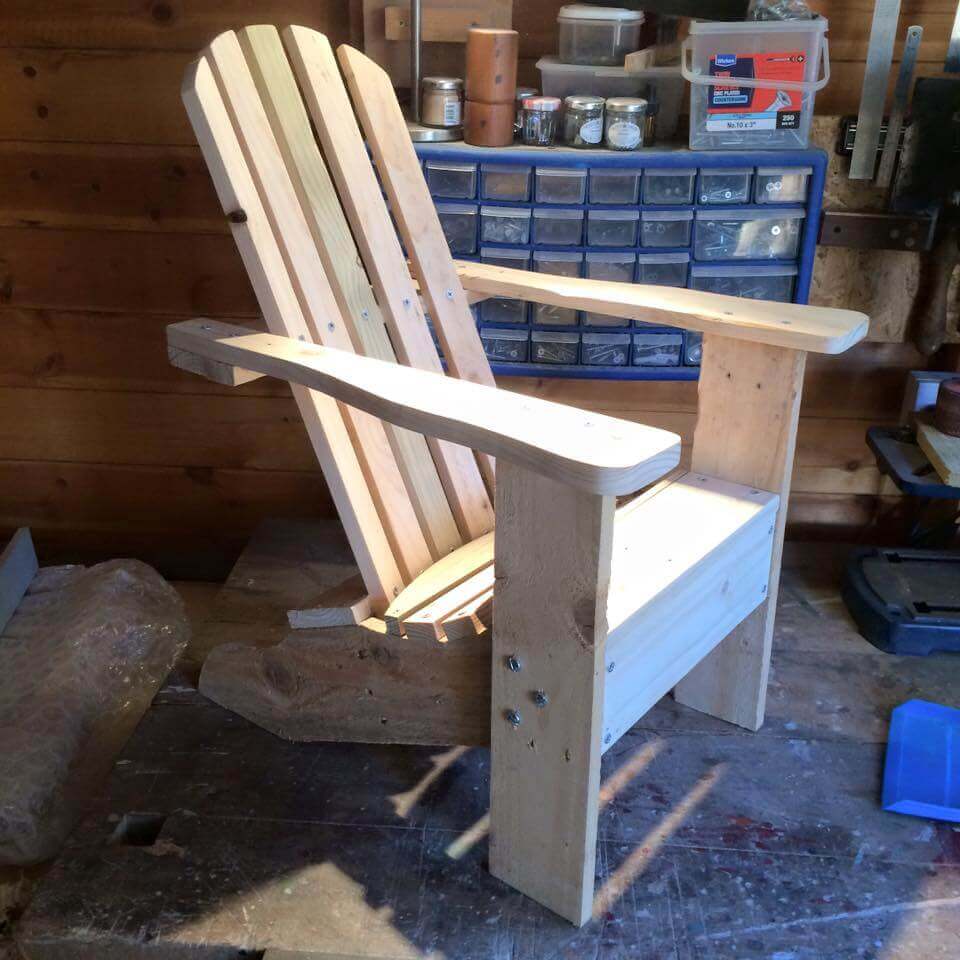 Adirondack chairs are the chairs with special features to relish the outdoor and to capture the naturally occurring scenes and greenery all around.
It comes mostly with a reclining or sloped back to stare conveniently at the sky. It is also pretty easy to make with pallets and here is proof of it!
Coffee Table Made of Ultra Rustic Pallets: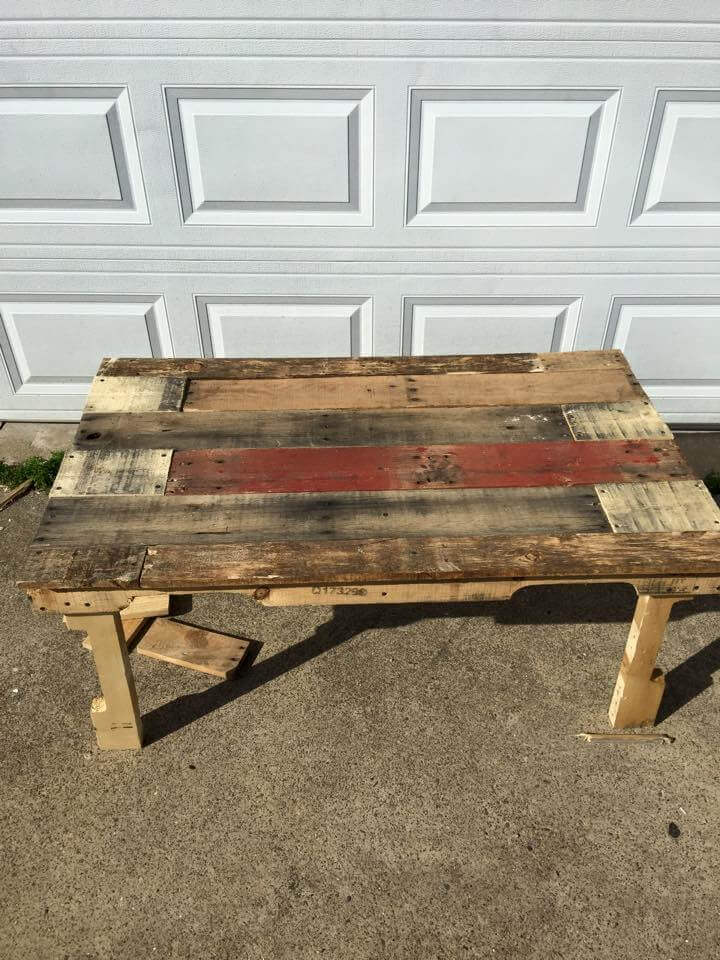 A coffee table is used as a beverage and refreshment server, as a centerpiece to sitting plans and also as a conversation starter, you can get coffee tables out of pallets in plenty of design as it is the most made item with pallets.
Wood Pallet Coffee Table with Build in Shelf: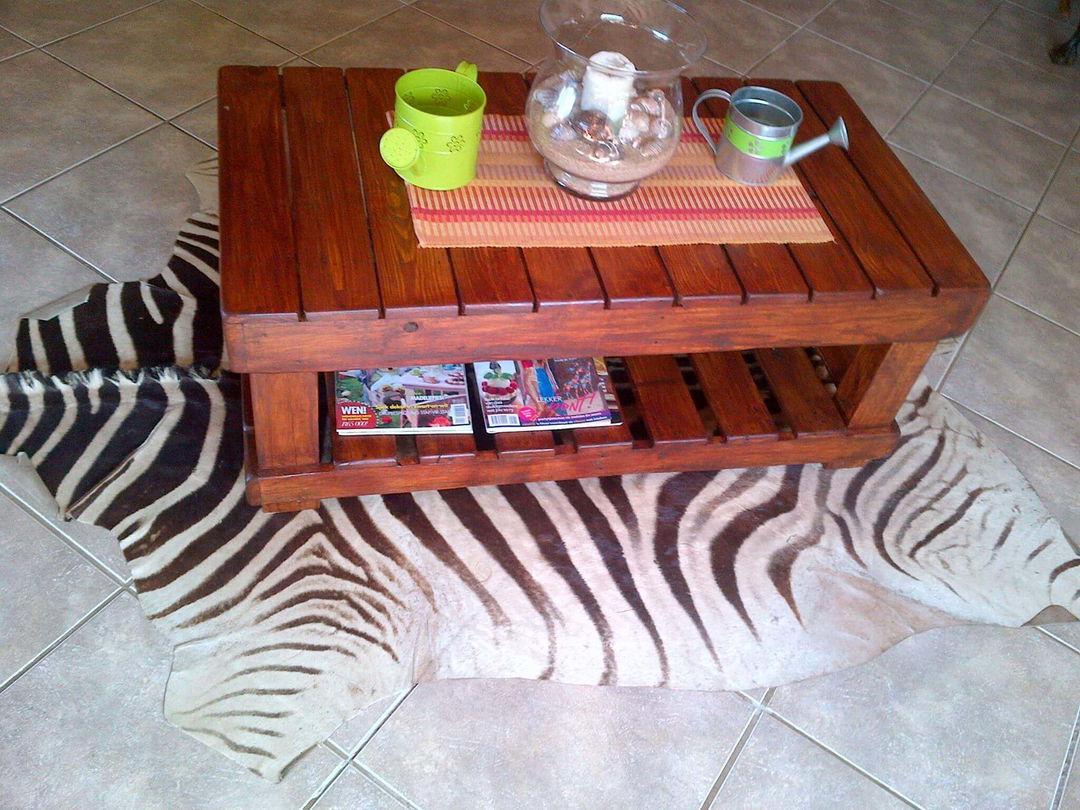 Here is another statement coffee table for your living room and patio, stained in the light walnut shade to get an eye-catching spark on the wood grains.
Comes with a build in shelf also made of separated apart pallet pieces.
Accent White Low Pallet Coffee Table: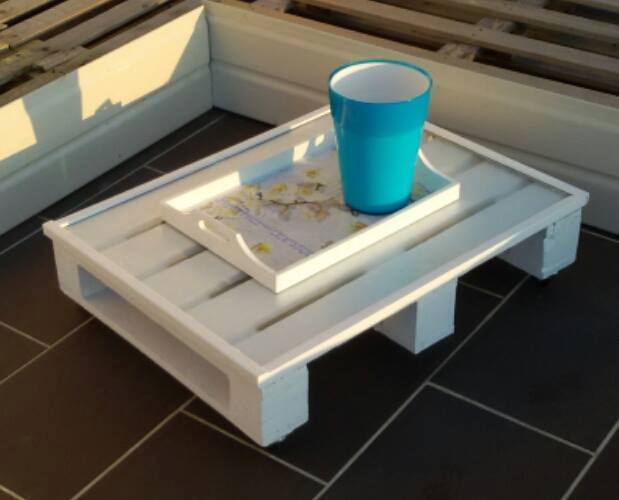 Pallets come in different sizes like small, big, and XL sizes, one can use them as they are as low coffee tables, but finishing them with legs raise them to cozy table height levels.
Vintage Inspired Pallet-Made Dining Set: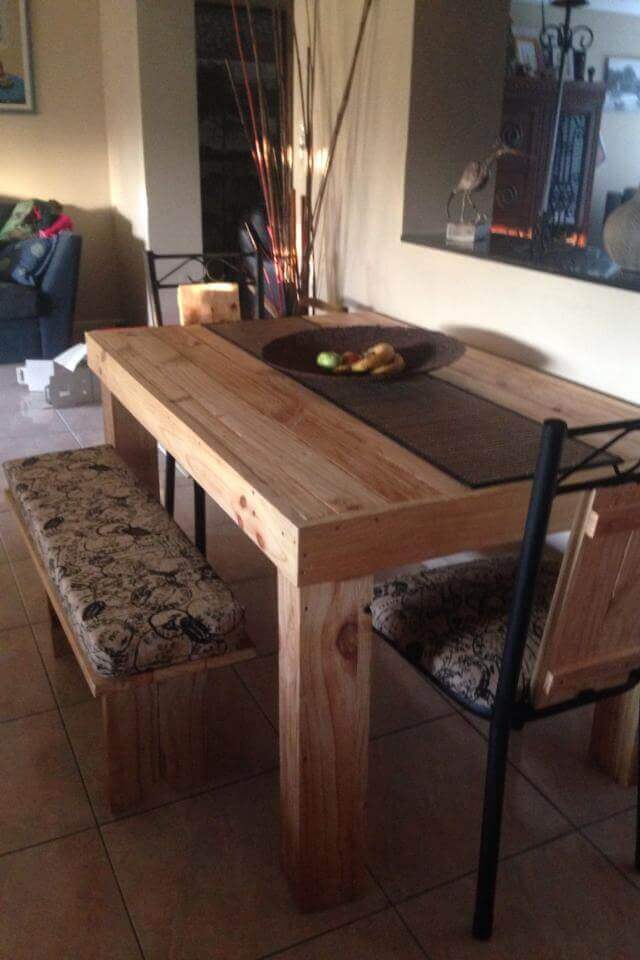 Dining sets are also getting very expensive day by day.
Build your own cozy and vintage-inspired ones at home using pallets and here is pallet dining table with a dark wood inlay and can accommodate six people for dinner or breakfast.
Pallet Benches have also been made of a pallet and have been upholstered for a super comfy sitting. Get inspired by pallet wood creativity and get your life on trends!
Wood Pallets:
The environments in which we operate are surrounded by the benches, chairs, tables, and desks. Tables and desk set the things on highly convenient height levels for easy operating while the benches and chairs are exclusive for all time enjoyable sitting even when being in front of a home or office computer! Build all kinds of desks and tables with pallets to get your home on a functional track and also save a lot of money to use elsewhere.
Build office desks, kids picnic tables, mid-century inspired and retro styled coffee tables with pallets, and live a happier life ever. People addicted to gardening can take much advantage of pallets while improving or decorating their garden spaces. Pallets are feasible if you want some amazing planters, vertical gardens, hanging potting shelves, and potting tables. Patio benches, front porch benches, and benches for rooftops and terrace sitting are also constructable with pallets. Just go ahead and start collecting the pallet ideas are here for you.
Accent Pallet Wall Hanging Planter: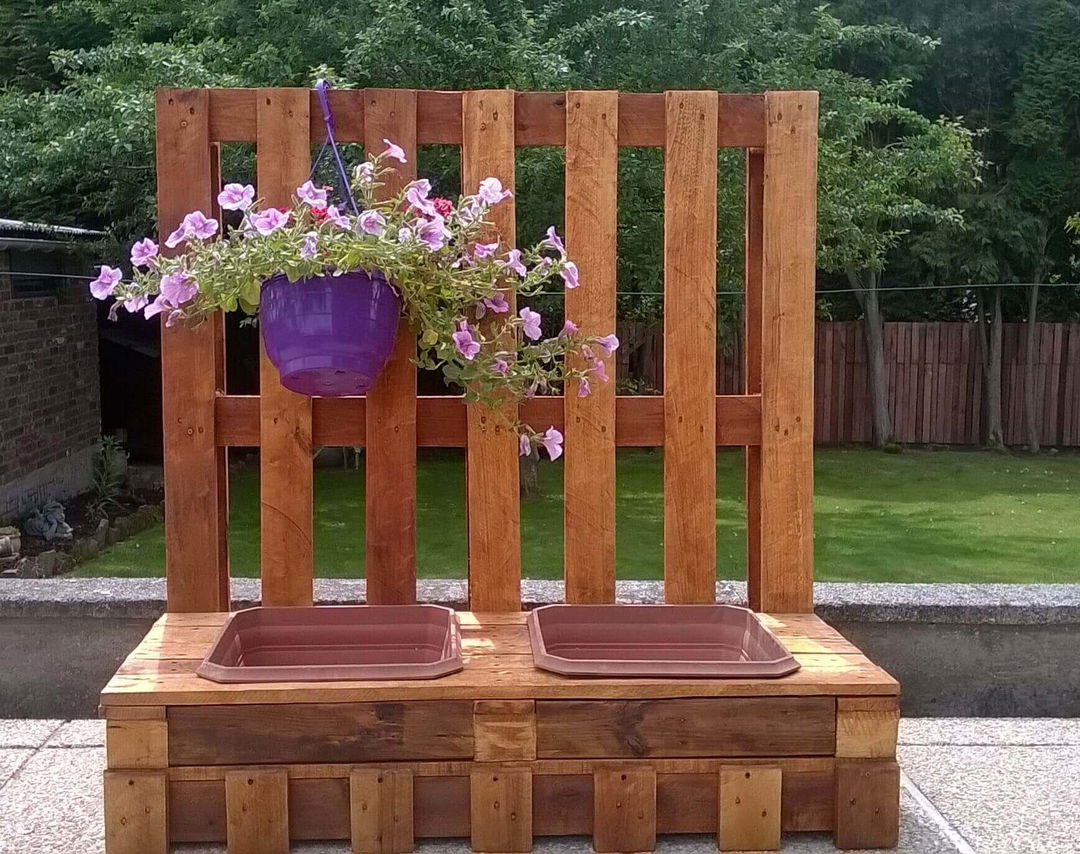 People across the globe have developed great thoughts to get the pallet back to functional crafts.
There are countless different and amazing ways to use pallet for indoor and outdoor improvements and decors.
This accent planter with two fixed potting baskets would give focal stimulation to the whole of your green space and its decors.
Antique 2 Tiered Pallet Accent Coffee Table: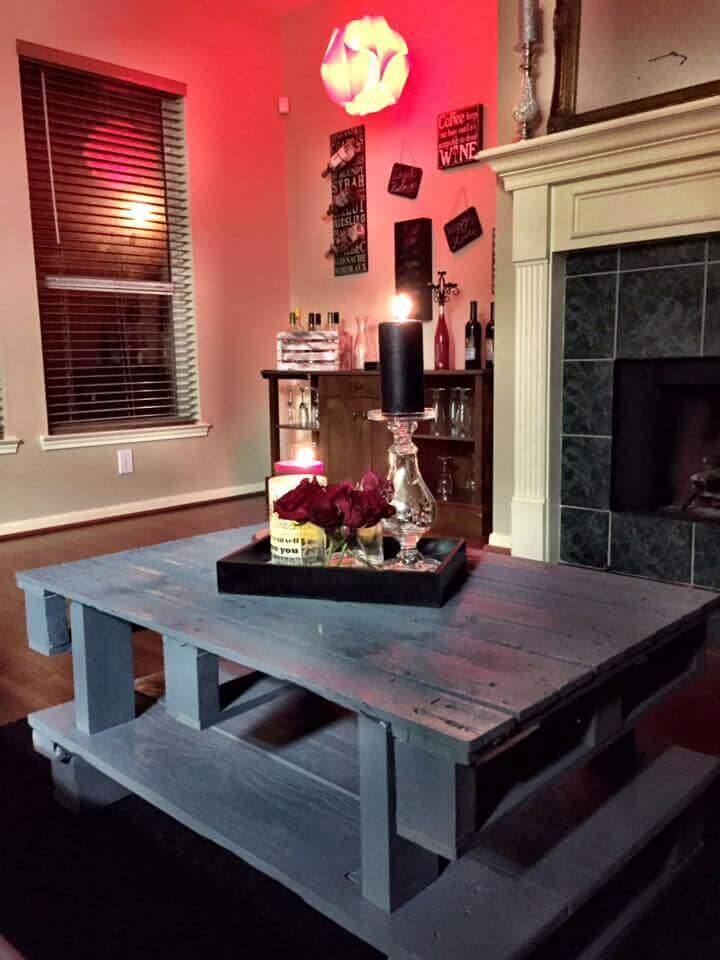 While intending to construct the tables out of pallets, you can go with numerous different ways and can even treat pallet with metal to do that, but the easiest way is to stack the whole pallet boards for storage-friendly table demonstrations. Here is one to check out!
Black Stained Pallet Table and Benches: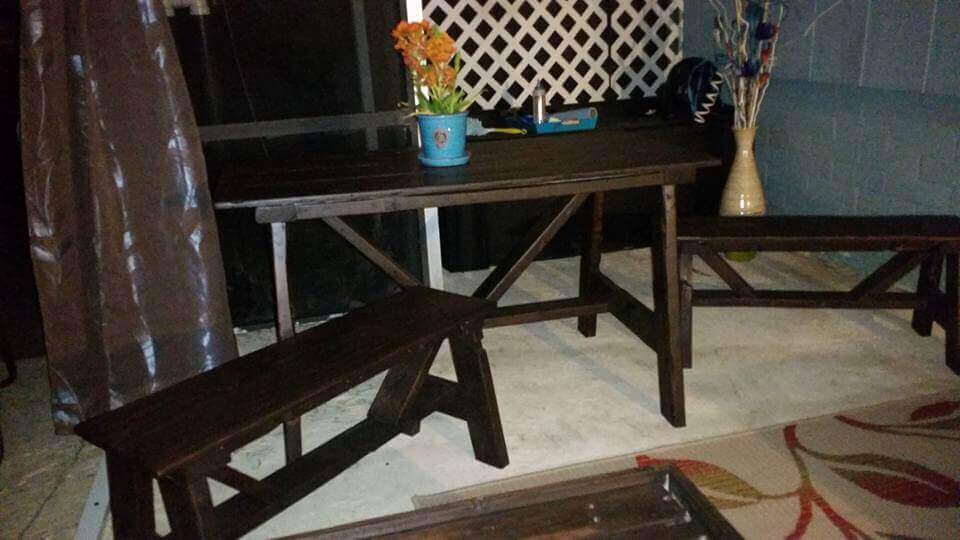 Modify the pallets and readjust them creatively for benches and sturdy tables out of them and get awesome dining sets, breakfast sets, garden sitting furniture set and also amazing sitting plans for patio and open courtyard places.
Here is a brilliant pallet-made breakfast set to get inspired and has been finished with the black stain!
XL Pallet Picnic Table: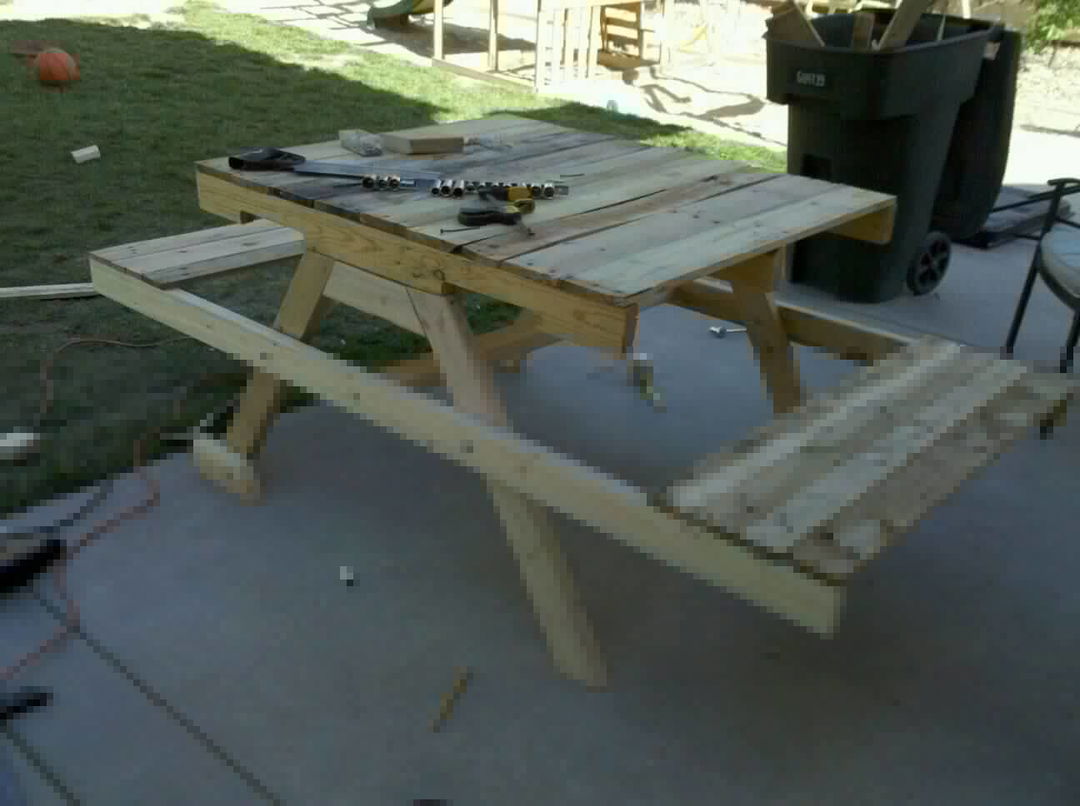 To build the dual functional stuff in going through trends and this picnic table is also of the same kind of stuff.
This is a table with attached benches and also goes friendly to kids outdoor entertainment and fun. Amazing furniture craft to recycle and rebuilt the pallets for.
2 in 1 Pallet Office Desk Idea: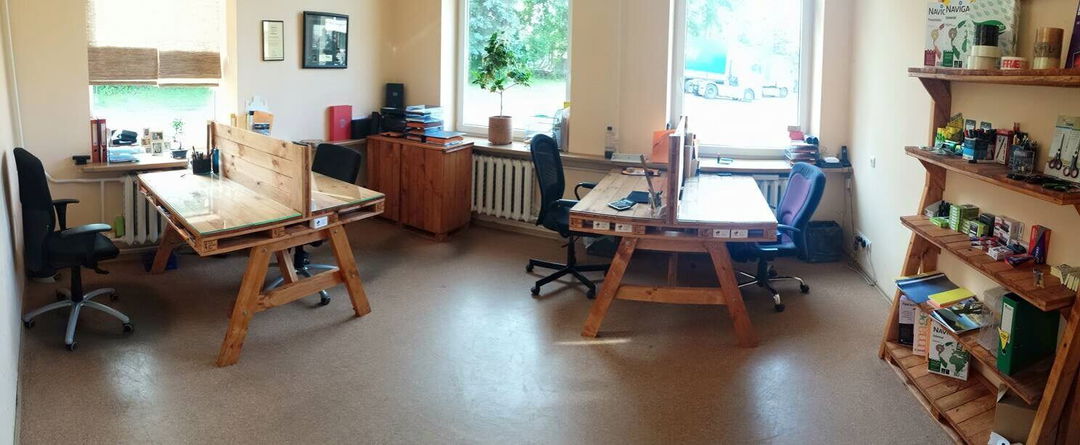 Offices and other working departments can also be improved with pallet furniture, decors, and other storage units. Check out these 2 in 1 computer and office desks, come with a separator or divider at the mid for ease of 2 people working at the same time. Finished with glass top just for elegant office furniture requirements. Brilliant!
Blue Wide Pallet Low Coffee Table with Storage: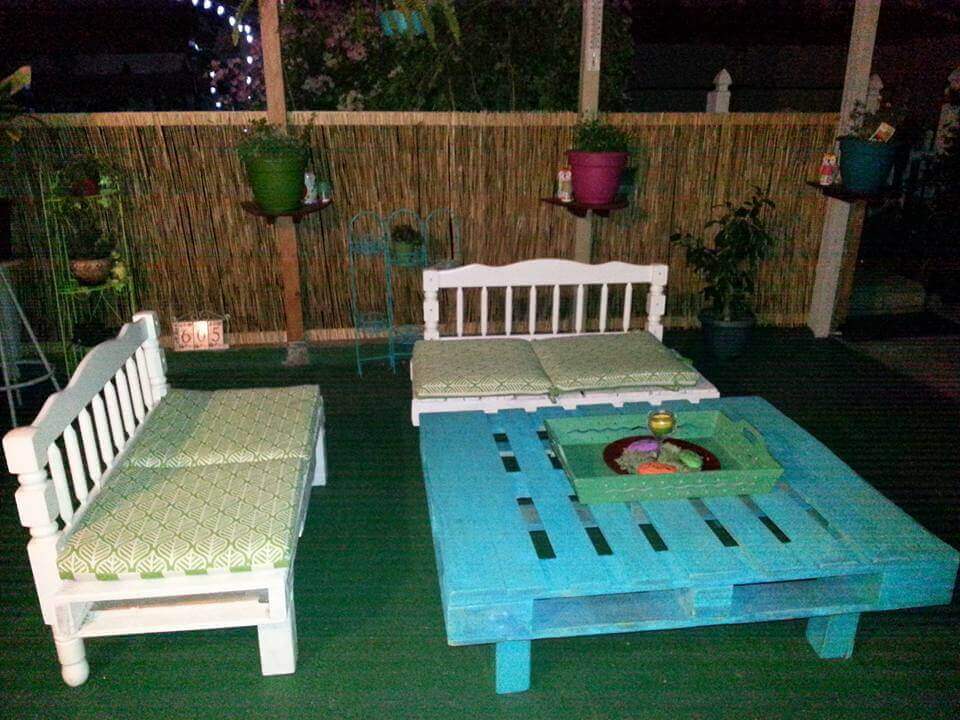 Finish bigger pallet boards with shorter or tiny legs or even with wheels and get a splendid coffee table in xl dimensions for your patio, gazebo or garden seating arrangements.
He may be chic or rustic which you will like for the table to appear in, use paint or stain for this purpose.
Pallet Wood Projects:
Pallet wood is wood that offers plenty of possibilities to add functionality, beauty, and style to your existing home routines. A person with creative min can live an ever functional life with pallets without spending even a few bucks. It is a free sturdy wood source and costs the user nothing!
If you are also seeing some pallets sitting around you or on discarded material heaps, ash piles and on dumpling grounds there, it's time to pick them for some functional crafts out of them.
Build bug hotels with them just like the pet houses but with a little difference in interior structure, get high-quality living room tables and add wheels to them for an industrial touch and to get those awesome floating shelves, floor cabinets and storage units would also be an intelligent piece of work. People addicted to outdoor can also build the outdoor bar tables to enjoy cool beverage anytime and also those outdoor island stove for outdoor cooking and BBQ feasting.
Pallet Garden Bug Hotels: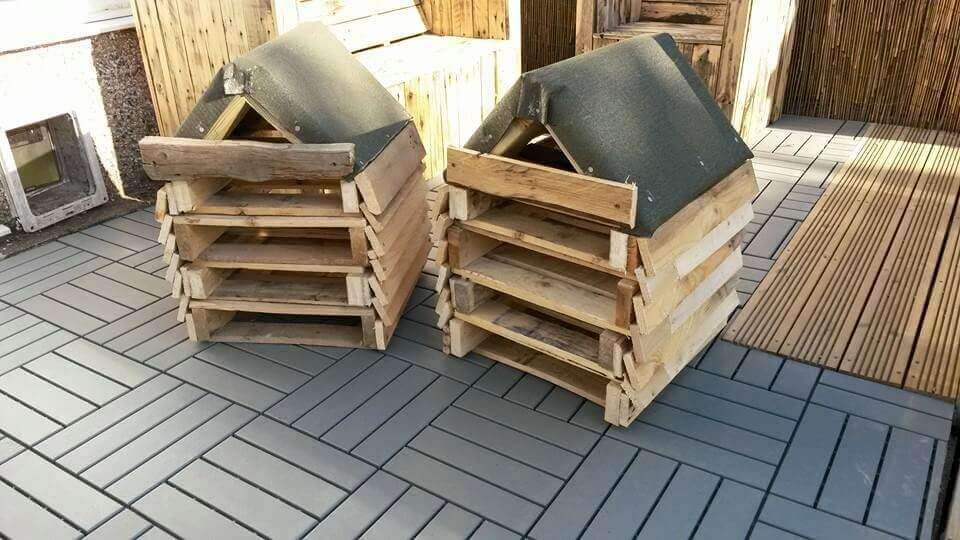 Another cool pallet creation to add to your green space, the bug hotels having different section and apartments to house garden bugs and other types of insects.
The top is of chevron style but has been padded to look awesome and enchanting!
Chic White Pallet Coffee Table with Wheels: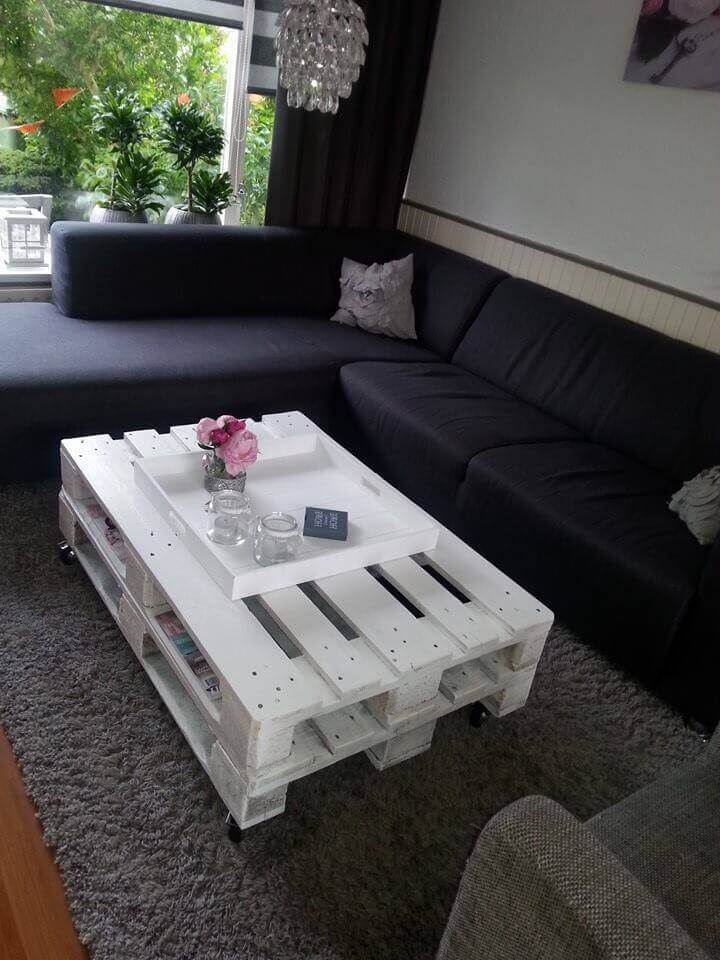 Build a bunk using 2 Euro skids and enjoy this very functional and great design of inspiring coffee table with flawless caster or rolling movement.
Painted in white for a tremendous coziness in the design and also contrasts with the surrounding black sofa.
Pallet Drink Point Table: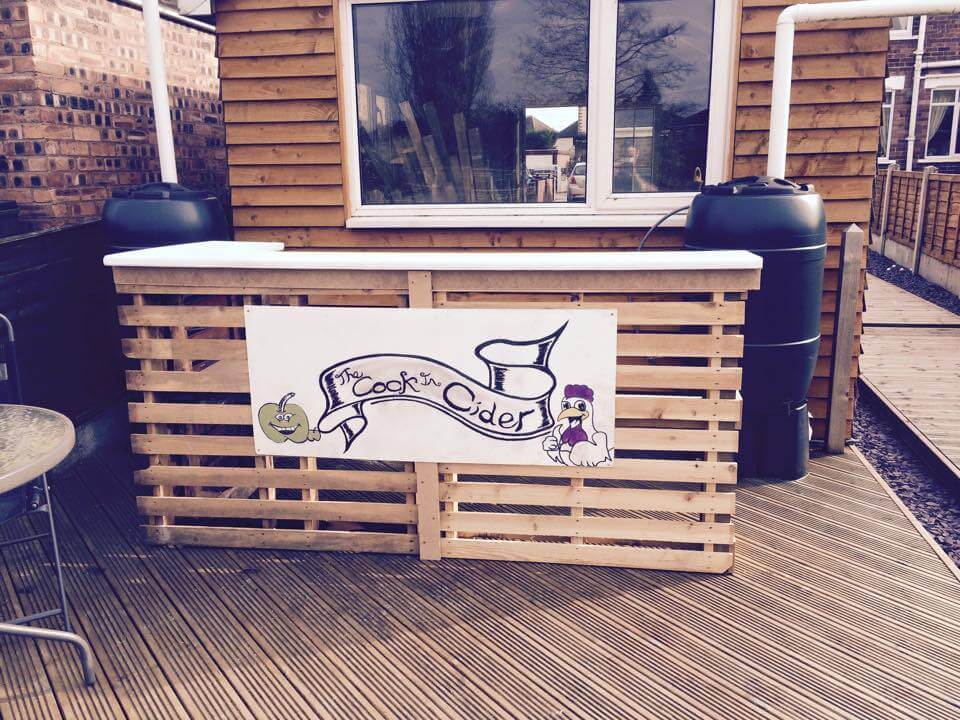 While being at outdoor in the dead of hot, it is very common to feel thirsty again, and this pallet bar point can double your fun if installed in beside of your garden, paved patio or gazebo.
Just build an L-shape counter with pallets and fix a parasol to get a drink point with pallets.
Pallet Outdoor Island Stove: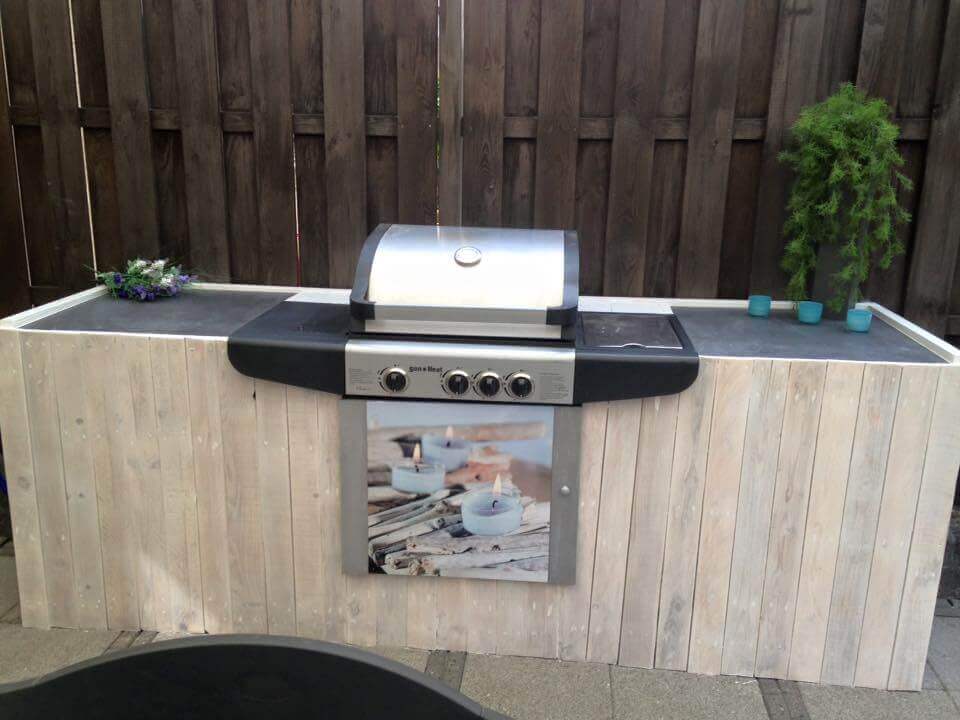 Allow cooking at outdoor too, get this pallet island stove and have with cooking at outdoor while there is dead of hot inside the kitchen.
Amazing idea for a functional outdoor stove on a budget and to enjoy the BBQ feasting.
Pallet Floor Cabinet – Storage Unit: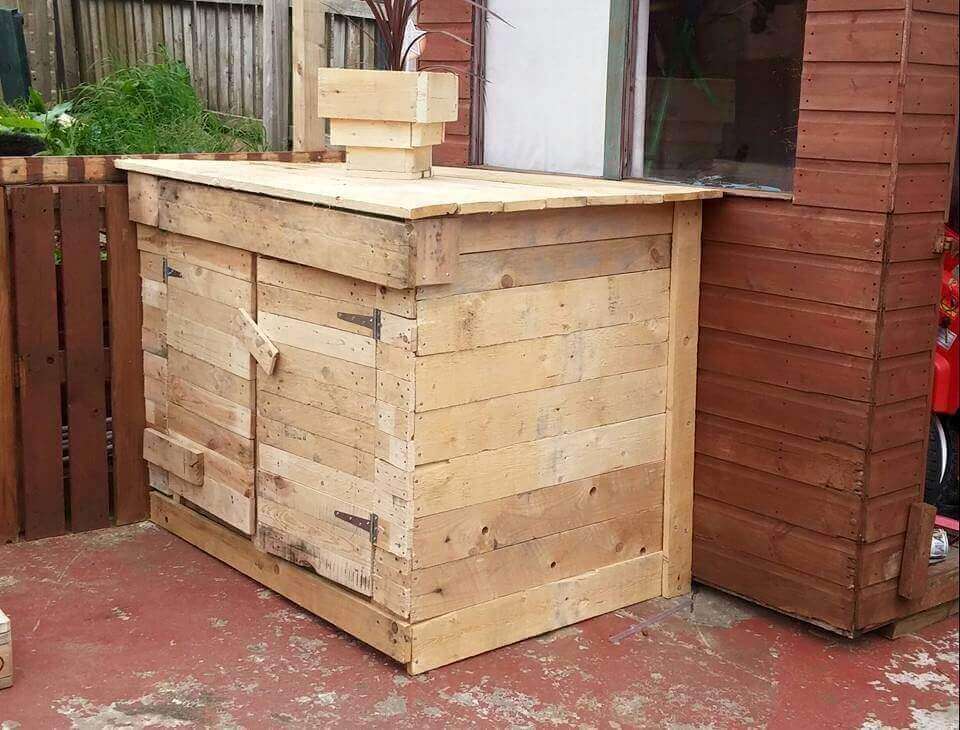 Pallets can also be rebuilt into amazingly functional storage units, racks, and shelving units that can help you while creating uncluttered interiors.
Install free-of-cost pallet storage units and avoid messy conditions of your home, great idea to trim down your furniture expenditures. A damn creative pallet idea and achievement!
Pallet Floating Shelves: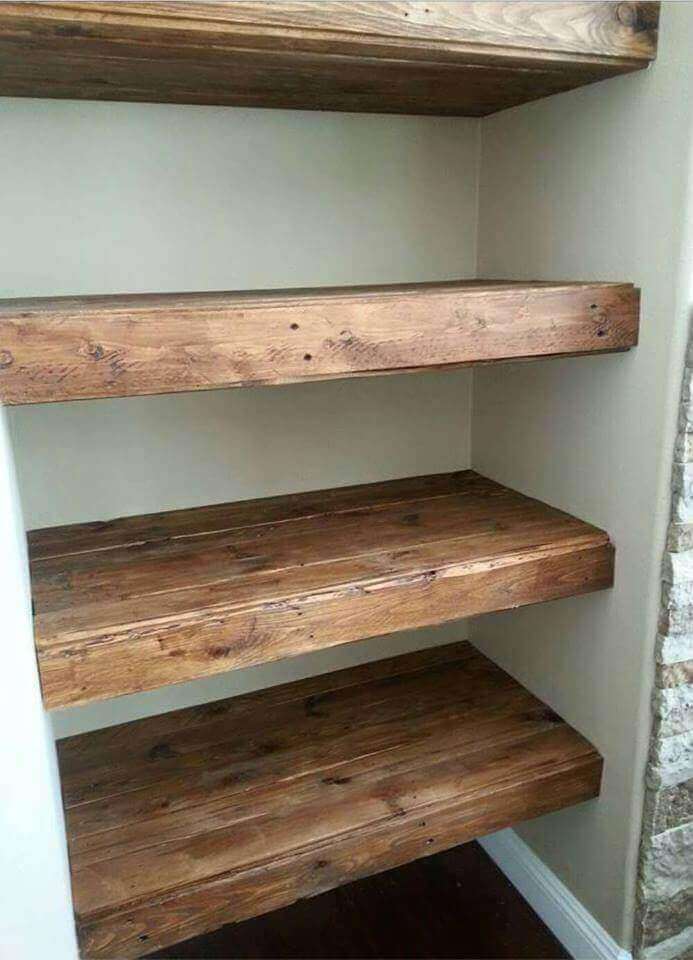 Install the prefabricated pallet panels on any wall area using the latest hardware and get spectacular arrangements for floating shelves to display and store your items of interest and stuff that need a bit extra care in the home.
Pallet Outdoor Furniture Ideas:
Outdoor recreations and sitting arrangements, demand for a higher amount of money. Sitting furniture is not the only thing you need at outdoor. There is a lot more to go for peak fun. We also need outdoor vanities and island stove for cooking for hand and mouth washing and outdoor cooking respectively.
Here are plans for you to set up a whole enjoyable outdoor, need some chairs? Get with pallets, want some vanity and basin stands? Build with pallets and also build the outdoor houses and kids playhouses with pallets to turn your backyard or garden into a kids fun land. Pallet wood is giving you the most stable wooden pallet furniture on cheapest rates ever and also with custom sizes and designs to fit and suit your spaces respectively.
One can build the wall mounting display units for showy looks of garden pots and stuff and also those storage friendly potting benches to organize and manipulate garden material and tools! Just fix some hooks or railroad spikes on a little cut down size of pallet boards and enjoy a coat rack or wall organizer out of it.
Pallet Kids Chair: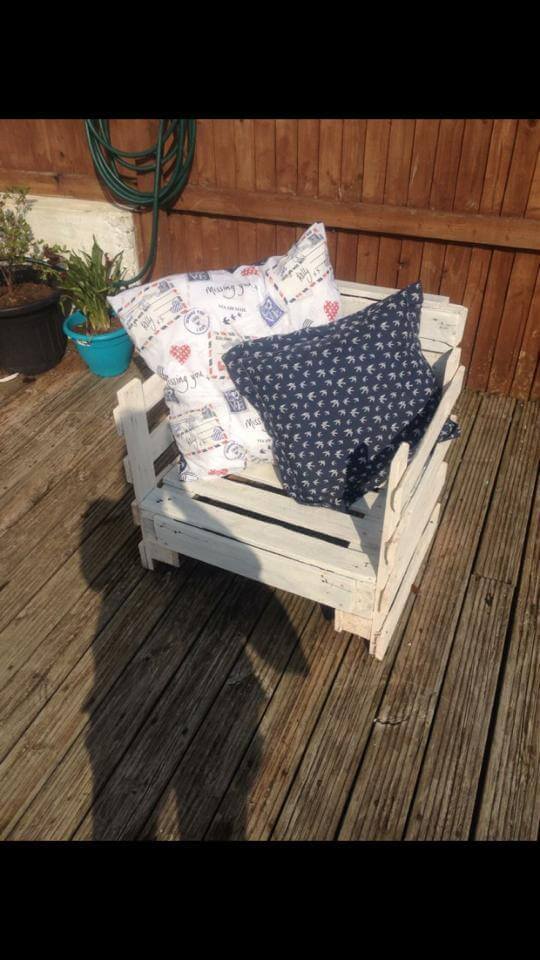 After getting tired, we always walk toward chairs and sofas to sit back in to get relaxed.
Make chairs with pallets with sturdiness you have never thought before!
Build dining chairs, arm and armless patio chair and also the vintage Adirondack chairs on a budget with pallets.
Pallet Garden Vanity: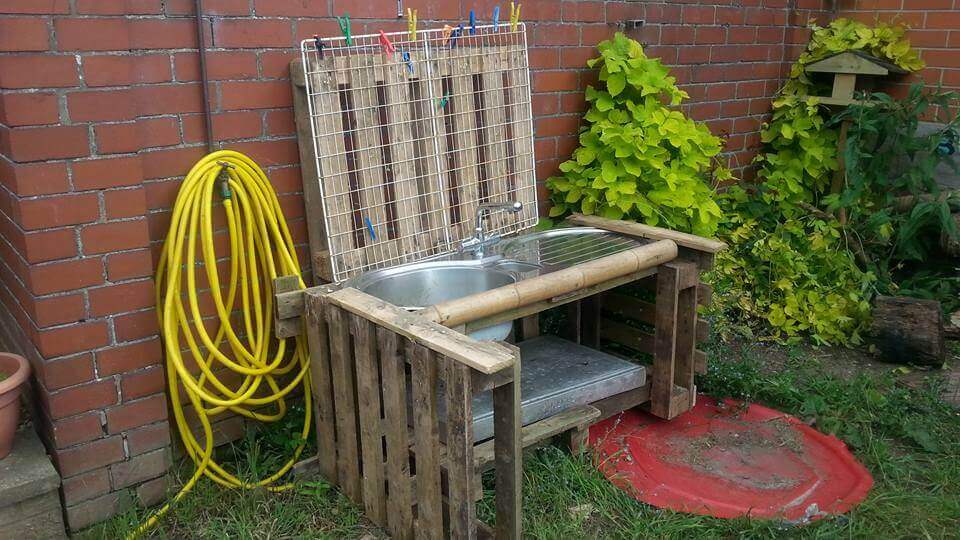 Pallets will also come in handy if you want to improve your garden space, one can fence his garden with it, can create wooden walkways, can also build the garden gazebos and shelters.
While garden furniture is in the discussion, then garden basin or vanity and potting benches can also be made with great ease using pallets.
Pallet Potting Bench and Accent Entryway Table: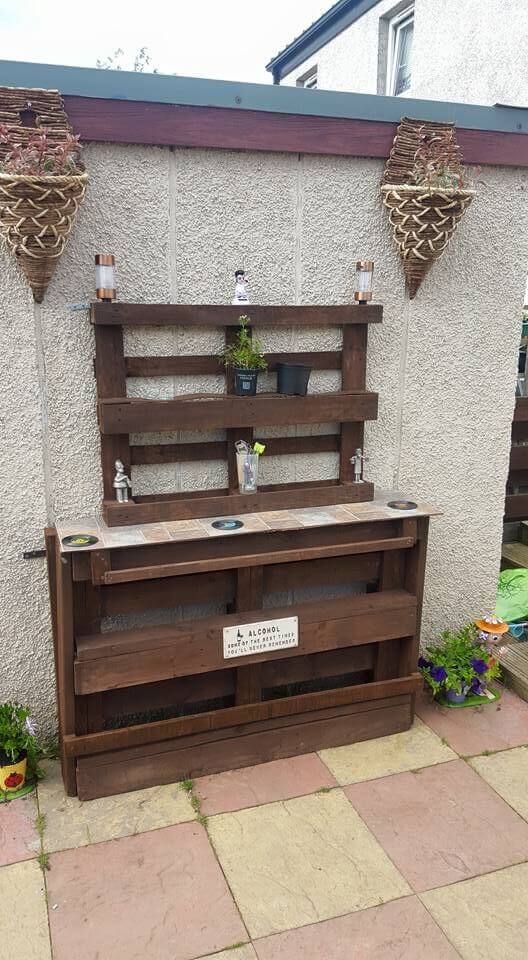 Slim tables can also be built with pallets to use as entryway accent tables, hallway tables and behind sofa tables.
Check out this functional table set up here with a decorative unit put over its top.
Recycle 2 – 3 pallet boards to get this splendid setup of accent table to add to your garden, can also be used as potting table or bench!
Pallet Accent Wall Shelf:
Make the pallets modified a little and throw some paint for a visual boost and a shelf with cozy style is ready to make any of your wall noteworthy, functional, and stylish.
Add divider or separate at the mid to get more storage options and compartments for separate storage of your items of interest!
Pallet and Spool Wheel Kids Rocking Bench & Playhouse: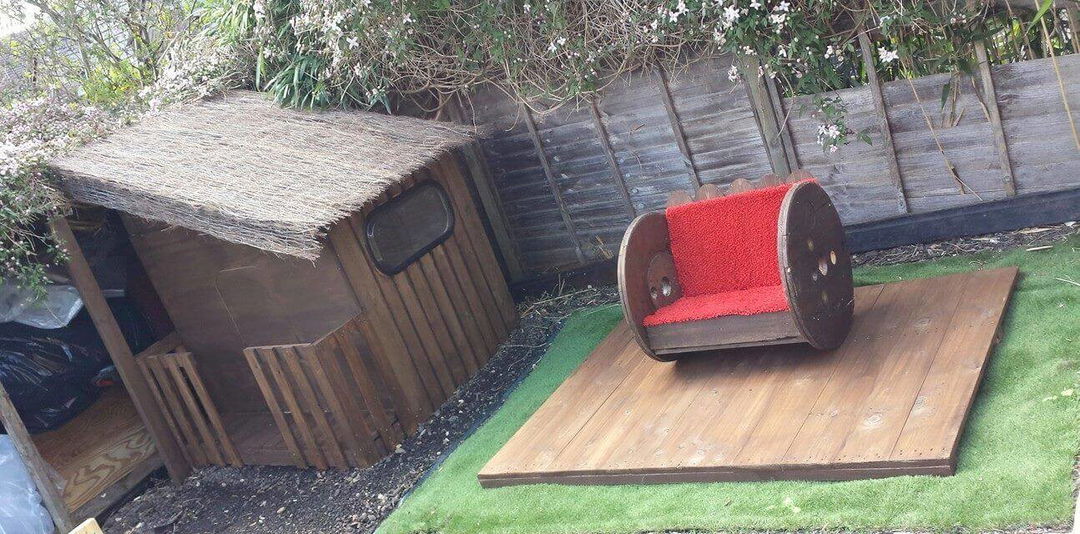 Think out of the box to know about more creative suggestions and techniques to recycle the pallets, this toddler rocking bench made of pallet and spool wheels can induce the creative person in you.
Use a cushion or foamy mattress for upholstering!
Pallet Shelf with Rail Road Spikes Hooks: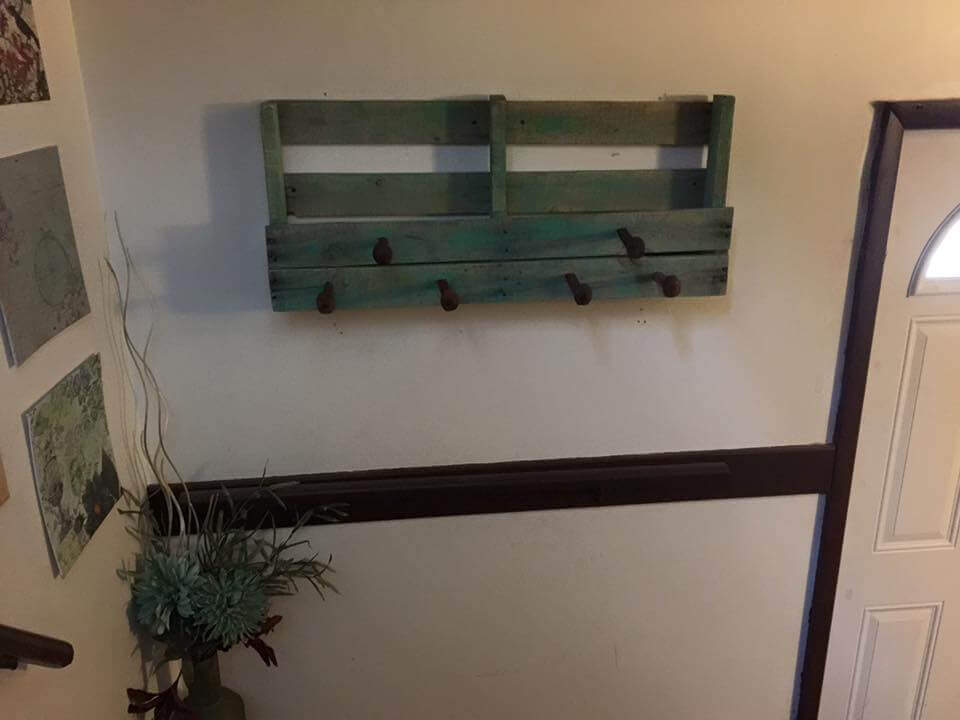 Pallets can also serve you as wall organizers just cut them down to according sizes and fix some hooks at the front, here railroad spikes have been used as hooks, the perfect idea to build a coat rack, jewelry organizer or a bathroom organizer.
Pallet Woodworking Projects That Sell:
A table is the most crafted item with pallets, and there are still great possibilities to design more new ones! Here we have shared a few ones that are exactly the copies of those retro styled and mid-century inspired wooden tables and are only here to rock your modern world as they perfectly blend into any style of interior decors. Along with the tables, one can also modify the pallets for hear-touching wall decors out of them, a mind-blowing example here is that of butterfly wall art.
Want to relish your poolside or want to stare at the blue sky, then build this pallet lounger with adjustable backrest section that comes on hinges and has been supported with metal heavy duty chains. Also, build outstanding garden benches with pallets and spool wheels as armrests to benches, check out here a brilliant demonstration of it.
Give sun protection and safety to your animals by making higher animal shelters with pallets, and inspiration has been giving below to for it.
Wooden Pallet Coffee Table: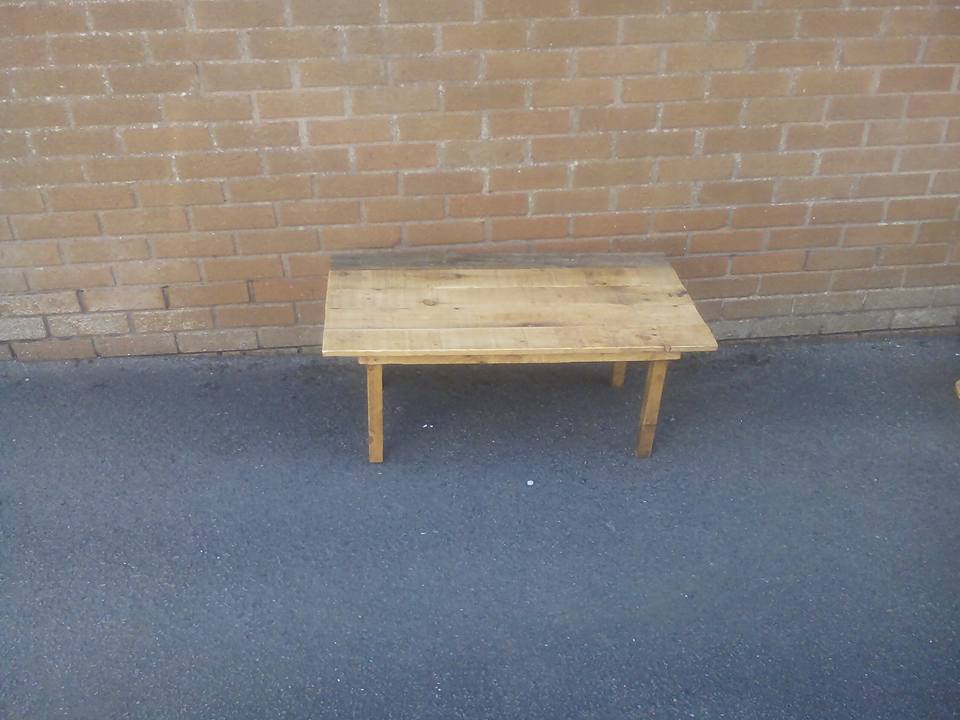 Tables are of any type are construct-able with pallets, and it requires no higher carpentry skills or a higher amount of money but just some creative planning and a little struggle.
Using 5-6 removed pallet slats, you can build this easy table for the outdoor coffee taking.
Pallet Outdoor Lounger with Hinged Backrest: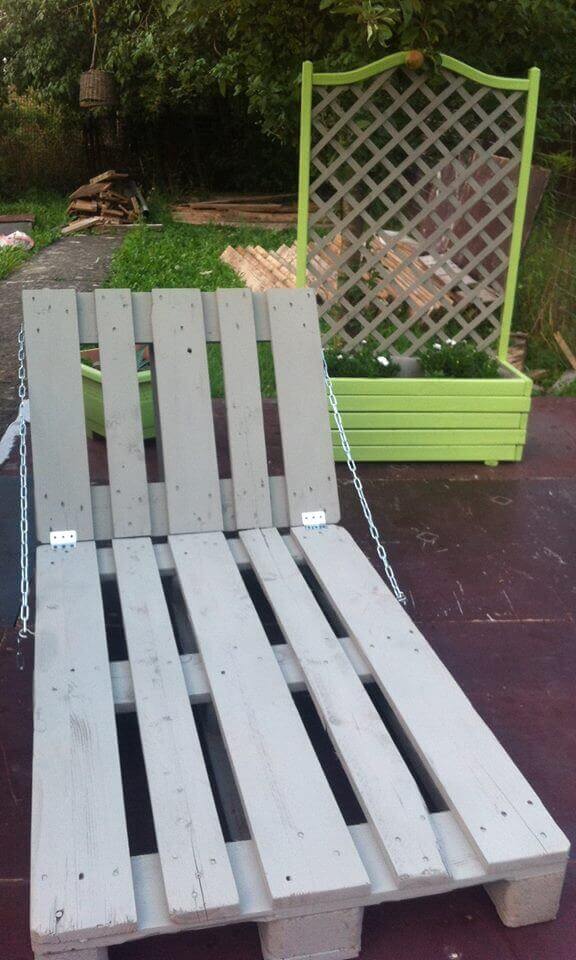 Here is again creative pallet projects, a super relaxing lounge chairs made of two different cuts down pallet sizes, backrest comes on hinges and with heavy-duty chain support that allows the backrest section to be adjusted to any angle to make you fully comfortable.
Pallet Butterfly Wall Art: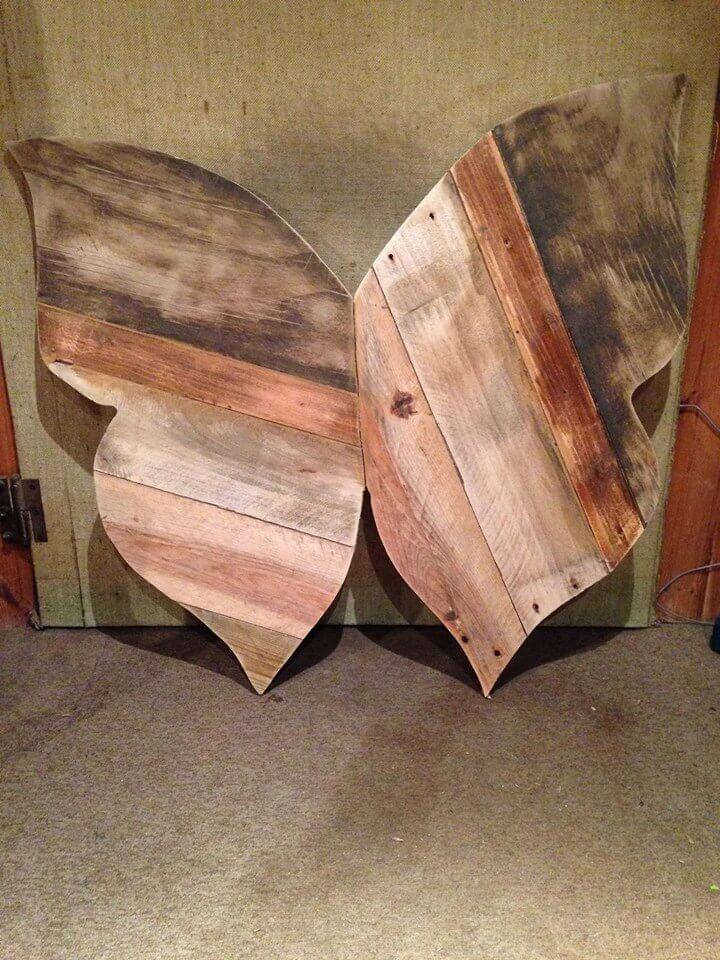 Along with solid and creative furniture pieces, you can also get beautiful wall art patterns and decors for your interior home wall accent; this beautiful wooden butterfly can bring any blank area into prominence and can turn that wall into an arresting focal point!
Pallet and Spool Wheel Garden and Patio Benches: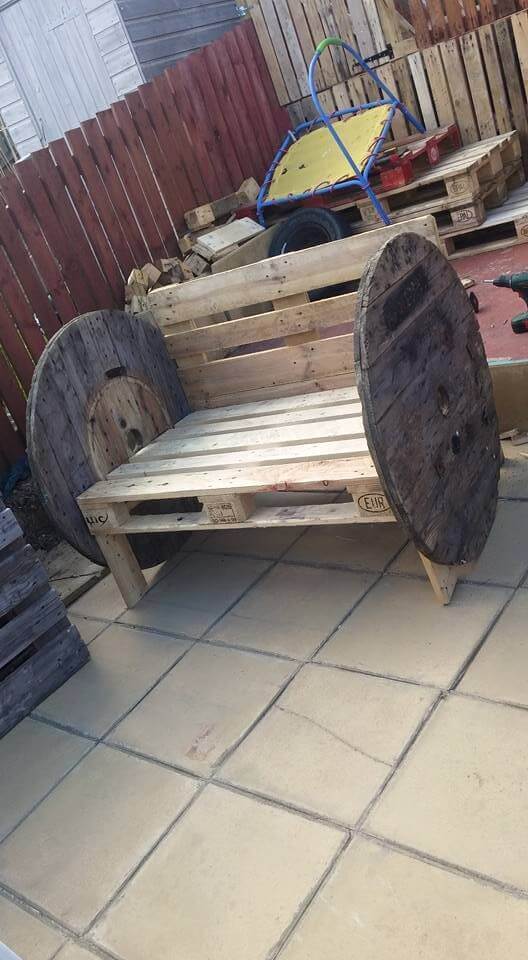 Whole and original pallet boards can be used as already made berth sections for garden benches, refinish them with some legs and backrest to get amazing garden benches.
Use another useless form of wood around you to add more features to your outdoor pallet-made furniture just like these cable spool wheel armrests!
Pallet Outdoor Animal Shelter: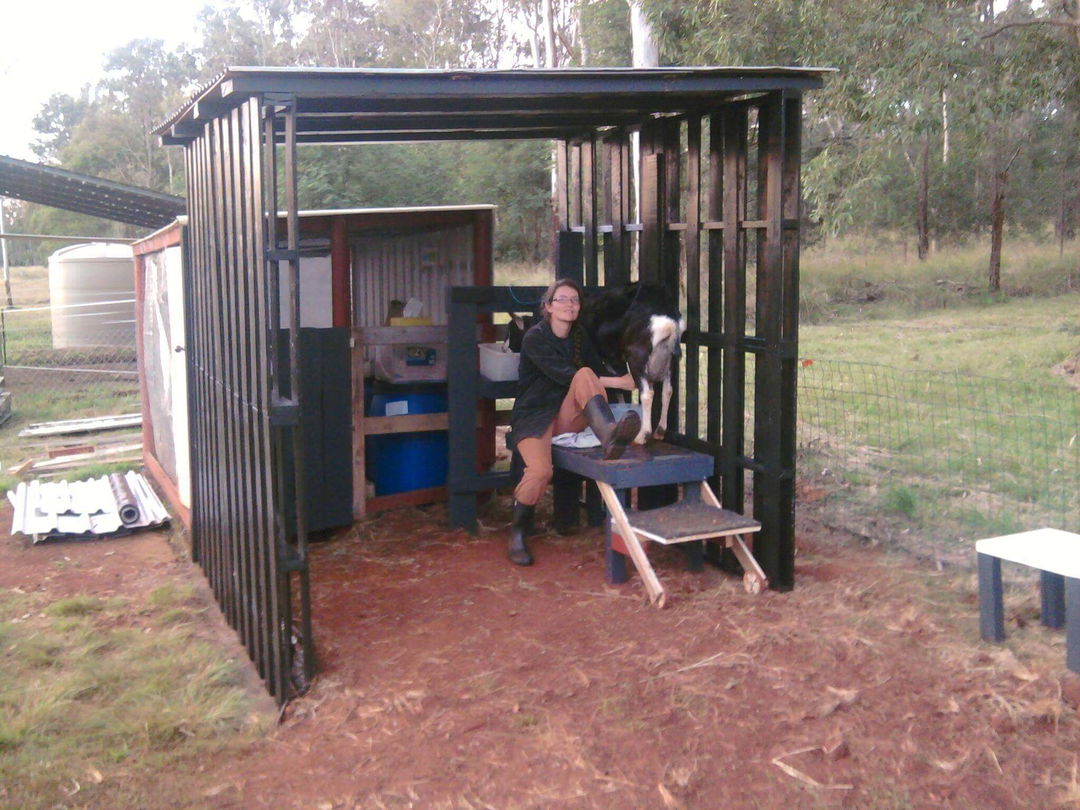 Use the pallets as units and build heavy duty wooden walls out of them that can lead to building your outdoor shelters, cabins, barns, and sheds. Also build the animal sheds, garden gazebos, and pergolas with pallets!
Rustic Pallet Rolling Coffee Table for Patio: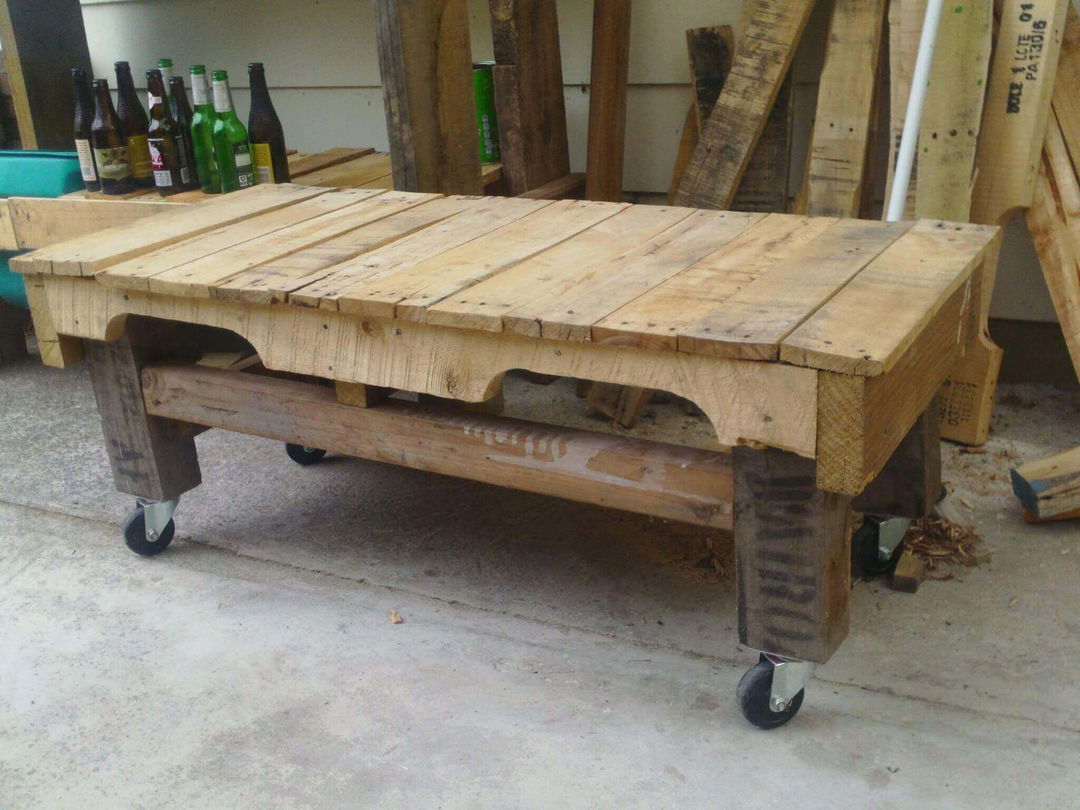 Here is another creative style of the pallet coffee table, comes on wheels for super smooth movement.
A complete skid serves as a tabletop while different parts of a sturdy pallet skid have been reclaimed to build the legs and to build the cross beam supports!
DIY Pallet Furniture:
Pallet wood is a wood to change your life, and you will feel it when you will find it feasible for various types of home improvement projects. If you want furniture out of pallets, then possibilities are unlimited. Build outstanding office furniture like this reception desk design given below. Build the tiny residences to house your pets like puppies, bigger dog breeds and cats and also enjoy pleasurable sitting with pallet-made coffee tables in your front. Moreover, there is a lot more to explore with pallets to make your garden and backyard comfortable all the time.
Build amazing planters, herb and vertical flower garden with whole pallet boards and use them as eye-catchers for your green garden space. You can get a lot more using your genius thinking like this cross-chair bench design, really a cool plan and a way to enjoy garden sitting with your partner or any of closest friend.
If you have some free pallets at home then also build the amazing couch tables, end tables and nights which are just a child's play to build with pallets.
Pallet Office Reception Desk: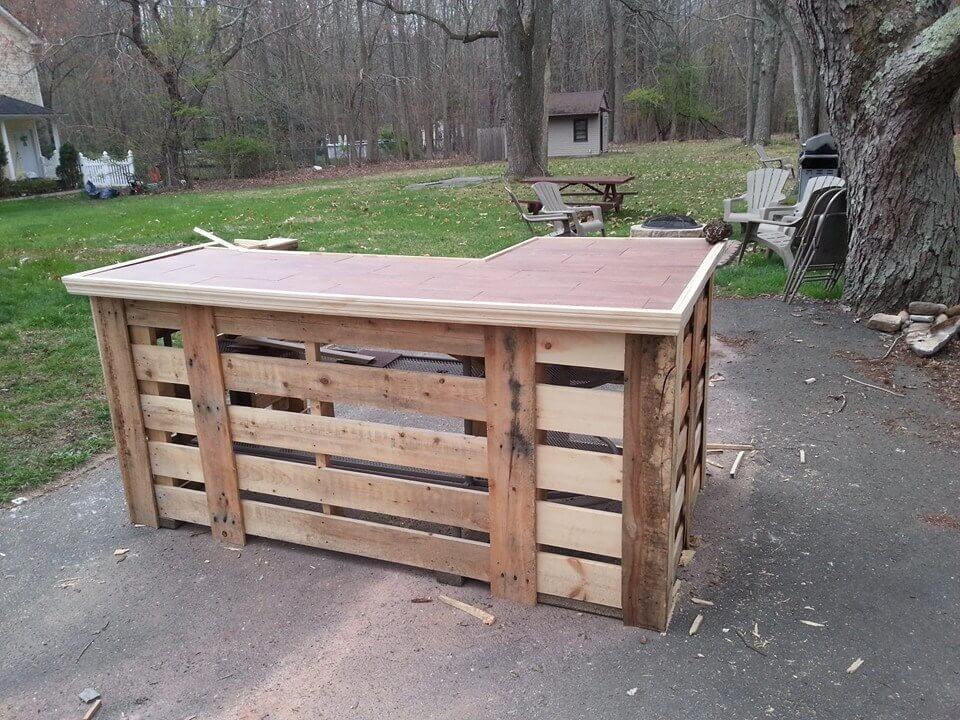 Rebuild the pallets for awesome interior furniture, outdoor, garden, and patio furniture and also for stylish office furniture, this reception desk is another big compliment to wooden creativity and pallet wood recycling.
This desk can also be used for plenty of other ways like it is just best to use in your outdoor kitchens and drink corners!
Upcycled Pallet Puppy House: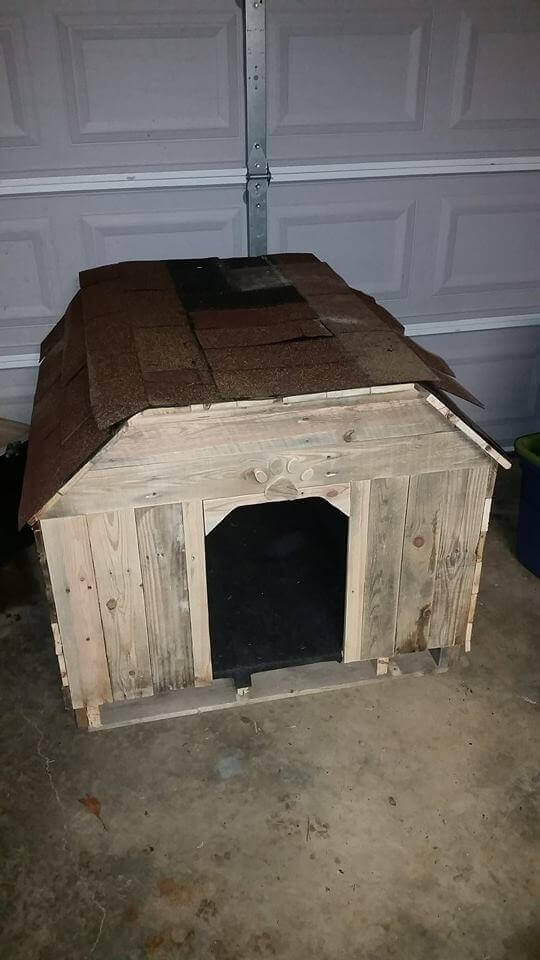 Need pet stuff? Don't worry; there are great pallet ideas here to build amazing dog beds, pet houses also that exclusive pallet dog house.
Here is a practical suggestion for you to build a puppy house with pallets and on a pocket-friendly budget plan!
Hand-Built Pallet Coffee Table with Wheels: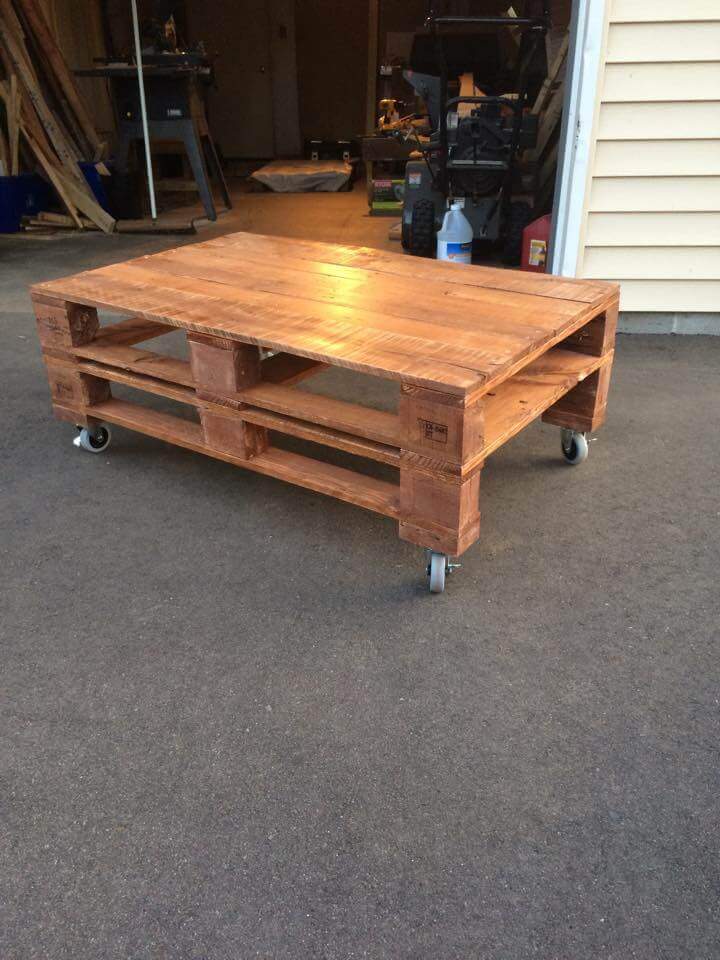 It is so easy to fit a pallet in a table dimension because of already rectangular shapes of pallet boards.
Just attach some legs to pallets and fit the wheels at the bottom to get a routine coffee table for any of your seating plans!
Super Creative Pallet Double Chair Bench: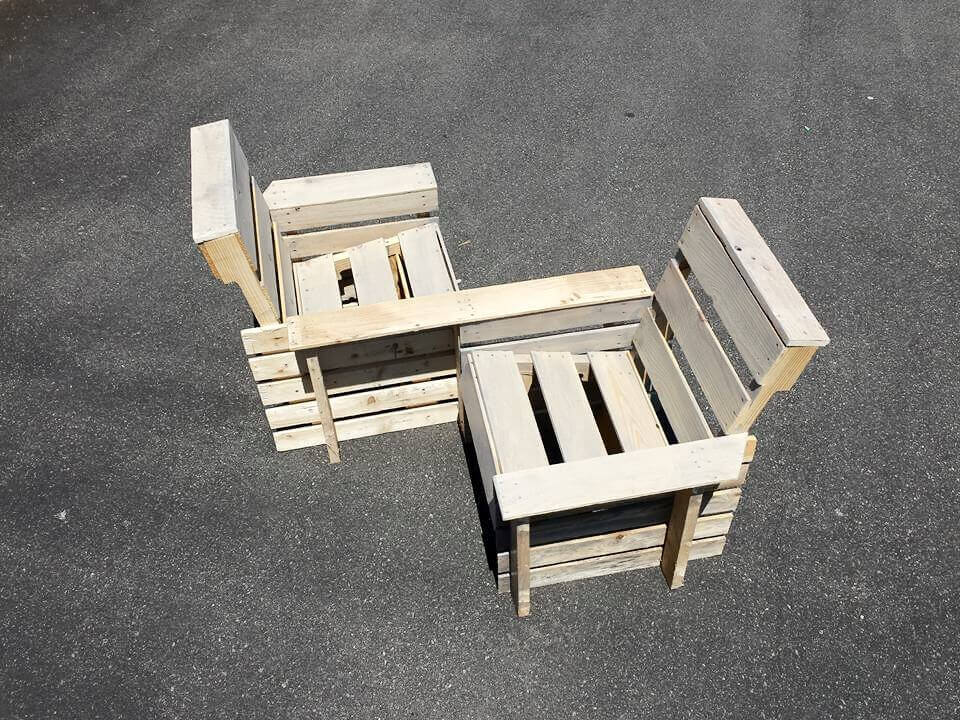 Think like a genius to let more creative ideas come to your already creative brain.
This double chair is perfect for two people who love to talk to one another and can see conveniently toward each other.
This unique statement chairs are best for patio, garden and poolside and are a big pallet recovery!
Pallet Nightstand/Side Table: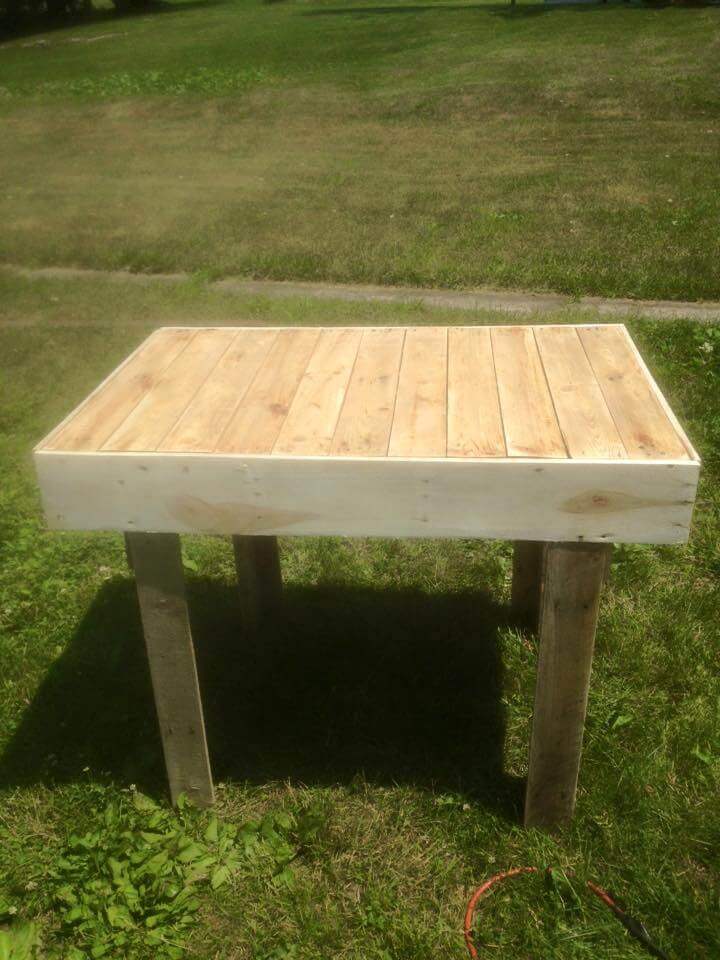 We also use a bunch of mini tables in home, and hopefully, all those are fully constructible with pallets.
Just a prepare every part of the table using the dismantled pallet skids and get all you need. This mini table is just for both couch and besides and can rock!
Pallet Planters and Garden Potting Bench: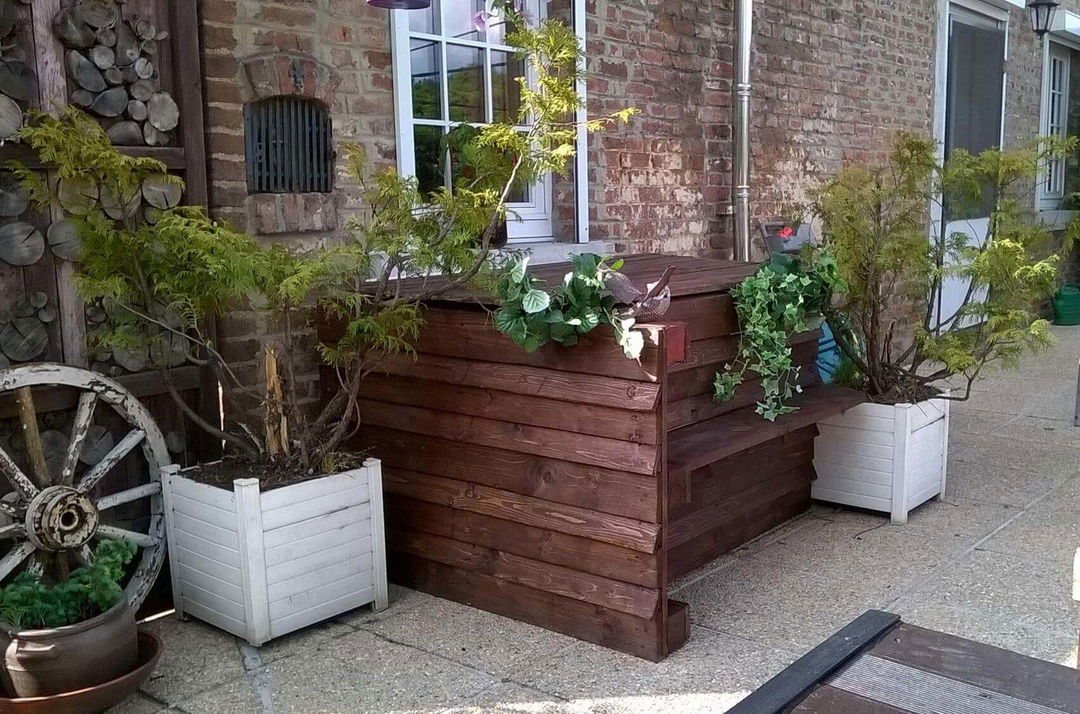 There are many suggestions to use the pallets here to bring a natural green vibe to your interior, rooftop, and exterior portions. Build amazing planters, vertical herb and flower gardens and also amazing wooden potting tables with pallets!
Build simple boxes with pallets and use them for potting purposes.
DIY Pallet Projects:
This not ends years. We have here a big collection of DIY pallet ideas that are pretty simple but can make bigger changes to your current and normal routine life! It only demands to get extra creative in your thinking to enjoy a great life with pallets as you will be able to build your sophisticated types of tables and other kinds of furniture that we need always.
Pallet wood also provides great stuff for outdoor recreation and kids outdoor enjoyments, and one can also build amazing kids playhouses, tiny residences, kids swinging and sliding setups and much more with pallets! Here is given a little playhouse topped up with a reed fence.
Fence your garden or build garden gazebos sofas and beds, all is possible if you go handmade with pallets creatively, check out the canopy bed example to get inspired. One can also go for great laundry improvements using pallets if he needs it!
Pallet Garden Fence: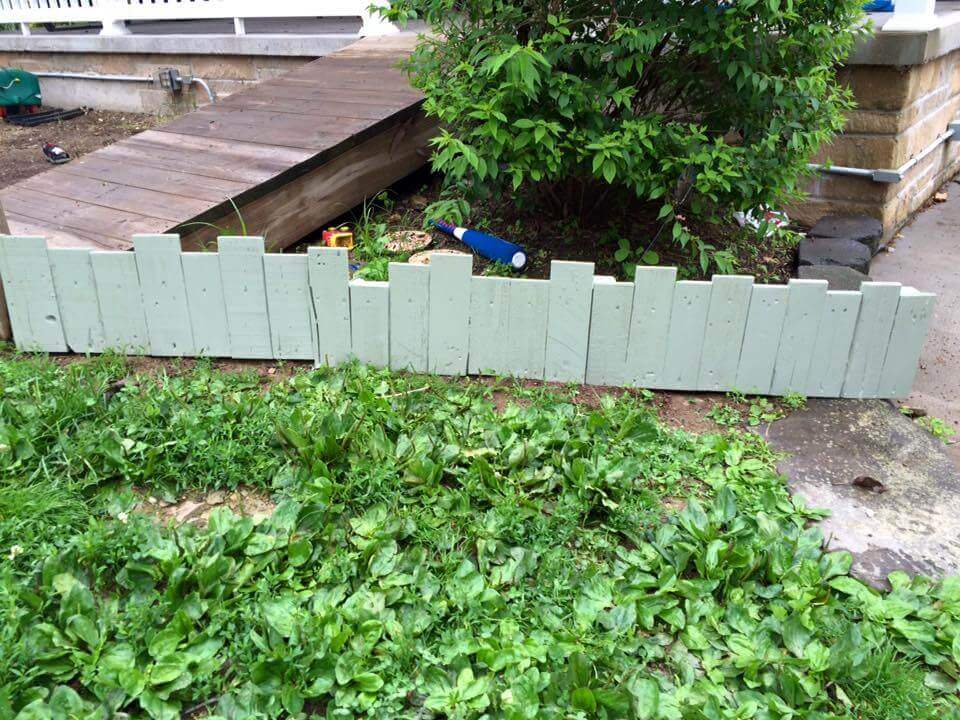 Improve every of your exterior portion and garden with pallets by using the pallets for outdoor and garden fencing and also be creating the decorative garden edging.
Fence you herb gardens, vegetable garden and also the flower beds with pallets to block off the animal entries!
Pallet Entryway/Hallway/Foyer Table: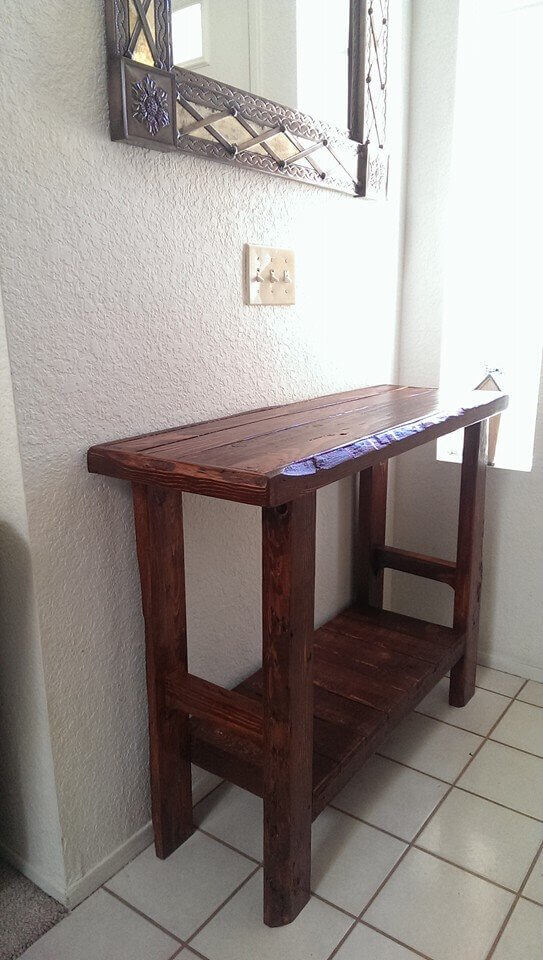 Entryway and foyer tables and also the hallway and behind sofa tables come with slims designs and are used only for accent and decorative purposes.
One can build all of these exclusive table styles with pallets without spending a bit of his hard earned money, go handmade with pallets to do so.
Slim Pallet Hallway Table with Build-In Shelf: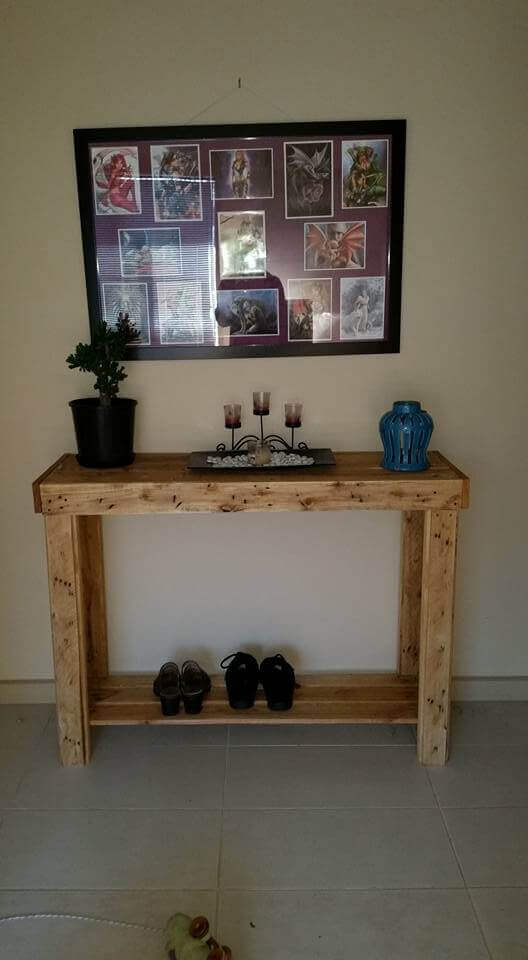 Reclaimed the pallets for accent tables that mostly come with raised and slip tops and also mostly with built-in shelves.
This wood pallet table would be a memorable addition to your foyer, entryway, hallway, and also on couch sides.
Upcycled Pallet Canopy Garden Bed: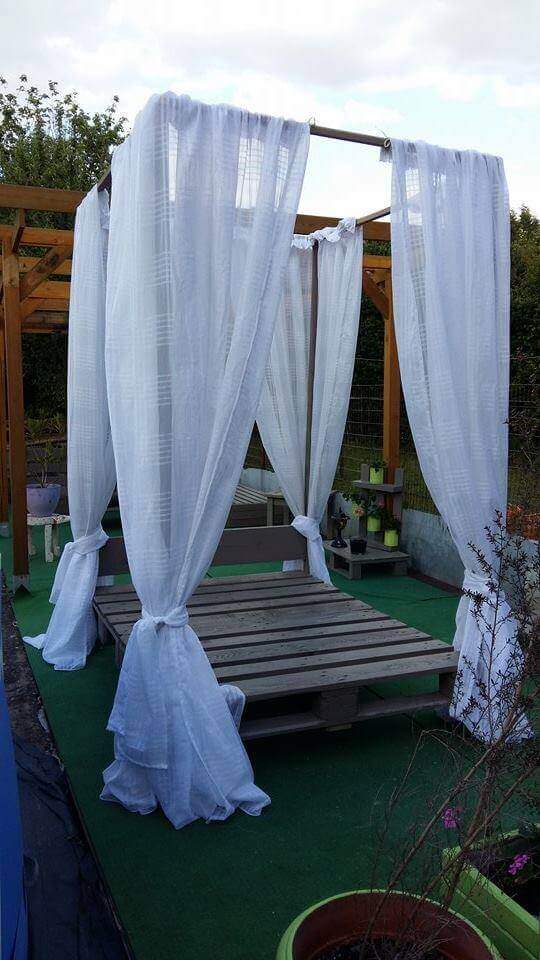 Here is a creative statement of a pallet-made canopy bed, perfect to live the luxury at outside, a dreamy statement bed with enjoyable greenery all around.
An amazing idea to use the bigger and sturdy pallet skids for. 4 pillars made of steel have been fixed at four corners for a canopy setup!
Pallet Kids Playhouse with Reed Fence Roof: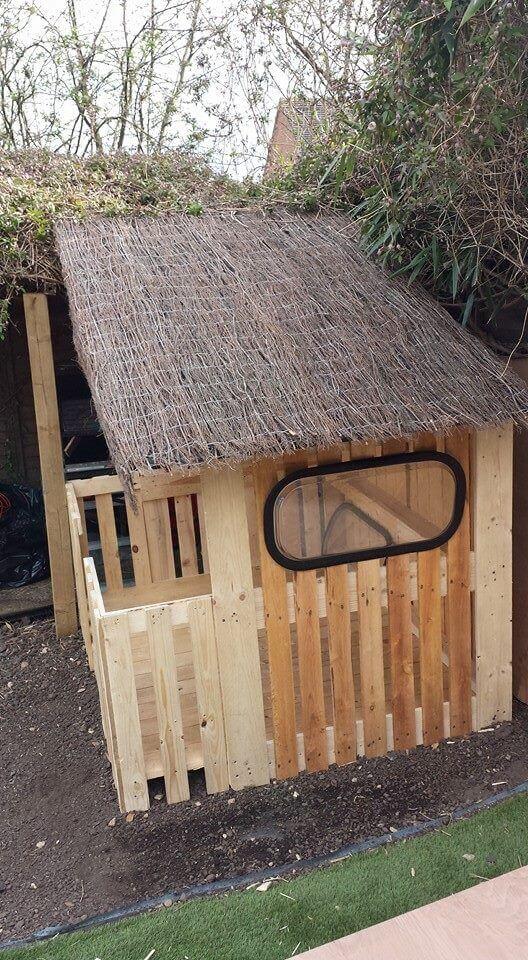 People addicted to pets can also avail pallets in lots of different ways. One can build the chicken coops, pet houses, and also great shelters for pet animals using the pallets.
This little housing has been done with pallet wood, some old reclaimed stuff, and a reed fence. Use this outdoor house as kids playhouse or house some of your pets there!
Pallet Laundry Table: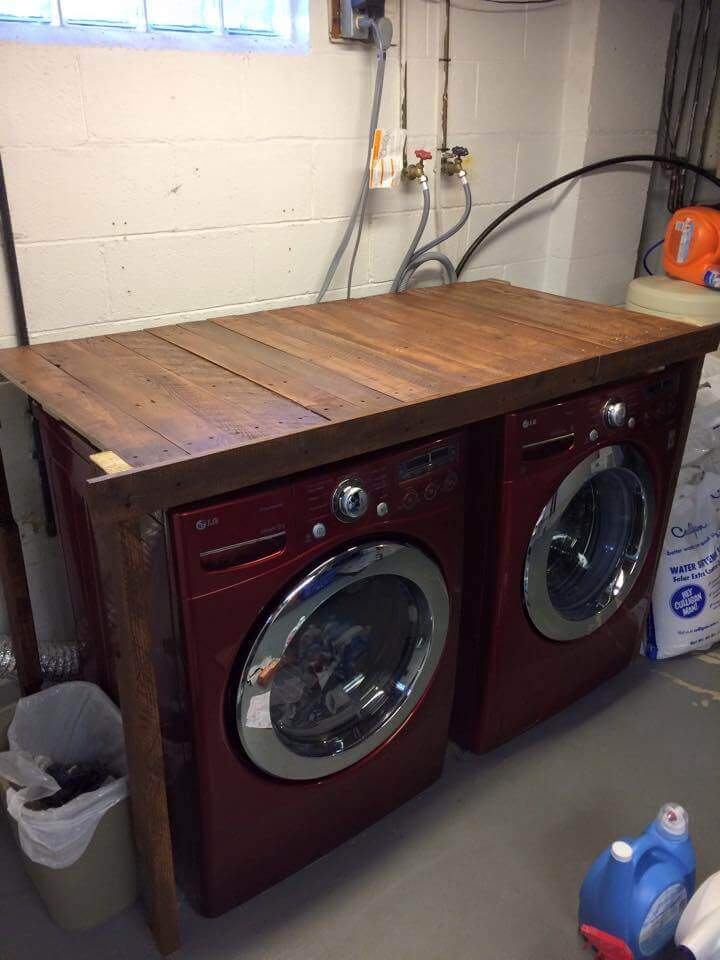 Using your brain power, you can take many advantages from pallet wood, and one can even improve his laundry with pallets. Here is a raised laundry table has been made and provides ample space to store your washing machines underside of it!
Pallet Projects That Sell:
Think continuously like a genius, bundles of creative ideas are sure to come to your mind that can change your life. Pallets should not be confined to landfill areas; they are much more than a simple wooden skid; they are an alternative for a person with mediocre income to live or bypass the luxury.
Pallets are wooden skids that really have great recycling potential and can add functionality to your life and can also bring a rustic style to your interior or exterior home portions. Use the rusticity of pallet to bring a rustic vibe to any of your living space, and you can build rustic accent tables, wall arts, and rustic outdoor furniture with pallets for this purpose.
Here is chevron top table, a rocking patio bench and also an arresting shark fish wall art which are the best ever suggestions to bring your home into prominence using the rusticity of pallets. Besides all of these, also build outdoor picnic tables, garden cabins, and amazing decorative units with pallets to live a fashionable life with pallets while being on a budget.
Pallet Multi-Chevron Coffee Table: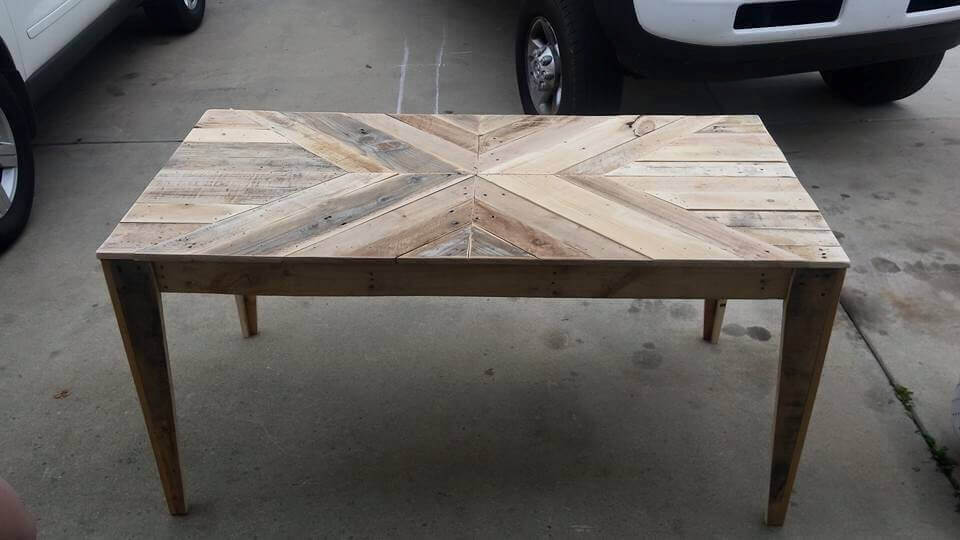 Here is another good use of pallet wood, a table with the multi-chevron pattern.
Comes with tapered wooden legs just like the hairpins and can stand for multiple home purposes and functions.
Use as an outdoor accent table, coffee table, breakfast table, and dining table!
Pallet Shark Fish Wall Art: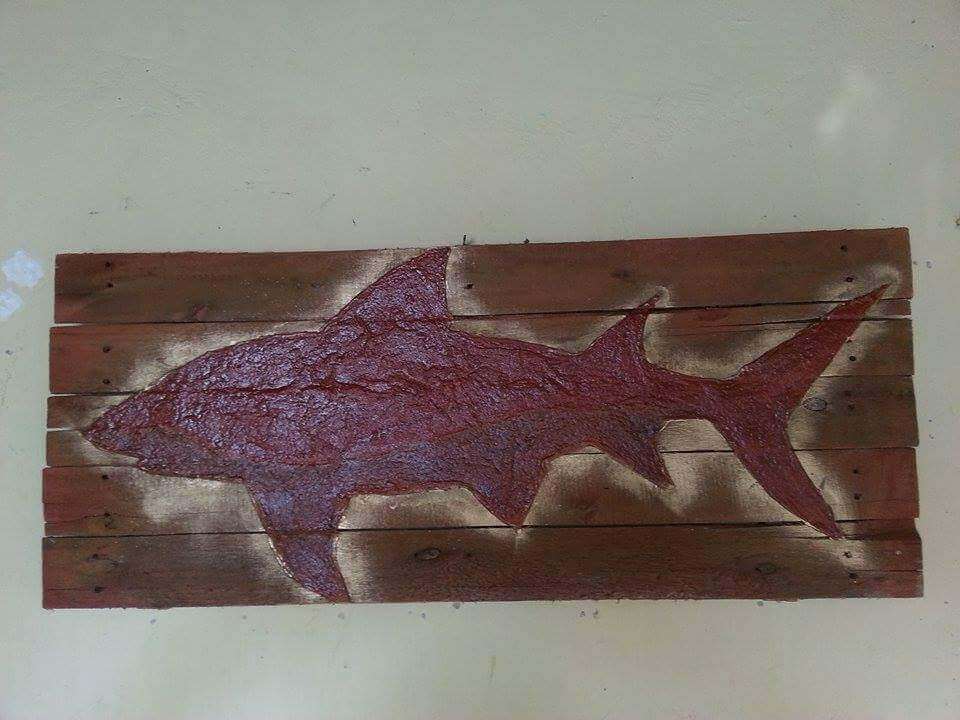 People having antique home decor taste can enjoy the rusticity of pallets.
One can build some outstanding wall signs, wall art pieces, and much more for an antique and vintage-inspired touch to any of your wall areas!
Also build the pallet family rule charts, wall signs with love quotes and carved pallet wall signs. Check out this Shark fish wall art for inspiration.
Pallet Outdoor Cabin – Pallet House: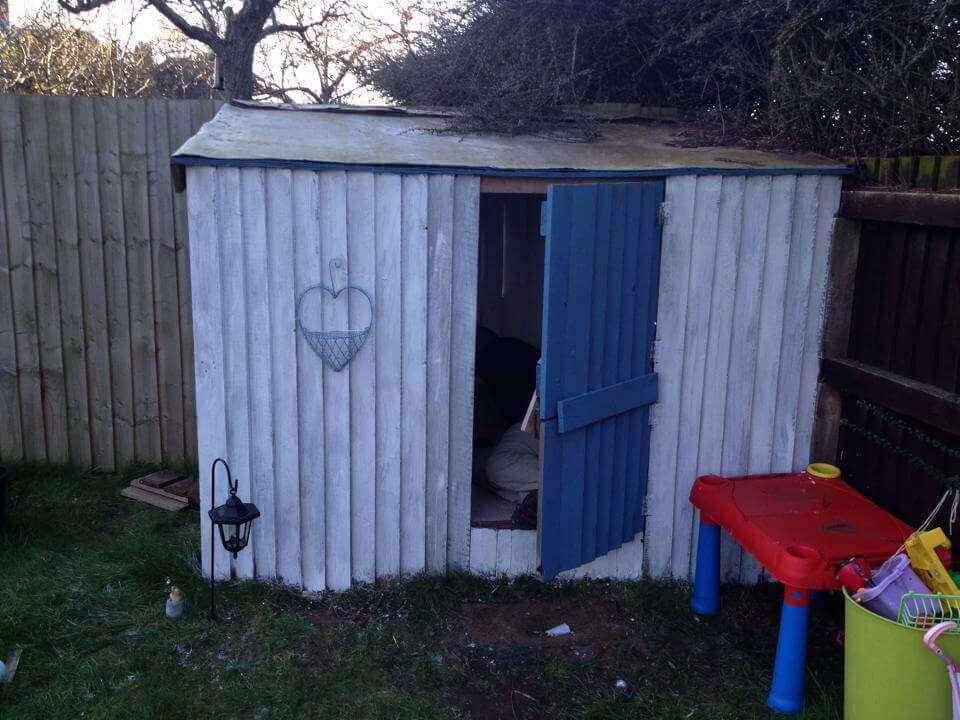 Install awesome outdoor cabins with pallets and even the tree houses, kids playhouses, and outdoor barns.
Here is a simple inspiration to make you well known about some creative outdoor uses.
Pallet Sectional Storage and Decorative Unit: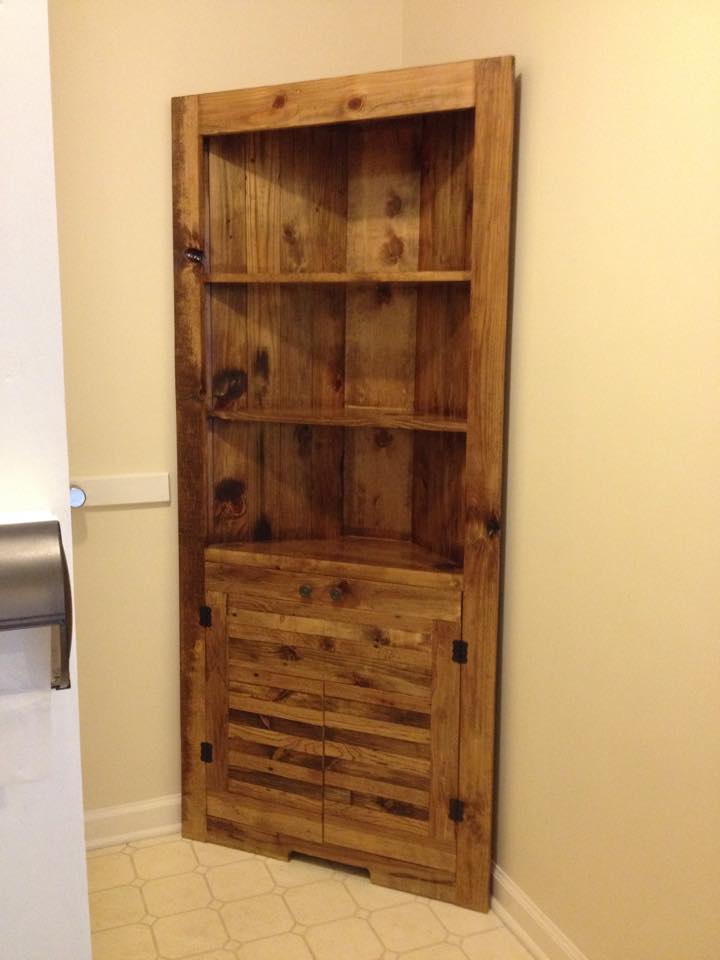 As you are constructing or building all with pallets using your creative brain and hands, then you can go for any custom size and dimension of the items you are making out of pallets.
Here is a sectional pallet cabinet inspiration to fit any corner of your living room as a decorative unit.
There are several shelves to display your art and centerpieces! Also, use it as a media unit, and it will be outstanding in this case.
Pallet Kids Furniture – Pallet Picnic Table: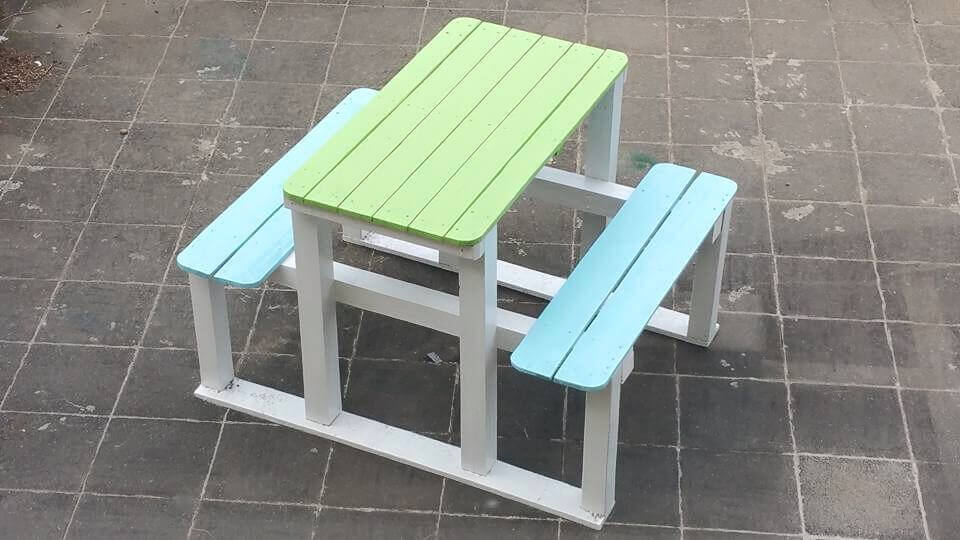 Just hold your breath, another great pallet achievement is here to boggle your mind, super functional addition to your patio, paved outdoor, parks and lawn areas, a simple picnic table with attached benches to be out of ordinary.
It would be friendly to kids, and those of coffee shop or restaurant owner can also avail this idea to install amazing sitting plans to the customer area.
Pallet Rocking Bench – Have Fun with To & Fro Movement: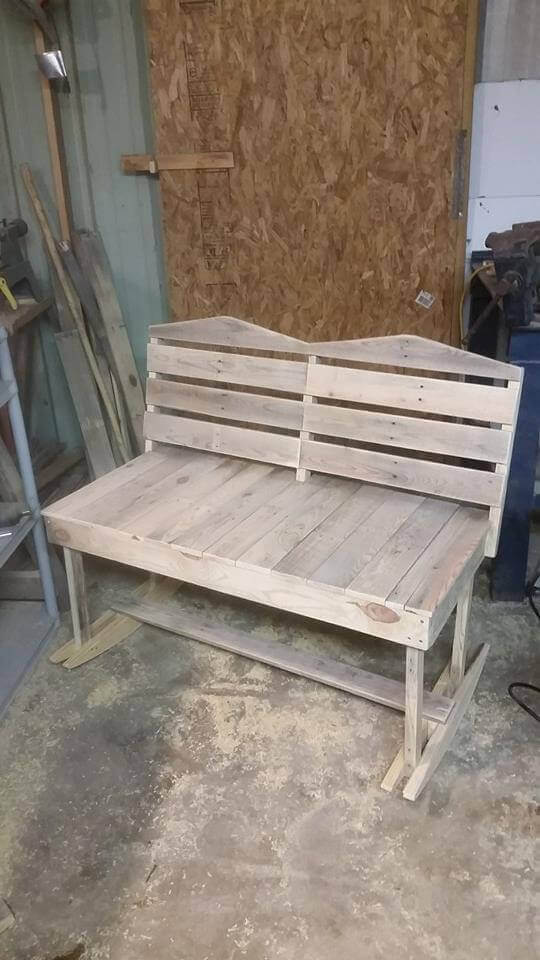 Collect the pallets to build this friendly bench shape with them, looks like a simple junction of two chairs.
The bench is just like the same as ordinary bench mass, but the rocking legs turn it into an extraordinary dainty piece of furniture. It can move to and fro for a rocking sitting experience. Double up your fun with pallets!
Most profitable woodworking projects to build and sell:
Pallet wood is to use everywhere while in or out of the home, in your offices or workshops and also in your coffee shops and restaurants. Pallet wood is getting fame due to its higher uses in no-cost furniture plans that comes with a lot of sturdiness and style can be any to suit your spaces and needs. Outdoor lovers can get fantastic garden sets, patio sets, and sitting arrangements to sit around the fire-pits or on rooftops.
For this purpose, one creates a set of Adirondack chairs, a pallet sofa, and different diverse styles of outdoor benches just using a bunch of pallets. Let your inner creative man inspired and build the fun making toddler garden chairs, garden accent wall hanging planters, garden shelters, pergolas, and garden cabins. All is possible, and we have given some great examples and practical advice for all pallet-made garden or interior stuff we are just discussing here.
Build storage-friendly living room retro styled coffee tables and try the amazing pallet tool racks to organize your workshop apparatus and tools!
Set of Pallet Adirondack Chairs for Patio and Rooftops: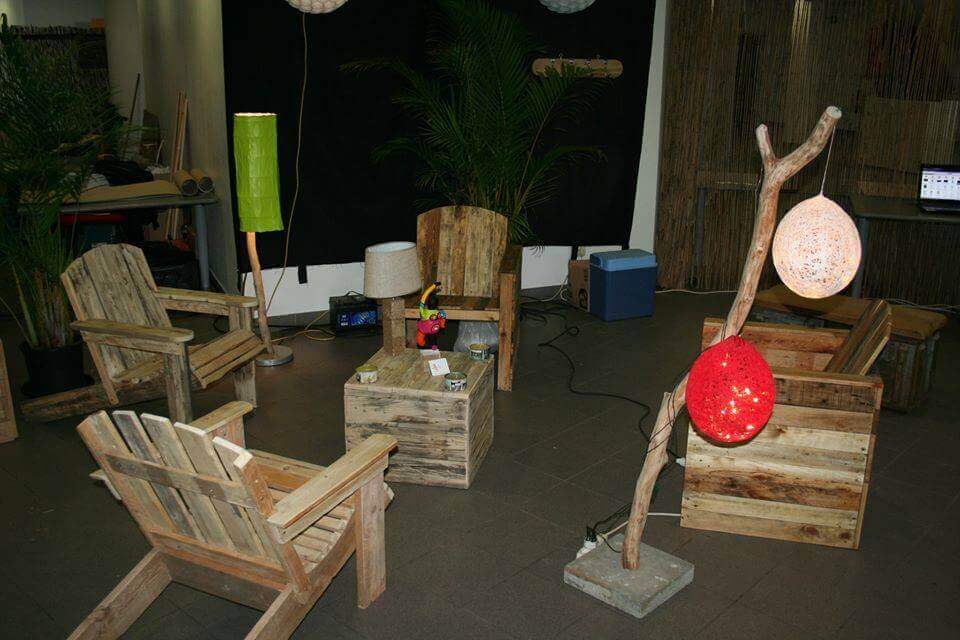 Make your home get with some extra sitting plans and once build amazing sets of chairs, sofas, and benches with pallets to eliminated the sitting space needs and demands.
This set of pallet-made Adirondack chairs is just best to sit around a fire pit or coffee table while being at outdoor or at the terrace or rooftop!
Pallet Outdoor Garden Cabin: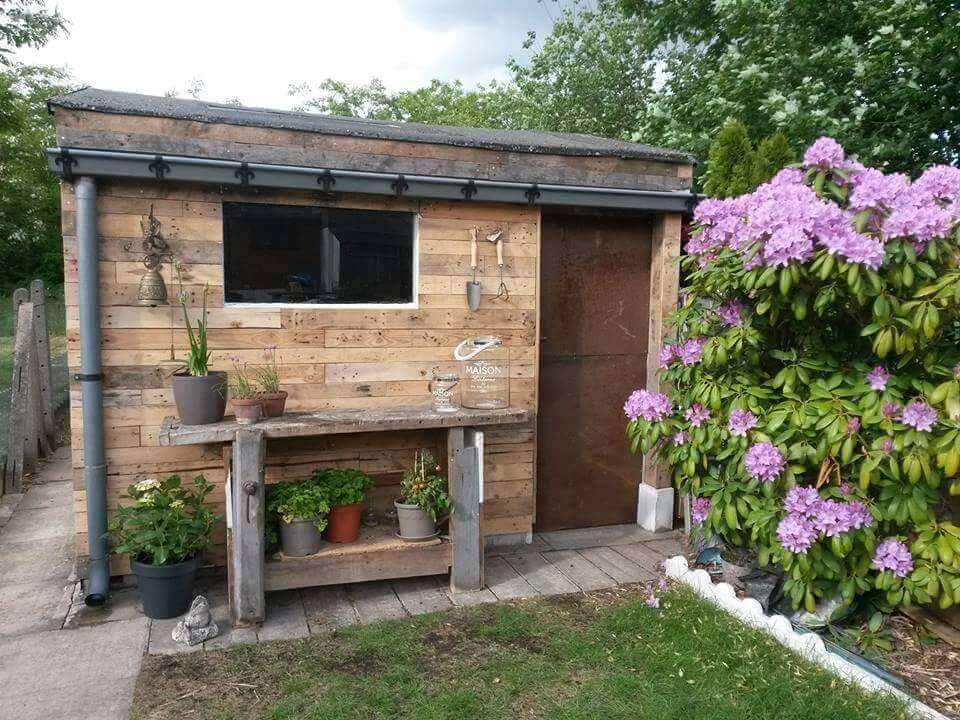 There are awesome pallet outdoor housing schemes and plans to enjoy very of your free time.
Here is this amazing pallet-made cabin inspiration for you, totally build with reclaimed home material! It has been build in a garden space to store the garden stuff and tools.
Pallet Toddler Chair: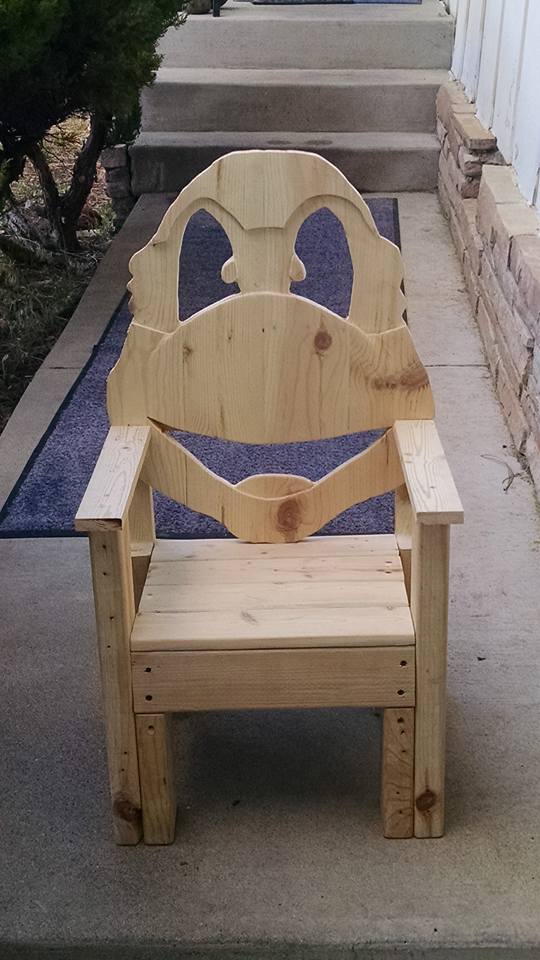 Salvage the pallets for amazing kids furniture, build ever friendly and fun making kids chairs and picnic tables with pallets to let them happy all the time.
Toddler benches, rocking chairs, cribs, and the bed frames can also be made from pallets just in no time!
Pallet Tool Rack for your Workshop: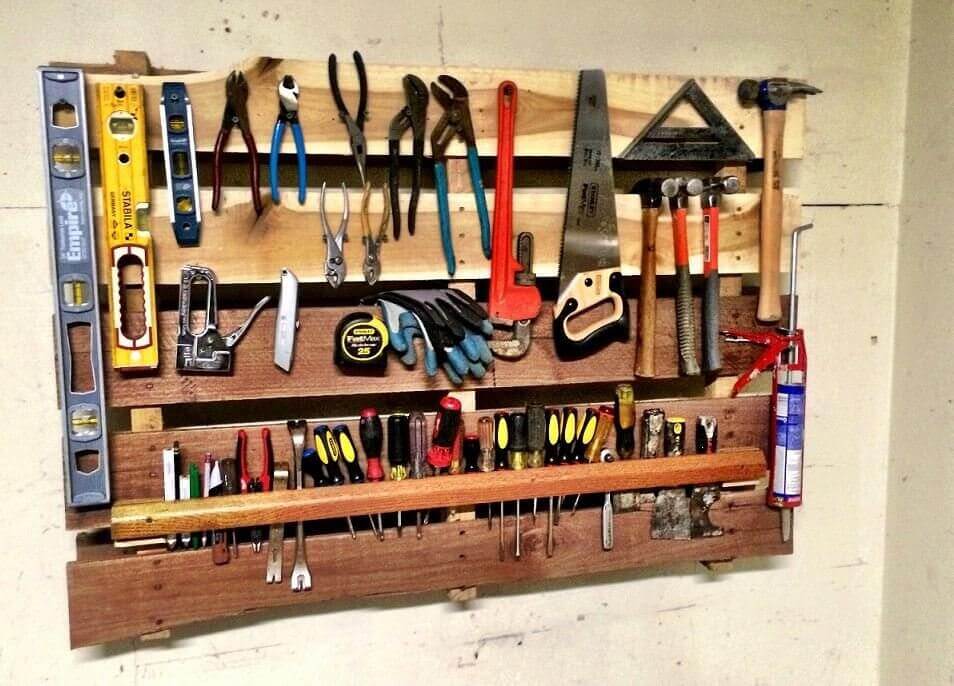 Here is a little pallet attribute to persons whole love to work with their hands such as carpenters and mechanics. Get this amazing tool rack to arrange and organize your workshop tools. Now its time to take extra care of your stuff and tools so do copy it!
Cozy Pallet Coffee Table with Storage and Wheels: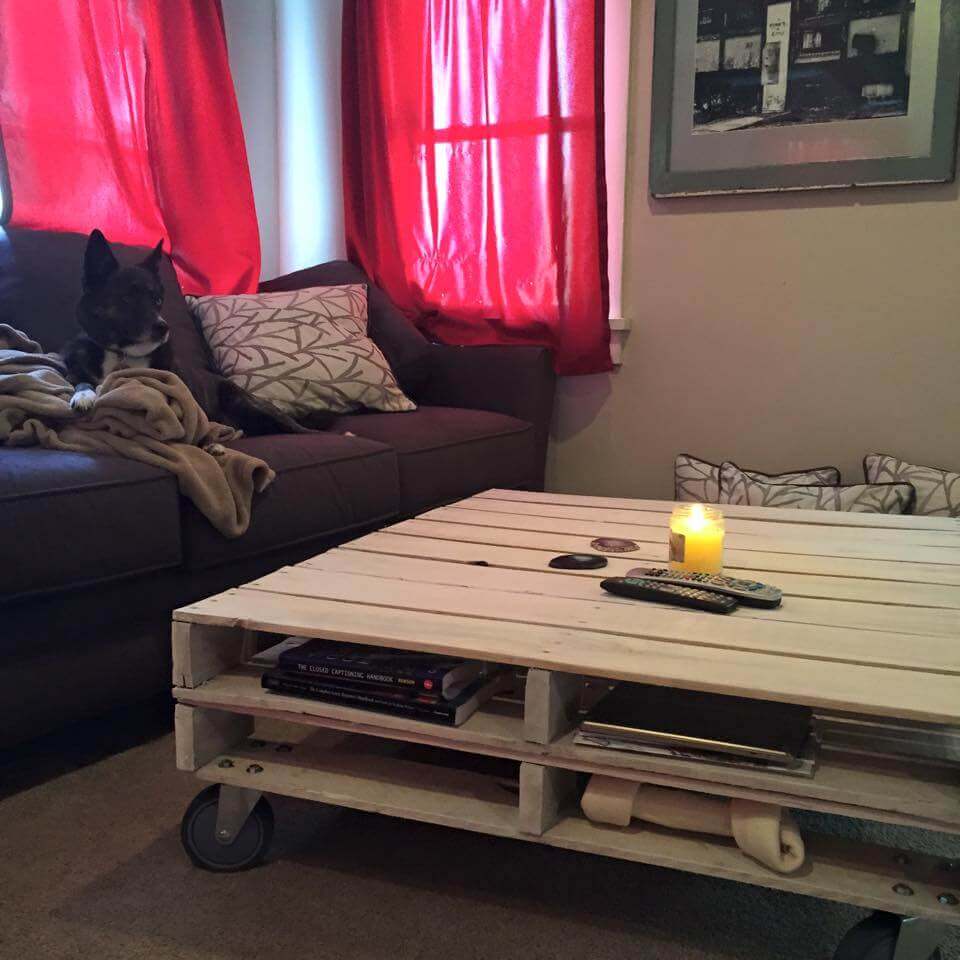 Trim down your furniture expenditures and copy those amazing pallet ideas to live the luxury on a budget.
Join any 2 of pallet boards with their bottoms facing each other and get a storage-friendly coffee table with storage openings and pockets all around the table. Add wheels at the bottom and paint it to enjoy it in cozier living room environments!
Pallet Garden Wall Decors Idea: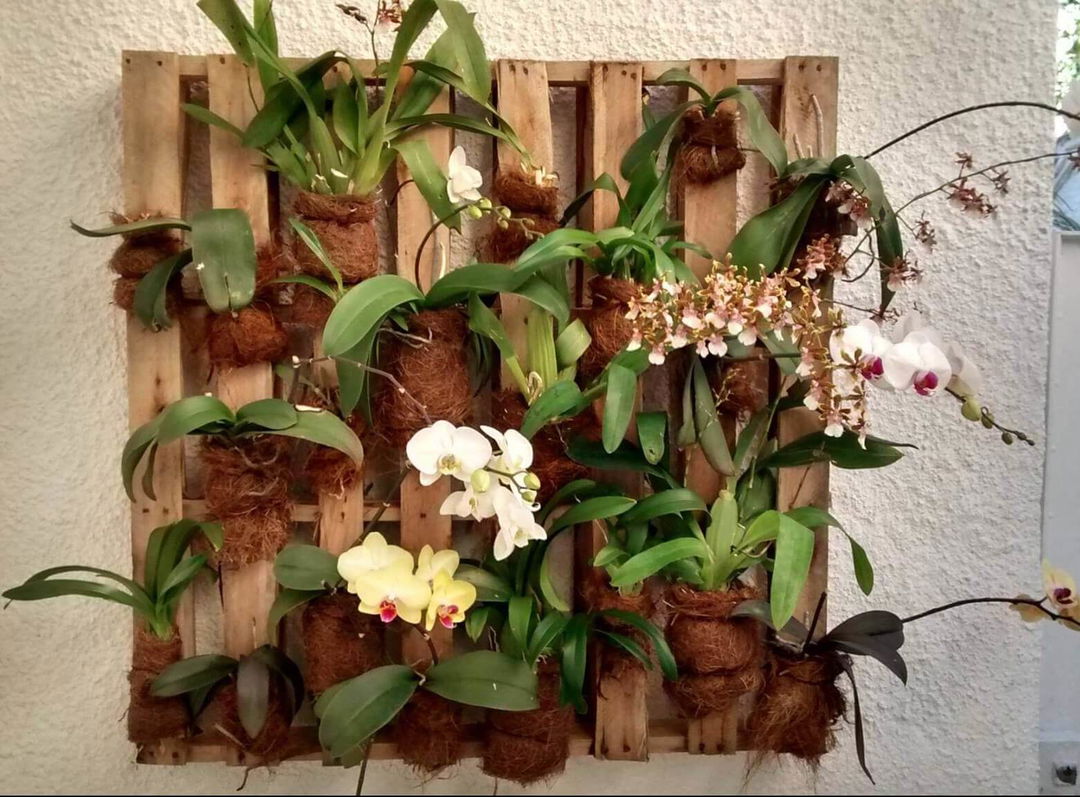 Are you obsessed with creative garden decors? Here is your way to go for that, install the pallets as amazing decorative units to garden walls and hang the mini garden vases, tiny flower pots and little herb plants on them for a beautiful garden wall accent.
An amazing idea to make your green space noteworthy!