You will become a big of the recycling potential of the pallets by taking a short tour of these pallet furniture plans that will provide you the step-by-step visual guides to build the lasting longer and luxurious type of items of furniture with pallets for free! These pallet furniture ideas will be for both indoor and outdoor spaces and will involve both uncut and dismantled pallets for sure! Browse this list of 15 Pallet Furniture Plans that will help you build almost all kinds of wooden furniture at home for free using recycled pallets that are always easy to source and can also be grabbed for free in dozens! From building stand out patio furniture to custom type of tables and sitting furniture items, you are going to see all in this list that has exclusively been shared for pallet wood lovers!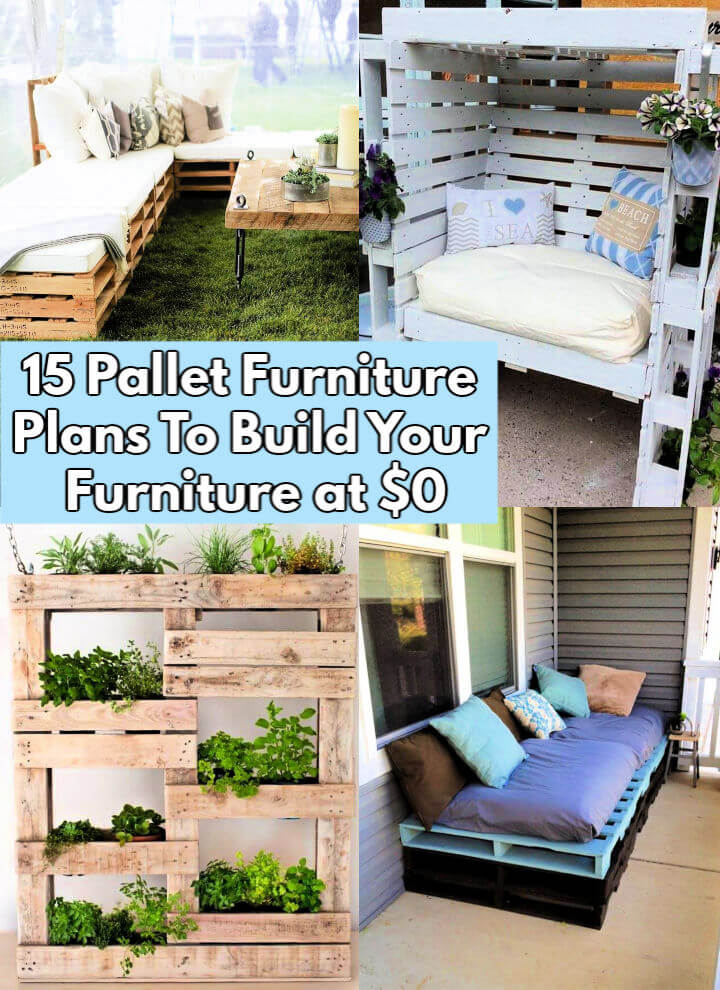 Stack the pallets and finish with foam mattress and gain a comfy outdoor sofa which you can style up more by building also a coffee table out of pallets! Build also the enclosed pallet seats that will provide sun-protection in the summer days and will also be a big pleasure to sit in! Go handmade with dismantled pallets and build solid wooden benches for your patio or any outdoor and also bring a great style to your living room by adding a chevron pallet that will also make a great gift for chevron lovers!
Get the free plans from the list to build a bungalow style outdoor playhouse for the kids and finish a single pallet skid with bottom wheels and also with a glass top and gain a lovely modern coffee table out of free pallets! Browse this entire list of pallet furniture plans to check out more unique pallet stuff and click once on attached links to grab full DIY furniture plans and tutorials!
Outdoor Pallet Furniture Idea with Plush Pillows: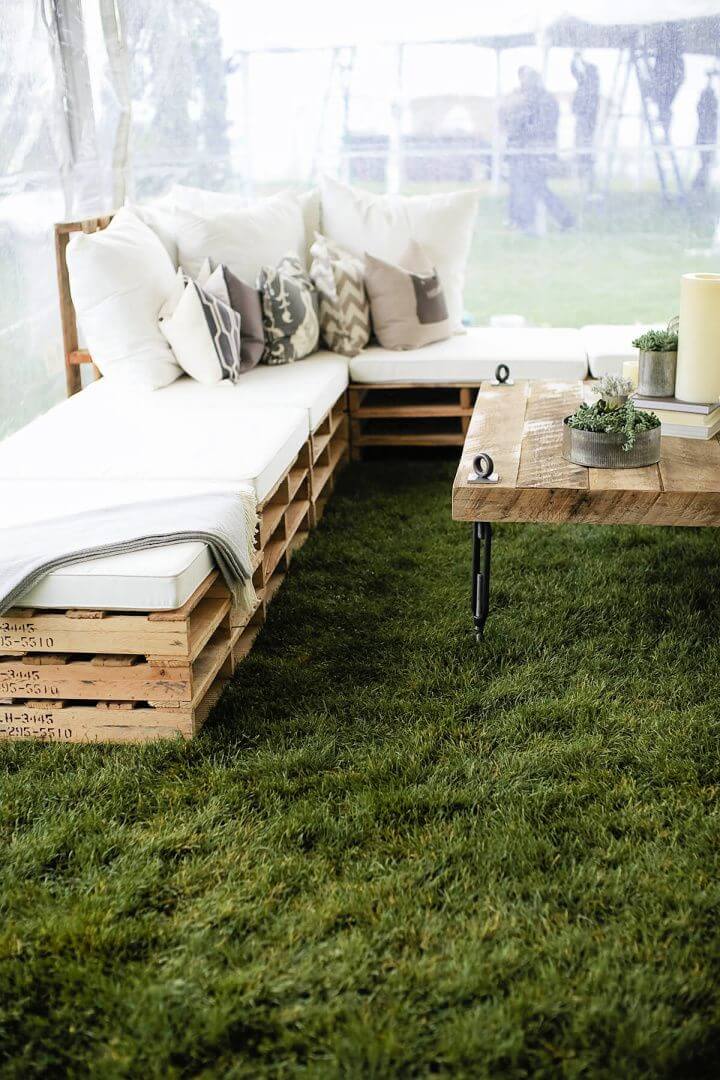 Look at this the most expensive looking pallet sofa set that is super quick to whip up using a stack of free pallets! An L-shape sofa and a coffee table with metal legs are total assets of this sitting furniture set! stylemepretty
Turn Pallets into Enclosed Seating Area: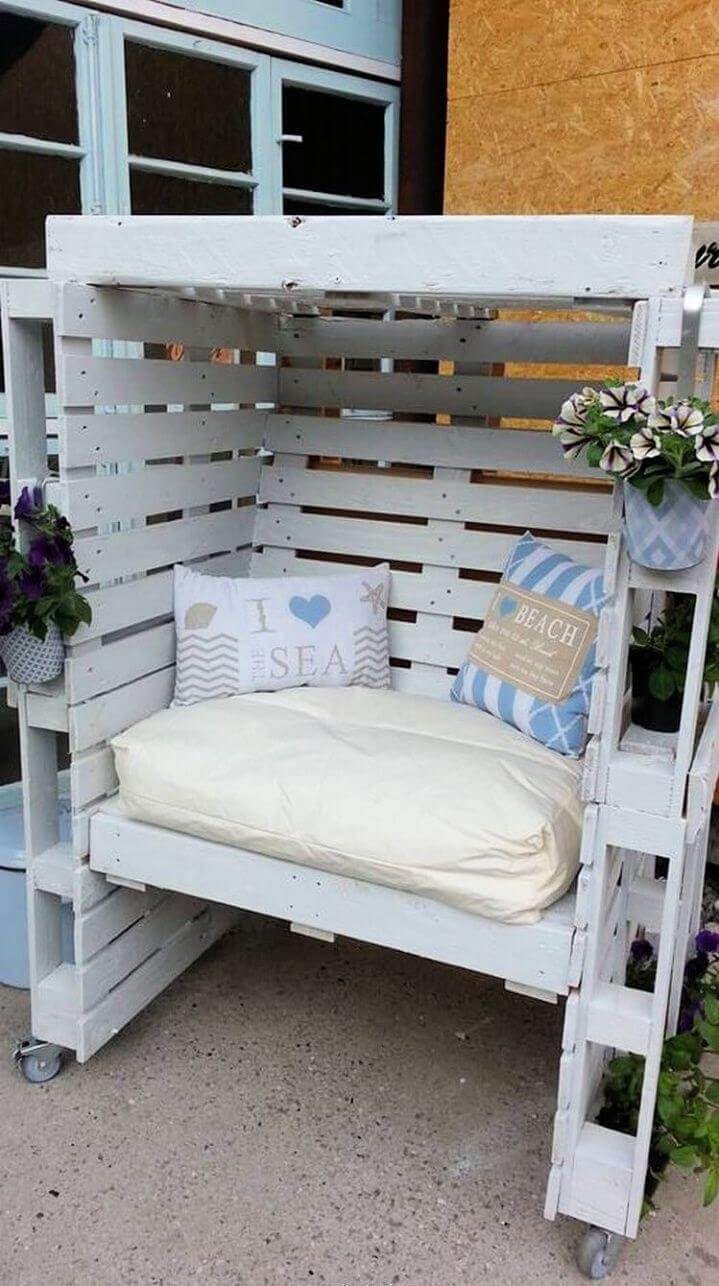 Build also summer special pallet sitting furniture that may come with added sun protection! Get inspired by this pallet enclosed seating area that is lovely and comes on wheels! It has also been decorated with hanging garden pots! source (unknown)
Black Wooden Pallet Sofa: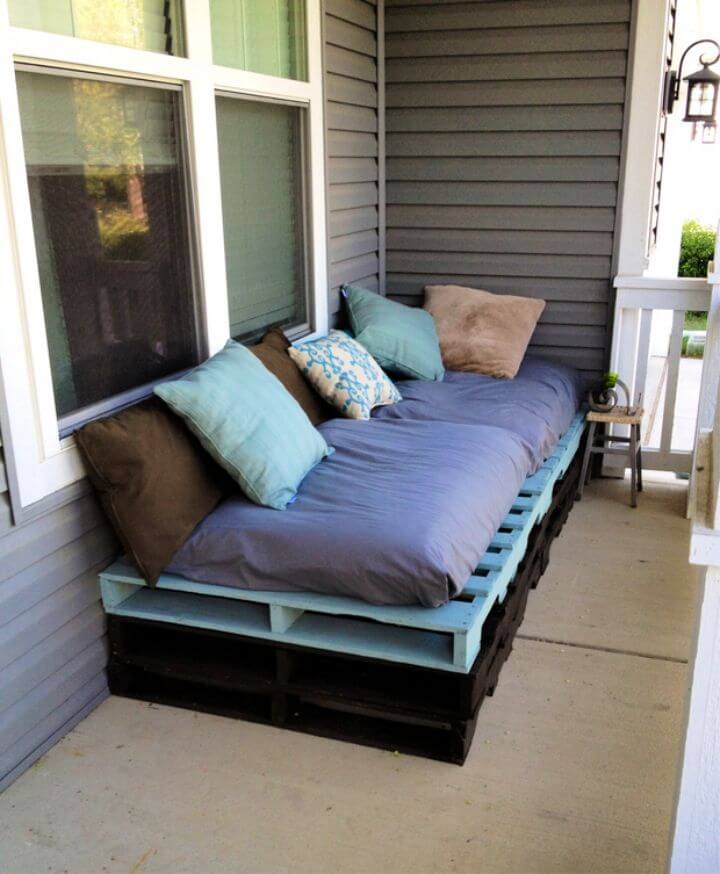 Layer up the pallet neatly and combine them with ultimate sitting comfort by adding seat mattresses and build outstanding wooden pallet sofas in a couple of minutes! Have a look at this given sample that will rock for any patio! upcycled-wonders
DIY Pallet Sofa Table: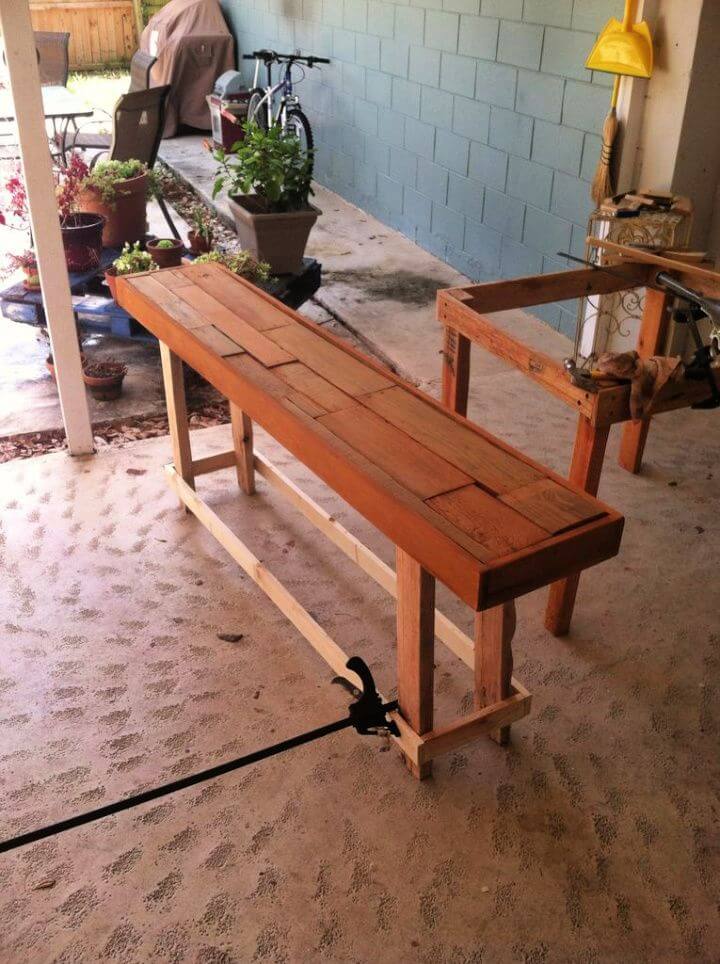 The most gorgeous design of wooden pallet sofa that comes on wheels and is made of separated pallet slats! Build a thicker wooden pallet top and then finish it up with thicker pallet slat legs and gain a fabulous wooden pallet sofa table in no time! instructables
Beautiful Coffee Table With Storage: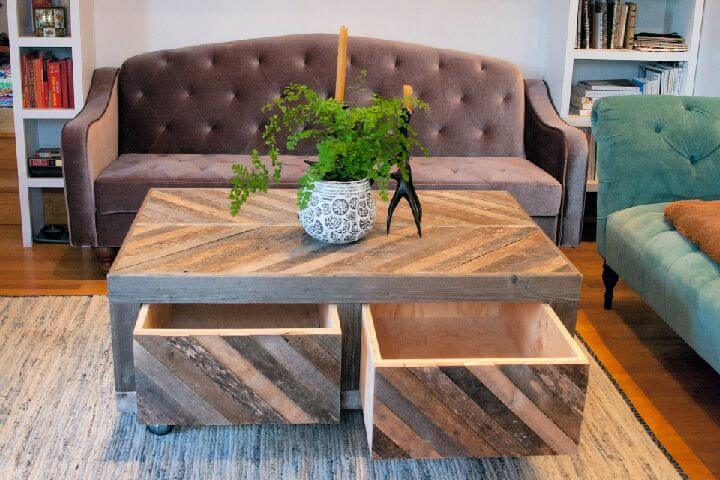 Bring great visual attractiveness and storage space to your living room by making this fantastic wooden coffee table that comes with built-in drawers! The chevron and diagonal filling of pallet wood slats make it extra beautiful! source (Unknown)
Pallet Playing House for Kids: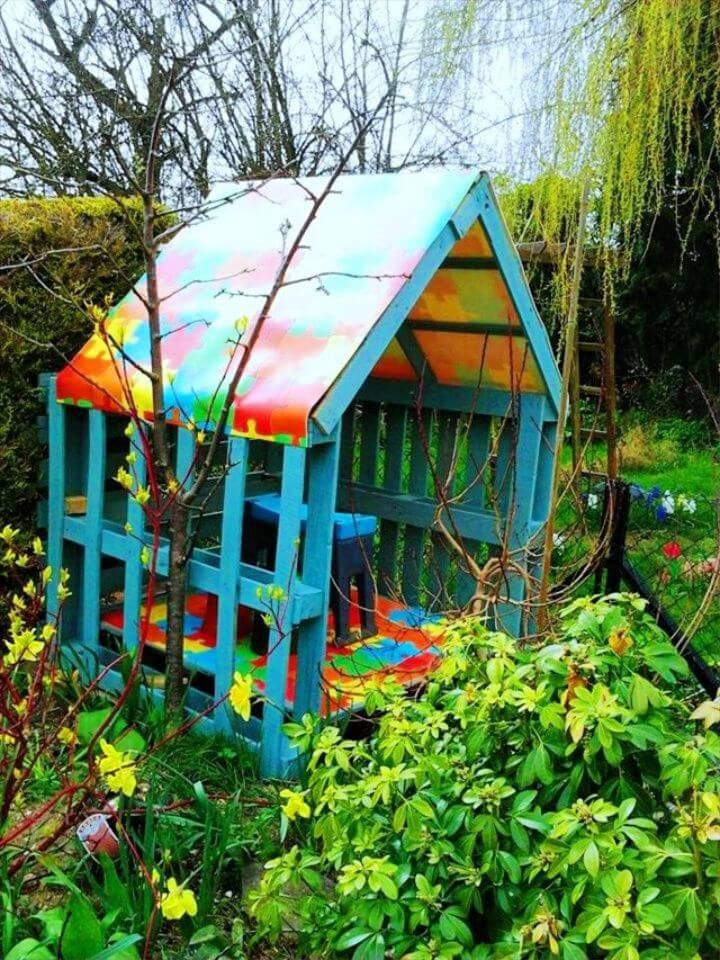 Boost also the kids' outdoor activities pallets by making fabulous play and fun stations with pallets! Look at this great looking wooden pallet playing house that comes with walls made of pallets and also comes with a chevron roof to gain a bungalow style! DIY home decor
DIY Pallet Coffee Table: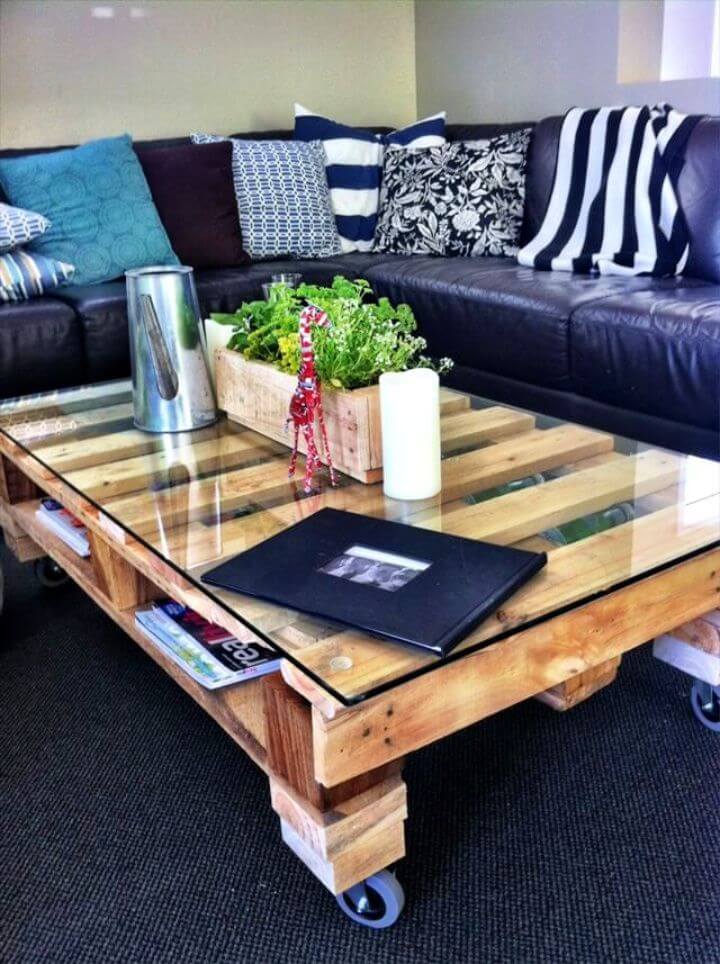 Finish a wooden pallet skid with a glass top and also with bottom wheels and make a modern industrial style low pallet coffee table that will be a great addition to your living room! This single pallet table is also storage-friendly and garnished with a wood planter box! diycrafts1
How to Build a Pallet Chair: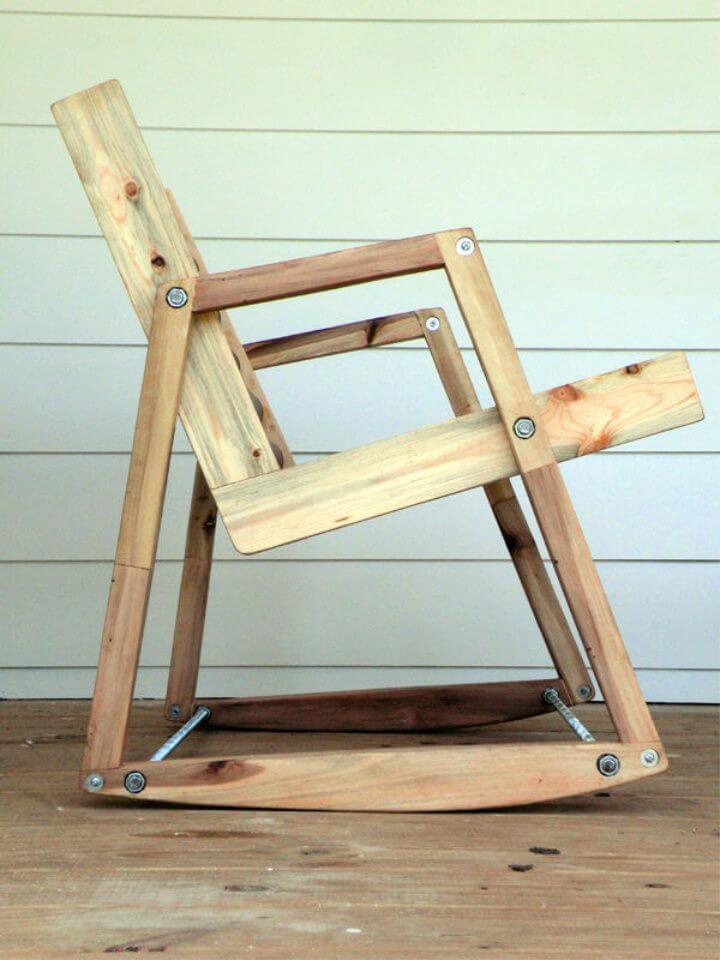 A perfect combo of hardware and pallet wood slats, a gorgeous wooden pallet rocking chair that will really rock for the kids! Build the rocking chair frame supports with long carriage bolts and then adjust and L-shape pallet seat in it! instructables
Pallet Jewelry Holder: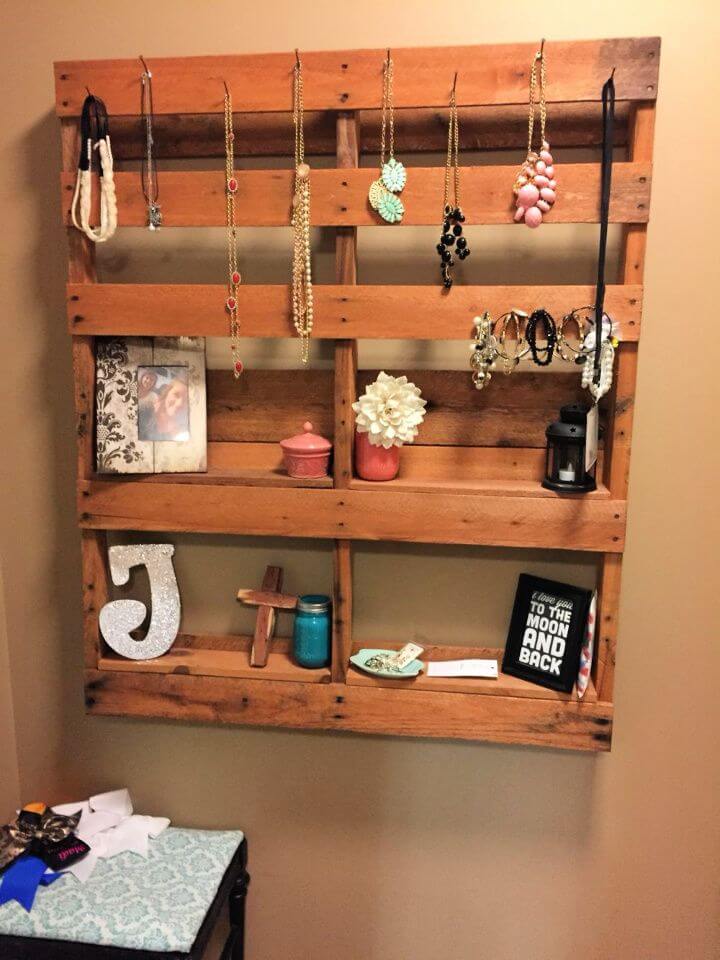 Give a durable wall mount to a pallet wood skid and then add it up with hardware hooks and start hanging your jewelry on it! A super cool wooden jewelry holder that will be super easy on the wallet! pinterest
Make a Pallet Lounge Tree Swing: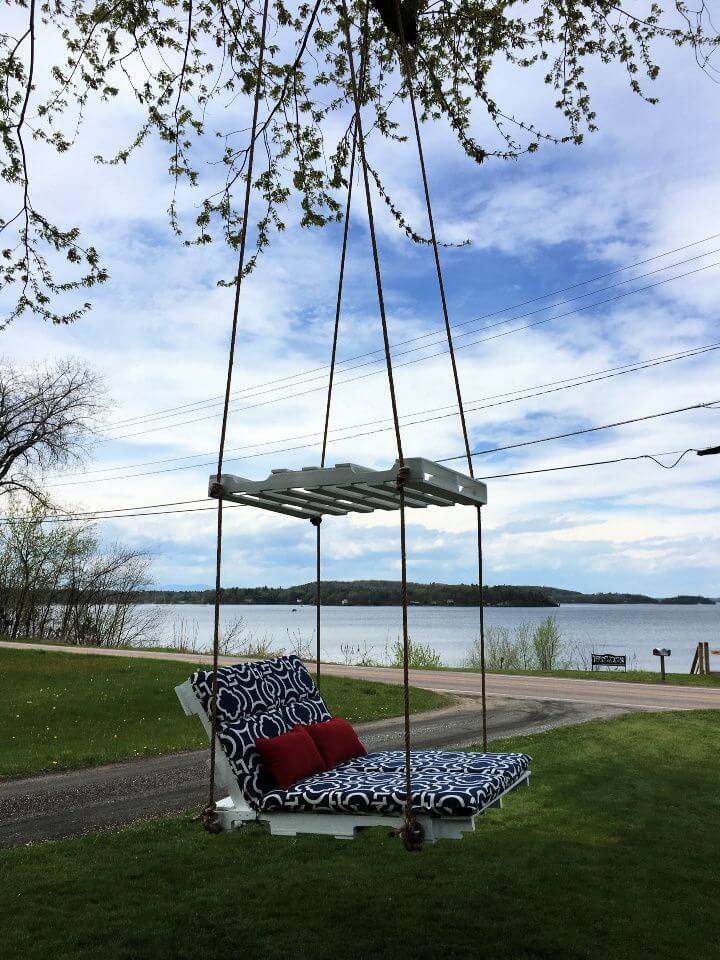 A perfect and creative combo of wooden pallets and rope that appear as a beautiful hanging lounge swing! There is also a pallet roof that provides sun-protection and helps keep the rope untangled! A great pallet furniture idea imgur
The Murphy Desk – Pallet Furniture Plan:
You will love this amazingly beautiful wooden pallet Murphy desk that will be great for laptop operating and it will also make a great choice for a space-savvy mini home office! Mount a pallet on wall and then install a folding down desk surface thistlewoodfarms
Pallet Bench and Table:
Look at this another gorgeous pallet bench and table set that is solid and beefy in dimensions and is damn easy to build with pallets! This is the pallet wood furniture set that will simply cost you nothing! apieceofrainbow
Pallet Office & Computer Desk:

A fantastic multi-featured model of computer desk built at home for a home office! Here a vertical pallet and two removed pallet dice section make the perfect legs of the desk while the top is made of plywood! (art-desks-for)
Computer Desk from Pallets:

One more gorgeous looking modem of computer desk recovered from pallets! Here a vertical pallet has been added with a  desk surface and also with a single plank top and it makes a super slim computer desk! (kitchenfunwithmy3sons)
Easy DIY Pallet Planter: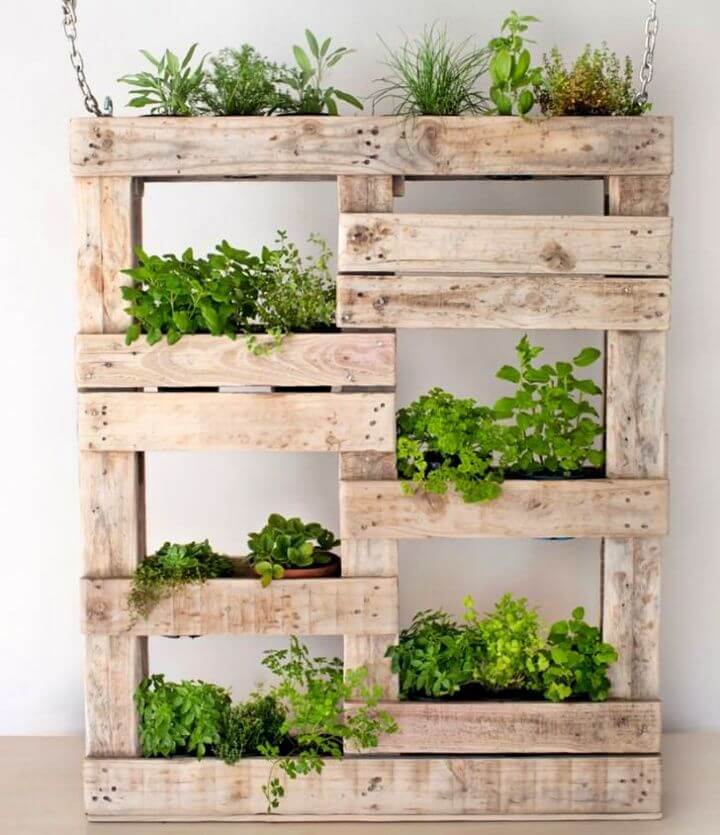 Make also fabulous wooden pallet vertical planter that will be a nice way to bring the garden décor vibes to any of your indoor areas and will also make amazing garden centerpieces! Look at this given sample, comes with built-in planter pockets! 1001gardens
More Pallet Furniture Plans You May Like:
150 Easy Pallet Furniture Plans:
Here we had published the big list of Pallet furniture plans that can help you to build your own furniture, indoor and outdoor projects with 100% free pallets at almost $0.