A headboard serves a bed and the whole bedroom in multiple different ways, and you would not ever miss it out after you see how worthy this piece for a bed frame and the whole ambiance of the bedroom! This is the piece there that makes the accent head of the bed, and if comes with built-in storage options, it can store your night supports nicely and a hidden way without making any mess in the bedroom! The lighted headboard brings a great style statement to the entire bed, and just every kind of headboard just brings a great style to any bedroom interior! There the tons of different designs out there that satisfy the different tastes and different décor style of the bedroom interior!
You can get easily your favorite headboard that will bring a functional character to your bed frame and great visual details to your entire bedroom! The headboards available in the market just come with high price tags, and you just can't withstand their prices while being on a budget! But DIY is always there to provide you the low-cost solutions for your expensive problems!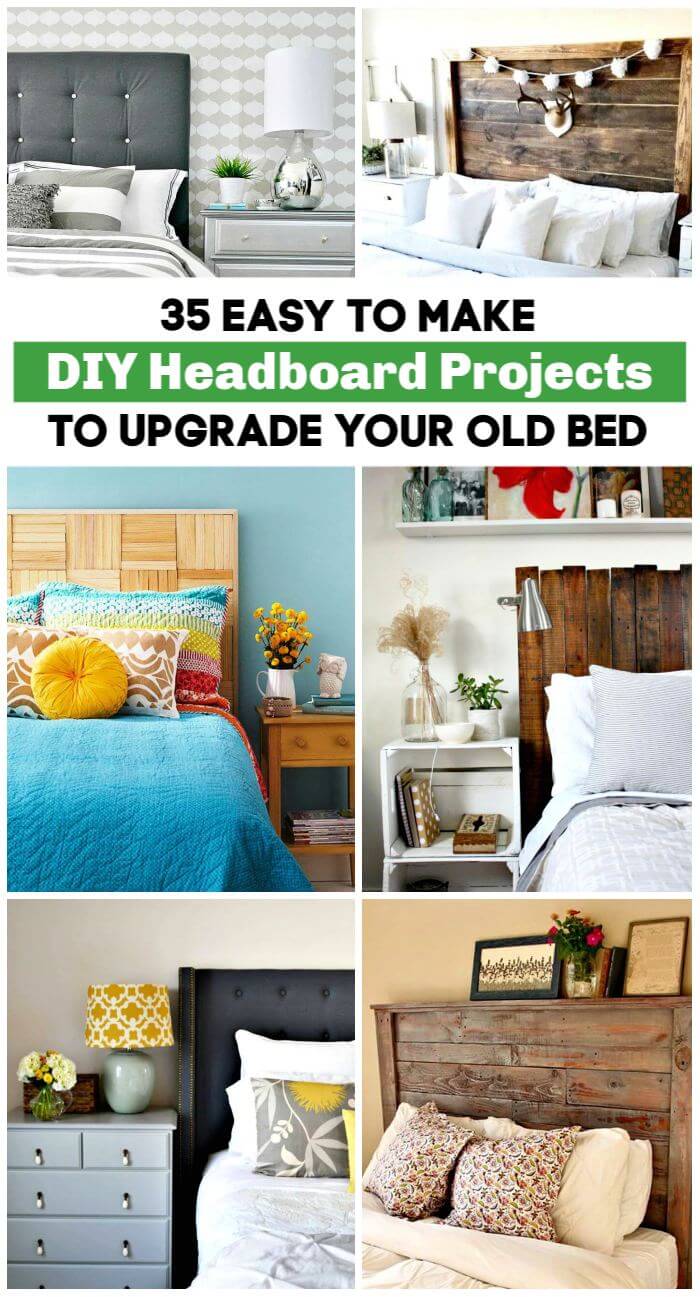 Just make your precious headboards at home and bring tons of your focal stimulation to your bedroom, have not ever made a headboard at home? Then just check out these 35 Easy to Make DIY Headboard Ideas that are genius beyond your imaginations and are too creative to win your heart! Once you browse the entire collection of these DIY headboard projects, you will get tons of cost-efficient tricks to build your pro headboard design at home! So, just chose your favorite headboard design from the list and get ready with the tools and necessary supplies to duplicate it!
DIY Projects You May Love DIY for Home:
Go handmade with laminated plywood sheet, paint and with LED Lights and build cute headboard with night start and moon that will rock for kids' bedrooms! Make also smart use of cardboard pieces, foam and fabric and make tufted style headboard design for your bed and bring great colors and visual details to your bedroom by installing colorful striped or letter headboard with the washi tape! Make the wooden headboards at home and make them more special by carving out the letters and then adding lights in them, get inspired by the given sample design that is beautiful and gorgeous to look at!
If you like the tufted or upholstered headboard with the accent nail side trimming, then the list will also provide you with various designs in this case that you can easily make for yourself at home! Next also repurpose a set of old picture frames to build a graceful headboard design, also create a divine look of your bedroom by installing patchwork headboards! Upcycle also the blinds and weave them to make enticing no-cost headboards and also make use of rustic wooden slats like pallet wood pieces to make rustic no-cost headboards for your bedroom! Check out dozens of more homemade headboard designs in the given below list and duplicate the one that grabs your attention! Get the full headboard project tutorial and instructions by hitting once the attached links!
DIY Kid's Headboard with Built-in Nightlights: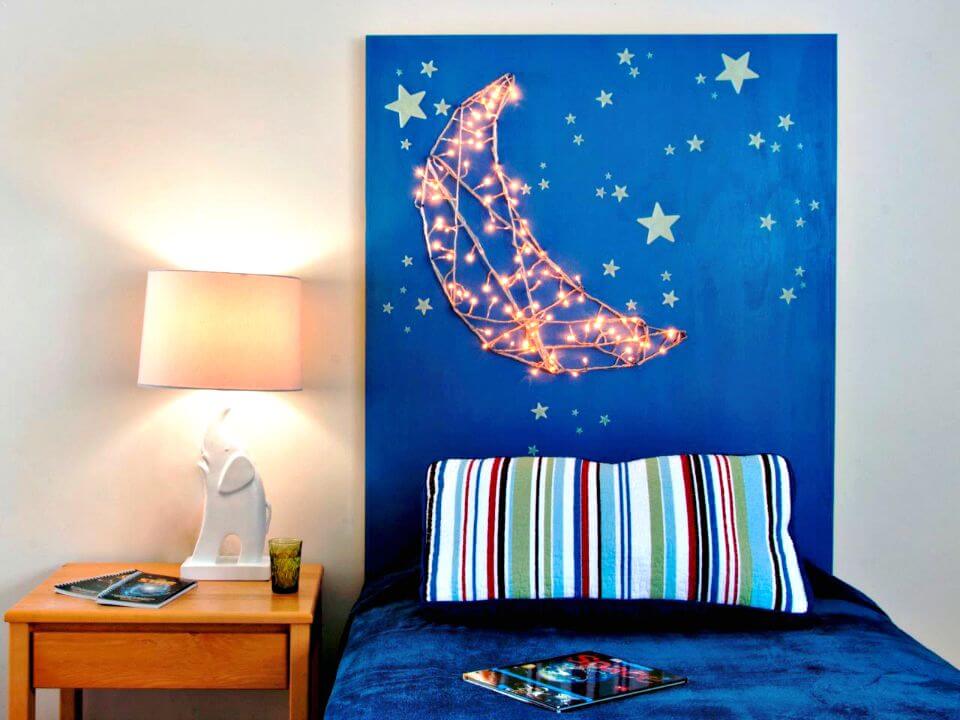 Here is how you can bring the perfect charm of sky life to your baby's room and that too at the least of the cost. This adorable headboard with stars and moon is the idea to work on, and you would need a wooden headboard, with blue and white paint and the moon has been installed with the nail and yarn art. diynetwork
Pretty DIY Fabric Headboard: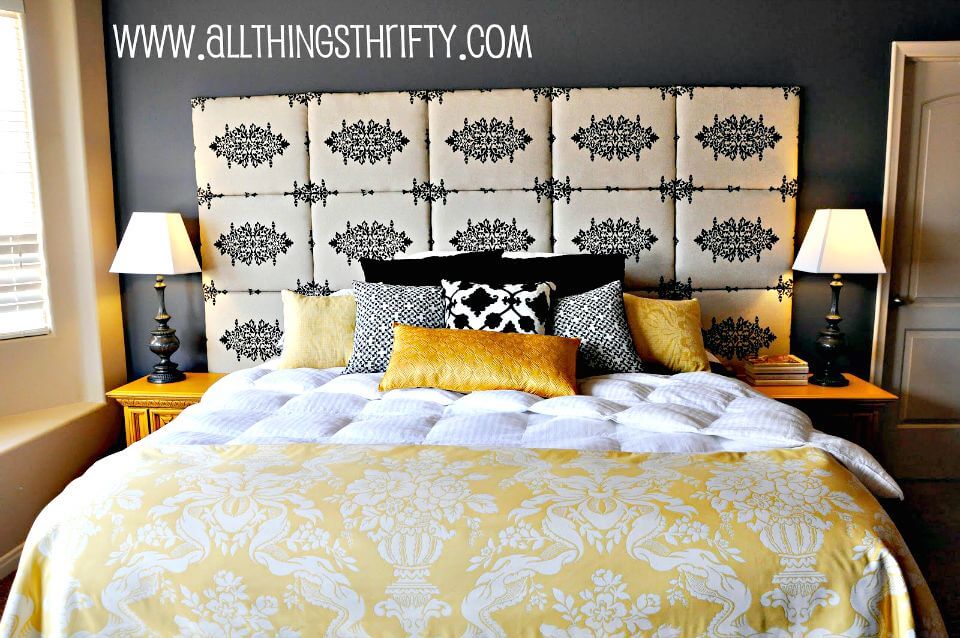 Here is how you can bring the perfect charm and elegance to your bedroom spaces with this gorgeous and decent in style fabricated headboard to be a part of your bedroom decor. The headboard has been made out of the cardboard pieces, foam and the fabric that really adds to the design and style of your spaces. s allthingsthrifty
Make A Headboard with Duct Tape: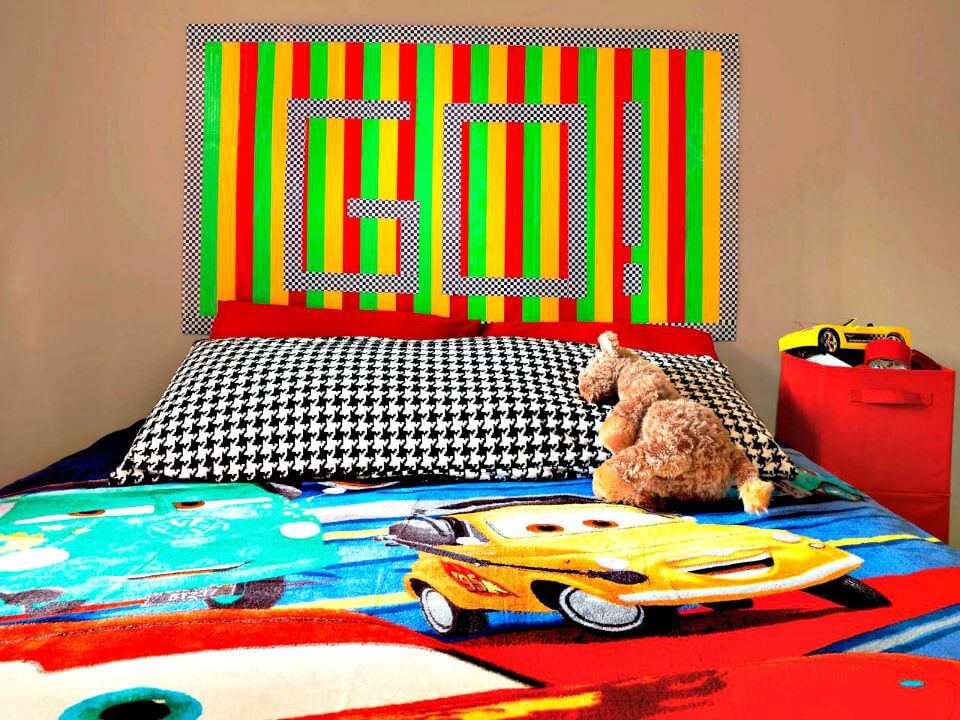 Here is how the kids can make the most amazing room decor for their place, and they would just love making this adorable and funky headboard for their bed. Using a cardboard piece being nicely covered with the colorful duct tape the kids can easily make themselves a pretty and fun headboard at no cost at all. diynetwork
Easy To Make Light Up Headboard:
Here is another amazing creation for the boost of kid's room decor and this is the gorgeous headboard with letters and lights that the kids would love. The word can be anything but here the words like sleepover have been carved and decorated with the lights, and we are sure that the kids would just love it. abeautifulmess
Gorgeous DIY Headboard: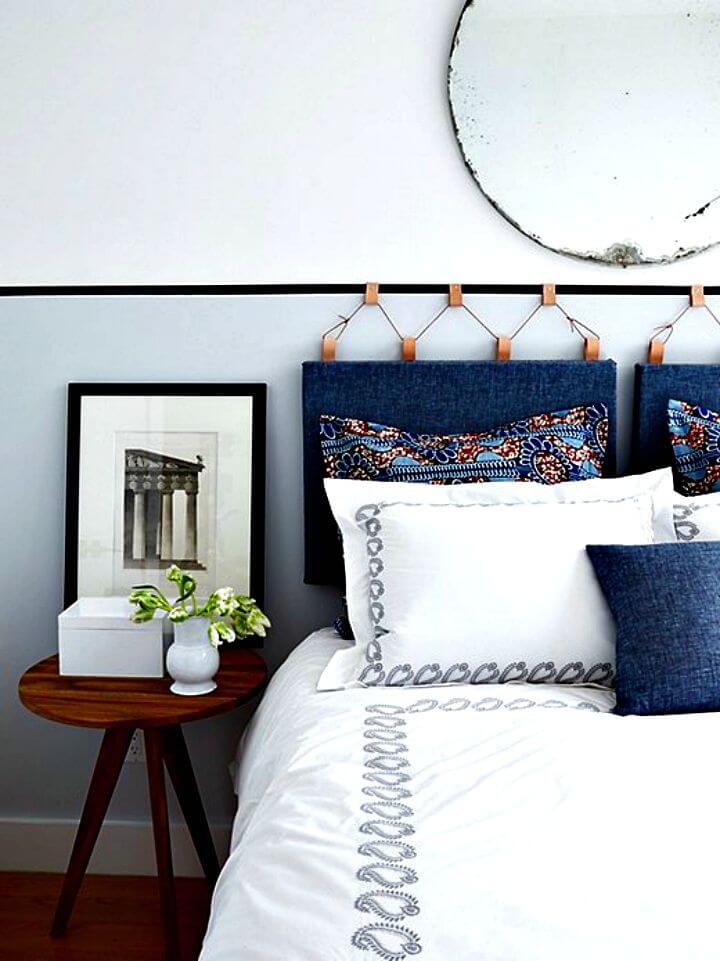 Another amazing idea to bring the perfect chic appeal in your bedroom decor with this pretty headboard idea with the fabric headboard that is super easy and fun to make yourself at home. The wooden boards have been layered with upholstered foam and the fabric and attached to the headboard with the help of leather clips and its done. onekingslane
How To DIY Pink Upholstered Headboard: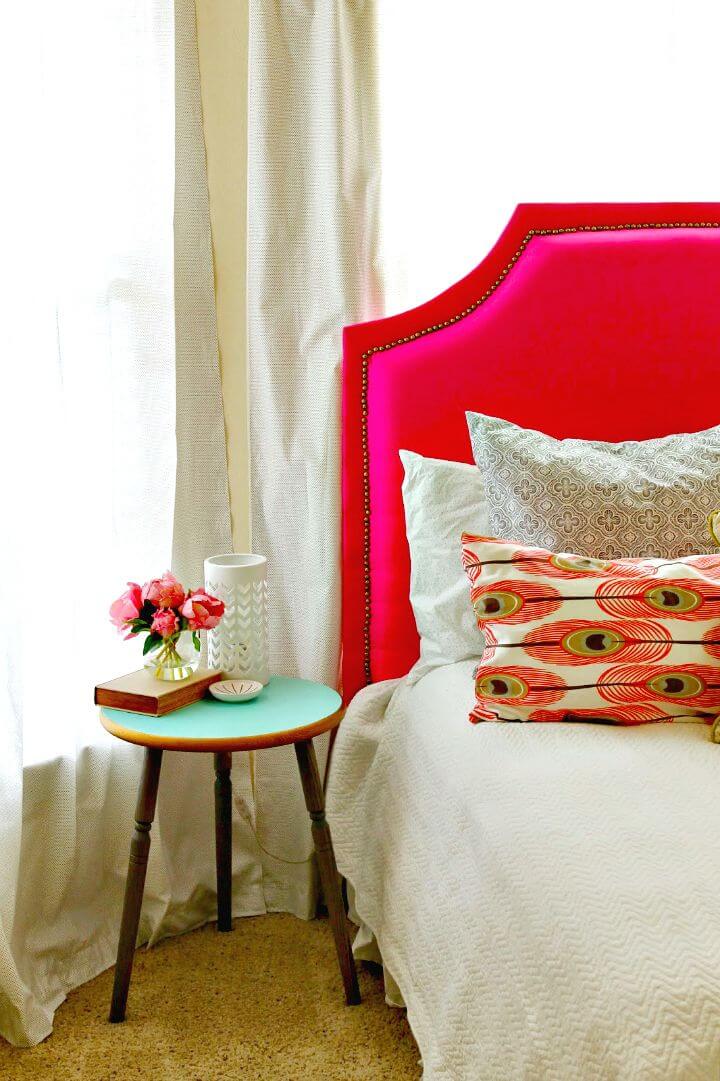 The upholstered headboards are all the rage, and they are just super cute and fun to rock a bedroom decor so if you are looking for a makeover idea for your rooms then this is the right project to work on. You can use any of the colors to upholster your headboard in, and the thumbnails would add more beauty to it. theraggedwren
Simple DIY Upholstered Headboard: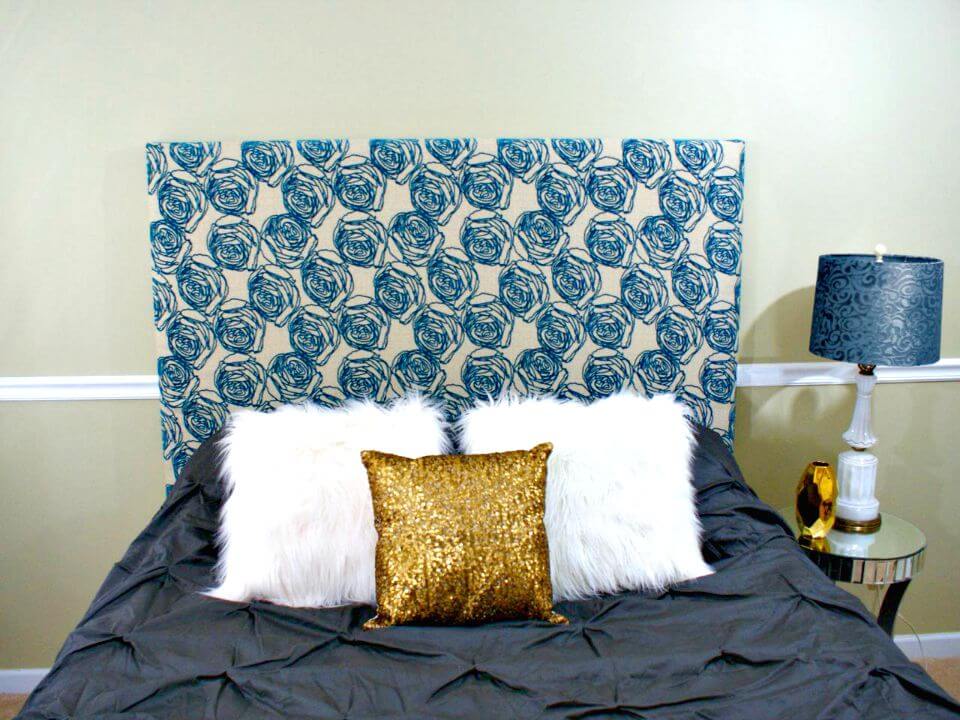 A lovely headboard can add oodles of charm and fun to your spaces and here is how you can do it for your bedroom's updated look with this handmade headboard to add the perfect summer appeal in your spaces. The headboard has been easily done with an upholstered fabric, a cute flowery fabric, plywood board, and the basic tools. hgtv
Make A Headboard with Picture Frames: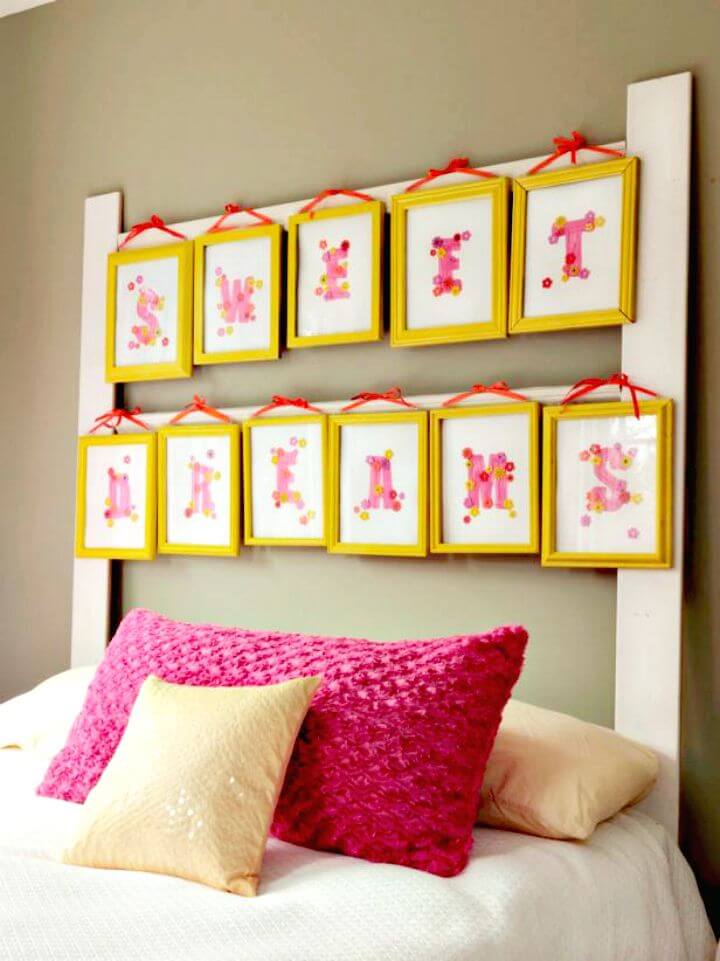 This gorgeous and immensely adorable picture frame headboard is the right thing to add in the bedroom of your little girl's room and the perfect girly appeal to her room decor, and she would be overjoyed with it. To a wooden headboard skeleton, the picture frames with the letters that spell out your girl's name are just the too adorable and cute headboard ever. diynetwork
How To Make Patchwork Headboard: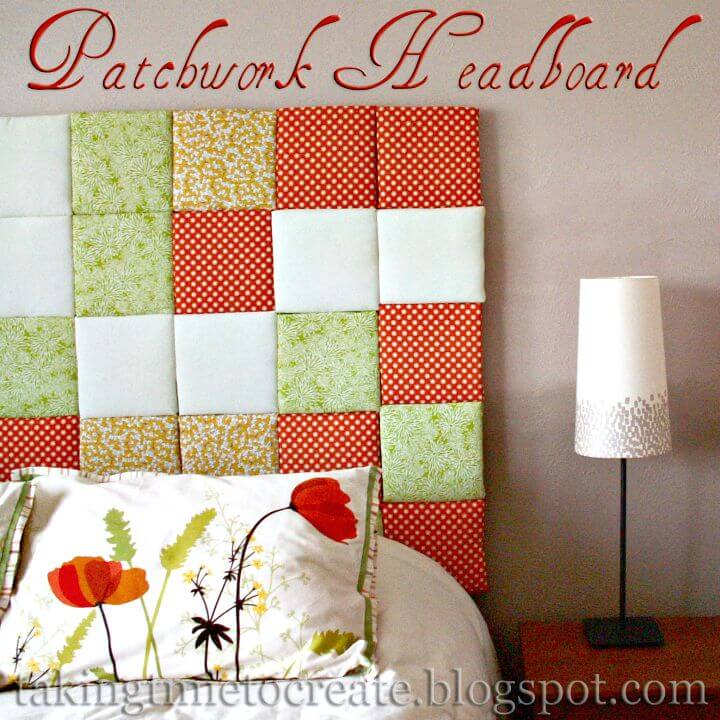 Add some fun colors and textures to your home decor this summers with this really cute and adorable headboard made up with the fabric pieces. Yes with the wooden squares, batting and the pretty colorful fabric pieces to be the top covering and thus letting you these pretty squares at the back of your bed.s takingtimetocreate
DIY Woven Headboard from Upcycled Vertical Blinds: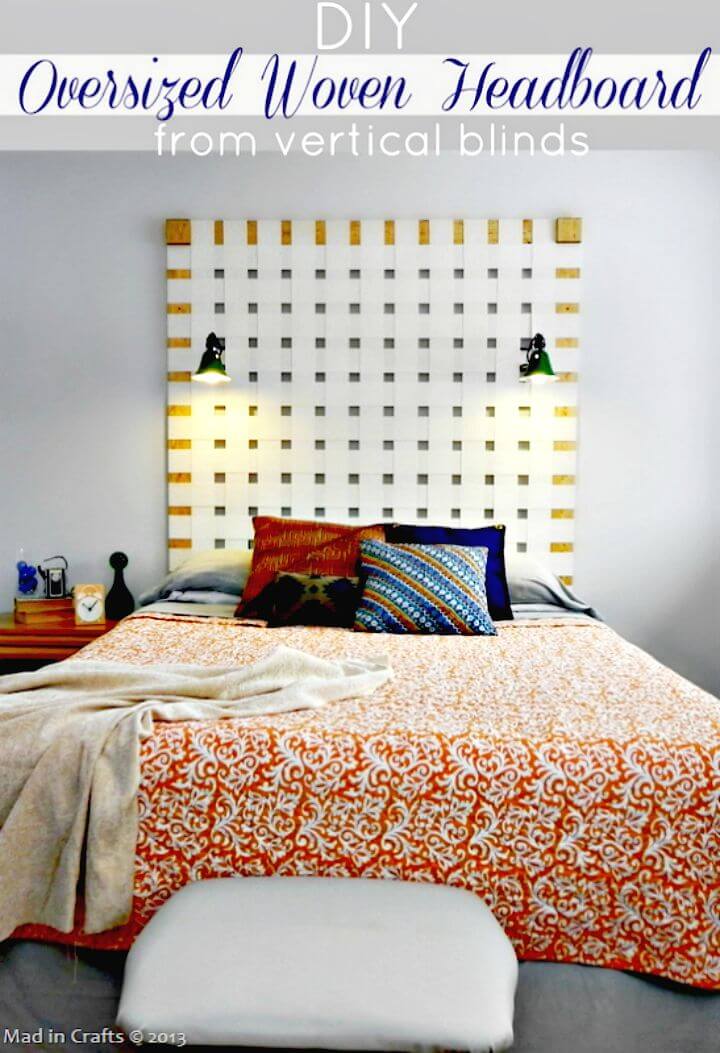 Here is how you can weave your love of weaving to your home decor by creating this immensely unique and fun looking headboard and add so much jazzed up touche to the bedroom decor. The things you would need to install this super cool weaved headboard are the vertical blinds and a wooden headboard frame in square shape. madincrafts
How to Build Wood Headboard: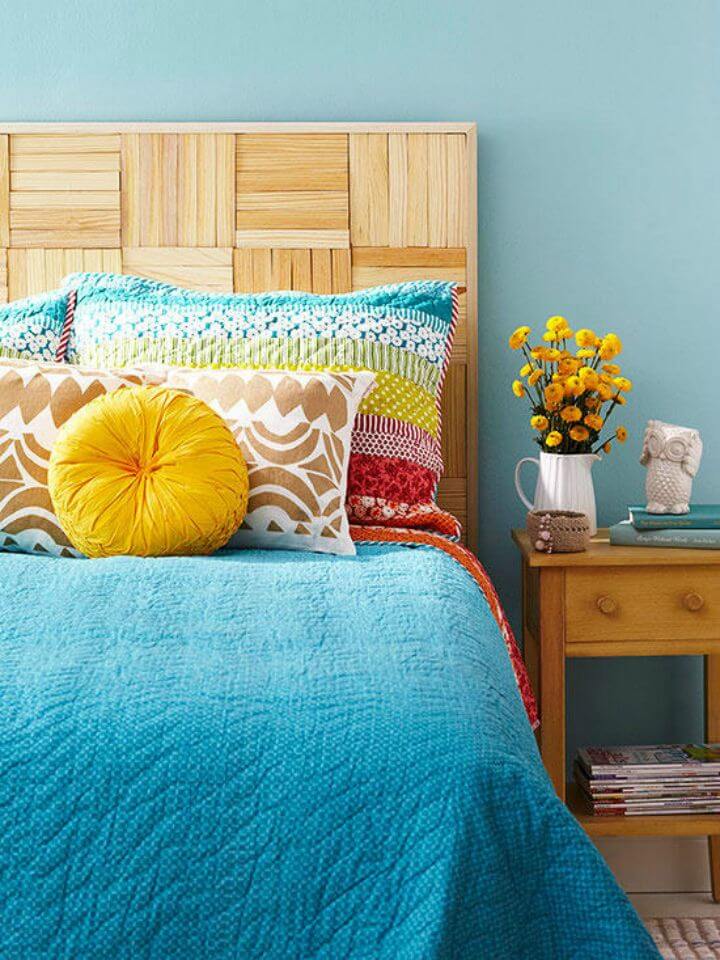 This gorgeous wooden headboard can bring the perfect charm, rustic beauty and the natural texture to your modern bedroom and add the accomplished touches to your home decor and that at the least of the efforts and money. The wooden headboard has been worked more with a lovely design using the wooden trims and shims, and the stunning headboard is ready to rock your decor. bhg
DIY West Elm Morocco Headboard: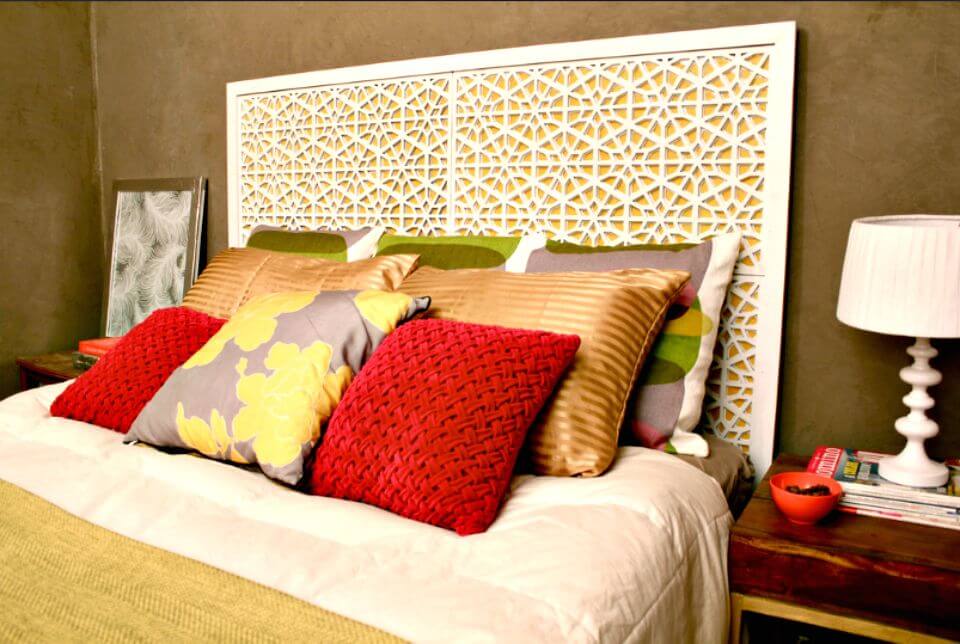 Here is how you can add the perfect elegance and decency of style to your personal spaces with this pretty and fashionable Moroccan style headboard to be a part of your bedroom decor. You can easily shape up the headboard using the rubber mat, a plywood board, and the matching paint hues for the perfect, accomplished look. karapaslaydesigns
How to Make Tufted Headboard: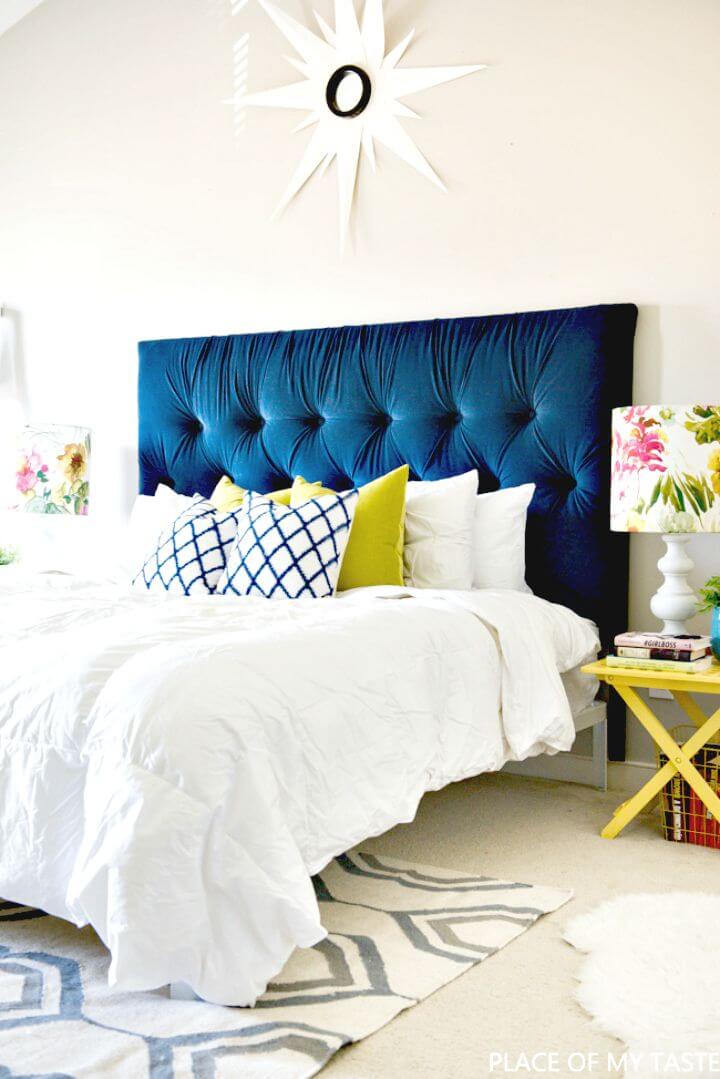 Whenever we think of the modern bedroom decor with a stylish bed one thing that instantly strikes our mind is a tufted bedroom as they re becoming the key items for a chic bedroom look. So instead of spending a huge fortune over a market bought tufted headboard you can create this super cute and updated headboard on your own.Details here placeofmytaste
DIY Diamond Tufted Headboard: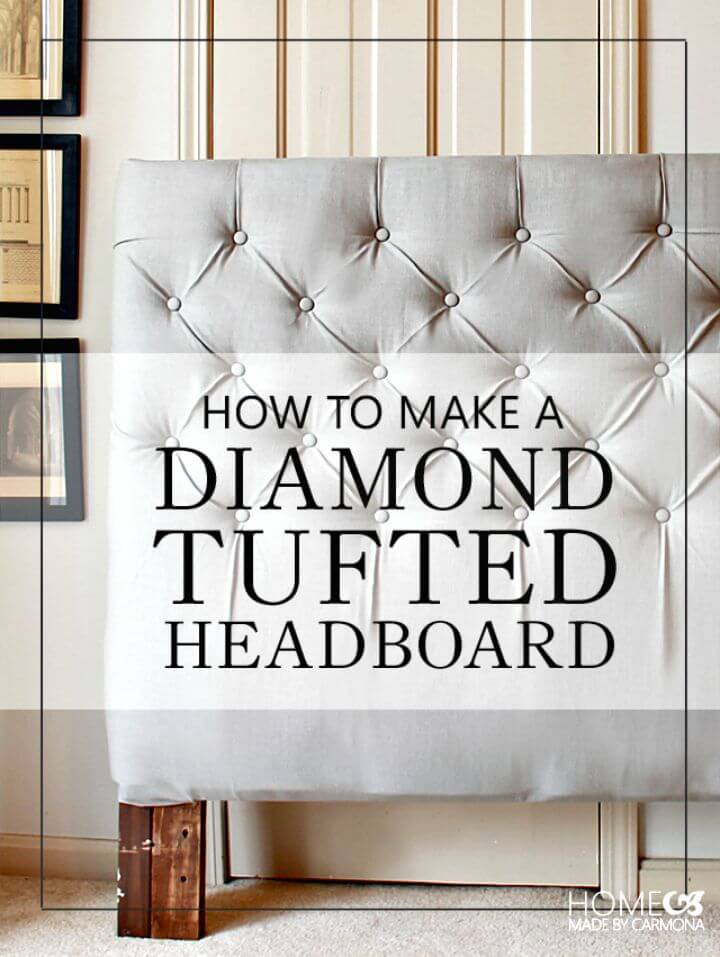 The diamond tufted headboards are the dream and desire of every homey person but they hefty prices just not let these dreams and desires come true. So here we brought you this idea of creating the perfect handmade diamond tufted headboard on your own using some fabric, batting, and the buttons. Tutorial details have been shared here homemadebycarmona
Build Headboard Hung Using Command Strips: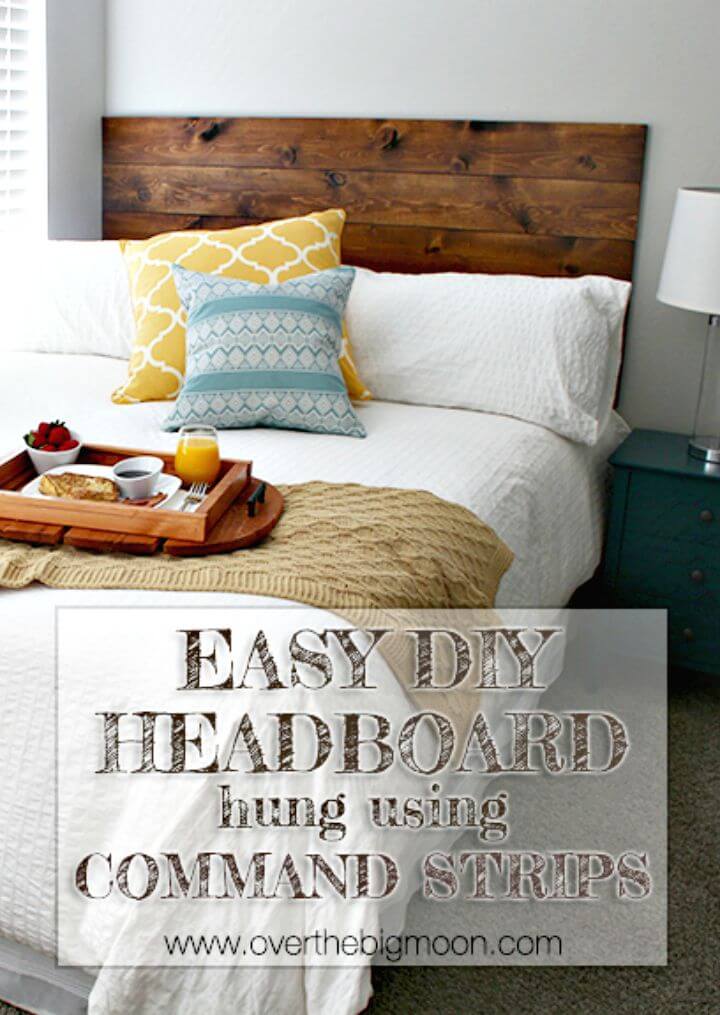 A touch of rusticity just brings the perfect subtle look, and the perfect natural appeal to your spaces and here is how you can do it on your own for your bedroom beauty and style. Yes, you can make this easy and fun looking wooden headboard out of the brown stained wooden pieces and hung over the walls behind the bed. overthebigmoon
DIY No-sew Piping Headboard Slipcover Piping: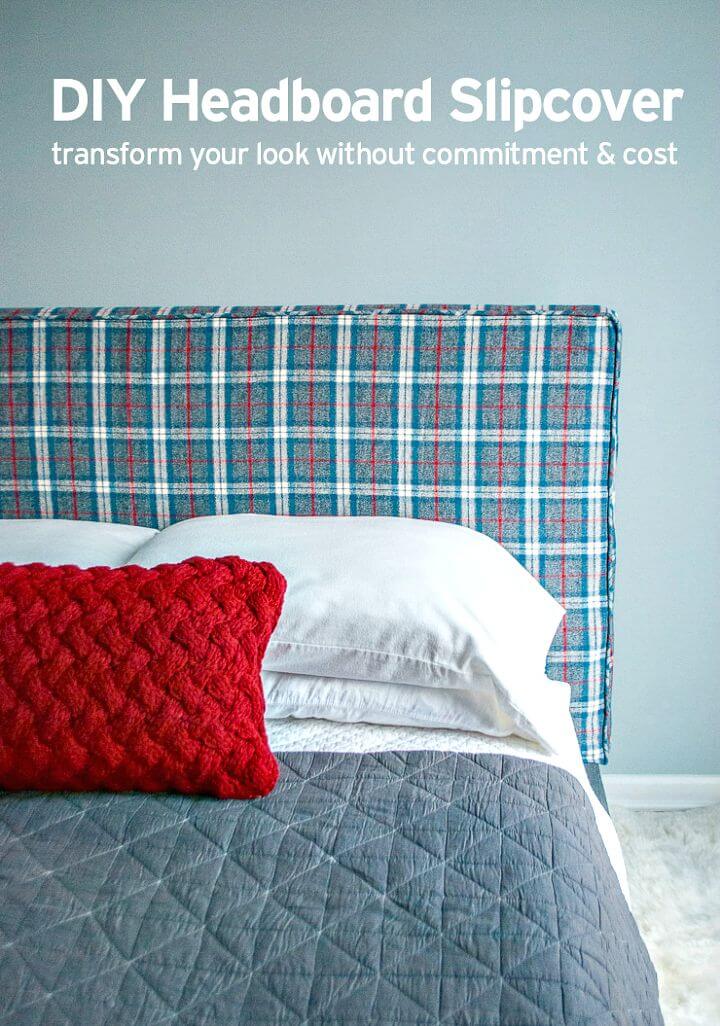 In winters when everyone and everything would be going under the cozy and warm layers then here is the idea of creating this comfy headboard for your bedroom. Yes, you can easily sew a slipcover for your headboard out of any warm and cute fabric that you like and that too without the sewing of piping involved. Follow the details and the instructions of the idea right on the link here merrimentdesign
DIY Square Headboard with Wings: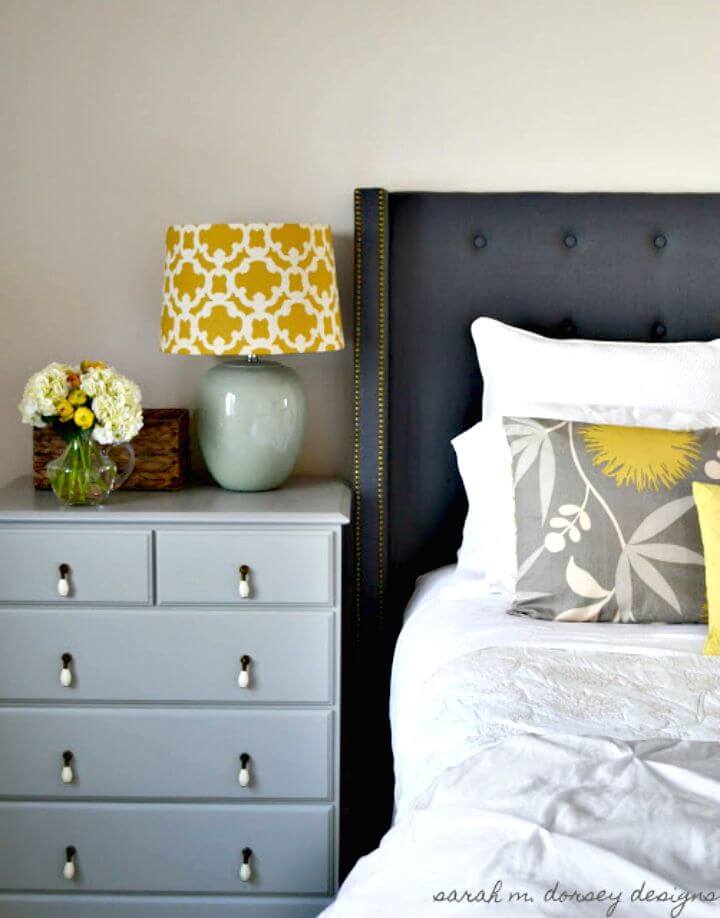 Here is how you can update the bedroom decor of on your own and that too costing less. Yes with the help of this super cute and fun looking headboard for you with tufted front and the gold thumb nails added the sides you can easily modernize the look of your bedroom and we got you the perfect tutorial here dorseydesigns
DIY Headboard from Cedar Fence Pickets: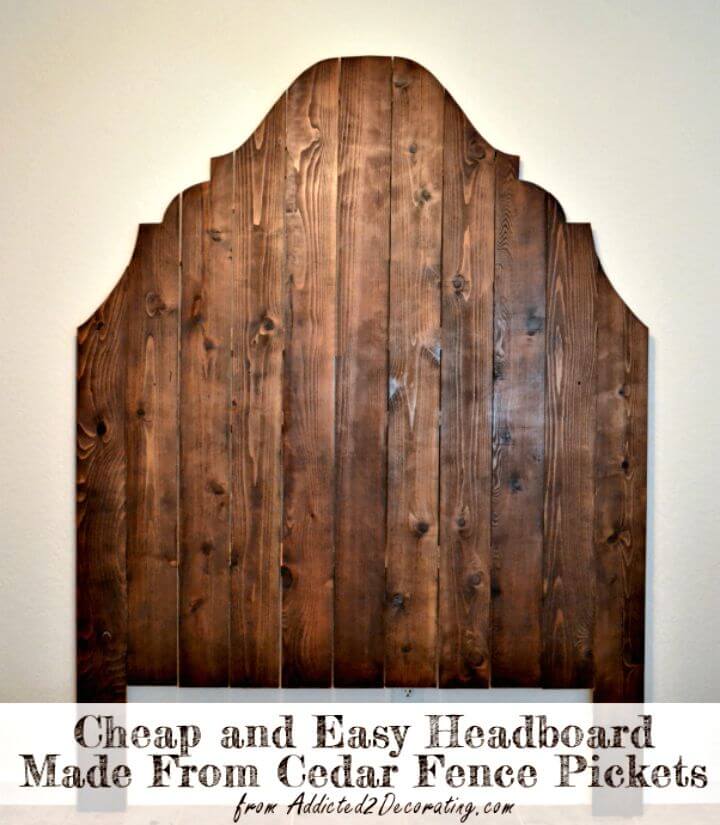 If you have removed your wooden fence then here is the idea of creating a super cute and adorable looking headboard out of it and add a oodles of rustic charm and appeal to your spaces. The wooden pickets have been stacked together in an old vintage style that adds more to its rustic appeal and natural beauty.Link here for details addicted2decorating
DIY Upholstered Headboard with A High End Look: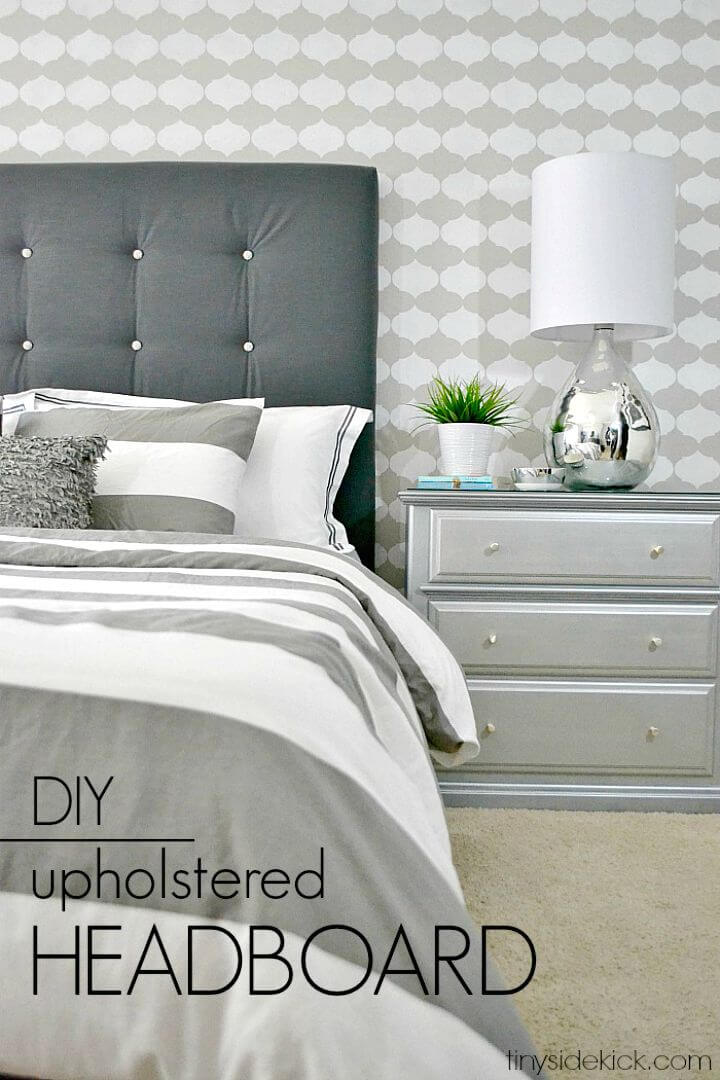 An upholstered headboard is a perfect thing to get your hands on when you want to work on some makeover projects for your bedroom and it's super easy and fun to do yourself at home. With some common supplies like a subtle hued fabric, buttons, batting and the wooden board you can easily work this super cute and fun looking upholstered headboard. heytherehome
Easy DIY Vintage Sheet Headboard: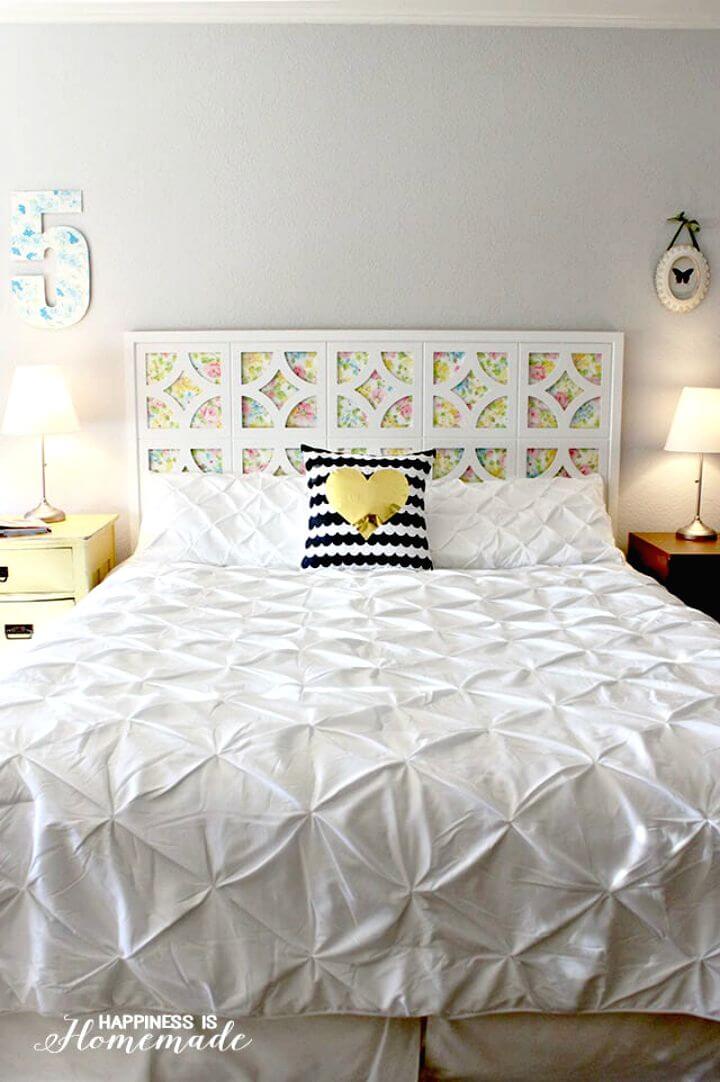 Here is how you can bring some vintage appeal to your spaces and that too with a touch of modern style added to it and thus lending a totally wow look to your bed and the overall bedroom decor. Wooden designed frames, a wooden plywood board and the colorfully delightful fabric has been used to make this utterly adorable headboard.s happinessishomemade
How To Make King Headboard: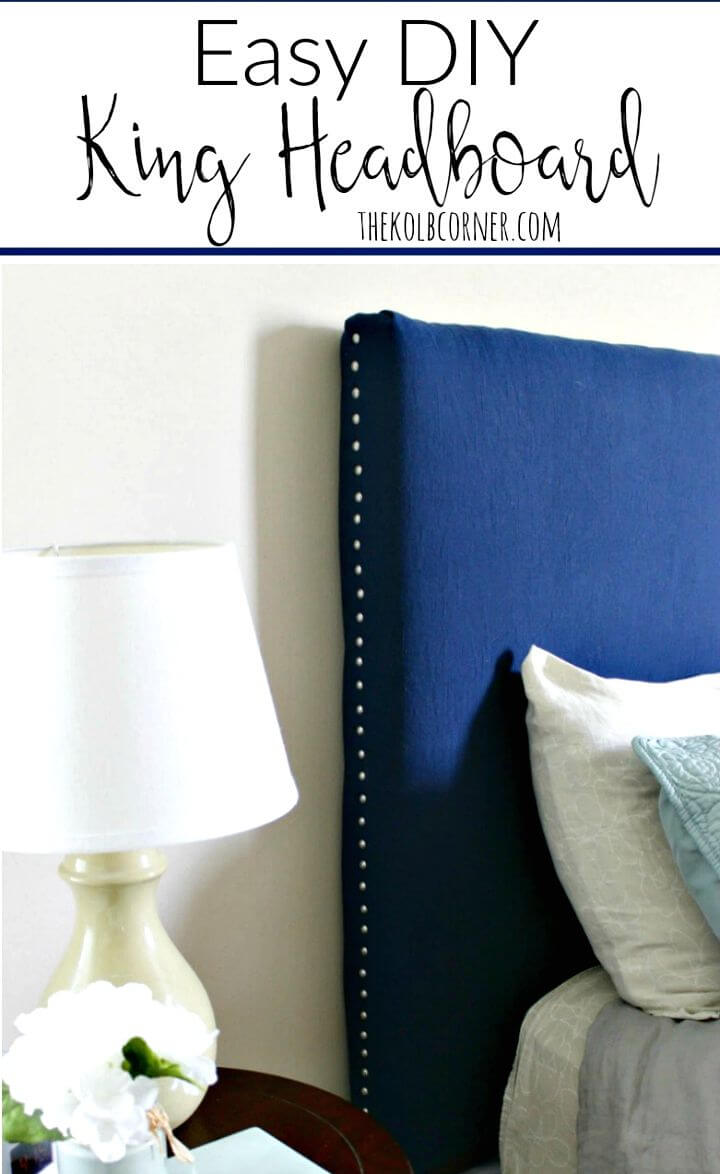 A simple change in your bedroom decor can work like magic and bring the style enthrall there and changing the headboard is the perfect idea for the purpose. Here is the simplest but totally elegant and fun idea of creating a fun headboard to your bedroom spaces and that too at least of the cost and hassle. domesticallycreative
Adorable DIY Pegboard Headboard: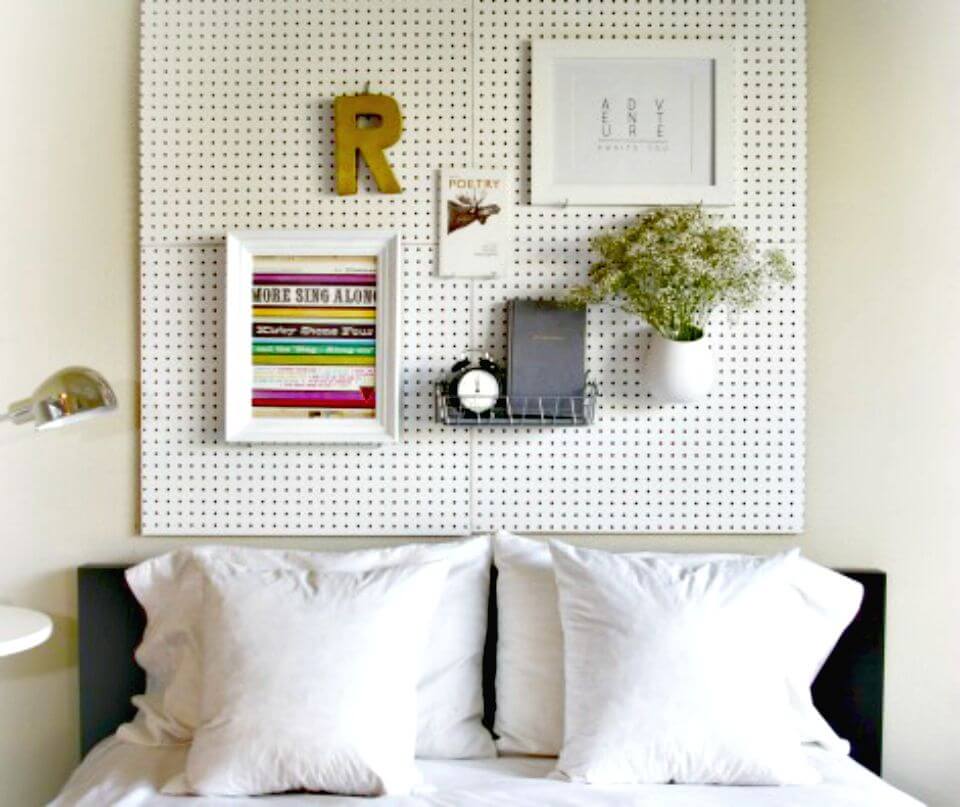 Here is how you can add the stunningly unique headboard to your bedroom that also awards so much functional value to your spaces too. Yes, this is a pegboard headboard to look so innovative in style and providing you so much space for storage and organization of your different needy possessions on it. sugarandcloth
DIY Tufted Headboard: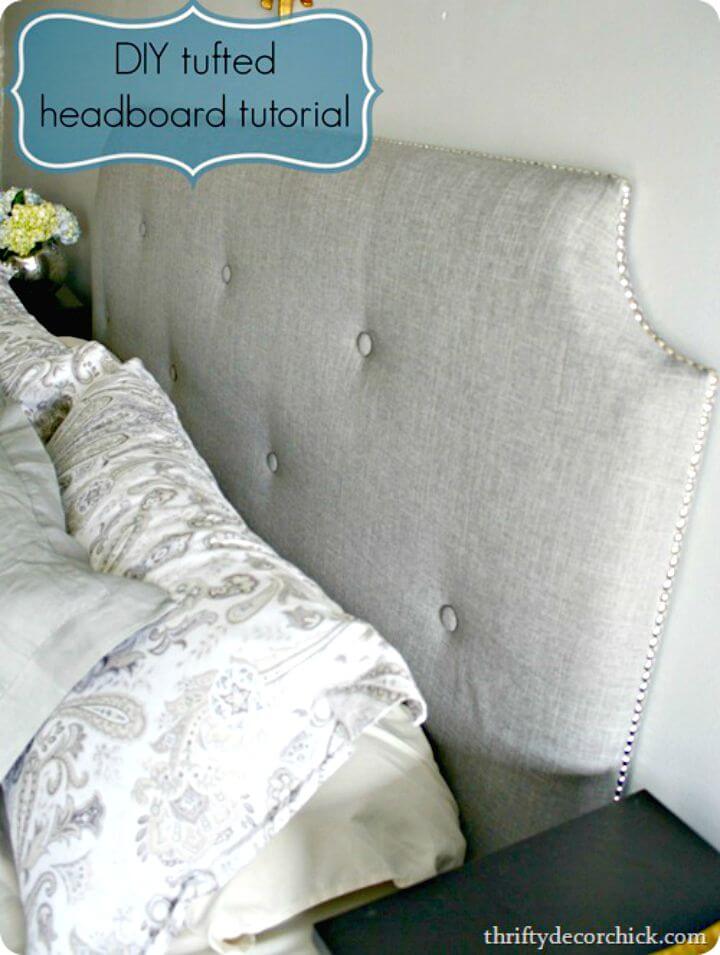 It's like you are undone with the modern home decor ideas and trends if you have not brought that gorgeous tufted headboard in your spaces. You do not need to go to the market for the purpose as you can easily install a DIY tufted headboard with some fabric, batting foam, plywood board, and the buttons to work with. Complete details here thriftydecorchick
DIY Ikea Hack Stikwood Headboard: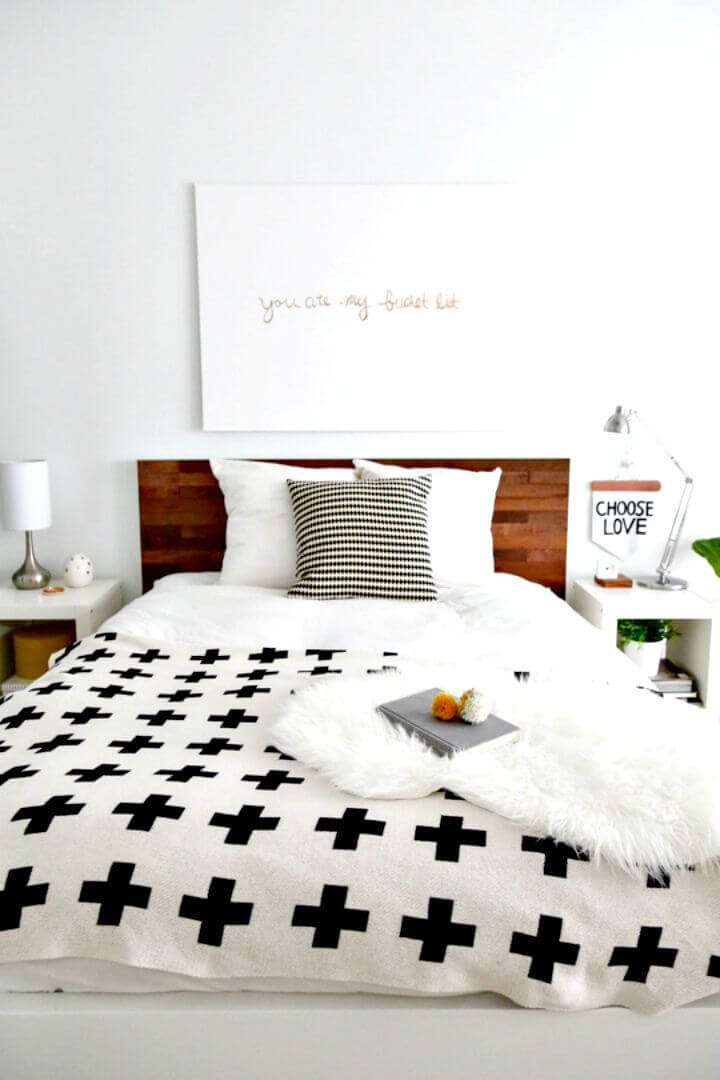 We all love IKEA possessions but their prices are just so abhorring for being too high, but the problem is solved you have the IKEA Hacks to work and save yourself lots of time and money. So here a cheap IKEA Malm board frame has been glued with the stikwood pieces in rustic brown and thus turn out the headboard as the gorgeous addition for the bedroom. sugarandcloth
How To Make Fabric Headboard: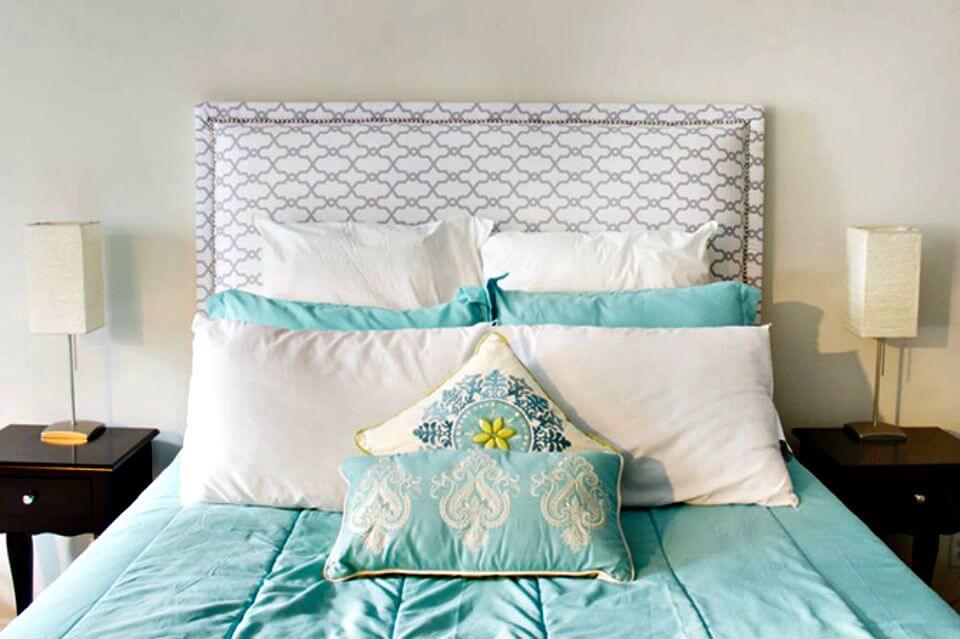 You can bring the matching details of decor updates to your bedroom so that you enjoy an overall accomplished look of your dreamy bedroom that too with high elegance and style. Working up this idea of fabric headboard with silver nail head trim is just the right thing to get your hands dirty with when you want an uplifted look of your bedroom. jennifermeyering
DIY King Farmhouse Headboard: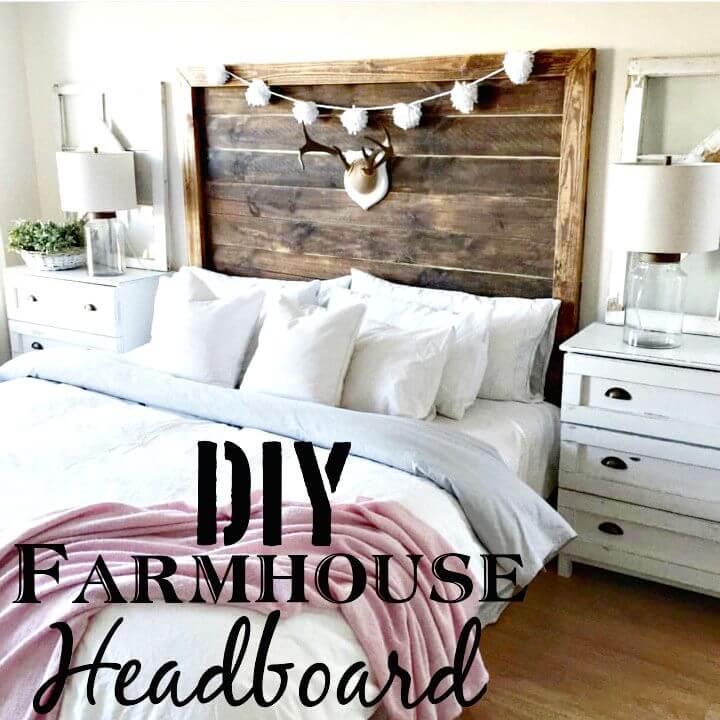 Its time to bring some natural feel in your modern bedroom and thus balance the decor vibes there and enjoy a cherished look of your personal spaces. So, create this super functional and rustic in style headboard out of the recycled wooden planks and embellish it more with the pom lace and a deer adornment. deeplydistressed
How To Make Pallet Headboard: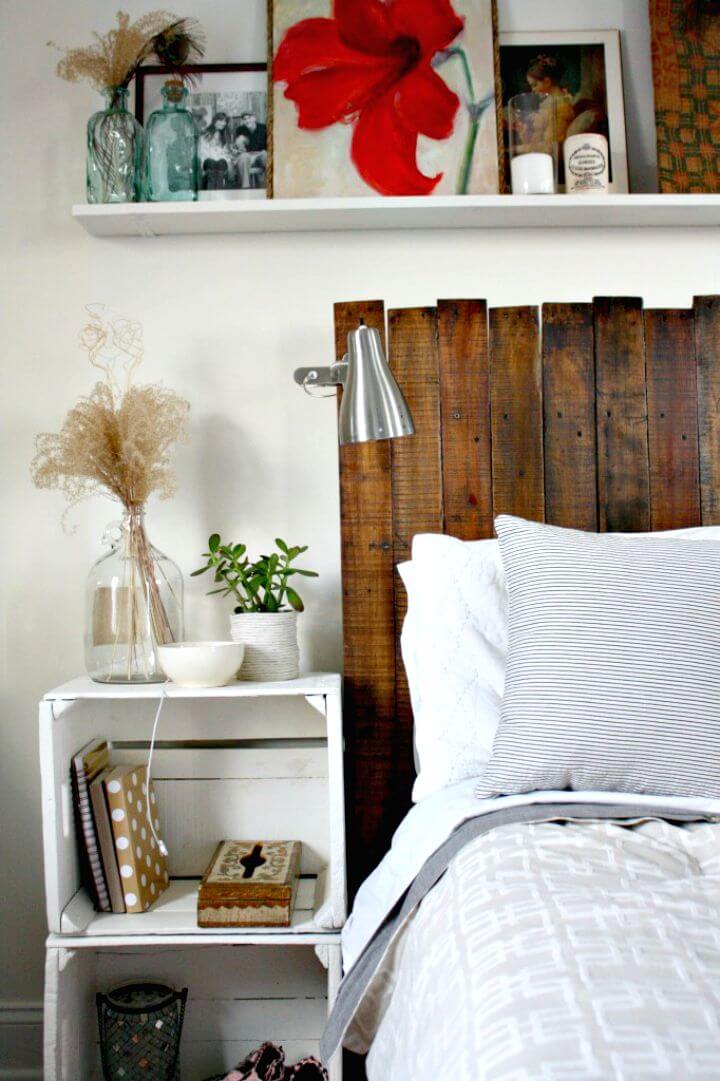 A pallet headboard is something that would bring the real natural appeal, and the perfect distressed feel to your spaces and thus make it feel better your own. So Grab some pallet planks and yoke them together to shape up this super functional and gorgeous looking headboard having lamps at both sides to let you enjoy more benefits out of it ricedesign
Make Rope Design Bedhead: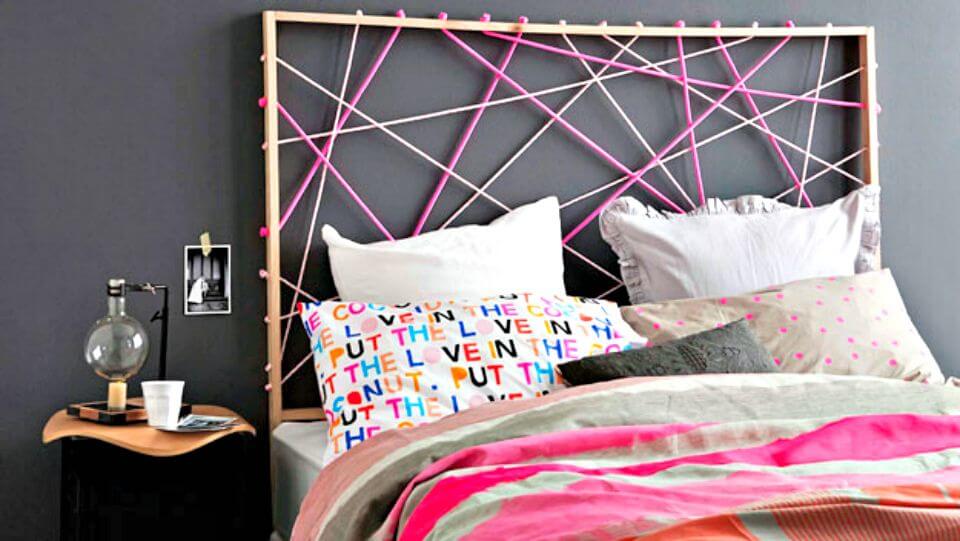 Gone are the days when the headboards were the traditional bed backs to let you rest your backs on as they are now the major decor determining factor in bedroom decor. So here is the super cool and fun idea of creating rope headboard to bring the awesome appeal and stunning style touches to your spaces and that too so cheaply. homes.ninemsn
DIY Salvaged Barnwood Headboard: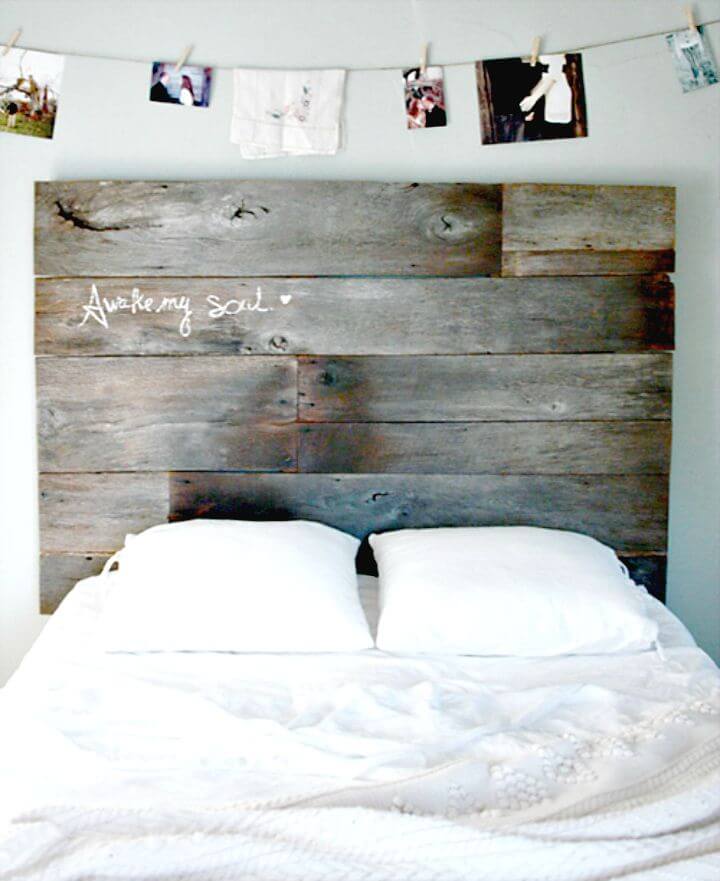 The salvaged and the dead wood around like the barn wood is free of cost can serve you some super functional and valuable roles like making this gorgeous headboard piece for your bedroom spaces. Stacking together the barn wood pieces and planks you can easily shape up the custom wooden headboard and enjoy the touch of rusticity added to your spaces. designsponge
Make Door Headboard: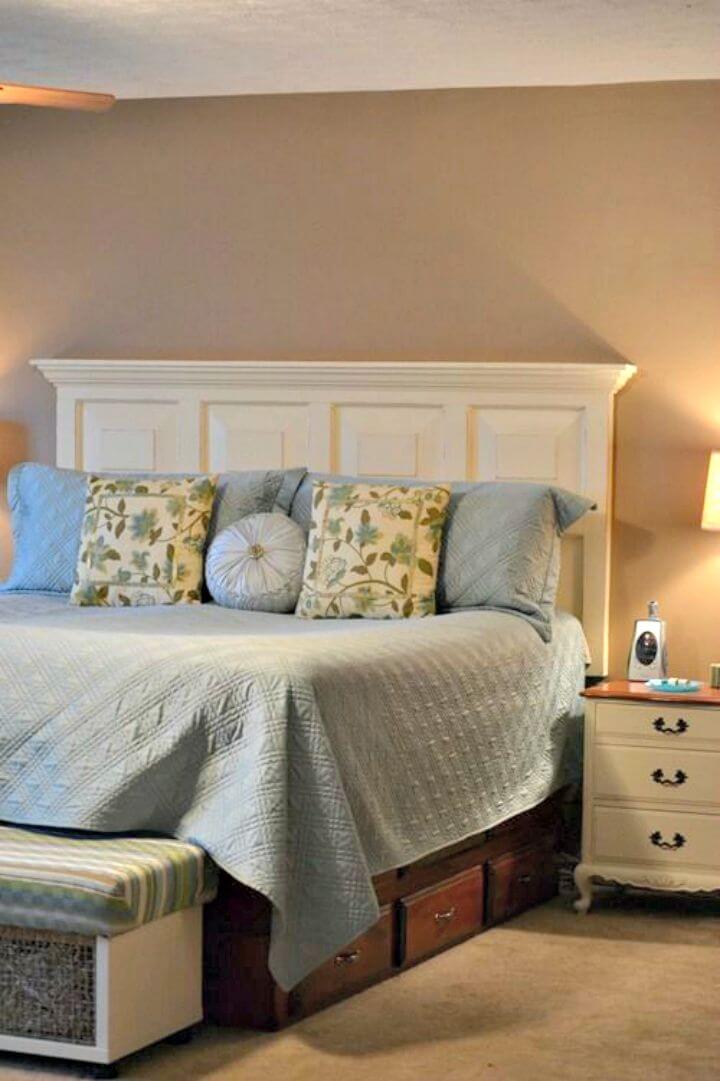 Nothing is a waste when you are a creative crafting person, and so is the case with an old wooden door that you have just replaced. Yes, you can recycle the old door and make it serve your bedroom decor in the form of this chic and cool in style headboard that has been cut to custom size and measurements. infarrantlycreative
DIY Faux Tiled Headboard: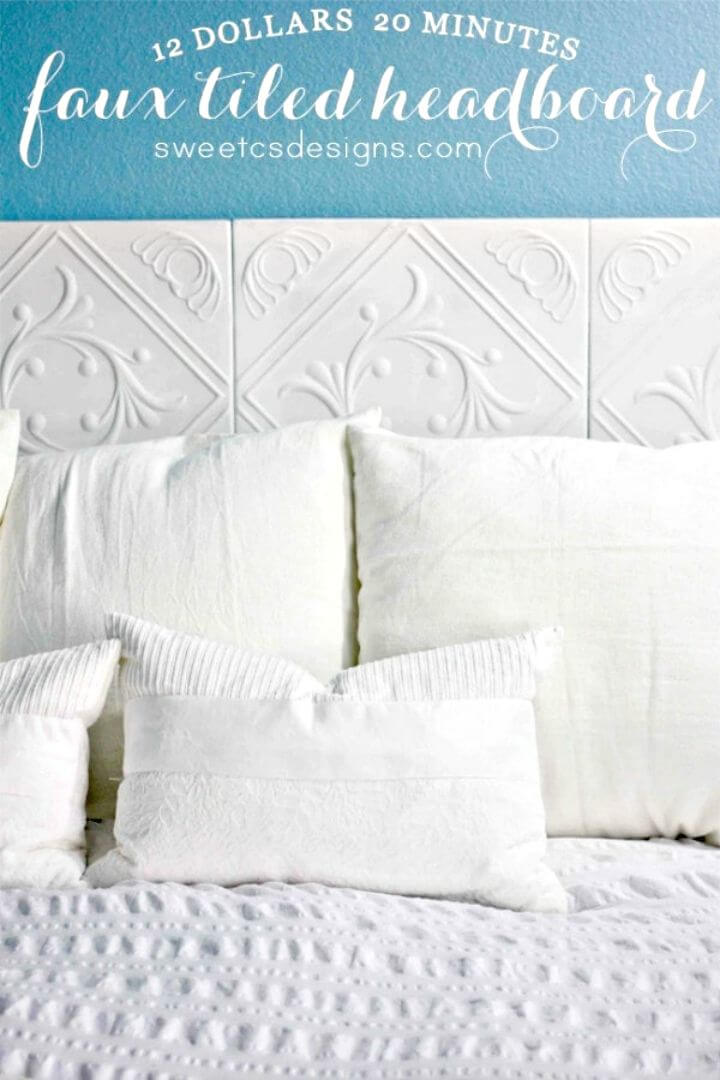 The dorm rooms are so boring and dull and to make it look super exciting and fun for your renters, you can add this super stylish and fun looking faux styled headboard to your spaces. The idea of this super cool and fun headboard is too amazing and fun to work on and that too saving yourself a lot of time and money and here are the details. sweetcsdesigns
DIY Upholstered Headboard with Nail Head Trim: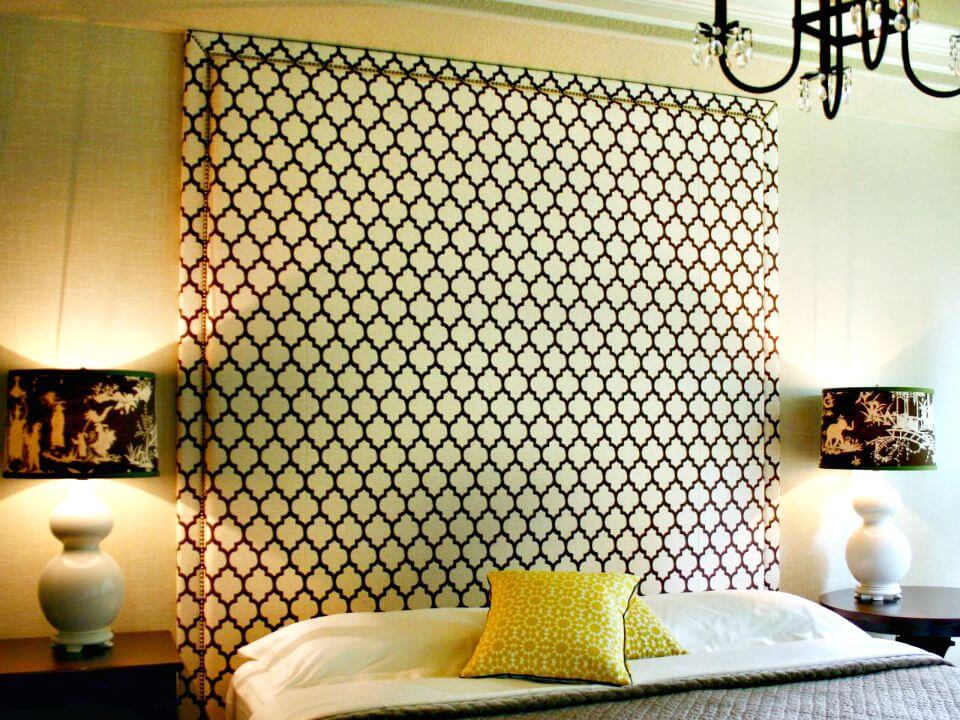 DIY projects offer you so many benefits, and so is this handmade giant size headboard for your bedroom decor. Using the big wooden headboard with the batting, a cutely styled fabric and the nail heads trim this fun and modern in style headboard has been installed to bring the huge decor delight in your bedroom spaces. hgtv
Pretty DIY Floral Headboard: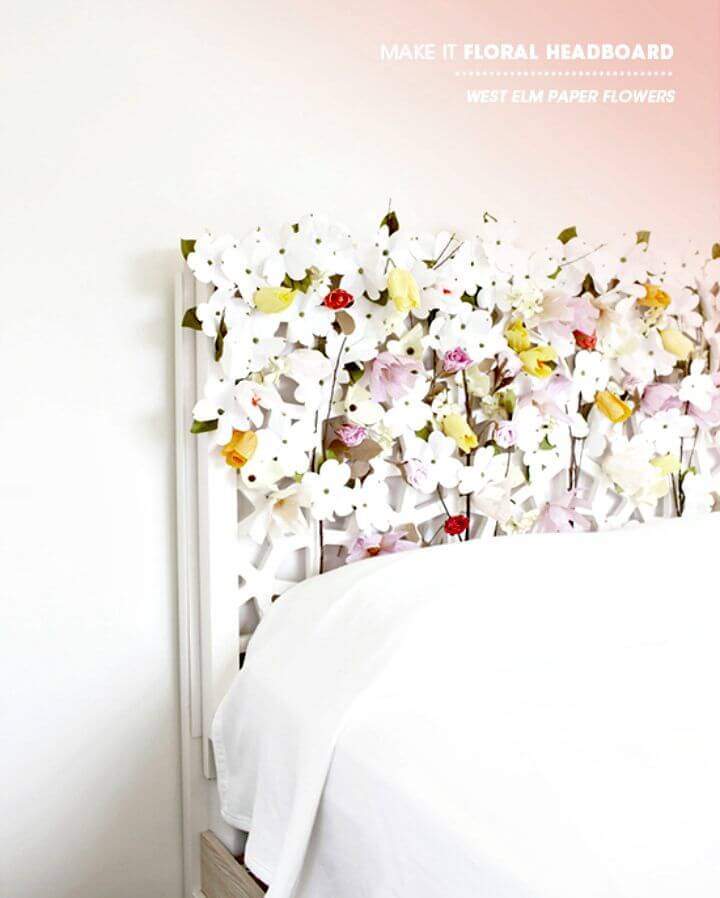 While the pretty flowers are forming a major role in your summer and spring home decor here is how you can bring to your bedroom too and that too in a chic and fun style. Yes, you can create this super gorgeous and whimsy looking floral headboard for your bedroom with the west elm Morocco headboard and the paper flowers. designlovefest
DIY Mantel Moulding Headboard: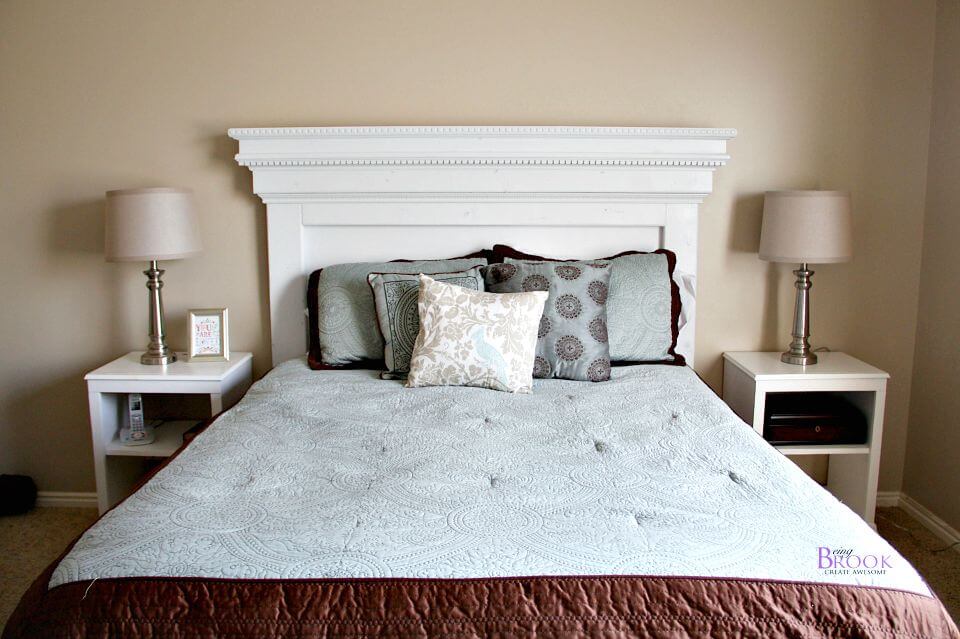 While you are planning on a project of adding a new headboard to your bedroom spaces we got this perfect idea of creating the headboard with mantel molding to let you enjoy double functional roles of it in the house. It would not only be a headboard to style up the spaces but also provide you enough display space for some pretty bedroom decor display. ana-white
Build Rustic Pallet Headboard: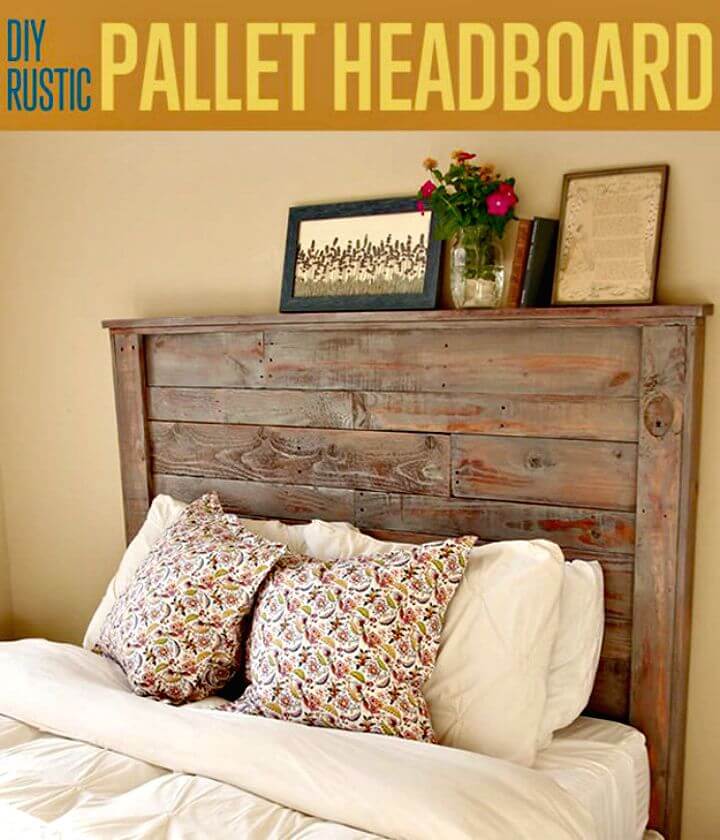 If you want to add some distressed appeal in your bedroom spaces then creating this wooden pallet headboard is just the right idea to work on and it would be so cost efficient too. You can grab some recycled pallets and use the ripped off pallet planks to form up this really gorgeous and rustic headboard for your bedroom. diyprojects