After a long tiring day, your way back to home all you are thinking about is some tasty, healthy and homemade food. But its truly a hassle and frustration if you have to cook food yourself after getting dead tired from a long office day. So crock pots are pure savage in such situations helping you abundance in the cooking of your favorite food and that too without compromising on taste, health, and nutrition value.
All you need to is just make some fast preparations in the early morning or in the night before going to bed and then let the crockpot do the rest of the work. And when you are back home the food is just ready to get served and eaten with your favorite toppings or additions. So you need to know and note down a lot of recipes for the crock pot to enjoy the tasty and healthy meal with a variety of dishes in dinners or lunches.
Easing your task by searching these slow cooker recipes from the internet and wasting hours of your precious time we have done that hard work for you. Here we have these 100 slow cooker recipes for the crock pot that you can check out these crockpot recipes and enjoy delicious foods during the main meal hours. Crock pot chicken, beef, beans, veggies all kind of recipes are right here to let you enjoy all the food types in rotation on a week so that you never get bored with food. Lasagnas, raviolis, soups, BBQ you can cook all of them in the crockpot and you don't have to be in the kitchen all time for it. You should also try these 25 Recipes for Large Groups on a Budget for your large families or friends. You also try guinea fowl meat and eggs for your chicken recipes because It's very healthy and tasty. Here is all the information about guinea fowl.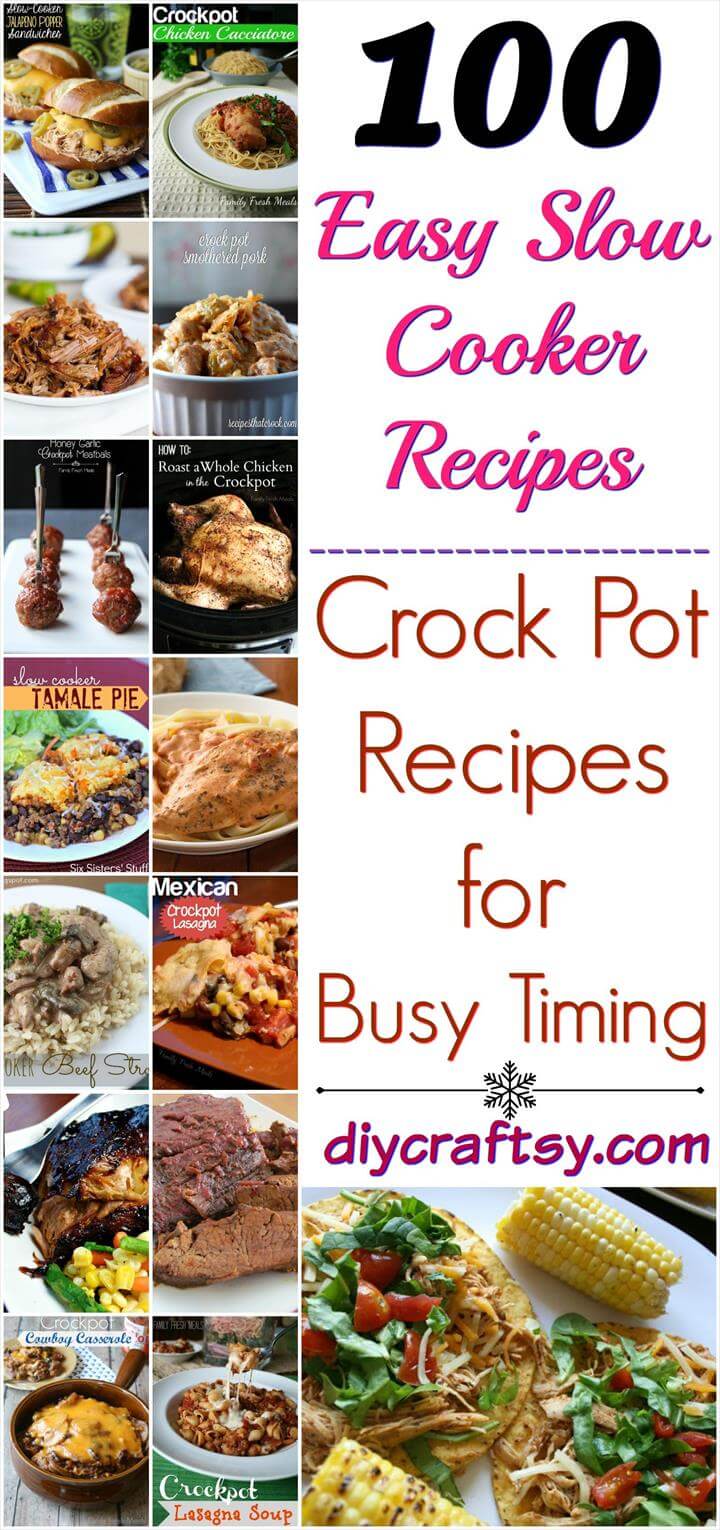 Down to each picture we have shared the link that opens up to the full ingredient details and cooking directions to let you experience the most convenient and comfort cooking ever.
Yummy Crockpot Lasagna Soup:

Crockpot makes cooking easier for every one but it does mean you have to compromise on the taste. There are lots of recipes that can be cooked in the crockpot and they are super tasty and obviously healthy like this crockpot lasagna soup you can make for winter dinners for family as well as for the guests. check out the complete recipe here familyfreshmeals
Easy Crockpot Carnitas:

Here you will find easy and quick recipes for your crockpot and that too coming out so tastefully. So get your crock pot put some canitas in it combined with some yummy spices and give it some cooking time and the a healthy, delicious meal is ready that you can take as lunch or dinner not only on routines but also on formal occasions. I know you want complete recipe details and they are right here pinchofyum!
Easy Crockpot Ravioli:
Ground round, onions, garlic, pasta sauce and crockpot? do u have all these things if yes then get tonight to make this uetterly yummy and nutrient full dinner for your whole family. Its called crockpot ravioli and would take almost 4 to 5 hours to get perfectly cook so the taste and health is confirmed with this slow cooked recipe right here in details familyfreshmeals!
Quick and Yummy Crockpot Chicken Cacciatore: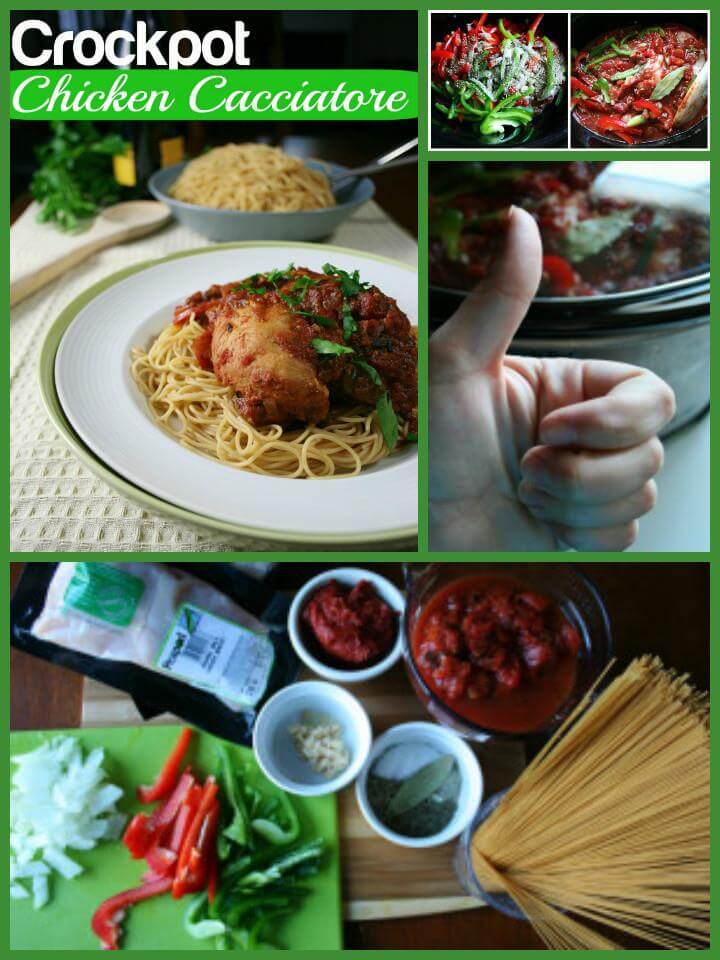 If you have some time taking tasks on your coming days like doing laundry, attending any outdoor event or anything like that, its just the right time to get your crockpot food cooked and to let your try an amazing recipe using your crock pot we have something delicious coming your way so get peak into this crockpot chicken cacciatore recipe.familyfreshmeals!
Delicious Crockpot Honey Garlic Meatballs:
Meat, brown sugar, honey, ketchup, soya sauce and some garlics would go into the crockpot and slowly cook these extremely yummy crcokpot garlic meat balls to let the family enjoy a fun dinner night.And when you are home late and don't knot what to cook quickly this meat ball recipe is such a savior in such cases Get the complete recipe here .familyfreshmeals
Easy Crockpot Stuffed Peppers: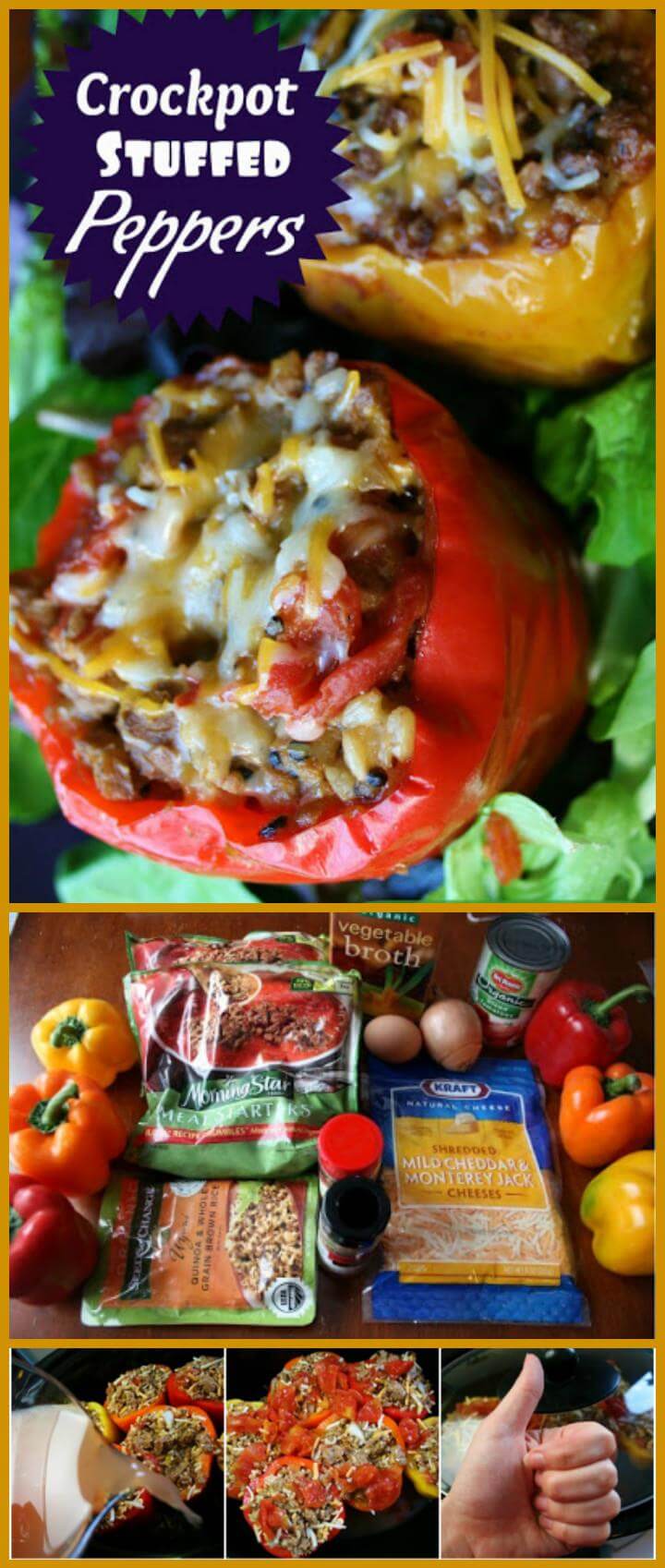 These pictures made me hungry by even looking at these yummy looking crockpot stuffed bell peppers and if you are a cooking lover you can resist yourself to try this recipe soon.These mouth watering bells are as tasty and healthy as they are looking in the pictures. Kids would just love to have them in lunch or either in dinner so don't forget to grab the recipe here familyfreshmeals!
Yummy Creamy Tomato Crock Pot Chicken: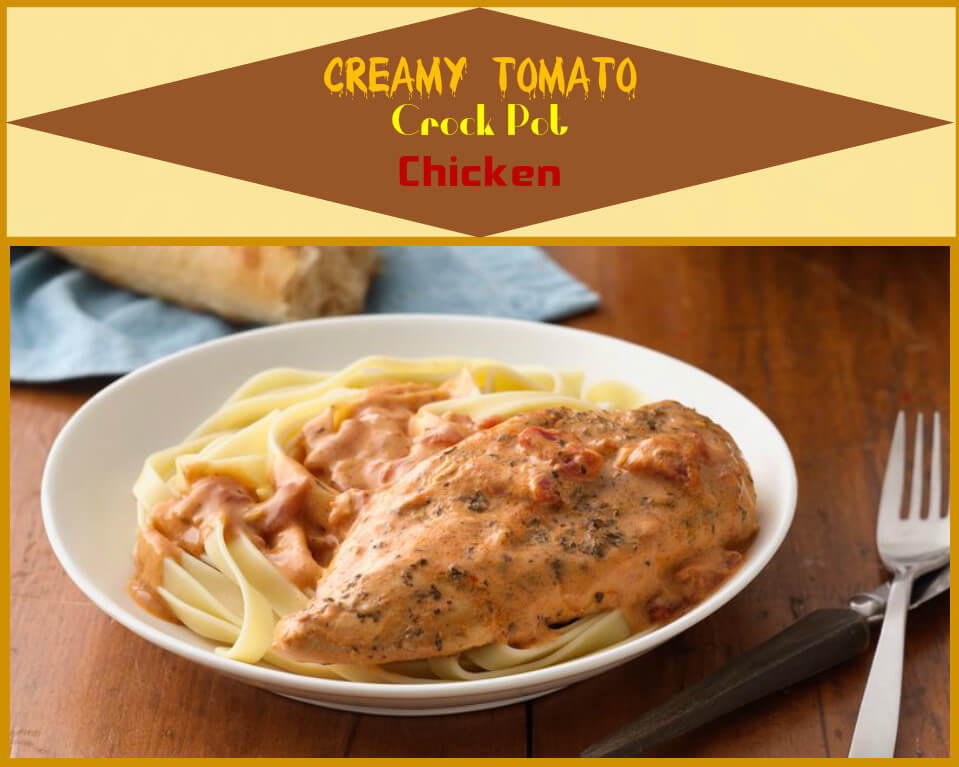 Every dish having cream in it assures good taste always and now using a crockpot you can make a tasty dinner recipe with cream on it. We are talking about this slow cooked crockpot creamy chicken to replace the old and boring dinner meals and winning the hearts of every family member including the kids. Get the recipe right here and note it down in your cook book to make it at the next weekly family dinner.bettycrocker
Appetizing Crock Pot Barbecue Ribs:

What can be much more exciting and tasty than the bbq ribs at a dinner or a party to feast on and delight your taste buds. It sounds weird but you can make the yummiest bbq ribs in the crockpot too and that too without much hassle and mess. i know you must very curious about the recipe so wait no further just get this tasty and unique recipe from here familyfreshmeals!
Crockpot Tamale Pie:
Pies are always loved and favored by each person in the family. And now with the help of the crockpot you can try a whole new recipe of the pies and that too so quick and easily so here we offer you too at this finer licking good crockpot Tamale Pie to try int he dinners and get everybody on the dining table fill with delight.sixsistersstuff!
Crock Pot Sesame Chicken Recipe:

We all love the chicken coming from restaurants and the fact can not be denied that that they are not healthy but too much expensive. But now you can create such tasty and spicy chicken at home and that too using the Crockpot and we assure u that the outcome would be finger licking good and tasty. so browse these red bold letters and enjoy that everybody in the family would love to have daily. familyfreshmeals
Crockpot Taco Pasta Bake:
There is a day in the week when everybody is waiting for something really tasty and fun on the dining table.And to glad you enough we have an awesome recipe with us to make your weekly meal damn special and family favorite from now to onward. And being cooked in crockpot it would be nice and easy to prepare also so get this crockpot taco pasta bake right here and include it in the menu of your special day food. familyfreshmeals
Crock Pot Smothered Pork:
Some pork chops, mushroom creams and fried onion topping..did your mouth watered after reading this? if yes then just make this crcokpot smothered chicken your tasty dinner recipe for your family and guests and that too being so quickly and easily made.Here lies the recipe with complete cooking method that you can try and make every body your fan whoever tastes it. recipesthatcrock
Quick Mexican Crockpot Lasagna: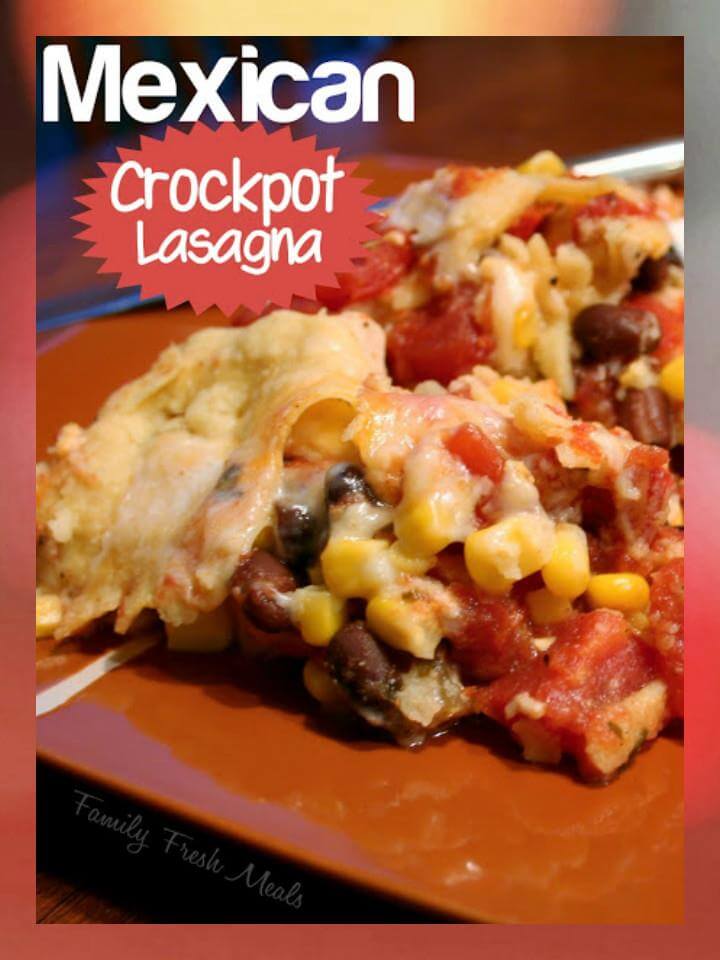 We all know how easy it is to cook with crockpot and now even the tasty and famous foods can be cooked in this wonder machine. Like the most favorite Mexican lasagna can be quickly prepared in crockpot in a slow and easy process but the taste is guaranteed that one expects from a typical lasagna.So if you feel this recipe interesting which it actually is then get it here familyfreshmeals
Easy yet Yummy Crock Pot BBQ Beef Brisket: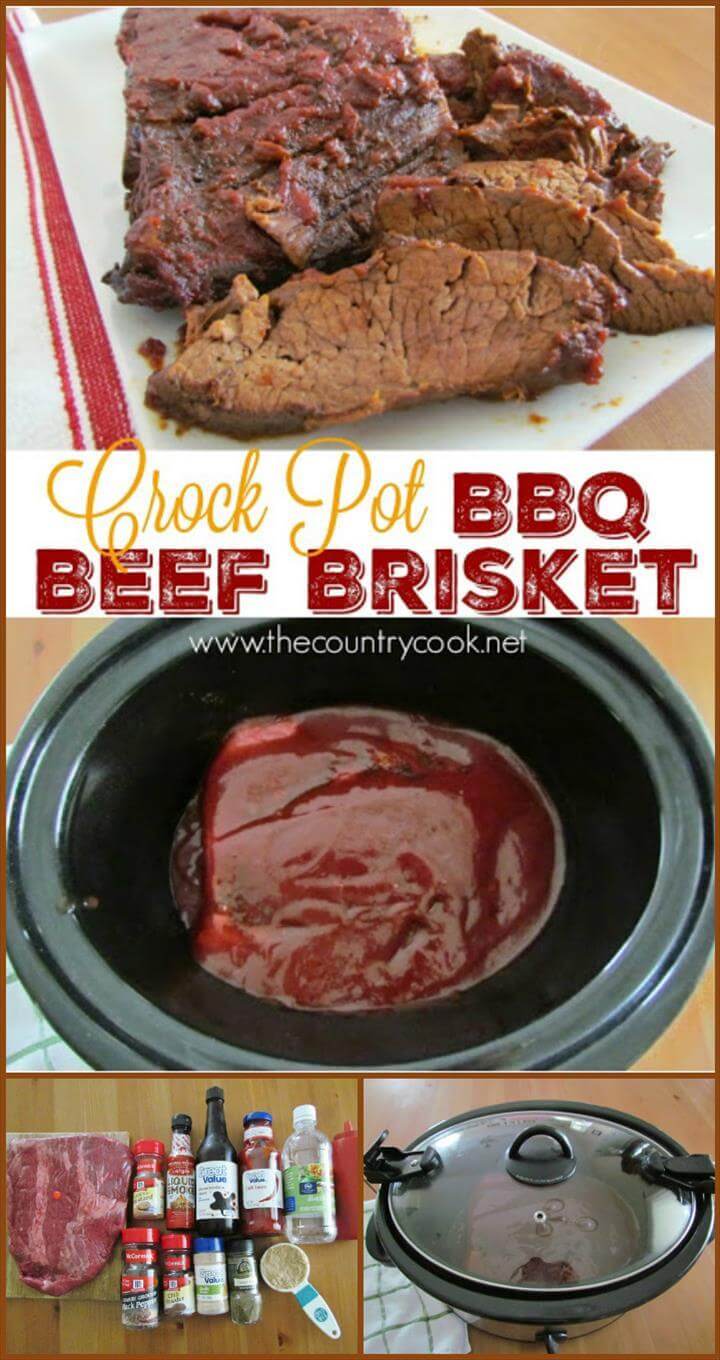 There are somethings that are super tasty but too much struggling when it comes to make them like the bbq but the crockpot can make this whole bbq process so easy to enjoy more than once a week. Here we offer you this simple, utterly delicious and damn easy to make crockpot bbq beef steaks a sheer delight for the husbands and the other family members too. get complete recipe on this link and make it this weekend to have some extra fun thecountrycook!
Cool Ranch Crock Pot Chicken Recipe: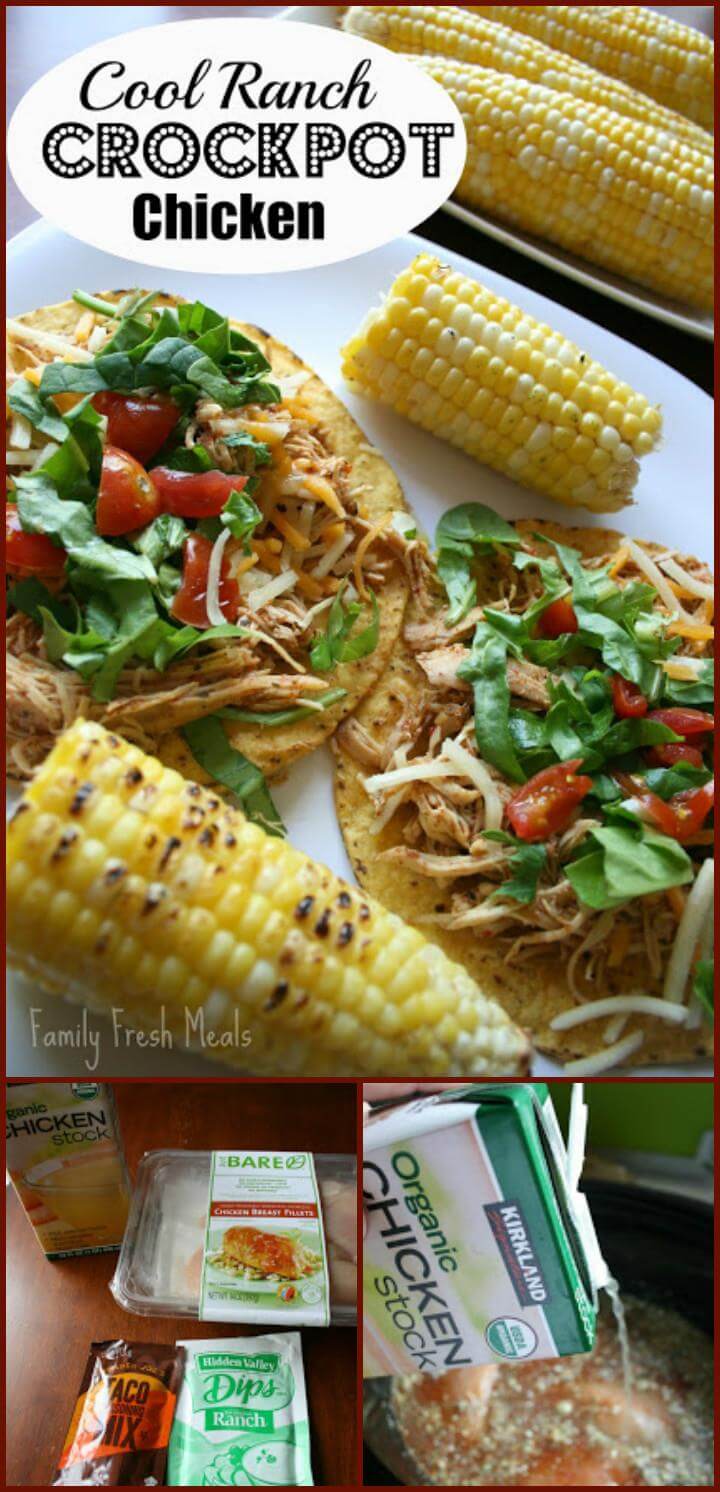 Thanks to crockpot for making cooking so much easier and less hectic specially for the working ladies. This crockpot ranch chicken is prepared in the most easiest way even in the crockpot and the prepared shredded chicken can be used for so many dishes and recipes or simply as the lunch or dinner with your favorite topping on it. Here is the recipe of the simplest crockpot recipe for you to get a quick note down familyfreshmeals!
Crocket Pot Honey Balsamic Pork Roast: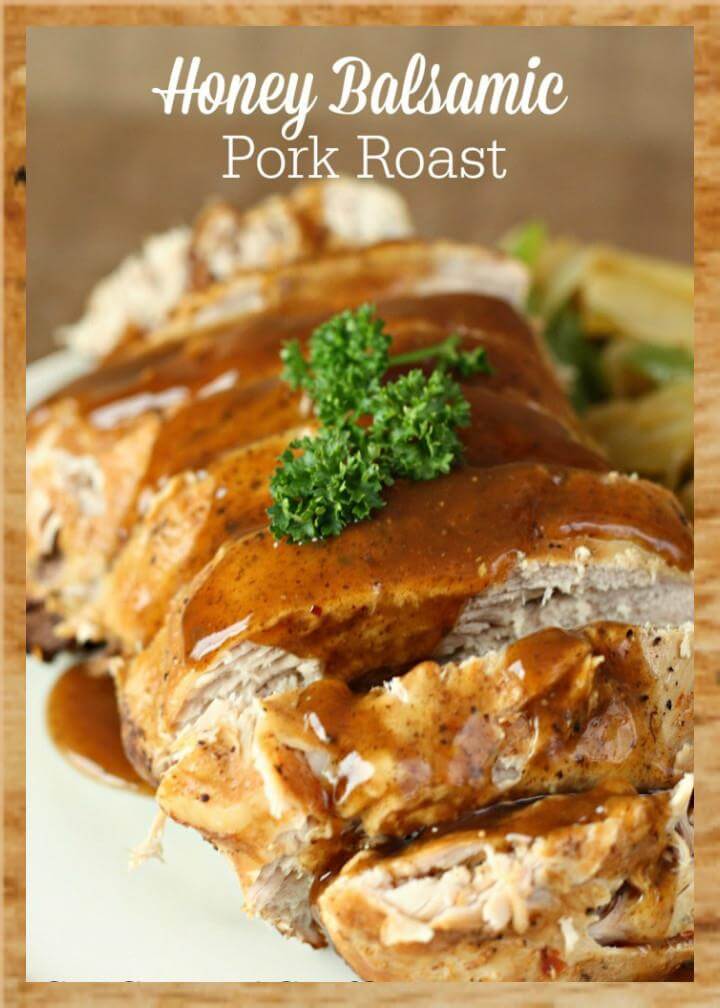 Trying something new with the routine food can never bore you and your family members so here we offer you this new recipe to try with pork and eat something new than the routine pork you have in your meals.This honey balsamic pork roast combines the basics of your kitchen spices and turns out as a yummy dinner meal for the whole family. So hurry to get this recipe right here sixsistersstuff!
Mouth-Watering Crock Pot BBQ Chicken Drummies: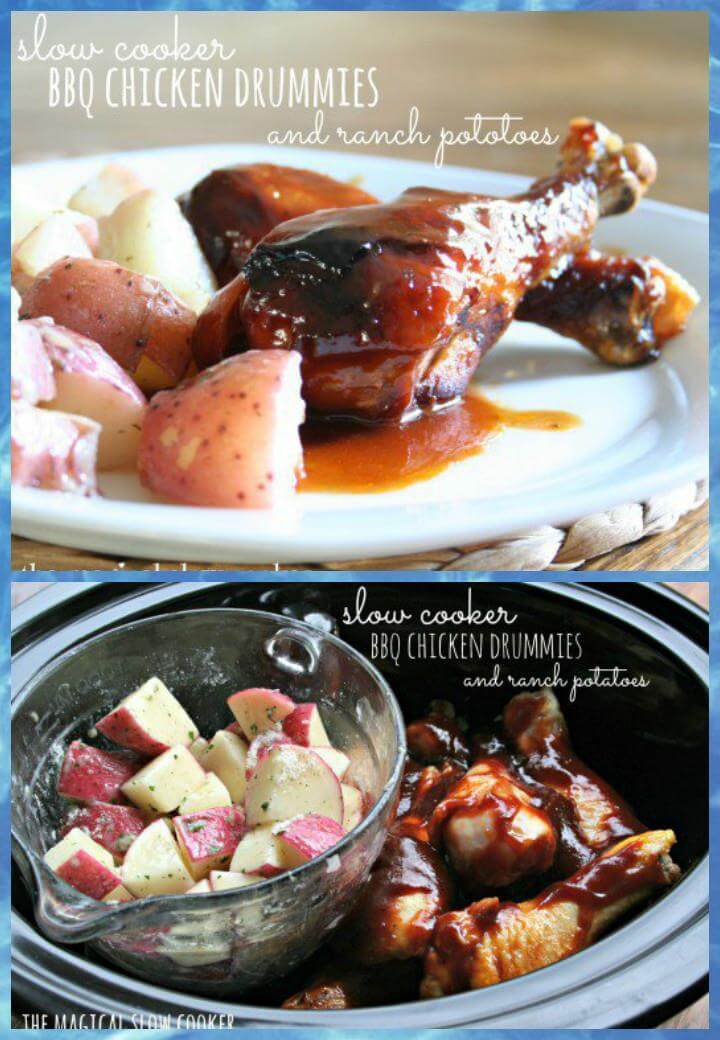 Kids are just in great love with the chicken drummies and combining them with their another favorite Potatoes we can give them a complete protein full meal that tastes immensely good. And making it in the crockpot you can make it quite easily without experiencing any inconvenience. So make your kid's weekend special this time with this delicious recipe of crockpot BBQ chicken drummies with ranch potatoes.themagicalslowcooker!
Cheesy Chicken Crockpot Italian Tortellini: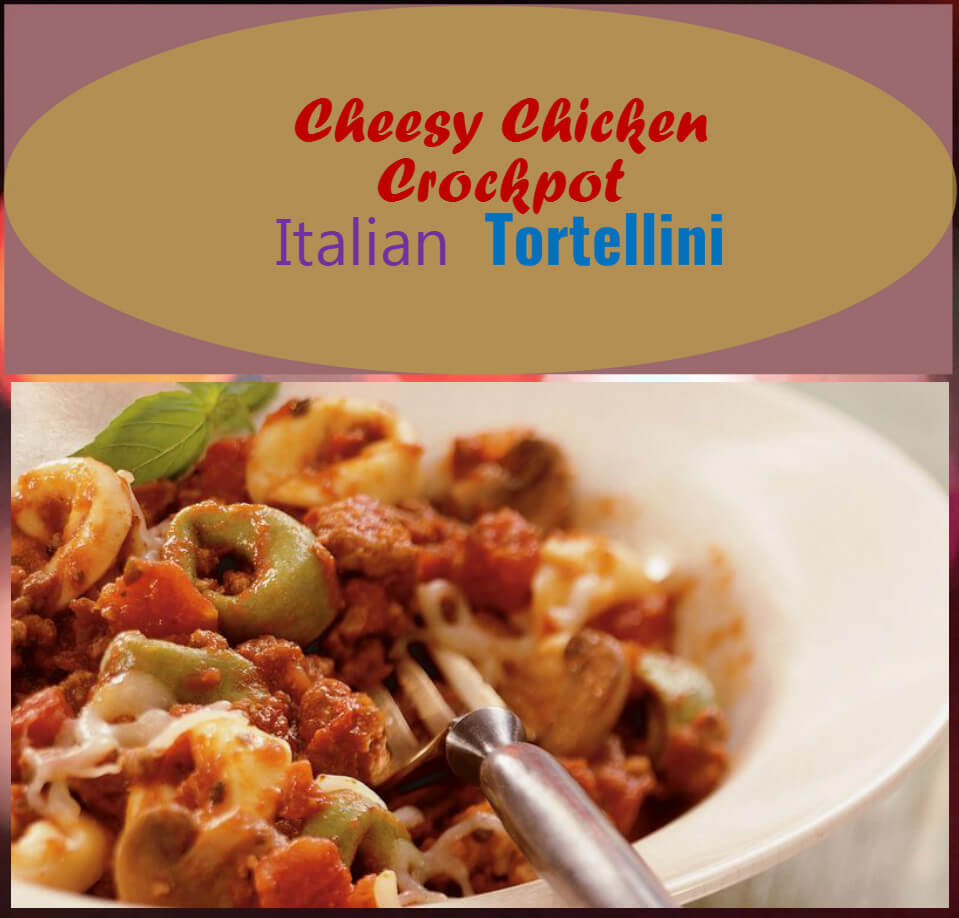 The kind of ingredients being used in a recipe can tell you how good or great is the recipe. The above recipe includes Mariana sausage, Italian sausage, cheese and mushroom and the icing on the cake is that you can cook this recipe in slow crockpot with much ease and convenience and get your family an amazingly tasty meal for dinners. The ingredient details and cooking directions for this cheesy chicken tortellini lies here bettycrocker!
Crockpot Cheesy Chicken and Rice Recipe: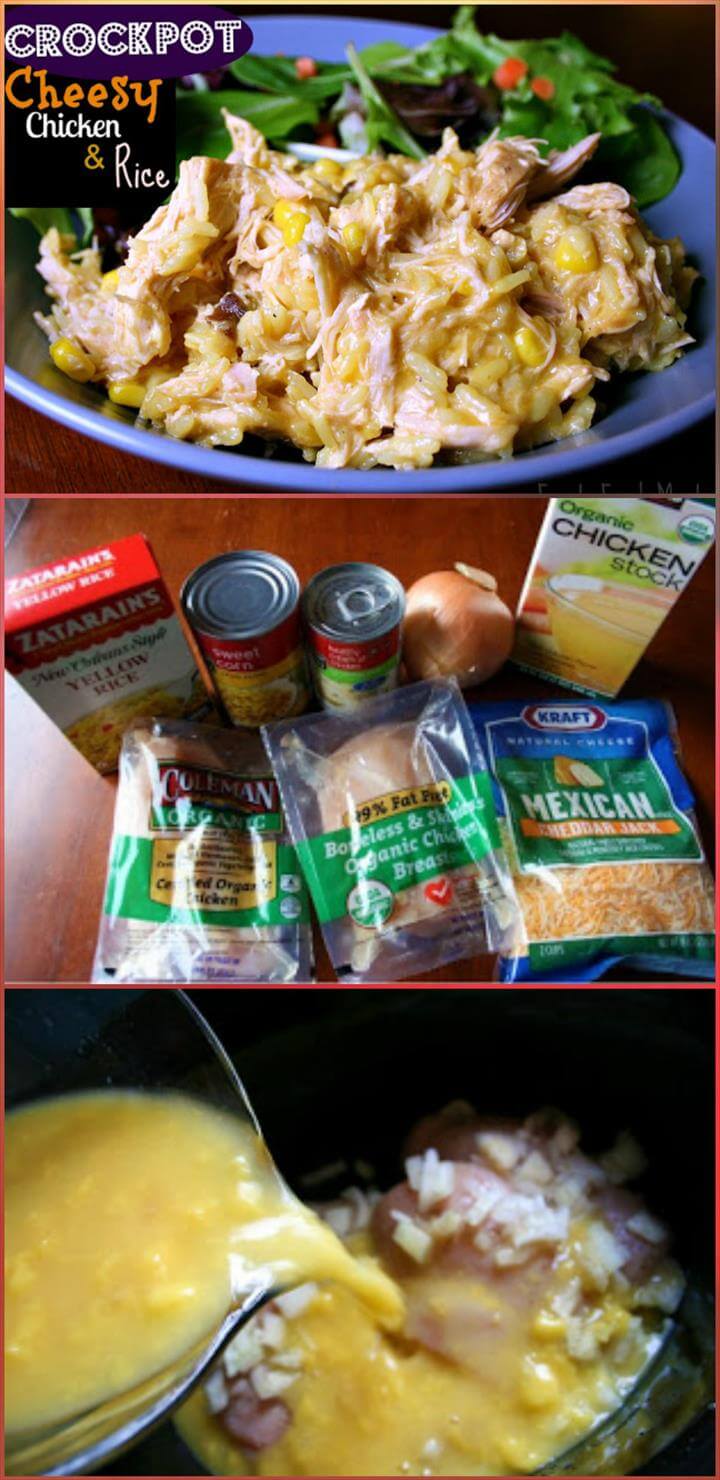 It is always the kids who are difficult to feed as they show lots of tantrum. All they want fried chicken type things to eat which are not that much healthy. But this Crockpot cheesy chicken and rice recipe is not only tasty and healthy but would bring a big curved smile on the faces of your little ones. Don't worry mothers this recipe involves crockpot so it ensures to be made easily for dinners or after school lunch. Get the recipe from here familyfreshmeals!
Crock Pot Jalapeno Popper Sandwiches: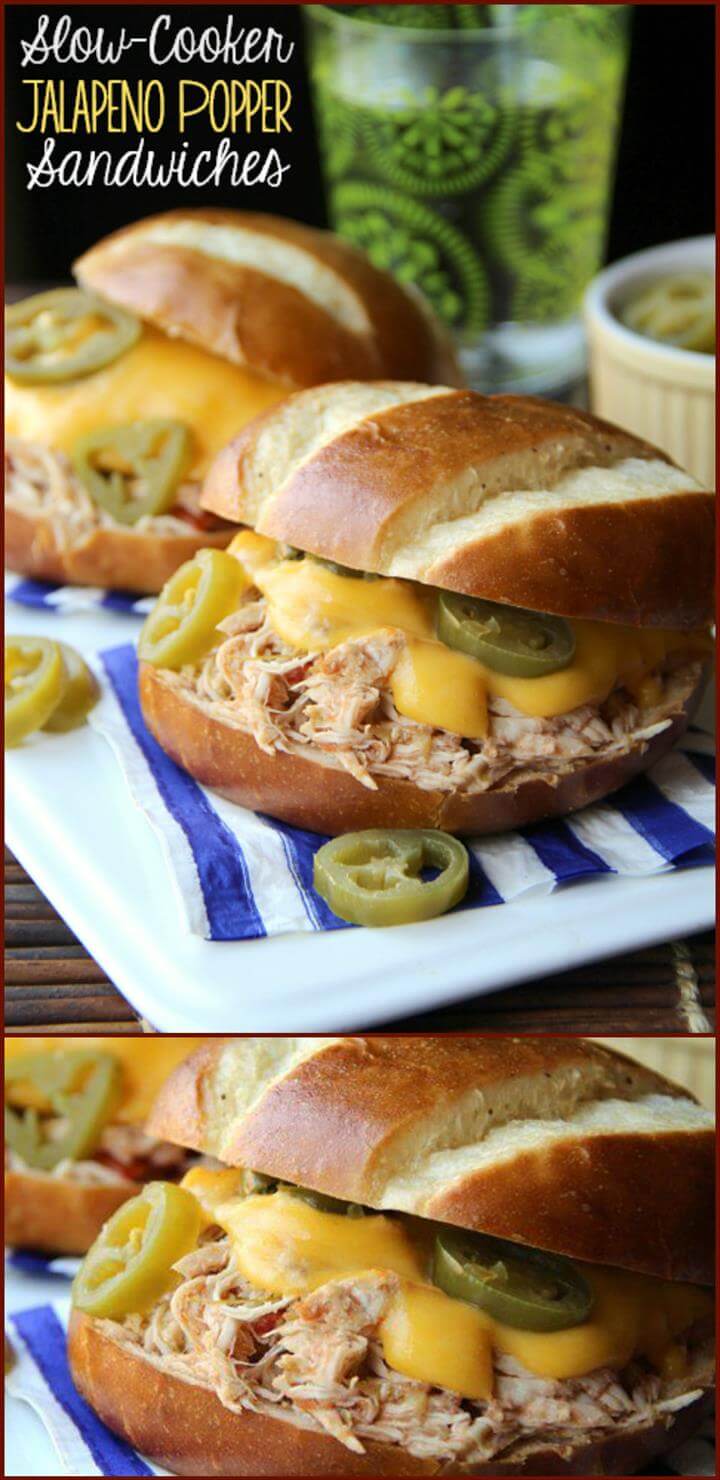 Things like burgers and sandwiches are always the center of attraction of every one especially the kids and here is this yummy looking slow cooker jalapeno popper sandwiches that you can  quickly make in your chicken giving you the creamy and crunchy taste at the same time. Get to know the more about this recipe right here on the link familyfreshmeals!
Crock Pot Barbecued Pulled-Pork Fajitas: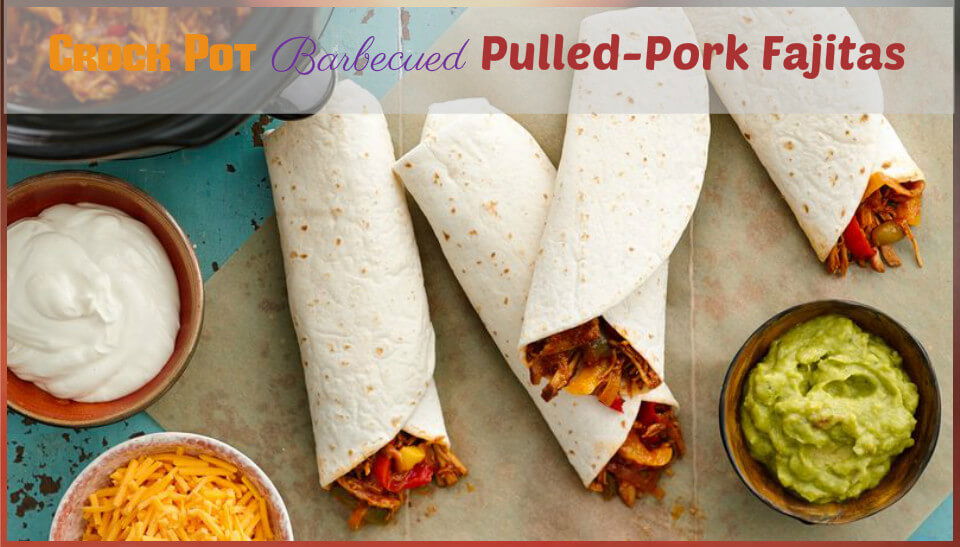 For meats of all kind the best way to cook them perfectly is to use the crockpot as it tenderize the meat completely. So here is another mouth watering recipe called crockpot BBq pulled pork fajitas which are surely going to make everybody in the family praise your cooking skills. So for the next dinner either for family or for dinner party this recipe deserves a must try and for that you have to note it down from this link bettycrocker!
Very Delicious Crock Pot Beef Stroganoff:
Life of woman gets hugely hectic when she has kids with small age differences so a big thanks to the slow cookers for making their life a bit easier. Here is another praise worthy dish that you can prepare in your crockpot and delight every kid of yours no matter what age stage he is going through. That perfect recipe is crockpot beed stroganoff and lies on this link with all the required details yummyhealthyeasy!
Yummy Crock Pot Cowboy Casserole:
This recipe is as wow in taste as it is in its name and that too with easy cooking in the crockpot. This crockpot cowboy casserole includes many yummy and healthy ingredients like mushrooms, beef, corn and the basics and turns out to be a tasteful and healthy meal for dinners or for lunch as well. Get the details of this fun recipe right here and enjoy a delicious mean having a stylish name familyfreshmeals
Easy Crock Pot Whole Chicken Roast: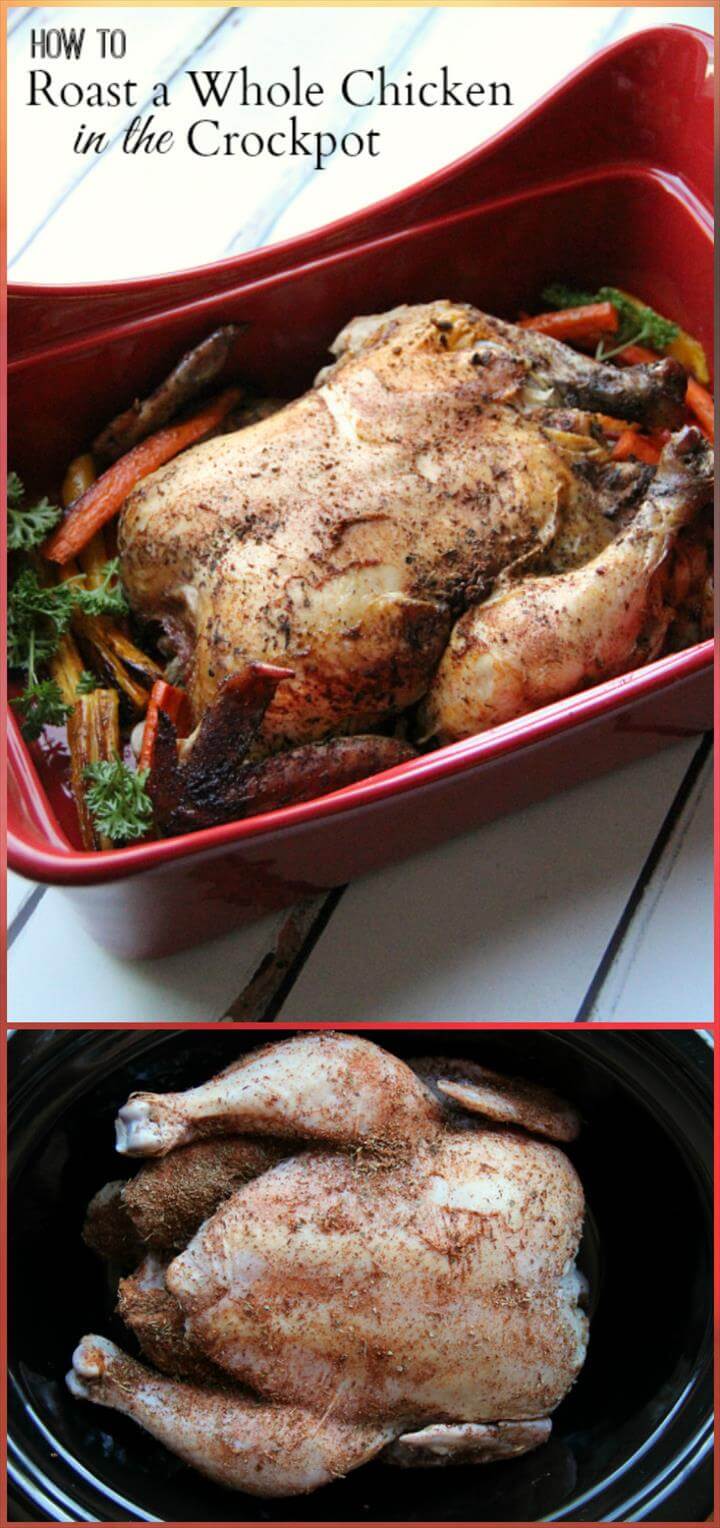 For special family dinners and gathering meals we love to have chicken rotisserie on the dining table but save your money from now to onward as you can bake a whole chicken in the crock pot and enjoy a tasty and yummy chicken roast for formal and informal occasions Get the recipe of this brilliant, money and time saving recipe from the link in bold.familyfreshmeals
Quick Creamy Crockpot Bacon Ranch Chicken Pasta: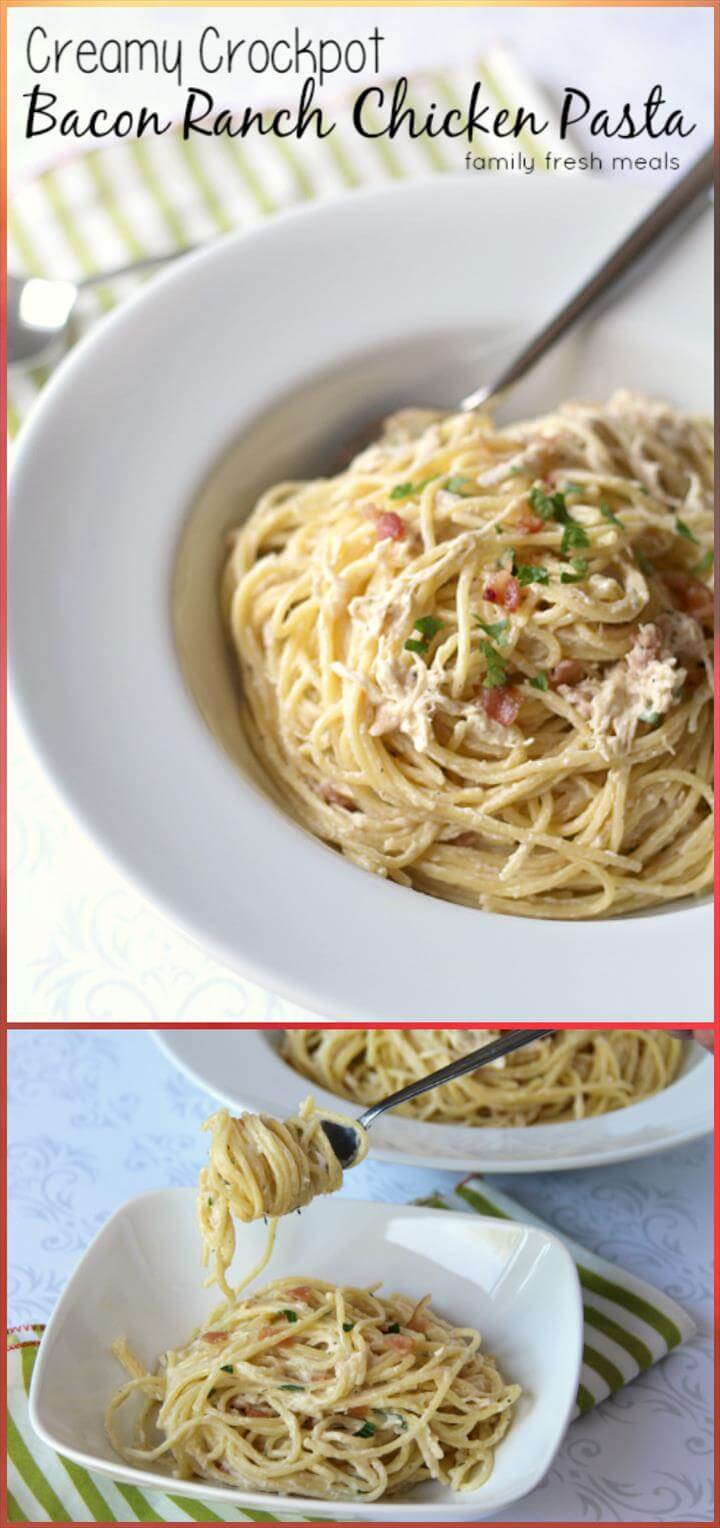 The crokpot can give you the five star dishes too all you need to be a bit creative and unique with your recipes and for that the internet is great help. Here we offer you to peek into this highly tasty, nutrion full and totally in budget crockpot bacon ranch chicken pasta. Its name tells the half of the ingredients and for further details and directions you need to click on this link. familyfreshmeals
Super Tasty Crockpot Beef Stew:

Don't let just the soup rotate in your dinner meals in the winters try something more delicious and tasty to freshen up your taste buds. This crockpot beef stew recipe can be a proud part of your winter menu and your family would want it on repeats as it tastes so damn good. So do not forget to catch the recipe right here familyfreshmeals!
Crock Pot Gumbo:

The chicken, rice and shrimps with the basic kitchen spices and ingredients can give you the best of a dinner recipes prepared in crock pot. The dish is flavorful, good looking and so easy and quick to make that you would happily make it for your family and friends and get lots of compliments for your tasty cooking. You are one click away from this crockpot gumbo recipe provided on this link tammileetips!
Crockpot French Dip Sandwiches:

Sandwiches with dips are just heaven but only when each bite is so creamy and soft to bite on. For that you need to get your meat in the sandwich completely tender and we are sharing this slow cook french dip sandwich recipe with you so that you can get the perfect kind of appetizer or lunch meal for the whole family. This link leads you to the complete recipe and cooking procedure carlsbadcravings!
Slow Crock Pot Red Wine Beef Stew:
You must have added wine to many of your recipes and noticed amazing results so you can try it with the been stew recipe and you will love it. The crockpot red wine beef stew in the next thing to experiment in your kitchen and give the taste buds something sheer delighting and refreshing in the dinners. Just follow the complete recipe right here and enjoy this appetizing recipe this week countryliving!
Crock Pot  Garlic Parmesan Chicken & Potatoes: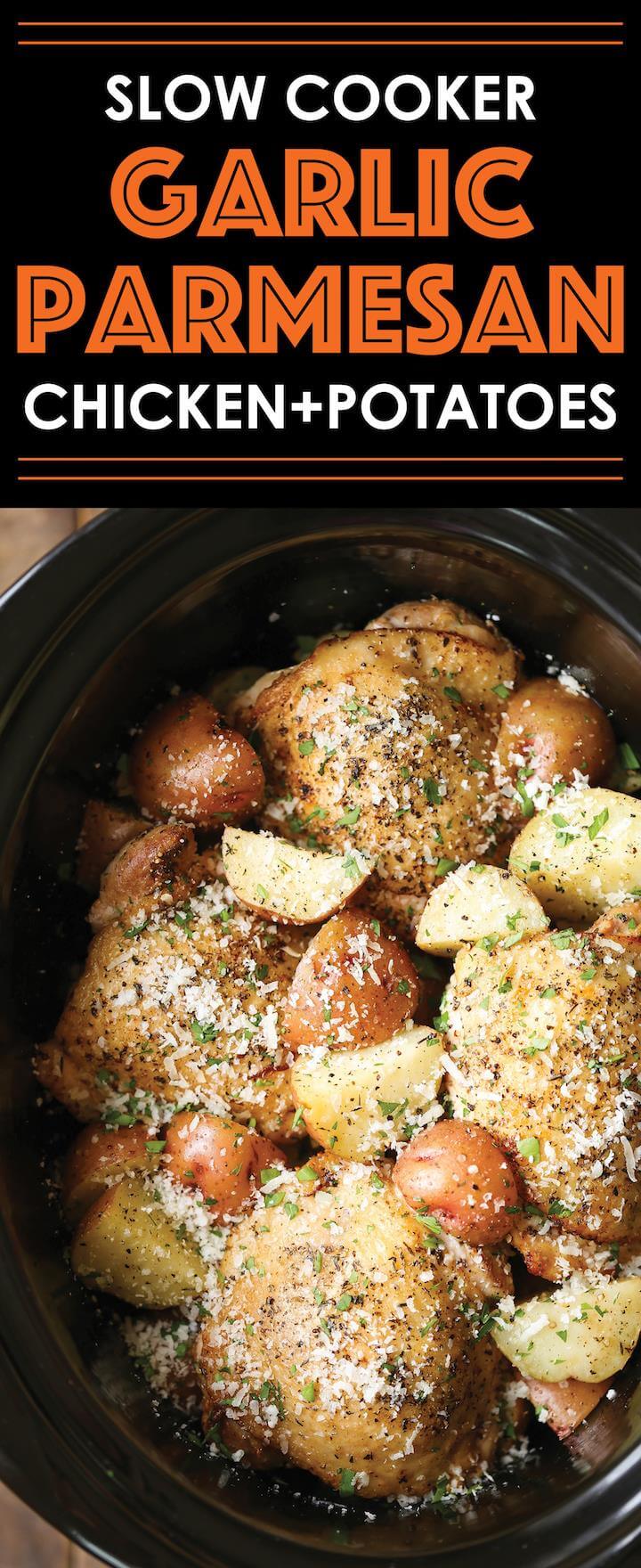 Chicken along with some baby red potatoes are something no one can resist to eat and the topping with Parmesan makes it more a drool worth. So grab this totally delicious, easy and immensely quick to make recipe in the cork pot from the given link and enhance the fun of your weekends more and more.damndelicious!
Easy Chicken Parmesan Pasta:

I don't know any person that does not pasta. Here is another recipe of chicken pasta to cook with the chicken and make your dinners so fun and enjoyable and that too for everyone. Here is the complete recipe to follow and get the directions to make this yummilicious pasta for the weekend night.damndelicious!
Tempting Crockpot Roast Beef Sandwiches:
Slow cooker or the crockpot are a big helping hand to let us meet our favorite dishes and recipes and this one is also a crock pot referring recipe so that you get the utmost tendered meet for your roast beef sandwiches. These tempting sandwiches would serve best as appetizers or even as the main meal so go grab the recipe right here countryliving!
Yummy Crockpot Chicken Tortilla Soup:
Get yourself a variety of the soup recipes to try this winter and stay cozy and warm with lots of taste. slow cooker can help you a lot to meet your desired soup recipe like this chicken tortilla soup gets prepared in the crockpot. want to get the recipe? do go anywhere just click on the red bold letters here countryliving!
Tasty Crockpot Sausage &Tortellini Soup: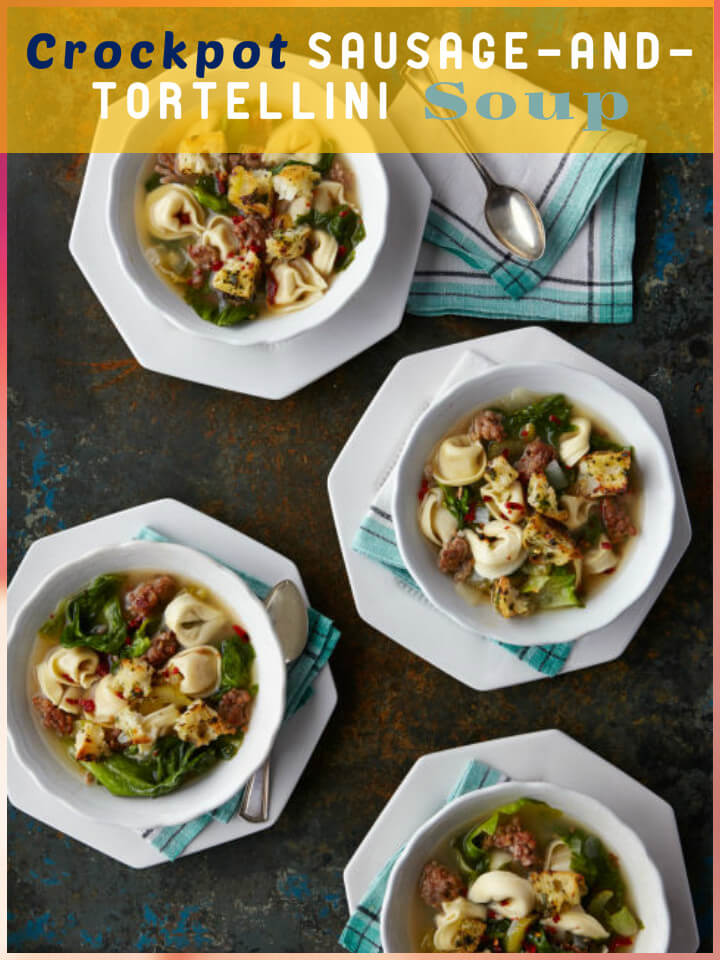 This sausage and tortellini soup is as mush rich and classy in taste as it looks in the picture.It looks no less than a five star soup but can be prepared cheaply and easily at home and that too in short period of time using the crockpot. Get all the ingredient details and cooking directions from this link and enjoy it this soup in today's night dinner. countryliving!
Crockpot Spiced Sweet Potato & Peanut Puree: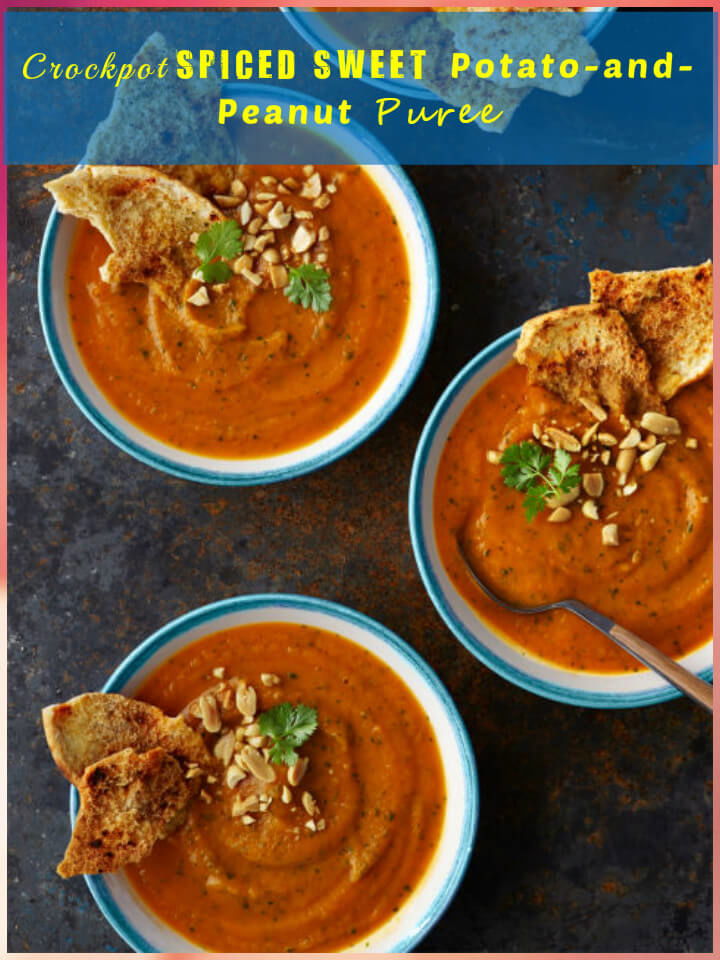 Get yourself energy, heat and taste this winter with this absolutely awesome crockpot spices sweet potato peanut puree combining lots of flavors in it. Its a perfect meal for the winter evening or night and for everyone from small ones to young ones and oldies. The recipes lies right here so get it now countryliving!
Healthy Crockpot Chicken & Quinoa Minestrone: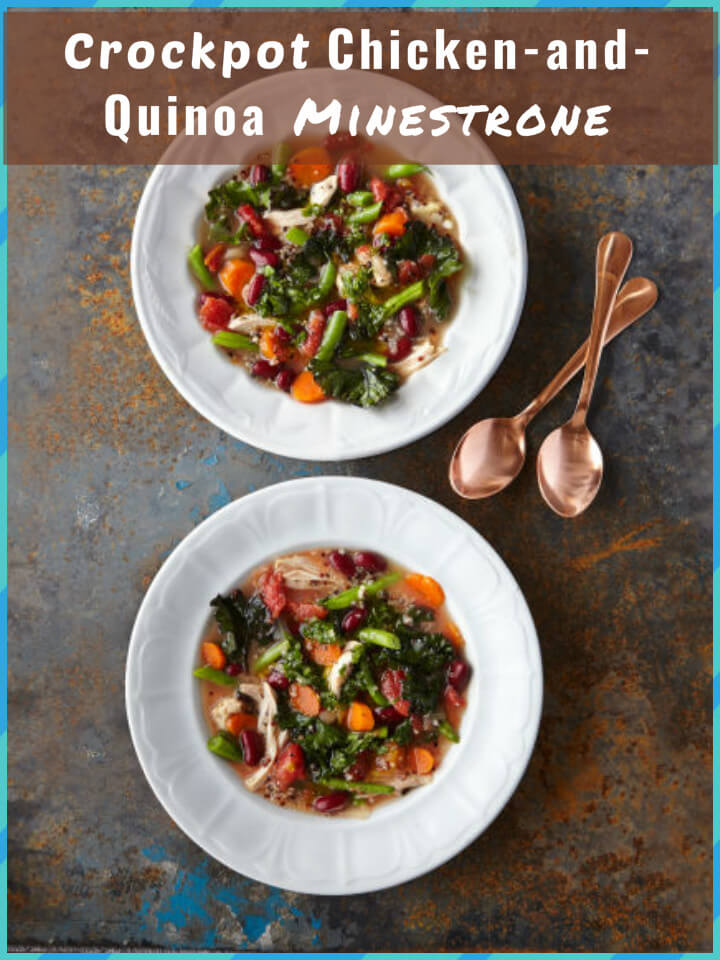 With a few small changes you can upgrade all your old recipes and get them totally in new flavors and tastes. So is this chicken and rice soup recipe that can be prepared in the crockpot with much comfort and convenience to get comfortable, warm and cozy in winter dinner nights. Here is the upgraded recipe of this yummy soup to note it down click on the link provided countryliving!
Appetizing Red-Eye Brisket Stew: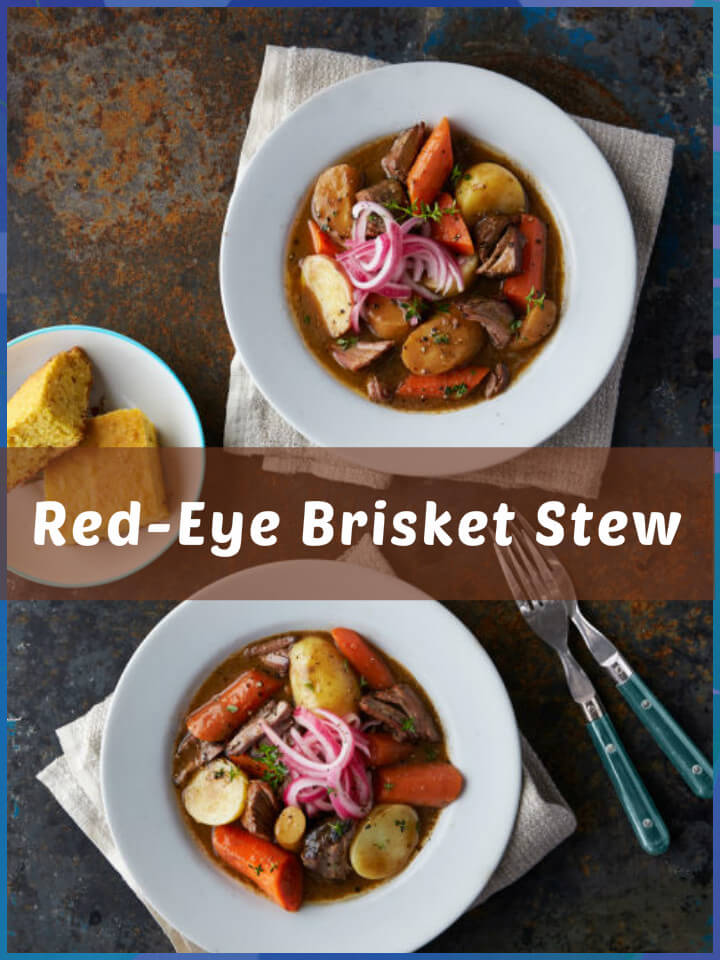 All these yummy picture of foods must be making you feel hungry and try the taste of  everything here like this a unique dish to feast on. This is red ye brisket stew that involves the crockpot in its preparation to make it so damn easy to cook fast and go in your tummy. Picked onions, beef, mustard and many other things go in it and to know the complete details to you need to follow this link countryliving!
Mouth Watering Crock Pot Black Bean-and-Chile Soup: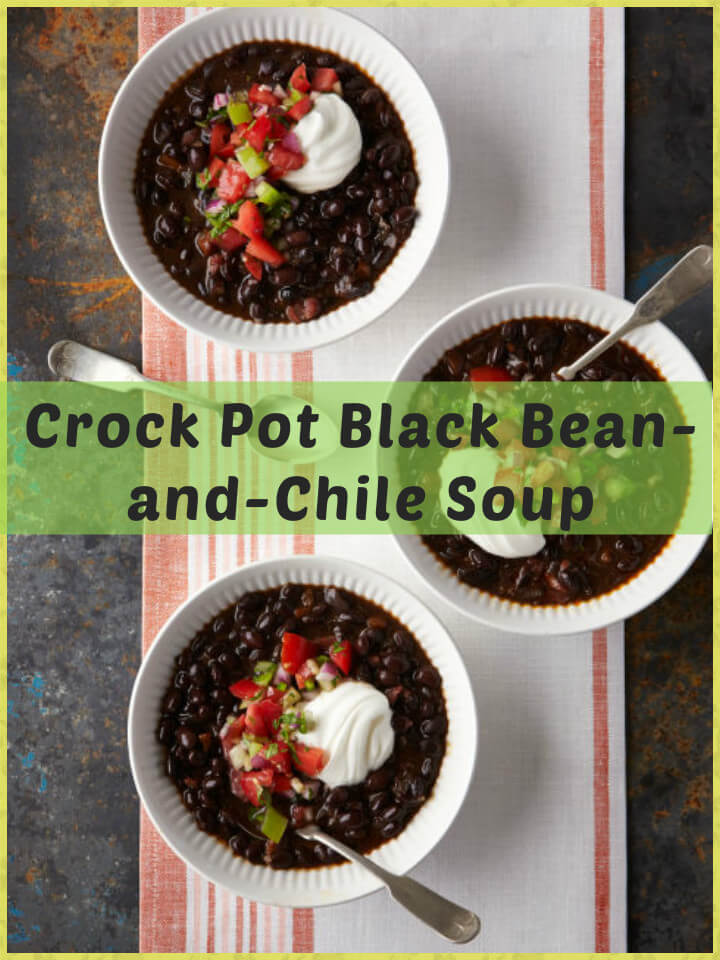 Black beans, ham hocks, some veggies and spices going into the crockpot gives you a thrilling dish called black bean chile soup with an exciting taste. The colors of the dish are already  tempting the taste buds to touch it so do not have a further delay to access to the recipe of this excellent dinner meal right here countryliving!
Inviting Crock Pot Cashew Chicken: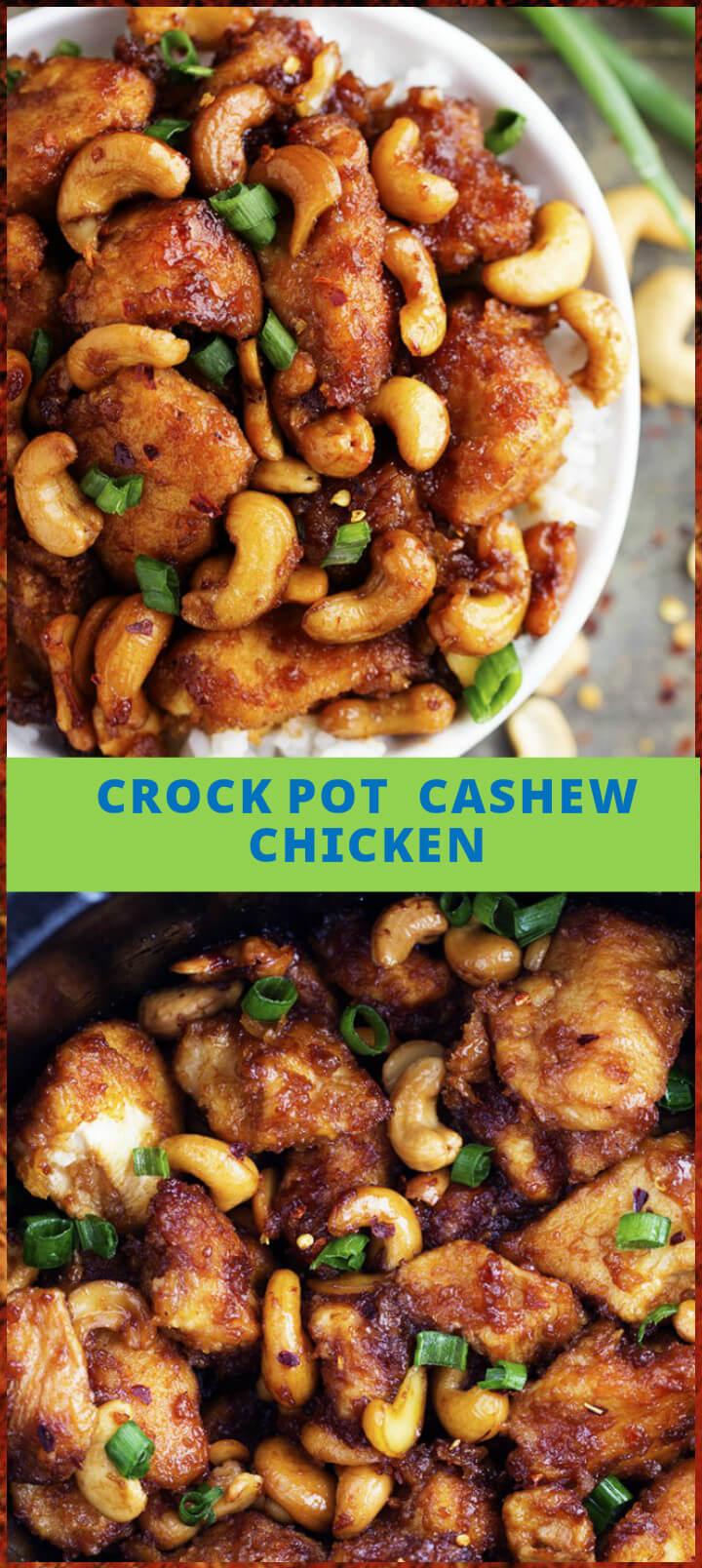 Your favorite chicken with your favorite cashew can give can give you some real cooking and taste goals for being super flavors in taste and looks. Getting a cashew under teeth with each bite is the pure delight and gladdening is the fact that it can easily and quickly prepared in the crockpot for the inpatients. Get complete recipe right here and drool over it this weekend therecipecritic!
Slow Cooker Barley and Chickpea Risotto: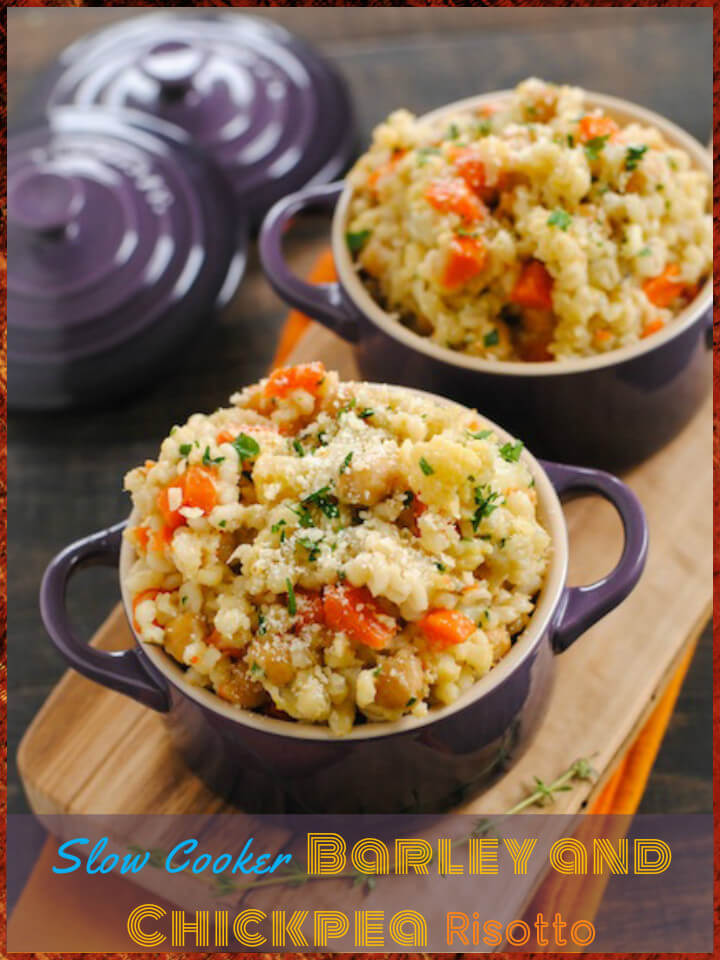 Unlike the common recipes that take 6 to 7 hours in a slow cooker to get prepared this chicken risotto would be done in two hours.So its best to try this recipe on the non working days so that you can give it your time. Here is the complete recipe to let your follow it step by step.foxeslovelemons!
Tempting Crock Pot Eggplant Parm: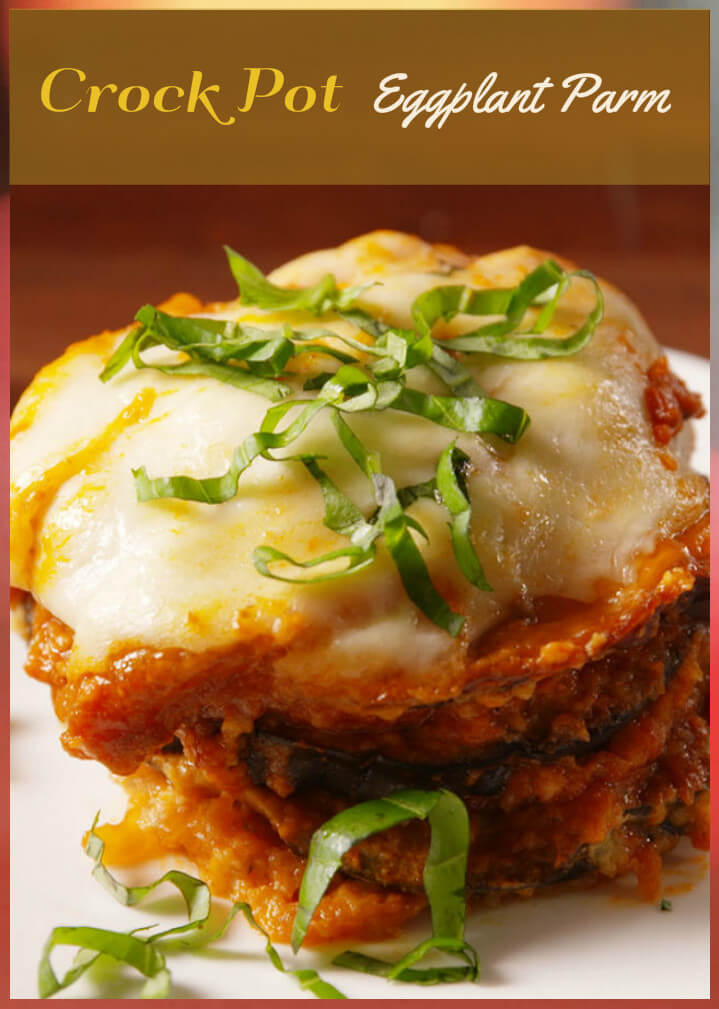 Till now you must be cooking your eggplant parm by frying it which is not good for the people on diet. Do take your crockpot to slow cook this eggplant parm and get rid of frying making it completely healthy and tasty to eat any time you want. There lies the complete recipe to let you get the step by step directions delish!
Spicy Crock Pot Turkey Pumpkin Chili: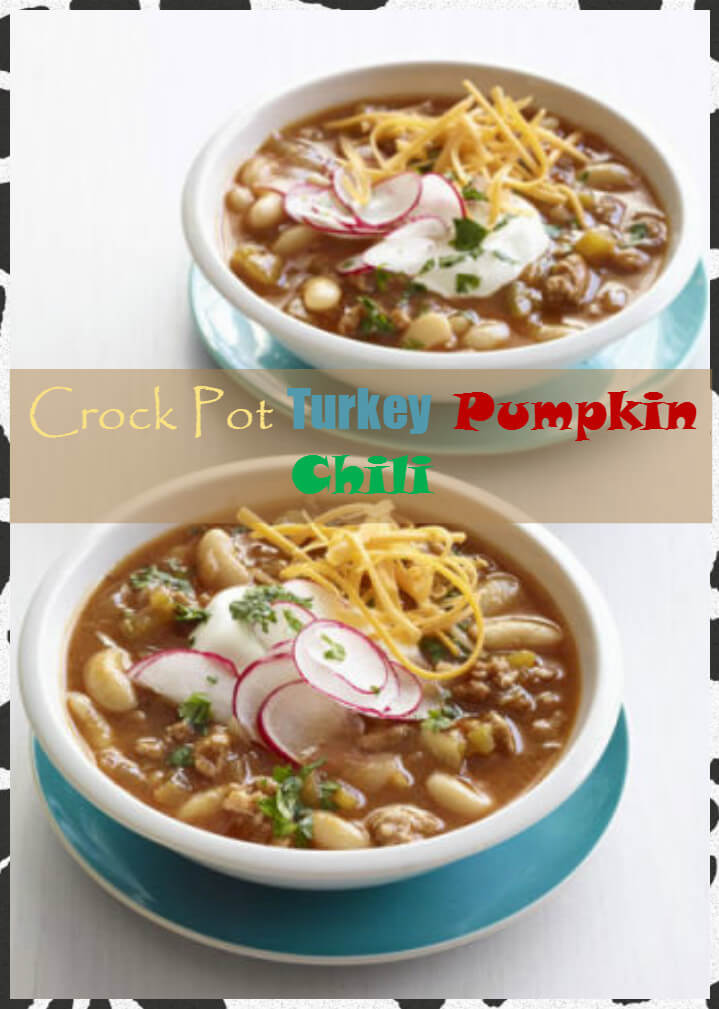 Get rid from the hassle of time taking healthy food making in the kitchen and bring in use the slow cooker to get a lot of healthy recipes  done. Here is this crockpot turkey pumpkin chili that you can easily cook, eat and enjoy a healthy diet plan leading you towards healthy life style. Looking for recipe? just click on this link delish!
Butternut Squash White Bean Soup: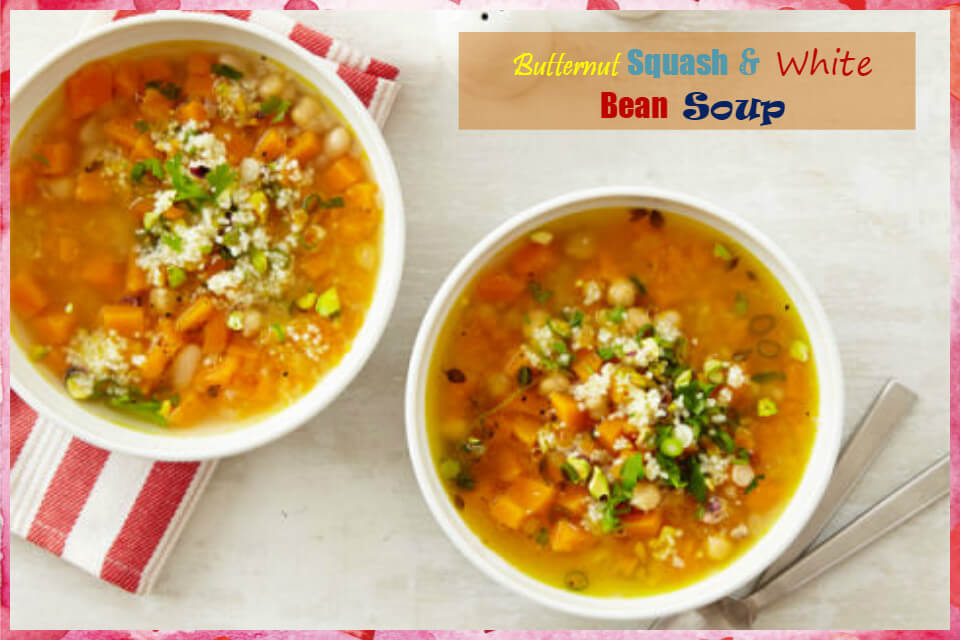 Satisfy your food craving in the chilled falls with this slow cooked butternut squash white bean soup that you can easily and quickly make in your crockpot and enjoy it no time. Chickpeas, beans and squash would provide your a flood of flavors on your tongue so copy the recipe right here and get warmed tastefully. delish!
Crock Pot Tangy Chicken Cacciatore: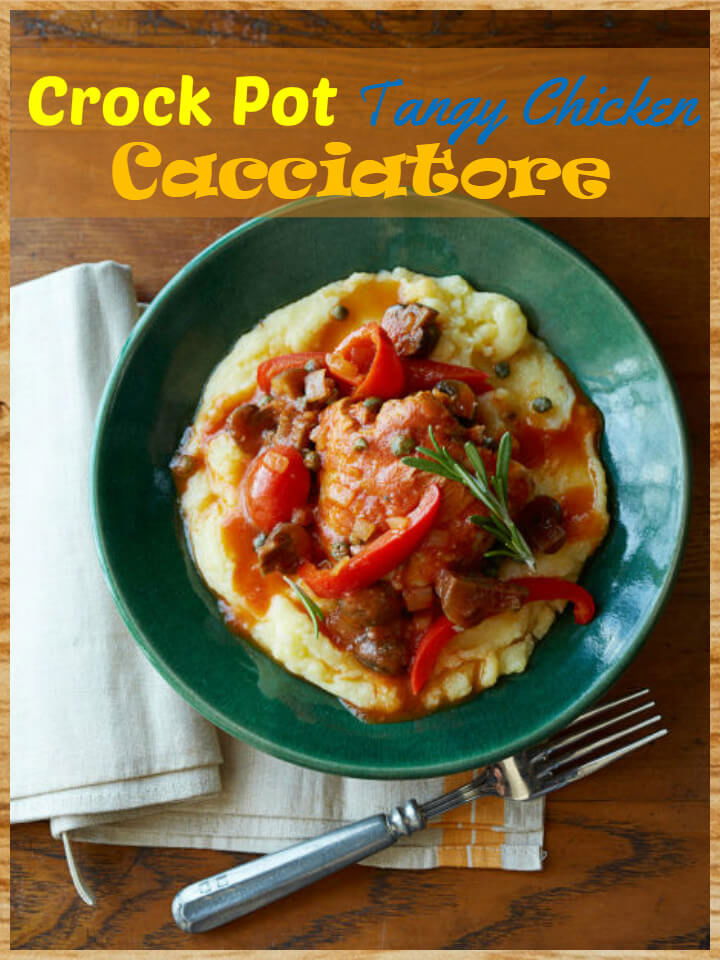 Slow cookers save much of time in the kitchen that you can spend on other household activities like cleaning, ironing, panting and much more. Just like this tangy chicken casssiatore that you can get by tendering the chicken in the crockpot and then pouring herbs and other flavors in it. Get the detailed cooking directions right here so that you perfectly get the recipe done delish!
Quick Herbed Chicken With Beets and Brussels:
The only solution to get the healthy food in less time is to bring in use the crockpot. And here you would get lots of slow cook recipes to cook in the slow cooker and that too without compromising on taste and health. Like this utterly tasty and flavorful herbed chicken with beets and Brussels right on this link delish!
Easy Slow-Cooker Sweet Potato Soup:
If you have not tried your hands with indian spices in cooking then its the right time to do so. With this slow cooked sweet potato soup you can easily make a healthy and flavorful soup that would be totally refreshing and new to your taste buds and they would demand it so often after first trial. Get accomplished approach to the recipe right here delish!
Crockpot Latin Chicken with Black Beans & Sweet Potatoes:
Combing different food items in one dish can be really a hassle but one thing is assured that you are going to have an accomplished meal with all the needy nutrition. just grab the slow cooker to ease your cooking time like this chicken with black beans and sweet potatoes have been nice and easily cooked to enjoy a complete full of fiber meal in dinners. Here is the complete recipe of this multi ingredient holding and tasteful dish delish!
Delicious Crockpot Chicken Tagine: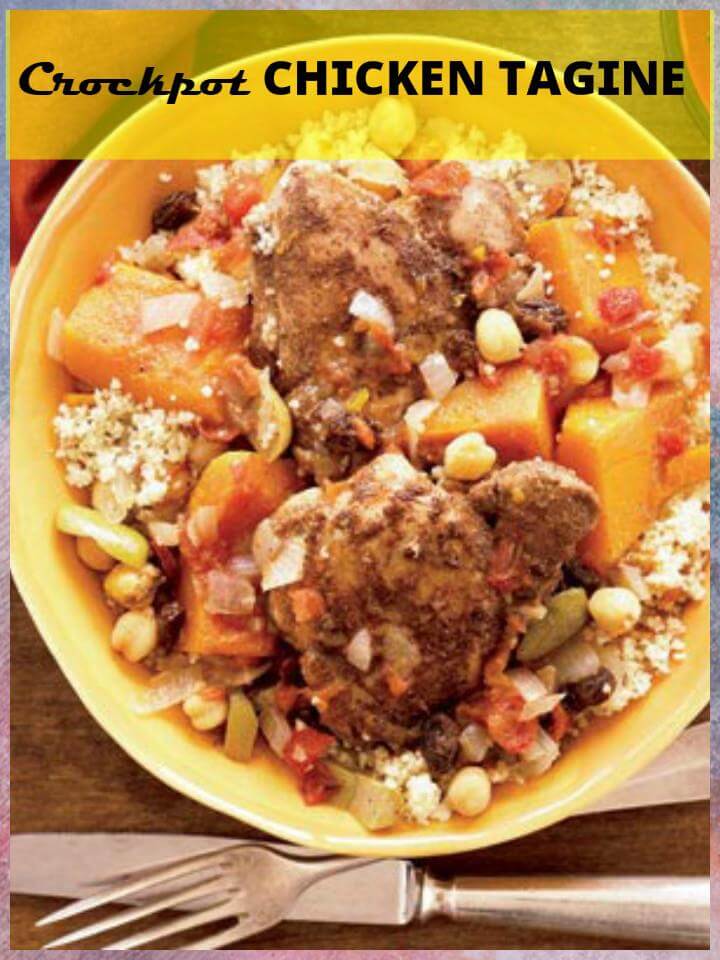 chicken, butternut squash, onion, tomatoes, garlic and some other basic spices going into the crockpot for six hours would cook this so pleasant looking and so good in taste chicken tangine for your dinner meals to let the each one on the dining table drool over it. Get the whole recipe details and directions right from this link delish
Crock Pot Butternut Squash Pulled Pork Tacos: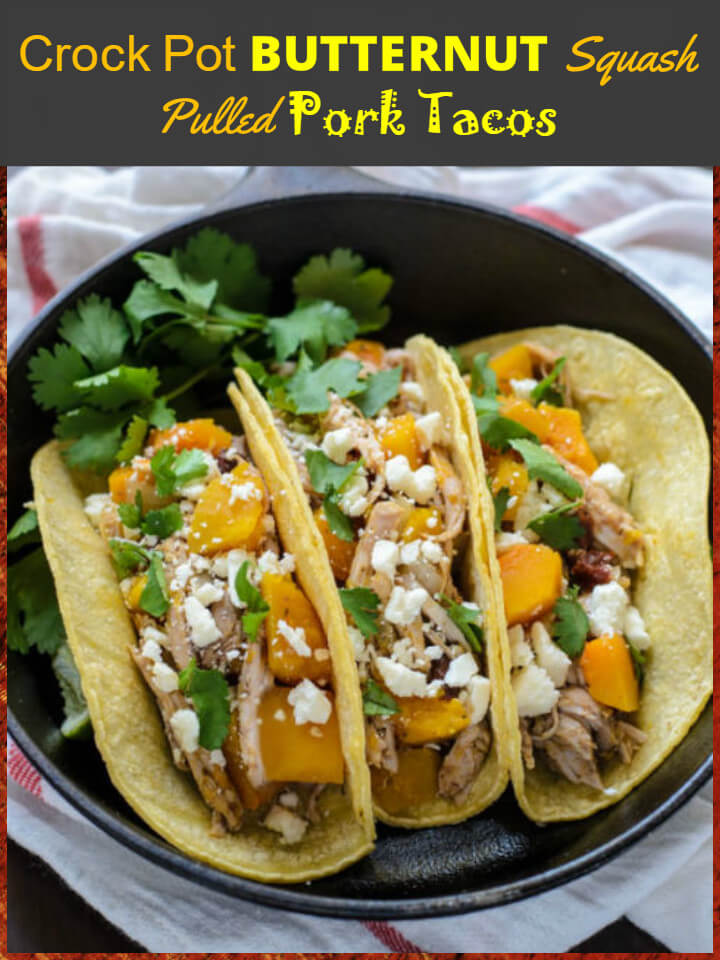 Here is another amazing slow cooker recipe with the butternut squash but this it does not combine with the chicken but with the pork and yields this visual pleasing and declicious dinner food called butternut squash pulled pork tacos that would be surely everyone's love to bite on. So get this awesome recipe from this link and make it soon in the coming days and record the reactions.wellplated
Crock Pot Chicken Noodle Soup:
Now even when you are sick you can enjoy some tasty food that is so comforting and relieving too. So here is the crockpot chicken noodle soup recipe that you can pull of in the winters to stay warm and cozy and that too in an immense tasteful ways. Make this tasty and easy to make soup yourself so that you don't have to but it ever again. Here is the complete recipe and cooking procedure cookingclassy
Crock Pot Sweet Potato Chilli:
Winters do not let you get out of your comfort bed so get a slow cooker that cooks your food of its own and you can enjoy some more comfy time in the blanket. Here is an amazing crockpot sweet potato chili that is easy to make but sheer rich in taste and nutrition to enjoy in lunch. You can also freeze it to get something quick on the dining table for urgent hours. Get the recipe here primaverakitchen
Easy yet Yummy Crock Pot Zucchini Lasagna: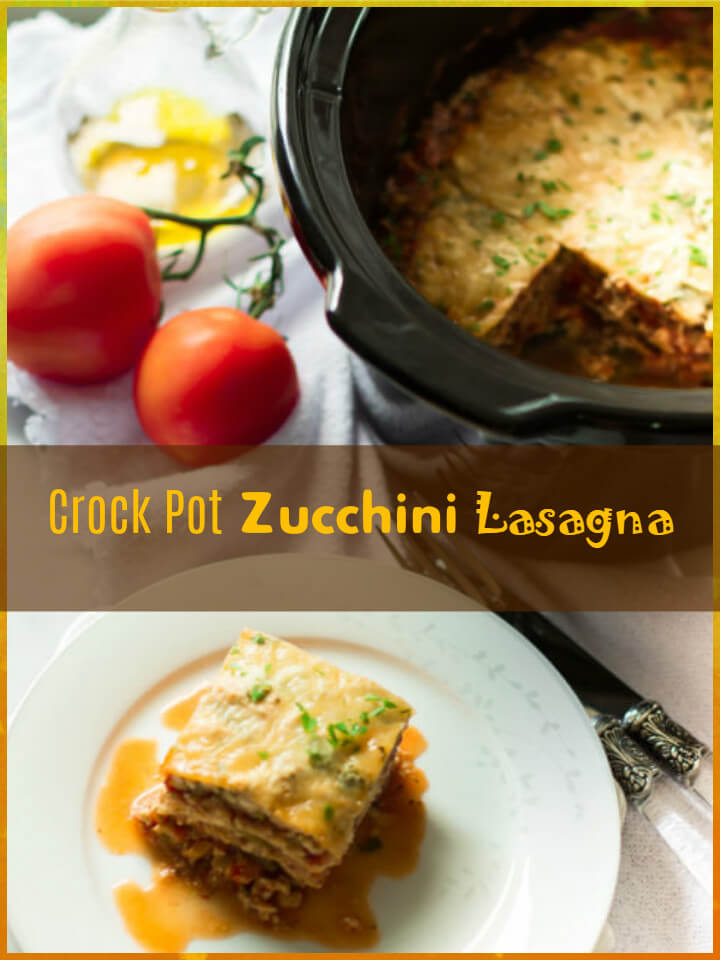 If you have not tried the lasagna recipe in the slow cooker then its the right time for you do this beacuse we assure you the results would be awesome. So here we are sharing this excellent crockpot zuchini lasagna recipe that is a bit unique to try and would surely taste yummy like the traditonal lasagna so get the recipe and make it for today's dinner.primaverakitchen
Asian Chicken Lettuce Wraps:
Combine veggies and chicken in a yummy and fun way by making this lovely dish and too easily in the crockpot. This is crockpot Asian chicken lettuce recipe that you can cook comfortably in the slow cooker and have a hearty dining meal. the whole recipe lies here so if you are in a mood to try something new just get it noted down from here cookingclassy
Crock Pot Butternut Squash Soup: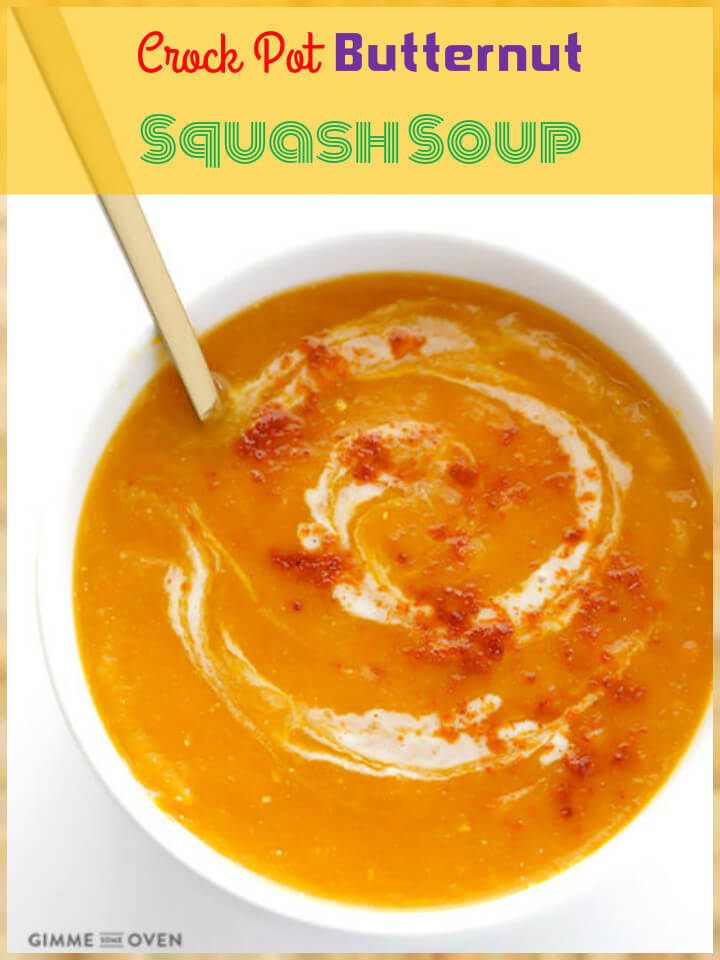 If you are really having a big soup lover in your or among your family then here is a delicious soup to satisfy your taste buds, it is here a special butternut squash soup which can easily be cooked in a slow-cooker! You can  catch up all the ingredient details and directions right here for this super yummy soup recipe gimmesomeoven
Crock Pot Buffalo Chicken Stuffed Sweet Potato: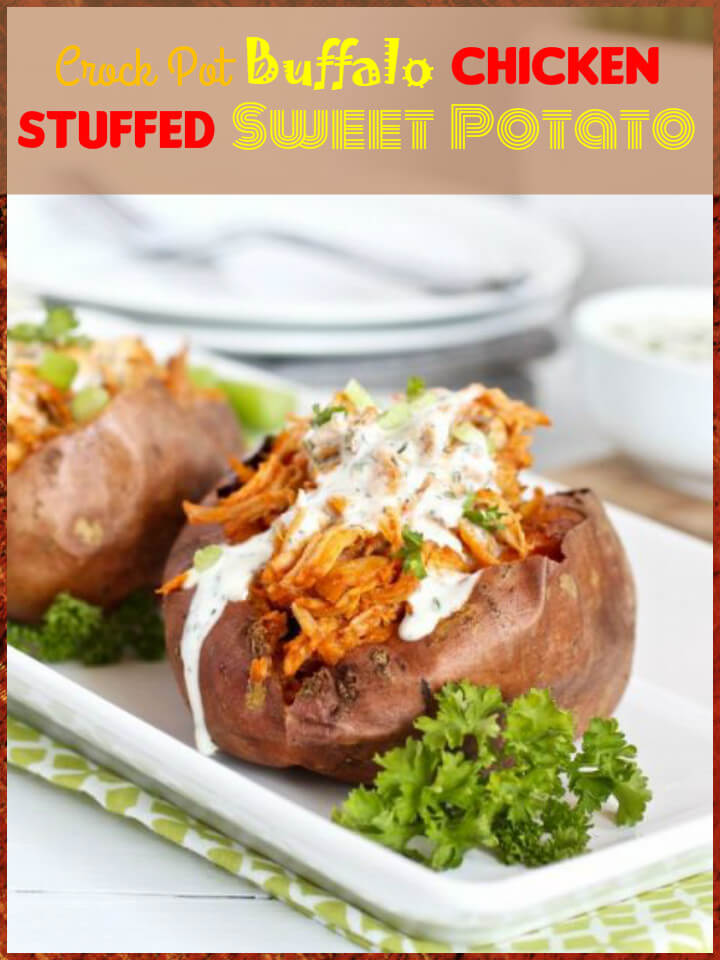 Those who are in love with the buffalo chicken must get this crockpot buffalo chicken stuffed sweet potatoes recipe and enjoy their favorite food in a more tastier way. As it uses the slow cooker to get cooked so you do not have to go under through any inconvenience while making it. get the step by step recipe done right here therealfoodrds
Quick-to-Cook Crock Pot Greek Chicken Gyro: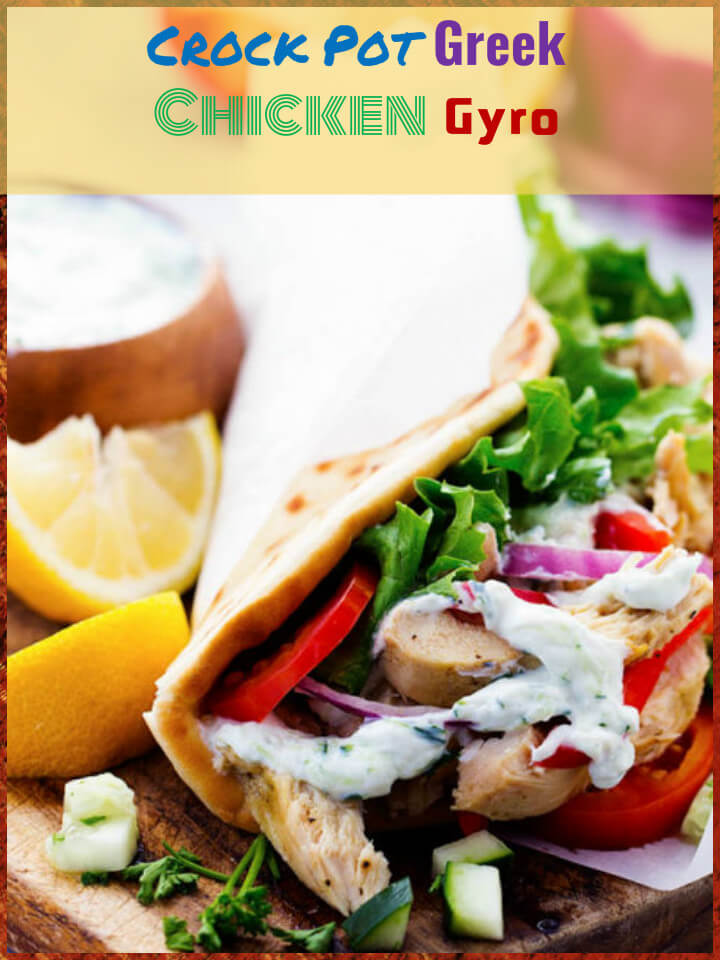 Getting your tasty food is now a minute game with the use of slow cooker and you are also free enough to try some new things with it so here we offer you this classic greek chicken gyro recipe that you can make in no time and enjoy it to the fullest. This recipe is best to pull out for kids when they are home returned from school and crying for food. Catch the recipe right here therecipecritic
Slow Cooker Spaghetti Squash & Meatballs:
Every working woman looks for the kind of recipes which demand less preparation work and for that slow cooker is a must have. Here is a recipe that you can cook in a few minutes and with two simple steps. Just grab your spaghetti squash and the frozen meat balls in your crockpot and a healthy low carb dinner is ready to fill you up. recipe is here on this link with complete details alldayidreamaboutfood
Crock Pot Seasoned Chicken, Potatoes and Green Beans:

Healthy, healthy and healthy this is what the recipe in the above picture is all about. The combination of sweet potatoes, green beans and the chicken is not only tasty but full of high nutrients, vitamins and minerals to let you eat an accomplished meal for your dinner. For your kids, husband or parents this recipe is good for all so do note it down from here  themagicalslowcooker
Easy Crock Pot Chicken Marsala:

Get rid of all the stress and worries of the week at the weekend by enjoying it with a special dish in your menu. This slow cook chicken marsala recipe is best to get your hands on as it tastes heavenly good and needs a very small prep work for it. The weekend is on its way so do note this recipe and learn it to make and enjoy with your family this weekend and get yourself relaxed. lecremedelacrumb
Healthy and Easy Slow Cooker Pot Roast: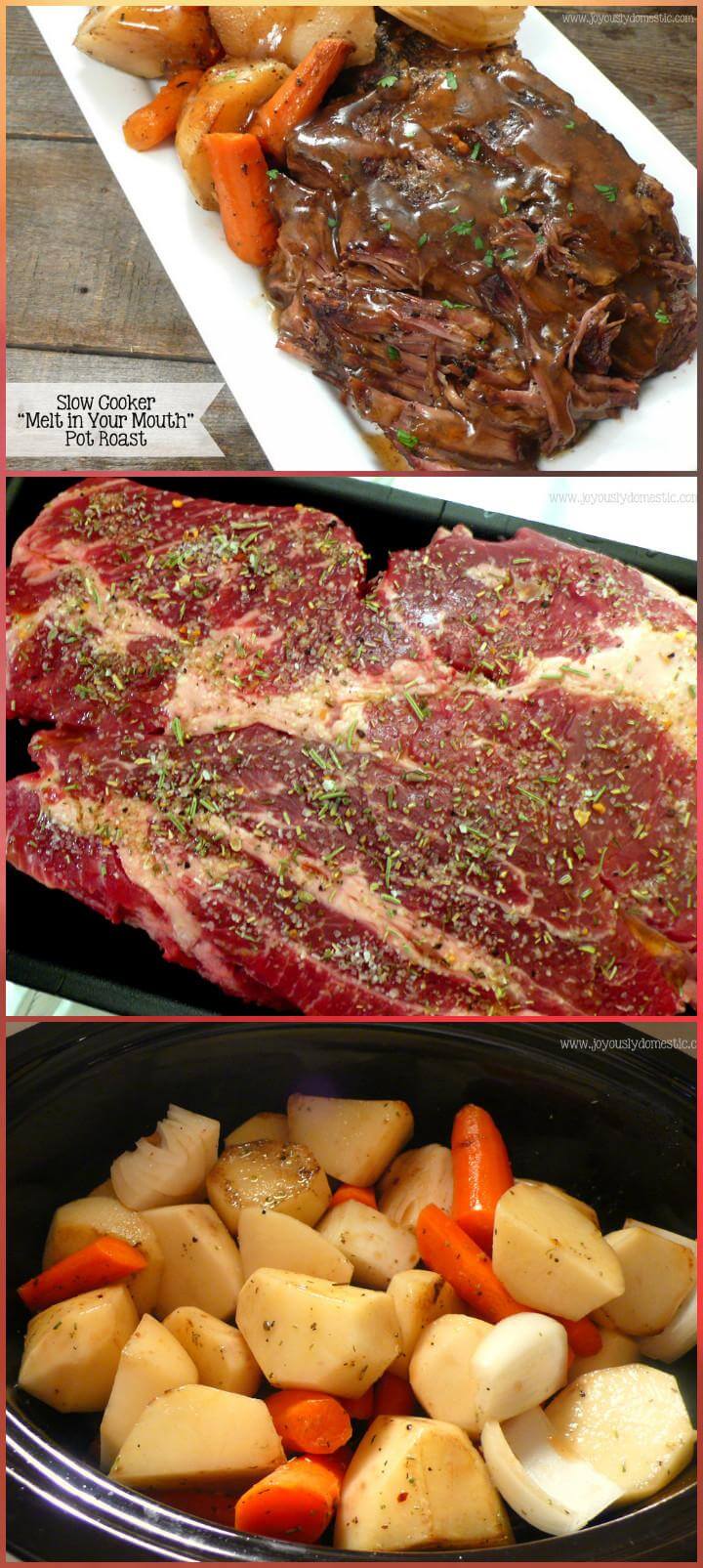 It does not matter how good your day was if you had good dinner you its truly like all is well that ends well. So here is a super delicious recipe for you all to try and enjoy in your dinner meals and end your day with fun and enjoyment. And as it is going to be made in the slow cooker so get easy access on it. so here goes your recipe for crockpot roast joyouslydomestic
Super Easy Crock Pot Roast:

I swear this picture of crockpot  roast gave me a flood of water in the mouth as it looks so delicious. let me tell you its as healthy as it looks for being gluten free and being cooked in the slow cooker you can make it so easily. Not only for regular but this recipe would be great for festive dinners with a lots of people gathered around the dining table. So do get the this scrumptious recipe from this link mynaturalfamily
Yummy Crock Pot Salisbury Steak:

If you are hungry then you should not be looking into this recipe as it would aggravate it for sure for looking so damn tempting, mouth watering and delicious. But it would not take as much hard work to get cooked as it looks because you can make it in the slow cooker. So its a must down recipe get it by clicking on this link spendwithpennies
Crock Pot Garlic Parmesan Chicken:

We always spend so much time in the kitchen to make that one perfect and special dish that wins us lots of acclaim and fame from the family member. But you don't have to spend so much time on these special recipes as you can use the slow cooker for them. Such a special recipe is right here with us that would touch not only the tongue but the heart of the family.Recipe here thefrugalgirls
Easy Crockpot Ritz Chicken: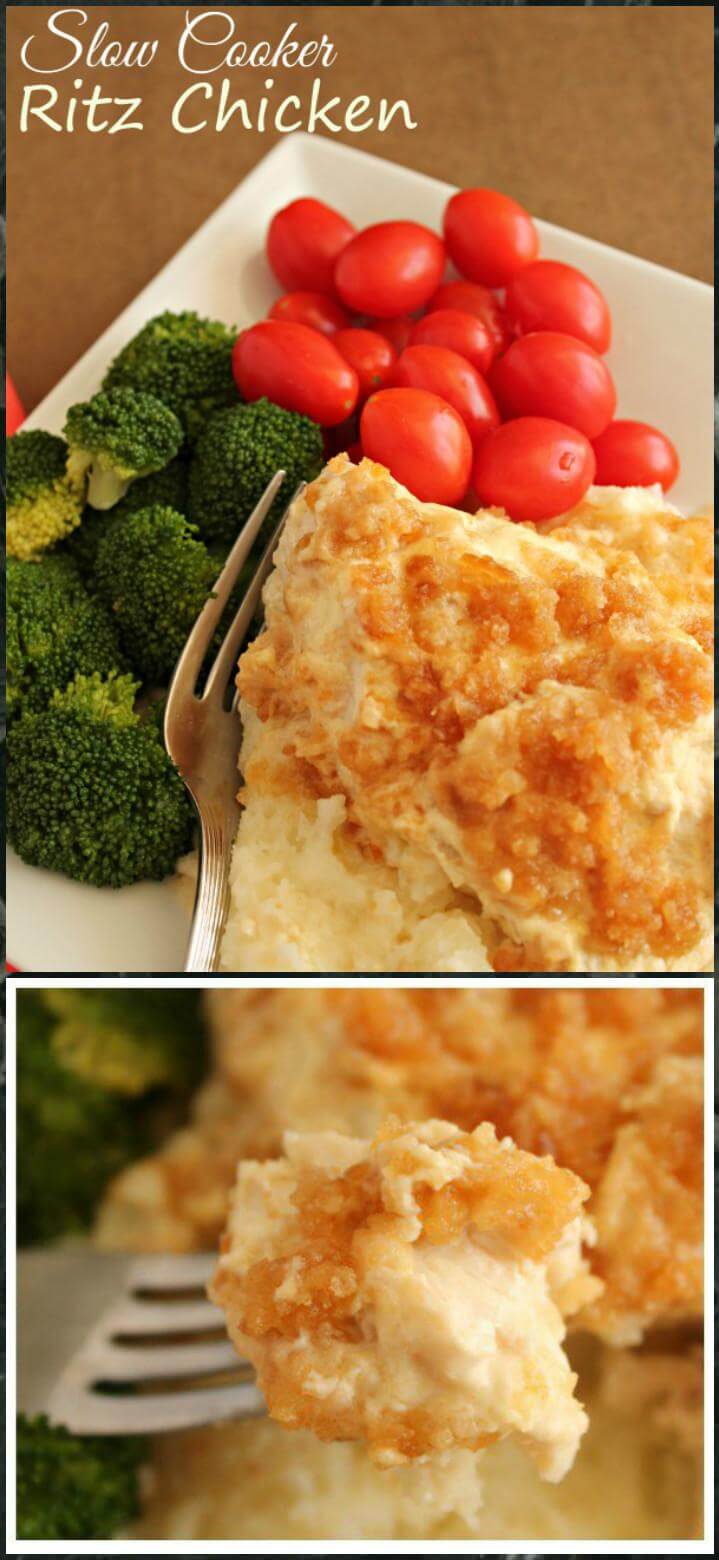 A party dinner or festive dinner at your house is one of the most busiest day as you have lots of tasks to do like decoration, gifts and above all prepare the delicious dinner meal. So give the crockpots a chance on such days to ease your tasks as you can let your food cook in the slow cooker all day while doing decoration and styling up gift box. So for such especial nights here is a special recipe named slow cook chicken Ritz sixsistersstuff1
Crock Pot Spinach Artichoke Dip:
If you day is going really busy and you do not have time to stay in the kitchen and make something then this recipe is the neediest to go on your cooking book. Get the ingredients of your spinach and artichoke and drop them in the slow cooker for two hours and a yummy food is ready without any hard work to fill your tummy so amazingly and tastefully. Its easy to make but still the recipe is here for complete instructions gimmesomeoven
Easy Crock Pot Chicken Enchilada Quinoa:
When there are holidays and you have multiple visits at your home then its hard to take out time for some experiments in the kitchen as there is buying, decorating and many other tasks in your to do list. Its the best time to grab the crock pots and make now make the tastiest of things in it like this slow cook chicken enchilada quinoa.The recipe is here with all the instructions and details you need for it. bobbiskozykitchen
Crock pot Vegetable Beef Soup:
You will get all your body needs from beef and vegetable from this crockpot beef vegetable soup that would be made so easily and quickly in the slow cooker for your winter or fall dinners. its as delightful in taste as it looks in the pictures just give it a try and all the needy details are here on this link so do give it a fast click. cincyshopper
Crock Pot Buffalo Chicken Dip:

Here is a hit recipe of this slow cooked buffalo chicken dip for your especial occasions like birthday party dinners, super bowl Sunday or anything special happened to you. Its looks so attractive in that lovely look and is that easy to when the ingredients go in the crockpot. Greek yogurt has also been used in this recipe making it more flavorful so its a must try recipe lying on this link gimmesomeoven
Slow Cooker Salsa Verde Chicken:
Chicken salsa is the favorite chicken dish of everyone and here we have a unique form of this so flavorful recipe that you can make in the slow cooker to save your time. Just follow the recipe from the given link and this dish can be the demanding dish your family and festive meals. Full free recipe and directions here diethood
Crock Pot Sausage, Spinach and White Bean Soup:
This crockpot sausage, spinach and white bean soup is for the super busy mothers or house wives as it requires only ten minutes prep and then the slow cooker takes the responsibility do to the rest of the cooking work. it turns out to be super good looking, tasty and full of healthy nutrition. You can learn the whole recipe from this link damndelicious
Crock Pot Greek Chicken Recipe:
The ladies are always in the search of a kind of a recipe that is the family favorite and easy to make. And we have this utterly delicious crockpot Greek chicken recipe for you. Its easy because it would get cooked in the slow cooker and its sheer taste would make an instant hint int he family. So do not delay further to get this recipe and try in the weekend dinner feast. The complete recipe is here on this link diythrill!
Easy Crock Pot Pepperoni Chicken:
I know for the pizza lovers nothing can be a pizza replacement but we have a recipe that you would like more than a pizza or equally to pizza. So here is this delicious crock pot pepperoni chicken recipe for you all that is quick and feasible to make in slow cooker and then then win the praise of each family member especially your kids they would demand it on repeat.thefrugalgirls
Mouth-Watering Crockpot Cranberry Chicken:

Its so simple and easy to cook with the slow cookers especially in the fall season they are like customary to use in the kitchen. So here is this tasty and simple fall recipe for you to try and enjoy a fun family time around the dining table. So check out this cranberry chicken recipe right on this link to get it in the crockpot.thefrugalgirls
Quick Crockpot Tomato Basil Chicken: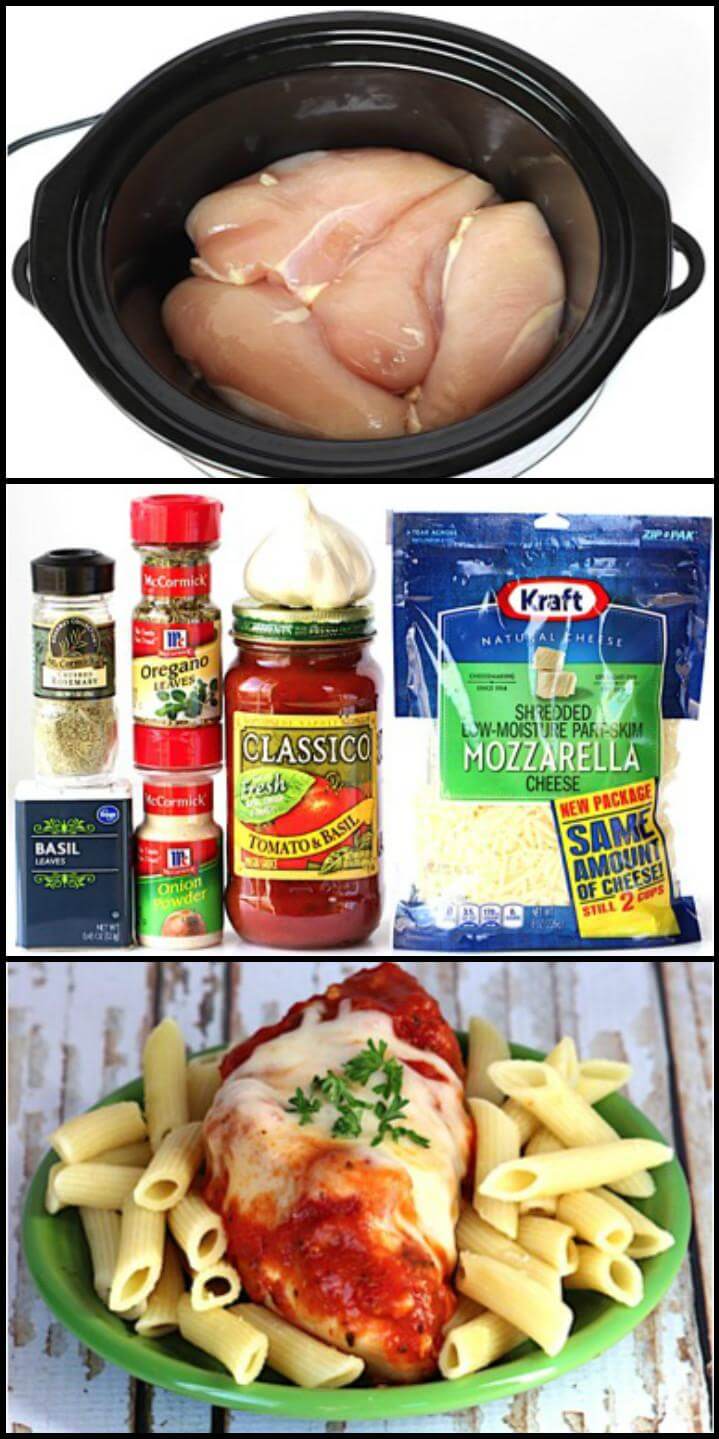 Don't need to go on a restaurant and splurge a big fortune as you make the restaurant like food in your home and that too in the crockpot. So here is this crockpot tomato basil chicken recipe to try this weekend and make some happy serving on the plates.So do not forget to grab the recipe from this provided link thefrugalgirls!
Super Tasty Crock Pot Lasagna: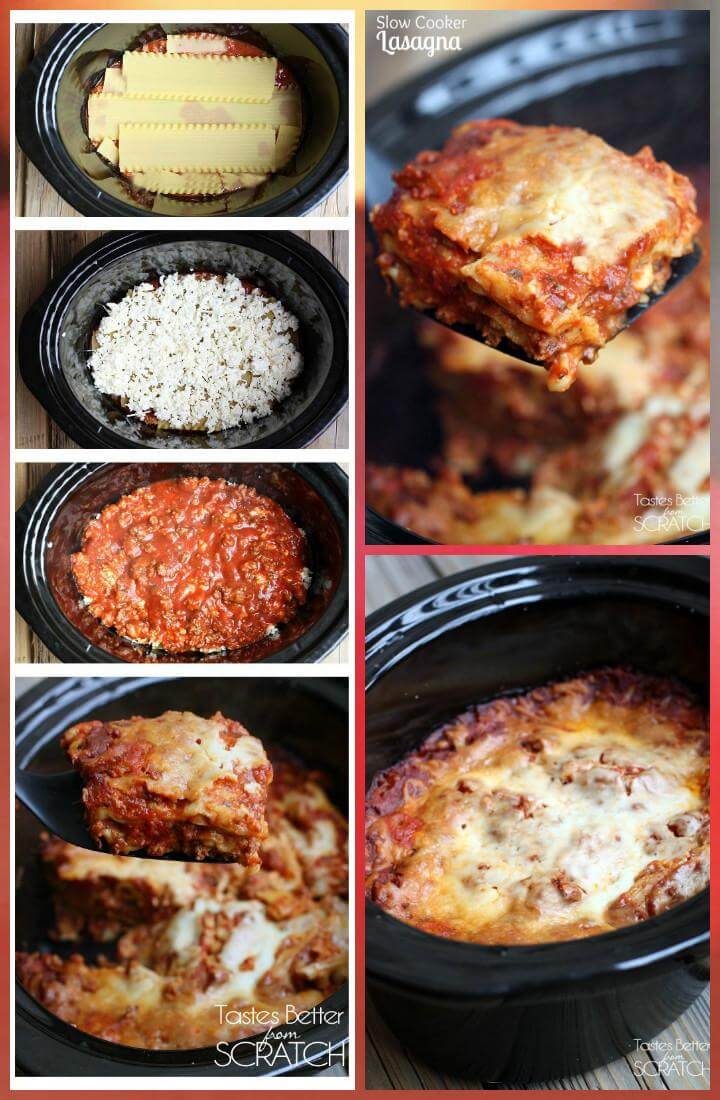 Lasagna is getting really friendly with the slow cooker and here is another Delicious and simple recipe to try this weekend and surprise your family with a new avatar of the lasagna and that too making so quickly and easily in the crockpot. So hurry to get the recipe from this link and add in your weekly menu too. tastesbetterfromscratch
Crock Pot Beef and Bell Pepper:

Gone are the days when you have to cling to the stove for stirring and taking care of your dish as you can now easily get your favorite and tasty meals in the slow cooker. So here is this easy crockpot beef and bell pepper recipe to delight up your lunch, dinner or any main meals. It would be tasty, healthy and fill you up to the fullest so its  a must note down here is link give click and make a visit letthebakingbeginblog
Yummy Crockpot BBQ Pork Sliders:
A simple and spicy treatment to the daily meals can really upgrade them in taste so here we are to share with you an amazing recipe of bbq pulled pork so that you don't east the pork meat so simply and boringly. So do have such exciting and thrilling recipes and this is to cook in the slow cooker and its a bonus so do check it out from this link and rock your weekend dinner this time.carlsbadcravings
Easy & Healthy Crock Pot Creamed Corn :
The creamy corn is one of a kind of dish that you can keep on eating your tummy would be filled but your tongue would still want more and more of it.  And all you have to do is just put the corns and the cheese in your slow cooker and enjoy this utterly yummy and delicious food that is also perfect for untimely hunger. damndelicious
Crock Pot Cheesy Tortellini:
Here is another amazing recipe for your slow cooker. This is crockpot cheesy tortellini made with the ground beef and everything in the crock pot and then serving with tortellini and cheese at the end. So get this so damn tasty and easy to make recipe and get your family a flavorful dinner delight damndelicious
Crock Pot Cream Cheese Chicken Taquitos:
Crock pots are now know as set it and forget it utensils as you can pour your ingredients in the slow cooker and then leave it for five to six hours to let it self cooked. Even the famous and most favored recipes like the taquitos can be now made in the crockpot and we have a complete recipe of it here lecremedelacrumb
Tempting Crock Pot Pork Ragu: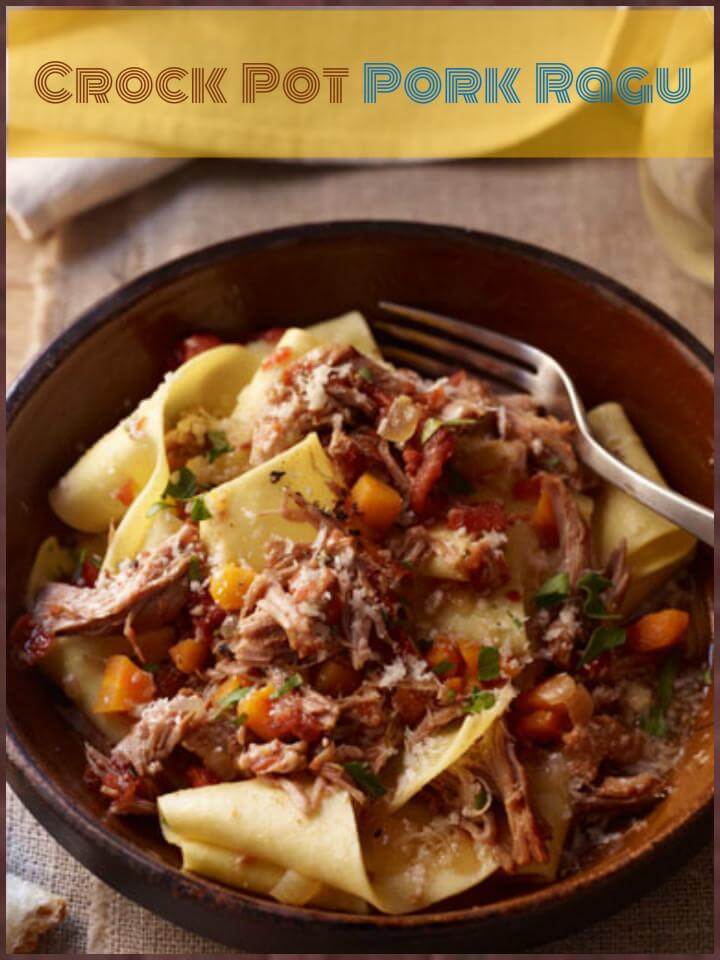 Save your lots of money that you spend weekly on the restaurant foods just to delight up your taste buds as you an do it now at home with tasty recipes cooked in the slow cooker with sheer comfort and easiness. Want to know one of such recipes here is this slow cooker pork ragu recipe countryliving
Crock Pot White Chili with Black Beans:
The slow cooker is not only for meats and beefs you can also enjoy a full veggie food made in the crokpot. And you to show an example we have this yummy crock pot white chilli and black bean soup recipe and everyone of the dining table would praise you for making it so if you want to get flattered get the recipe from the link here countryliving
Crock Pot Indian-Spiced Chicken and Cauliflower:
Give your regular foods a tasty add of Indian spices and make them totally spruced up in the flavors and you can also use the slow cooker for the purpose. Here we have this crockpot Indian spice chicken cauliflower and believe it would make a hearty dinner and the plates finger licked. The recipe is here to follow countryliving
Crock Pot Indian-Spiced Chicken Lettuce Cups: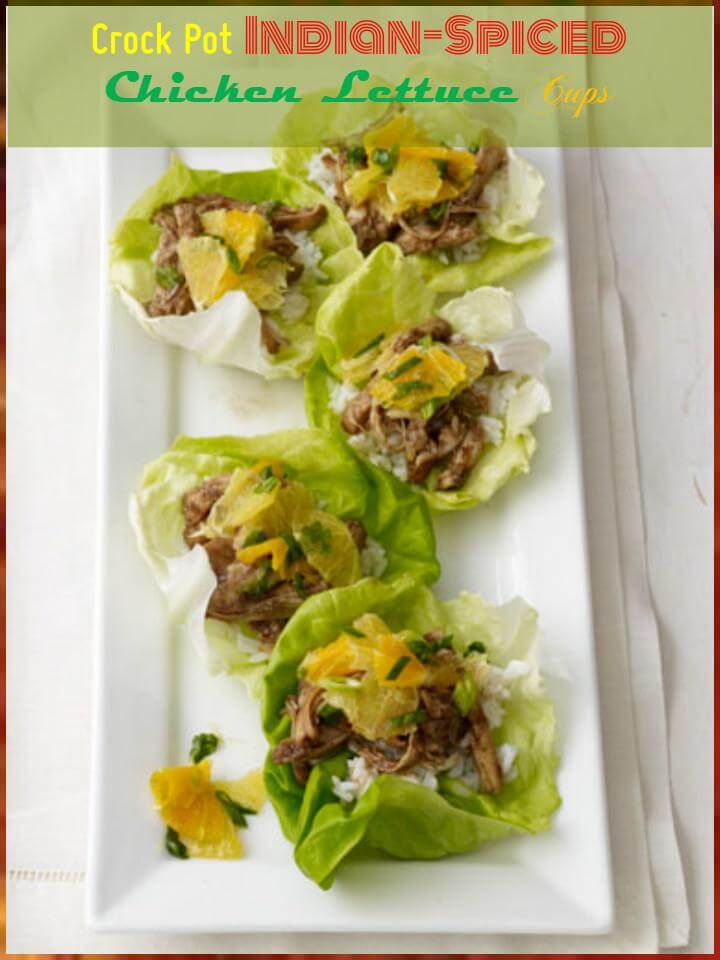 Explore more of your cooking skills with the slow cooker then just making the meats and stews in it and here is this awesome recipe to try with the crockpot this time and totally change the concept of slow cooker use. So visit and enjoy this crockpot balsamic ginger chicken lettuce cup recipe. countryliving
Crockpot Cowboy Brisket:
There must be a dish in a day or at least in a week that is yummy, thrilling and full of flavors and is not at all bore. And this crockpot made cowboy brisket recipe is one of them to let you enjoy a whole new taste and flavor in your weekly food menu. so do get the recipe from the provided link countryliving
Easy Crock Pot Meatballs:
Crokpot has made cooking very easy even for those ladies who are new in the kitchen so you must take a look at all these recipes that cooks in the crockpot and gives you instant tasty and healthy food. This one recipe is another tasty avatar of the meatballs and we hop you really like it just see the recipe on this link. countryliving
Crockpot Cheesy Buffalo Chicken Pasta:
If you are in a mood to cheat on your diet and that too with a low damage then try this mouth watering crockpot cheesy buffalo chicken pasta and enjoy some break from the tasteless dietary food. Here is the complete recipe showing the complete making method and ingredients details as well slowcookergourmet
Crockpot Cheesy Bacon Ranch Potatoes: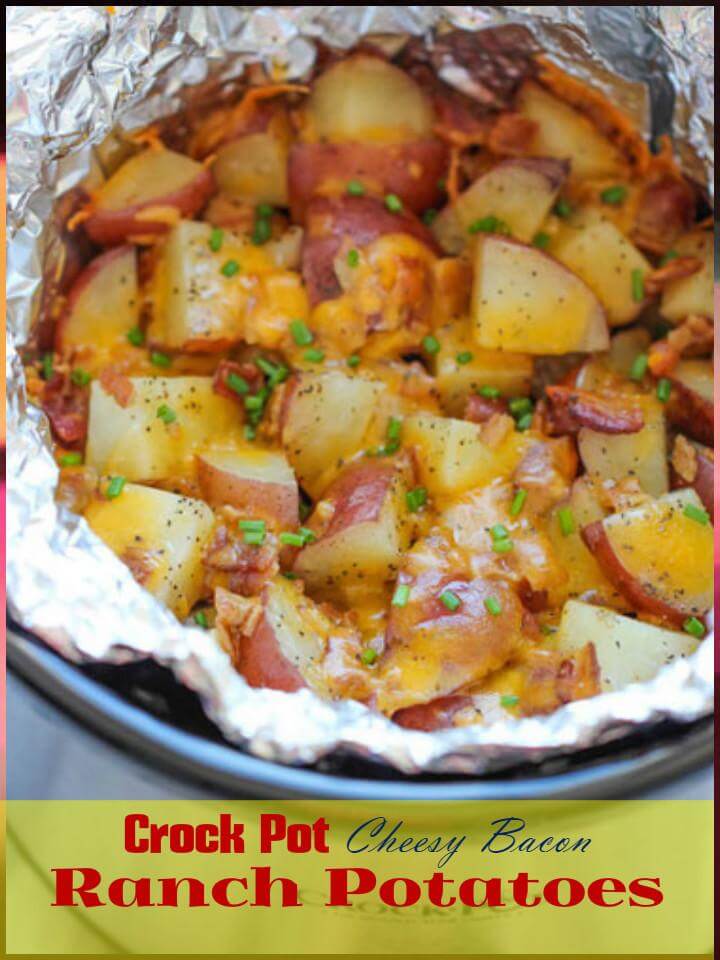 what kids like the most are the potatoes and the cheese and here we have a recipe where both these delicious items have been tastefully combined and that too in a quick made process in the crockpot. So let your kids drool over this crockpot cheesy ranch potatoes damndelicious
Tasty Crock Pot French Onion Soup:
This one soup recipe is quite different and unusual from the common soups and would be very much refreshing for your tongue and taste buds.Its as unique and crispy in taste as its tile that is crockpot french onion soup so if you a lover of new dishes and recipes you need to get it from the link given here lecremedelacrumb
Mexican Stuffed Bell Peppers:
As you know slow and steady wins the race so the slow cooked dishes are much more tasty so here is another tastiest recipe that you can do in the crock pot and get rid of the baking in oven. This is Mexican stuffed bell peppers to melt in your mouth so its a must visit and the link is right here number-2-pencil
Crockpot Mozzarella-Stuffed Meatballs:
meat balls are one of the traditonal food we have and no doubt we all love them to the core and here is another version of the meat balls stuffed with mozzarella. This is like a yummy dinner treat for all of you and even the guests would love to enjoy it. Recipe has been given in this link so visit and note it down. lecremedelacrumb
Crock Pot Chicken Pie Soup:
Here is a special food boon for the cold months that would keep your taste buds delighted and your body warm. This is slow cooker chicken pie soup that looks as pleasing as it tastes so don't forget to have a deep look into the complete recipe on the provided link. bakedbyrachel
Crock Pot Beef and Cheese Pasta:
I know its sounds weird but yes we have a slow cooker pasta recipe here with us. This is beef and cheese pasta with more fun and taste added with spinach and cheese. You all will love it especially the kids would go crazy for it for sure and its too healthy for them full of iron and other vitamins. So get the recipe right now thecookingjar
Crock pot Broccoli and Cheese Soup: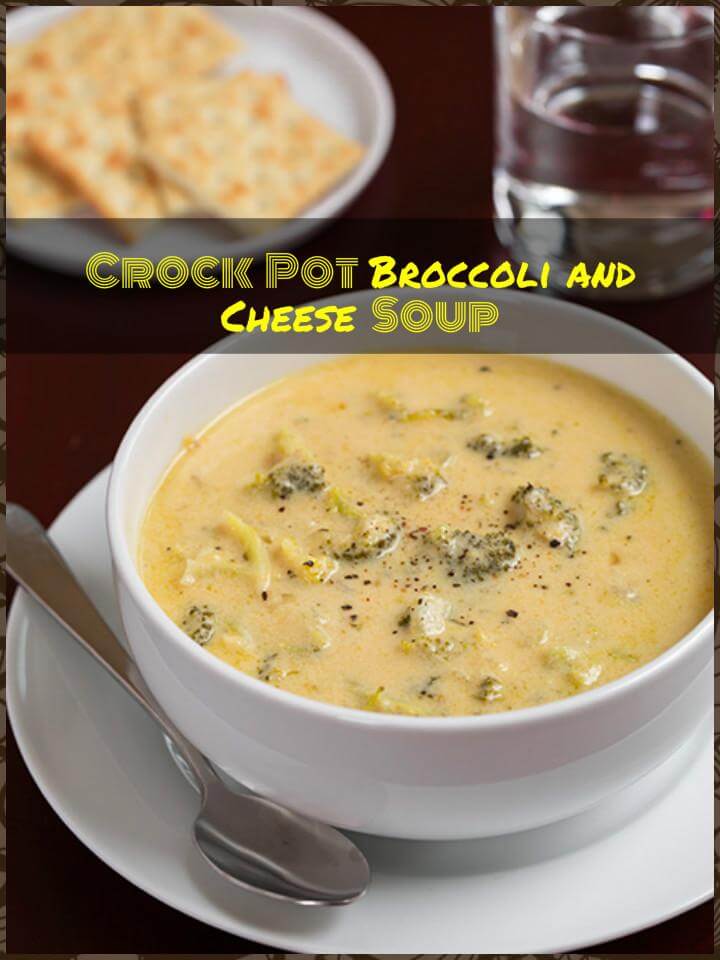 We love cheese in all types of forms and dishes and here is another tasty avatar of cheese in the form of soup and you would love to make it in the winters and enjoy its warmth as it gets easily cooked in the slow cooker. So do get the recipe from this given link. cookingclassy
Super Tasty Crock Pot Chicken Burrito Bowl:
A tasty combination of brown rice and chicken in the slow cooker would give you this amazing crock pot chicken burrito recipe to enjoy both in dinners and lunch with basic spices and other kitchen ingredients.It needs short of fifteen time for prep and then four hours in the slow cooker and its done. Check out the recipe here number-2-pencil